Coffee Corner Watch Talk: Outer-Worldly Creations From Trilobe And HYT, Plus Disco-Dancing Glashütte Original
Look at the stars, the Moon, or the spacey new colors from Glashütte
Summer is the perfect time to forget about time. Easier said than done, I agree. What might help a little is wearing a watch that does away with traditional hands or a relentlessly exact digital display. That's why I present you a Coffee Corner Watch Talk with outer-worldly Trilobe and HYT creations. And if those are a bit too alien for your liking, why not check out the disco balls — sorry, squares — that Glashütte Original has constructed? Have a coffee, a look at the watches, and a watch talk to kick off the week.
Watches with hands and digital displays seem to have this sense of urgency in telling you the exact time. Maybe that's not something you're looking for during a lazy summer. The hotter months of the year are the ideal time for unwinding, slowing down, and resetting. For die-hard watch fans, however, not wearing a watch is perhaps not a viable option. Luckily, there are watches that will whisper the time or even disguise it in some sort of visual poem. Take, for example, the Trilobe Nuit Fantastique Secret that I'm wearing while enjoying an espresso made with Kimbo beans (Sofia, our in-house Italian, has recommended Kimbo for the Jura in the Fratello HQ coffee corner.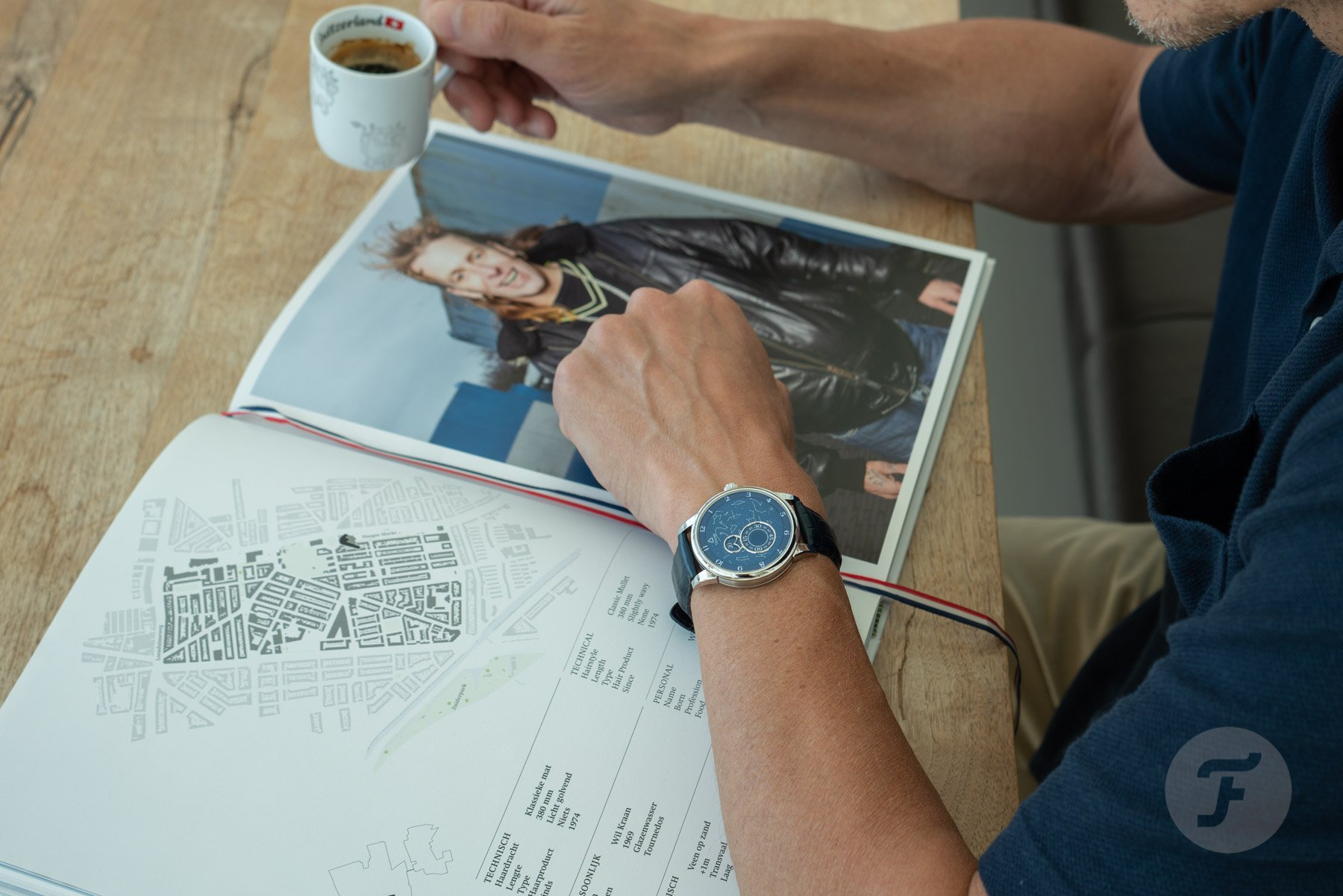 Outer-worldly watch talk about the Trilobe Nuit Fantastique Secret
RJ is a big fan of Trilobe, so you can expect a full hands-on review pretty soon. I wanted to find out where his fascination comes from, so I snatched the watch from his desk to take it for a coffee. I will keep this short and sweet when it comes to specifications, but the concept got me thinking. What the titanium Trilobe Nuit Fantastique Secret does is indicate a date, a place, and a time of the customer's choosing. And on the basis of that, Trilobe creates a dial with the position of the stars for this place and this precise moment. The whole process takes six months and sets you back €12,500.
A kiss under the stars
The "frozen" starry sky on the dial of the Nuit Fantastique Secret could be the sky above your head when you came into this world. But since I'm a romantic soul, I would prefer the celestial sky as it appeared above me and the love of my life when we first kissed — aww, that's so sweet…
You can patiently wait for RJ to review the Nuit Fantastique Secret extensively or have a quick peek at Trilobe's official website right now.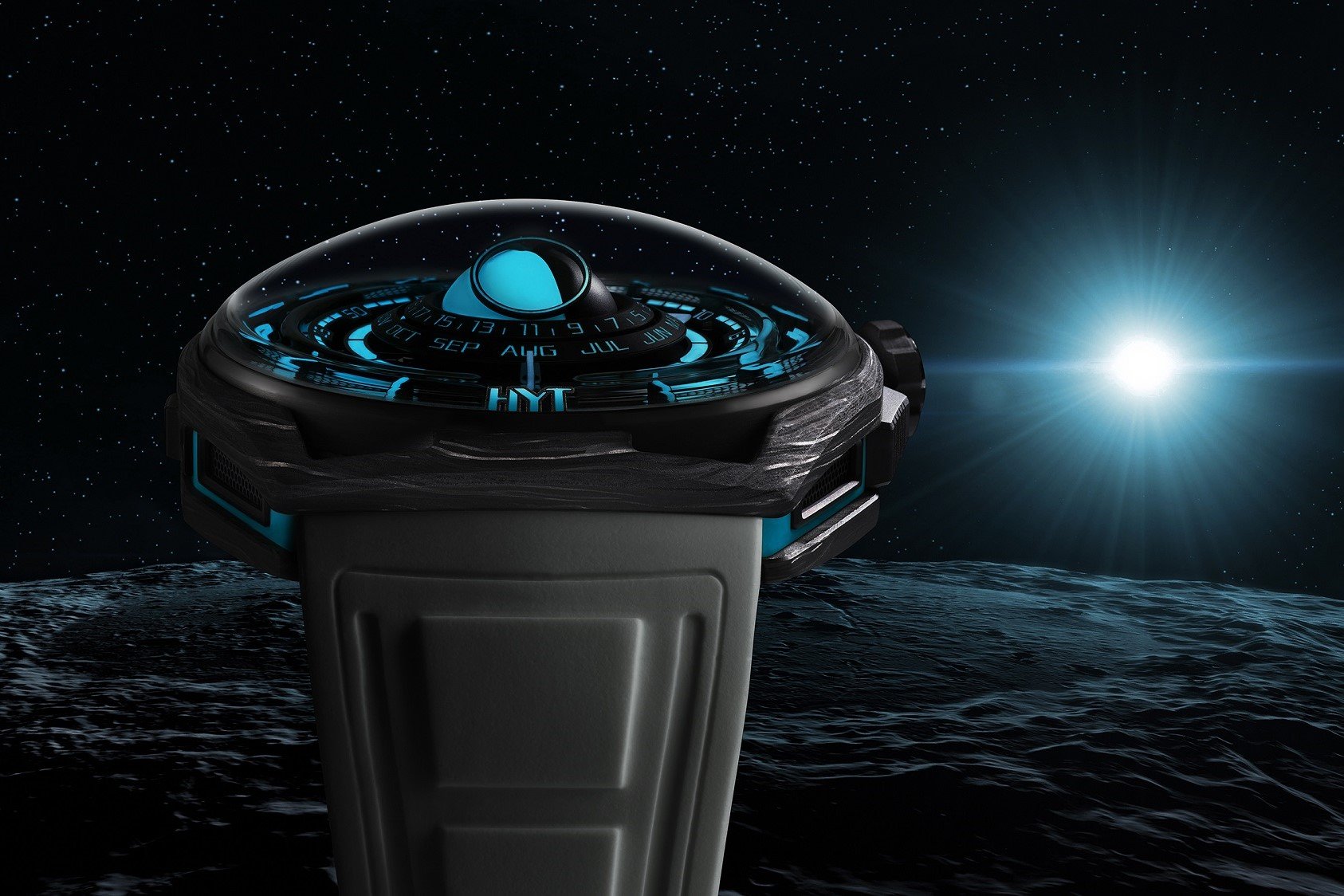 The HYT Moon Runner White Neon and its outer-worldly glow
A watch inspired by a moonphase model from the 1950s — a description that has nothing to do with the HYT Moon Runner White Neon. No, instead, I can imagine this watch sprung to life in a vision of black holes, neutron stars, and pulsars in the mind of Davide Cerrato. He's the CEO and creative director of HYT, and he wanted to create a watch that shines both by day and by night. The result is a ghostly version of the Moon Runner Supernova Blue. The Moon Runner White Neon has a 48mm Hydro Carbon and Tec Light case with a sapphire crystal dome and contrasting dial to guarantee optimal visual pleasure. A truly remarkable aspect is the black fluid inside the capillary tube that shows the retrograde hours. Yes, this is a hydro-mechanical watch.
A rare sight in the coffee corner
The 601-MO caliber, a mechanical hand-wound movement, gives the Moon Runner White Neon its 72-hour power reserve. But honestly, details like that seem mundane with the ginormous, levitating 3D moon in the center of the dial. If you can take your eyes off of it, you will also find the circular display on which the satellite minute hand runs. The Moon Runner White Neon, unlike its inspirational satellite that orbits us, is an incredibly rare sight. The watch is a limited edition of just 10 pieces and carries a price of CHF 130,000.
You can find out more about the Moon Runner White Neon on the official HYT website.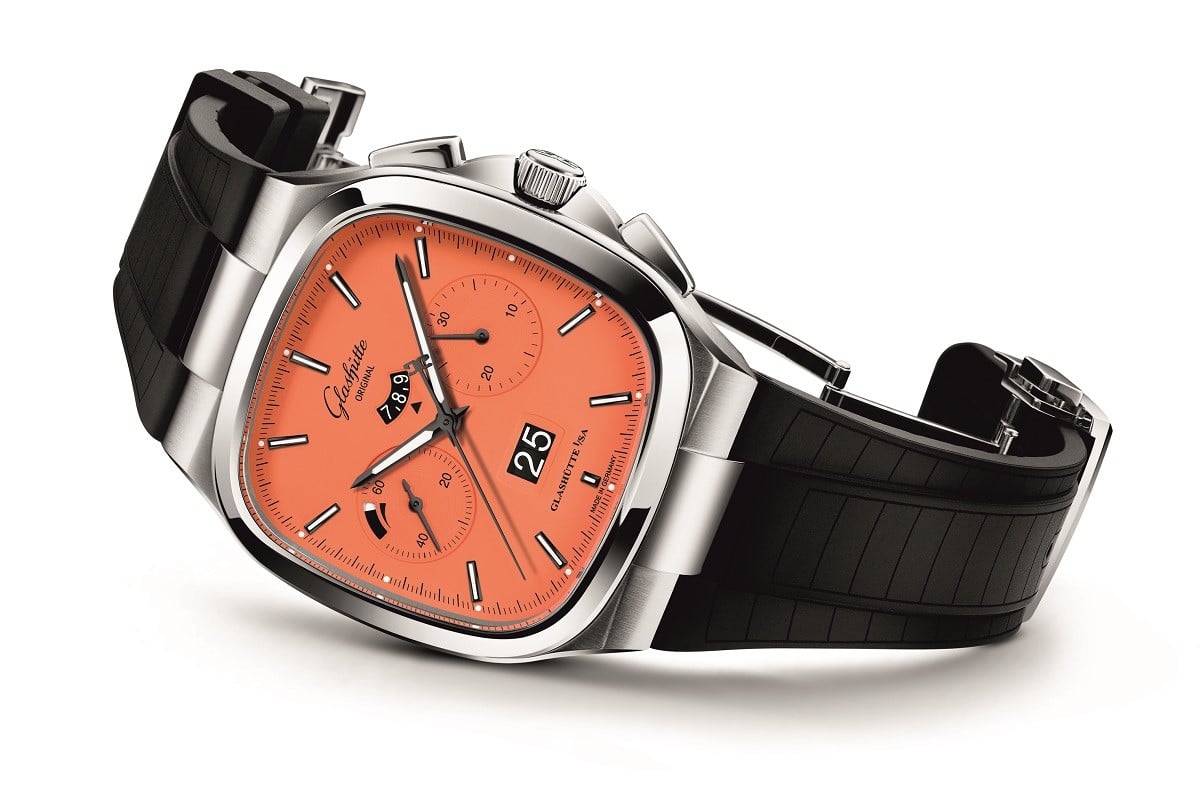 The disco-dancing Glashütte Original Seventies Chronograph Panorama Date
When you see the "Vibing Orange" and "Disco Blue" dial variations of the two new Seventies Chronograph Panorama Date models, you might think that disco finally made its way to Glashütte. Disco is, of course, according to Oxford Languages, "a style of pop music intended mainly for dancing to, typically soul-influenced and melodic with a regular bass beat, popular particularly in the late 1970s". The colors of disco were/are the obvious shades of orange, yellow, pink, and green, but shades of purple and blue sing and shout "disco!" as well.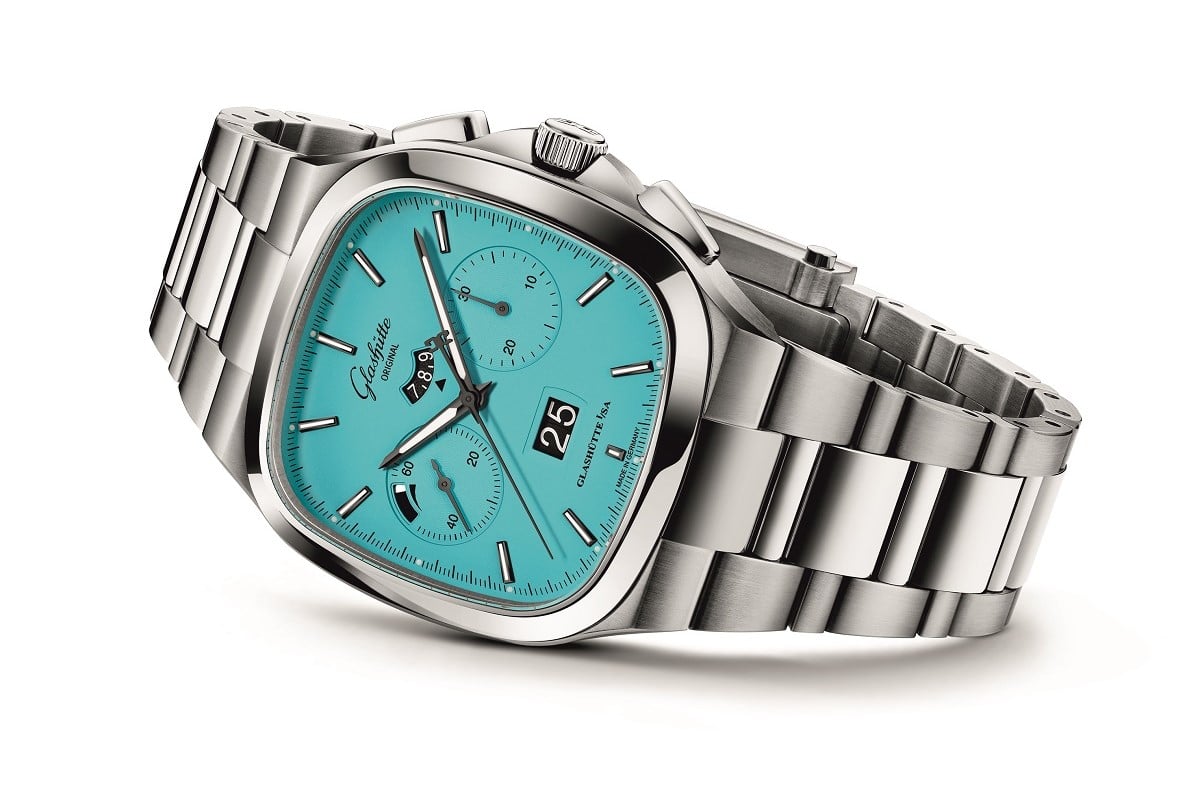 I Feel Love
It's possible that the "Vibing Orange" and "Disco Blue" versions of the Seventies Chronograph Panorama Date were created while Donna Summer's I Feel Love was blasting out of the speakers at the "GO" manufacture. These two limited editions have a provoking 40 × 40mm case design and equally striking dial colors. These watches are anything but bland, and that's a good thing. Just like disco once did, these watches will have you picking one of two completely opposite sides. How do you feel about a thumping, four-on-the-flour disco beat? Let me answer my own question by saying that I like the 1979 single Death Disco from Public Image Ltd.
The two new flyback chronographs with recognizable Panorama Date are equipped with the in-house Calibre 37-02 with 70 hours of power reserve. Both models are limited editions of only 100 pieces, and prices start at €14,200 for the version on leather strap. Learn more about Glashütte Original here.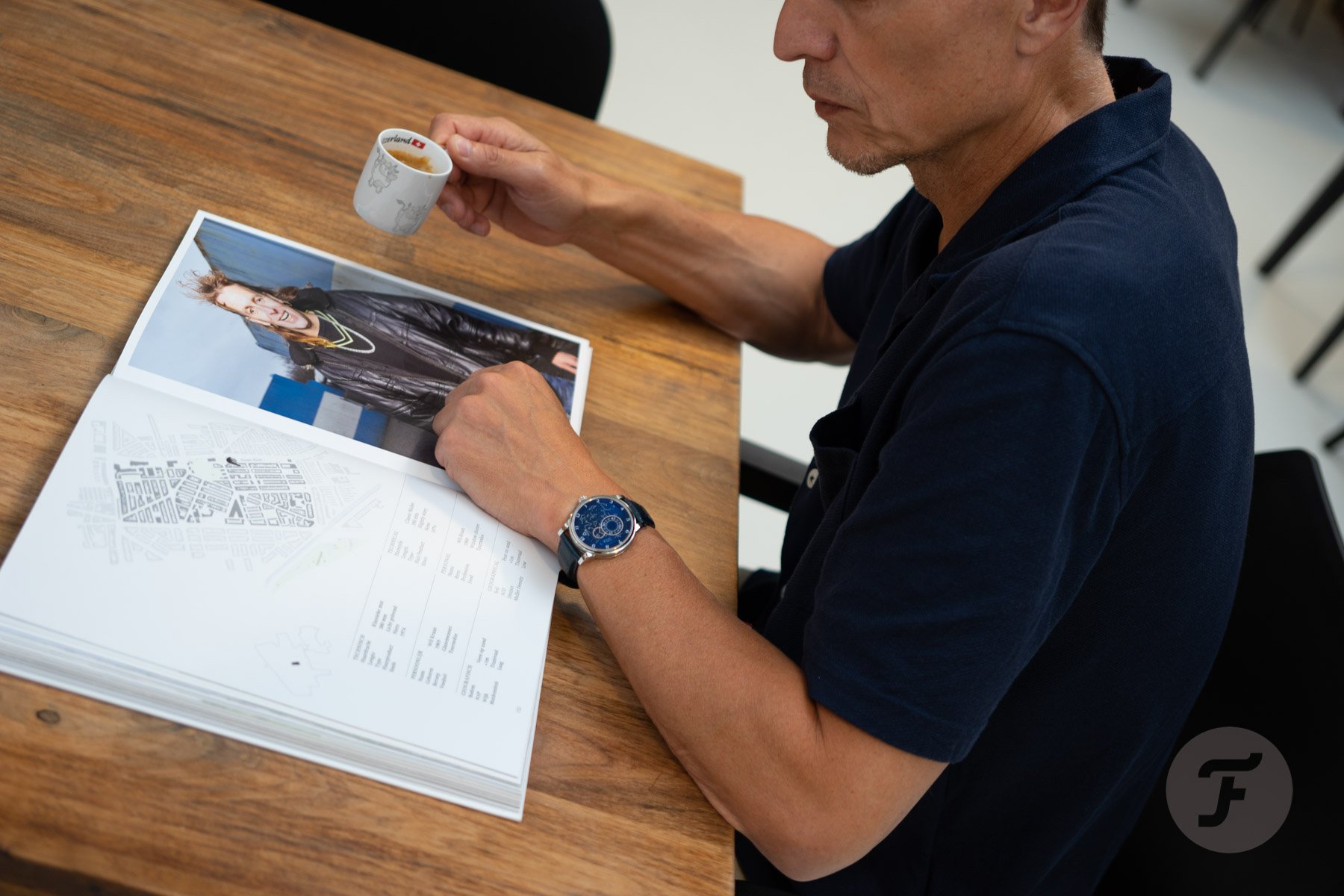 Watch talk and a book tip
In case you're wondering what I'm reading in the pictures, it's the photo book The Mullet Atlas: The Hague by photographers Daniel Heikens and Rein Langeveld and designer Joost Nijhuis. If not inspirational, it's definitely entertaining. Anyway, time to play some (disco) music to go with your coffee. Here's a thematic coffee music playlist to get your watch week underway. Enjoy, and see you next Monday!
Find and follow me at Lex Stolk • Instagram