Dear Tissot, Bring Back The Mediostat
Five reasons to consider reviving this amusing chronograph
Almost every brand has watches everybody knows and wants in their historical product timeline. And then, on the flip side, are the watches nobody really cares about. Yet nearly every brand also has a few unique "one-off" models that hold a very special place in particular collectors' circles. The Tissot Mediostat is such a niche vintage watch. But I am telling you, it has a lot of potential.
As a warmup, you could start by reading my second-ever #TBT story published on Fratello. The Unstoppable Tissot Mediostat Chronograph covers all you need to know about the Tissot Mediostat. Today, three years after publishing the Mediostat story, I will keep it short and simple. Here are my top five arguments for why I believe the Mediostat would be a refreshing add-on to the current Tissot heritage portfolio.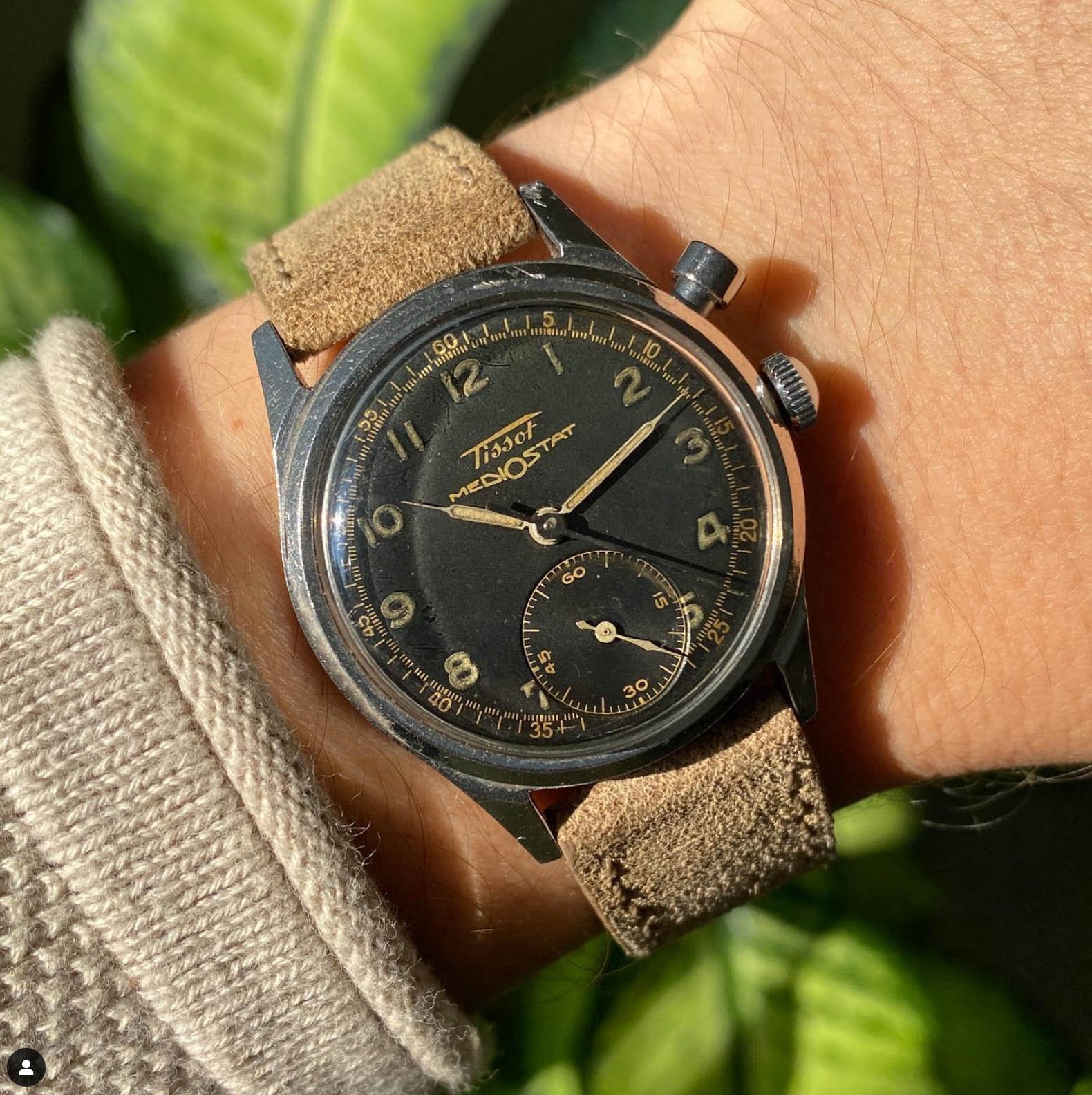 1) The Mediostat is original and amusing
When you look at the Mediostat, it doesn't look like a chronograph. It has no minute counter, and furthermore, it always runs. It actually looks like a time-only watch with two seconds hands. A typical chronograph works in a start-stop-reset manner. The Mediostat, however, turns the game all around, introducing a stop-zero-release rule to an otherwise constantly running central seconds hand.
A typical chronograph needs a full press of the pusher and a click to "jump" to the next function. The Mediostat, however, doesn't click at all, and you just have to gently play with pressure applied to the pusher. The only way to stop the chronograph hand is to press the pusher halfway and hold your finger there (with another half push to reset it). Very convenient… What would you use it for? Well, not for much, honestly, and I am quite creative when it comes to timing any absurd activities. I find the Mediostat as useful as a moonphase watch, but keep reading… There is an addiction just waiting to be born.
2) The Mediostat is perfectly balanced
However crazy it sounds in terms of operation, visually, it's one of the best 1940s watch designs. It has syringe hands with extra long "needles" and a simple minute track, displaying Arabic numerals for each hour and five-minute interval. Perfect legibility and a dress-ready look blend perfectly within a quite sporty case. The chunky pusher with a fat tunnel beneath it looks huge, but in reality, it's just a watch case that's a bit smaller than you're used to. The oddity of the pusher, which literally screams for your attention, becomes an integral part of the overall character of the watch. And I bet you'd get addicted to aligning the central seconds hand with the sub-seconds to watch them figure skate around the dial in sync.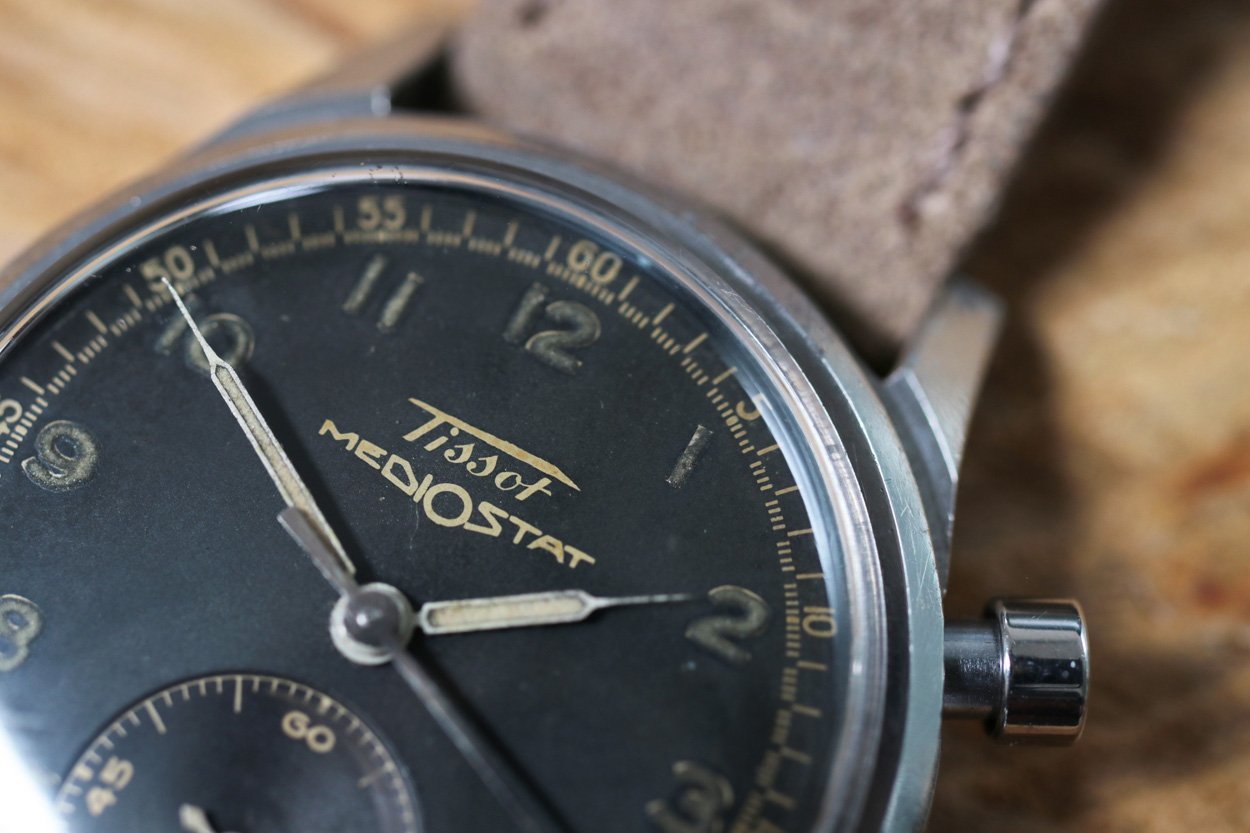 3) The Mediostat is overwhelmingly mature
By today's standards, the Tissot Mediostat is a very small watch. Personally, I always struggled to believe it's just 33mm, as it simply never felt lost on the wrist. What always struck me is the power of its branding. The strong name and its even stronger design presence on the dial command respect. It's one of the best-branded watch models ever. A self-confident and well-crafted logo combined with a functional 1940s dial rip the Mediostat from the standard Tissot line of un-important watches, giving it its own purpose and individuality that shine for miles.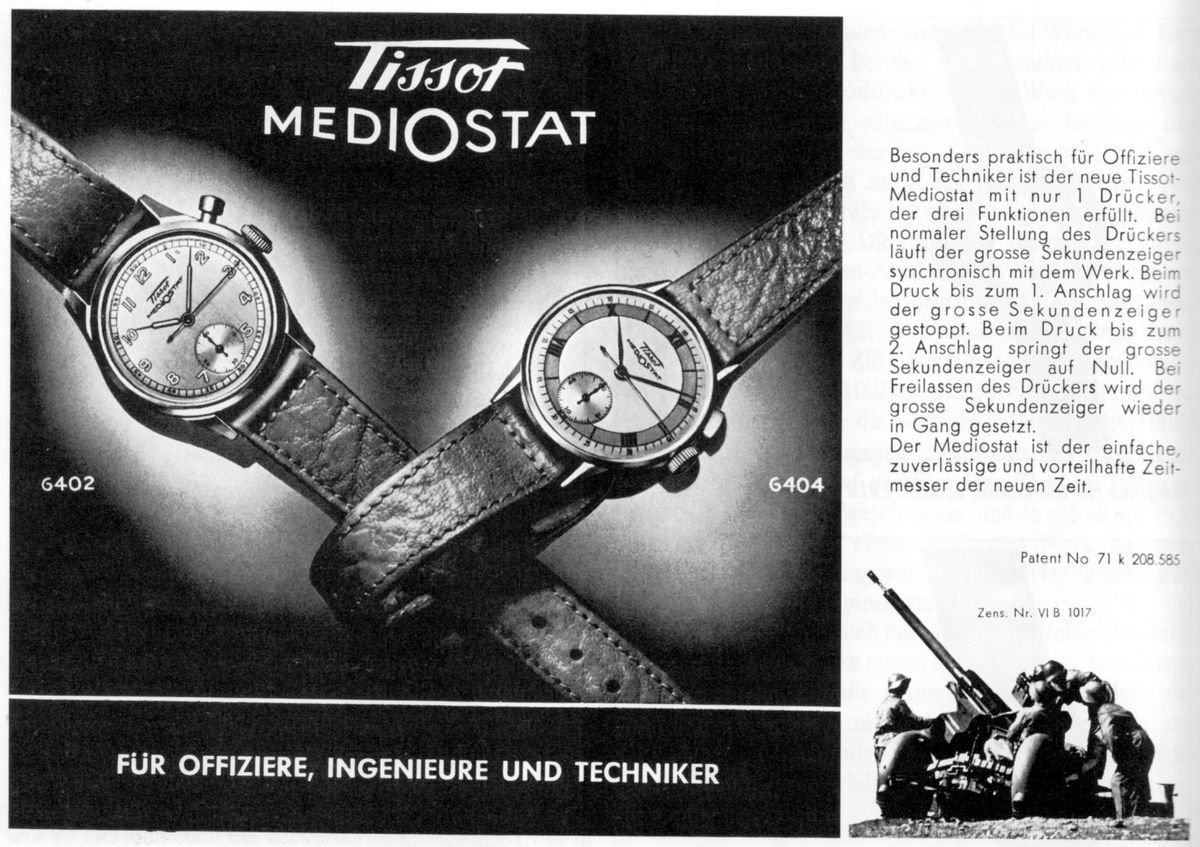 4) The Mediostat doesn't need reference numbers
When I mentioned "one-off" watch models, I wasn't referring to production volume. No, not pièces uniques like the ones for the Only Watch Auction. I was referring to short-lived watch models that never received an updated successor. While we have loads of watches that live(d) for decades and need books specifically written to understand which generation got what font used in the logo, the Mediostat sits on a big leather couch and laughs. There are multiple design variations of the Mediostat, but all of them popped into and out of existence quite quickly. And no matter how short the production run was, it was enough to secure the Mediostat a special place in watch lovers' collections.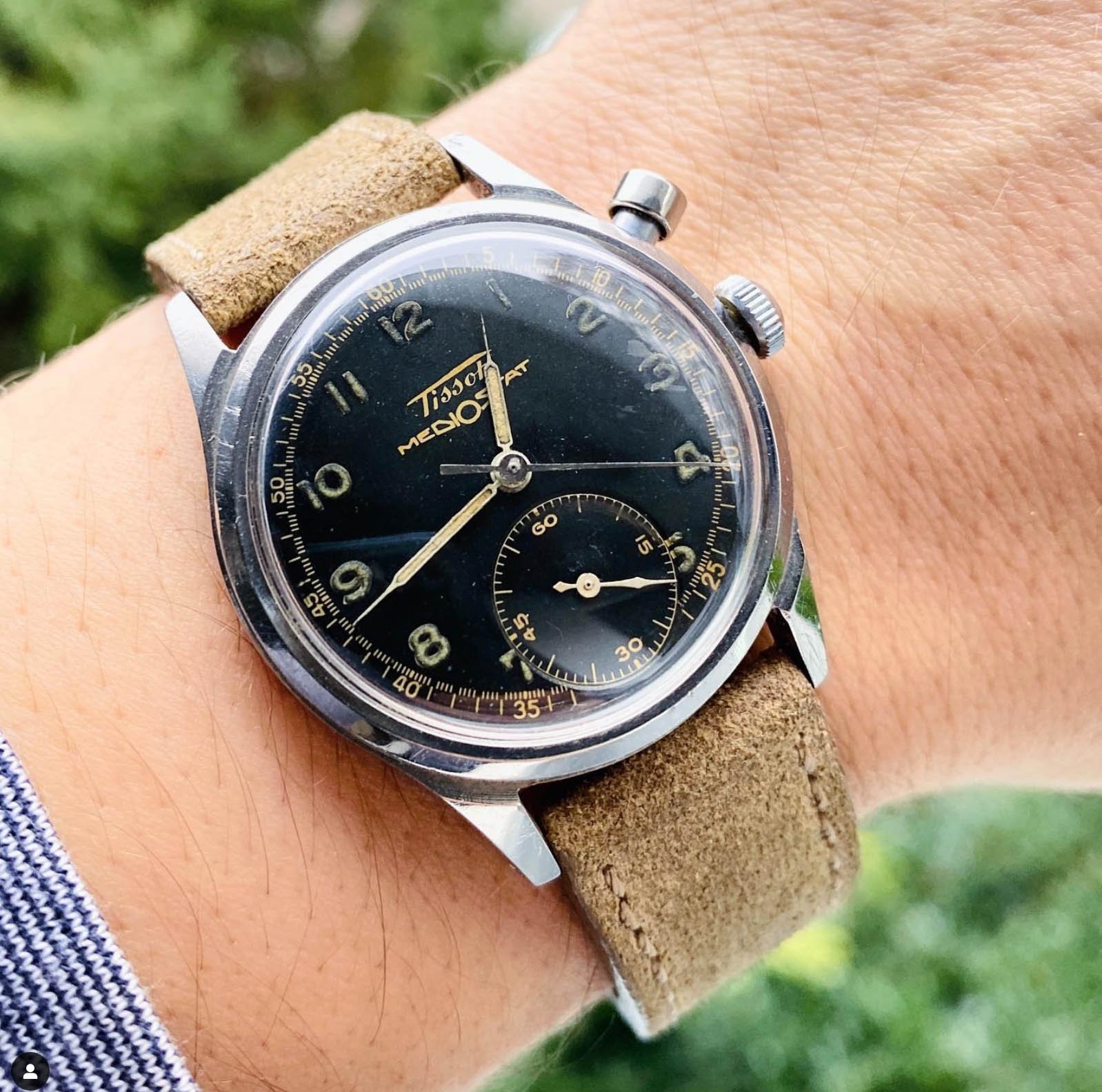 5) The Mediostat is scarce
I received a lot of interest in my Mediostat, and it's not complicated to explain why: there simply aren't many examples out there. I dare say that if you want to buy one, you won't find it so easily. It requires a lot of patience, proper "fieldwork," and readiness for when one finally pops up. I follow the market, and I would say there's maybe one example that comes up for sale every year or two. In a moment of weakness, I said yes to one of the offers I got and ended up selling my Mediostat. Now, I don't expect this watch to be the best-selling Tissot heritage release, but I believe it could stir the water a bit. So, Tissot, what do you think? I invite you and our dear readers to share your thoughts in the comments.