#DEEPBLUE: The Best Blue Diver's Watches From Grand Seiko, Blancpain, And JLC
And gear from Veja, Baxter&Baxter, and Brunello Cucinelli
I love blue dials, so I'm not even attempting to be objective. The most difficult thing for me here is to not mention my Seiko Marinemaster 300. But I've already mentioned it in a few stories already, so I'm remaining schtum. Besides, my love of blue goes beyond mere wristwear. So here, you'll find some of the best blue diver's watches from Grand Seiko, Blancpain, and JLC, as well as versatile #DEEPBLUE gear to match up with them. But I don't mean diving gear…
Yes, I love divers, and I have some diving gear. But so far, the vest, valves, and hoses have been great photo props and nothing more. Am I ashamed? Nope. This is not 1976 when a tool was a tool. These days, diver's watches are simply great all-arounders. Witness the Oscars and Met Galas of this world, where diver's watches in steel and precious metals naturally slide out of tuxedo sleeves. This is reality, and I for one embrace suiting up with a diver's watch. With that in mind, there's no navy-blue wetsuit in this story. Being a desk diver is no longer controversial.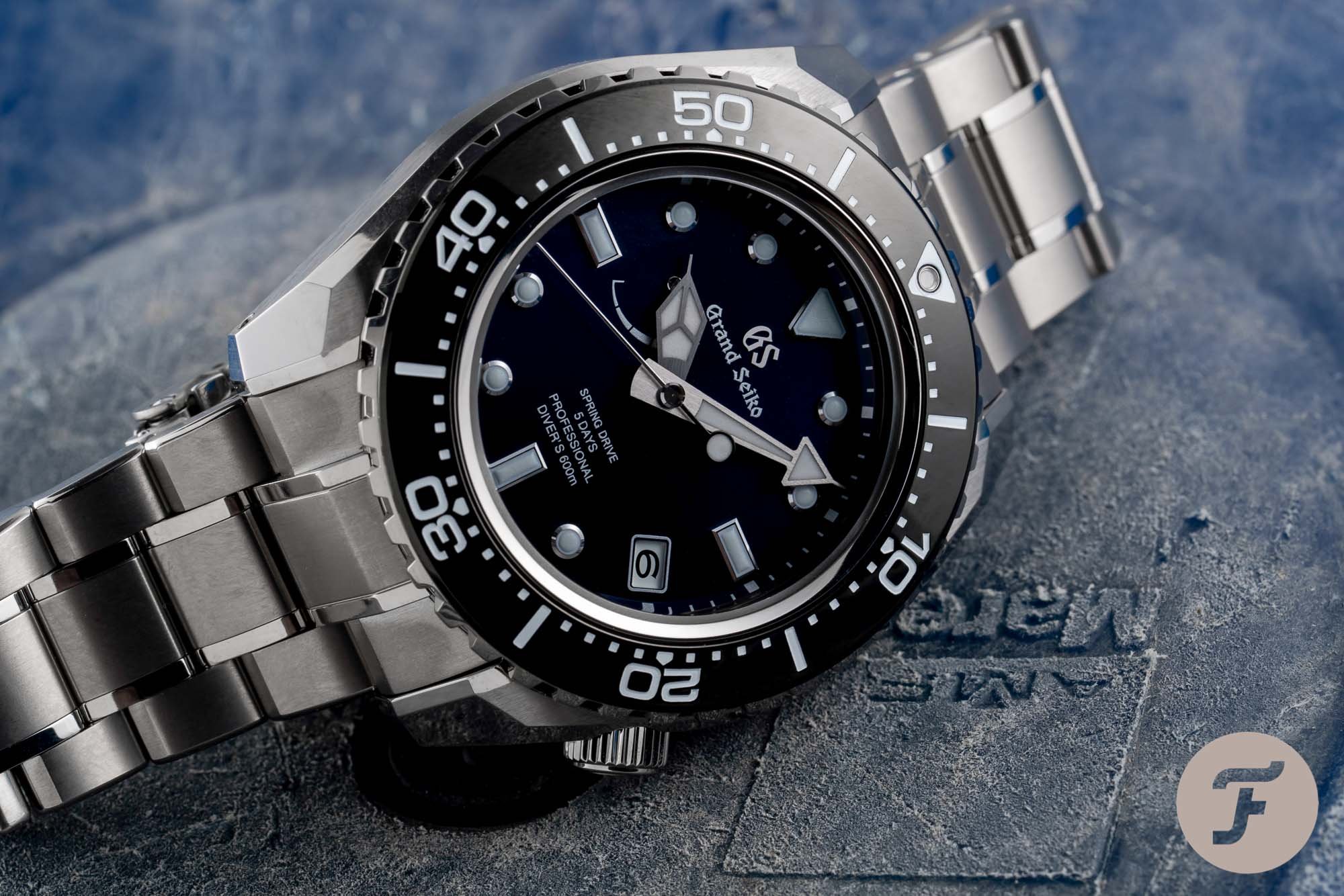 Grand Seiko SLGA001 — The blue beast
This watch is big, even if Grand Seiko's amazing ergonomics will make it feel smaller. But with a 46.9mm diameter and 16mm thickness, it is still a beast. Surprisingly, with a 50.8mm lug-to-lug span, the curving, evolved case still feels good on a smaller wrist, albeit very different from small-cased divers. As the most angular case shape in the Grand Seiko sports range, the limited SLGA001 is almost intimidating with its beefed-up look. But thanks to the high-intensity titanium case, its bodyguard presence wears light with intense Zaratsu details. The soft, calming sweep of the Spring Drive seconds hand is in direct opposition to its charming, brute appearance. If its massive presence on your wrist is like Dwayne Johnson perched on a tiny talk-show couch, then off to the gym with you. This limited edition might be sold out at its $11,100 price, but luckily, you'll find it on Chrono24 from about $9,500.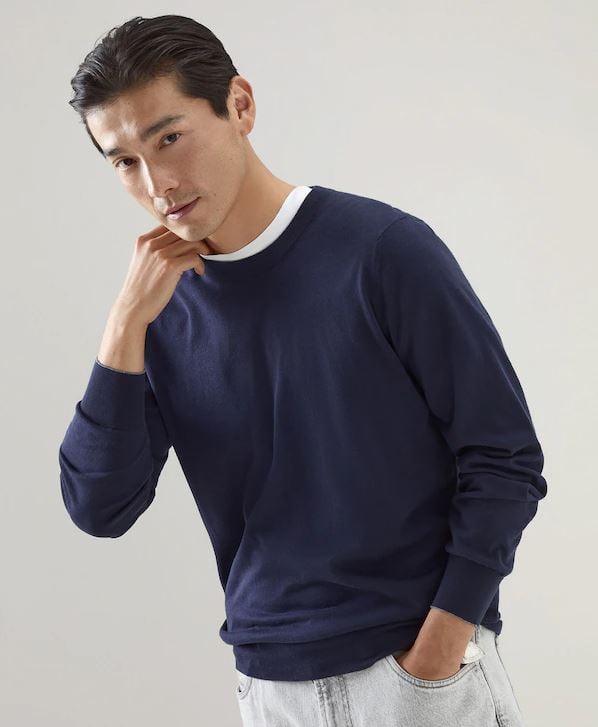 Your "Forever" blue knit jumper
No, this is not called the Forever, but it might just be the best cotton jumper you've ever bought. To complement the angular, tough-boy image of the Grand Seiko SLGA001, I'm going to the opposite end of the scale with this navy knit from Brunello Cucinelli. I did warn you, this is not about salty diver chic, but the best diver's watches doubling as superb daily wearers. Yes, Brunello Cucinelli clothing is expensive, but it's worth it. In a world of throw-away fashion, why not buy the best for keeps? Take care of this ultra-soft and ultra-lightweight #DEEPBLUE top and start a new life of sustainability. The cliché of quality over quantity is as true now as when it was coined. One cotton knit jumper at $550 from BC's online shop is worth it and elegantly free from a single visible logo.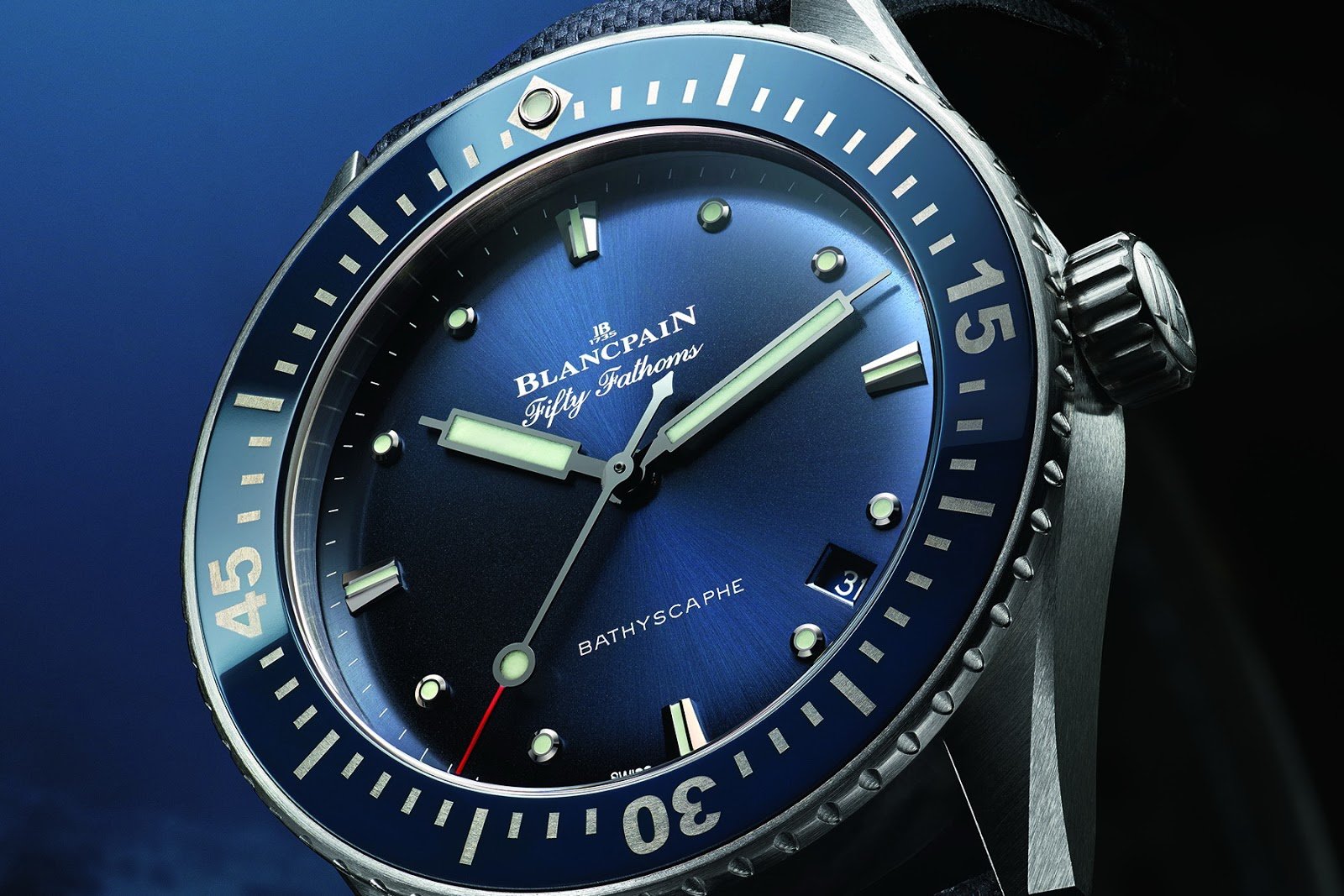 Blancpain Fifty Fathoms Bathyscaphe 38mm
The Blancpain Fifty Fathoms Bathyscaphe is the rather formal and quiet cousin of the 45mm classic. If you're a dive-watch fanatic like me, this could be your dress watch. It's a perfect size to match up with anything, and its sailcloth strap is tough yet formal enough for a suit. At 38mm wide with a 10.8mm thickness, it makes for a versatile sports watch, and a 300m depth rating makes it tougher than the slender lugs suggest. The blue sunray dial has discreet, applied indices and an open design dominated by the Blancpain syringe hands. The brushed blue bezel is a great color match, as is the unobtrusive date at four-thirty. A dash of red on the needle end of the seconds hand is tasteful, and I'll conclude with the logo. Three different fonts on the dial actually shouldn't work, but somehow, they do, and this is one of my favorite Fifty Fathoms. Small-cased heritage #DEEPBLUE cool for CHF 8,900.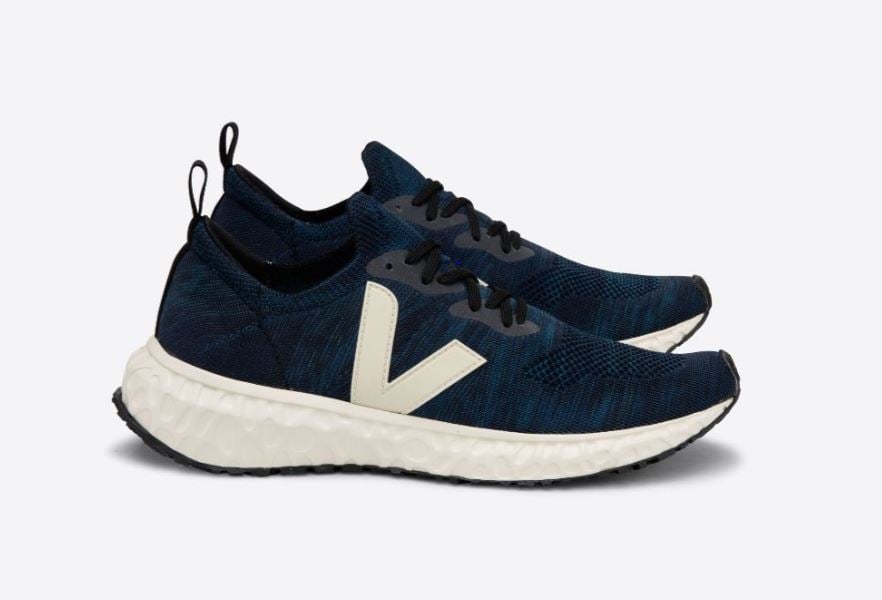 Veja Thunderbird V-Knit Trainers
Have you equated the best blue diver's watches with a style vibe yet? Going with the casual-cool yet formal look of the 38mm Bathyscaphe, I'd pair it up with some indigo blue trainers from Veja and a cotton/linen suit. Veja runs the fine line between sporty and street-cool like few other niche trainer brands do. The Thunderbirds manage to look great juxtaposed with a suit, even with their chunky white soles. After all, this is post-pandemic 2022, with people slowly emerging from their home offices. You'll spot them wearing drawstring faux-suit trousers (I have two pairs…) while rubbing their eyes, unused to the bright sunlight like human moles. At €165, the soft comfort of these #DEEPBLUE Veja Thunderbirds will make you forget dress shoes existed, whether you're wearing chinos, jeans, or shorts. Just keep the short pants out of the office. That's where I'll draw the line.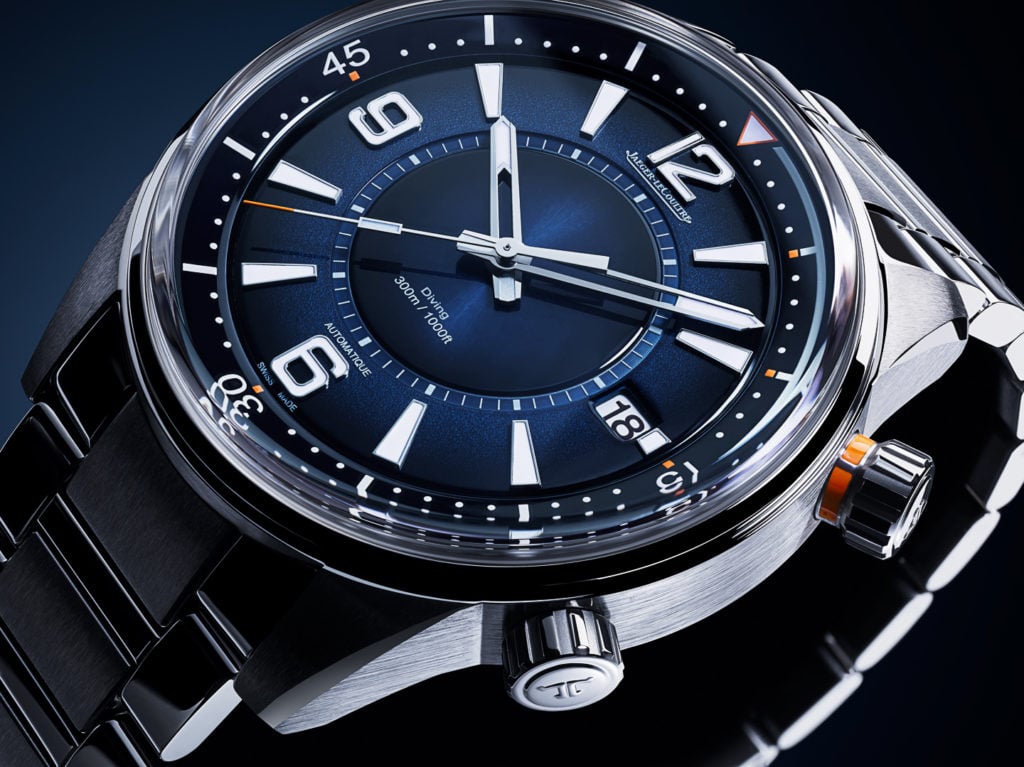 Jaeger-LeCoultre Polaris Mariner Date
When we write about the best blue diver's watches, Jaeger-LeCoultre doesn't naturally spring to mind. These days, the brand doesn't do tough sports watches all that often, but when it does, the results are stunning. Perhaps this is a result of the impeccable style nous of CEO Catherine Renier or because JLC has little sports-watch baggage. The #DEEPBLUE dial of the Polaris Mariner touches upon every point of this story with panache. It is a 300m-depth-rated diver's watch but skillfully refined in a Compressor-style case. In 95% percent of cases, this watch will never float past a colorful anemone or remind its SCUBA-geared owner of air left in the tanks. But the image is one of elegant toughness with the polished details giving its more formal game away.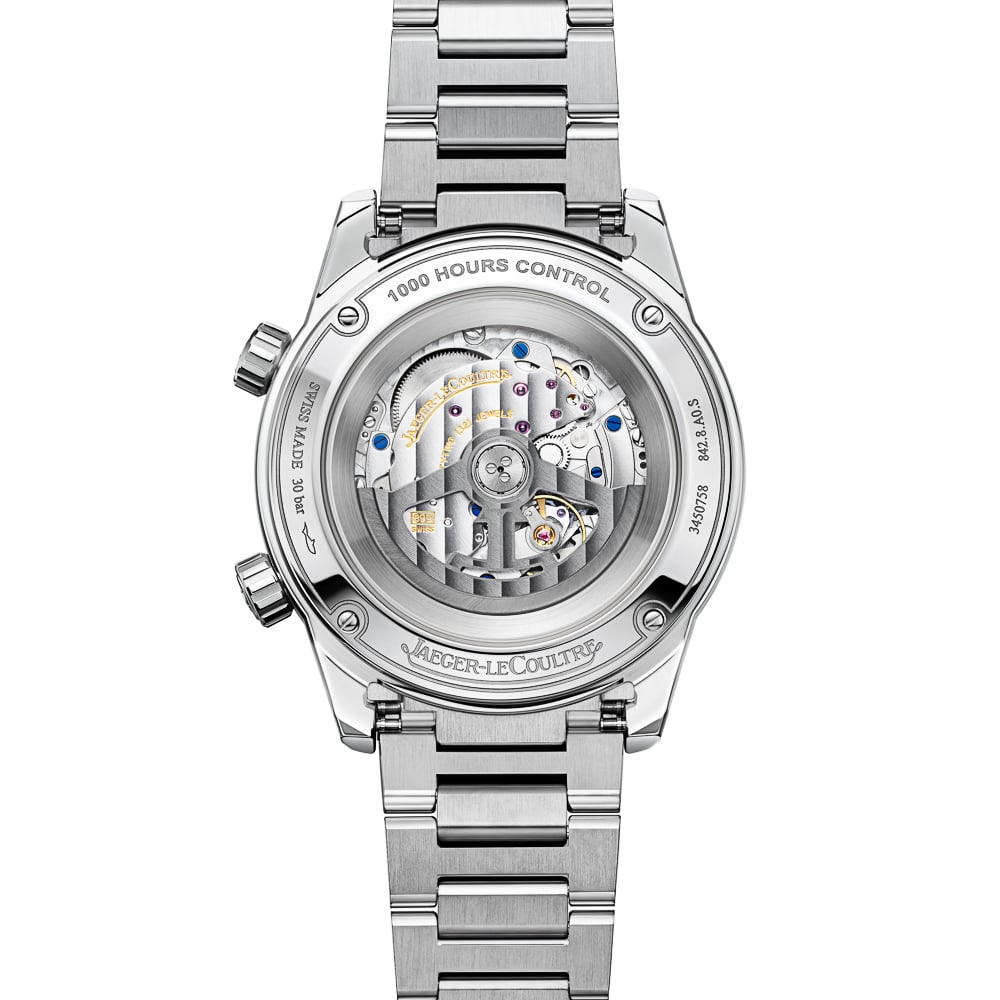 Formal-tough
The Polaris Mariner will wear large for its 42mm size, as the 60-minute bezel is internal and the outer bezel is a sliver of polished steel. But with the frankly delicious deep indigo of its dégradé dial, I wouldn't want it any other way. Massive, applied indices and lume-filled Arabics at 6, 9, and 12 make legibility crystal clear, and there's a zesty twist. Small touches of a juicy orange sport up the elegant look, underlining what is a refreshingly different blue dial. The Polaris Mariner Date is powered by the in-house caliber 899, an exquisitely finished movement with 32 jewels and a strong 70-hour power reserve. This is the thinking man's diver's watch at €11,400 and one I'd choose over the ubiquitous Submariner easily.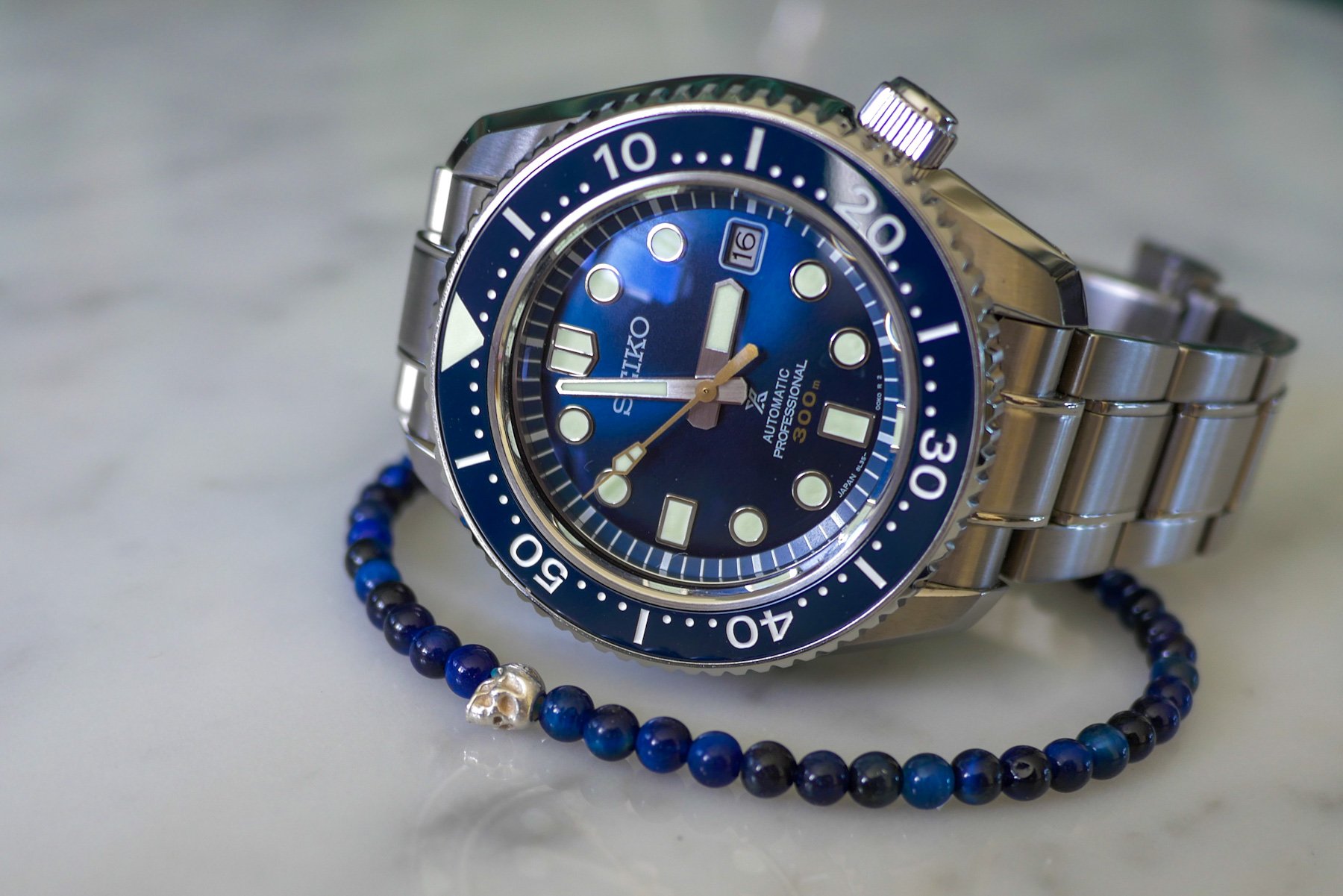 Azurite bracelet from Baxter&Baxter
No, it's not true that men are only allowed one piece of jewelry, and that's a watch (though it is a damn good argument when your partner questions yet another watch spending spree even though she has a box filled with gold and silver). Accessorize with a few select matching bracelets, and you'll impress with your deft touch. I'll include a shot here of one of my own, a stone bracelet from Baxter&Baxter in the UK. This has #DEEPBLUE 4mm azurite stone beads with a sterling silver skull. A great choice for about €32, complementing a rich blue dial with a discreet touch. Feel free to add two or three more but stop there, and don't put them on the same wrist as the watch less you want hairline scratches on the side of the case.
What about you, Fratelli? Surely, none of you still believe that a diver's watch only exists for deep-sea submersion? Maybe one of you has a three-watch collection consisting only of Ploprofs with tailored wide-cuffed shirts to fit them. In that case, big kudos to you. You have my respect and infinite street cred.
Find me and follow me at @thorsvaboe