Speedy Tuesday – Early Bird Speedmaster Professional 105.012-63
For a long time, it was assumed that the Speedmaster became 'Professional' after the watch was certified by NASA. However, the earlier use of the 'Professional' addition has been discovered some time ago. An example is this early bird Omega Speedmaster Professional 105.012-63 from 1964.
Speedmaster Professional 105.012-63
Yesterday, one of our readers and Speedmaster enthusiast came to our office in The Hague to show his Speedmaster Professional 105.012-63. It always good fun to meet our readers and other Speedmaster collectors. So if you are around, shoot us a message and you are welcome to talk Speedies and enjoy a coffee.
What we have here is a very early Speedmaster Professional. The reference 105.012 is of course most famous for being the watch that was on the wrist of Buzz Aldrin (amongst others) during the lunar landing in 1969. Officially, the 105.012 and 145.012 were used by astronauts during the Apollo program. Today's Speedmaster Professional Moonwatch is a direct descendent of these 105.012 and 145.012 references (more about that here, the modern Speedmaster that is closest to the Moonwatch).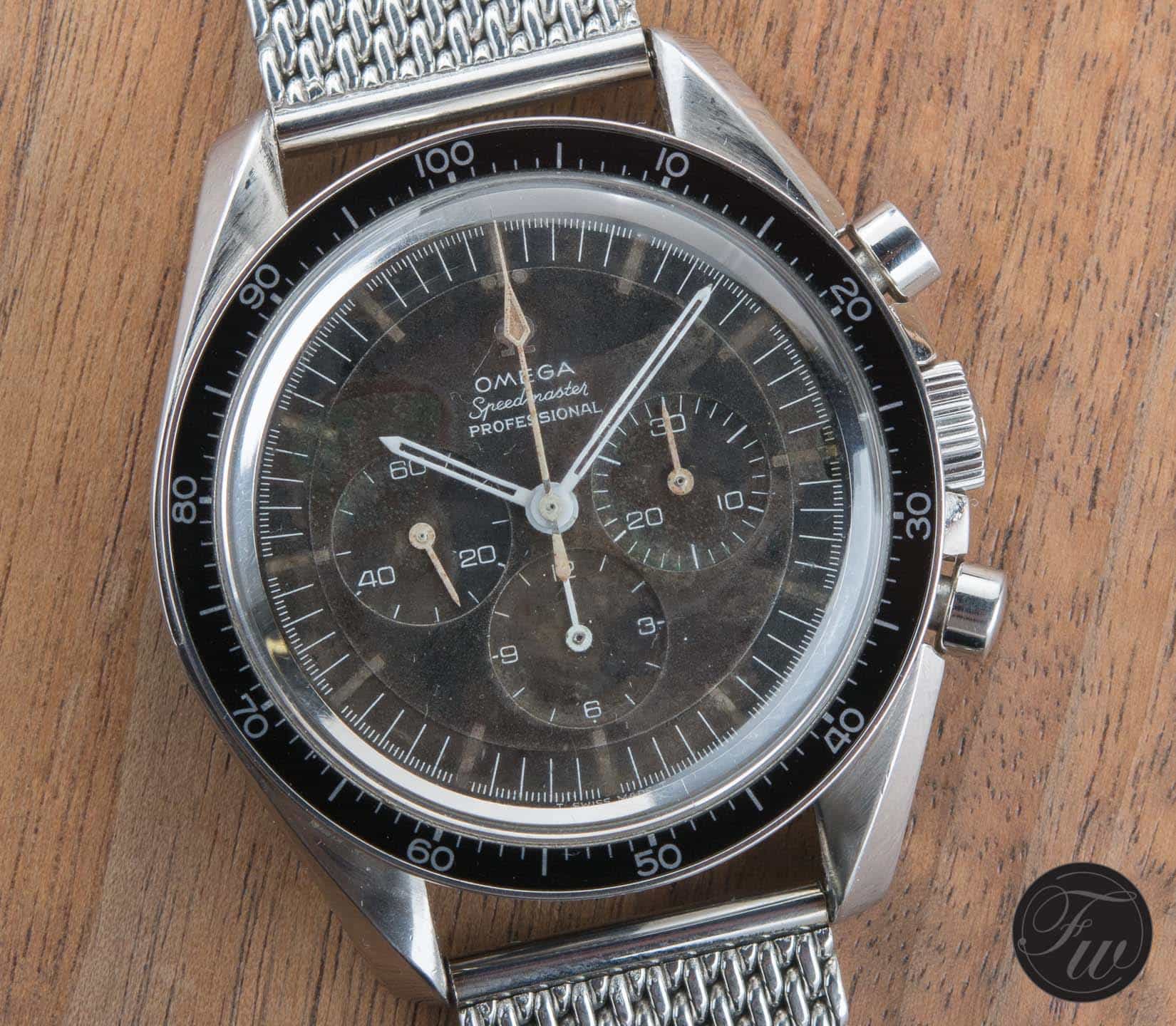 As you can see, the owner installed a decimal bezel. However, he also showed me the original DO90 bezel that came originally with the watch. The mesh bracelet is an aftermarket one, but looks quite good.
Tropical Dial
As you can see on the images I took yesterday, this Speedmaster Professional 105.012-63 has a tropical dial. We have covered 12 different Speedmaster references with  tropical dials in this article recently. In that article we also showed you a 105.012-64 with tropical dial and blue bezel. Although that case reference indicates -64, that actual watch was produced in 1966. Don't let the case references indicator fool you regarding the production year, as we've explained earlier here. The 105.012-63 we have here is a very early one, with a serial starting 20,5xx,xxx being produced in the first quarter of 1964 and shipped to Mexico in May 1964. The current owner actually bought this watch in Mexico as well.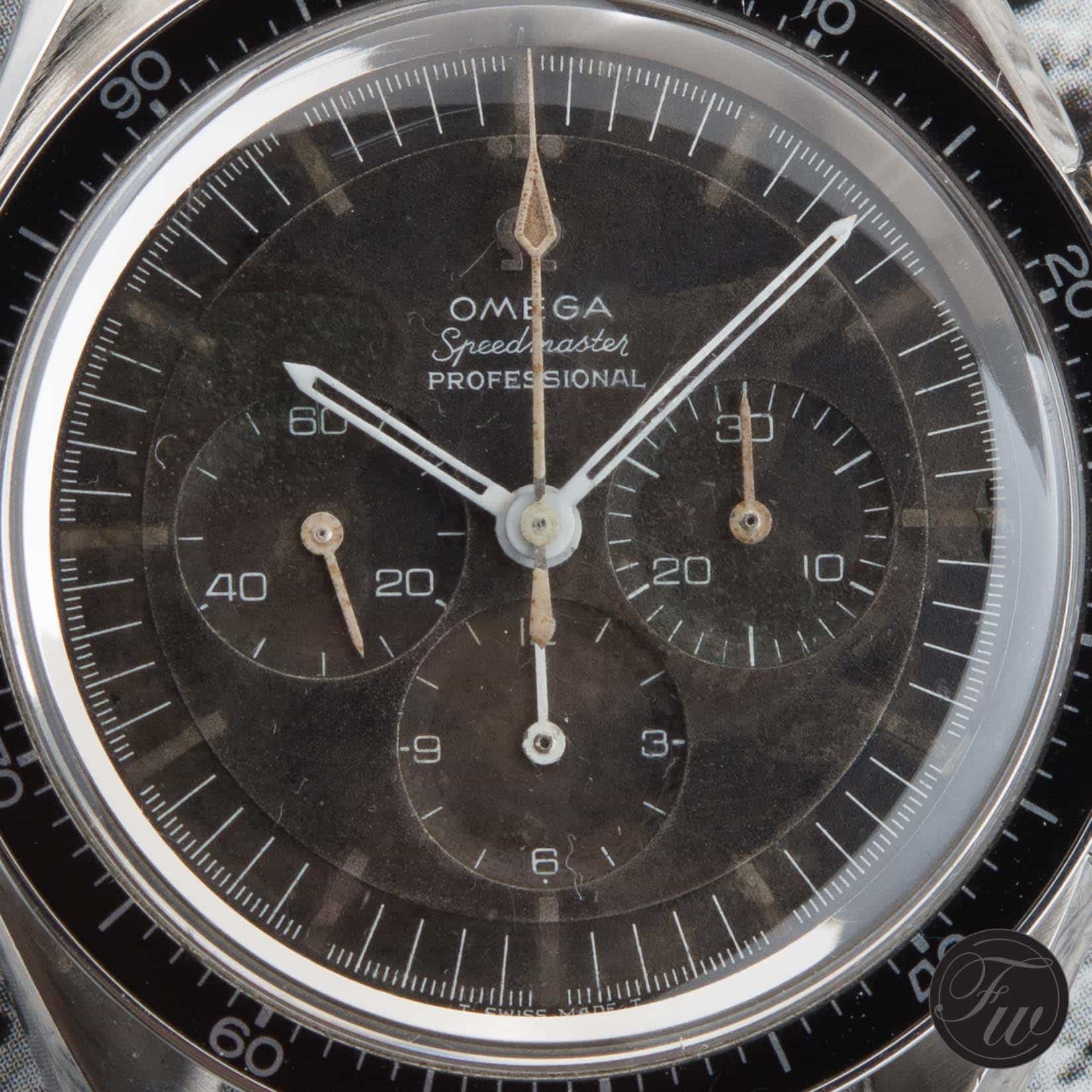 The dial of this Speedmaster Professional 105.012-63 turned brown, as you can see above. Hour markers and tritium in the chronograph seconds hand turned dark and the tritium in the hours and minutes hand fell out. Something you see quite often with these vintage Speedmasters. Interesting to note that the small hour recorder hand, as well as the normal hour and minutes hand are whiter than the other hands.
105.012 on the Moon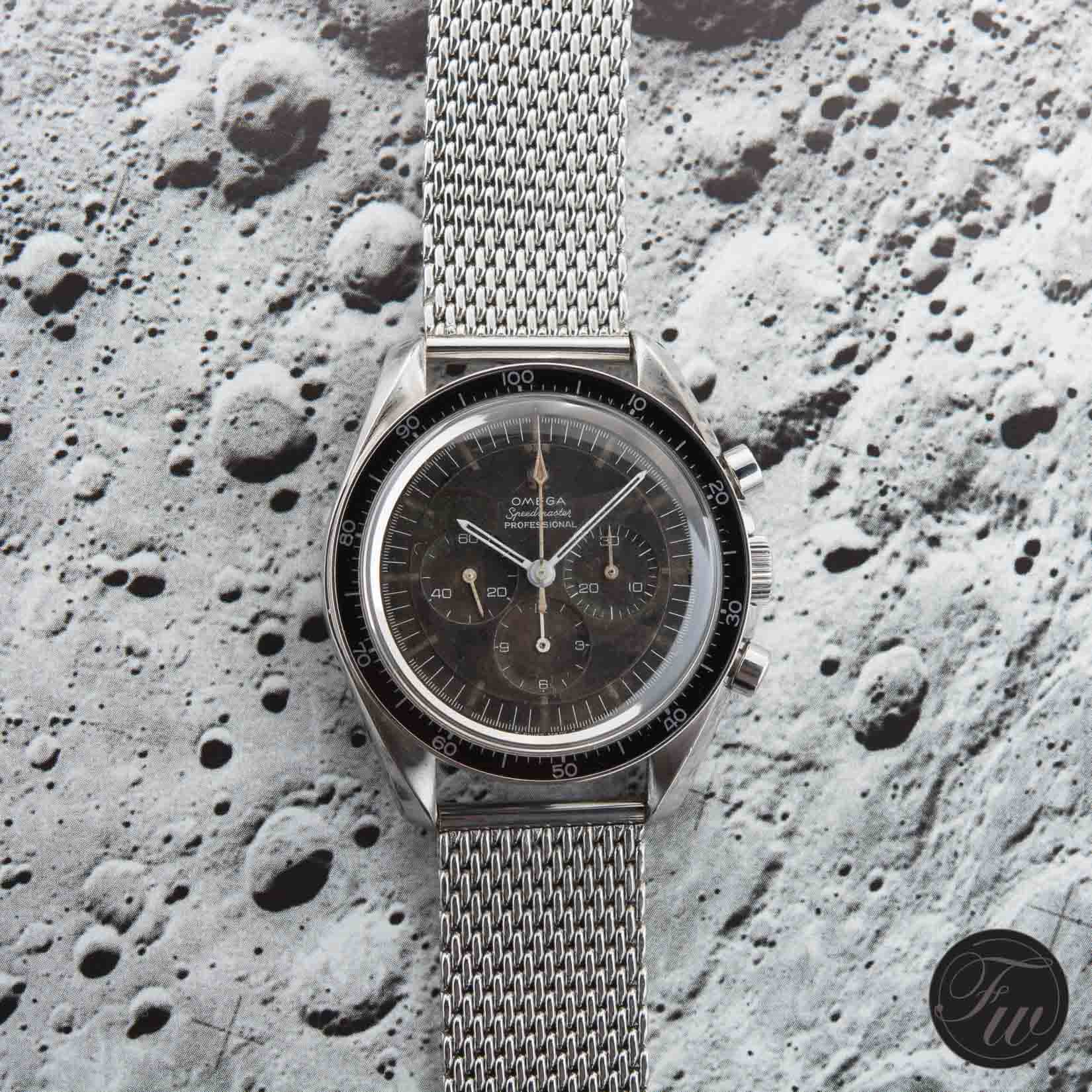 Buzz Aldrin and Neil Armstrong both had the Speedmaster Professional 105.012 where Michael Collins wore his 145.012. According to the legend, Armstrong did not have his Speedmaster on his wrist as he left it in the lunar module to replace the broken Bulova board instrument clock. Because the caliber 321 movement in these 105.012 and 145.012 watches were replaced in 1968 by the caliber 861 movement in the new 145.022 reference, the last batch of calibre 321 Speedmasters was shipped to NASA in September 1968. The 145.022 with caliber 861 was never on the Moon (but very near though), as a board instrument on Apollo 17.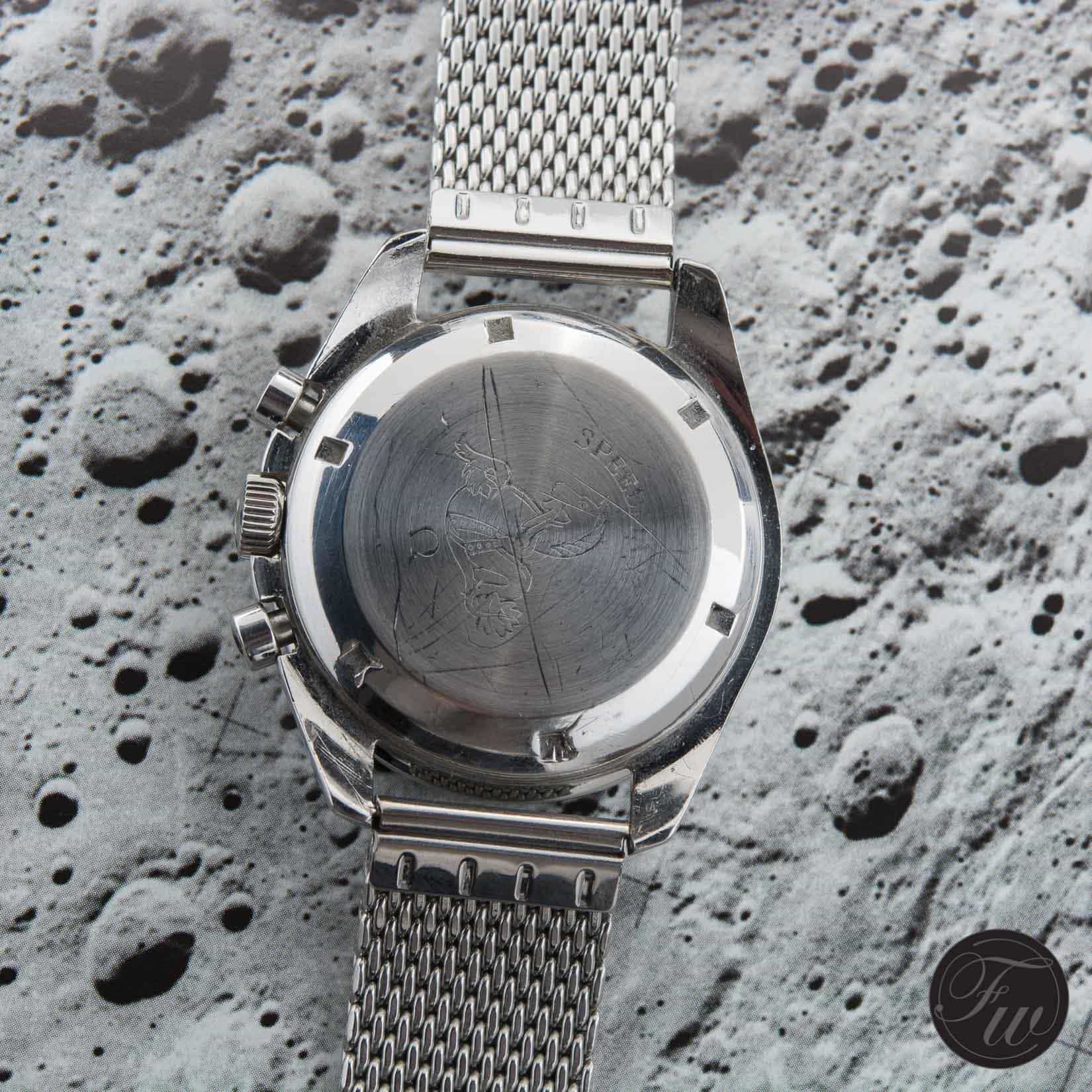 The main difference between the 105.012 and 145.012 was the stepped caseback and the pushers. However, the 105.012 seems to be a bit more sought-after. According to Moonwatch Only, the production number of the 105.012 is estimated between 24.000 and 24.500 pieces. The reference 105.012-63 we have here, is the rarest one of the production with an estimation of less than 2000 pieces.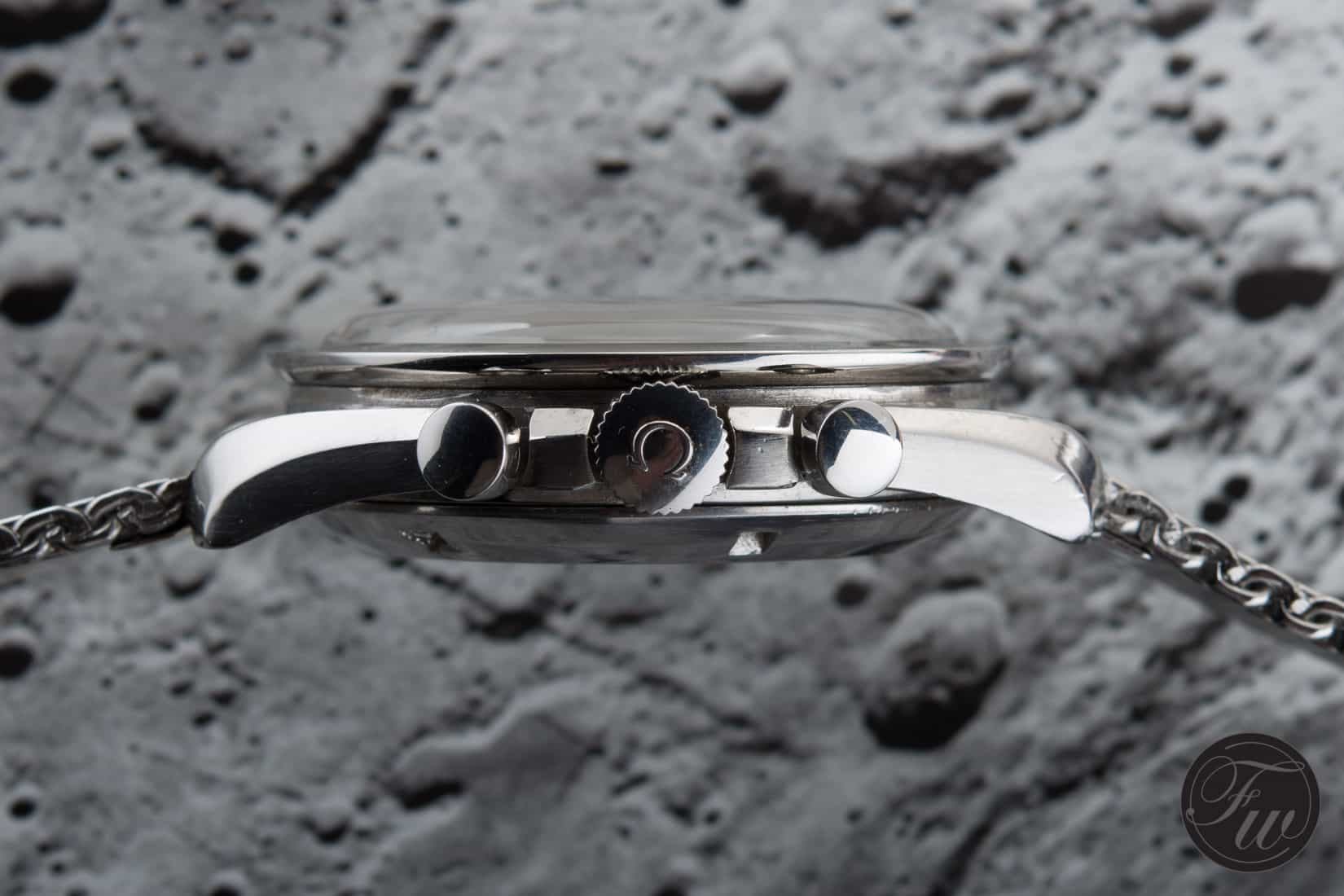 Overall Condition
Some people will be put down by a Speedmaster with a dial like this, others will love the tropical dial. It is all a matter of preferences. In my personal opinion, this watch is more than 50 years old, so it should show some wear. Scratches, dings, a bit of corrosion perhaps, that is all part of the life of a watch that has been worn often. This Speedmaster Professional 105.012-63 had a good life based on the condition of the watch.  The discolored dial as a result of nickel-plating oxidizing is shown at its worst here on these images, as I used a flash light. I personally don't fancy a tropical dial over a dial that is still in the same color and condition as when it left the factory, but perhaps you do. Putting a price tag on this watch is difficult just because of this reason. For some it is worth less than a regular dial, to others it brings some extra.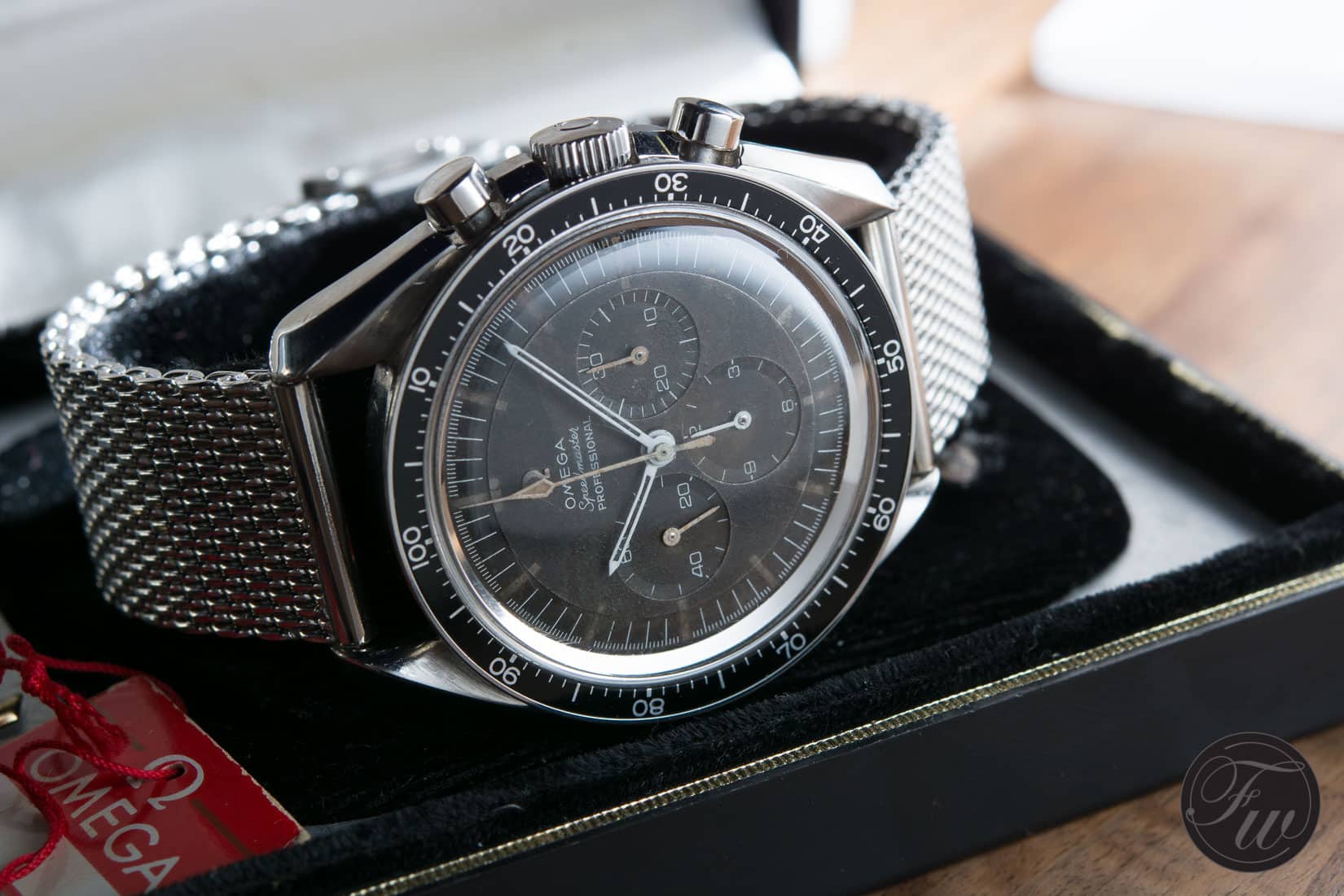 To me personally, the technical condition is as important as the aesthetics of the watch. Servicing a caliber 321 can be quite troublesome, as parts are getting scarce (or are scarce) and thus expensive. Besides that, it can take quite a while before parts are sourced and the watch can receive its full service (or repair). Always make sure to calculate a service in for a watch you want to buy, or at least get proof that it has been serviced (recently). As services are expensive, a receipt should be there. At least I don't throw away receipts of expensive services/purchases. Aside from the deviation per day, the amplitude of the balance is a good indicator whether a watch needs to be serviced. Your watchmaker can monitor these things easily using special equipment.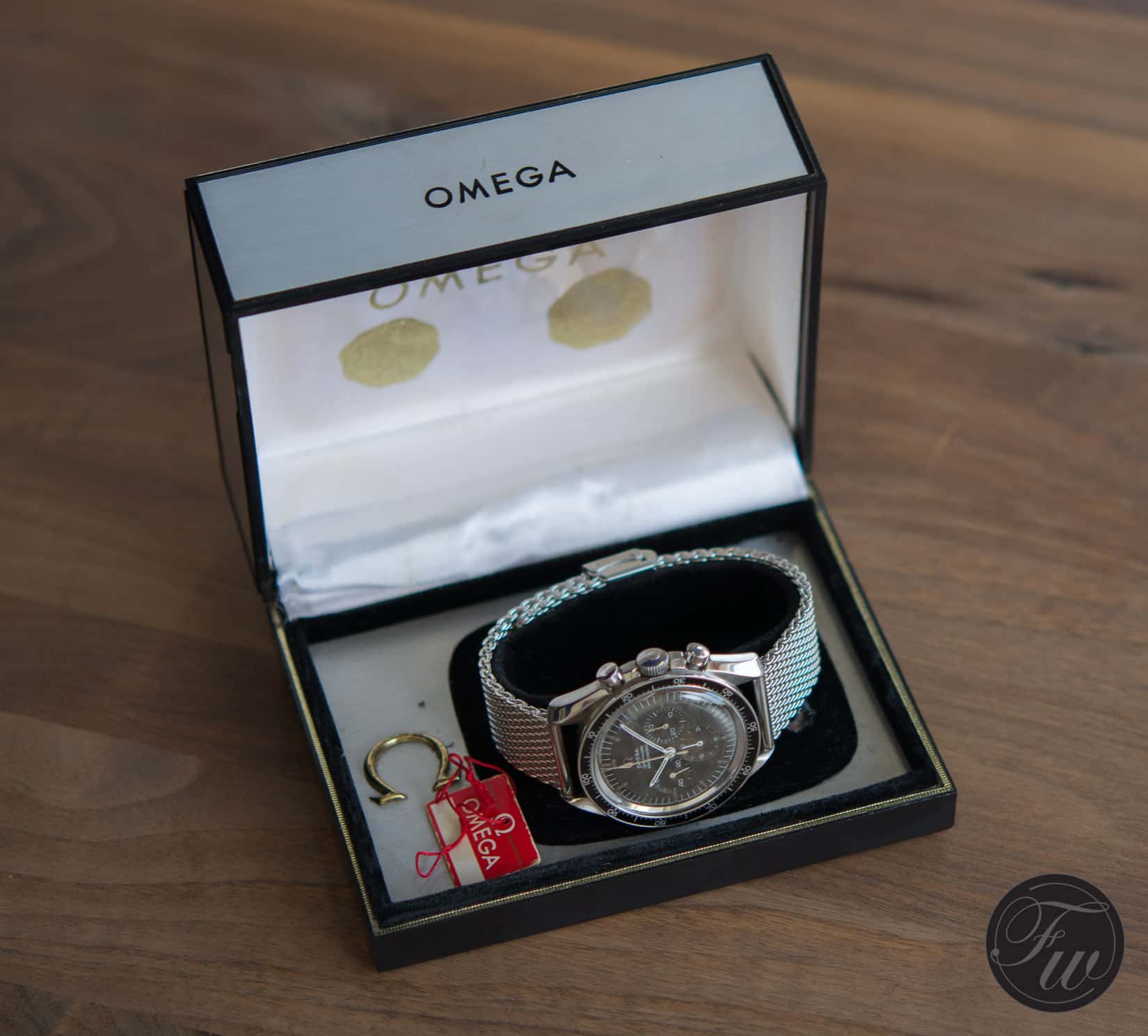 A big thank you to our reader, who wishes to stay anonymous, to come over to our office and show us this beautiful early bird Speedmaster Professional 105.012-63. You don't come across these every day.