Every Watch Brand Sponsorship Deal For The New Formula One Season
An overview of each watch brand/F1 team partnership for 2021
With the 2021 Formula One season starting on schedule, I check out the watch brands that sponsor each manufacturer. Some of the partnerships are new for this year, whereas some are dyed-in-the-wool. There are even F1 teams without a watch sponsor as the season gets going. But no matter the case, I cover each team and weigh in with my thoughts on whether they are a good fit for the chosen watch brand.
Did you check out Episode 6.0 of the Fratello WASP Podcast? If not, open your podcast player of choice, and have a listen as you read along. I made a guest appearance to give a rundown on the first European-originated sport to feature in the series. Previously Rob and Balázs focus on the North American leagues. But as I have a keen interest in F1, I phoned in to break down the exciting inaugural 2021 Bahrain Grand Prix.
It was a doozy as well, with equal parts racecraft, strategy, teamwork, crashes, pitstops, and the big talking point; track limits. Check out the podcast for a more in-depth exposé on how the race unfolded. As for now, I bring my attention to the watch brands for each team. It's a longstanding tradition that F1 drivers sport a snazzy watch when roaming the pitlane. Some even venture out on the track with their trusty timepiece. Jack Heuer and racing driver Jo Siffert made advertising Heuer watches a lucrative concept in the sport.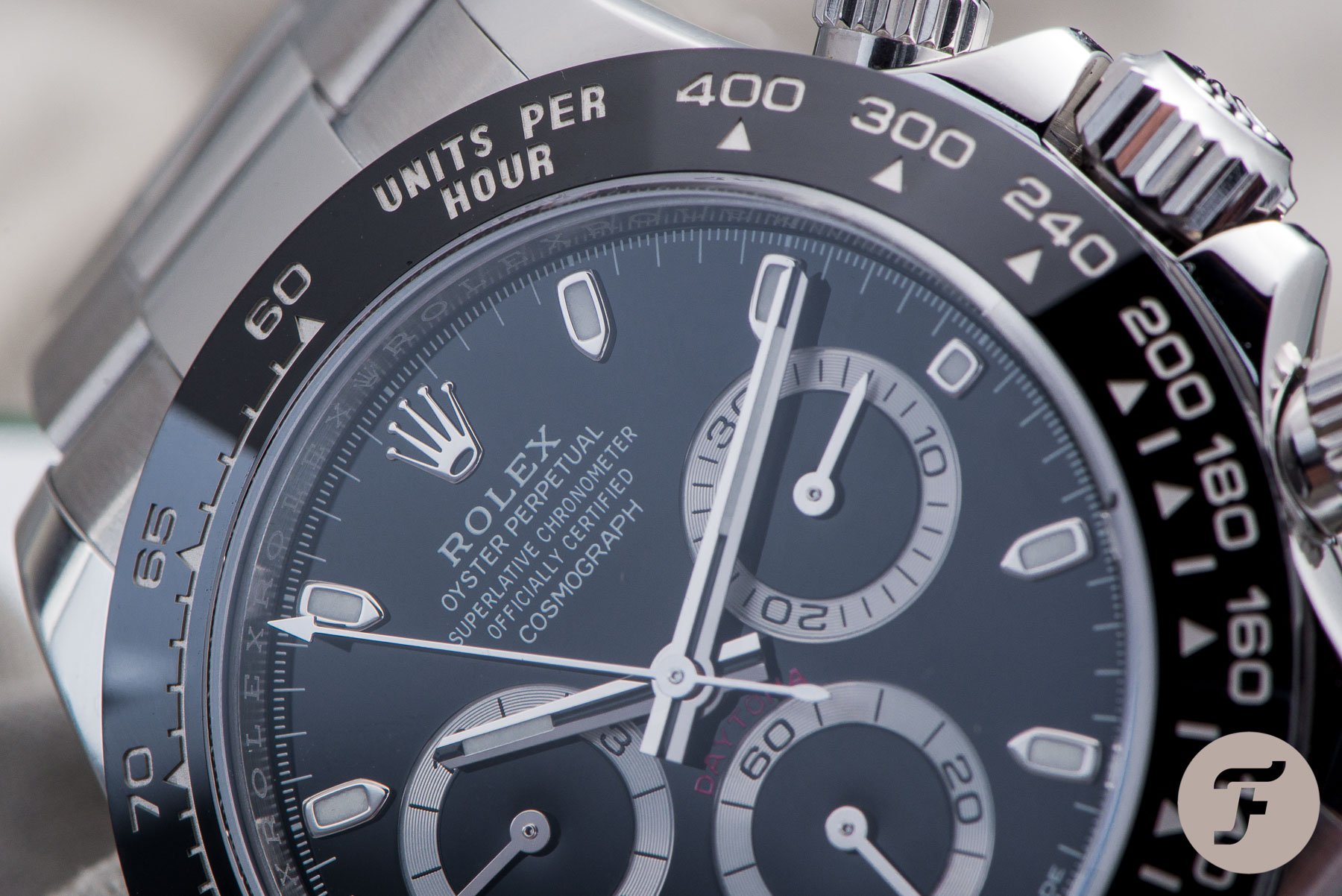 Rolex — Formula One official timekeeper
Soon enough, Heuer branding was strewn across many drivers' racing overalls. Heuer was even prominently on display in the Steve McQueen racing docu-drama Le Mans (1971). The official timekeeper of Formula One now rests with Rolex, but it was not the first to have the honor. Heuer established the process for officiating the timekeeping in the '70s. Longines then took over in the '80s, returning to the rebranded TAG Heuer in the '90s. Hublot took the reigns in the 2000s before Rolex took its rightful place as F1's official timekeeper for the 2013 season.
As F1's official timekeeper, Rolex has a set of responsibilities, similar to Omega at the Olympics.
Rolex does not sponsor a particular team or active driver on the grid. But many retired legends of the sport, such as Jackie Stewart and Mark Webber, feature as Rolex ambassadors. As an official timekeeper, Rolex has a set of responsibilities, similar to Omega at the Olympics. The equipment needs to be maintained and cross-examined to ensure consistency and accuracy. The most recent race weekend I can recall the timing equipment failing was the 2009 Hungarian Grand Prix qualifying session. A broken cable led to a lengthy delay in discovering who would end up in pole position. Fernando Alonso got the fastest lap, but the calamity highlighted the importance of reliable timing equipment.
It's lights out, and away we go
2021 has seen some changes in watch sponsors for F1 manufacturers. The below list is compiled in order of each team's 2020 constructor's championship standings. There is no favoritism here, but I will divulge my opinion on whether the brand aligns with the team.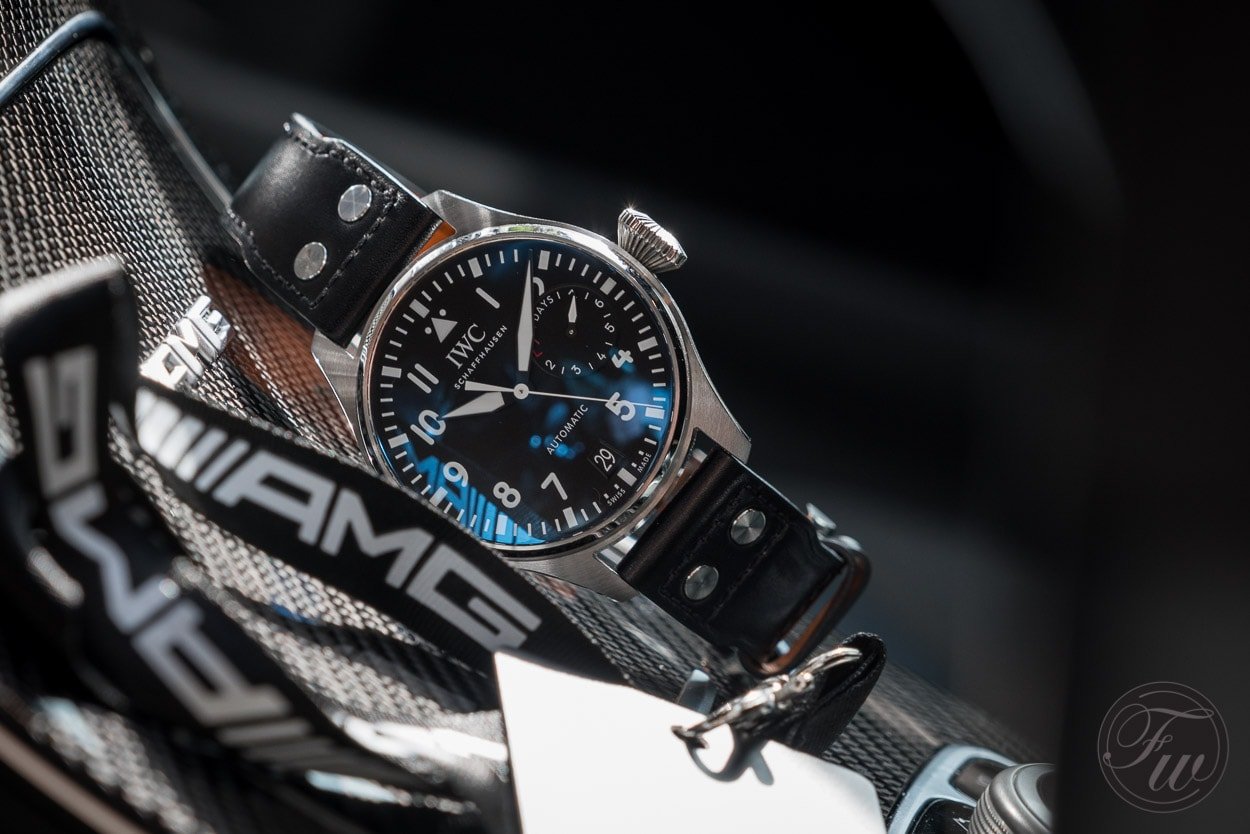 Mercedes-AMG F1 — IWC Schaffhausen (Since 2013)
First up is the most dominant team of the current era of F1. Mercedes-AMG has won every season since 2014 in the hybrid V6 turbo age. Lewis Hamilton has won six championships for the past seven seasons and now ties with the great Michael Schumacher with seven world titles under his belt. The resurgence of Mercedes in Formula One since its re-entry in 2010 has benefited many of its speculative sponsors. IWC has been the watch sponsor since 2013 before Mercedes hit its stride the following year.
Initially, IWC's only exposure was when the drivers were out of the car waving their wrists during interviews. Before long, IWC had the great idea to print a selection of its collection on the racing gloves in the position where the watch would naturally sit. This way, the action on track, especially within the cockpit, always gives the viewers a glimpse of the IWC branding.
Lewis Hamilton's piece unique IWC
Eventually, IWC marked the partnership with special editions of the Ingenieur. It makes sense as the Ingenieur is seen as the motorsports-orientated sports watch. However, Hamilton favors the Big Pilot and can be seen wearing various bespoke IWC Big Pilot Perpetual calendar watches made just for him.
Hot take: This is one of the most esteemed collaborations, with each outfit complementing one another. There was even an option to spec an IWC dashboard clock when purchasing the Mercedes-Benz CLS-55 AMG. The monochrome color schemes and no-nonsense attitude also correspond with each marque. While IWC is Swiss, Schaffhausen is on the border with Mercedes' home in Germany and consequently shares a similar culture.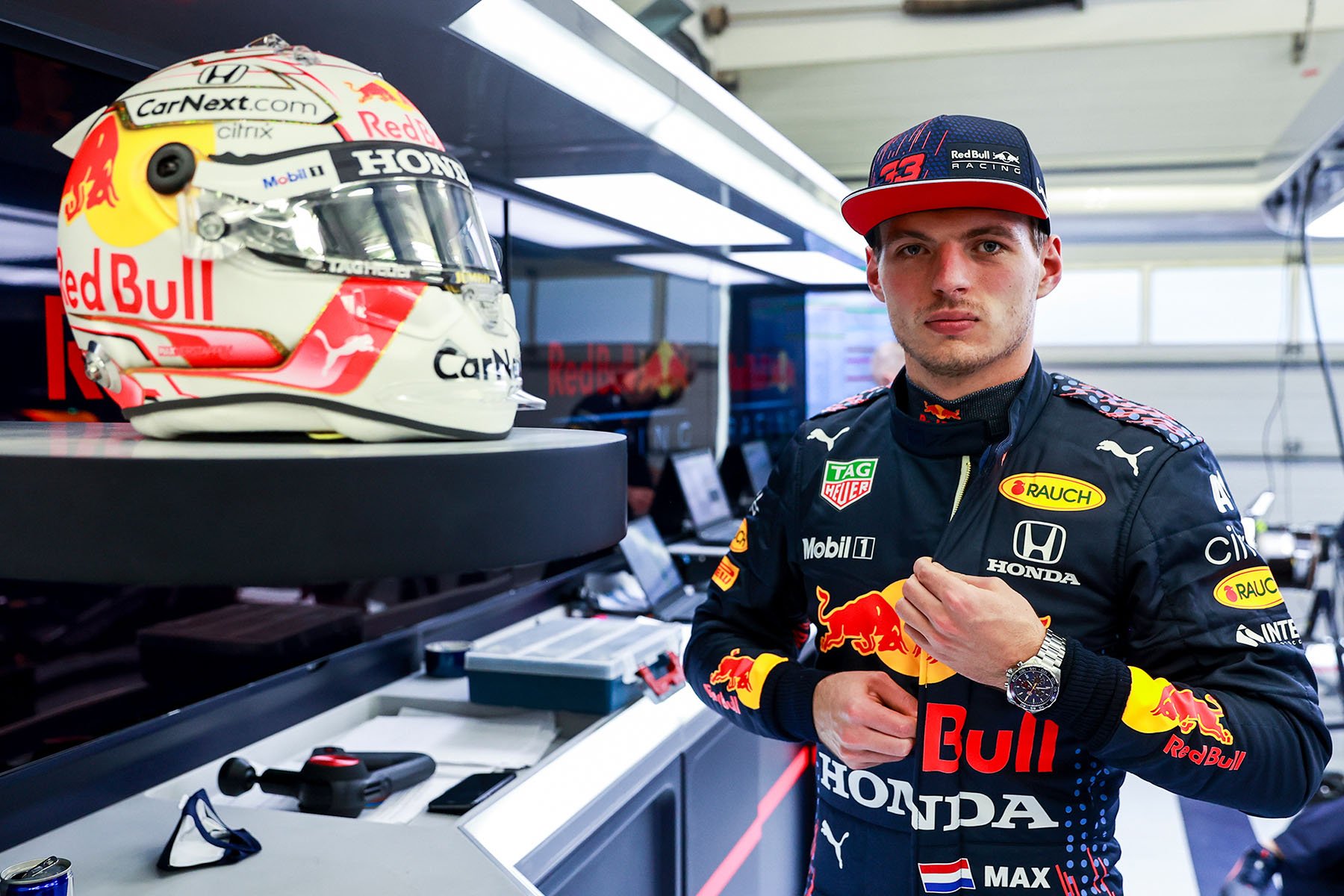 Red Bull Racing — TAG Heuer (Since 2016)
Just as I was putting this article together, I received some pertinent news. Red Bull has extended its timing sponsor with TAG Heuer until 2024. This partnership began in 2016 in a season that saw Daniil Kvyat replaced by Max Verstappen mid-season. It was an emphatic debut as Max secured his maiden victory in his first outing in a Red Bull car. Verstappen is now a consistent fixture on the podium and has a fighting chance of taking the 2021 championship. Just recently, Max took an impressive win at the Imola GP.
Red Bull rebranded the Renault engine as TAG Heuer — despite TAG not developing an engine.
There was a strange situation at the beginning of TAG collab with Red Bull. Red Bull and engine supplier Renault had a strong relationship during the dominant V8 era of the 2010s. That relationship soured with the regulation change to V6 turbos. The Renault engine was down on power compared to competitors. The behind-the-scenes antics between Red Bull team principal Christian Horner and Renault's Cyril Abiteboul broke down the contractual agreements. So much so that Red Bull rebranded the Renault engine as TAG Heuer — despite TAG not developing a motor for that season.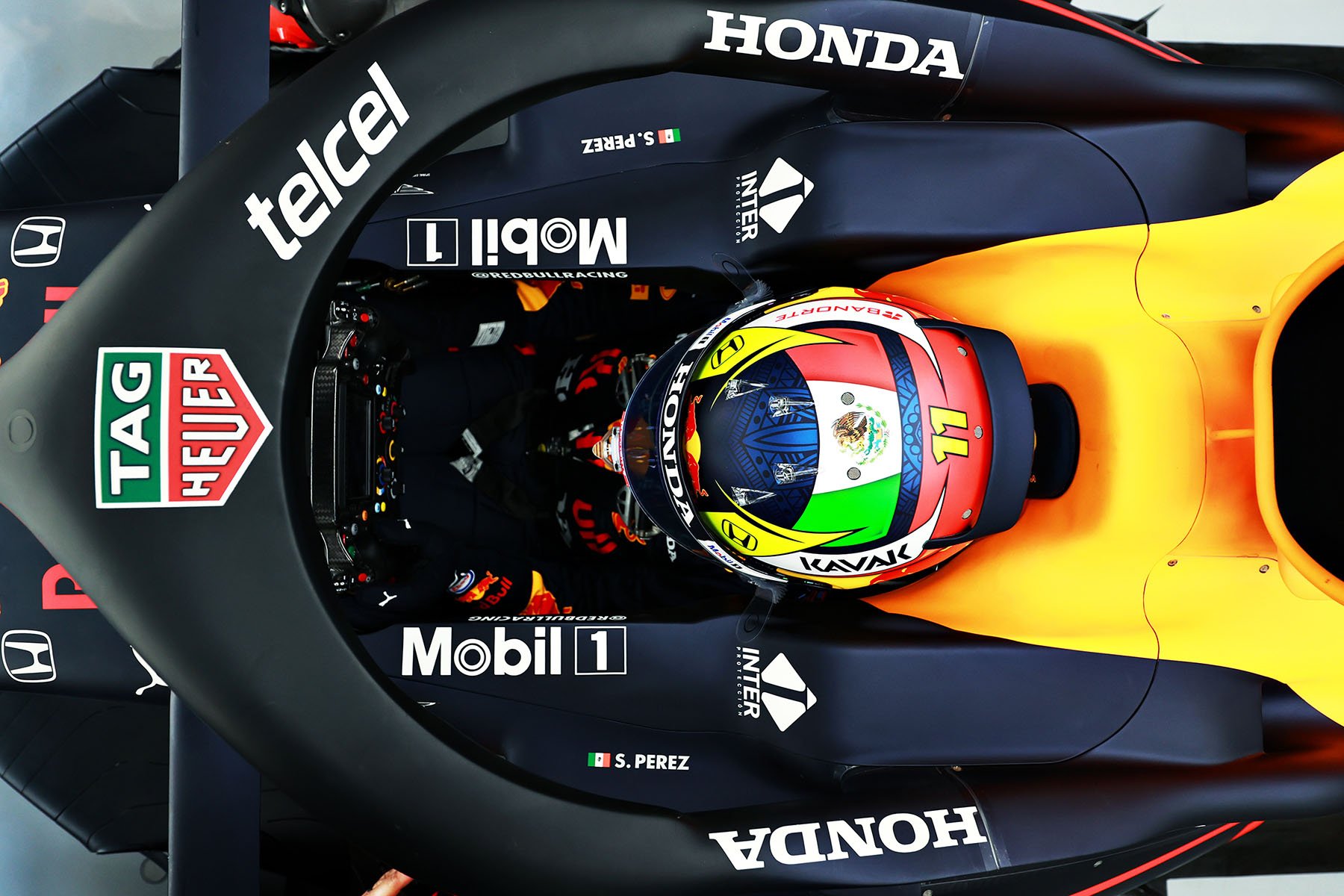 History of TAG Heuer and F1
That's not to say TAG has no experience in supplying engines. The TAG Porsche engine powered the McLaren team to three titles from 1984 to 1986. Consequently, McLaren team principal Ron Dennis took a stake in Heuer and, together with TAG CEO Mansour Ojjeh, merged the brands to become TAG Heuer. The ownership fizzled out when TAG Heuer was bought under the umbrella of LVMH. Even so, the "TAG" part of the Heuer brand remains despite no longer having any affiliation.
Hot take: This highlights the critical role that F1 has played in the Swiss watch industry. Heuer, at least in the latter half of the 20th century, centers around motorsport. Red Bull only strengthens that bond between F1 and TAG Heuer as a winning team and title contender.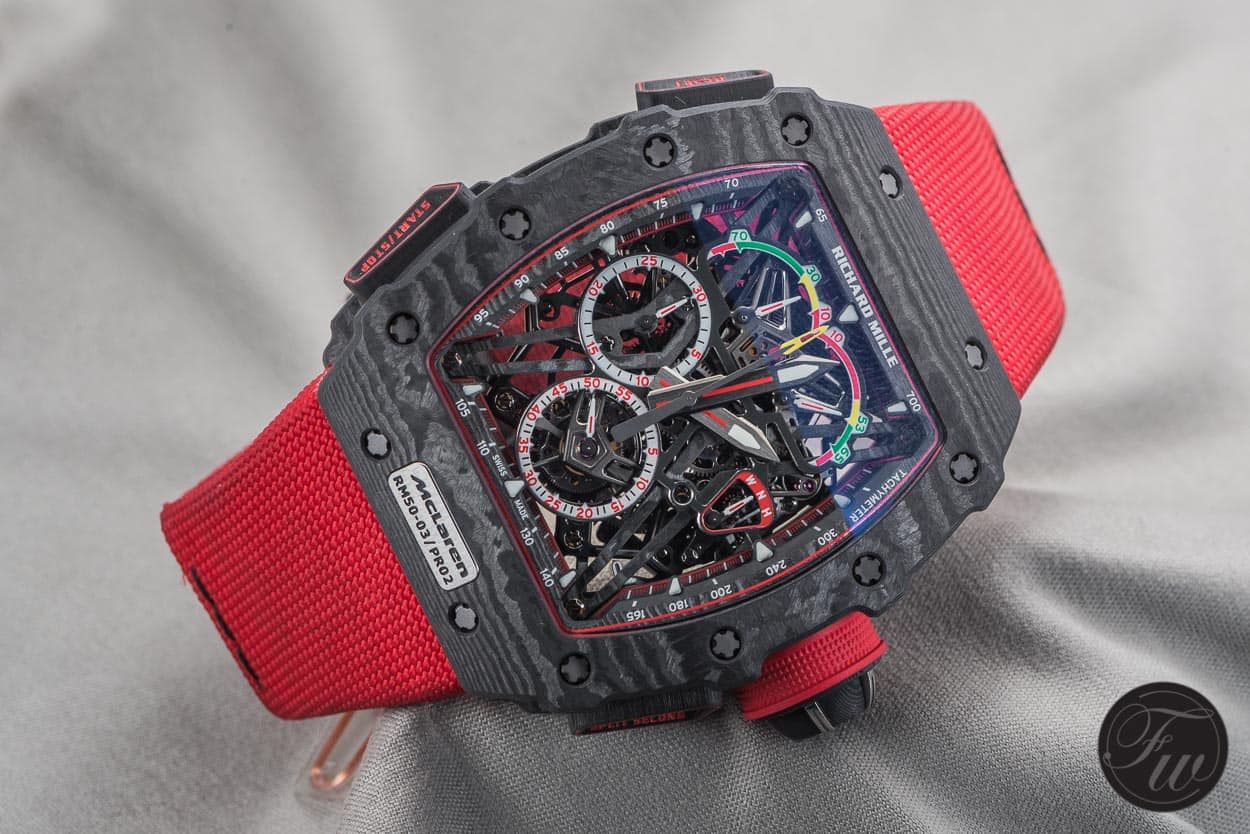 McLaren Racing — Richard Mille (Since 2016)
I've already gone into the partnership that forever cemented the association between TAG Heuer and McLaren. Buyers of the McLaren F1 supercar in the early '90s would even receive a TAG Heuer 6000. This watch was limited to the 64 lucky owners of the car, making it exceptionally rare. When the Tag Heuer Link came out, F1 legend Ayrton Senna was featured in the promotions, and the stylized bracelet resembled his "S" logo. The McLaren and TAG Heuer partnership lasted a long 30 years. Eventually, it ended in 2015 following a few dismal seasons with the Honda-powered McLaren.
The average unit cost of a Richard Mille is CHF 183,000.
As mentioned above, TAG Heuer moved to Red Bull for the 2016 season. Coincidentally, McLaren went from Honda to Renault engines in 2018, with Red Bull moving from Renault (or TAG Heuer) to Honda in 2019. The same goes for watch brands, with Richard Mille replacing timing partner TAG Heuer at McLaren. Richard Mille is a super-exclusive hot brand amongst the wealthy. The average unit cost of a Richard Mille is CHF 183,000 — average! This works for McLaren as its Automotive arm also includes hypercars in high demand with low supply.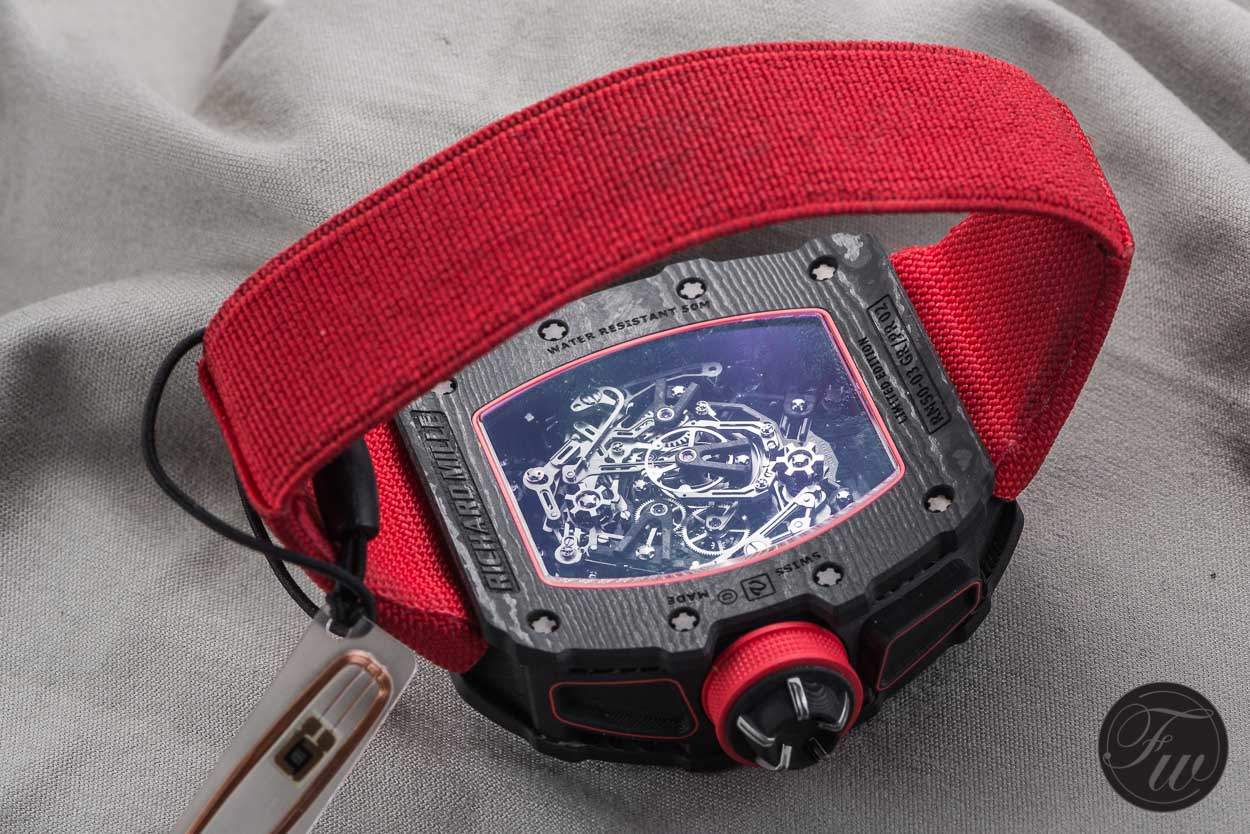 A racing machine for the wrist
Richard Mille is no stranger to supplying lightweight shock-resistant wrist-machines to sports stars of the world. The man himself is an avid fan of motorsports and can be seen in the paddock and private jets alongside F1 racers. It's pretty alarming to see so many high-priced watches in the trackside areas begging to be snatched by pitlane pass holders. The first McLaren timepiece from Richard Mille was a $1million tour-de-force: A split-seconds chrono with tourbillon and torque indicators, all wrapped in a 40-gram NPTP carbon case with a colorful elasticated strap. The Richard Mille 50-03 McLaren is a perfect precision instrument for the high-end carmaker.
Hot take: Despite Richard Mille pricing the average watch collector F1 fan out of contention, the McLaren partnership suits the rejuvenation of its F1 performance. The Honda-era was a downward trend for McLaren, but the podium positions are now coming through. The F1 drivers seem to approve of having an almost imperceptible timepiece on the wrist. And is thanks to Richard Mille's strive for lightweight construction.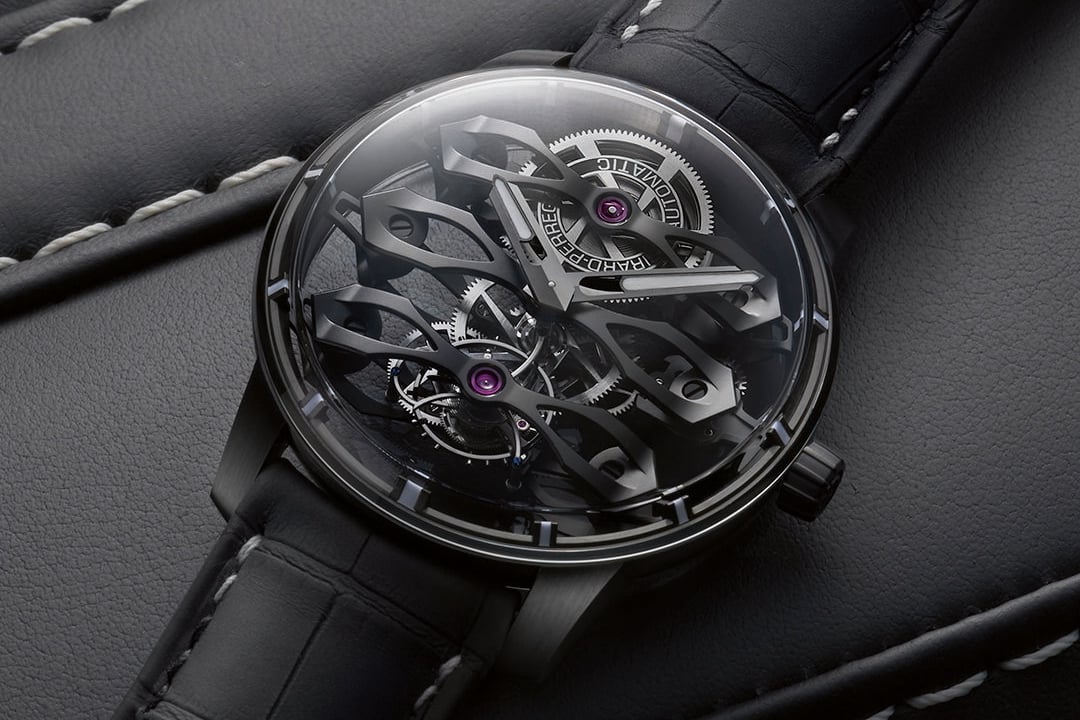 Aston Martin F1 — Girard-Perregaux (since 2021)
Girard-Perregaux sponsoring Aston Martin is a recent partnership for this year. Simply for the reason that Aston Martin is new to the grid. The classic British carmaker previously raced in the top formula during the 1950s. Now, Aston Martin has made a comeback due to a takeover by Canadian investment mogul Lawrence Stroll. Racing Point was the team name last year with a pink livery. This year tones down the paint scheme with a classic green livery. It's early days in the season, but performance has been distinctly average at this point. Hopefully, Aston Martin can build upon its legacy with a podium finishing car in the races to come.
Girard-Perregaux may be new for Aston Martin but has been around F1 before. From 1994 to 2004, Girard-Perregaux was the sponsor for Ferrari. Luigi Macaluso, President of the Sowind Group that owned GP, was good friends with Ferrari boss Luca di Montezemolo. A deal was struck, and Girard-Perregaux badges began appearing on the prancing horses. Conversely, the GP chronographs were subdued with minimal Ferrari branding on the dials, unlike most brands tied to the Italian supercar maker. GP's Laureato watch is ripe for an Aston Martin tie-in, and I look forward to what the latter part of the year brings us.
Hot take: This may be a shorter entry, but with the team and partnership being so new, we'll have to wait and see how this blossoms. I can see the connection somewhat, but I tend to align Aston Martin with watch brands such as Rolex and Omega due to the James Bond association.
Update: Girard-Perregaux introduced the Tourbillon with Three Flying Bridges — Aston Martin Edition in June 2021. You can read more about it here.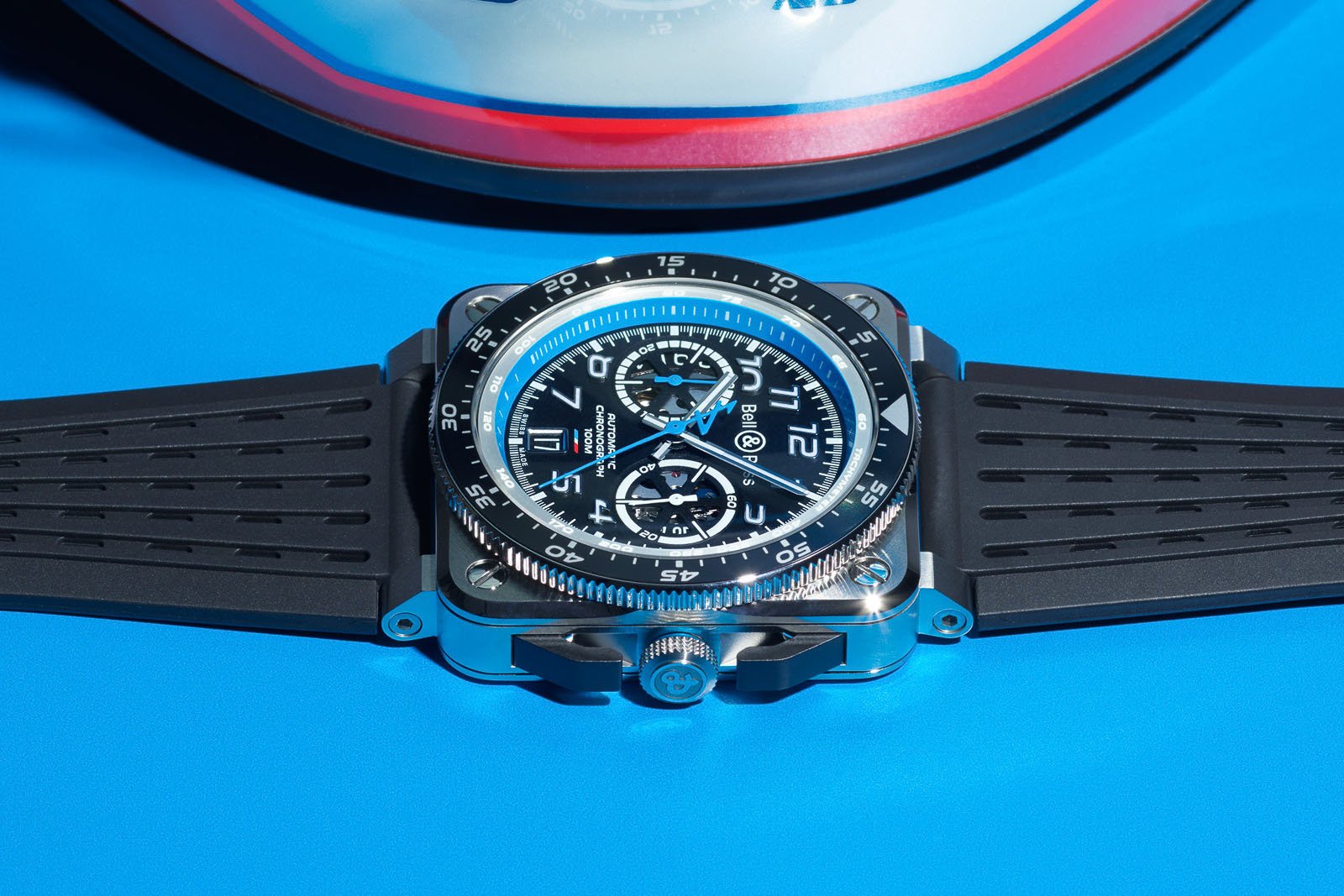 Alpine F1 — Bell & Ross (since 2016 with Renault)
Another new team for 2021 is Alpine F1. In the ashes of the Renault F1 team rises the Alpine name. You may recall the Alpine A110 in the world of rallying, but the brand fell dormant in the mid-90s. In recent times, Renault has been shifting its Renault Sport department under the Alpine moniker. This is to structure the demographics and appeal to enthusiasts of the early '70s rally cars. This mission extends to its Formula One racing team, which also falls under Alpine.
The sponsorship with fellow French watch brand Bell & Ross continues with Alpine. Renault began collaborating with Bell & Ross in 2016, and the watches mostly incorporate the yellow motif into the existing collection. The BR-X1 RS20 takes things to another level with a skeletonized dial within the iconic square case in titanium and ceramic. Similar to Girard-Perregaux, there have been no new watch releases to commemorate the announcement of Alpine's return. We will wait and see what Bell & Ross produce as the season unfolds.
Hot take: It makes sense for a prominent French brand to celebrate its fellow countrymen's watch brand logo on the car. It's too early to examine how this (sort of) new affiliation will unfold. While reminiscing of classic Alpine rally cars, it's hard to associate it with such a contemporary watchmaker. Alpine had its most tremendous success in the '60s and '70s, whereas Bell & Ross was founded in 1992.
Update: Bell & Ross introduced the BR V3-94 A521 with 500-pieces, BR 03-94 A521 with 500-pieces, and 50-piece limited BR-X1 A521 all with the blue matching Alpine colors in June 2021.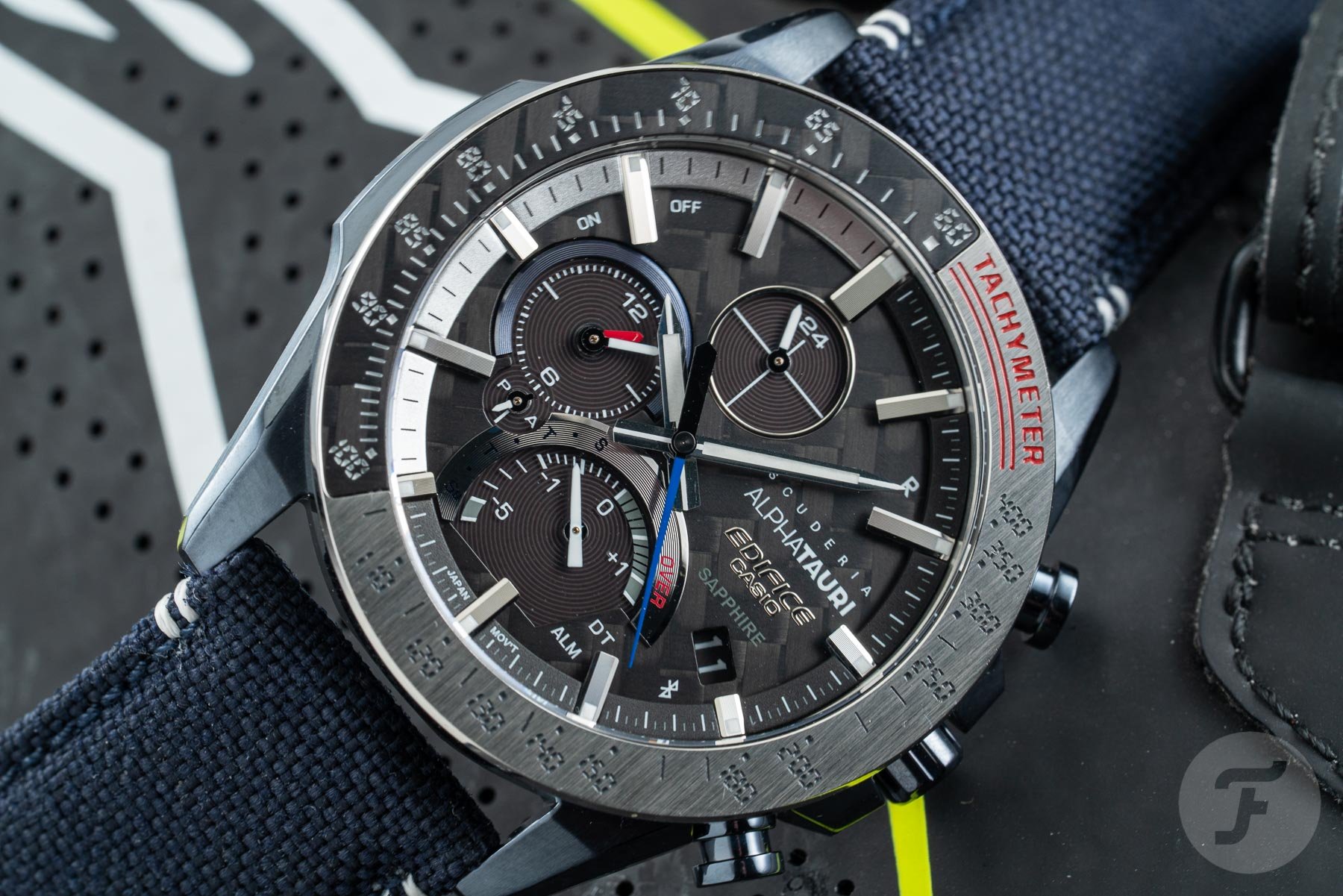 Scuderia AlphaTauri — Casio EDIFICE (since 2016 with Toro Rosso)
Since 2006, AlphaTauri was known as Toro Rosso, which Italian speakers recognize translates to Red Bull. This was a reference to being the sister team to Red Bull and Toro Rosso's home base in Italy. Clothing brand AlphaTauri is a venture by Red Bull and, to promote it, rebranded the Toro Rosso team to push its products in 2020. The advantage of having a sister team in F1 is to trial young drivers who are yet to prove themselves in the top tier of motorsport. If the drivers get the attention of the front-runners, they receive a promotion to a Red Bull seat. It hasn't always worked out this way, and more commonly, we have seen demotions from Red Bull to AlphaTauri.
For Pierre Gasly, this worked out in his favor. Mid-way through 2019, Gasly saw a demotion from Red Bull to AlphaTauri. His tenacious attitude to once again prove his abilities gifted him his maiden win at Monza, Italy — the team's home race. The choice of wristwatch brand showcasing reflects the to and fro between the F1 teams. Once Red Bull took on TAG Heuer in 2016, its current Casio partnership landed on its sister team AlphaTauri. Since then, Casio EDIFICE has been the timing partner with reference ECB-20AT, sharing the design codes of the AlphaTauri clothing line.
Hot take: In all honesty, Casio EDIFICE has never really been on my radar. I often see them in display windows while perusing the duty-free shops in airports. But my attention always leads to the higher-end Casio G-Shocks than EDIFICE. It seems to play into the more youthful vibe within AlphaTauri thanks to the young drivers and streetwear clothing. I am happy to hear more about Casio EDIFICE in the comments if there is anything I am missing out on.
Update: Casio EDIFICE introduced the EQB-1000AT Scuderia AlphaTauri in June 2021. We went hands-on with the model here.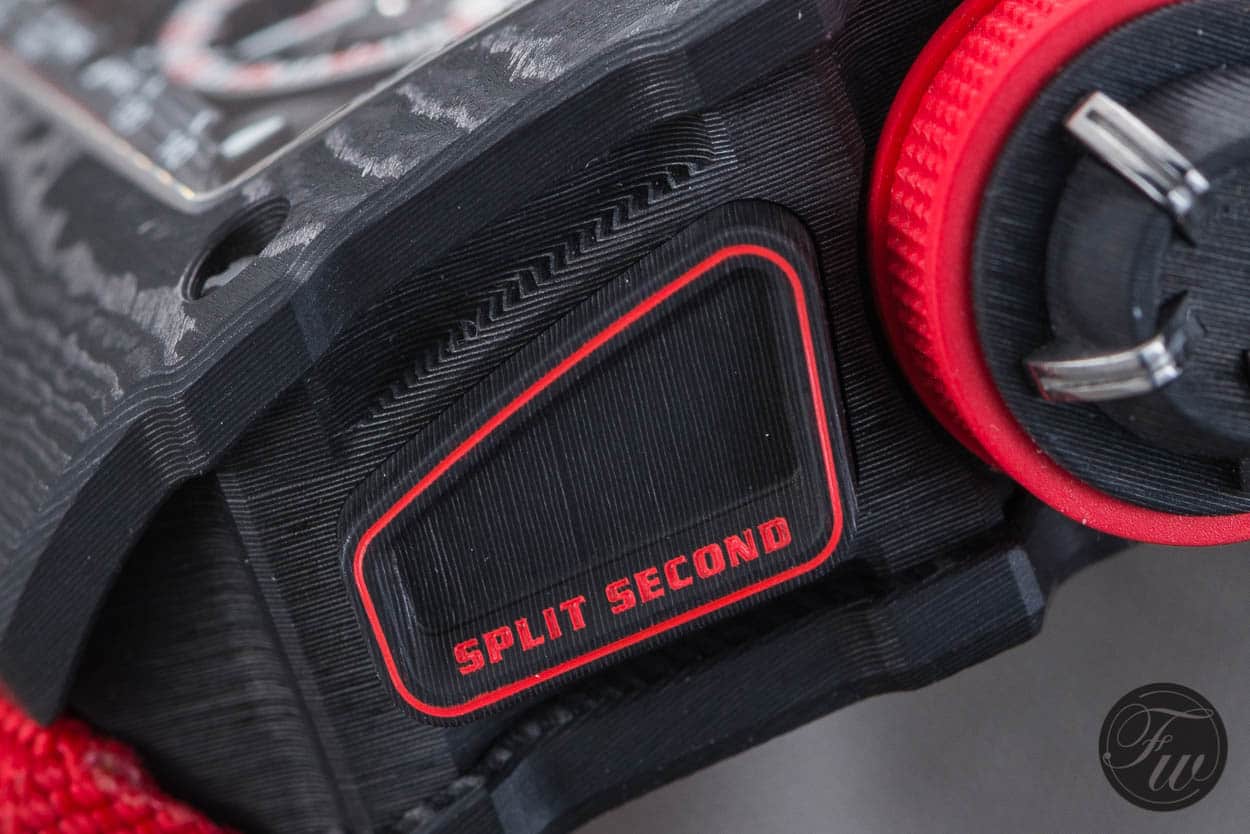 Scuderia Ferrari — Richard Mille (since 2021)
Isn't it weird that we are only now featuring Ferrari on this list? As a reminder, this list is compiled in the relative order of each team's 2020 standings. So how did Ferrari find itself so far down the order? Well, not to get too technical, but it came down to a fuel flow device that was considered an irregularity following the 2019 campaign.
Despite the massive performance drop Ferrari experienced in 2020, the sporting greatness of Ferrari was enough to entice Richard Mille to strike up a new deal. Ferrari has an eclectic history with a myriad of watch brands, which you can read about here. Before Richard Mille came onboard, Hublot held the watch deal with Ferrari for ten years.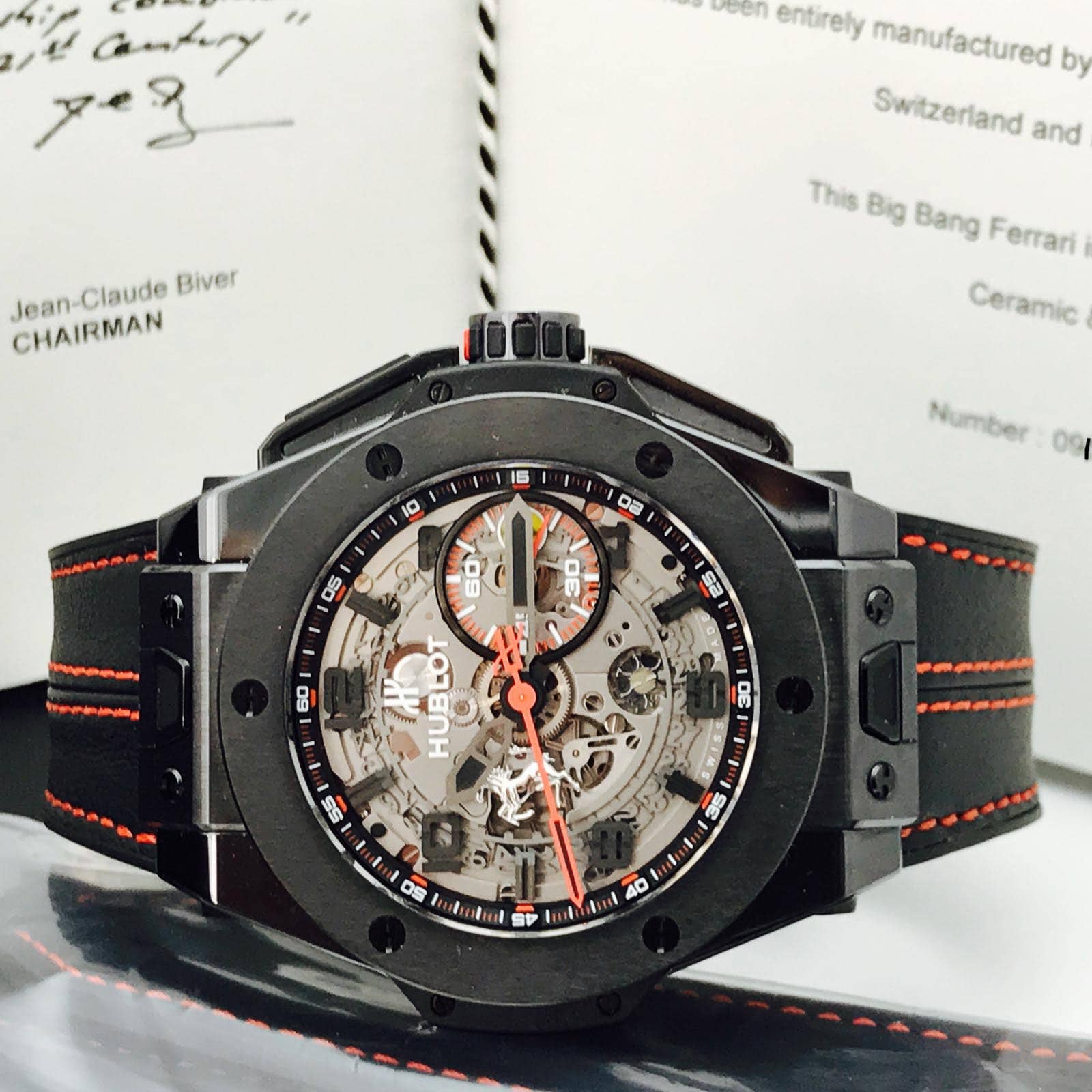 Big Bang fizzles out
Hublot is not one to do things quietly. Yet, at the start of this year, Hublot discreetly bowed out of its partnership with Ferrari that started in 2011. This was probably down to a ten-year contract that simply expired. I'm not the biggest Hublot fan, but I always felt the Ferrari Big Bang watches were attractive. I'm hoping Richard Mille can surpass the innovative Hublot LaFerrari with 56-days of power reserve.
Hot take: I was slightly taken aback by the announcement of Richard Mille joining up with Ferrari. Mostly as its title rival, McLaren also partners with the Swiss watch brand. It seems Richard Mille is trying to take a monopoly on the sport. RM also sponsors individual drivers such as Fernando Alonso, who drives for Alpine that has its deal with Bell & Ross. Still, though, I look forward to what Richard Mille cooks up for such an eminent force in Formula One.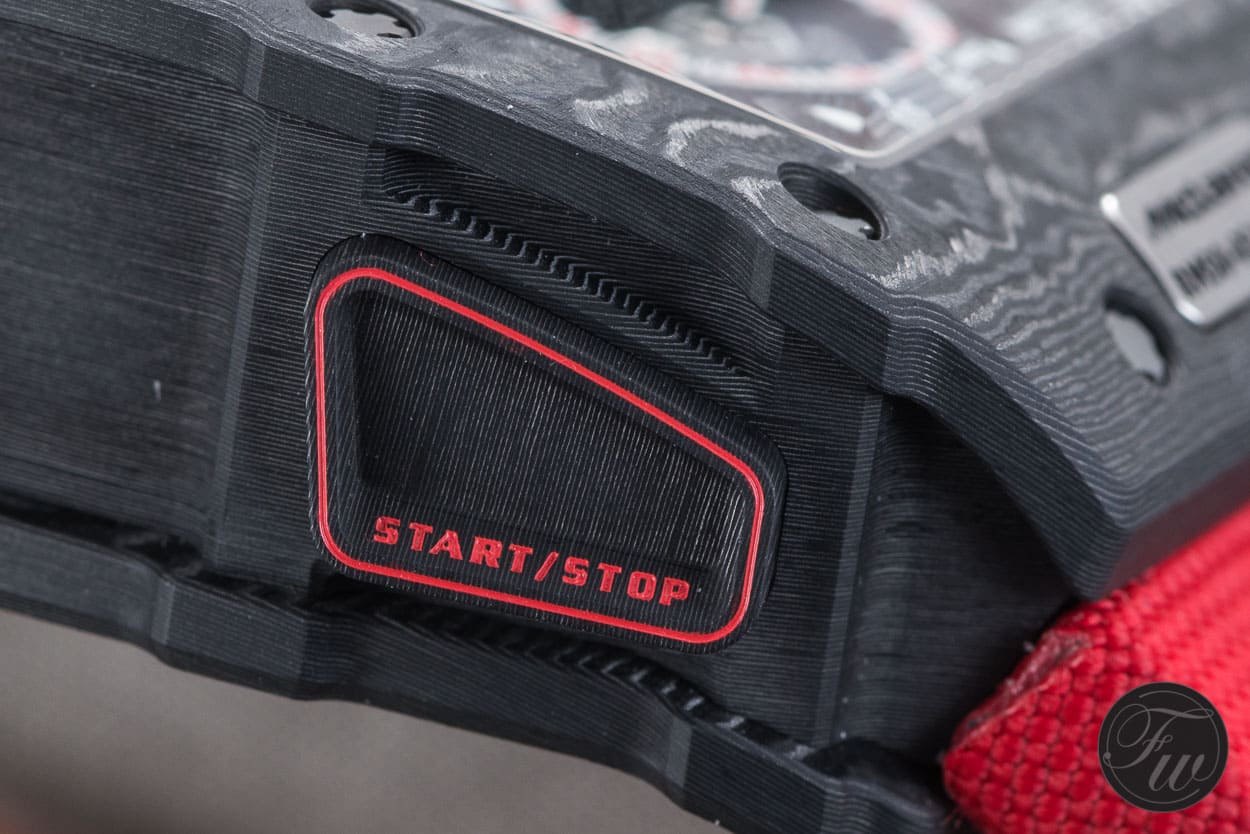 Alfa Romeo and Haas — No watch sponsor (formerly Richard Mille)
Richard Mille previously sponsored the Alfa Romeo and Haas teams in 2020. Since the announcement of Richard Mille partnering with Ferrari for 2021, the deals with the two teams have vaporized. As a result, neither team has a watch brand affiliation in 2021 as of the time of writing.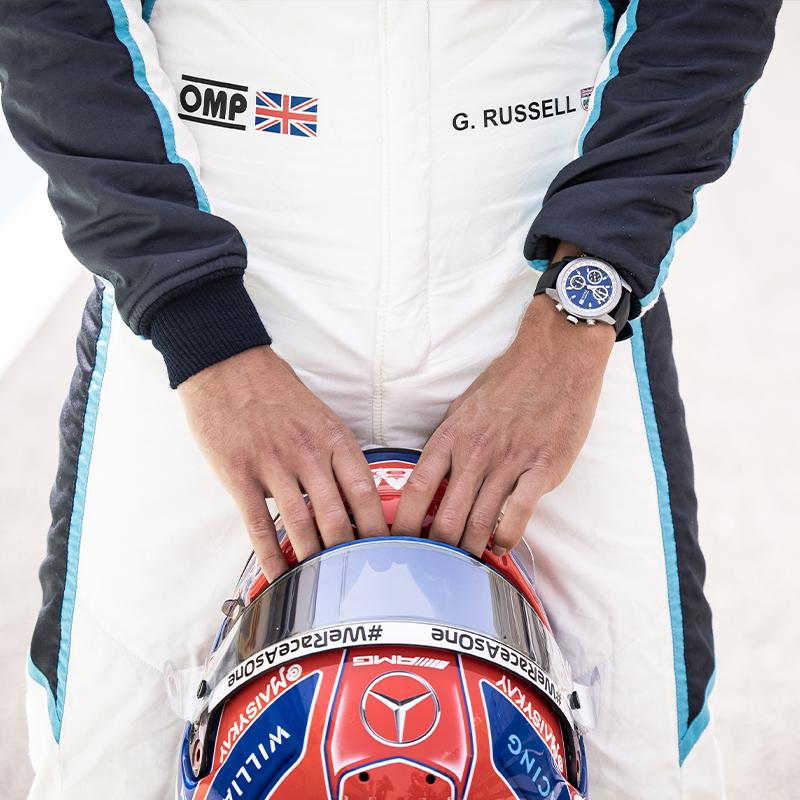 Williams Racing — Bremont (since 2021)
Back of the pack is the Williams F1 team, and this is a tough pill to swallow for me. I began my Formula One fandom in the mid-90s during the heyday of Williams. Damon Hill was my favorite driver, and his battles with an up-and-coming Micheal Schumacher were enthralling. Sadly, the Williams team is not what it once was. And as a result of the "backmarker" position, the eponymous Frank Williams and his daughter Claire have stepped away.
Oris also bowed out in 2018, and for 2019 and 2020, Williams did not have a watch sponsor. Its partnership with Oris kicked off for the 2003 season, so 16 years was a lengthy tenure. But the focus from Oris has shifted to environmental conservation. So, gas-guzzling racing cars did not precisely align with this new eco-conscious mindset. Nevertheless, British watch brand Bremont was happy to pick up the slack where Oris left off.
Hot take: Like Bell & Ross with Alpine, having two British brands collaborate makes sense from a patriotic perspective. Unlike the previous new contracts for this season, we do have a new model from Bremont. The ALT1-WT was unveiled to mark the occasion before the season opener. However, judging from the Bremont site, only a new blue dial with yellow accents has been added to the existing ALT1 collection. Maybe further down the line, we will see specialist motorsport-orientated watches from Bremont.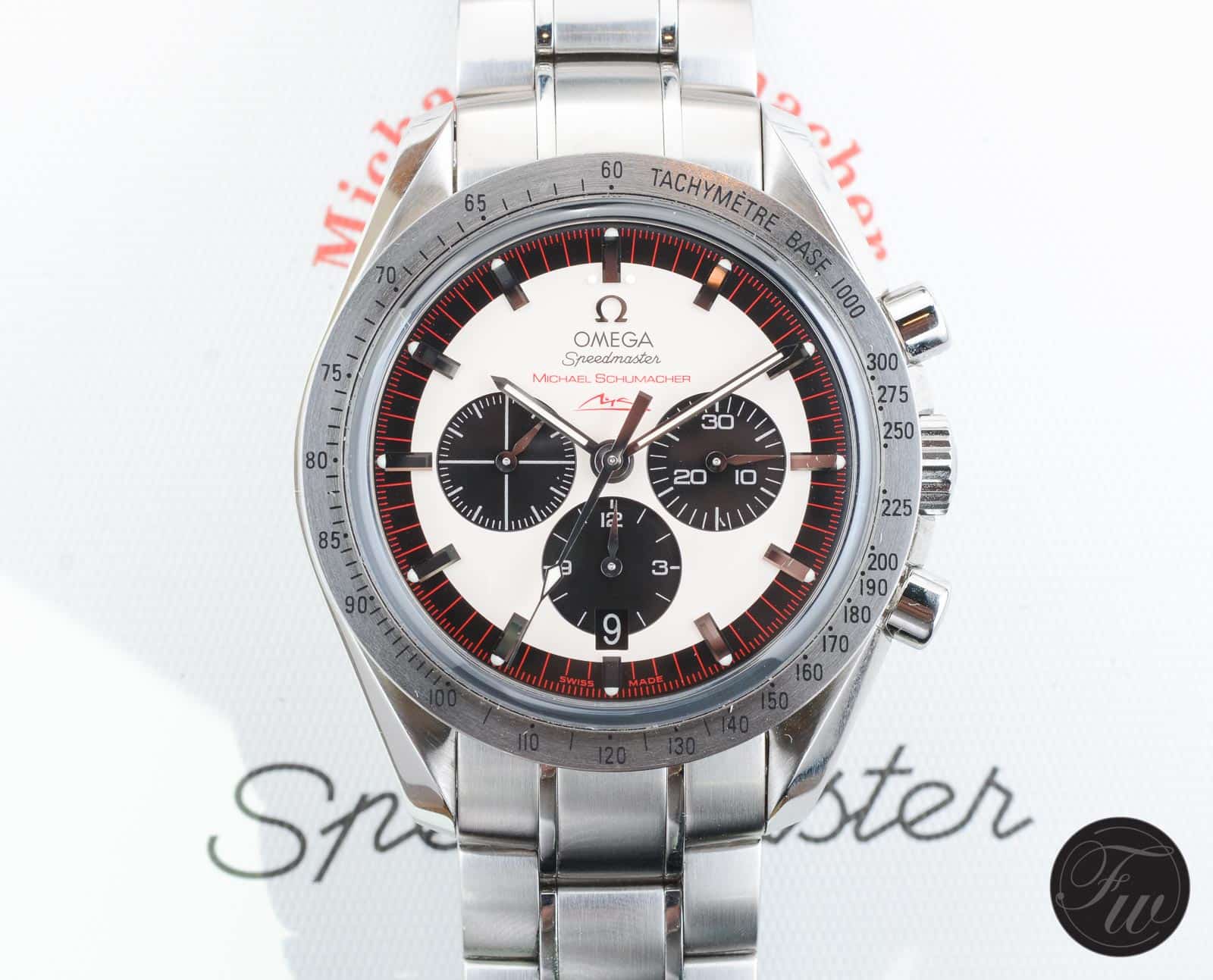 Final lap
Suppose you have made it this far down the list — congrats! I did not set out to create a 3,000-word overview of all the watch/F1 deals in 2021 (neither did our editor, Rob). But as I delved deeper, I realized how ingrained the sport is to watches and vice versa. Obviously, there is a substantial commercial aspect and millions being spent in marketing. But in my view, Heuer shines brightest as the best example of a watch brand that pushed the sport into the modern age.
Before Heuer, timing officials still relied on stopwatches. Reliance on human reaction times leaves the door wide open for errors. The Heuer developed Automatic Car Identification Timing System (or ACIT) from 1974 uses a transponder on each car that signals on the start/finish line. This level of impartiality served its purpose and is still used in principle today.
I'm surprised TAG Heuer does not emphasize this ingenuity in F1 for marketing purposes as much as it could do. Take a leaf out of Omega's book, Heuer! Speaking of Omega, it would be great to see it more involved in Formula One. The Omega Speedmaster Ref. 3553.32 celebrated Michael Schumacher's sixth world title. But since then, Omega has placed most of its sporting attention on the Olympics and sailing.
Which watch brand would you like to see return to F1? Do you have any favorite partnerships? Let us know in the comments below.