Florijn F03 – 52Mondayz, week #42
Florijn, Dutch Glory! In the 52Mondayz line up this is the second watch brand with its origin in The Netherlands.
The first one I covered was Fred Dingemand's d.m.h., and now it's the Florijn brand designed and produced by Hans Heuvelman. Teun Heerebeek mentioned the brand in his Watches & Pencils #20 before, we never dit a review on the watches though.
Florijn F03
So here's the watch I'll be wearing this week, the Florijn F03. Currently the Florijn watches come in three variations, very conveniently named F01, F02 and F03. F01 fully in bare stainless steel, F02 in stainless steel with a black unidirectional bezel, and the F03 (the one I'm wearing this week) totally black DLC'd stainless steel.
Dutch character
And this convenience in type indication is part of its Dutch roots as well. Although determining the Dutch character gets more and more difficult these days, summing up the main design elements in Florijn watches gets you close. Simple (not simplistic), powerful, clean lines, no frills and being functional. The look of the Florijn watches certainly is appealing to people with a Dutch kind of character.
Robust appearance
On first sight the Florijn F03 is a very present watch. Not surprising. The casing measures 45 mm in diameter while being over 14 mm in height. This, combined with a lug width of 24 mm, the Florijn 03 shows as a large watch. And then the bold lines in the tuna can-ish cylindrical design of the watch head, add up to the robust appearance of the watch as well.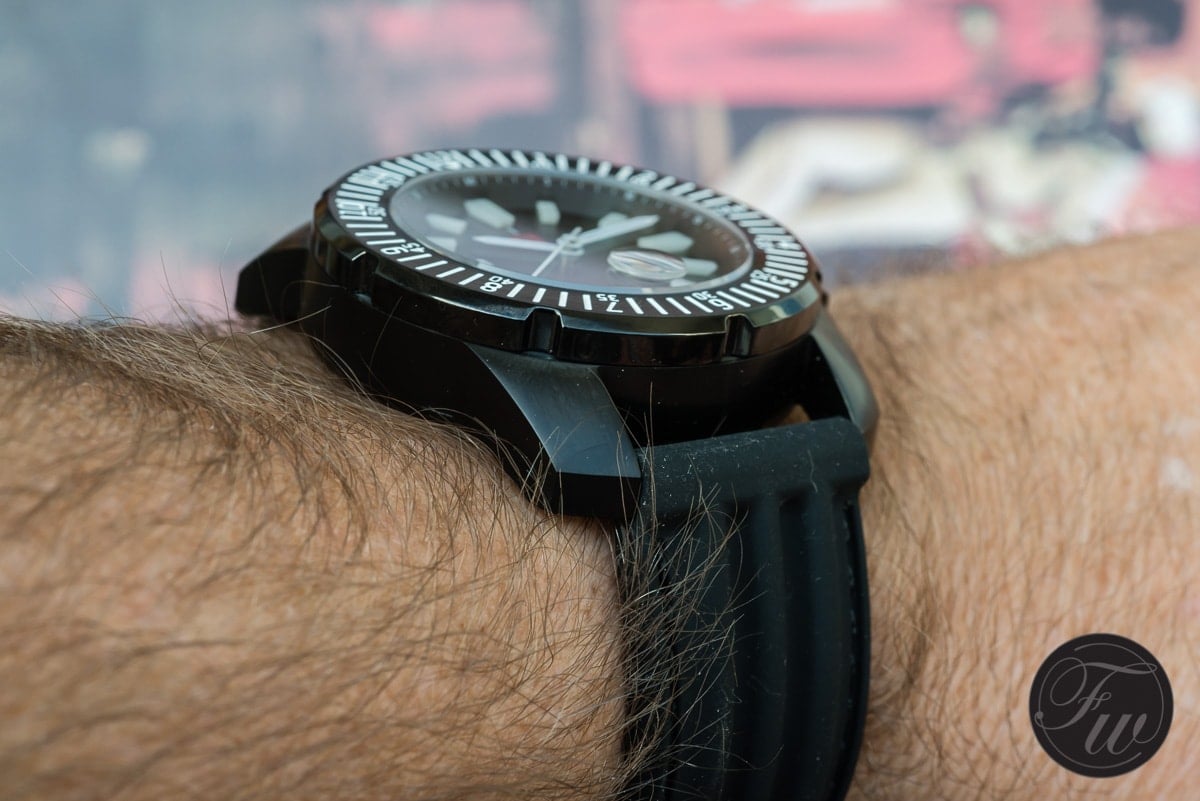 One would probably expect that all this robustness results in a watch which is quite notable when wearing. However the design of the casing has been done in such an ergonomic way that it even doesn't bother my 18 cm wrist.
What else about the watch is good?
Besides being a very attractive watch to look at, a comfortable watch to wear, there's more to the Florijn F03 to be liked. To start with, Florijn uses a powerful and reliable Seiko NH 35 automatic movement with hacking. Not too shabby at all! And I didn't mention yet that the watch is waterproof rated to 300 meters, which says a lot about it's overall robustness. Screw down crown? Of course! A uni-directional bezel indicating minutes plus a second time-zone scale; check. And then the thick flat sapphire crystal is absolutely noteworthy as well.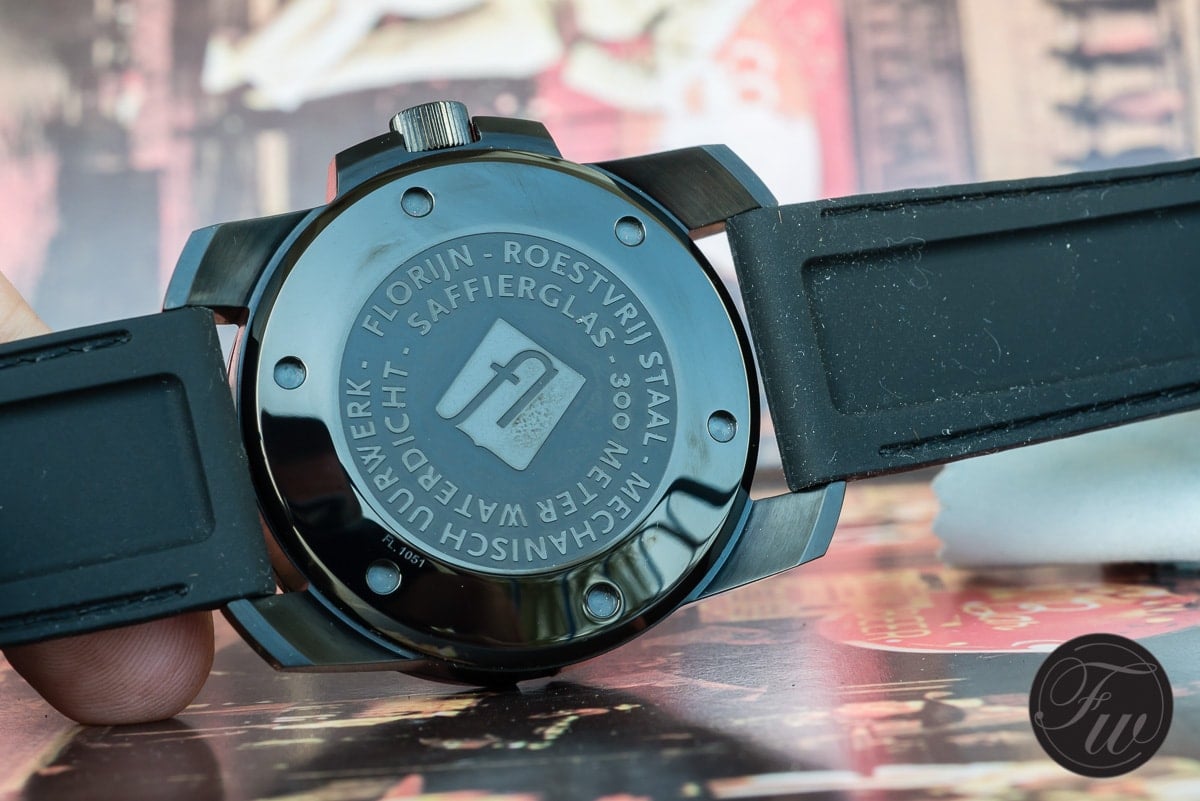 Pricing and extras
So far for the watch, however it doesn't stop yet. The Florijn F03 is supplied in a decent and strong box. But more important, it will come with 3 different straps. A thick leather strap, a high-end rubber strap and a two-color NATO strap. Topping it off with a strap changing tool to do it all by yourself.
It's hard to believe that this all is possible at a current price of € 195,= (excluding VAT), and with a two year warranty. It is however.
Special treatment
A last thing to mention about the Florijn watches is that, as you can see, they're supplied with a magnifying drop on the sapphire crystal. If you don't like that, (I really wouldn't know why not) Florijn offers to remove it at a little fee.
I probably wrote more positive about the Florijn F03 than you're used from me. I was honestly stunned about this watch, certainly in combination with it's price. And I want to point out that, as always, I'm not compensated for what I wrote about it in any way. To learn more about Florijn watches and the possibility to order, please head over to www.florijnhorloges.com