Fratello Editors' Favorite Watches Under €1,000 In 2023 — Nacho's Picks From Citizen, Marathon, And Autodromo
A tasty trio featuring titanium, tritium, and tachometers
Earlier this week, Thomas kicked off our latest Fratello Favorites challenge. This time around, our editors have been tasked with choosing three watches that they think are the best available options under €1,000 today. As you might imagine, the variety within this price point is staggering, but the ever-shifting landscape of watch prices has genuinely added to the challenge. Some of our go-to brands have shifted their classics upwards in price. As a result, there are watches we can't pick now as they are no longer under €1,000. There are also some watches that we were used to seeing at under €500 but that are now hard to get used to at the current price point. Consequently, it hasn't been as easy as expected to put a list together, but with that in mind, here's my best effort.
If you missed Thomas's picks, you can read his article here — a solid start, including classics like a Seiko diver and a Hamilton field watch. I'll admit I had a hard time steering clear of some of his picks when selecting my own. However, after much postulating and a spot of hunting, I'm happy with my three options. Remember that we're not trying to create a balanced three-watch collection here. We're simply listing three watches that we think are, of their own merits, the best options available to purchase under €1,000 in 2023. We hope this overview will serve as a handy guide for those in the market for a great watch without wanting to shell out more than a grand.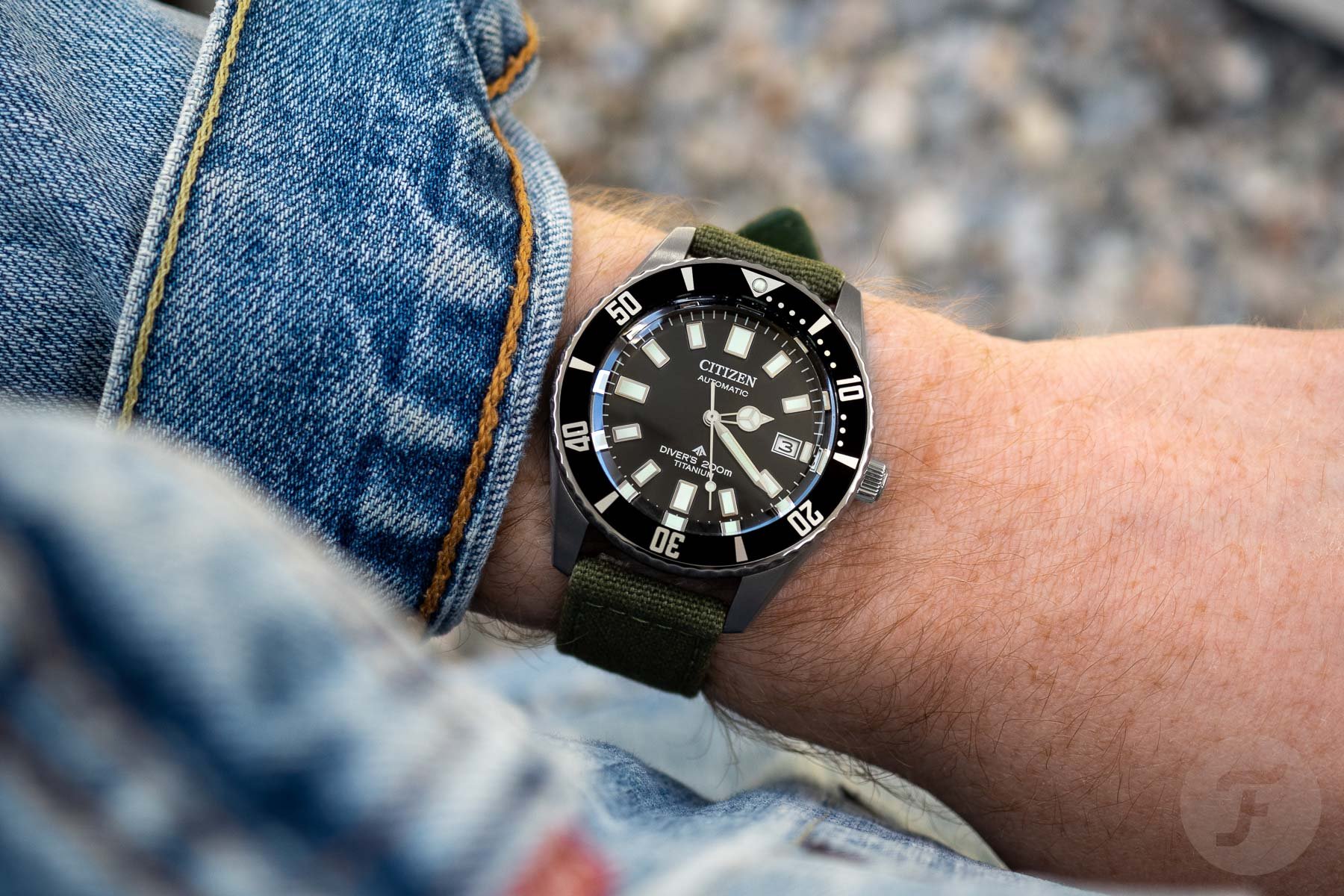 Favorite watches under €1,000 — Pick #1: Citizen Promaster Mechanical Diver 200m NB6021-17E
My first pick is one I've waxed poetic about before. A vintage-inspired dive watch comes alive again in a new titanium body. The Citizen Promaster Mechanical Diver 200m is one hell of a value proposition at just €649 on a rubber strap and €749 on a bracelet. For the sake of this article, I'll imagine I can get the black model on the titanium bracelet for the latter price. I'm unsure if this option is available, but it would be my pick in the ideal case where it was.
For a decent chunk under €1,000, you get an automatic diver's watch with a wearable 41mm titanium case. It's a great-looking piece, drawing inspiration from a historic Citizen model, the Challenge Diver from the '60s. The only way I could imagine this watch could be better would be if it were slightly smaller. That said, on my 17.5cm wrist, it wears perfectly. The light weight makes it as comfortable a wearing experience as possible. You'll even be able to put the extra bit of change you have left over to good use on buying as many NATO straps as you could ever want. If I were in the market for a diver and had less than €1,000 to spend, this Citizen would undoubtedly be my pick.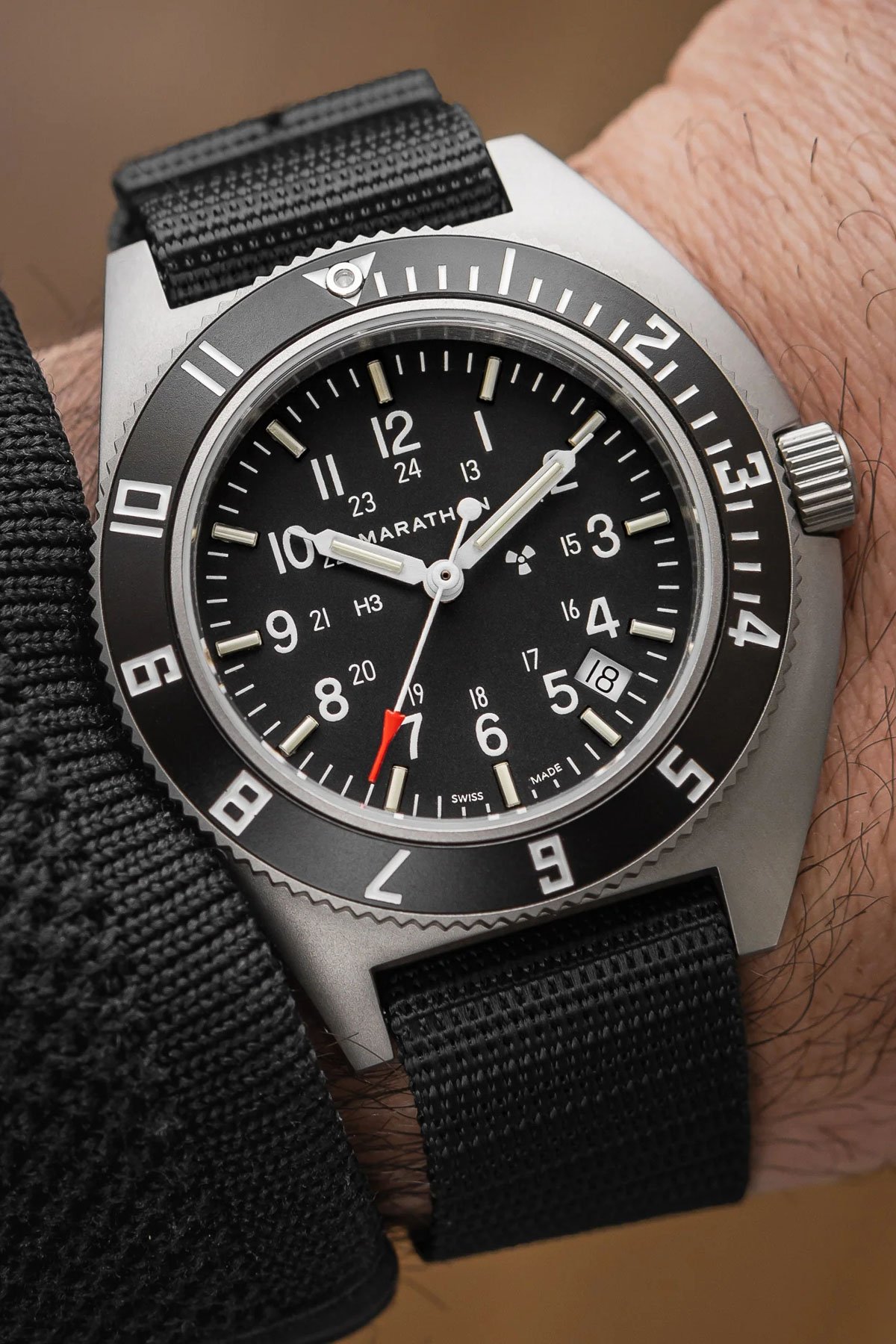 Favorite watches under €1,000 — Pick #2: Marathon 41mm Steel Navigator w/ Date WW194013GG-0101
For my next pick, we have to head over to North America — Canada, to be precise. A recent release for Marathon and a last-minute addition to my list is the 41mm Steel Navigator w/ Date. Thomas wrote about his Navigator in a past article. The previous generation of Marathon Navigators used a composite material for the case. Now the brand returns this model to the original's steely demeanor. This watch was originally developed in the late '80s in collaboration with the US Air Force's Kelly Base in San Antonio, Texas. These were designed to shrug off abuse and take on the harshest conditions. The 41mm bead-blasted asymmetrical steel case certainly looks the part, and the high-accuracy quartz movement inside ensures low-maintenance durability.
I haven't had a chance to test this one yet (this will soon change), so it's a slightly risky one to have on the list. However, from what I've read and seen from Marathon previously, I have no reason to doubt this watch. For €960, it seems like a tremendous everyday watch or even a perfect one to wear on holiday. The tritium tubes on the dial will ensure legibility in the darkest conditions, even in the middle of the night. Unlike lume compounds, they hold their luminescence (without needing to charge them with UV) for decades. The only other reliable quartz timepiece that could have taken this spot (if I didn't avoid doubling up on divers) would have been the CWC Royal Navy Divers Reissue RN300-83 QM60. But today, I'm sticking to the Marathon as my second sub-€1,000 pick.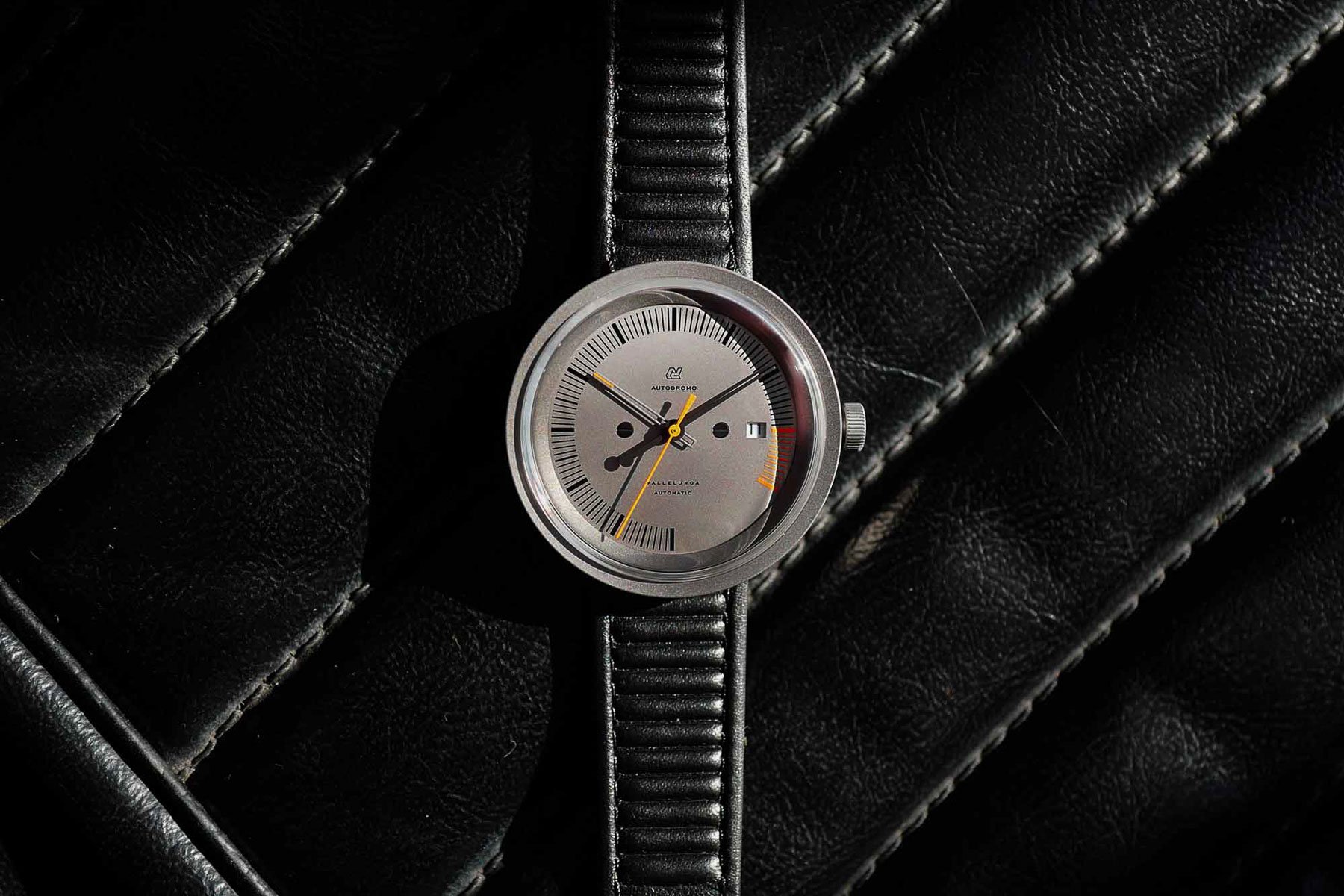 Favorite watches under €1,000 — Pick #3: Autodromo Vallelunga Automatic
Wrapping things up, we arrive at my third and final pick. This time, I'm going for a watch from Autodromo, everyone's favorite automotive-themed brand. The Vallelunga Automatic is a successor to one of Autodromo's earliest models. It was introduced many moons ago as an oversized quartz chronograph. Now the watch returns as a 40mm time-only 10th-anniversary model. This disco-volante-style "lugless" watch is inspired by the tachometers on race cars of the late 1960s. This gray and orange model is my favorite. Coupled with the brand's signature ribbed leather strap, it's a racetrack-ready combination.
This version of the Vallelunga features a Miyota 8315. This caliber provides a 60-hour power reserve and, as you might expect, is a reliable and serviceable movement. At 40mm in diameter (with hidden lugs) and 12mm thick, it's an undoubtedly wearable watch. The gray and orange colorway would lend itself well to many strap combinations. However, I'm not sure if it will take a NATO, given the unique case/lug design. Autodromo has never failed to impress with its consistent, tasteful designs and beautiful execution, always keeping its prices well within a reasonable range. I'm a fan, and therefore, the €715 Vallelunga takes the third step on the sub-€1,000 podium.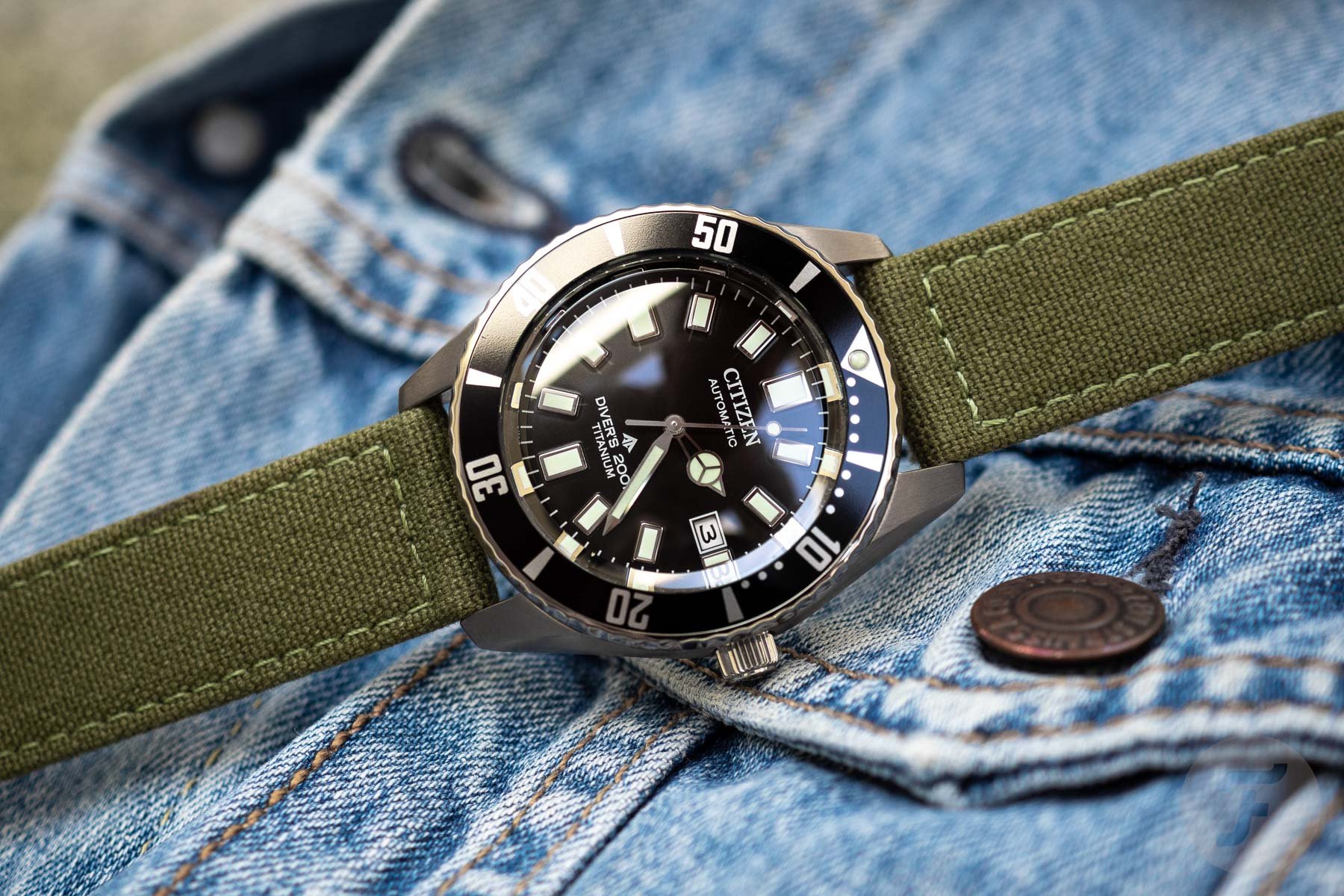 Final thoughts
I hope you enjoyed reading along and agreed with at least some of my three picks for the best watches under €1,000 available in 2023. I didn't set out to create a balanced collection (and these three together certainly don't represent that). But I'd happily call all three of these watches my own. And at this price point, where there are hundreds (if not thousands) of brilliant options, I'm confident in my choices. It's exciting to think about what my picks (as well as the other editors') will look like a year from now as new watches are introduced and old ones are discontinued.
For now, stay tuned as more of our editors will join in to show your their favorite watches under €1,000.
In the meantime, I'd love to hear what you think. Do you agree with my picks? And finally, what would your picks be? Let me know in the comments below.
Follow me on Instagram: @ncgwatches