Hands-On: The Citizen Promaster Mechanical Diver 200m NB6021-17E — The Ultimate Affordable Titanium Dive Watch
A lightweight slice of 1977 design
Take a classic dive watch from 1977. Combine it with a modern movement and all the specs you might come to expect from a contemporary diver. Now, make the case titanium, and keep the price well under €1,000. Sound too good to be true? Well, it isn't — the Citizen Promaster Mechanical Diver 200m (also known as the NB6021-17E) ticks all of those boxes. I had a chance to spend some quality time with the watch, and today I'll tell you all about how it fares on the wrist. Spoiler alert: it's good. Actually, it's more than good. All things considered, this watch is damn near the best thing you can get at its price point. Sure, titanium isn't for everyone, but if you love a lightweight sports watch as much as I do, this is one you won't want to pass up.
You likely already read Mike's first impression of the watch when it was announced. You may have also seen it pop up in a Sunday Morning Showdown where it almost de-throned the crowd-favorite Seiko SPB143. It was also included in Jorg's list of the top 10 sub-€1000 watches of 2022. Clearly, the Citizen Promaster Mechanical Diver 200m has struck a chord. In essence, it's a watch that couldn't fail. As I said, the formula was a pretty flawless one — an old-school design with modern convenience and lightweight appeal. But what was it like spending a whole seven days with it on my wrist? Let me tell you, it went by in a flash! As you've heard so much about it already, I'll do my best to keep this brief. But please, don't hold me to that — there are simply too many good things to say about this one.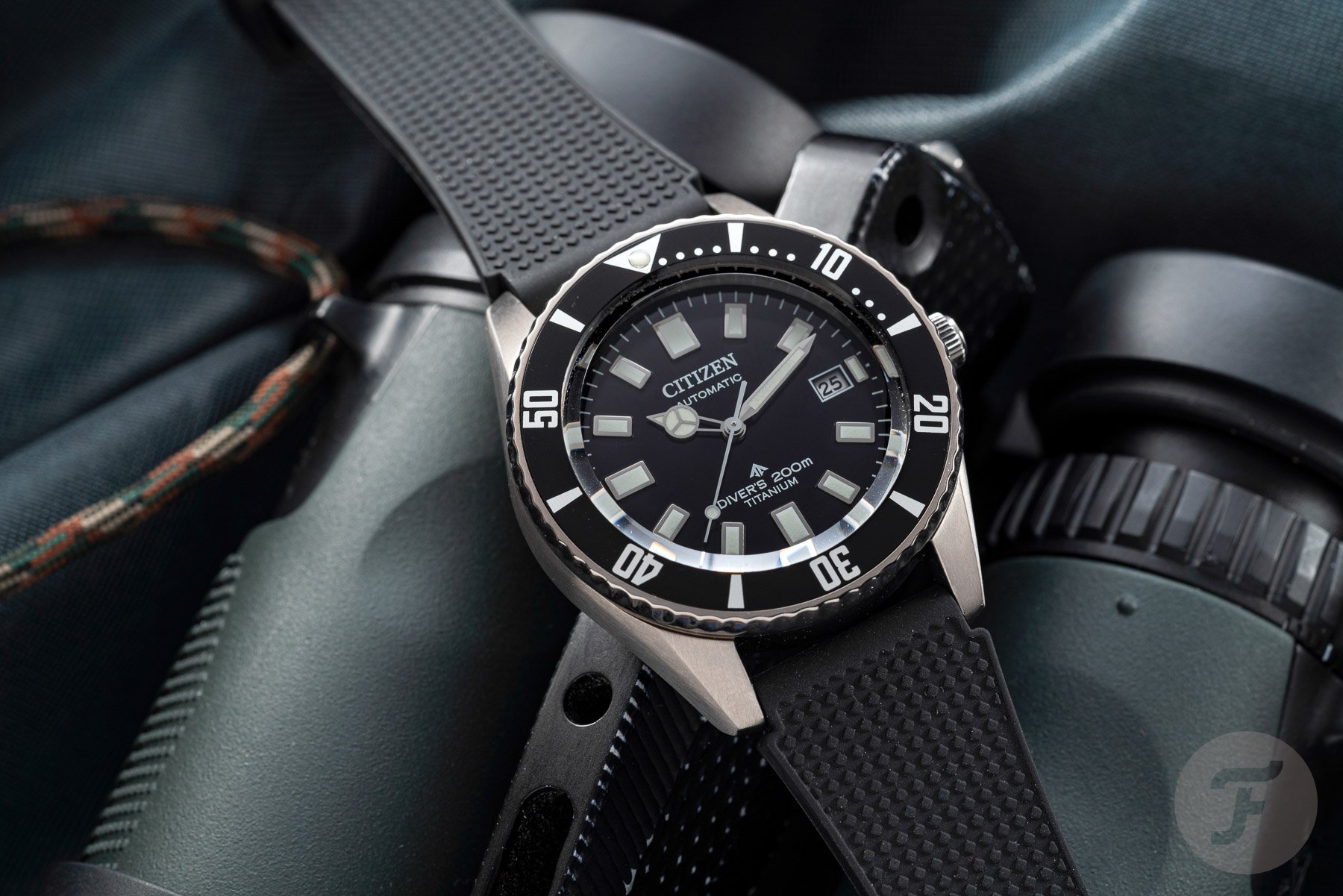 Classic good looks
This is where, normally, I'd tell you all about the history of the model that preceded this watch, giving you an overview of its roots and where Citizen found inspiration for the modern re-edition. Luckily, Mike did all the hard work for me, so if you're interested in finding out more about it (and I believe you should), you can do that here. Instead, what I'll do is talk a little bit about the design, namely, some of the key changes from the 1977 model. Overall, the NB6021-17E has a rather prototypical dive-watch design. A black dial with bold and legible markers and a date window at 3 o'clock is embraced by a fairly standard dive aluminum bezel. The hands are also pretty typical for a sports watch, with a "Mercedes" hour hand paired with unremarkable minute and seconds hands. But it all comes down to the details.
Its chunky and unpretentious rectangular markers are applied to the dial. Filled with lume, their silver frames contrast beautifully with the glossy black surface. In contrast to the original, the dial text is slightly larger and slightly different. The bottom three lines of text on the original's dial give way to the Promaster arrowhead logo, followed by "diver's 200m" and "titanium." Slightly more concise, this still tells you everything you'd want to know about the watch at a glance. One final difference is that the body of the Mercedes hour hand has been left lumeless and skeletonized. Besides that, the crown is slightly smaller in proportion to the original's 40mm case, which also featured both polished and brushed finishing, as opposed to the modern diver's fully brushed titanium body.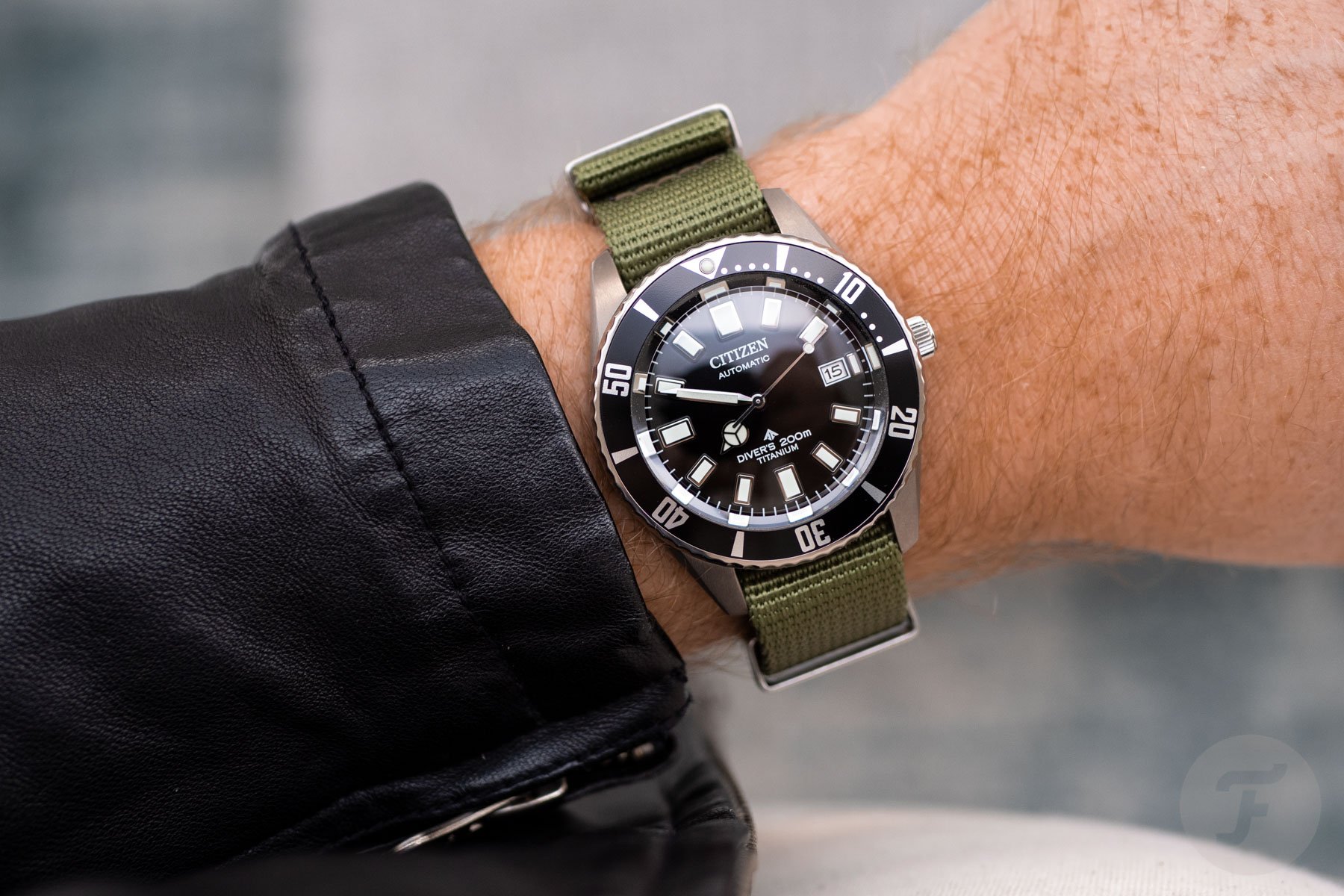 The Citizen Promaster Mechanical Diver 200m on the wrist
As you might imagine, one of the biggest differences is how the watch feels on the wrist. Titanium is 40% lighter than steel. It's usually also far more prone to scratches and other wear and tear. However, the NB6021-17E uses Citizen's Super Titanium. This Duratec-coated titanium is five times harder than stainless steel and is therefore significantly less prone to scratches than regular titanium. I can truly attest to this, as even after a couple of weeks of wear on my wrist (as well as Jorg's), the watch looks pristine. Even with a loupe, I couldn't find a single blemish on its titanium shell. Very impressive indeed! It's definitely the kind of thing you want to see in a tool watch designed to be properly worn, like this one.
On the provided rubber strap, which is not only comfortable but also looks great with a decent taper, the watch weighs 70g on the dot. Those of you who find titanium watches unpleasant due to their lack of mass should really pass this one up, as it is truly a lightweight watch. Just to contextualize, my Breitling Aerospace on the sized bracelet weighs 84g — with 54g being the bracelet. But that's a quartz watch… A Seiko SXK007 on the jubilee weighs 143g. Head-only, it's 80g, and 107g on a rubber strap. For a mechanical watch, 70g is truly impressive. Throw it on a NATO, and you have a watch that offers the perfect mix of ruggedness, durability, and lightweight construction. Never uncomfortable or encumbering and ever-reliable, it's a damn-near-perfect adventure watch.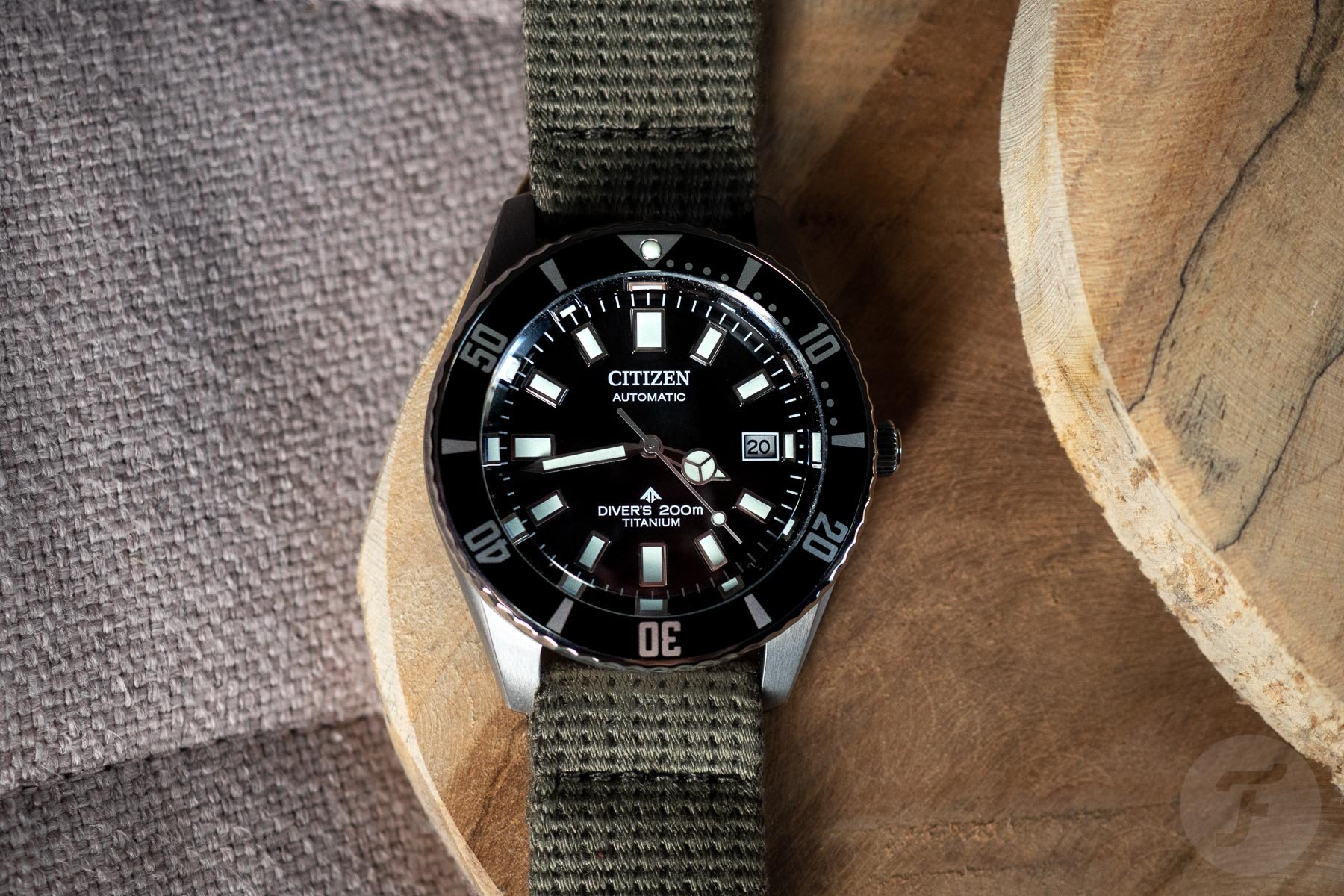 Let's talk specs
Though specs aren't everything, it's worth highlighting some of the strong points of the Citizen Promaster Mechanical Diver 200m. You already know that it's light, made of titanium, an ISO-compliant 200m dive watch, and that it's automatic. All of this information is neatly presented on the dial. But what else is there to this Citizen? Well, the crystal, which adds some of the mass that the watch does have, is a beautifully shaped chunk of sapphire. It has a slanted edge and a flat top but a domed underside, giving it a real vintage vibe with plenty of reflections and warping when seen at an angle. The watch is 41mm in diameter, and the bezel does not protrude further than the widest section of the case. According to my calipers, the watch is 12.6mm thick from the case back to the top of the bezel (which sits proud of the crystal).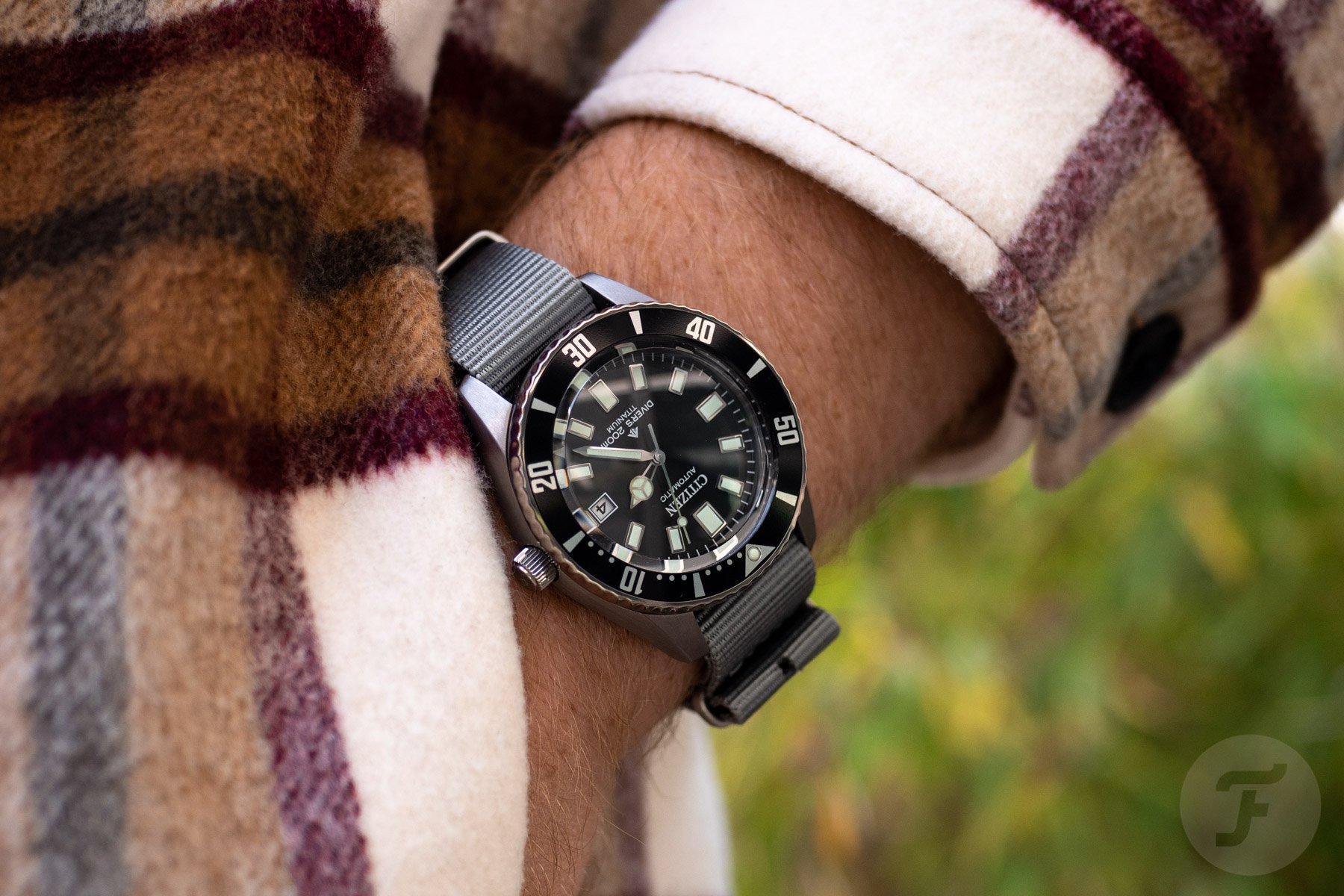 The lug-to-lug is 48.8mm, which remains reasonably wearable. The 20mm lug spacing means that you'll be able to enjoy it on all of your favorite straps. The watch's 60-click bezel operates precisely, albeit with a distinct lack of grip. This is due to the overly smooth, polished edge. This is probably my biggest issue with the watch. Still, it's outweighed by the fact that I love a 60-click bezel. In the end, having to grip it a little bit tighter is no big deal, and it remains far more grippy than the famous scalloped bezel on the Omega Seamaster Professional 300M. Inside, a Citizen caliber 9051 (similar to Miyota's 9015 workhorse) beats away at 28,800vph with a power reserve of 42 hours. I found that this particular movement ran slightly fast at an average of +15 seconds per day.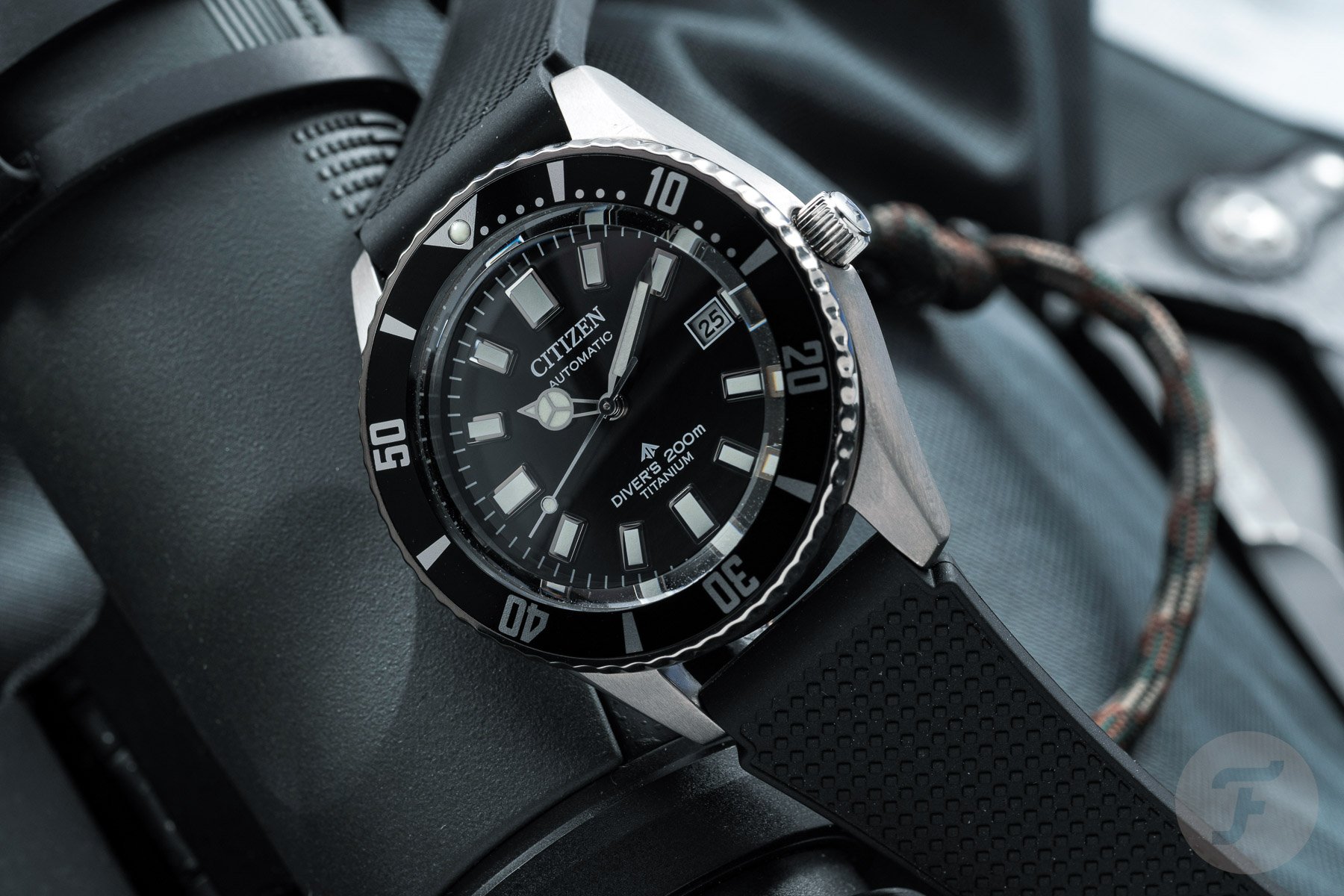 Final thoughts
My week with the Citizen Promaster Mechanical Diver 200m on the wrist was a very pleasant one. It awoke a certain type of giddy excitement that you only feel occasionally. For me, it was triggered by the mix of great features and materials combined with a fantastic price. For €650 on the rubber strap and a little more on the matching bracelet (which, at this price point, I would tactically avoid), it's an undeniable value proposition. At the price point, even Baltic's titanium Aquascaphe for €100 more doesn't add up (other than if you strongly prefer its looks). Citizen has once again proven that it knows what it's doing. If it weren't for the fact that it had already lightened my wallet with the JP2000-07E, this watch would certainly have been hard to resist.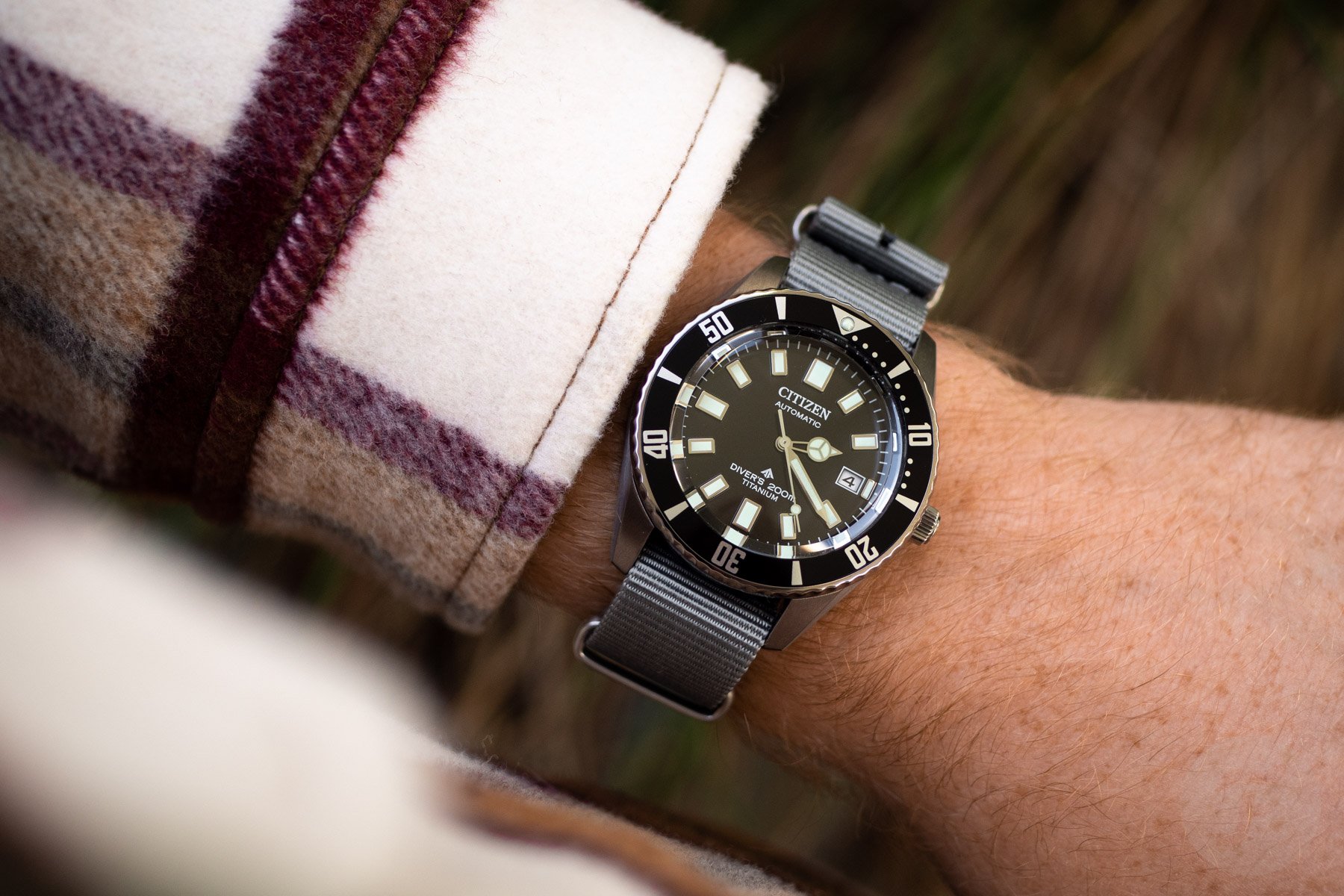 If you're looking to step into the realm of lightweight sports watches and don't want to blow the budget, you could seriously do much worse than the Citizen Promaster Mechanical Diver 200m. Especially when the next step up is the Tudor Pelagos 39, which is exactly six and a half times more expensive. I cannot express enough how impressive this watch is on its own, and its humble price point just amplifies that. What do you think of the NB6021-17E? Have you had a chance to try it? Have you bought one for yourself? I'd love to hear your thoughts in the comments below.
For more information on pricing and availability, please consult the Citizen website.