Fratello Favorites — The Watches And Wonders 2023 Edition
With highlights from Tudor, A. Lange & Söhne, Chopard, Jaeger-LeCoultre, and more!
Watches and Wonders 2023 is officially over. We've all caught up on sleep and have had a weekend to mull over everything we saw. And though the trauma of it all will require years of therapy to recover from, we'll share our favorites from the show with you today. Surprisingly, there was no overlap whatsoever. Everyone had a clear favorite (or two), but there was no bickering and arguing when the time came to lock in our choices. You may not see all your favorite editors' names on the list, but everyone will get a chance to say their piece, whether on the site, on one of our podcasts, or on social media. So keep your eyes on all the Fratello channels to spot all our editor's favorites.
Didn't spot your favorite? No worries! Remember to check out our coverage of all the Watches and Wonders 2023 releases on our landing page here.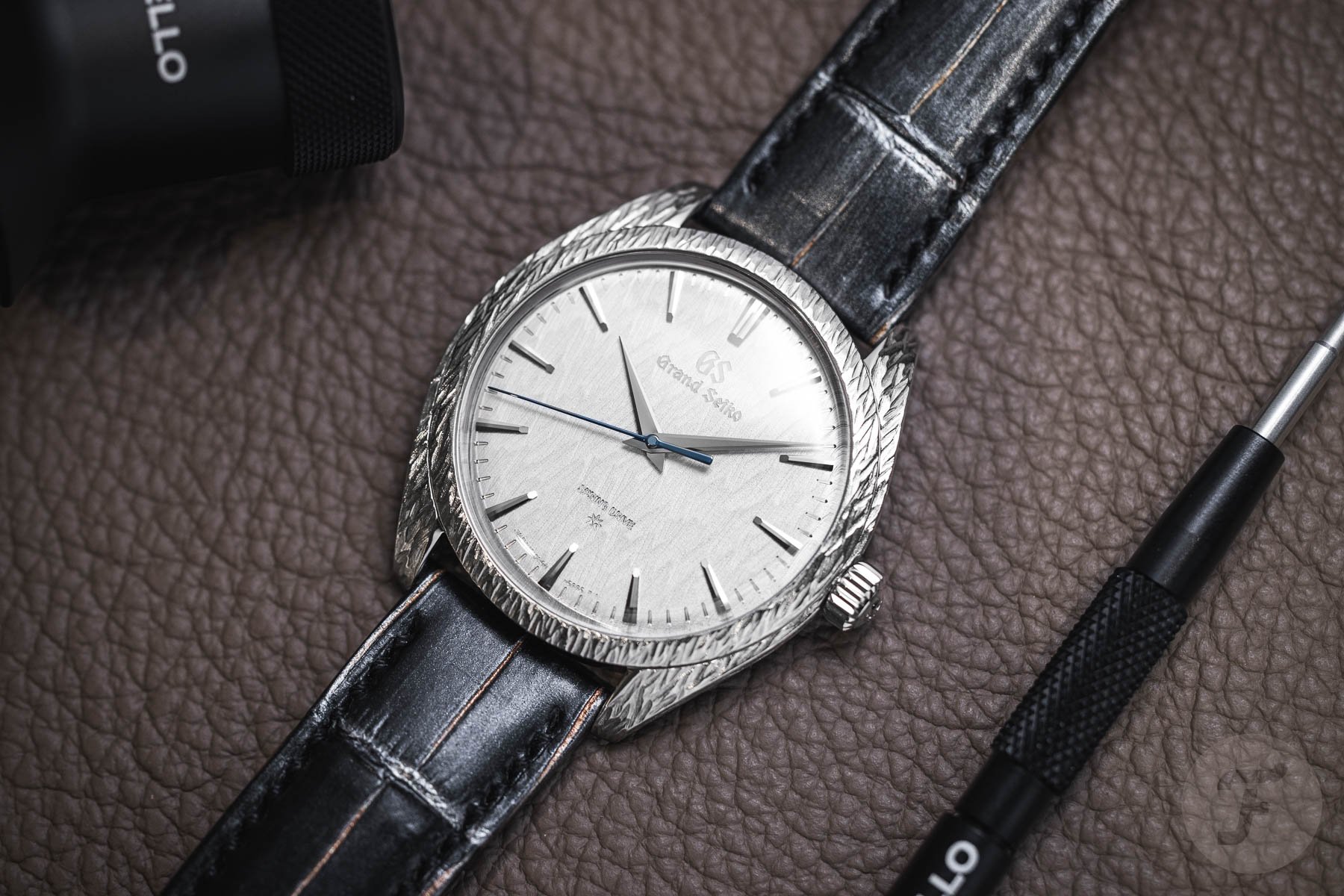 Thor's favorite: Grand Seiko SBGZ009
This year, I was living vicariously through the Instagram accounts and lenses of Nacho, RJ, and the editors in Geneva. I was housebound with the damn never-melting snow, but that's all good. Otherwise, I'd easily sign up for a second mortgage, and Grand Seiko might be the reason.
Time has passed since Grand Seiko was the elusive, affordable luxury brand that we couldn't get our Western mittens on. I still remember finding secret Zaratsu-polished treasures on forums, but today, there's a flagship store next to Hermès in Paris. Times have indeed changed, and my Watches and Wonders fave, the SBGZ009, has a Patek-like grail price of €80,000. However, I can honestly say that it's worth it, even if the glassy Zaratsu finish is only visible on the scalpel-sharp dauphine hands and diamond-cut indices. This time, they are in 14K white gold, with a gray seconds hand on a textured metallic-toned silver dial. The inspiration is an evocative snow-covered white birch forest, but here, the case is the star in radiant, rough-textured platinum.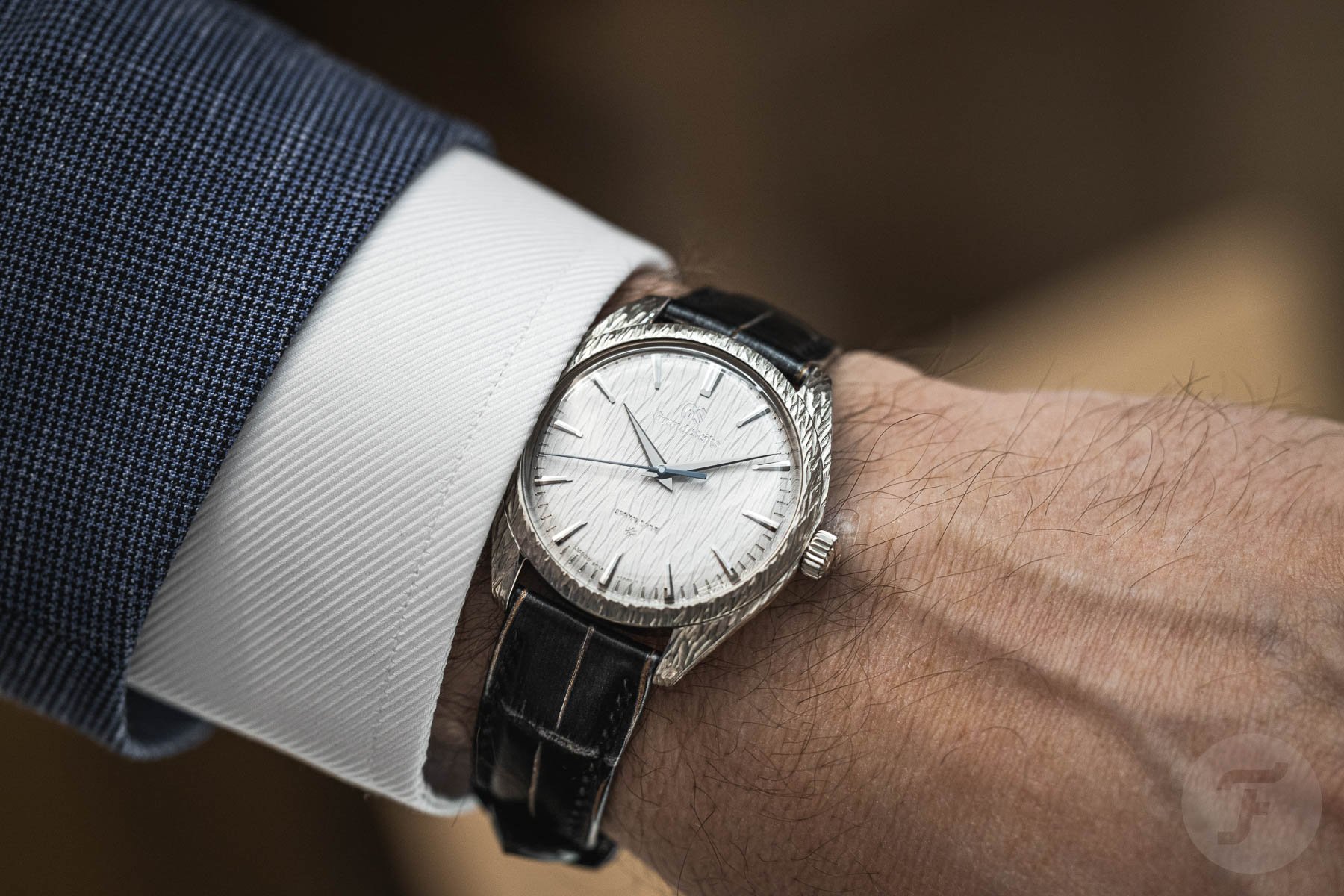 That's right; this most luxurious metal has been carved by the immense skills of the Micro Artist Studio masters. This is where Credor's minimalist, hand-painted enamel dials and this third fully engraved Grand Seiko are made. Reminiscent of the '70s tree-bark finish on Rolex President bracelets, the effect is organic and a quietly spoken knock-out. Only 50 of these super-slim 9.8mm pieces will be made, powered by the hand-wound 9R02 caliber with dual mainsprings and an 84-hour power reserve. The rear view is equally restrained while still packing a serious punch in the small details and anglage. My favorite details are the Micro Studio gold plaque and bellflower barrel cover, which only made me struggle even more to keep my jaw from dropping.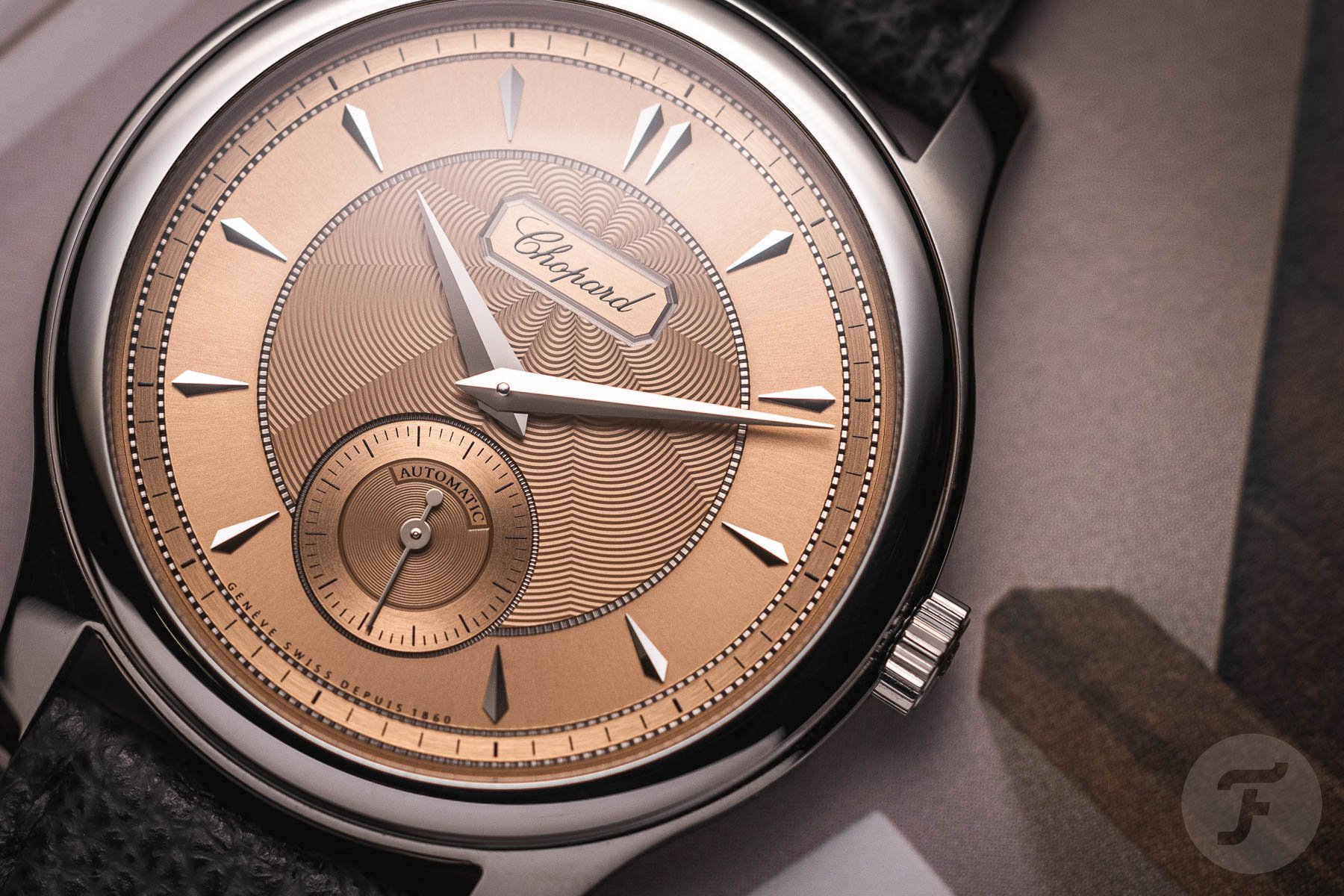 G2's favorites: an unmentionable diver and the Chopard L.U.C 1860 in Lucent Steel
Watches and Wonders 2023 left an optimistic impression on me. At the same time, I didn't find just one watch that stood out. This made it either quite challenging to come up with a favorite or very easy as there were so many successful designs on display. Unfortunately, if I have to pick one favorite, I can't show you the watch that comes to mind. It's under embargo until August 28th, and I won't give it away. All I can say is that it's a very cool dive watch with blue on the dial from a brand with an R in its name. I'd love to see your guesses in the comments!
So, because there were many great watches, I'll name another one of my favorites. This is one that I actually can show you, the Chopard L.U.C 1860, now in the Chopard's trademarked Lucent Steel A223. Its 36.5mm case diameter is faithful to the original Chopard 1860's proportions and fits my wrist perfectly. The watch's reference number is 168860-3003, and it will be available exclusively through Chopard boutiques for €25,200.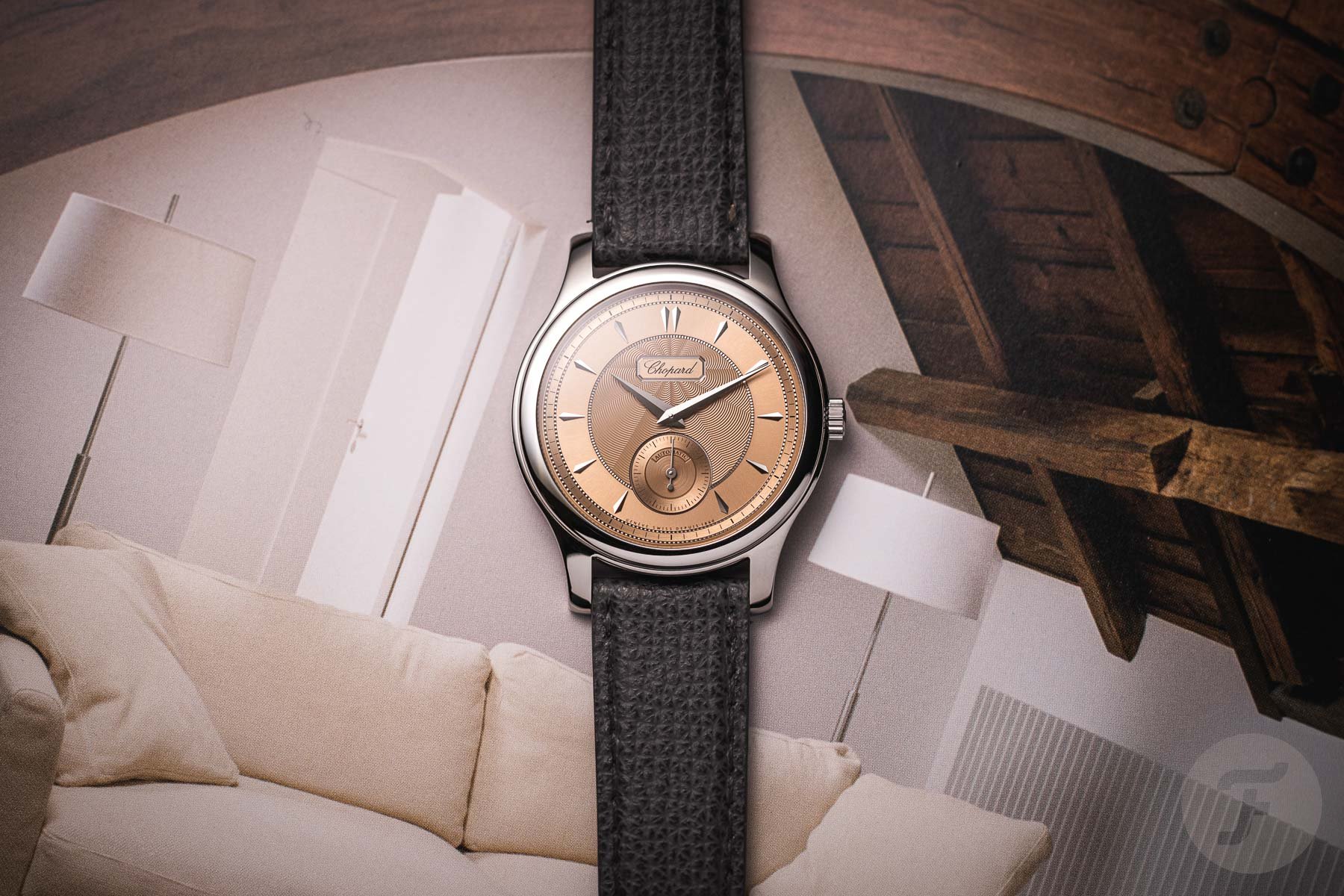 The salmon-colored hand-guilloché gold dial is stunning, and I love the automatic, chronometer-certified L.U.C Calibre 96.40-L, which is based on the first caliber developed by Chopard Manufacture in 1996. Equipped with a gold bidirectional micro-rotor and two barrels, it now guarantees a 65-hour power reserve. This movement demonstrates Chopard Manufacture's skills, which are testified by the prestigious Poinçon de Genève quality hallmark.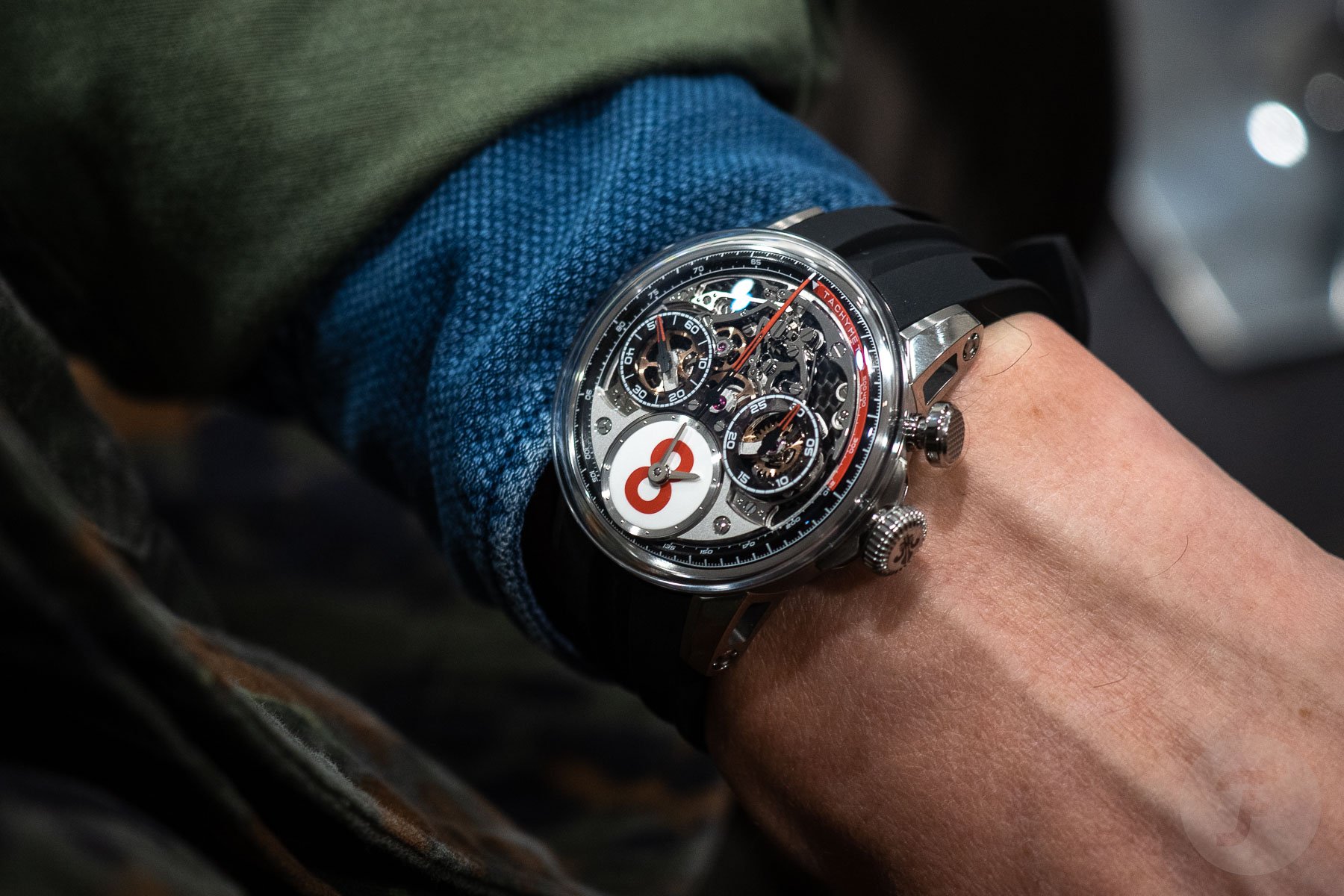 Lex's favorite creates a Groundhog Day effect as he once again picks a Louis Moinet
I don't know what's wrong with me. I don't particularly like skeleton watches, and I don't like watches that try to baffle you with full-frontal horological nudity. And that's putting it mildly. Last year, the Louis Moinet Memoris Spirit was the exception to the rule. But during this year's Watches and Wonders, it happened all over again. Pardon me for my Bill Murray in the 1993 movie Groundhog Day moment, but Louis Moinet once again made a watch that stopped me in my tracks. It's the Time to Race chronograph with its 302-component movement crammed into a 40.7mm Grade 5 titanium case underneath a domed sapphire crystal. Basically, the Time to Race is a Memoris Spirit with a different small dial that displays the time. It's not even a brand-new watch. But the German edition (reference LM-96.20.8A) is.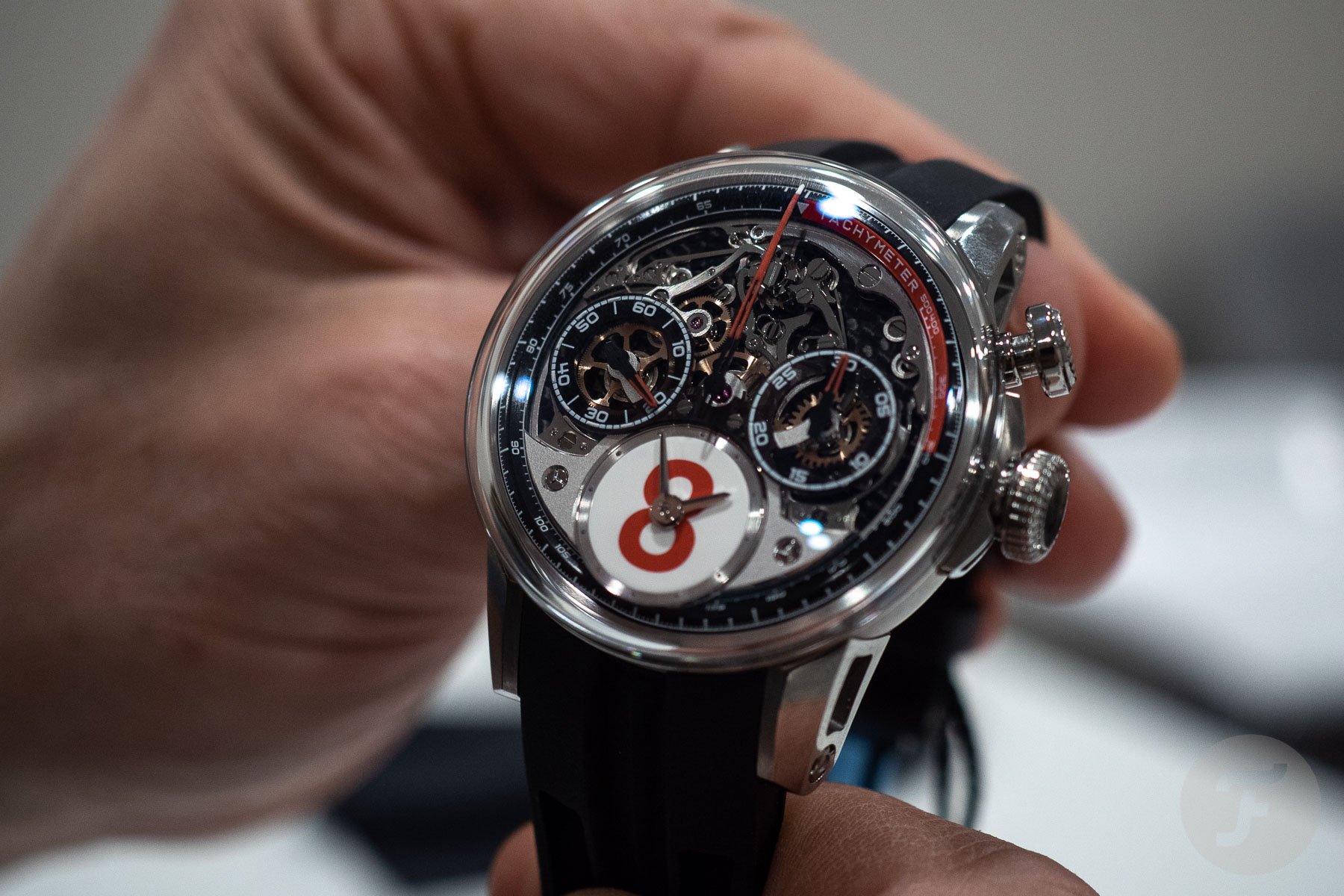 Pick a number under 100
The Time to Race in black, white, red, and silver — inspired by the racing Silberpfeile of yesteryear — is stunning. The mono-pusher chronograph comes in a series of 99 unique pieces. Each one- or two-digit number will only be used once for the watch. I think I want number 55.
In the colorful Louis Moinet universe, this Time to Race Silberpfeil is the gray one that is anything but dull. The combination of the different racing colors with the sculpted black rubber strap creates a harmonious sports watch with traditional, even dramatic horological elements — of course, I'm referring to the movement that's there for all to see. The latest Time to Race iteration is spectacular to look at without trying to blow you away with a rainbow of colors. On top of that, the medium-sized case sits is so comfortable that you won't want to take it off. I didn't want to, but alas…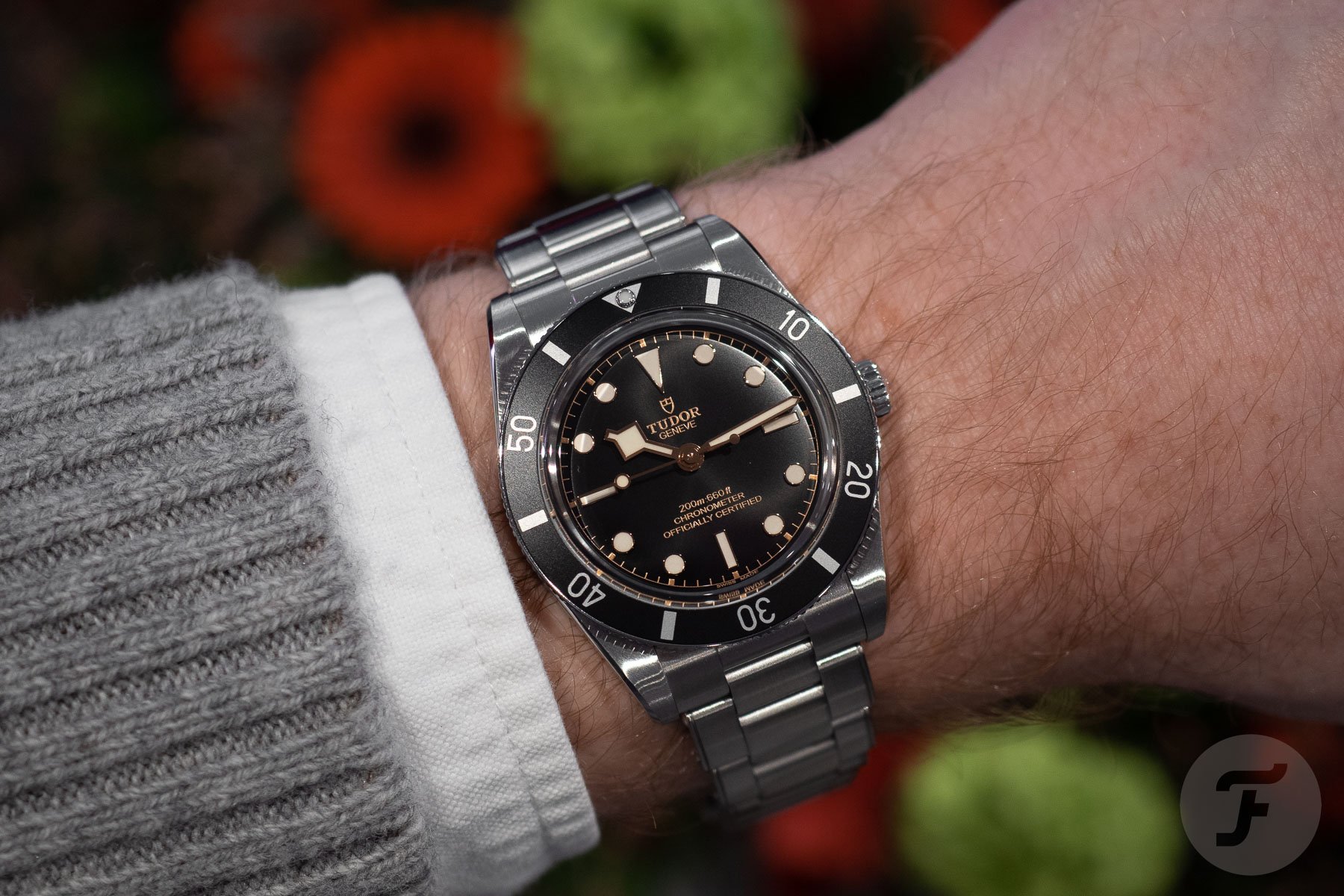 For Nacho, it was love at first sight — his favorites from Tudor were the first novelties he laid both eyes and hands on this year
A 9:00 AM coup de foudre is how I'd describe my first day at Watches and Wonders this year. After touring the brand's new manufacture two days prior, I couldn't wait to see what new models would come to life within its walls. Having had a peek at the press release just before, I was excited to go hands-on with the watches immediately. After a short presentation in the Tudor booth, the watch trays came out. My hand darted for the new Black Bay 54 — on the steel bracelet, of course. It felt a bit small at first, but on my 7″ wrist, it was perfect. This vintage diver reincarnate packs plenty of design choices and tricks that make it stand out. I'll follow up with a full hands-on soon, but for now, this is a clear winner for me and, without a doubt, my favorite watch of the show.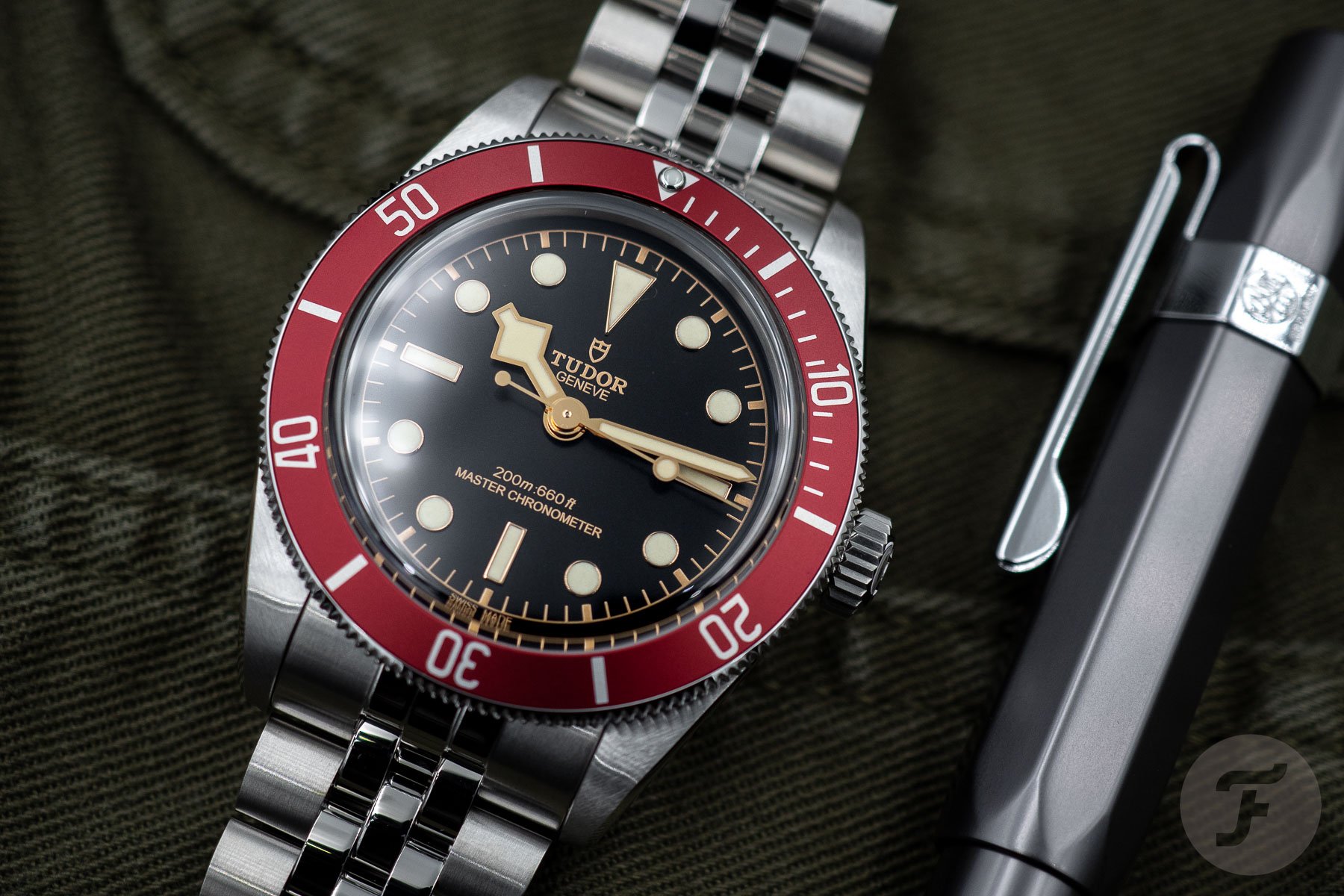 The Tudor Black Bay 54 takes first place, with the updated Black Bay as a close runner-up
It may seem obvious that something new causes more excitement than something you're already familiar with getting an upgrade. However, on the flight back home on Saturday, I found it hard to make up my mind. Now, you know that the Black Bay 54 ultimately won me over, yet I'd feel like I was doing the brand's tour de force at this year's Watches and Wonders a disservice if I didn't give an honorable mention to the redesigned Black Bay. So many subtle changes went into this worthy rebirth of the originally Davide Cerrato-designed Black Bay. Now given a future-ready makeover both on the surface level and inside, it's a worthy contender for best-in-show this year. Chapeau to Tudor on its newfound independence and for putting its new manufacture to good use, making brilliant watches for a new generation of consumers, enthusiasts, and collectors alike.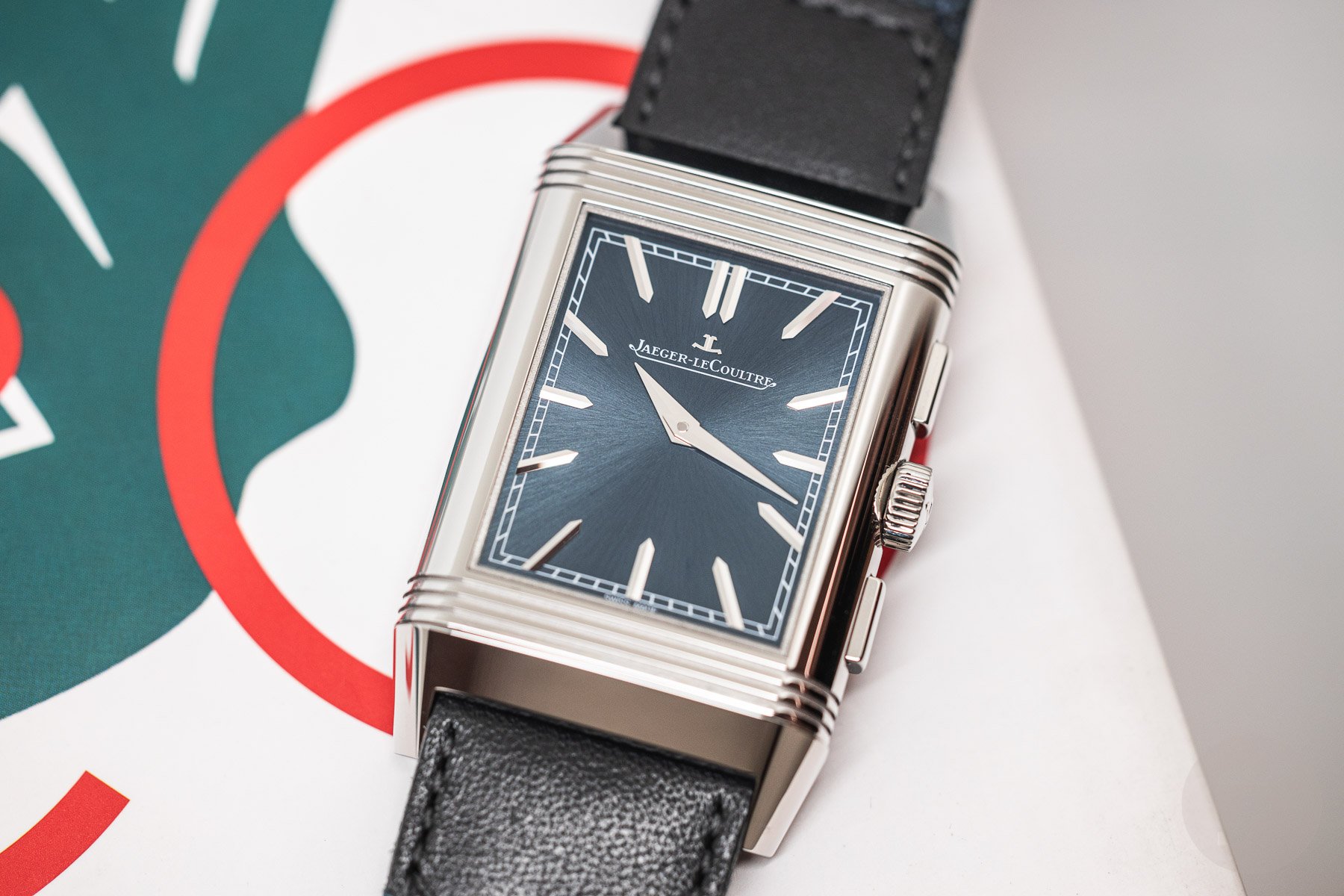 If it weren't for his Reverso Medium Duoface, Daan would've already had the magnificent Reverso Tribute Chronograph on his wrist!
Just look at that immaculate blue-gray-green sunburst dial with those sharp and reflective indices and hands. Isn't it a beauty!? No small seconds and no date, just two hands and a logo. If it weren't for the pushers above and below the crown, nobody would know what's hiding on the other side of the Reverso Tribute Chonograph's case. Okay, I'll admit, this case is also slightly thicker than that of your average Reverso Duoface. But for a watch that holds two dials and a retrograde chronograph, 11.14mm still seems like quite a reasonable thickness. Besides, the designers at Jaeger-LeCoultre have truly mastered the perfect ratio for the Reverso's case measurements by now. As a result, even I could pull off this bigger Reverso on my 17cm (6.7″) wrist.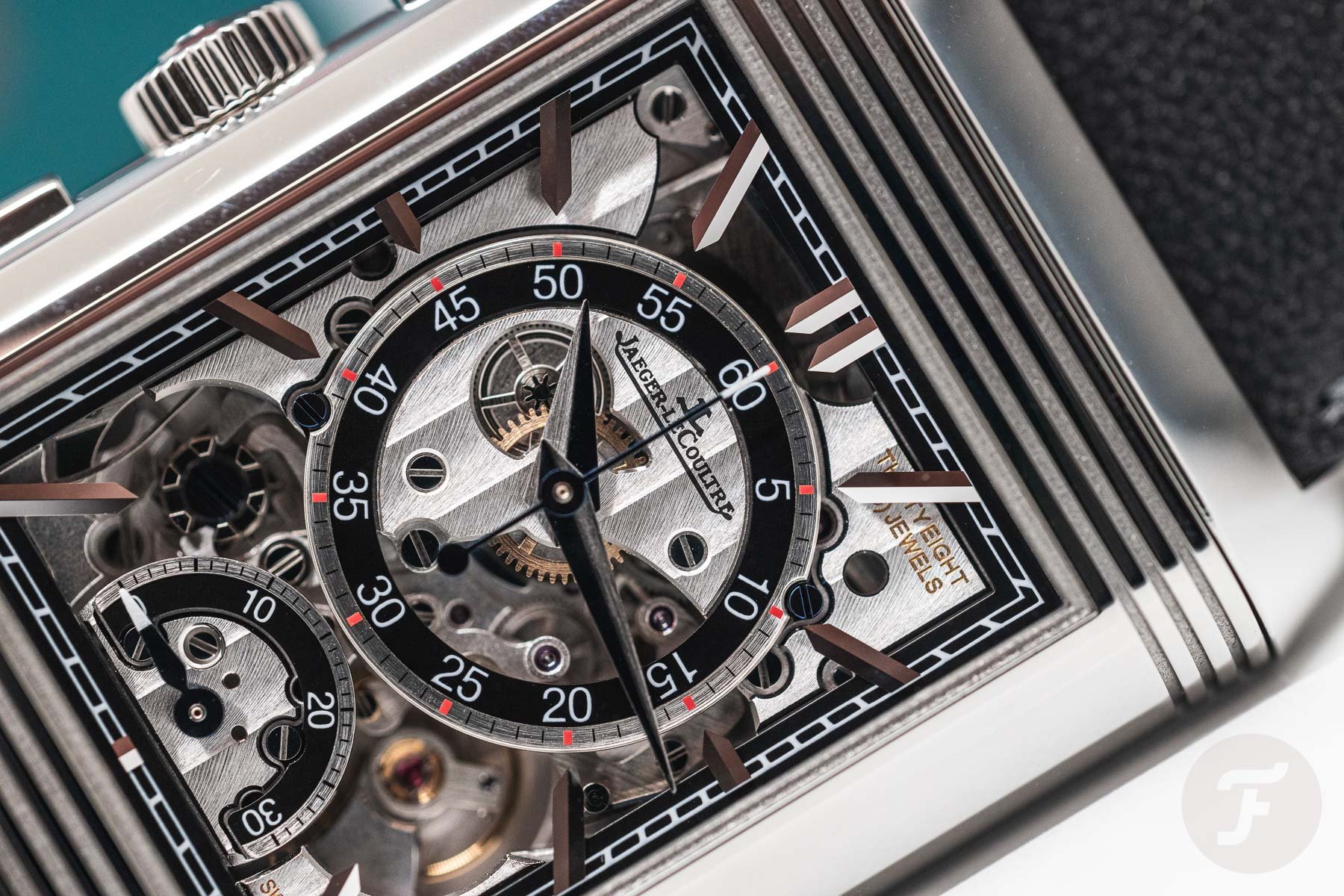 And then you turn the watch over and you stare into the almost fully transparent chronograph dial. Again, it's very clean here, just like on the other side. Only the indices, the scales, and the hands are covering the impressive manufacture caliber 860. With it, you can record elapsed time for up to 30 minutes, but the pushers' action is so soft and smooth that you won't be able to not use them for that long. And, of course, it comes on one of Casa Fagliano's signature straps. This strap is specifically made for this watch, and the perfectly matching color of the textile proves it. For me, this is the perfect chronograph. Well done, JLC!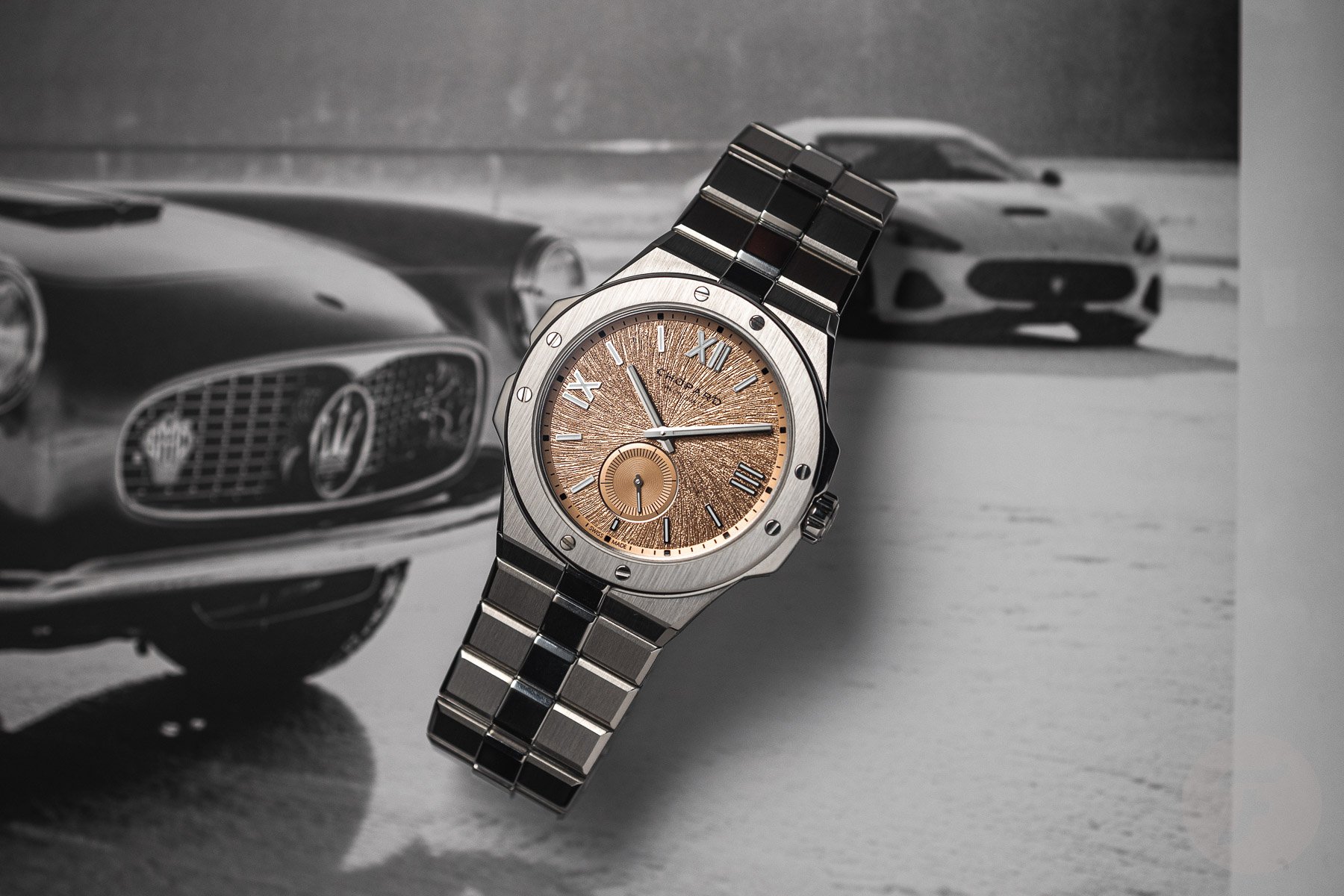 Brandon's favorite: Chopard Alpine Eagle 41 XPS
Like Thor, I was absent from Watches and Wonders (what else is new?), so I can only comment on what I observed from afar. But after editing all of our articles for the event, my favorite release was the Chopard Alpine Eagle 41 XPS. I've loved the Alpine Eagle since I first tried it on in 2021. I also have an incredible soft spot for Chopard as a brand. To me, the XPS takes the Alpine Eagle to the next level, finally marrying fantastic aesthetics with top-notch watchmaking.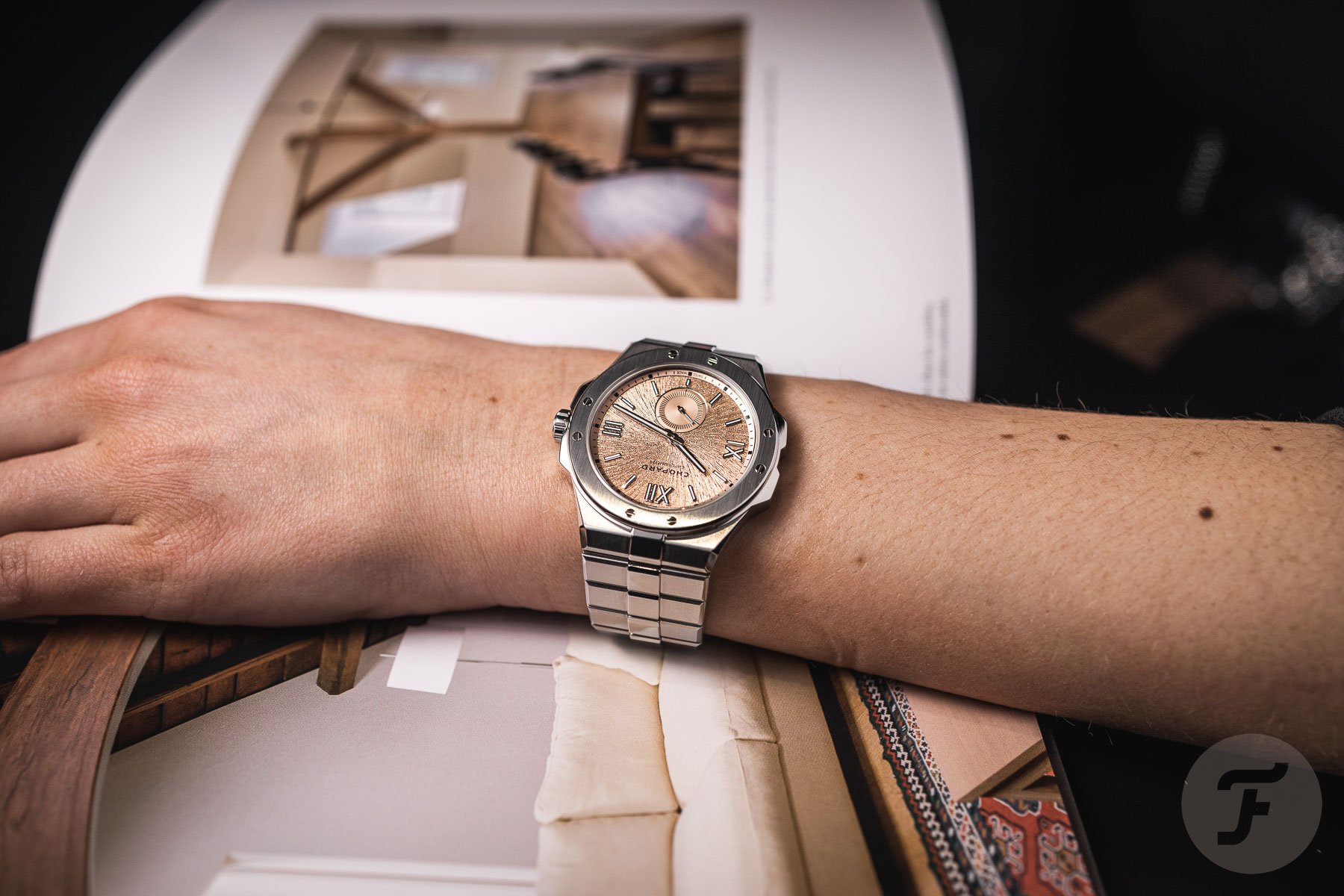 The manufacture caliber 96.40-L in this watch has all the elements that make Chopard's highest-end movements fantastic. From the gold micro-rotor and stacked double barrels to the Geneva Seal-level finishing and chronometer spec, this caliber has Chopard's signature all over it (figuratively, of course).
I'm also a huge fan of the design of the Alpine Eagle overall. The bracelet and bezel show a clear link to the St. Moritz, Chopard's first-ever steel watch from 1980. The dial, however, with its eagle-iris texture, looks modern and, quite frankly, phenomenal in real life. I've seen the blue and gray versions in the metal, but from the pictures, this new salmon dial trumps them both. At €24,400, the Alpine Eagle 41 XPS won't be entering my collection for the foreseeable future. Still, for me, this watch is truly a wonder, and its very existence makes me happy enough.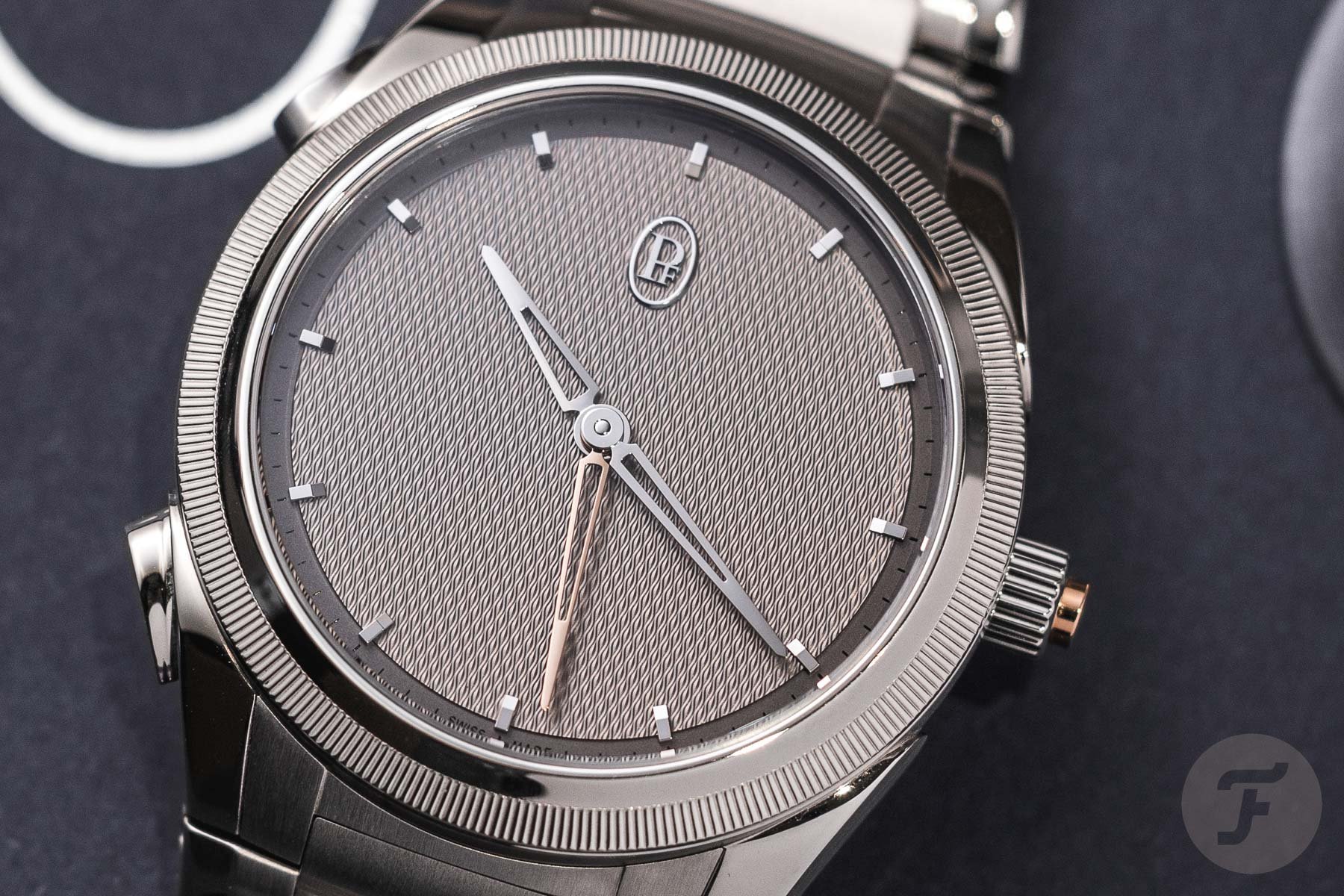 Thomas's favorite: Parmigiani Fleurier Tonda Minute Rattrapante
My favorite release this year is Parmigiani Fleurier's Tonda Minute Rattrapante. It was the only release from the brand in steel and, therefore, the "most affordable." It is one I can see myself owning someday if I push my imagination very hard. I cannot say the same for all the platinum or gold versions.
But that is honestly not why it is my favorite. I prefer this one because of the unique complication and, more importantly, what it represents philosophically. Most high-end watch brands aim to make things ever-more complicated. Not Parmigiani. This brand goes out of its way to hide the visual complication added by actual complications. I love that you can time things, dive-bezel-style, with a watch that looks like a time-only two-hander. It seems Parmigiani has made this a bit of a theme, and I cannot wait to see how far the brand can push it.
Sinara is still talking about the new Piaget Limelight High Jewelry cuff watches
I've said it before (on socials), and I'll say it again: when I saw the new Piaget Limelight High Jewelry cuff watch, I was awestruck. In the past year, I have done numerous watch spottings on socials, and I would always get astonished when I spotted a vintage Piaget Polo (I'm looking at you, Michael B. Jordan). So I was very keen to discover the brand's novelties, and let me tell you, they entirely exceeded my expectations. The cuff watches we were presented with encompassed the extravagance and hyper-naturalism of the '60s and '70s, showcasing Piaget's expertise and creative design aesthetics. They truly were works of art.
Once we go beyond the looks of these novelties, it's integral to appreciate the technical know-how that went into these cuff watches. The first thing that struck me was that the 18K gold Palace Decor bracelets had LINKS! It was so seamlessly done that you could only see it when you looked underneath, but once you had it on your wrist, it was a bracelet. Each cuff had been created by individual artisans and hand-engraved with different patterns and textures, transforming it into a smooth pattern accentuating Piaget's mastery of the art of engraving and dedication to Métiers d'Or.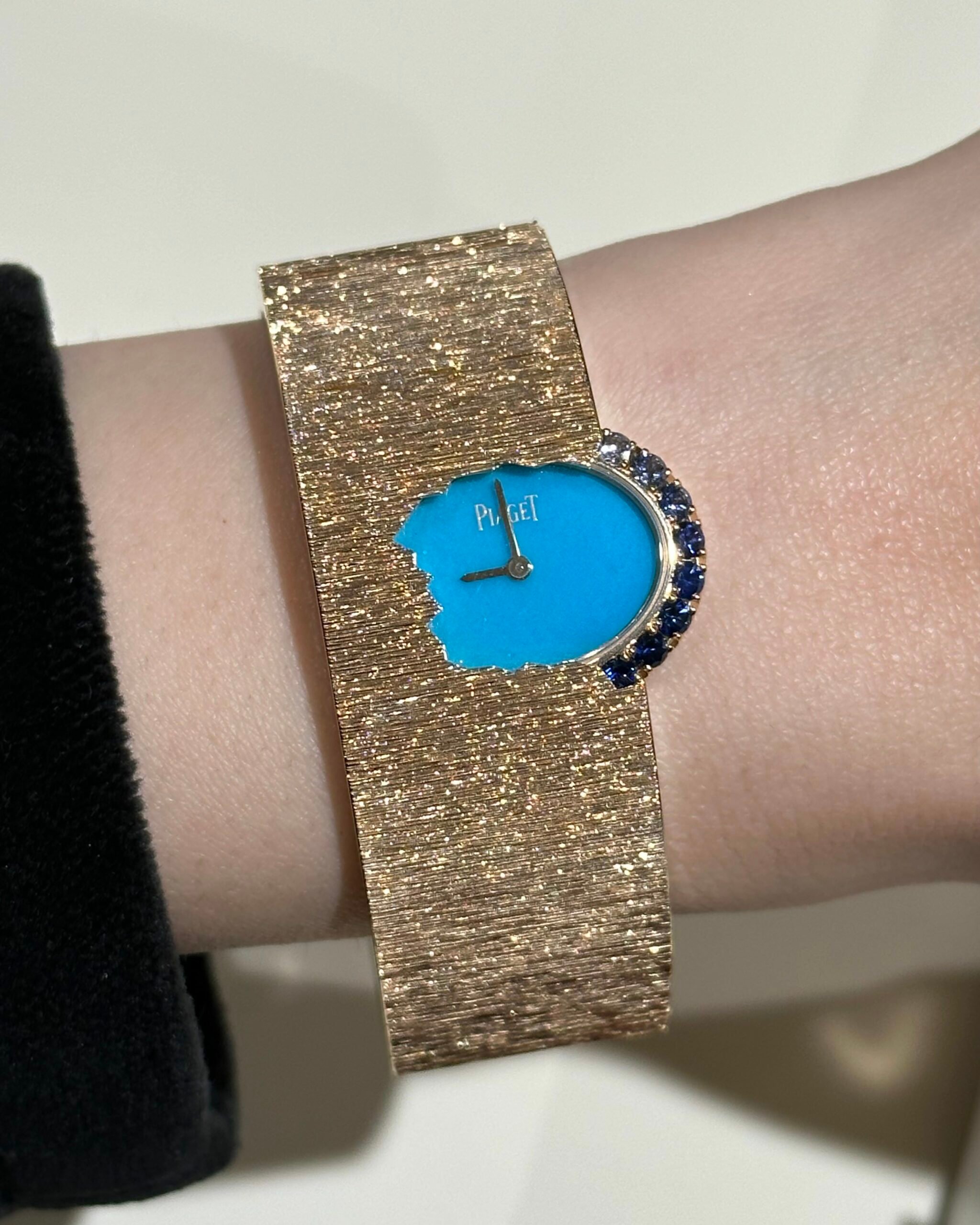 Despite being a jewelry cuff watch, the Piaget Limelight High Jewelry watches exuded each artisan's dexterity and artistic insight, represented in their engraving of the bracelets. Three of these watches were presented, and my absolute favorite is the White Gold Opal Emerald variation, the bracelet of which conveyed a frosty landscape. However, the one I was able to try on my wrist was the Rose Gold Turquoise Sapphire watch, which had a bracelet that resembled rugged tree bark. Both of these watches were phenomenal, each carrying a level of storytelling in their organic shapes and well-thought-out engraved patterns.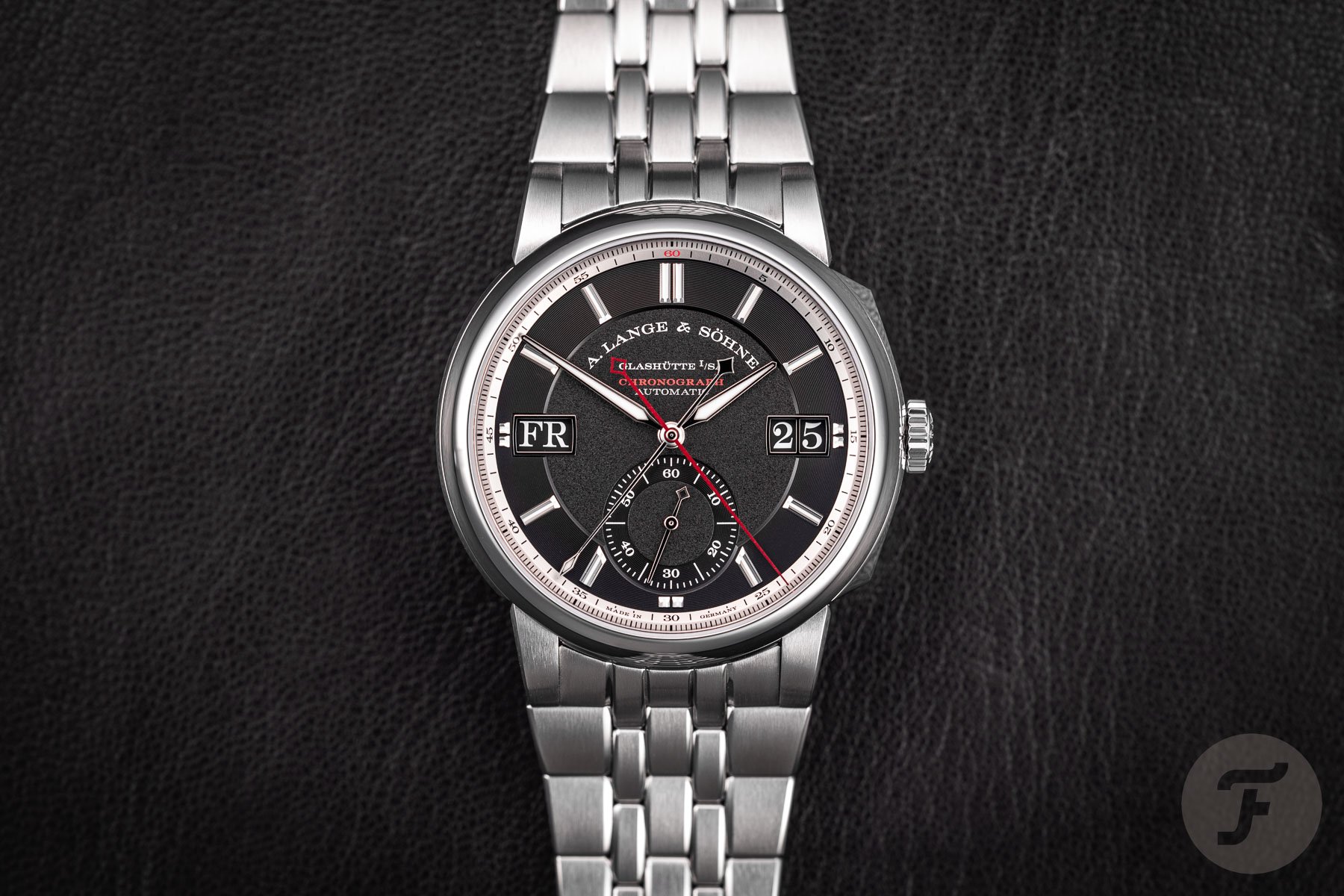 RJ's favorite: A. Lange & Söhne Odysseus Chronograph
Interestingly enough, Watches and Wonders 2023 was not about hype watches this year. Some tried, but I don't think there was much hype around one or two watches like there was last year (the Rolex GMT-Master II "Destro" and the Vacheron 222). I feel that this year, it was just very well balanced. You'll simply find some spectacular watches among all the new offerings.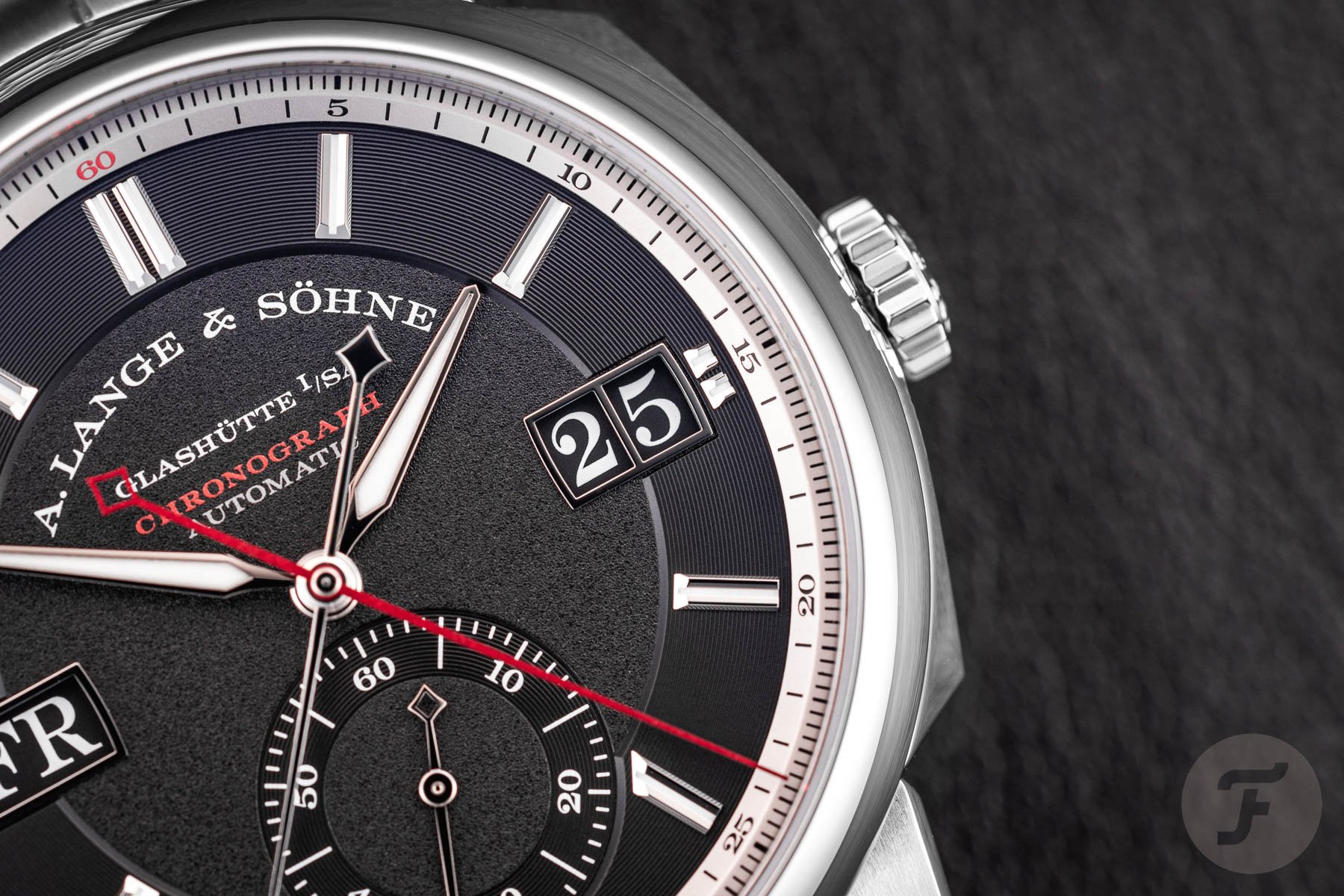 There are several watches that I really enjoyed seeing and trying, but the one that truly impressed me was the A. Lange & Söhne Odysseus Chronograph. I have to say that Lange never disappoints with its releases, but this time, the brand managed to convince me with the Odysseus. The watch didn't stand out for me in previous years, but that's just a matter of taste, I guess. I just prefer the Lange 1, Datograph, and Zeitwerk over the Odysseus. The design didn't change much, but it's the chronograph and technical innovation that won me over.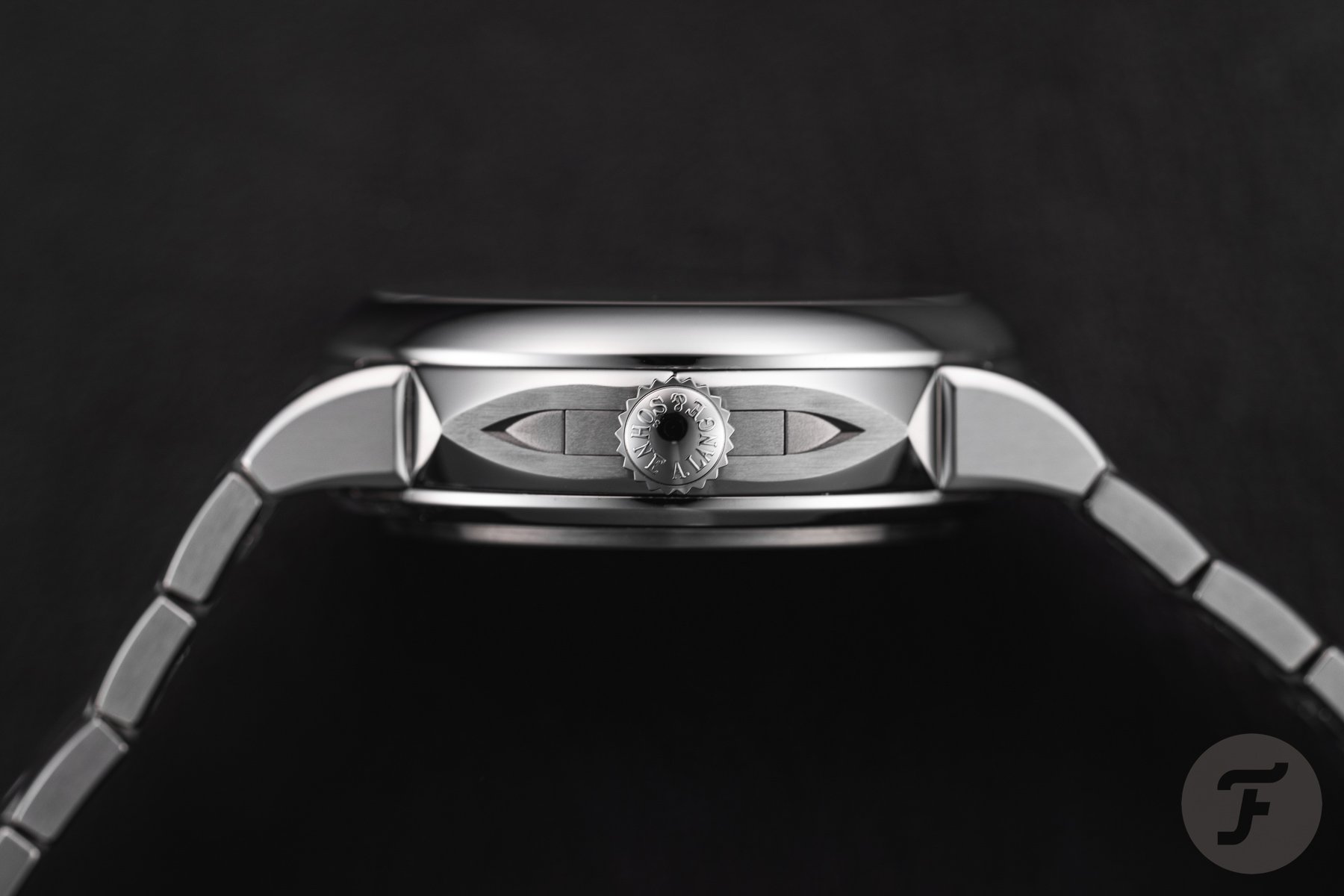 The chronograph pushers are so different from what I've seen before. They're completely integrated into the case design. It doesn't look different from the non-chronograph model because it's basically the crown guards that you use as pushers. Pulling out the crown, the chronograph pushers then become the correctors for the day and date complications. This patented system is very convenient for changing the date. Another feature that is worth mentioning is the way how the reset mechanism works. When the chronograph runs and is stopped before the central chronograph minute hand records 30 minutes, the red chronograph seconds hand will return to zero, traveling back the same distance it did to get there (one full revolution for each minute recorded) but in a fraction of a second. If the chronograph minute hand passed the 30-minute marker, both hands just advance to zero clockwise.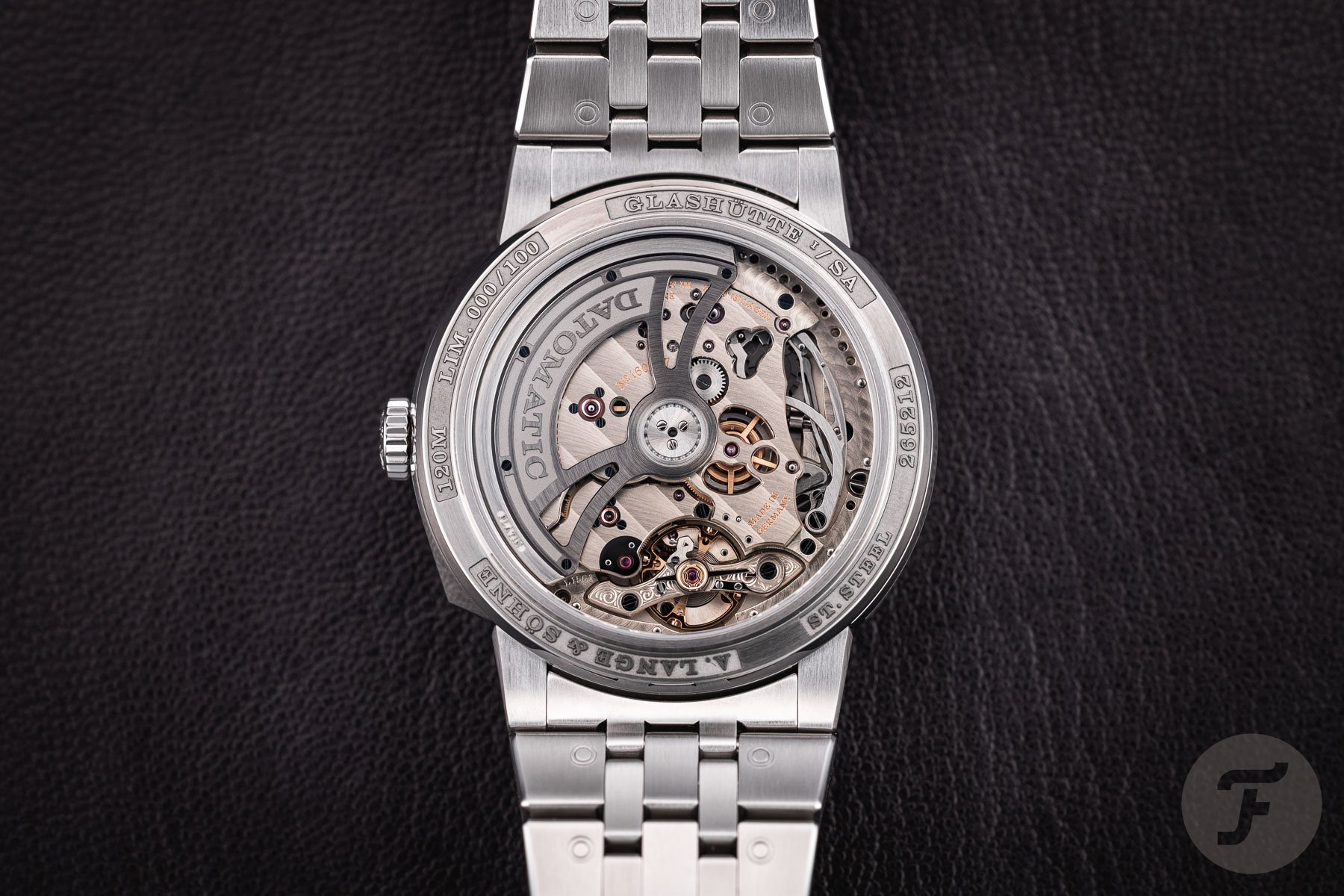 There are only 100 pieces available of this Odysseus Chronograph 463.178, with a retail price of approximately €135,000. It's not only limited but also a boutique edition. It seems that A. Lange & Söhne is going down the route that many other luxury brands are, making their special models only available to boutique customers. Slowly, multi-brand stores are being limited (no pun intended) in what they can offer from their brands.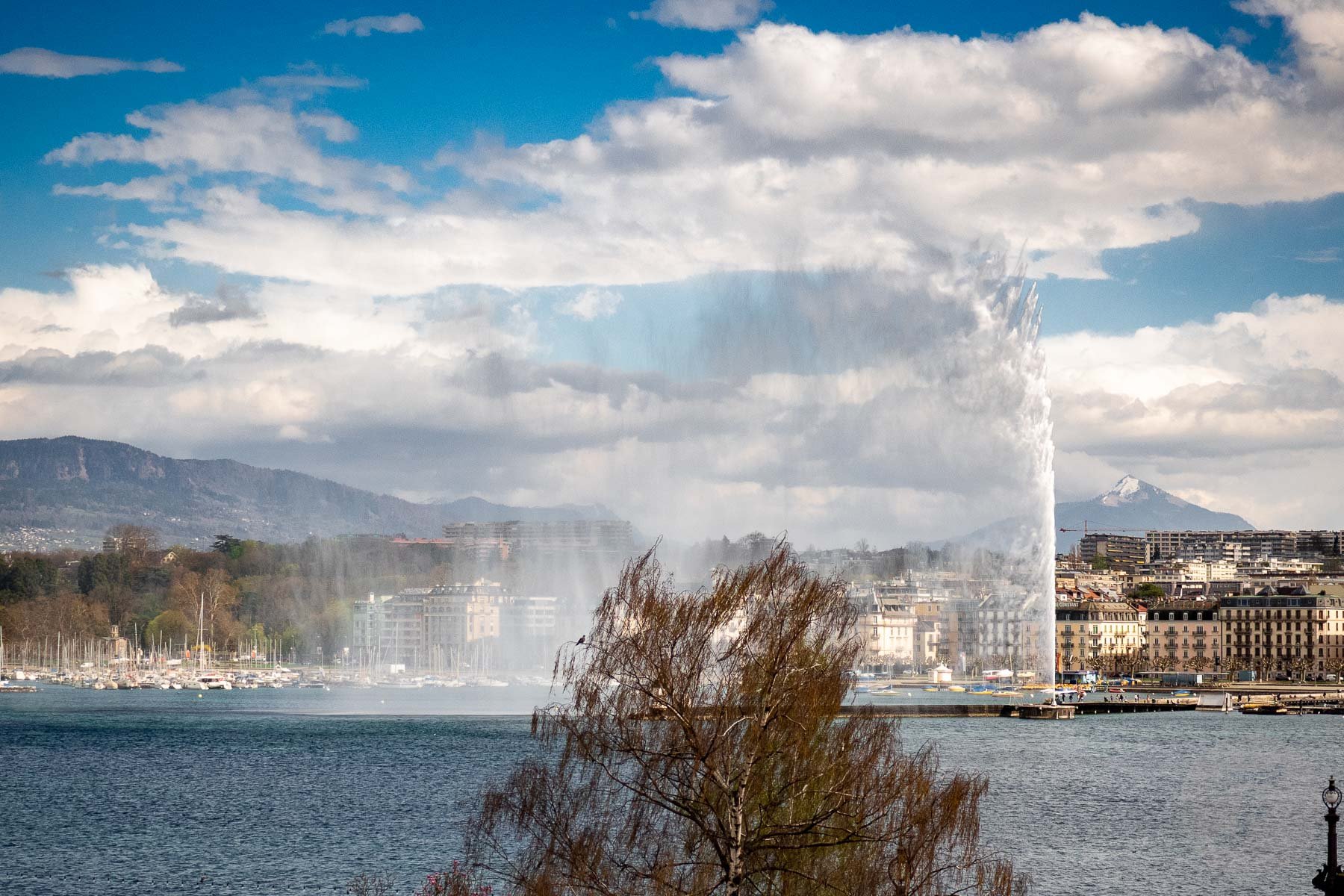 Final thoughts
There you have a number of our favorites. Of course, there are many more editors and many more favorites, but you'll get to hear about those either through podcasts, social media, or otherwise. We hope that some of your favorite releases made the list, and if they didn't, please let us know in the comments below!
If you missed any of these, check out our coverage of all of Watches and Wonders 2023 here.