The Watches Fratello Editors Will Be Wearing This Christmas — Festive Picks From Rolex, Omega, Oris, Cartier, And More
Our horological companions for the season's merrymaking
'Tis the season once again! And nothing beats getting together with friends and family to celebrate with good food, good wine, and even better festive spirit. As we wind down in time for the holidays, it's time to both look back on the year and forward to the next. And whether you're going all out in your Christmas or holiday celebrations, keeping things quiet and cozy by the fireplace, or taking it to the extreme with a spot of alpine adventure, it's always a time best enjoyed with a special watch on your wrist.
Today, a few of our editors will showcase their watches of choice for this Christmas season. As ever, there's a wide range of picks from classy vintage watches to old reliables, sentimental pieces, and even a denim lover's delight. We hope you enjoy this holiday season with your best watch on your wrist and your favorite people around you. Make sure to drop into the comments and let us know your pick for the festivities. Now, without further ado, our editors take it away with theirs.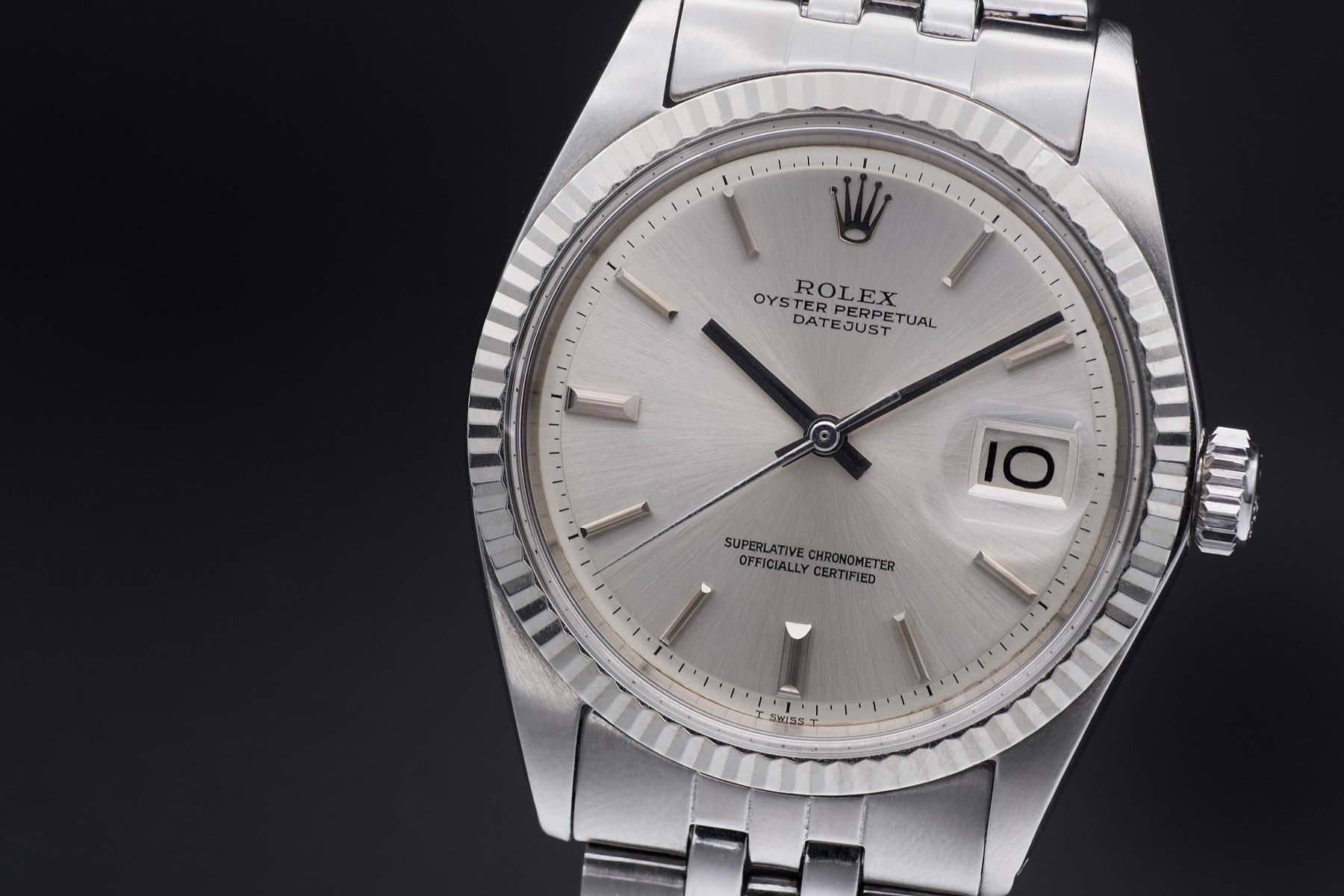 Thomas: 1967 Rolex Datejust 1601
We are having a rather quiet Christmas this year. There are no big get-togethers or parties planned, just relaxing with the better half and our baby boy. Still, it is nice to dress up just a little. Nothing fancy, just your Sunday clothes, if you catch my drift. Paired with good food and some much-needed loving attention for each other, that will add up to a Christmassy sentiment after all.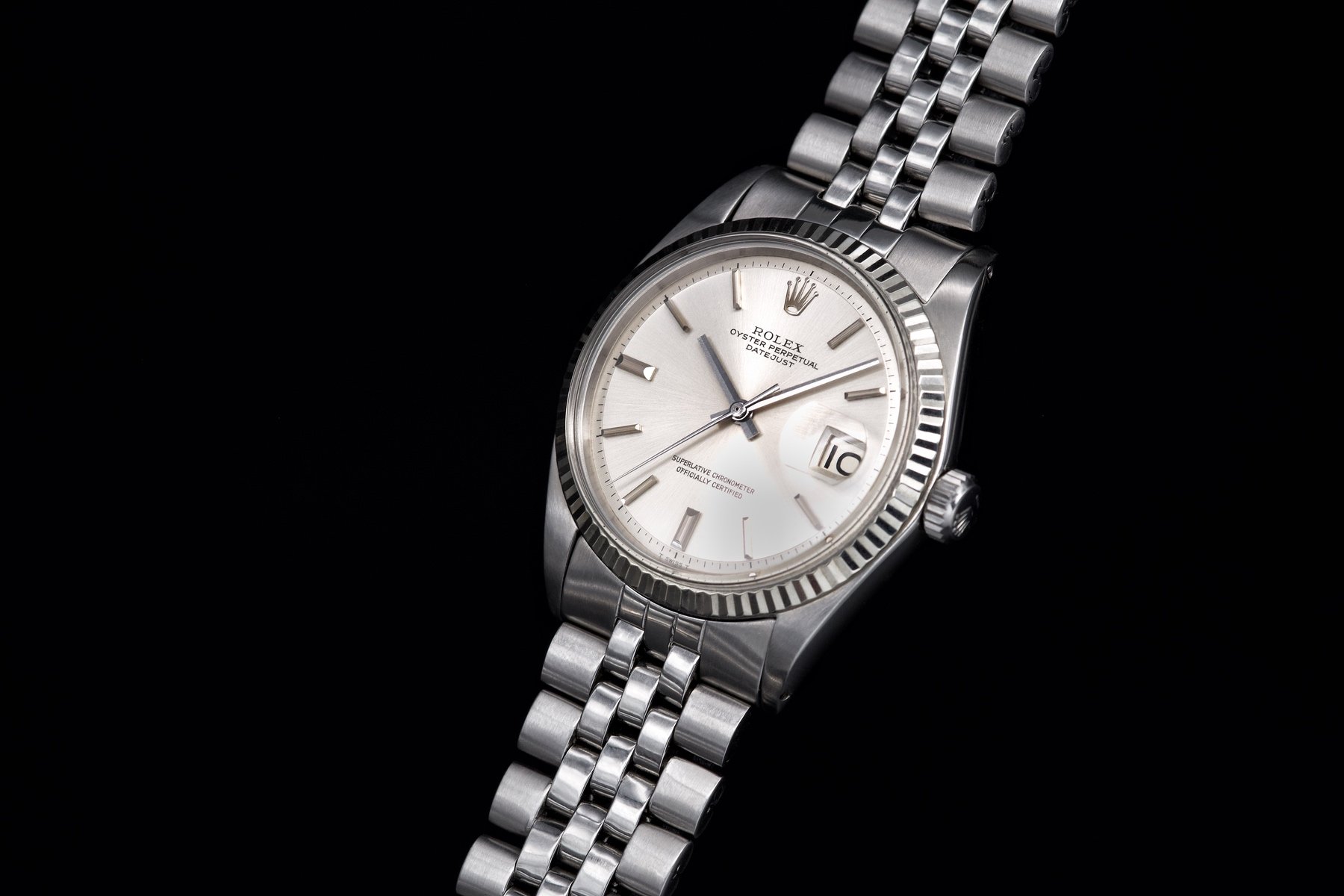 I think I might opt for my 1967 Rolex Datejust 1601. It is a special watch that I wear on special occasions. It is special primarily for its stunning condition and no-lume "Japan" dial. Taking on the role of a dress watch effortlessly, a vintage DJ is about as stylistically versatile as they get.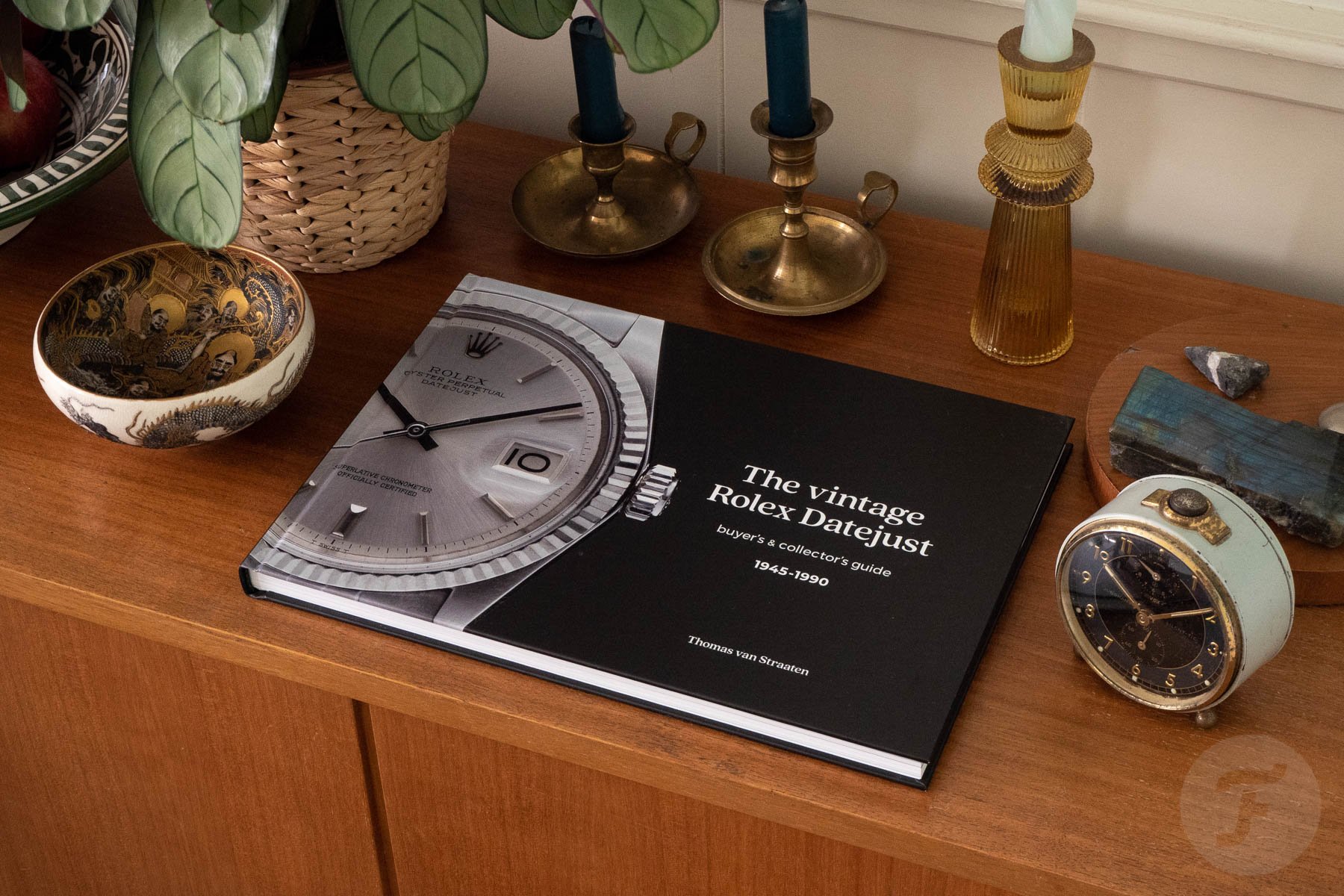 If you feel it looks vaguely familiar, that could be because it is on the cover of my book on the vintage Datejust. When I bought this watch, I opted for the most archetypal version. In my humble opinion, that is a silver-dial 1601 with its white gold fluted bezel and on a Jubilee bracelet. I think this one will serve me very well over Christmas this year!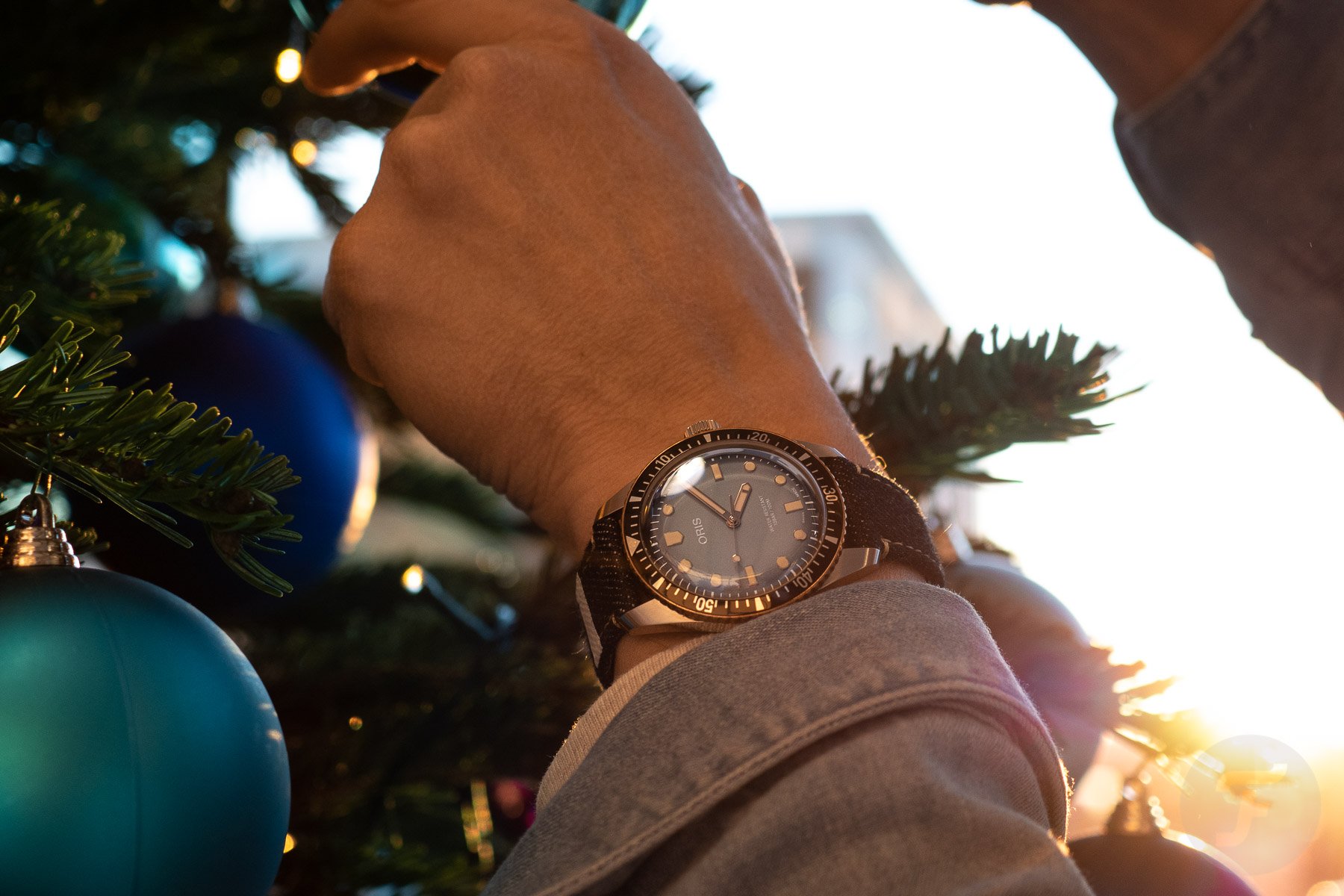 Lex: Oris × Momotaro Divers Sixty-Five Special Edition
It's going to be a triple-denim Christmas this year. And I might even try and make it a quadruple-denim one. I'm not the biggest Christmas fan in the world, but I'm also not a total Grinch. I just want to sail through the holidays as smoothly and comfortably as possible. For me, that means wearing denim, the fabric I feel best in. So I will be wearing my Oris × Momotaro Divers Sixty-Five Special Edition.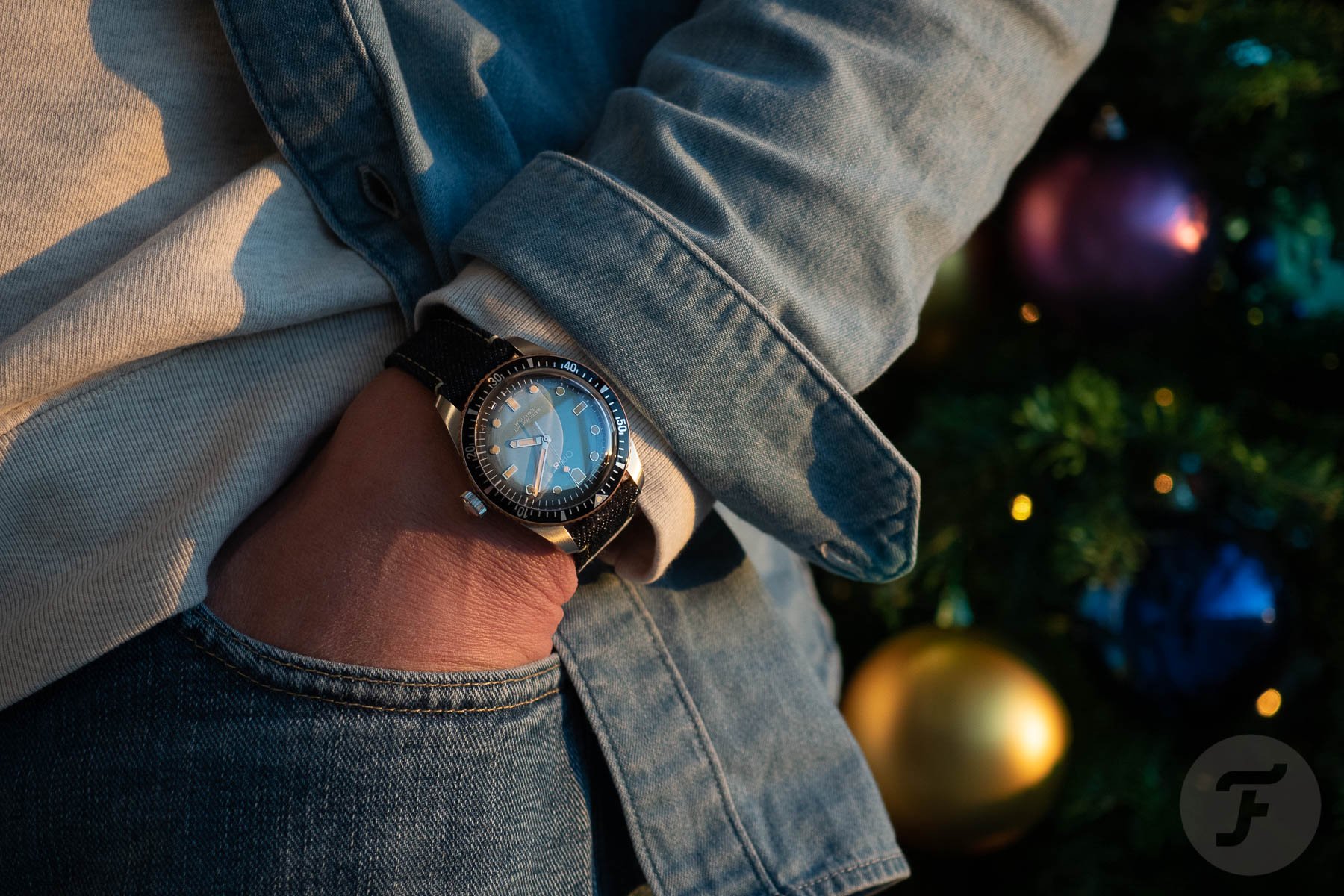 The bronze bezel looks warm, luxurious, and especially in combination with a decorated Christmas tree, very festive. And the dark blue denim strap with the two Momotaro stripes will perfectly suit my matching jeans from the same brand. To complete the "Canadian tuxedo" look, I will also put on a Diesel denim shirt with a nice, hand-applied paisley pattern. Festive, right?
And I might even go so far as to wear my Tiger of Sweden jeans jacket — not a trucker's jacket but cut like a sports jacket — over it to make that four different denim items. Wearing that ensemble will make me feel good, and as a result, I will pass that feeling on to the people around me. Giving positive vibes is something that, for me, is what the true Christmas spirit is all about. In other words, wear what you feel best in for the best holiday possible for you and your loved ones. Have a good one!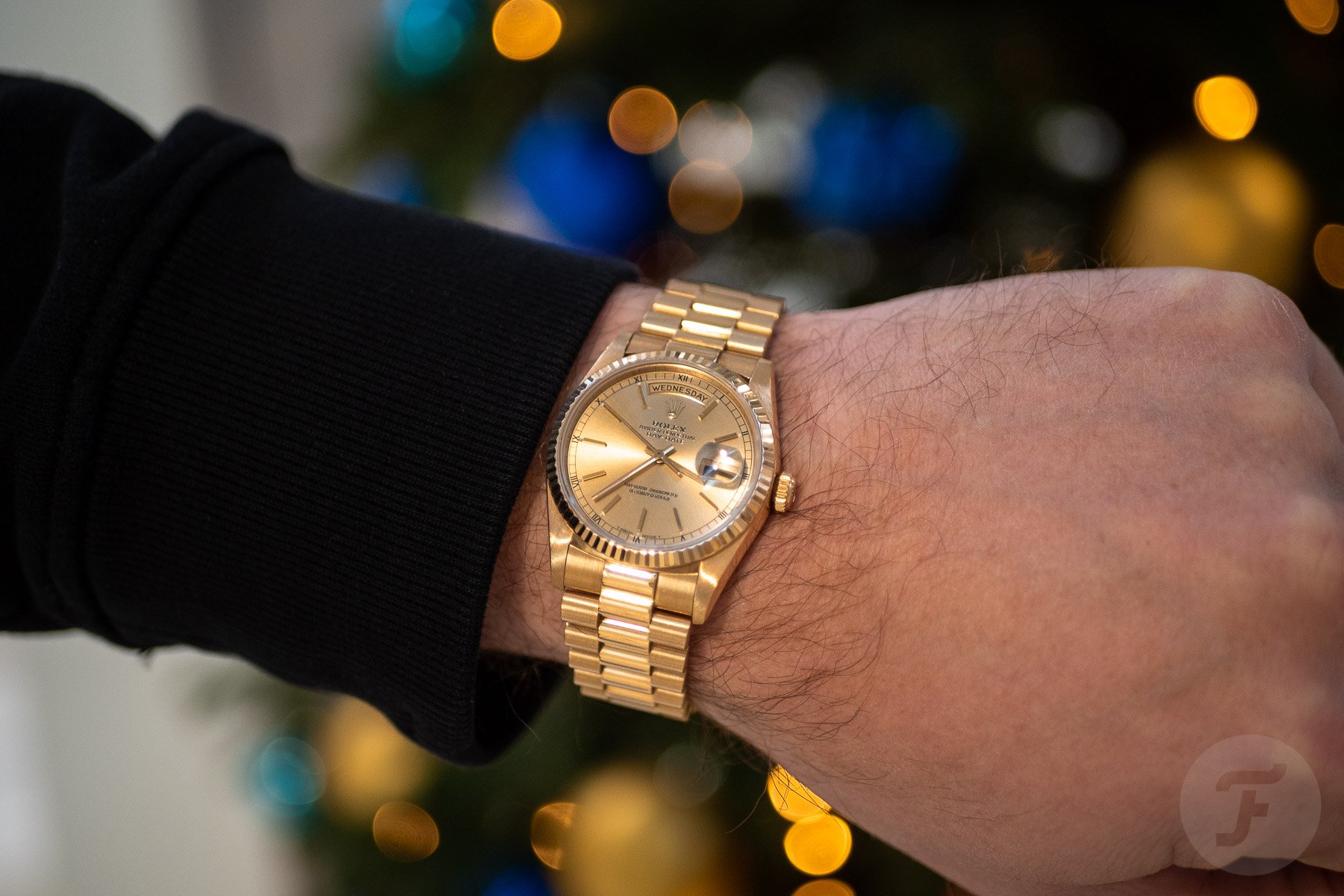 RJ: Rolex Day-Date 18238 and an Omega Globemaster
In my family, Christmas is a thing. I think it has become more important as I've gotten older because I can't really remember any specific Christmas Days from my childhood. Having divorced parents and in-laws, we need all the days around Christmas to see everyone. The Christmas celebration at my in-laws is the biggest one as it always has been an important tradition in my wife's family.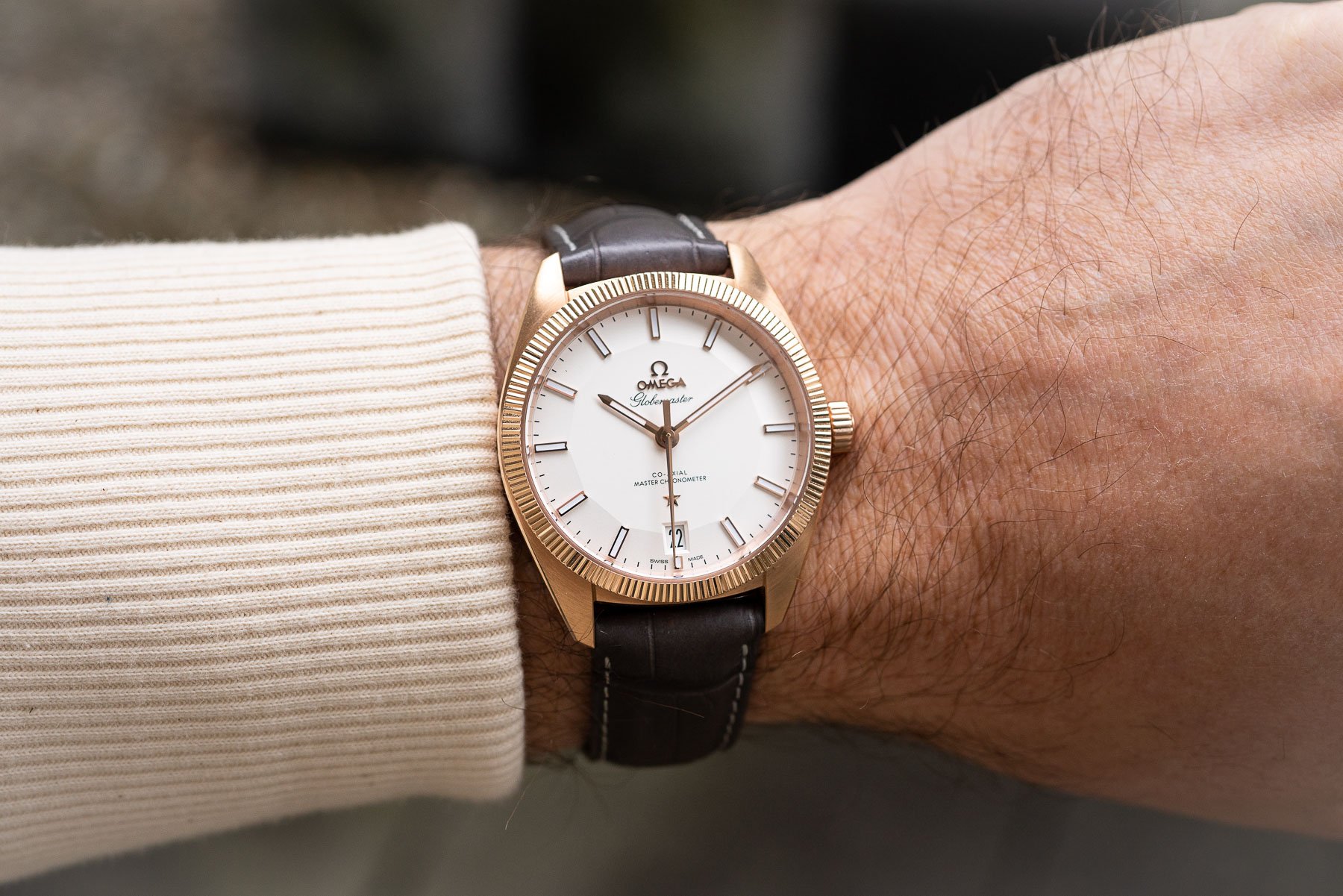 Christmas was also a very meaningful period for my grandparents on my dad's side, so I will think of them while wearing my gold Omega Constellation Globemaster. Sometimes I wear my grandfather's Constellation watch on Christmas, but this year, I will stick to my gold Constellation Globemaster when I visit my father on the 25th of December. The Constellation is our "family" watch. My parents, grandfather, and great-grandfather all had Constellation watches.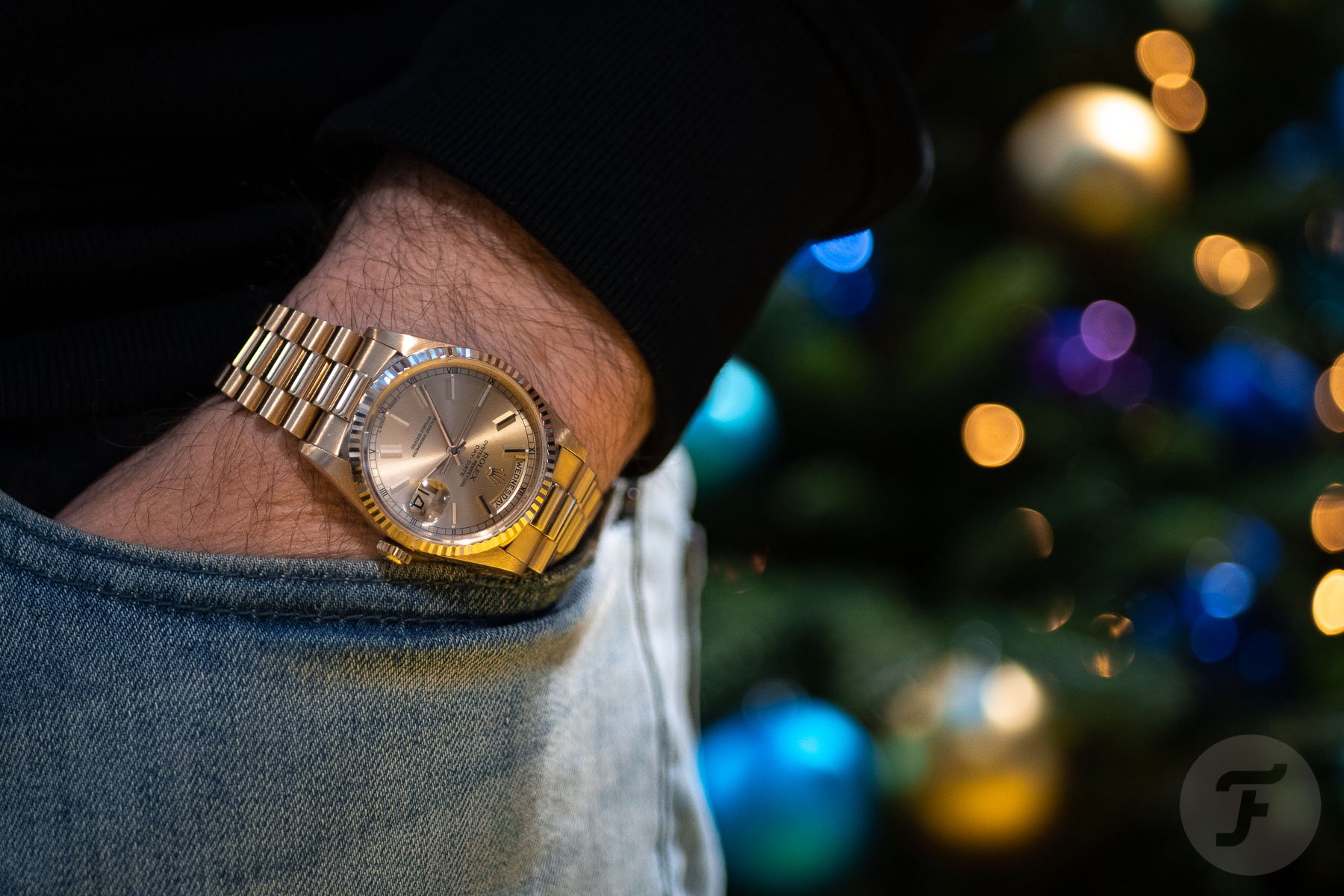 The Day-Date is an easy wearer for the other two days. On Christmas Eve and Boxing Day, I will wear the Rolex Day-Date 18238.  This watch goes with everything and matches nicely with our gold-colored Christmas decorations at home. Although I am a bit more of an Omega guy, I also have owned (and still do) my share of Rolex watches. The Day-Date was on my list for a very long time, and it was exactly this reference that I was after. I wanted a practical version that had the double quickset and a sapphire crystal. This specific model came across my path this year, and I had to grab the chance to get it. Although my Constellation-wearing family frowns upon me when wearing this, a Day-Date is still a nice watch to own for every watch enthusiast or collector.
Anyway, I am curious about your Christmas watch, so please let us know in the comments below. For now, Merry Christmas to you and your loved ones.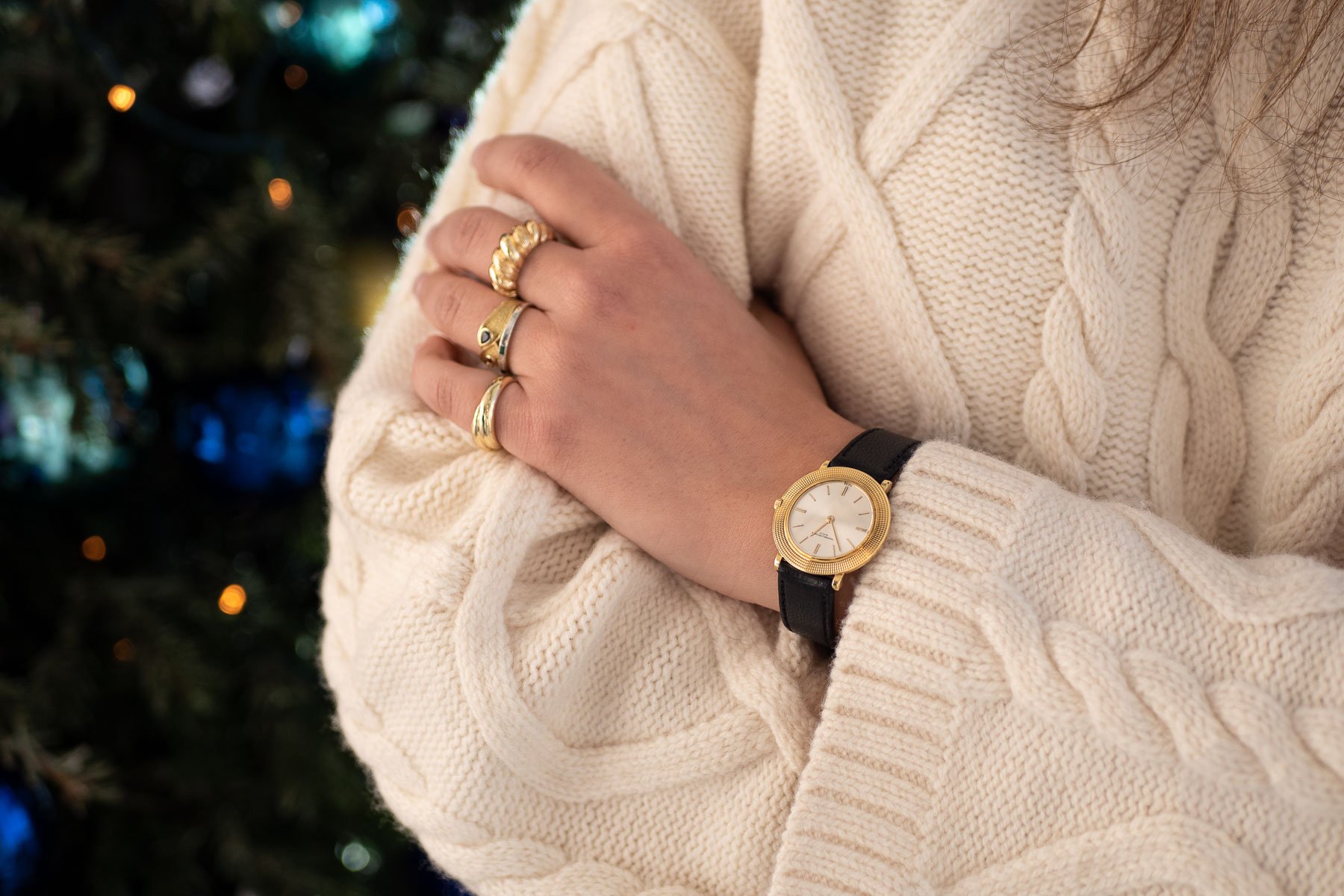 Sofia: A vintage Vacheron Constantin "Disco Volante"
With the festive party season ready to rear its jingle bells, I went on the safe side this year, making my way to stand out from the Christmassy crowd with a rare vintage piece that I proudly acquired last June. I chose my mid-century (circa 1960) Vacheron Constantin "Disco Volante" in 18K yellow gold.
I truly believe that the watch on one's wrist needs to have a more significant impact than a simple fashion accessory. That is why I always choose to wear something that represents me. Certainly, it couldn't be otherwise during the most highly anticipated time of the year in the company of my family and relatives that I haven't seen in a long time.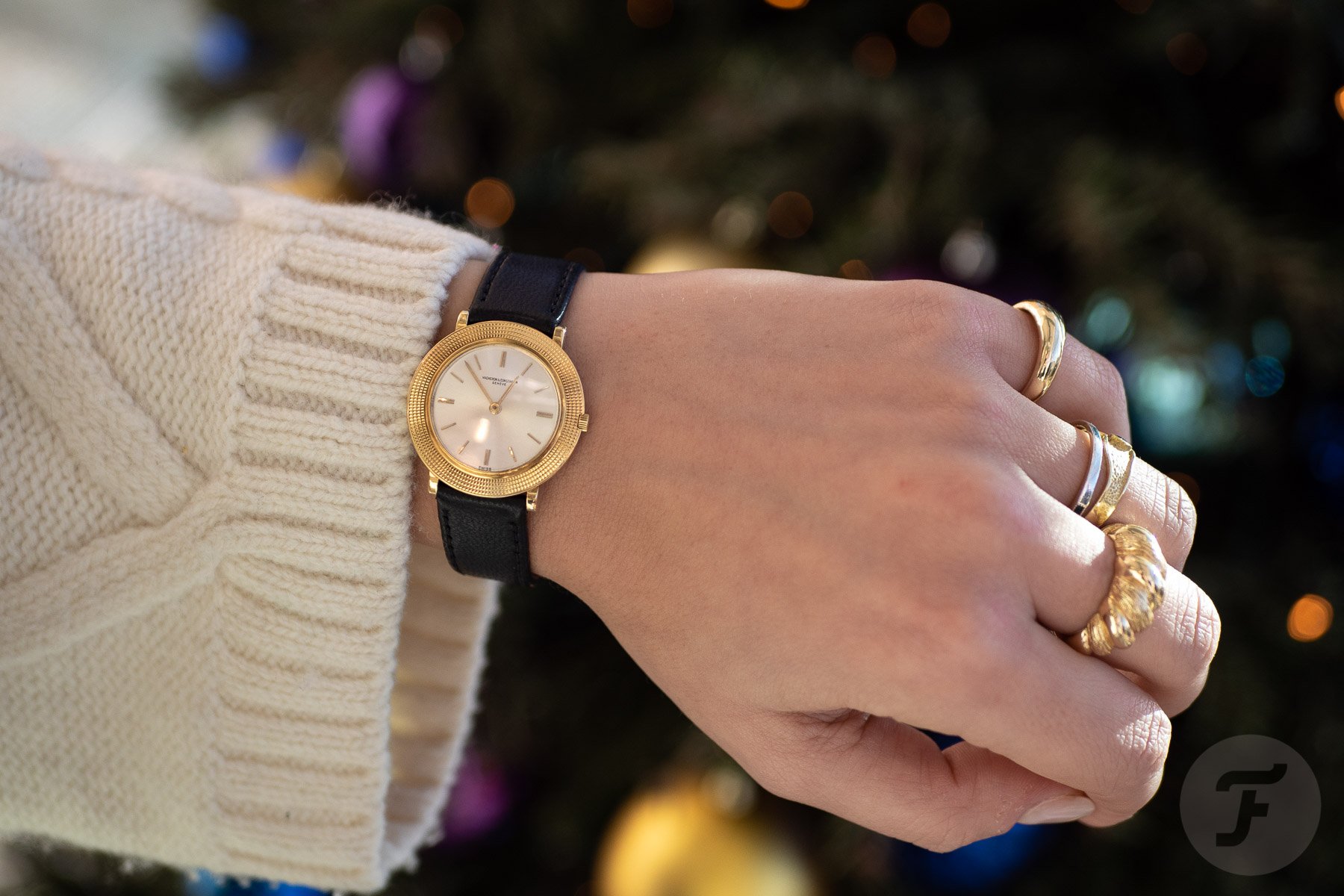 Furthermore, the power of a statement watch cannot be underestimated during the bling-bling Christmas days. Indeed, I decided to wear a watch with a timeless and endlessly appealing look. I must admit, what I love about my "Disco Volante" lies in its mysterious charm. This is a watch that doesn't need to show off to get noticed. I have always been fascinated by all sorts of weird and gorgeous case shapes, and the resemblance of this watch to a flying disc (as its Italian nickname suggests) makes it the king of cool. The watch features a 34mm ultra-thin case with a beautiful Clous de Paris bezel and a champagne sunburst dial with fine, raised markers and delicate gold pencil hands. It is powered by a high-grade, manually wound, 18-jewel Vacheron Constantin caliber 1003.
As the time is already ticking, I cannot wait to walk together with my watch companion under the mistletoe and toast with a glass of champagne (in my case, Prosecco, as my Italian roots require). Wishing you all a wonderful Christmas and a happy New Year!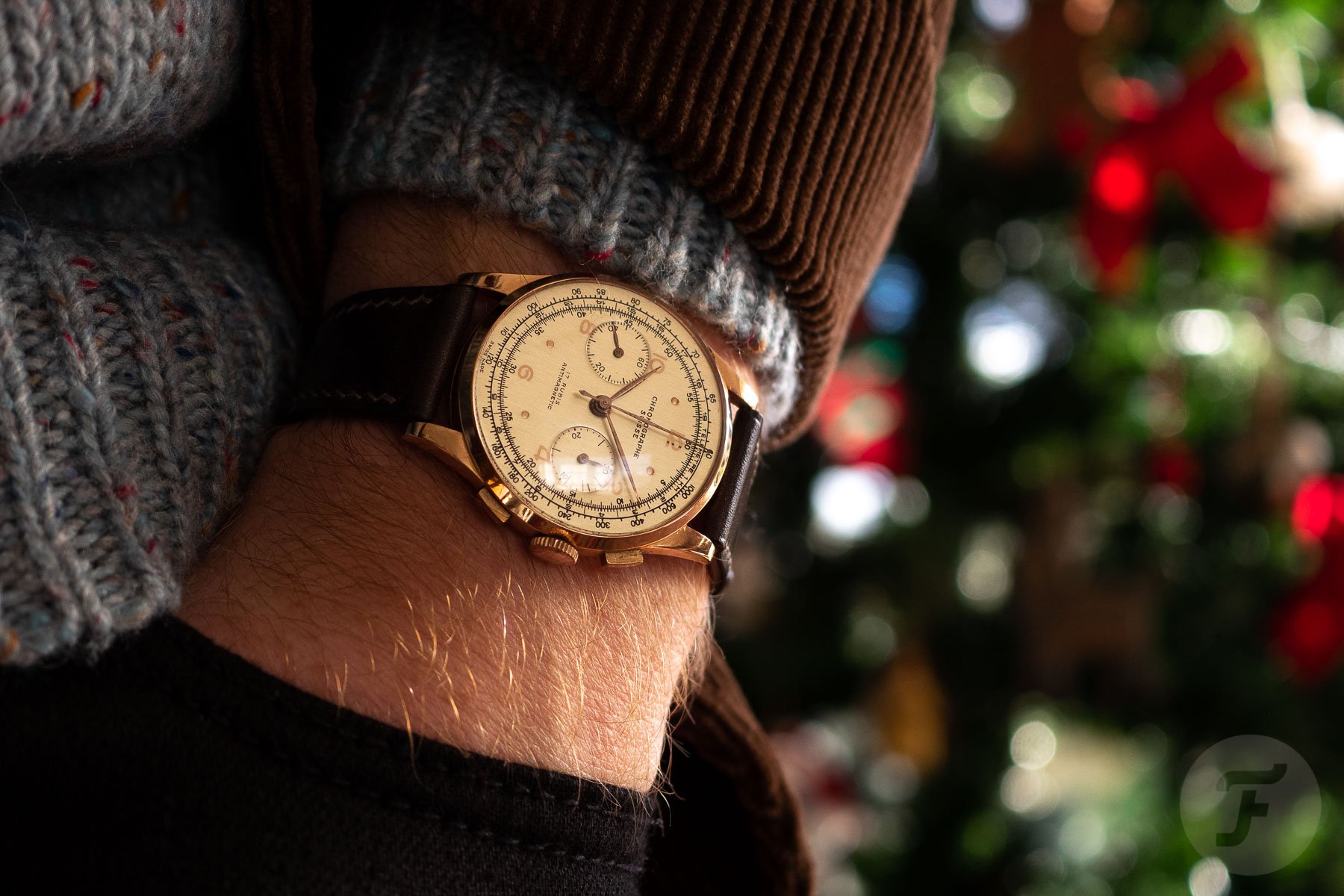 Nacho: An old but gold Chronographe Suisse and a WFH project
My Cartier Tank Solo was my Christmas pick last year, but I'm switching it up this time around. My relationship with my watches is a cyclical one. I find myself going through intense periods of enjoying a particular watch before putting it away for a while in wait for the next one and in favor of a different piece. And whereas my Tank is hibernating this year, it's a vintage piece from the late '40s that will keep me company this holiday season. I'm talking about my Chronographe Suisse. If you want to know more about it, you should check out this article. But the bullet points are as follows: it's a 37mm model with an 18K rose gold case, equipped with a Landeron 48 chronograph movement.
I find that there's something inexplicably festive to its rose gold case and timeless good looks. And although it's unlikely that I'll be using the chronograph much over the holidays, it's still a slightly dressier piece (certainly more than a Speedmaster or any other chunky steel sports watch) that works well under a shirt cuff. Thanks to a new strap — which replaced a dried-out, shrunken lizard strap from way back when — I have enjoyed a new honeymoon phase with this watch, making it an easy pick for the holidays.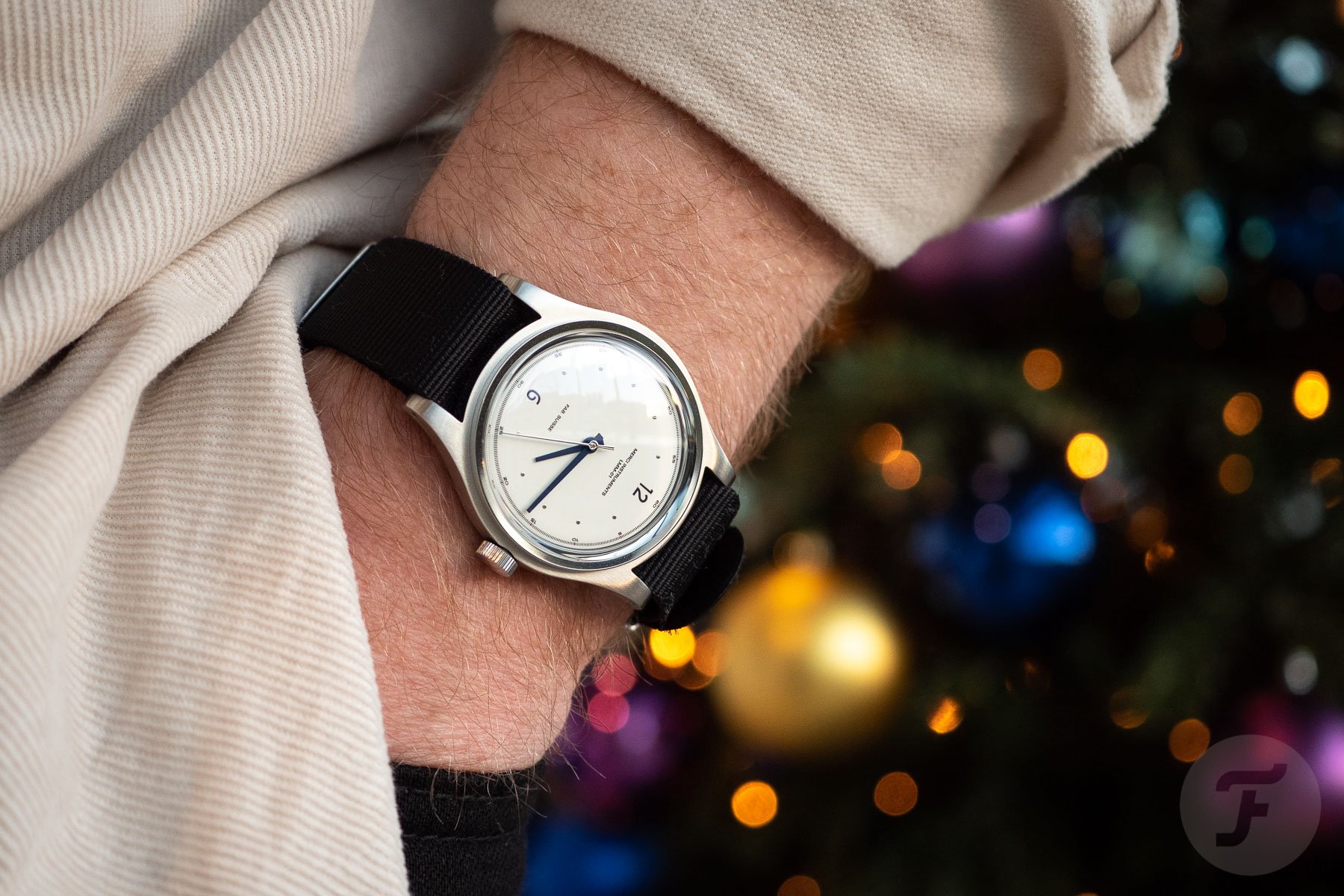 The other watch that will join me for the holidays is the Merci Instruments LMM-01 Everest. You may have seen my hands-on review of the latest three models from the French brand already. Of the three pieces, the Everest model was my favorite, so it also came home with me to help me write the hands-on article. Its frosty silver dial will also be a perfect companion for crisp winter hikes between heavy holiday meals!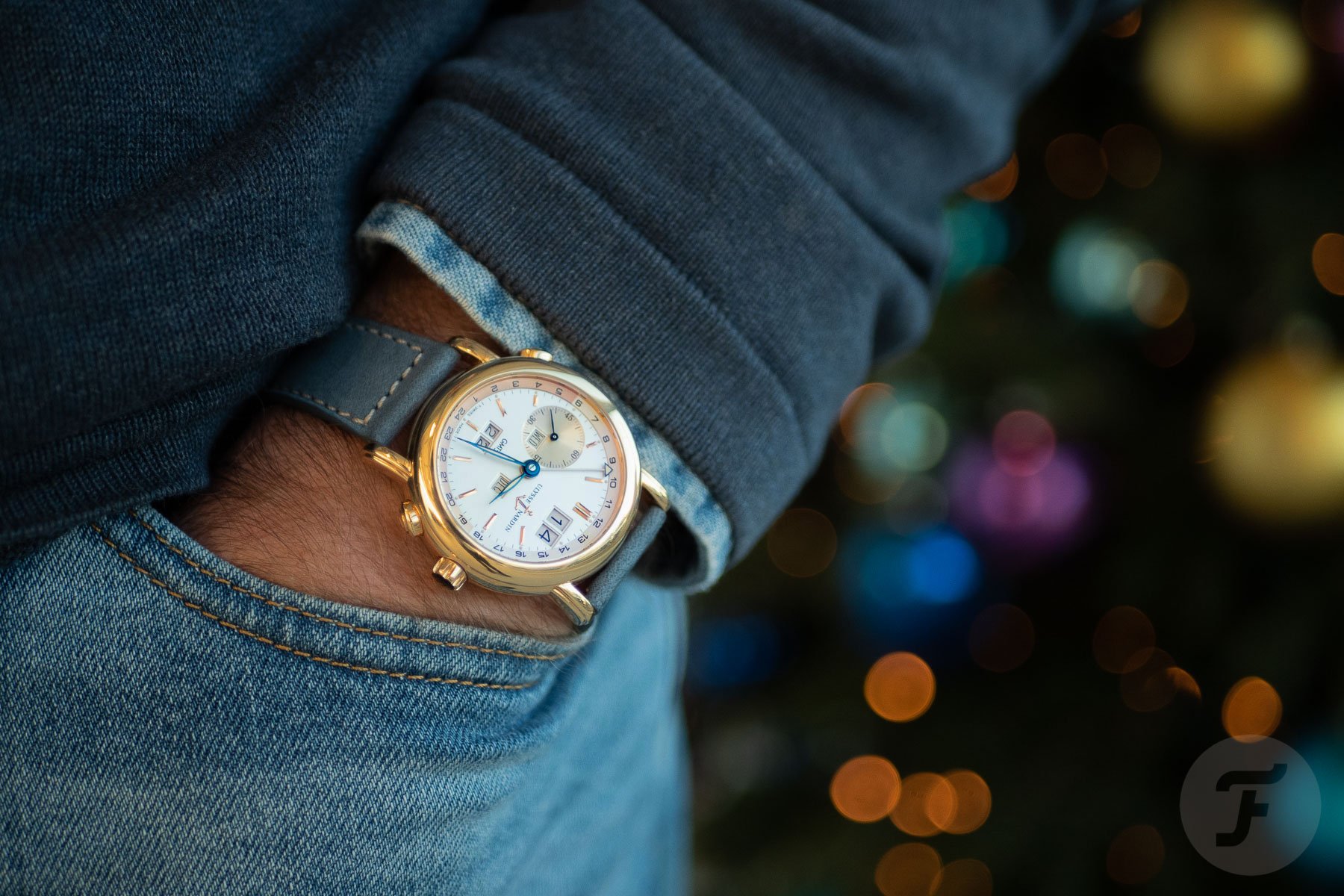 Gerard: A 23-year-old Ulysse Nardin GMT +/- Perpetual
I rarely wear gold watches, but there are two exceptions — my Rolex Day-Date 1803 and Christmas. I like the Day-Date because I can wear it casually on a leather strap. And the Ulysse Nardin GMT +/- Perpetual is great because it creates such a festive feeling. This watch originally came on a leather strap — I don't even think there was a gold bracelet available — and sports a beautiful UN-signed folding buckle in solid gold. The original strap was heavy-padded black croc, but currently, I'm wearing the watch on a nubuck Jeans Blue Fratello Signature Strap. Crocodile leather shouldn't be used anyway, but the jeans-blue leather strap makes the watch more nimble and casual. And the good thing is that the original folding buckle fits the universal Fratello strap.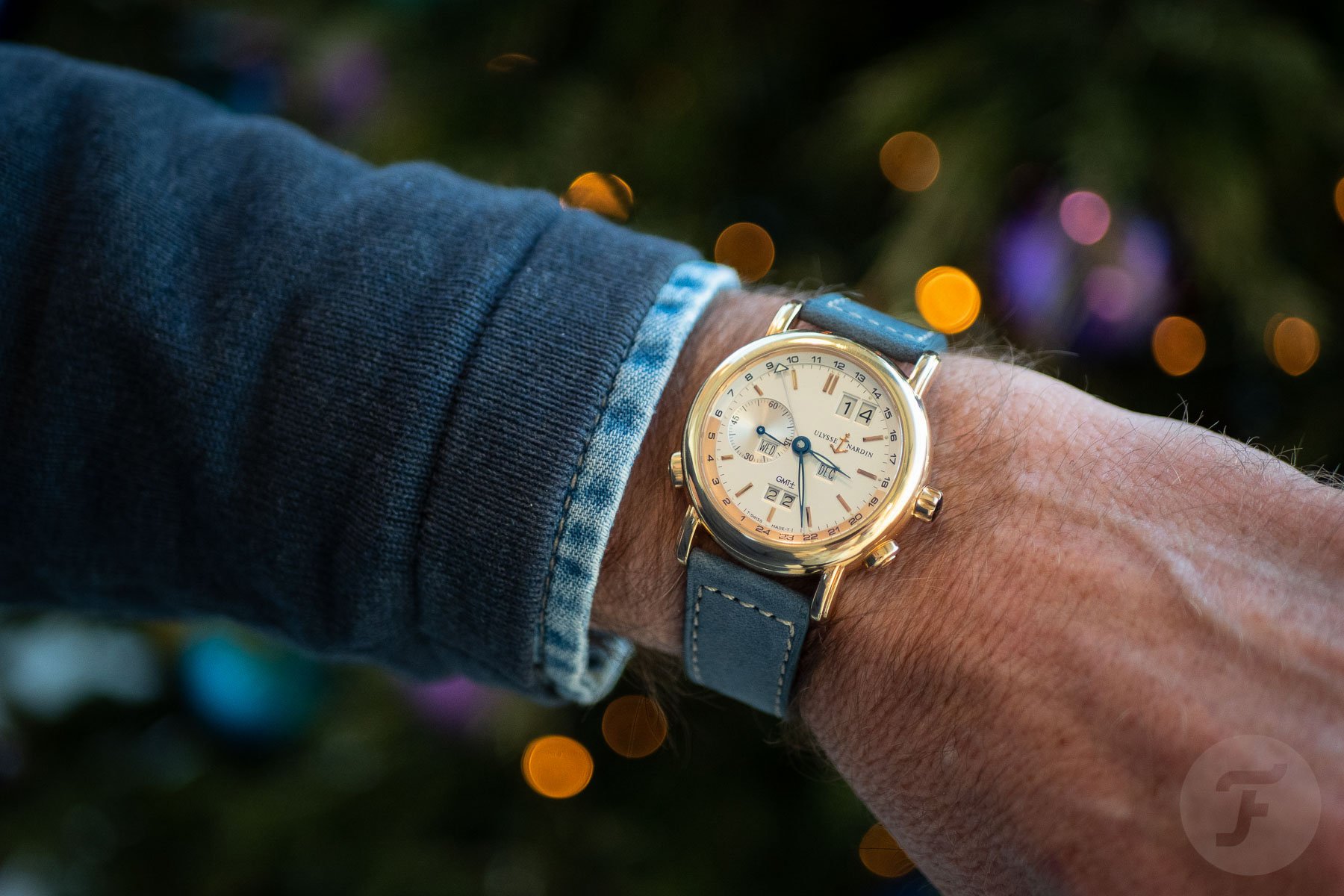 Ulysse Nardin marked the beginning of a new millennium with this GMT +/- Perpetual. It is, in fact, a combination of two exclusive and patented complications in one innovative watch — the San Marco GMT +/- Big Date and the Perpetual Ludwig. The latter was named after its creator, Dr. Ludwig Oechslin. As Ulysse Nardin rang in the 2000s with this GMT +/- Perpetual, I thought that celebrating the same way would be a good idea. So I received mine just before the change of the century and had Ulysse Nardin engrave "GRN 1-1-2000" on the edge of the glass case back.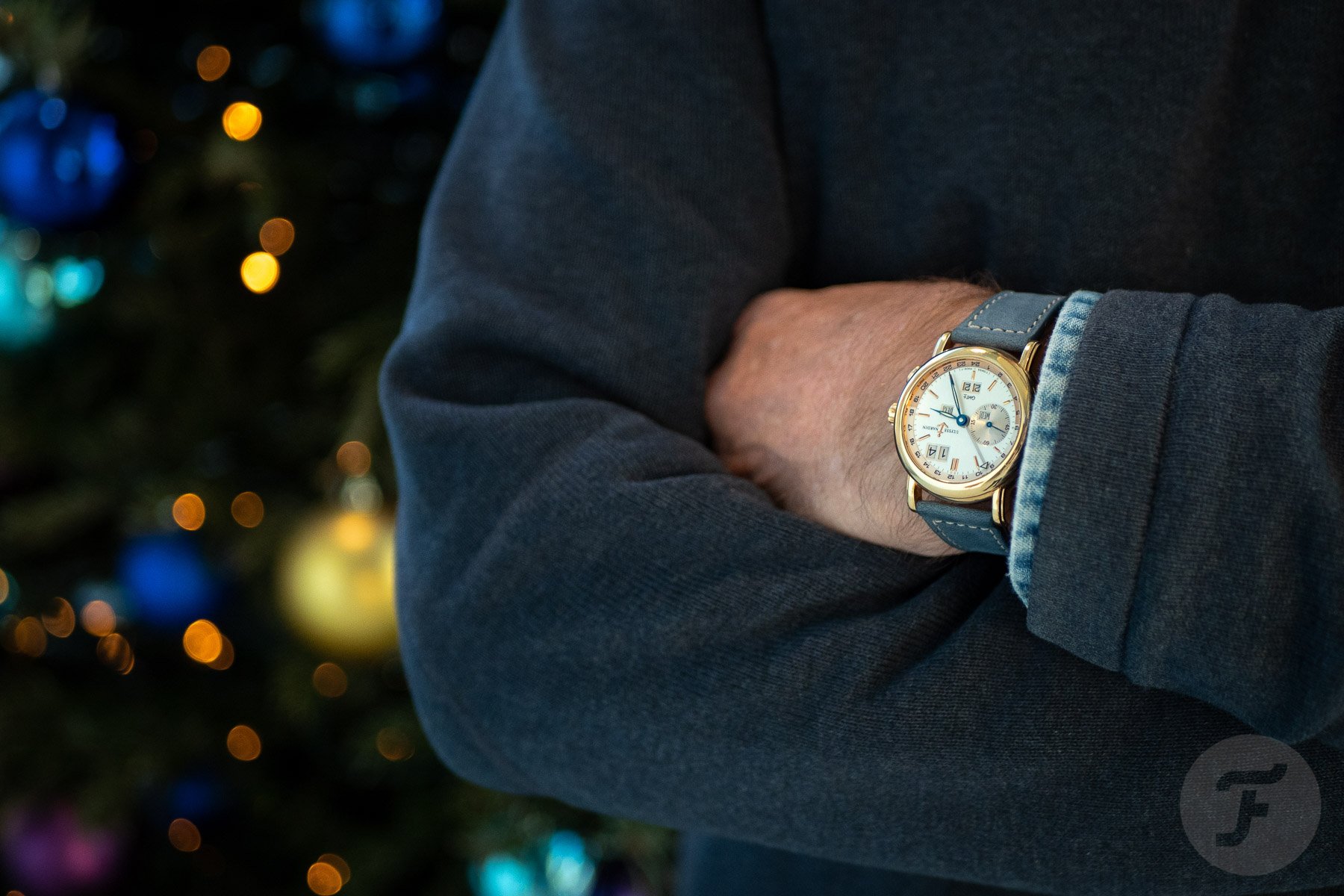 Not only do I wear this watch during Christmas, but it's also the perfect watch to celebrate the New Year. Sporting a perpetual calendar, it's only once a year that you can see the two-digit year indication change. A beautiful extra is that while other perpetual calendars often take their time (up to three hours) to change from December 31st to January 1st, the UN does this all within a few minutes. With champagne and oliebollen in one hand and this watch on the other, I can't wait to celebrate 2023. Happy Holidays to all of you, and have a nice slide into the New Year!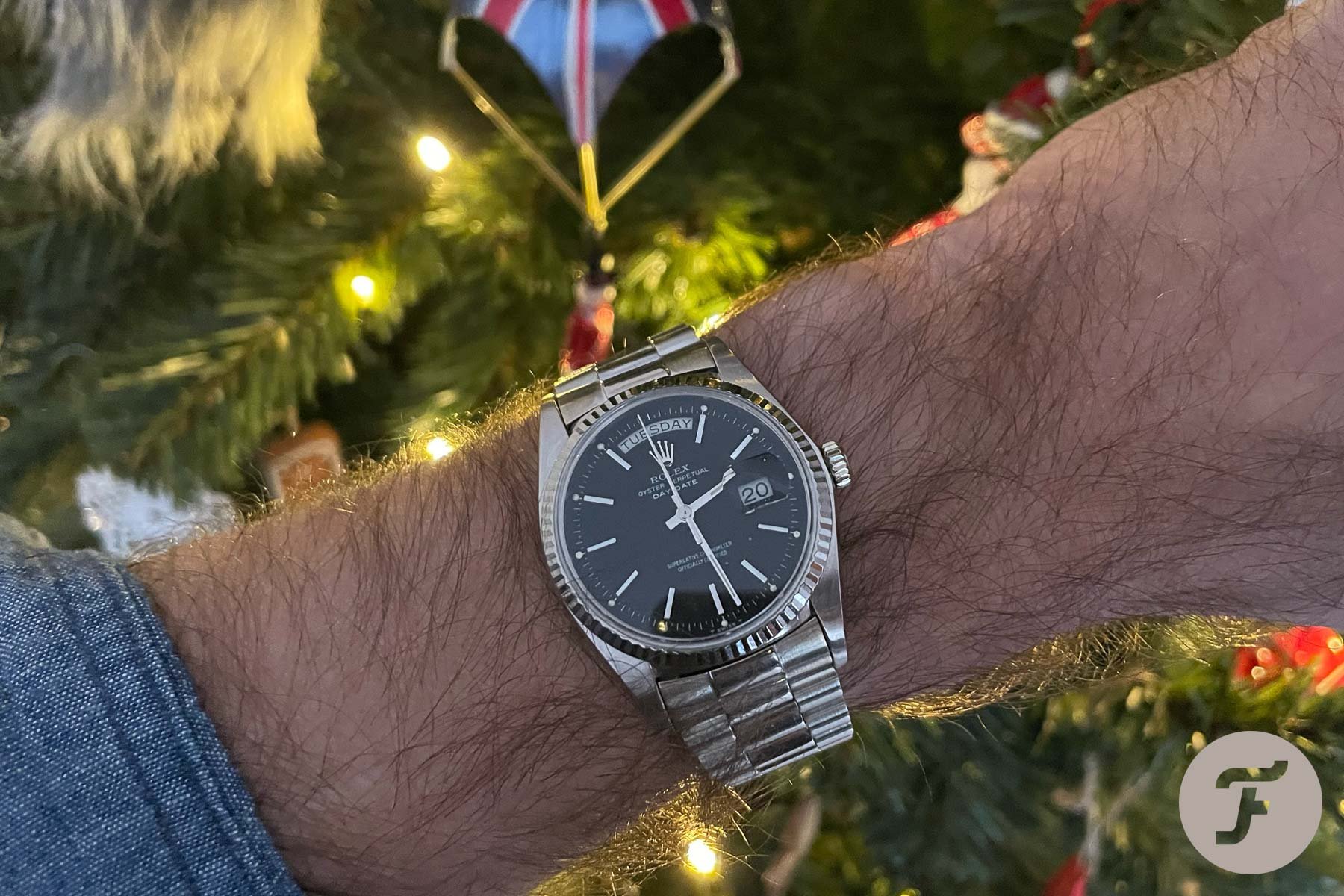 Mike: Rolex Day-Date 1803 in white gold
I love a good article centered around festive picks for the holiday season. Why is that? Well, despite my affinity for denim like Lex, we differ in the fact that I love Christmas. In fact, the period from Halloween to New Year's is my favorite time of the year. I dig all the gemütlichkeit (the festive spirit), the lights, overdoing it on decorations, and basically ramming as much holiday-based activity into these two months as I can. It leaves me with the blues afterward, but that's the price one has to pay.
When it comes to my main choice during the holidays, it's fairly easy. The Rolex Day-Date 1803 in white gold will be the mainstay. I say that because a sporty, inexpensive watch will see duty for certain activities, but that's not overly relevant to this article. The Day-Date that I acquired earlier this year was a long time coming. You see, I knew that I wanted a Day-Date, but I didn't know which one. Finally, I narrowed it down to an acrylic-crystal model with a step dial, and that pointed to the 1803. Quickset be damned!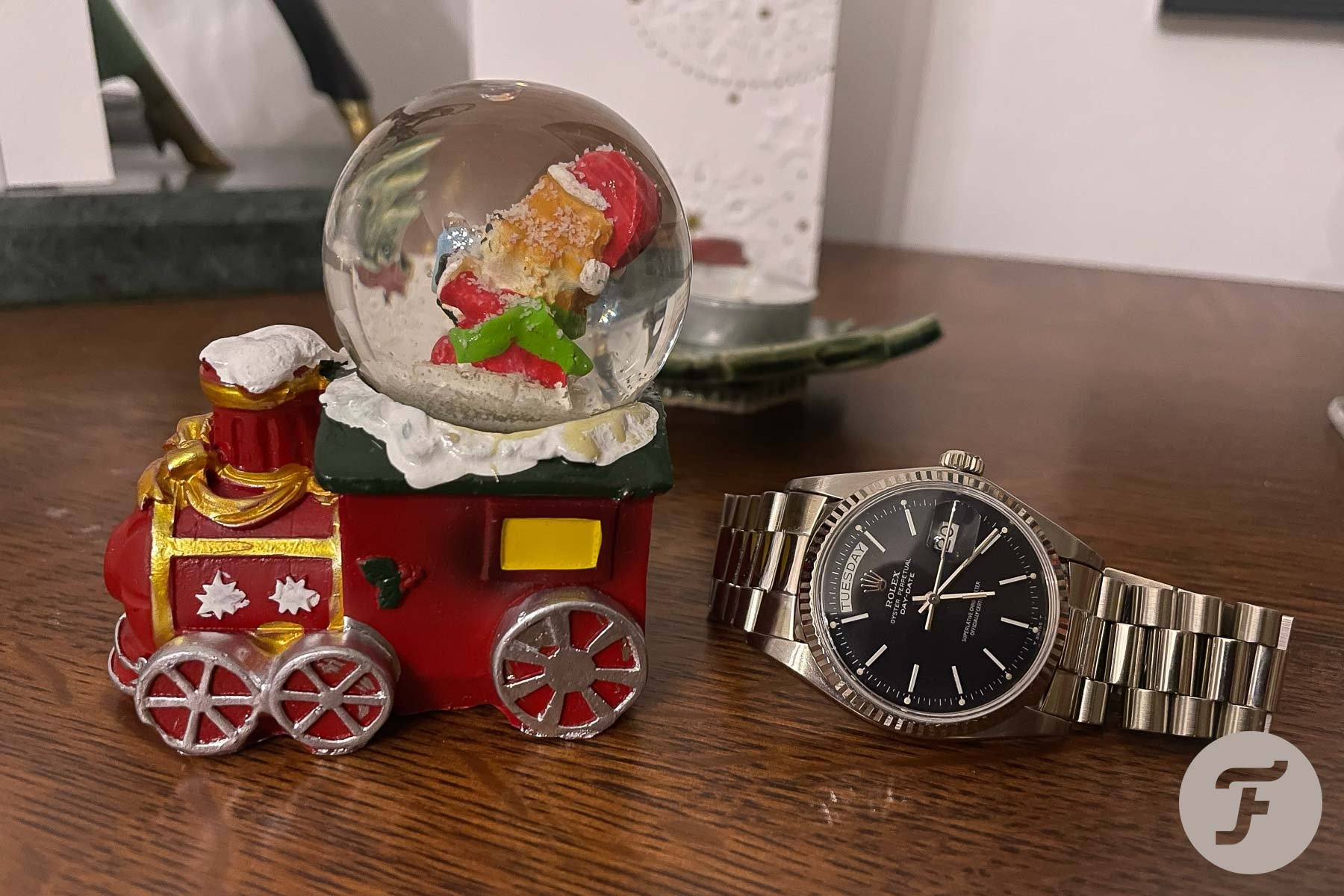 Regarding the metal type, yellow gold was a natural choice, but I really wanted something different and less ostentatious. Sadly, that also ruled out rose gold (want!). With white gold, I had found my quarry, but the search was on for a darker dial. Thankfully, a nice, generally honest piece cropped up, and I decided to take the plunge after some lengthy hemming and hawing. Now that I've owned it for a while, I've realized that a Day-Date in white gold is a special animal. It's nearly invisible to passersby, but it feels very special on the wrist. Plus, with that fantastic bracelet, it's actually quite comfortable. Comfortable, by the way, is how I hope to be this Christmas season with a nice bourbon in hand during a relaxing period with my family.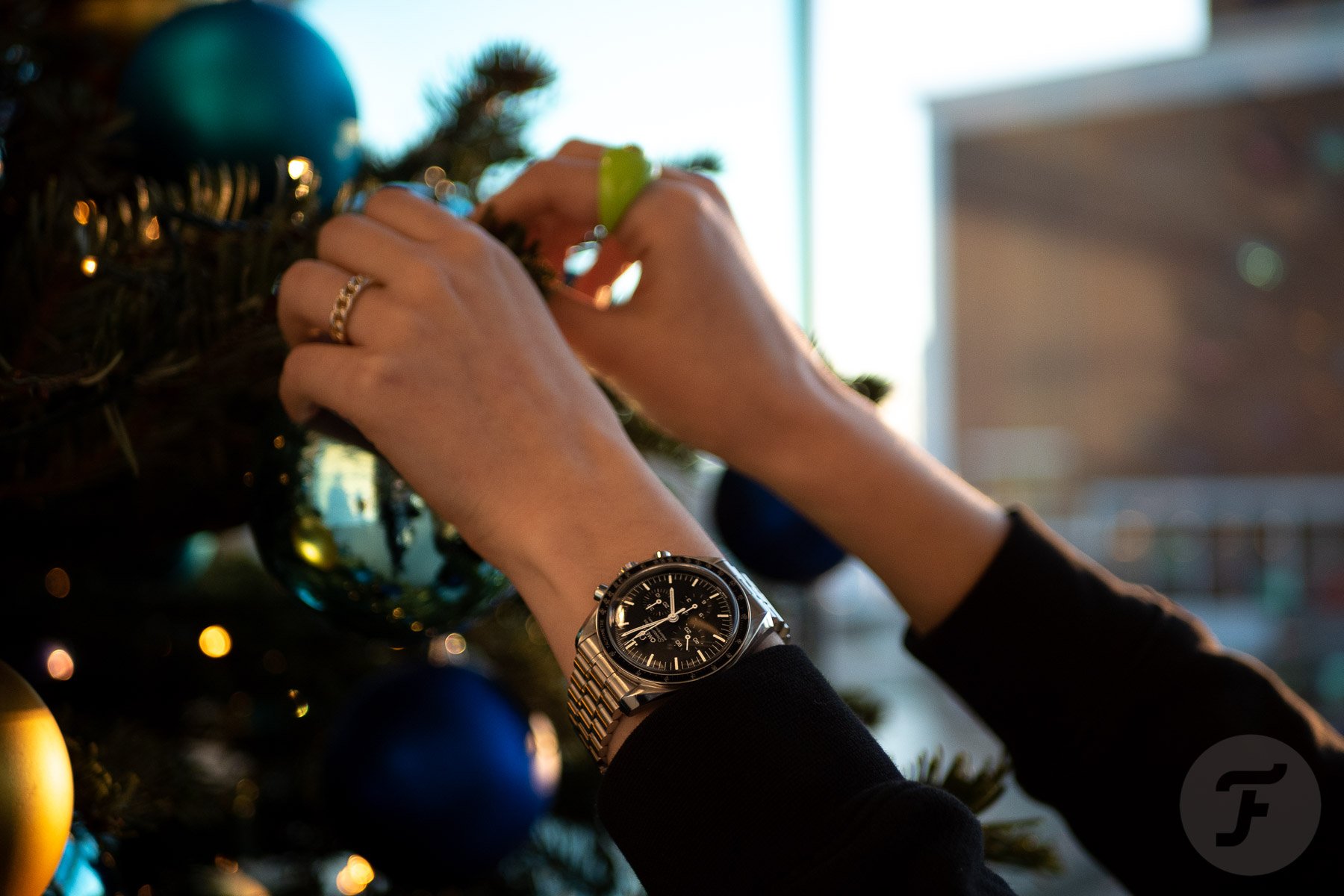 Sinara: Omega Speedmaster Professional
I made quite the big-girl move this year. If you're able to recall, last year, I wore my father's Omega Seamaster "Schwerty" as I didn't have a real watch of my own yet. I mean, I had a couple of Swatch watches, but I wanted to rock something a bit heftier during the holidays. And while I did acquire a couple more watches this year, I will wear my most prized possession at this year's Christmas dinner — the Omega Speedmaster Professional.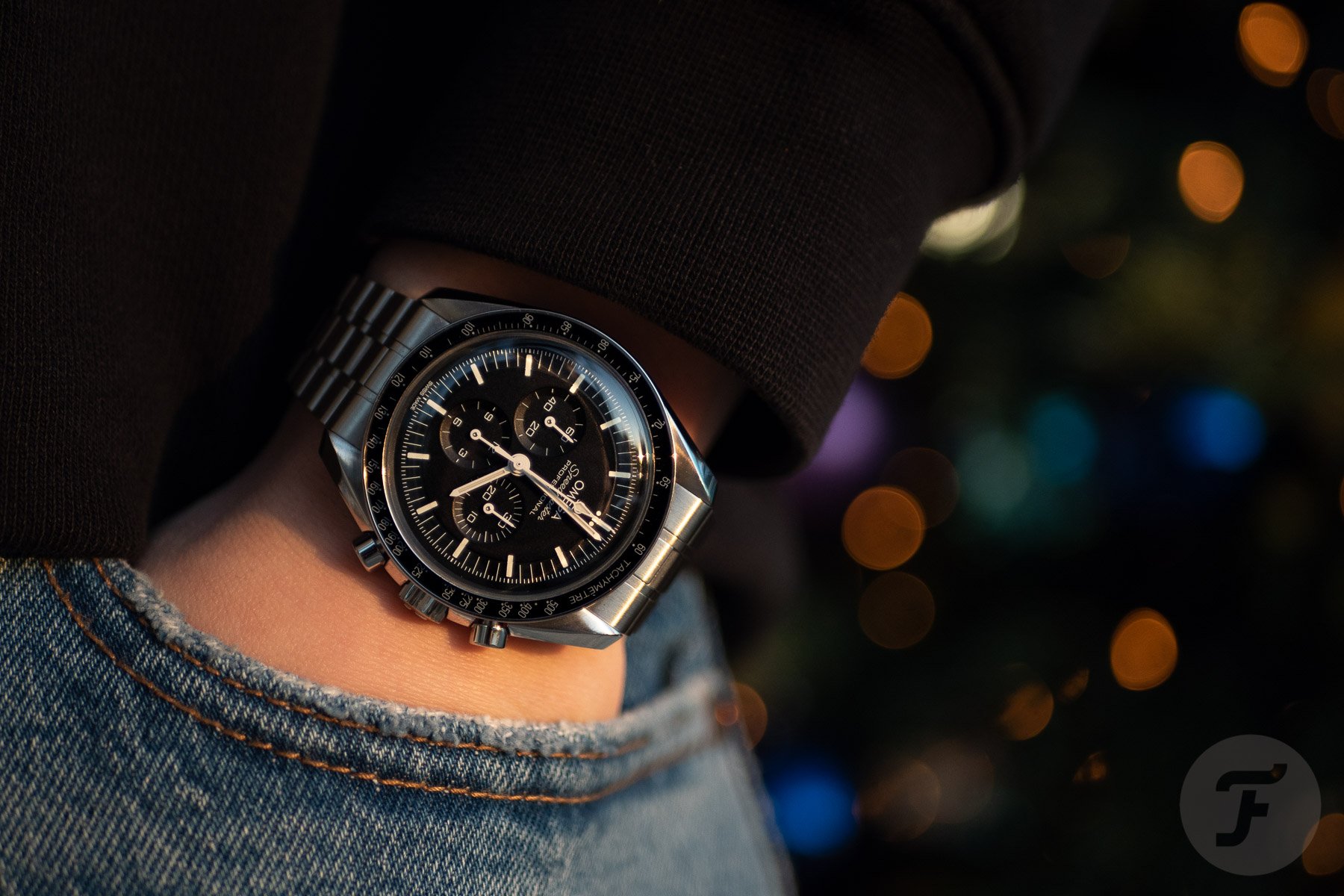 After months of going back and forth, I made the biggest purchase I have made in all the 24 years I have been on Planet Earth. Don't get me wrong, I was never hesitant about the watch itself. After all, I hear about it and see it at least once a week at Fratello HQ. It was more to do with whether it would suit me and whether I wanted to mark it down as my first real watch. However, it was a week before my first-ever #SpeedyTuesday event that I made up my mind. And the rest, as they say, was history.
Purchasing the Speedmaster on the day of the event in Biel was definitely an experience I will cherish forever. Thus, needless to say, this watch soon became my go-to for any event. And while it may not seem like the most festive of watches as it's not a gold dress watch, I still love the fact that I can dress it up or down to suit any occasion. It is definitely my most worn watch of the year, and I refuse to break that streak. So yeah, my Speedy will be on my wrist during the holidays. But don't forget to check in on me next year as I will hopefully then have a lovely vintage dress watch for the holidays. Preferably in gold, right RJ?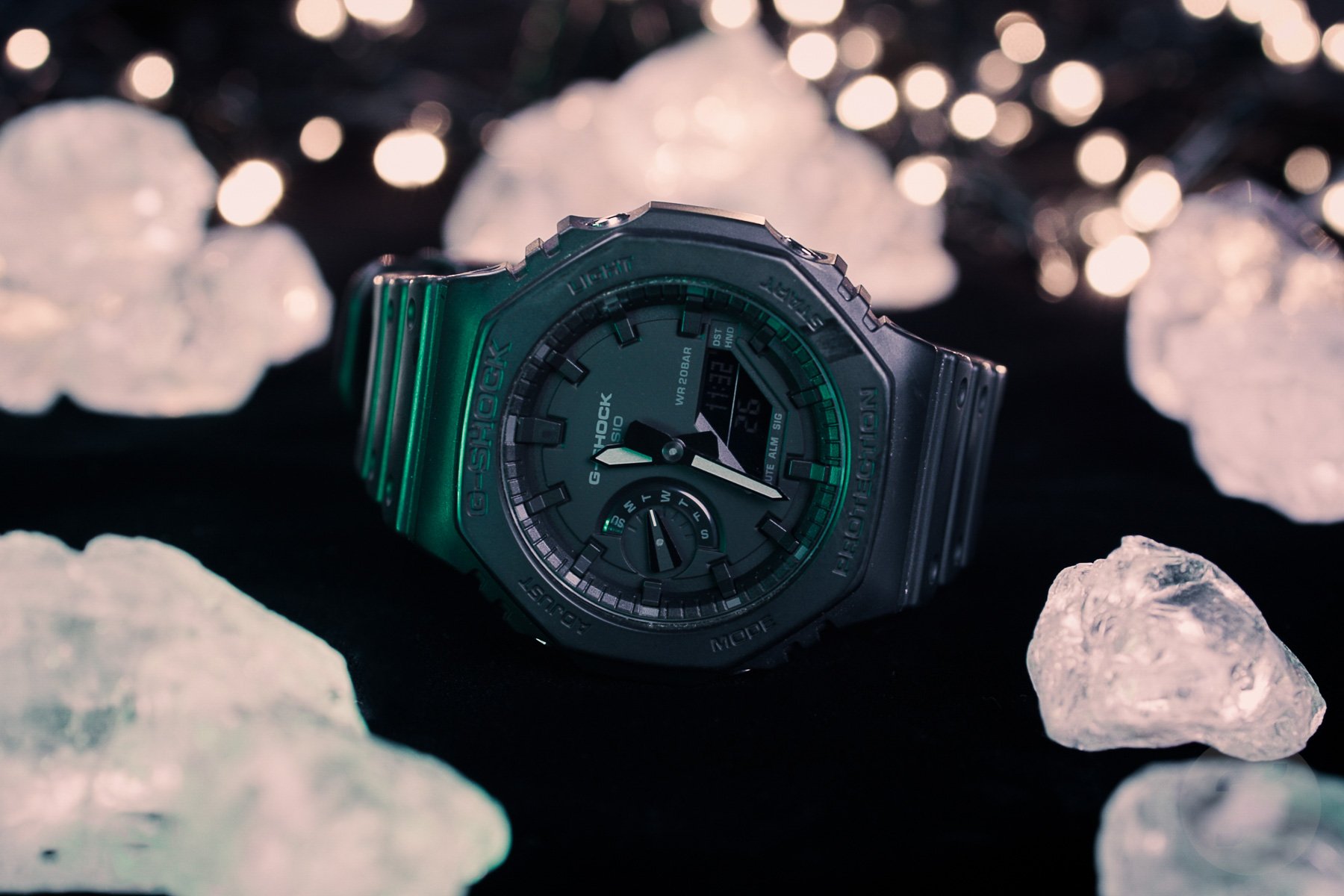 Matthijs: Casio G-Shock GA-2100-1A1 "CasiOak"
Nothing says "festive" like a blacked-out watch. That's why I'll be wearing my Casio GA-2100-1A1, the original CasiOak. Also, it's very rugged, which comes in handy when battling for the last tiger prawn. I mean, it's one of the few watches you can wear while dragging a Christmas tree. You don't worry about this watch once the wine kicks in and the traditional family fistfights start.
You can lose this watch while stuffing the turkey, put it in the oven for a few hours, and have it devoured by your great-aunt — who keeps asking whether your love life is still as black as your watch — recover it (don't ask us how), and it will still show it's time to skip desert and start watching some Christmas Day NBA games. Anyway, I love the style of this watch. It suits most fancy clothes (yes, Lex, I too have some stylish clothes; it's only in the office that I wear my oversized Karl Kani jeans), and it's nice and comfortable to wear.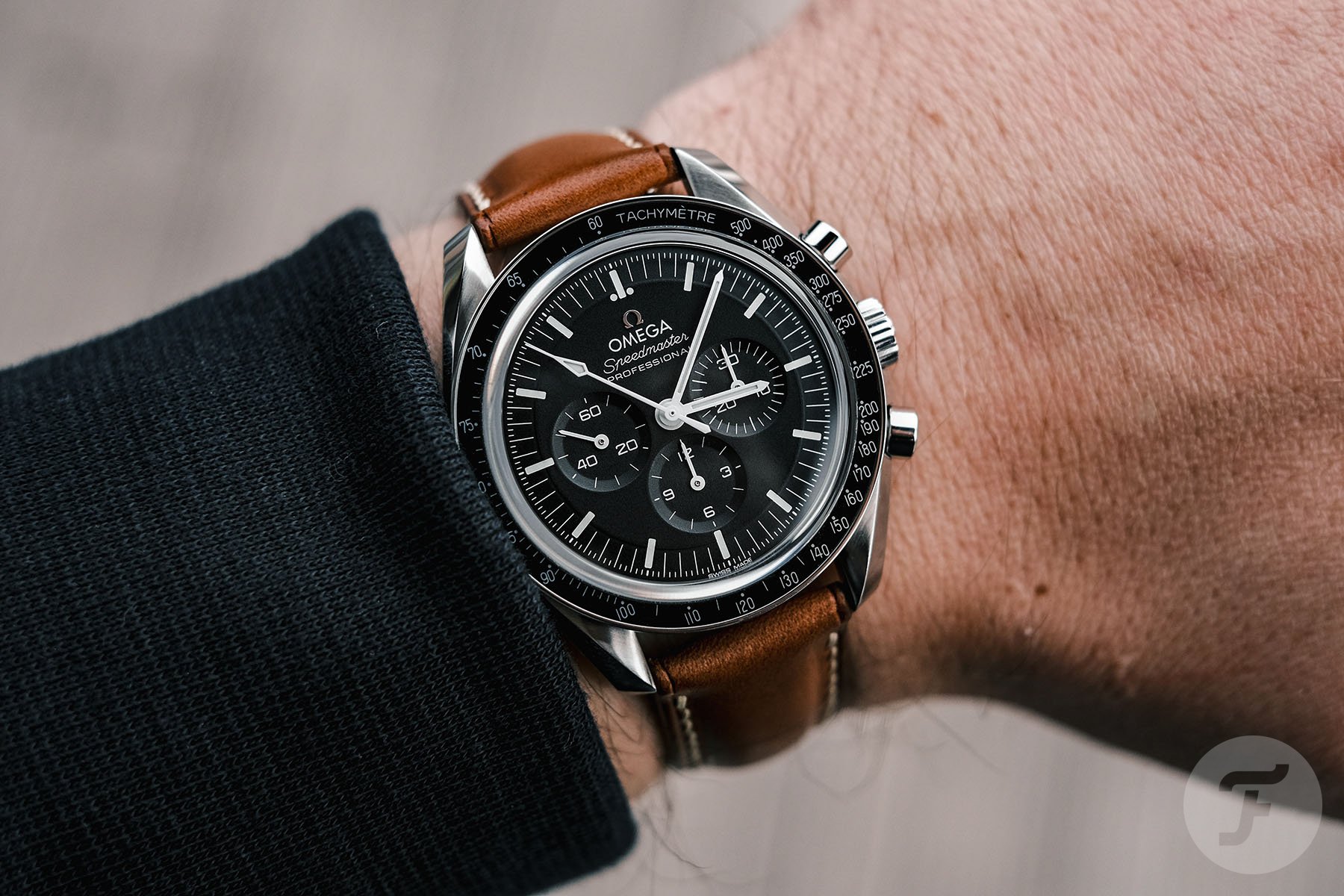 Ben: Omega Speedmaster Moonwatch Sapphire Sandwich
My watch choice for the holidays is a relatively recent decision. Until a few days ago, I wasn't sure what to wear for the big day. The watch choice has to feel special but not necessarily flashy. What's on your wrist could represent your style or help you reflect on the year. Up until a few days ago, three of my top choices were away for servicing. Two of those watches were even 2022 releases. The Oris Aquis Date Calibre 400 stopped after a recent knock, and the Silver Snoopy is away for cleaning — a bit of lint attached itself to the underside of the crystal. The third watch candidate is my Omega Speedmaster Moonwatch "Sapphire Sandwich" with caliber 3861.
After traveling through Germany and Austria in October, I came home and wound up the Moonwatch. Except, despite the depleted power reserve, it wouldn't wind more than a few turns. It kicked into life for a few seconds, but then it stopped again. Without wishing to exert more stress on the movement, I sent the Speedy in for checks, only for it to come back with the same problem. The next day, I went back to send it off for warranty repair, but in the lead-up to Christmas, I had no hope of it returning until after New Year's. However, a few days ago, I received the call that the Speedy was back and ready to collect. With the surprise of its early return plus its subtle brilliance, the Moonwatch is my choice for the holidays.
For a winter-warming feel, I am wearing it on a Strap Tailor chestnut calfskin with a deployant buckle from Artem Straps.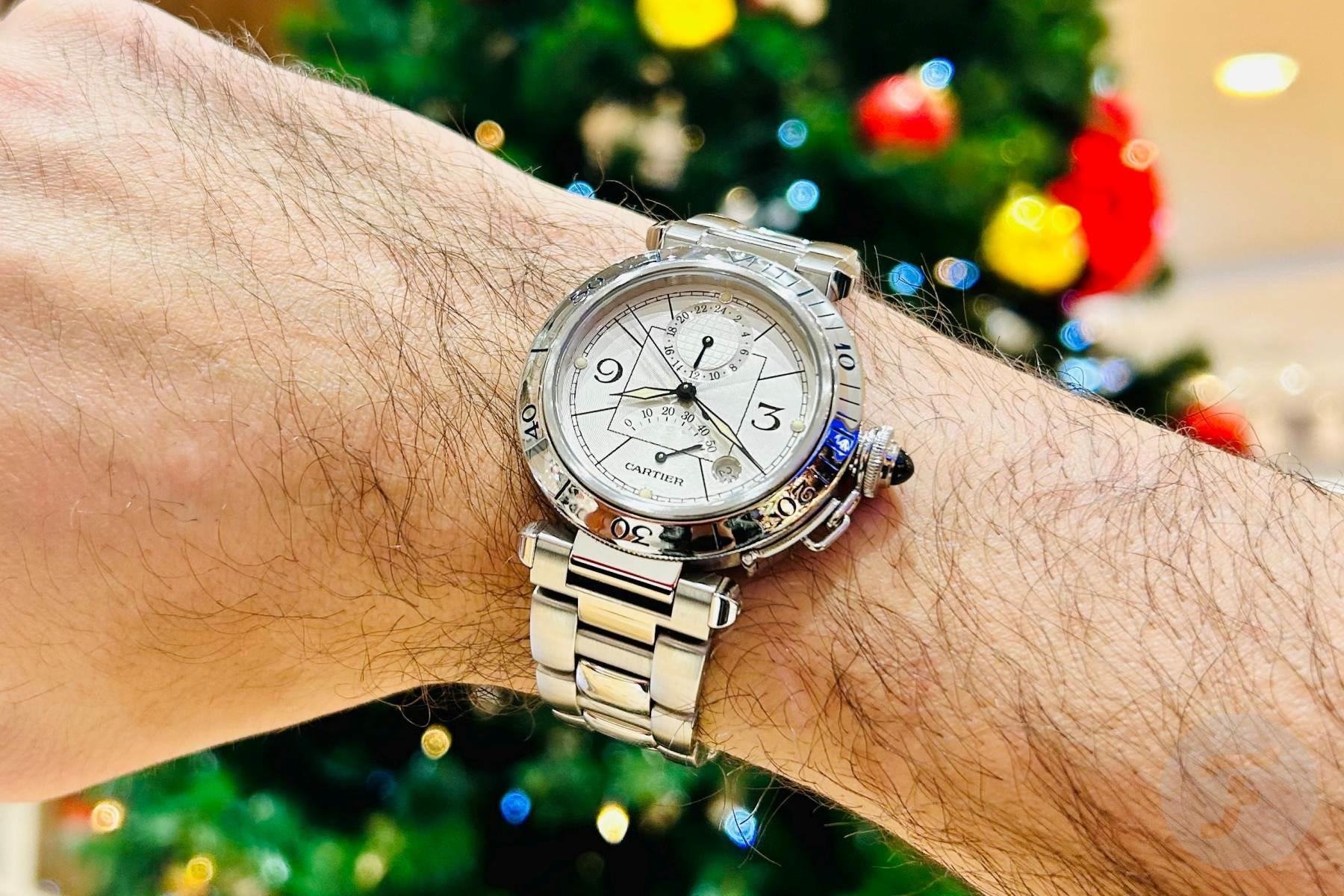 Brandon: Cartier Pasha GMT Power Reserve
♪ Last Christmas, I wore my Hanhart, but the very next day, I wore my Black Bay (I wore my Black Bay). This year, to save me from tears, I'm wearing my '90s Pasha (Pasha)… ♪ Yes, Fratelli, a Christmas crisis has been averted. You see, the watch that I had planned to wear — a custom piece in the works since July 2020 — didn't arrive in time for the Christmas festivities! Now, I could despair, curse the season, and slam One Cups while curled up in an alley, mumbling "bah humbug!" But instead, I'll cast my disappointment aside and enjoy one of my favorite acquisitions of the last few years.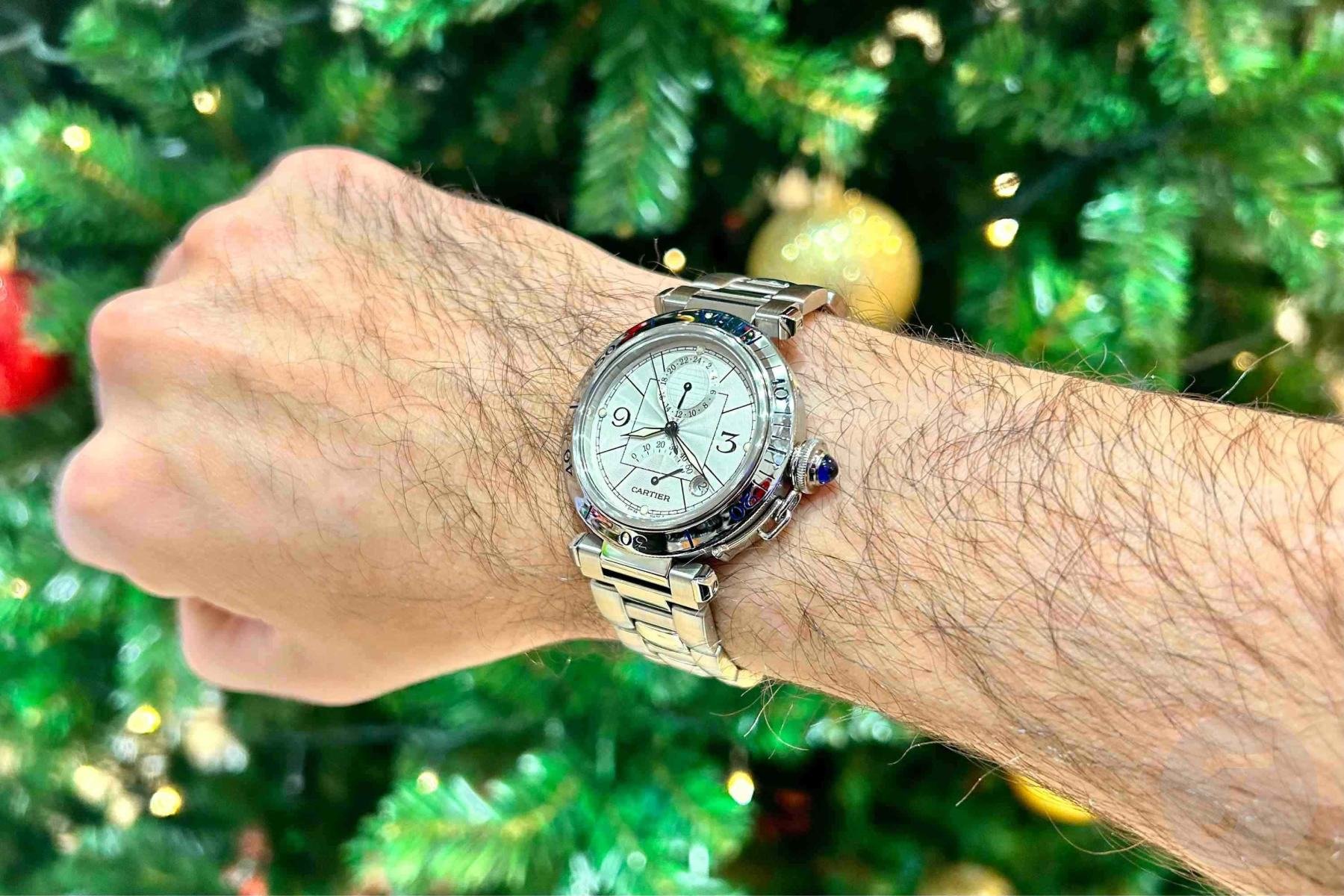 This Pasha GMT Power Reserve from the '90s (a lovely decade) has become one of my go-to watches. Was it made specifically for me? Well, no, but with the way it fits my wrist, it may as well have been. This 38mm beauty wears effortlessly, and it feels rather svelte at 10mm slim. I picked this watch up in August after selling my Grand Seiko GMT, and what a fantastic decision that was. It retains a practical dual-time function and has softened my heart to a brand that I wrote off for years. I'll be writing a full review soon, so I'll sign off for now. But suffice it to say, this Cartier Pasha has put a spring in my step!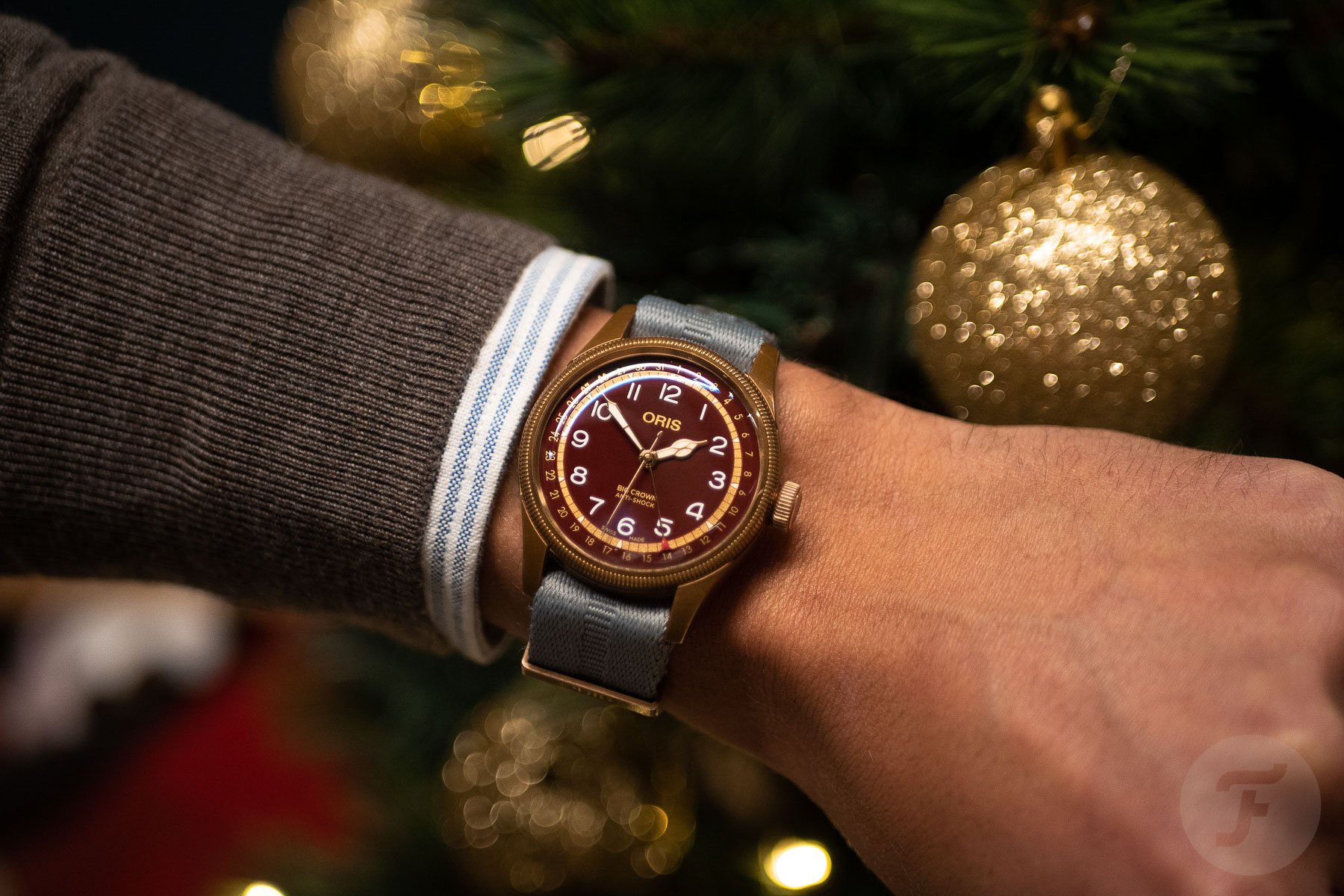 Daan: The bronze Fratello × Oris Big Crown Pointer Date
I mean, just take a look at the picture above. Is there anything there that doesn't make you think about Christmas? Of course, I didn't buy the Fratelloris as my go-to Christmas watch, and I wear it a lot outside the holiday season. But I do think it has the ultimate Christmas look. That deep red oxblood color in combination with the gold accents on the dial feels so festive. And the patina on the bronze case makes it look like old church bells.
I did wash it down a little bit recently because I got a brand-new bronze bracelet for it. With a little lime juice and baking powder, the case went back to its original, more pinkish color. But it isn't as shiny as that new bracelet. I'm curious to see how the patina will develop and whether the case and bracelet will ever perfectly match.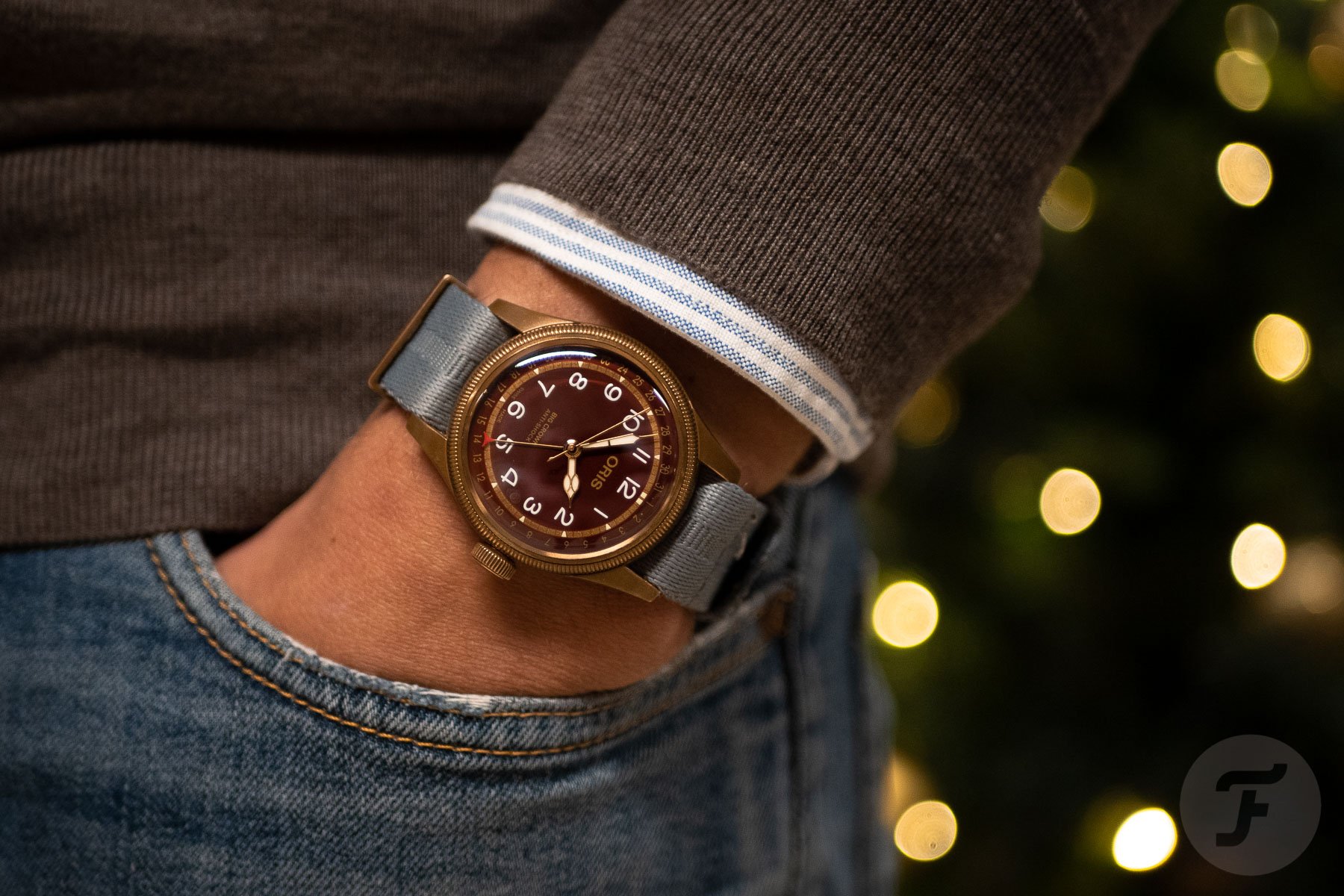 But apart from the looks, the Fratello × Oris Big Crown Pointer Date is also a special watch to me sentimentally, especially this year. When I bought it, I was just a reader of the magazine, but now that I'm actually contributing to it, the watch became even more special to me. So it's great to wear this one for the many festive occasions here in Spain and think back on a great first year here at Fratello.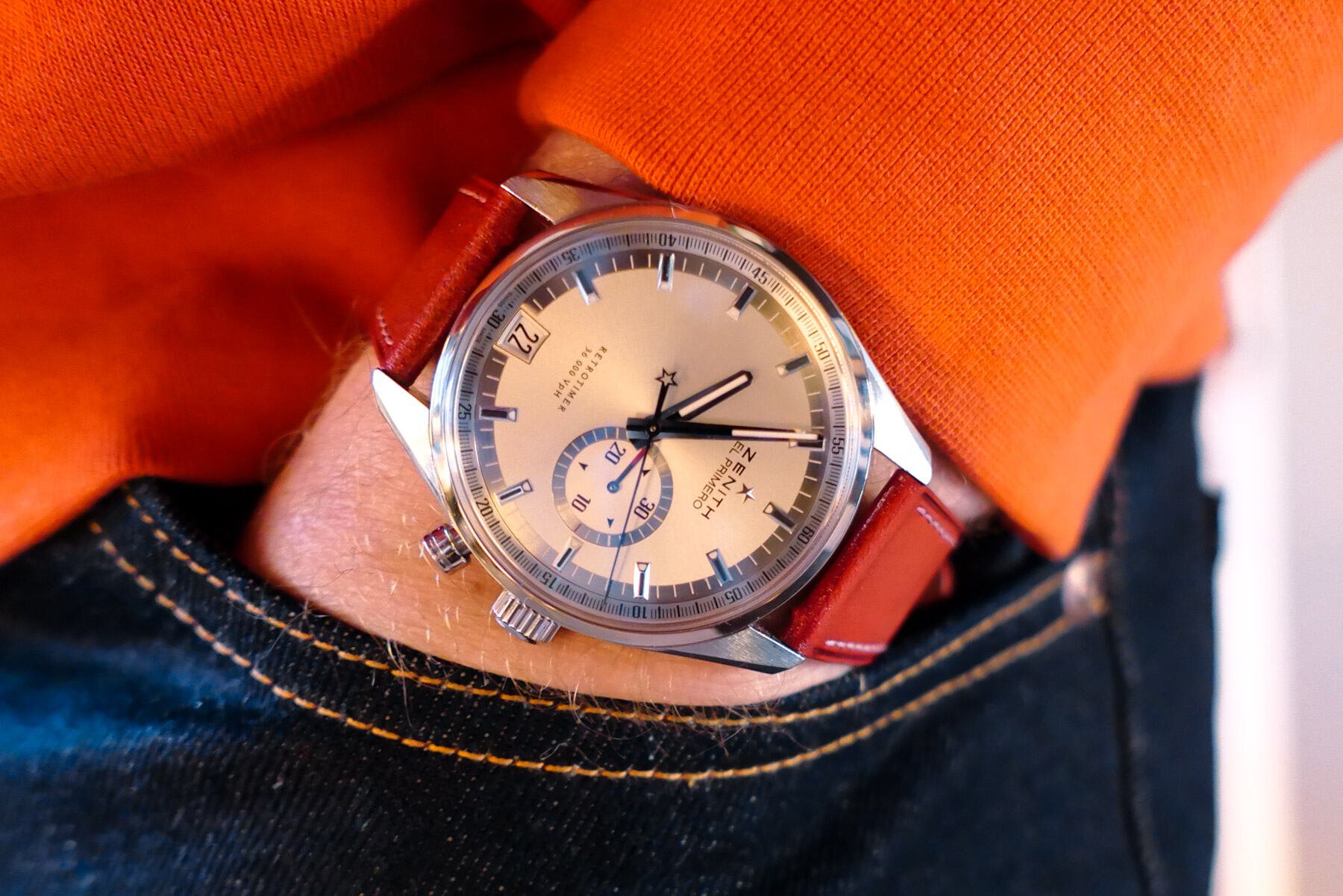 Thor: A rare Zenith El Primero on a Christmas strap!
I love Christmas, even if the last-minute shopping will be fraught with danger. We had lots of snow last week, then the weather changed to rain, then BAM! Down to -5ºC. So now there is a hockey rink outside our house. And I have an electric car with more than 250bhp and instant front-wheel spin. So I'm staying at home, getting ready, eating some more Pandoro (Italian wife, you see…), and wearing my first taste of El Primero magic. The Retrotimer is an oddball watch that Zenith only produced in 2010, and I've matched a soft red strap to the red minute counter's tip. Yes, it might be a bit big at 42mm, but on this festive red number, it's a winner. I do, however, have an affordable watch to be unwrapped on Christmas Day too. Surely I'm not the only one buying myself a watch every Christmas?
Dear Fratelli, I wish you a very merry Christmas and all the best for the new year!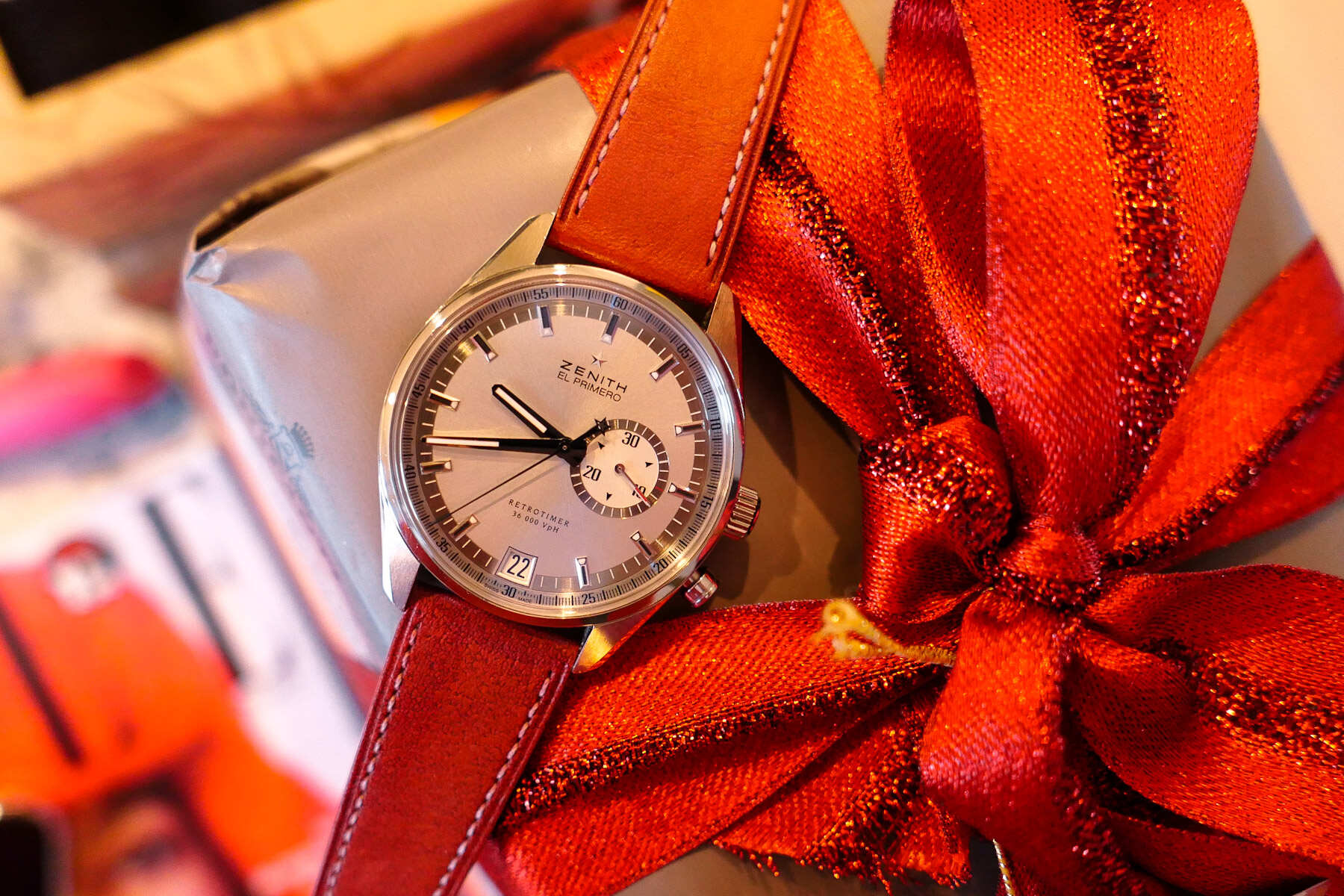 Let the merrymaking commence!
There you have it, everyone! We hope you enjoyed seeing our horological picks for this Christmas. From each and every one of us at Fratello, may you have a wonderful holiday celebration filled with laughter and joy! Also, don't forget to let us know what watch you've chosen for this year's festivities in the comments below.