Fratello's Top 5 Extreme Dive Watches — Including Rolex, Omega, Oris, And More
Who takes the crown in the world of extreme dive watches? Is it all about looks, or do technical specs prevail?
Another Friday, another Top 5! Last week, we picked our favorite recent Longines releases that show the brand is on a roll. This week, we're taking a different route. It's time to look at some of the most extreme dive watches that are currently available. Extreme divers are always a funny breed of watches. They are often not praised for their refined designs or extreme comfort. Having said that, some of the most famous examples have become industry icons, with the Omega Ploprof and the Rolex Sea-Dweller being great examples. But recently, we have seen a new generation of dive watches that take "extreme" to a whole new level. It's time to pick five of the most remarkable extreme divers that are currently available.
I love how Fratello's own Gerard described today's five picks as pointless, hors catégorie dive watches. It's very true, though. They are pointless in their technological muscular display, but we love talking about these beasts of the deep. Often, extreme divers have over-the-top and extravagant looks compared to normal watches due to the goal they are trying to achieve. As a result, these are not watches you will see in the wild all that often. But it does beg the question: who will buy one of these watches? Maybe we'll find out in the comments section. But before we do, this is our list of five picks in random order.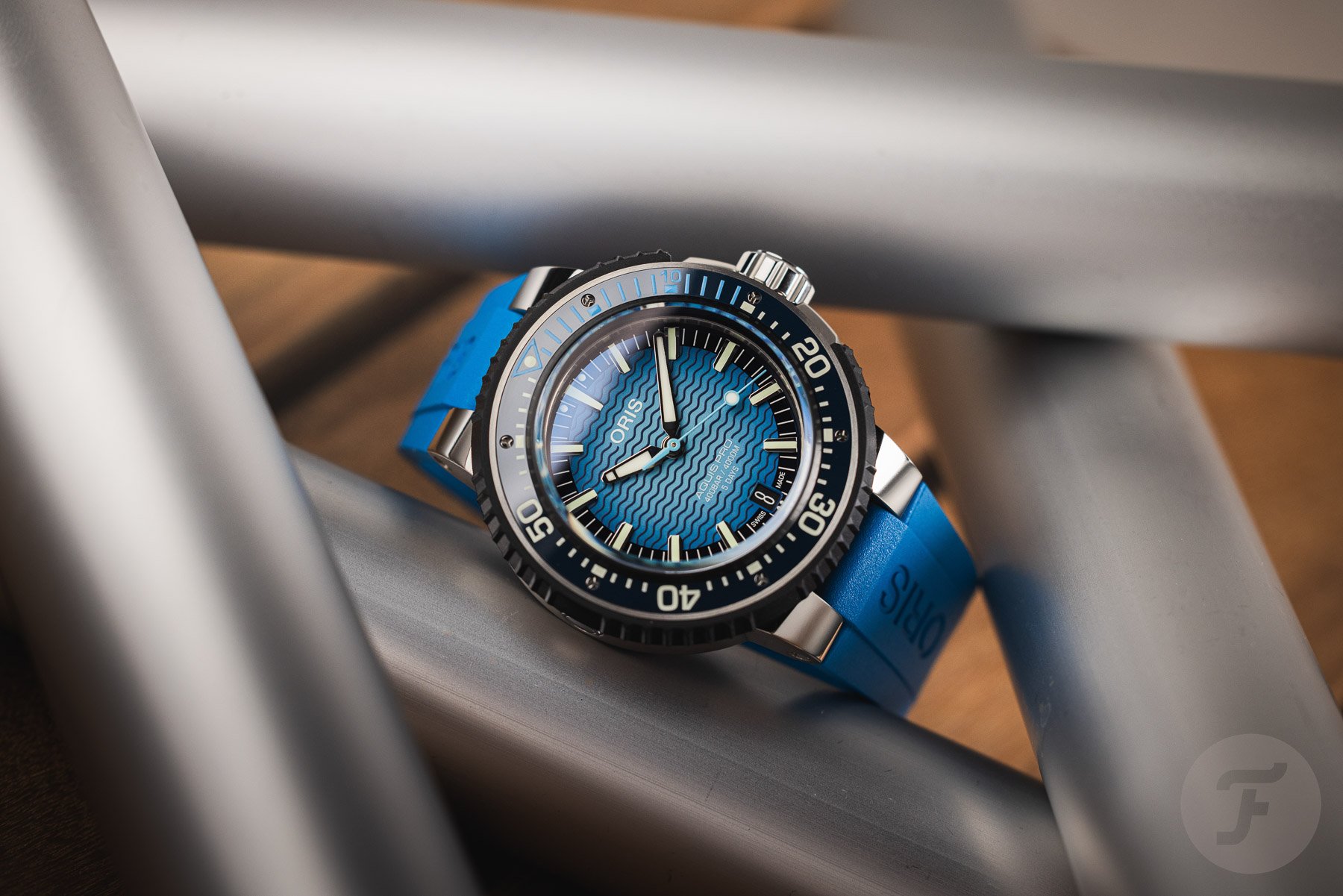 Oris AquisPro 4000m
Of course, this is the watch that sparked the idea for this list, the newly-introduced Oris AquisPro 4000m. As Gerard explained in his introduction article, "Now Oris has a pointless, hors catégorie dive watch of its own." And what a beast it is. It measures almost 50mm in diameter, is a whopping 23.4mm thick, and is water resistant to an impressive 4,000 meters. Despite having a case made of titanium, a famously lightweight material, the AquisPro still weighs almost 200 grams. But Gerard also mentioned that the watch wears very well. That's thanks to its spot-on proportions as well as the 26mm blue rubber strap that balances the watch perfectly on the wrist.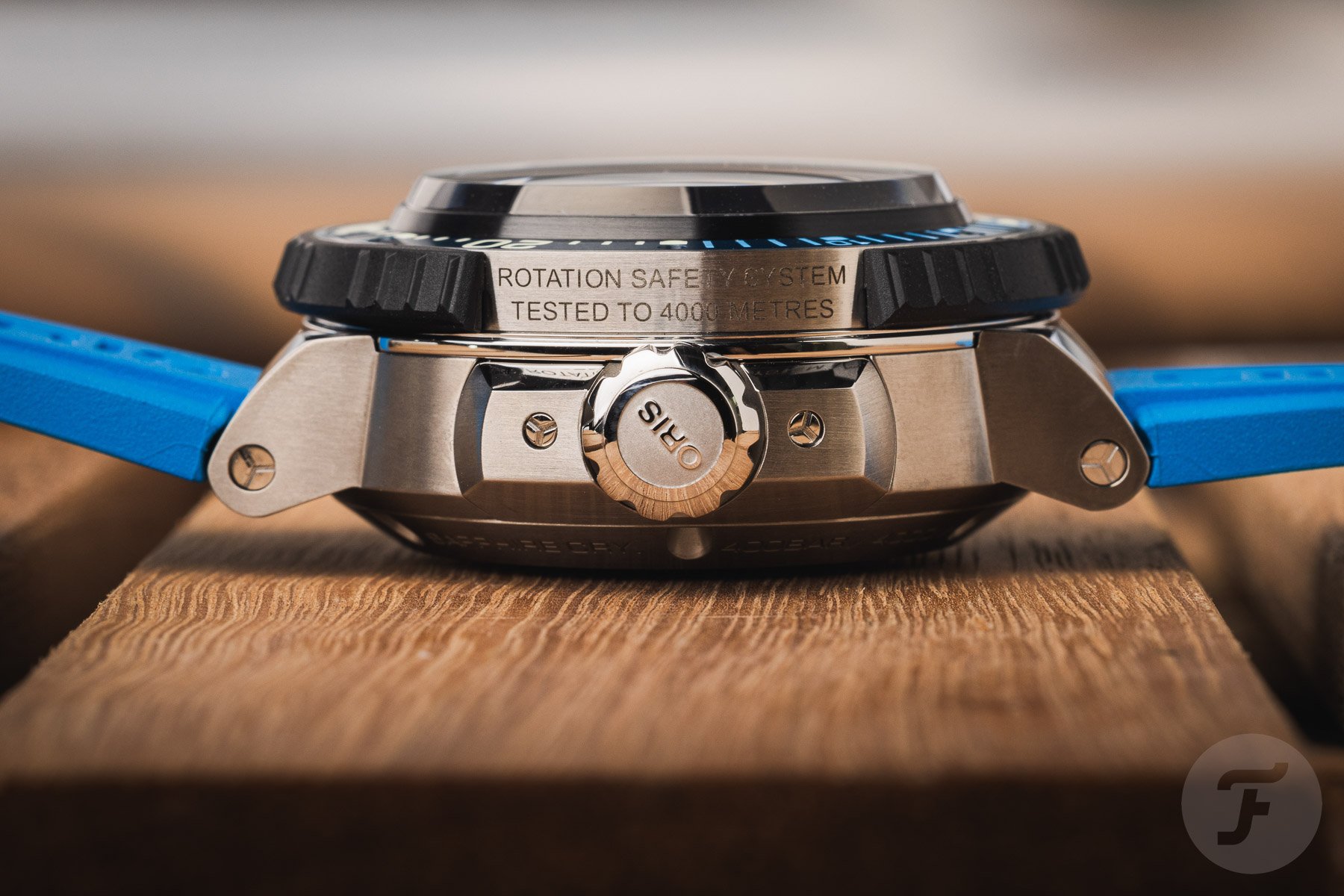 Inside the new AquisPro 4000m, Oris equips this new extreme diver with its in-house Calibre 400-2. The automatic movement operates at 28,800vph and packs a five-day power reserve. Furthermore, the watch is equipped with an impressive unidirectional bezel with a ceramic insert and a rubber ring around it featuring the Oris-patented Rotation Safety System. You can only turn the bezel when the rubber ring is pulled up. When pushed down, it is locked. Additionally, the AquisPro 4000m has a helium escape valve, so it's suitable for saturation diving, and the strap comes with a secure folding clasp-extension system, making it easy to size. Overall, this is an impressive new release from Oris that is relatively affordable at €5,700.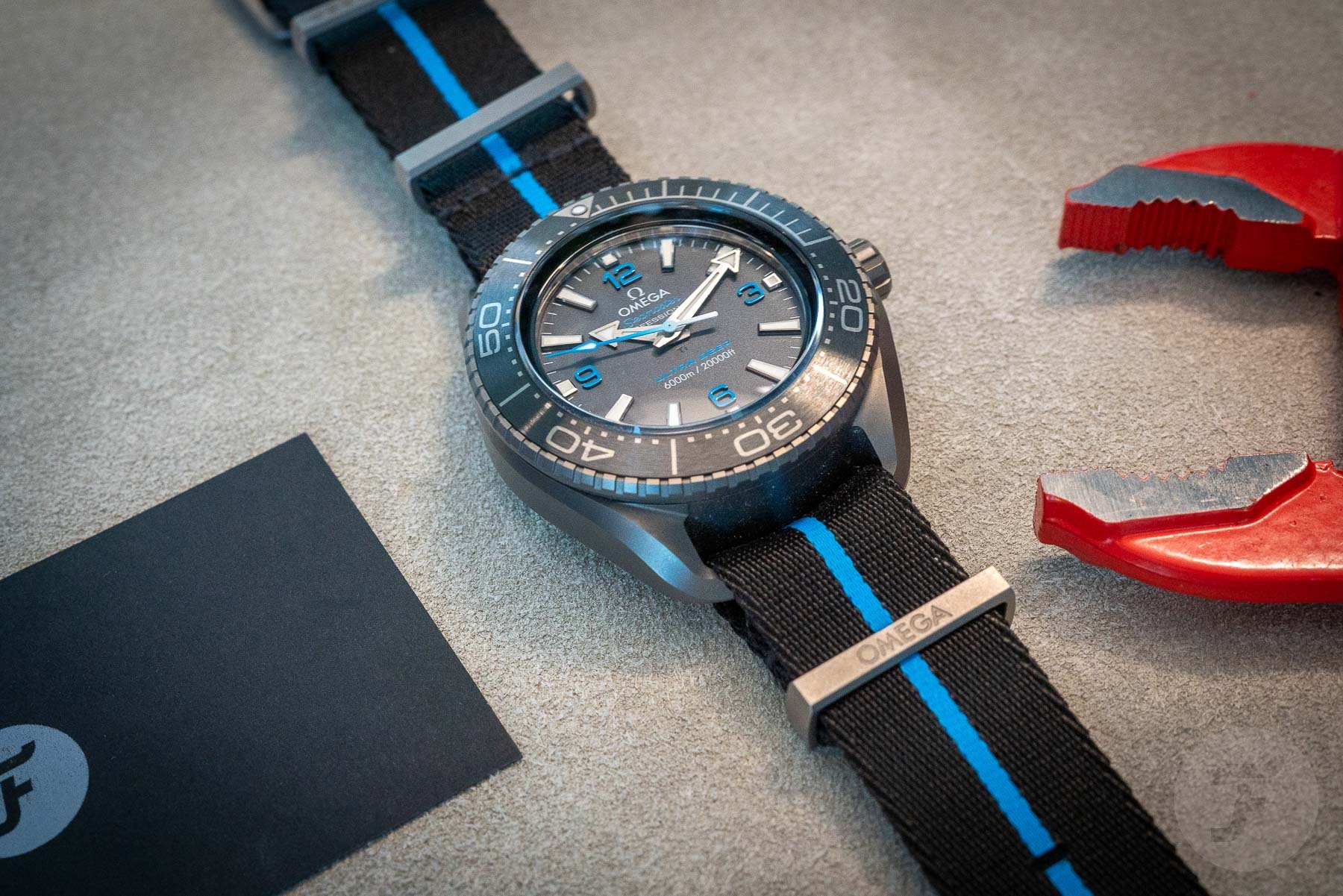 Omega Seamaster Ultra Deep
Next up is the Omega Seamaster Ultra Deep. Or, to be more accurate, it's the Omega Seamaster Planet Ocean 6000M Co-Axial Master Chronometer 45.5mm Ultra Deep. This titanium beast was modeled after the Omega Seamaster Ultra Deep from 2019 that played a role in Victor Vescovo's Five Deeps Expedition and went down to 10,927 meters. The consumer version of the Ultra Deep comes with a 45.5mm titanium case that is 18.12mm thick, 56mm from lug to lug, and water resistant to 6,000 meters. The case design features super cool manta lugs that only allow the use of a NATO or pass-through fabric strap.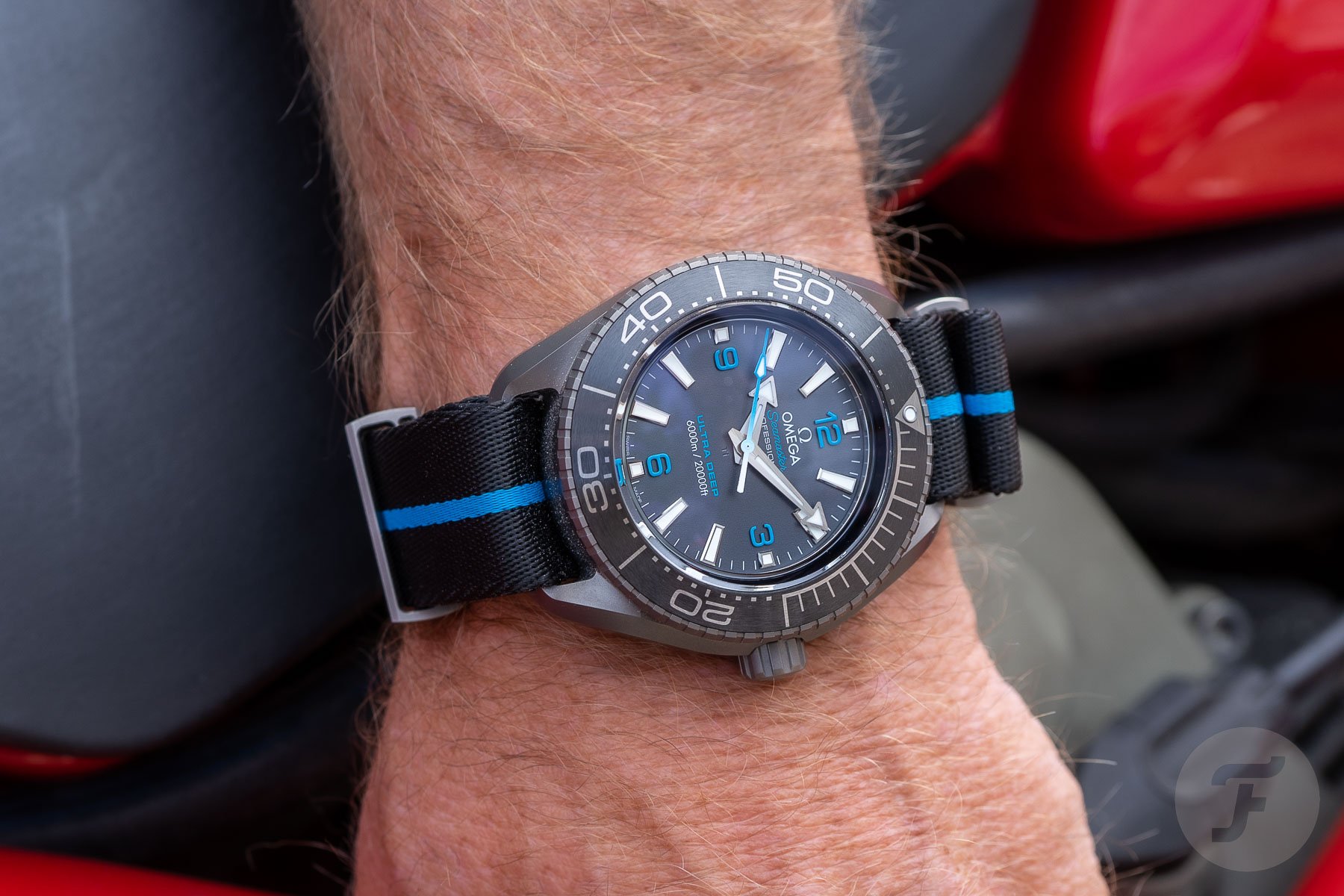 The Ultra Deep boasts a 5.2mm-thick sapphire crystal and weighs 124 grams. So in comparison to the Oris AquisPro 4000m, this one is as light as a feather! Inside the case, Omega uses its in-house-developed caliber 8912. It features two sequential barrels, offering 60 hours of power reserve. The movement has a Master Chronometer certification by METAS. As a result, it guarantees an average accuracy of +0–5 seconds per day and resistance to magnetic fields of more than 15,000 gauss. This Omega Ultra Deep is still as impressive now as it was when it debuted. But after having worn it multiple times, what sticks with me is that it is very wearable despite its extreme specs and presence. The watch has a list price of €14,700, making it much more expensive than the Oris but a lot more affordable than our next contender.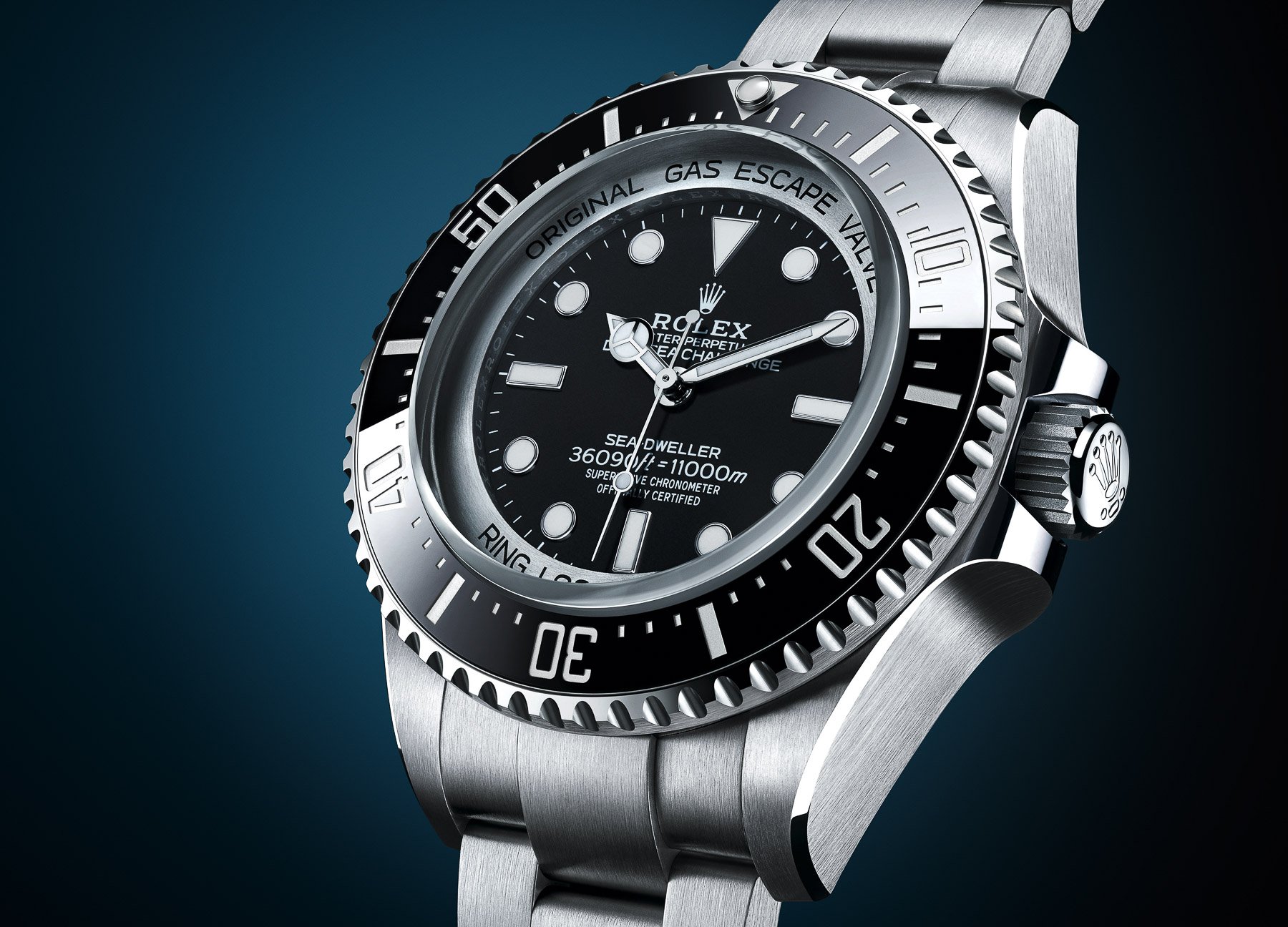 Rolex Deepsea Challenge
Last year, Rolex came out with the impressive Deepsea Challenge, basically answering Omega with a watch that can go to almost twice the depth of the Ultra Deep. While this is strictly a war of numbers for us common folk, it is fun. Additionally, the Deepsea Challenge was the first fully titanium Rolex watch. The timepiece is based on the 2012 prototype Deepsea Challenge that was developed for filmmaker and explorer James Cameron. That watch accompanied Cameron on his descent into the 10,908m-deep Mariana Trench on March 26th of that year.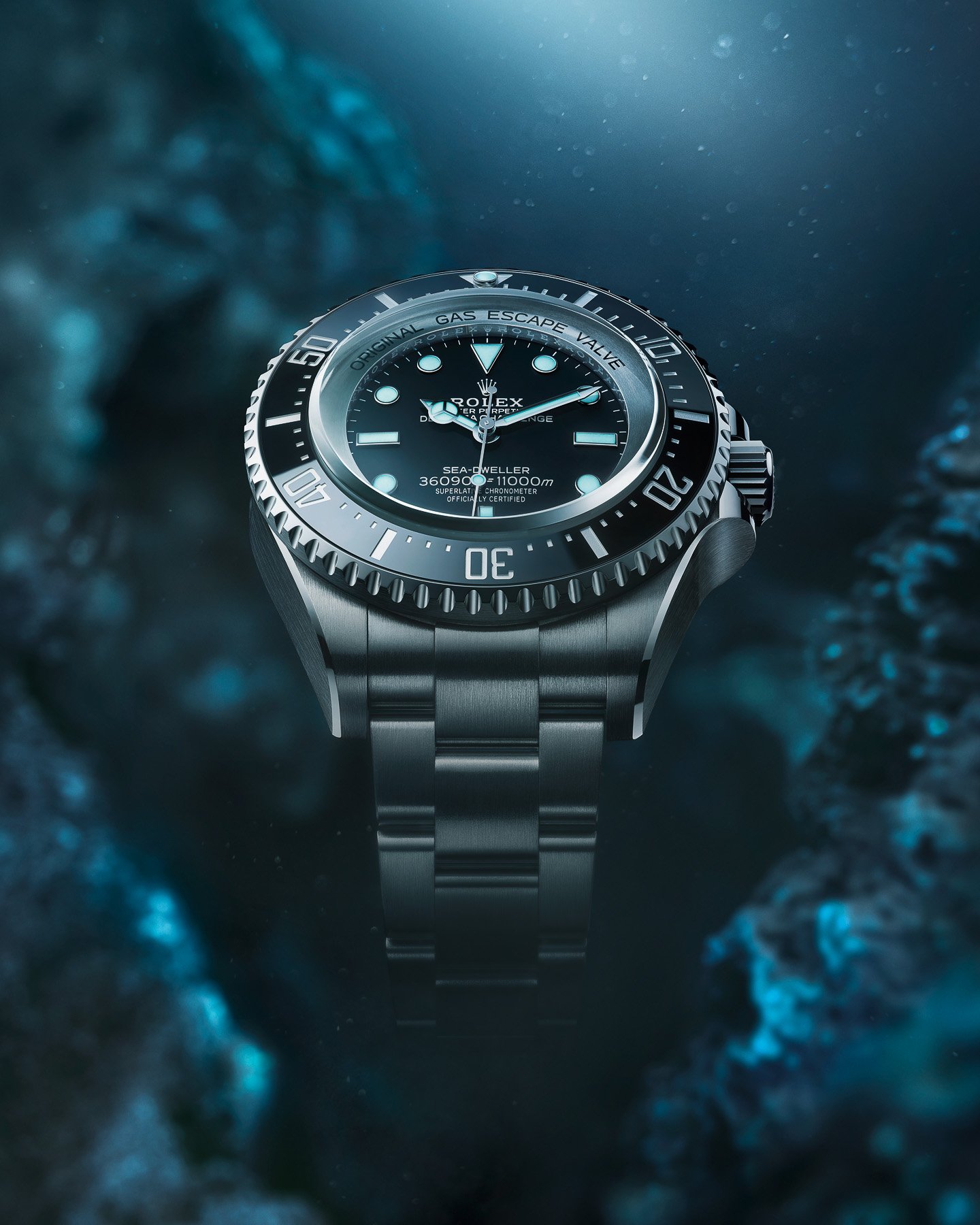 The Deepsea Challenge features a 50mm RLX Titanium case that is 23mm thick and water resistant to a whopping 11,000 meters. The watch comes fitted with a 9.5mm-thick sapphire crystal, a helium escape valve, the Triplock crown, Chromalight luminous material, and the Ring Lock System that ensures the watch can deal with enormous amounts of pressure under water. Furthermore, it is fitted with an RLX Titanium bracelet that comes with the same extension as on the Submariner and Sea-Dweller watches. Inside the case, you will find the chronometer-certified Rolex caliber 3230 with a 70-hour power reserve and an accuracy of ±2 seconds per day. Everything about the Rolex Deepsea Challenge is impressive. It's a technical marvel that can be yours for €25,950.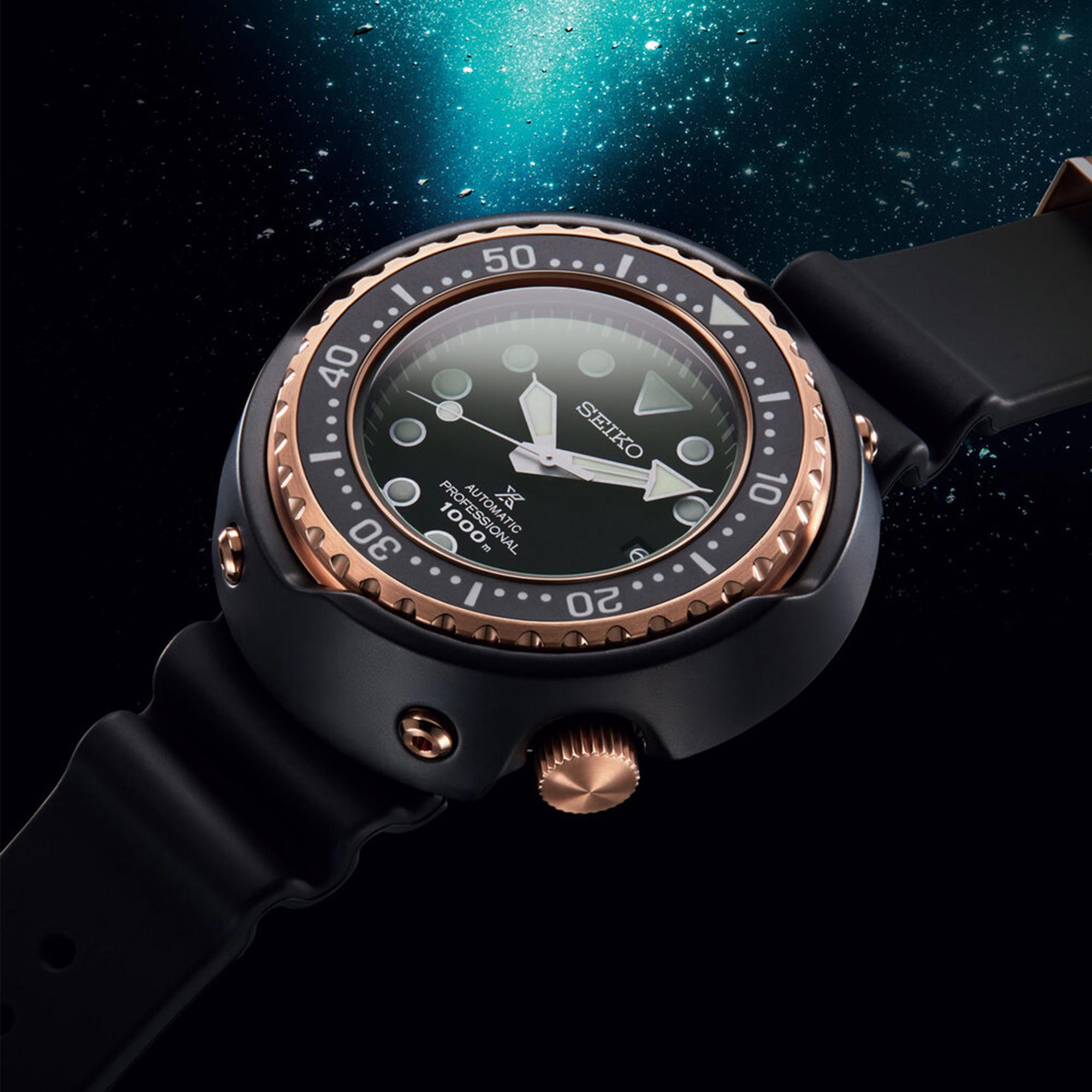 Seiko Prospex SLA042
Next up on our list of extreme dive watches is the Seiko Prospex SLA042, otherwise known as a remake of the famous Seiko "Emperor Tuna." The watch comes with an impressive 52.4mm × 17.4mm monocoque case that is water resistant to 1,000 meters and suitable for saturation diving. The rose-gold-plated bezel, crown, and screws contrast nicely with the black titanium and ceramic of the case. At 184 grams, this is a big boy that is relatively lightweight for its size.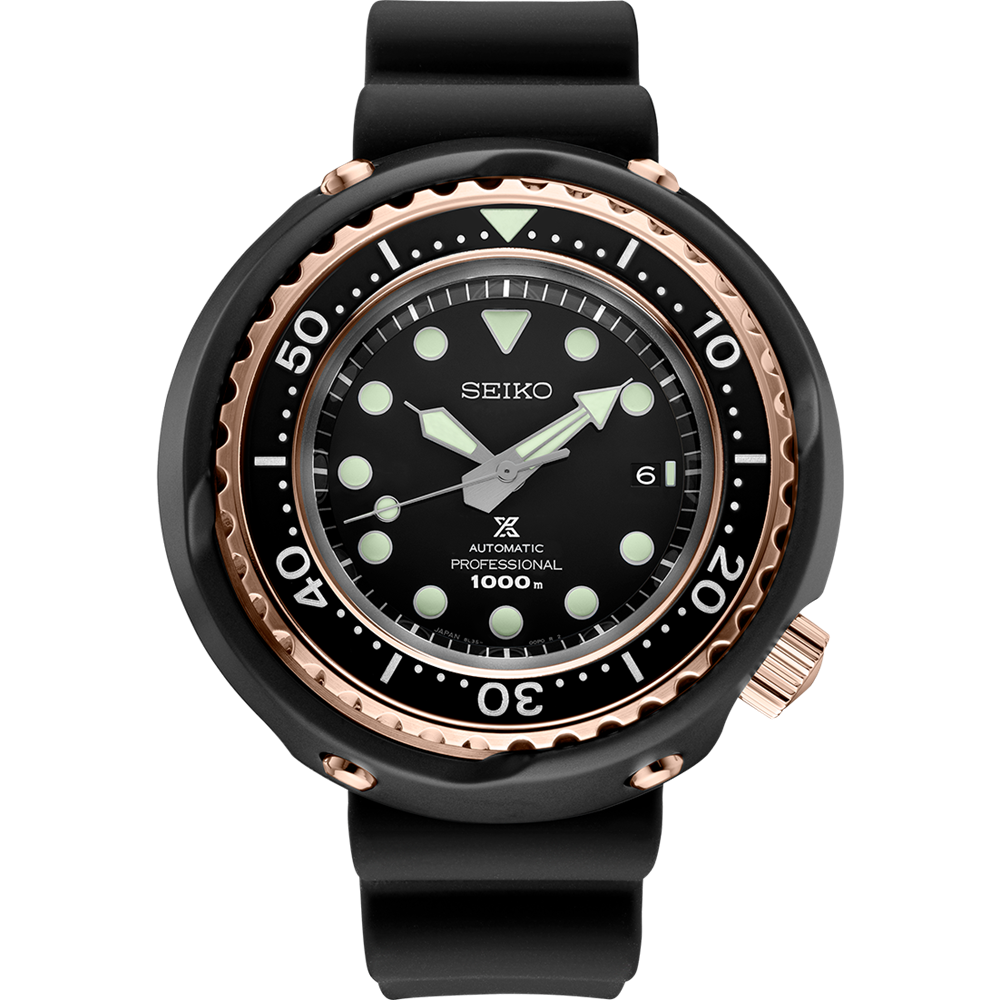 Inside the case, Seiko uses the Grand Seiko-derived 8L35 caliber. The movement operates at 28,800vph, has 26 jewels, and provides 50 hours of power reserve. At €4,000, this impressive watch is the second most affordable of the five on this list. But it might also be the easiest to wear. Gerard perfectly explained that the Tuna models are super easy to wear thanks to the absence of lugs and the way the strap is connected to the case. It might not mean this new version of the Emperor Tuna is suitable for all wrists, but I encourage you to give it a try if you get the chance.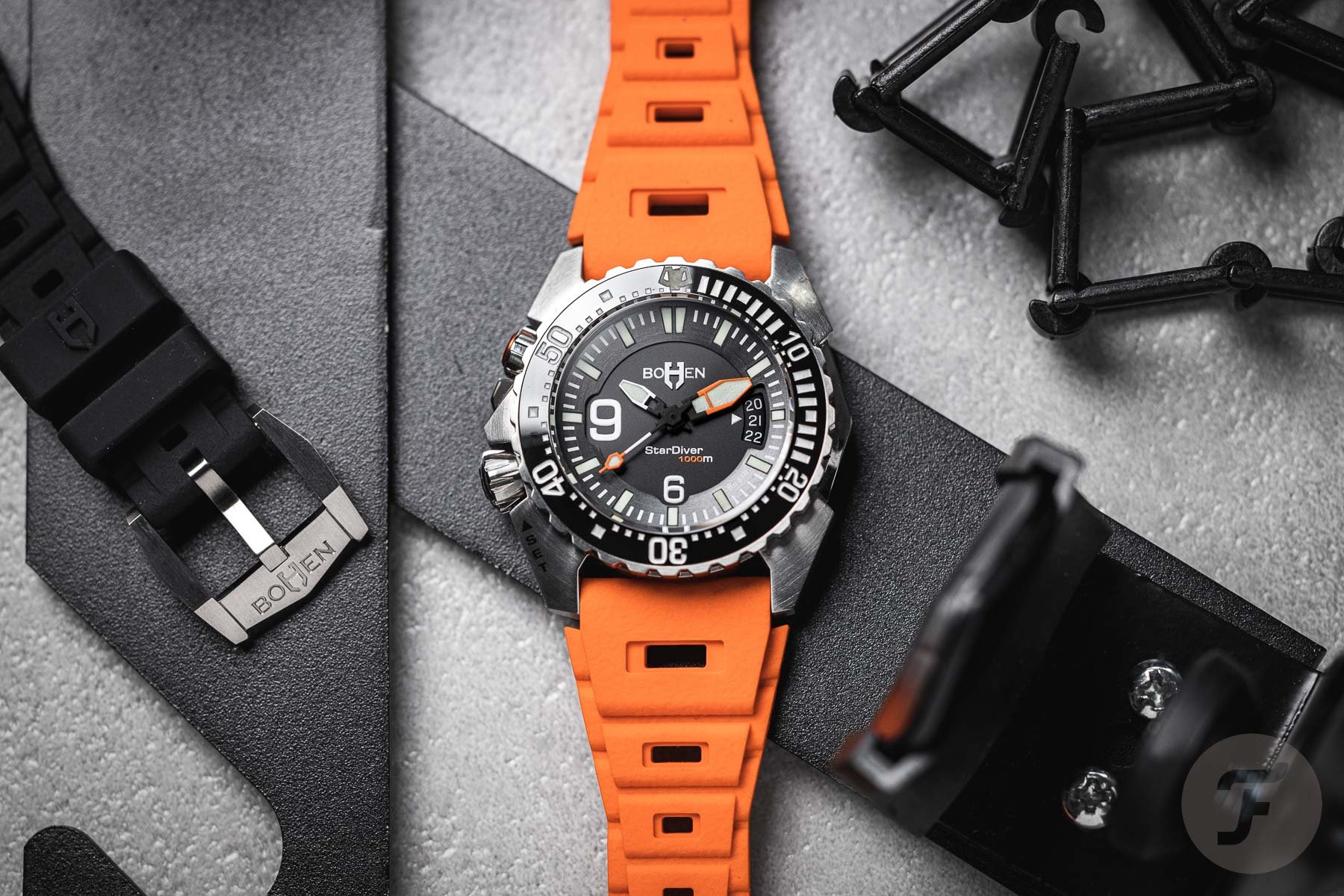 Bohen StarDiver
The last watch on this list is a bit of a wild card. Sure, the obvious pick would be any of the Sinn divers like the U1, U2, or U212 models. But as this list focuses on extreme dive watches, we picked the distinctively designed Bohen StarDiver. I had the chance to try out the StarDiver earlier this year for a week or so and was impressed by this extreme-looking piece. It comes with a 41mm case that is 14.8mm thick and has a lug-to-lug of only 48mm. That's a big reason why this watch is so comfortable on the wrist. The StarDiver has a crown positioned on the left side of the case at 42 minutes on the dive bezel. It's a nice detail to pinpoint the location of the crown based on the diving scale rather than the hours.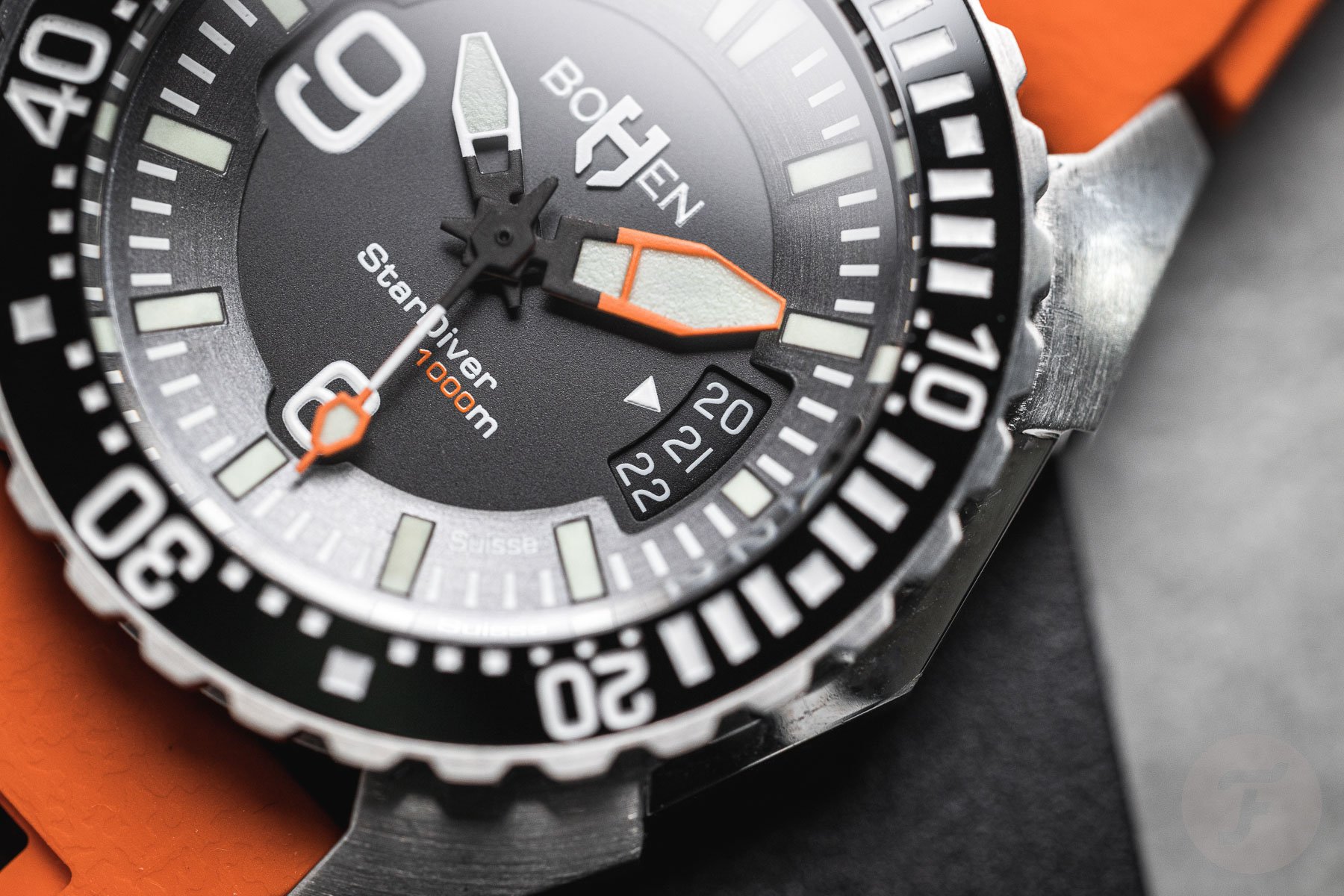 Furthermore, the watch comes equipped with a helium escape valve. It is executed in orange to match the orange rubber strap that balances out the watch nicely on the wrist. Inside the case, Bohen uses a Soprod automatic caliber that operates at 28,800vph and delivers a power reserve of 42 hours. The movement has an accuracy of ±4 seconds per day after adjustment in five positions and is finished neatly despite not being visible. Bohen's StarDiver comes with the choice of an extreme-looking bracelet or two rubber straps. I would go for the rubber strap to make the watch stand out while keeping it very comfortable. At €2,160 excluding taxes, the Bohen StarDiver is a nice fifth addition to the list. It is also the most affordable pick while still being a very capable extreme diver.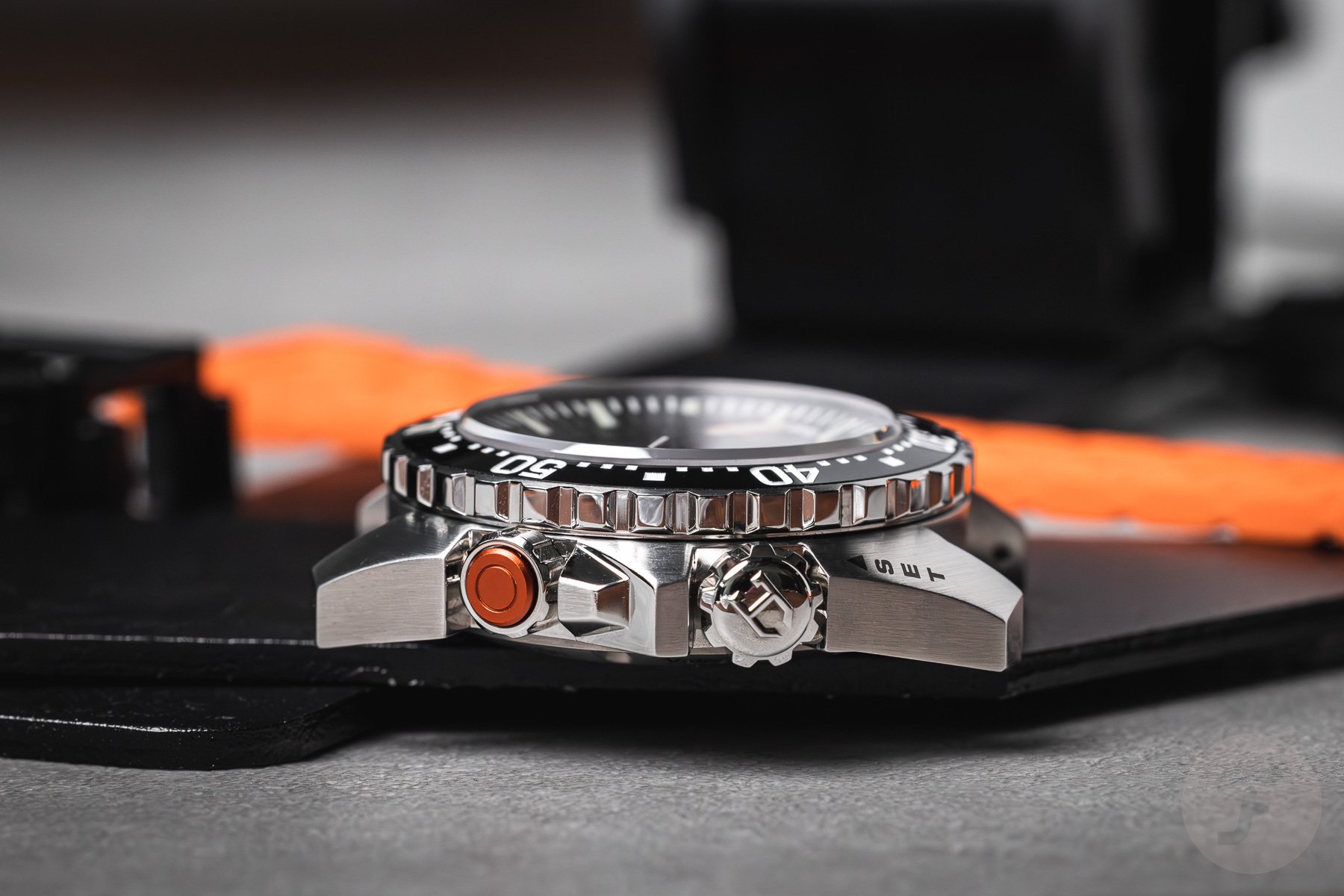 Final thoughts on today's extreme dive watches
There you have it — five extreme dive watches that are here to impress with their looks and theoretical specs. What are your thoughts on these watches? Would you have picked the same five models? And what is your favorite extreme diver of all? Let us know your thoughts in the comments section, and we will see you next week for another Top 5 list.