Five Fun Summer Watch Alternatives To The Omega × Swatch MoonSwatch — BOLDR, Dryden, Swatch, And More
Can't get your hands on a MoonSwatch in time for T-shirt weather? Don't worry, we've got your back!
There's no question that the Omega × Swatch Speedmaster MoonSwatch has become an international phenomenon. Some of us (this guy included) naively thought that these 11 watches just might fly under the radar. OK, well, maybe not everywhere. But at least you'd be able to buy them in SOME cities… right? Wrong! The hype certainly exceeded at least MY expectations. It seemed like everyone and their moms wanted to buy this colorful collab! Unfortunately, buying a MoonSwatch now is easier said than done, and that has left a foul taste in many watch lovers' mouths. Those who thought the colorful MoonSwatch might be perfect for summer sadly may not even have a chance to get one by fall. That's why I'm here today to offer five MoonSwatch alternatives that just might tide you over with their color and charisma!
The whole subject of "alternatives" is a touchy one indeed. If you have your heart set on a specific watch, should you settle for another? In my opinion, no, you should not. If you must have a MoonSwatch, you should keep holding out. But if the MoonSwatch to you is merely one way of enjoying a colorful grab-and-go watch this summer, I think my alternatives are also up to the task. To keep things concise, I'll lay down some criteria. All of these MoonSwatch alternatives will be colorful quartz chronographs that you can buy now for under €300. Yes, the MoonSwatch technically retails for €250… But if you can get measurably better specs, will an extra €50 break the bank? Well, for all our sakes, I hope that it won't, and I pray you won't crucify me for my selections. This task was far more difficult than one might assume!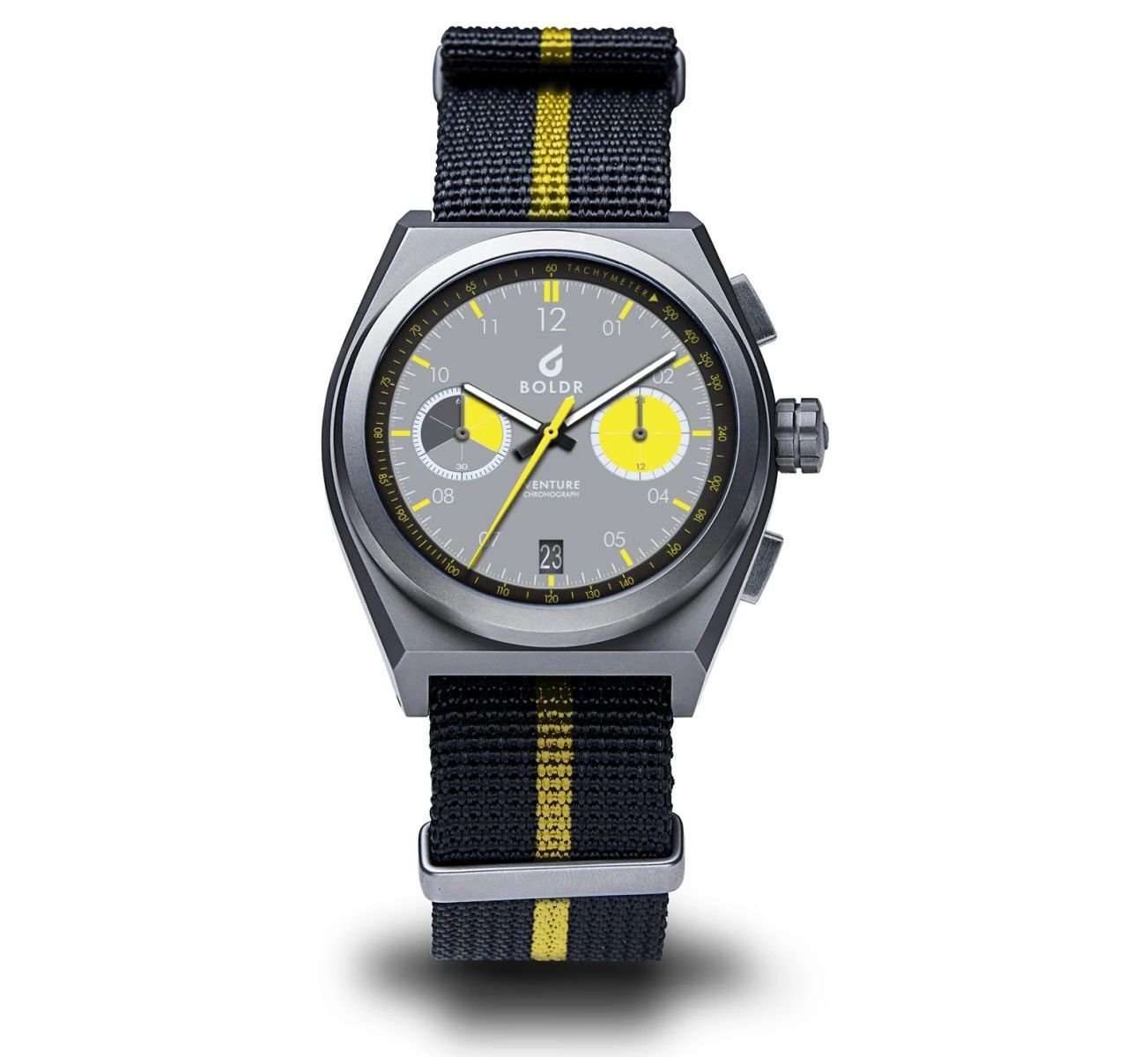 BOLDR Venture Rally III – Wells Junior
"That looks nothing like a MoonSwatch!" I hear you cry. And you're right, it doesn't, but just to be clear, being a lookalike is a not criterion. This is, however, a value-packed, colorful chronograph that will stand up to any summer shenanigans you encounter! The MoonSwatch lacks decent water resistance, and from what I've seen, the crystal can even get scratched by the box the watch comes in! You'll have no such problems with BOLDR Venture Rally III. It features a lightweight case that's made of titanium with compact measurements for incredible comfort. At 38mm wide, 14mm thick, and 44mm lug-to-lug, it should fit any wrist. It has a scratch-resistant, AR-coated sapphire crystal, as well as a screw-down crown and case back for 200 meters of water resistance. At its heart is the meca-quartz SII VK64 chronograph caliber. This movement provides both quartz reliability and a charming "sweep" of the chronograph seconds hand.
The Wells Junior edition has a matte gray dial, and zesty yellow accents abound. Yellow is a fun summer color if there ever were one, and here, it gives some zing without looking overdone. You'll find it on the stick indices, the tachymeter scale, both sub-dials, and the chronograph seconds hand. The yellow pinstripe on the provided black NATO suits the theme, but if you want to get wild, get an all-yellow strap! With 20mm lugs, you'll have no trouble finding myriad aftermarket options should you wish to spruce it up. The Venture Rally III – Wells Junior is available directly from BOLDR for just under €285. Yes, it's a tad more expensive than the MoonSwatch, but for the toughness it provides, I feel it's well worth it. Plus, if you squint hard enough, the bevels on the case look just like lyre lugs, right?! No…? OK. Next!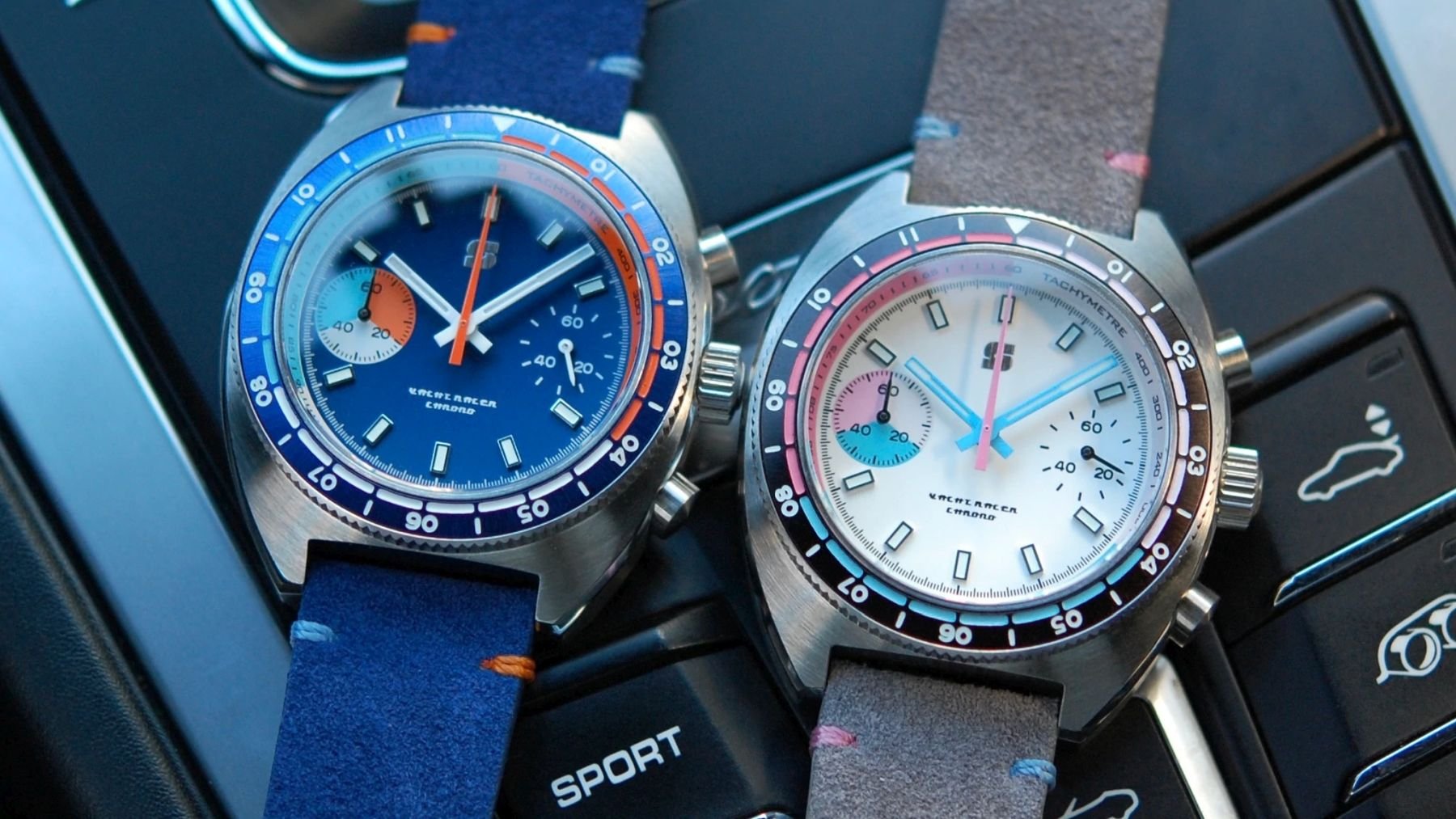 Straton Yacht Racer Quartz
The second contender on my list of colorful MoonSwatch alternatives has had its claws in me since the first time I read Thor's release article. The Straton Yacht Racer Quartz doesn't look much like a MoonSwatch, but if fun is your objective, this one brings it in spades. The Yacht Racer Quartz is actually closer to the MoonSwatch's dimensions at 42mm wide and 48mm lug to lug. However, it is a whole 1.25mm thinner, coming in at just 12mm thick. This chronograph has a traditional stainless steel case with a screw-down crown for 100 meters of water resistance. It features a domed AR-coated sapphire crystal, round pushers, and a tachymeter scale. The 20mm lug width is ideal for swapping straps, which you'll definitely want to do if heading out for a swim. Admittedly, suede is not a great choice for aquatic activities. It is extremely comfortable for everyday wear, though.
Inside, you'll find a Miyota 6S21 quartz caliber, providing 60 minutes of elapsed timing capability. Technically, this isn't a meca-quartz movement, but the chronograph seconds hand does jump four times per second. I must say, I'm a big fan of the 12-hour bezel with the color and additional function it brings. The bezel features the same accent colors as the dial, and the wearer can offset it to a second timezone. The choice of colors brings a huge smile to my face too! Blue, black, green, and white dials pair nicely with a plethora of accent shades. My personal pick would have to be the white dial with baby blue and pastel pink accents. The Yacht Racer Quartz is now past its pre-order period, and currently retailing for US$319 (€297.22 by today's conversion). However, if you sign up for text notifications from Straton, you can score a 10% discount. Sweet!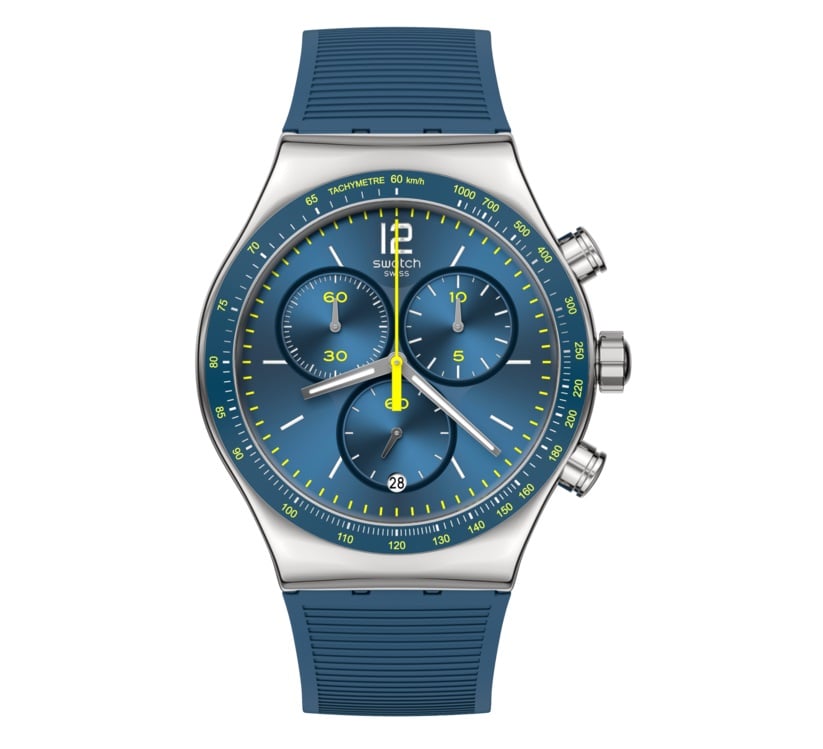 Swatch Irony Chrono Dateline
I feel like I'd be remiss to not include another Swatch on this list of fun MoonSwatch alternatives. If tracking down a MoonSwatch brought you to the Swatch boutique but the lack of stock left cash burning a hole in your pocket, why not see what else the brand has to offer? As I was browsing, this Irony Chrono Dateline caught my eye. The "Irony", of course, is that this case is stainless steel rather than the clear or colored plastic that Swatch is known for. Just so you know, I did try to pick a Bioceramic model, but I couldn't bring myself to recommend a 47mm watch. However, this is the second largest watch on this list, measuring 43mm wide, 49mm long, and 12.67mm thick. I rather like the blue sunburst dial and the hints of yellow, which are even more subtle than on the BOLDR Venture III. This combination of colors looks sporty and fun, and isn't that what this exercise is all about?
Judging by the dial, the Irony Chrono Dateline houses the same caliber that you can find in the MoonSwatch. It's a 4-jewel quartz chronograph by ETA, most likely the caliber G10.212. A 60-minute counter sits at 10 o'clock, while the 1/10th-of-a-second counter sits beside it at two. You can find the small seconds and date window at six, while the central yellow hand records elapsed seconds. The dial and bezel pair nicely with the sporty rubber strap, which will definitely be perfect for a sweaty summer day. Unfortunately, the steel case isn't the most water-ready, though, with naught but a 30m water-resistance rating. This is par for the course with Swatch, however, and as I mentioned, the MoonSwatch can't claim any better. Is this my favorite watch on this list? No. But at €175, I still think it's a bargain. Head on over to the Swatch website to check it out.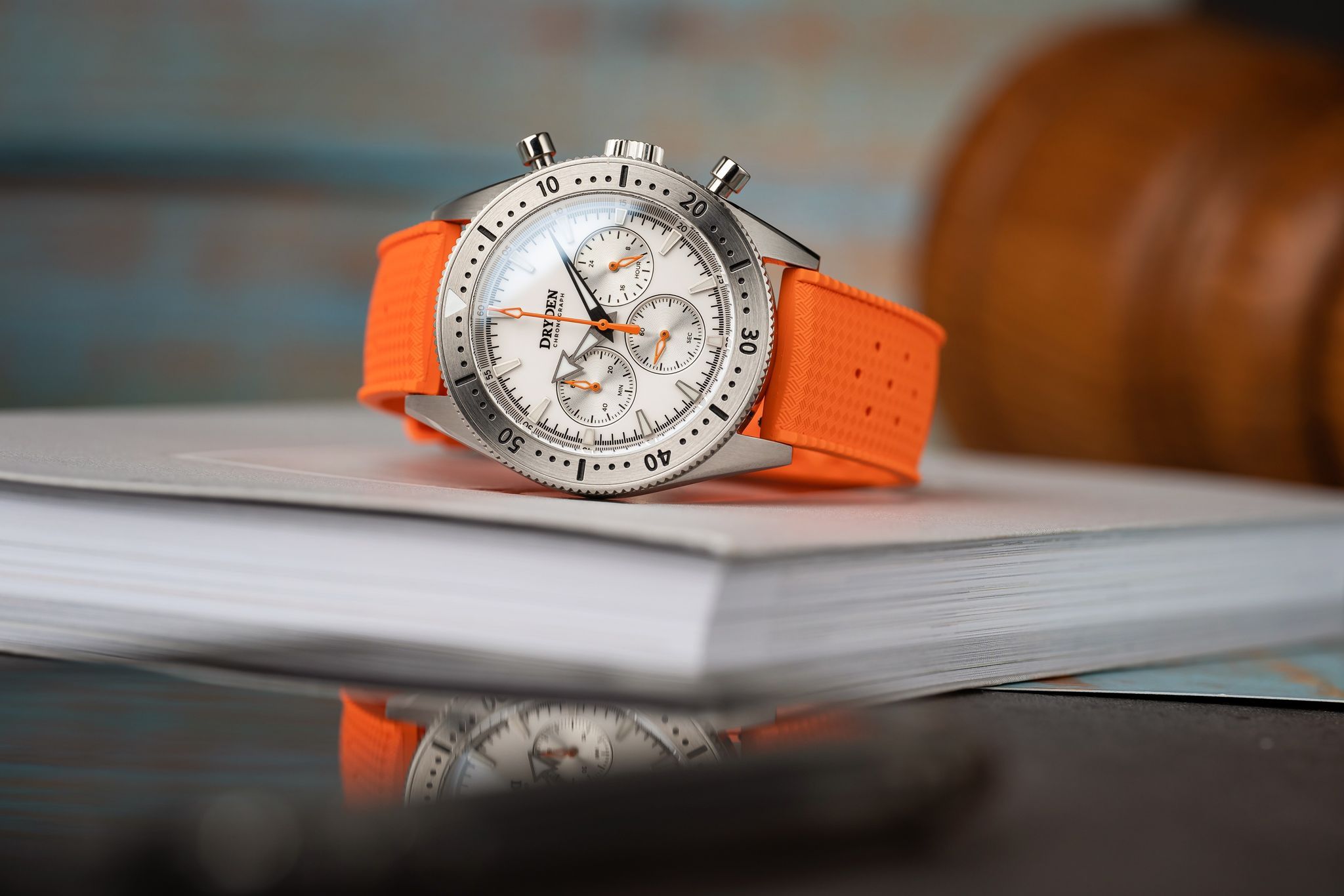 Dryden Chrono Diver
When our managing editor Nacho assigned me this topic, this was the first watch that sprung to my mind (Mission to Jupiter vibes, anyone?). I have personal experience with this family of watches, having owned the red-dialed Hometown edition last year. Therefore, I have complete confidence in adding the Dryden Chrono Diver to this list of MoonSwatch alternatives. Man, what a spectacularly built watch this is! Measuring 42mm wide, 49mm lug to lug, and 13.5mm thick, it has a nice, bold stance. The lugs do curve quite comfortably around the wrist, and the mostly brushed steel case feels remarkably solid. With 100 meters of water resistance, a screw-down crown, and a timing bezel, you could even take this watch skin diving if you like. And on the 22mm Tropic-style FKM rubber strap, the Chrono Diver is ready for water right out of the box.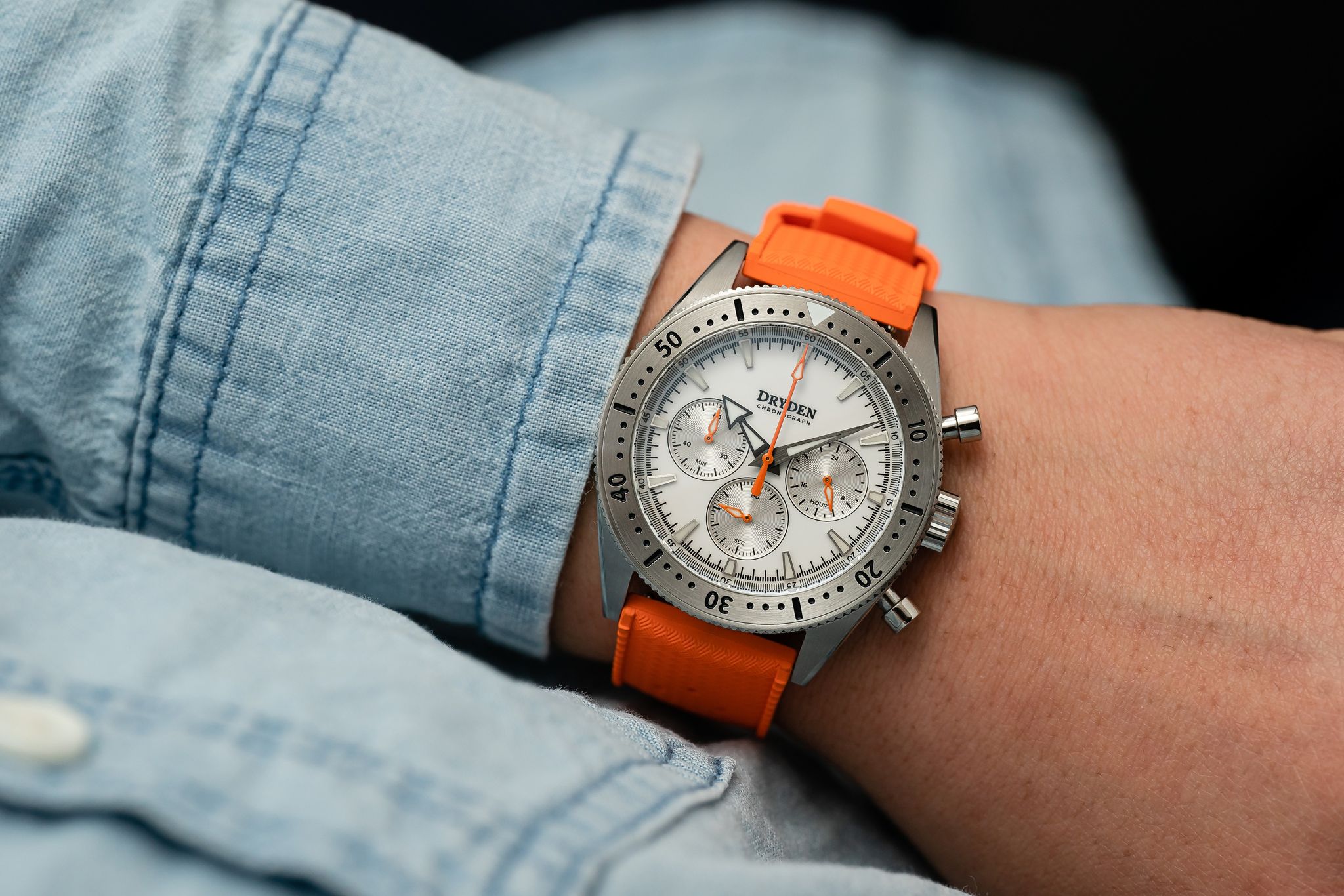 An SII VK63 meca-quartz movement sits within the Chrono Diver's phenomenal case. It's the tri-register version of the movement in the BOLDR, featuring a 60-minute counter, running seconds, and a 24-hour indicator. I love the orange accents found on the sub-dial hands and the Speedy-inspired chronograph seconds hand. The broad-arrow handset is also a nod to Omega. On this version, the hands are brushed for a wonderful contrast against the Porcelain White dial. The sunburst sub-dials have a radially snailed texture, giving a tasteful pop to this and many of the Chrono Diver variants.
Colors for everyone
There are plenty of awesome colors to choose from, too. Blue, black, green, white, red — you name it! My second favorite in the current lineup after the Porcelain White is what Dryden calls the Blue Modern colorway. It has an almost cerulean blue sunburst dial with a matching lumed aluminum bezel and gorgeous white registers. Check out the gallery above to get a taste of the options, and head over to Dryden's website to see the rest of the selection. Right now, the Chrono Diver is on sale for US$279, or €260.35 by today's conversion. That's a heck of a deal for a watch of this quality, and I wholeheartedly recommend the Chrono Diver if you dig the look. Not to mention, brand owner Jerry Wang is a joy to deal with and an incredibly personable dude at that. When buying from a microbrand, that counts for a lot!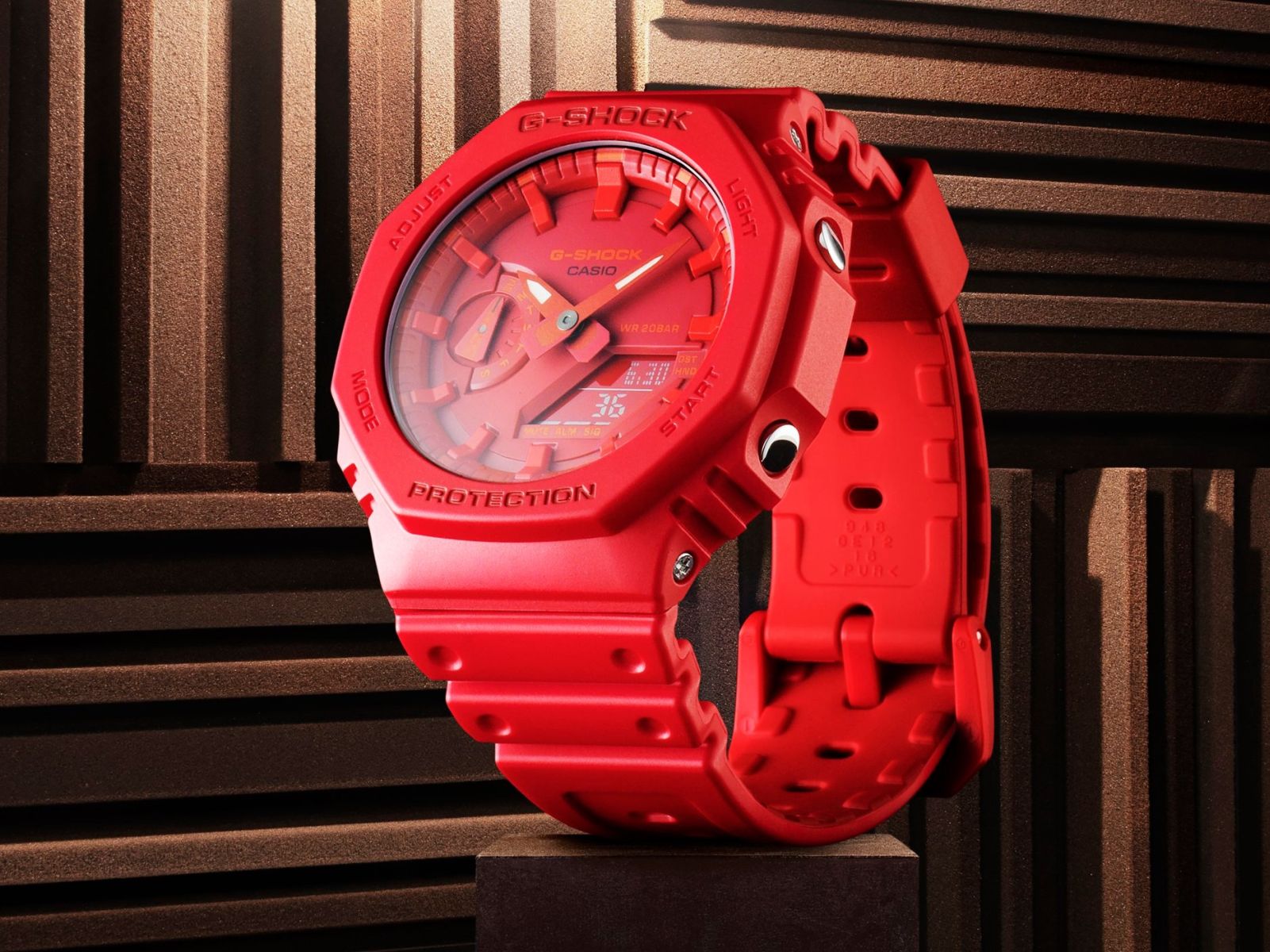 Casio G-Shock "CasiOak" GA-2100-4AER
I'll admit, this one felt like low-hanging fruit, but the Fratelli have spoken, and you love the "CasiOak"! In last week's Sunday Morning Showdown, the "CasiOak" actually beat the MoonSwatch with 60% of the votes. Reader MARKB said, "I like the MoonSwatch, but in terms of resilience and value, the CasiOak beats it soundly." And many of our readers echoed similar sentiments, agreeing that this G-Shock is the more capable choice. No one doubts the rough-and-tumble, do-it-all construction of the G-Shock's carbon-reinforced resin case. With 200 meters of water resistance and a water-ready resin strap, you never have to think twice about taking this watch swimming. And with more nifty functions than you can shake a stick at, I'm surprised the ana-digi module can't teleport me to the beach!
What it can do, however, is provide an LED backlight to read the multitude of data that the "CasiOak" can provide. How about a chronograph that can measure up to 24 hours with 1/100th-of-a-second accuracy? How about a world time function, five daily alarms, and an automatic calendar with the day, month, and date? And if that's not enough, it has a hand-moving function so you can read the digital display with no problem at all. And I could go on! There's more, but I think you get the idea: this G-Shock has basically everything you'll ever need. And in this all-red color scheme, it just might scratch the itch for the vermillion vixen known as the MoonSwatch Mission To Mars. Now, it does have a mineral crystal, and it's 45.4mm wide. But at 48.5mm lug to lug and 11.8mm thick, this 51g "CasiOak" will wear very well. At just €99 direct from Casio, this red G-Shock is a banger for sure.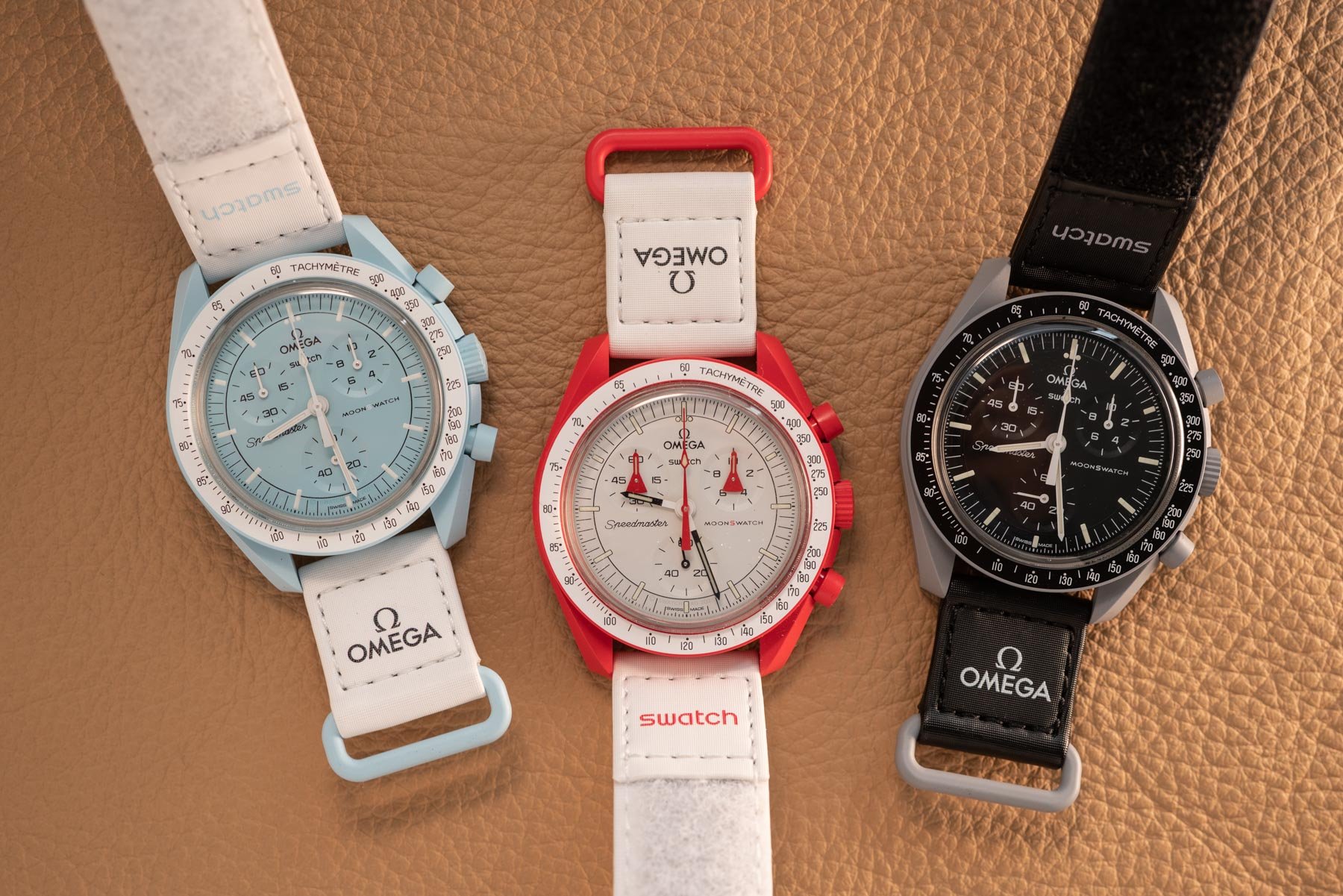 How do these MoonSwatch alternatives stack up?
What do you think of my choices today? No, they don't say Omega on the dial, and no, they're not made of Bioceramic. Of course, they don't have the same shape as a Speedmaster, and they may not even get as many likes on Instagram. Nevertheless, I feel that these MoonSwatch alternatives can still bring color and fun to the summer months ahead. I'm interested to know what you think about them. Can you call these "MoonSwatch alternatives", or am I out of my mind? If you Fratelli do decide to crucify me after all, I hope you'll at least provide some alternatives to these alternatives in the comments! And if I have to curse anyone while I'm up on that cross, let it be Ignacio Conde Garzón for giving me this assignment… Just kidding, Nacho Man!