Preview of Geneva November 2017 Auctions – Christie's
Our auction reporter Sacha Davidoff is on top of the watch auctions to be held in Geneva. Just like his past reports for Fratello, you can read about the upcoming Christie's auction in Geneva and his highlights. Without further ado:
Christie's Geneva
We have seen quite a bit of movement across the watch auction departments in Geneva and worldwide for that matter. The Chrisite's Geneva watch department has had some changes to the team as well. With the unexpected departure of Thomas Perazzi, previously the head of watches Geneva, watch specialist Sabine Kegel has taken his place at the head of the department. During a record-setting year filled with surprising results above all expectations, it is no surprise that the musical chairs continue. We do anticipate that things will settle down in the next few years, price jumps or corrections will have subsided and the hunt for ultimate condition will continue. Christie's has continued to be a top tier watch auction house and we feel a strong willingness on their part to continue this legacy. This year, Christie's has also graciously taken on Only Watch charity auction. This auction consists of unique pieces offered by prestigious watch manufacturers and independent watchmakers and all the proceeds of the auction will be donated to research on neuromuscular diseases, particularly for Duchenne muscular dystrophy. Granted we all have been blown away at some of the auction results this year, we should keep in mind the vintage watch market is still a small portion of Christie's activities. When we look at jewelry results or the art sales, vintage watches are still a relatively young market albeit with a strong outlook. For example, Christie's is auctioning off the last Da Vinci artwork, "Salvator Mundi", which goes up for sale on November 15th and will likely surpass $100 million. It puts things in perspective. I am not comparing a priceless work of art by Da Vinci to a watch. I am rather just reminding everyone that a work of art can be equal to two years of watch auctions at Christie's considering watches represent $50 million a year of sales. Enough said, let's dig in to these watch auctions.
ONLY WATCH
Only Watch is a biennial auction that was handled by Antiquorum for years, then Phillips hosted it in 2015 and now Christie's. This 50 lot auction will take place on Saturday November 11th. It is a big responsibility, including a large workload and quiet costly, so we are happy that Christie's stepped up this time to handle it. A record was set for a Tudor and Patek (pre-1518 steel) last Only Watch and although brands do profit from the media buzz, it ends up going to a good cause. We salute the participants for their entries regardless of the results and thank them for carrying on the tradition. I have experience with these auctions from back when I was working for a watch brand and I still feel they should do away with estimates all together, as its for charity, and list the watch brands in alphabetical order to be fair to participants. I will bring this up again in a couple years. Also, the meaning unique piece appears to be subjective among certain brands. Yet, some brands went above and beyond. Here are a couple of our favorite creations from this auction:
LOT #20
Laurent Ferrier & Urwerk Arpal One LF-UR1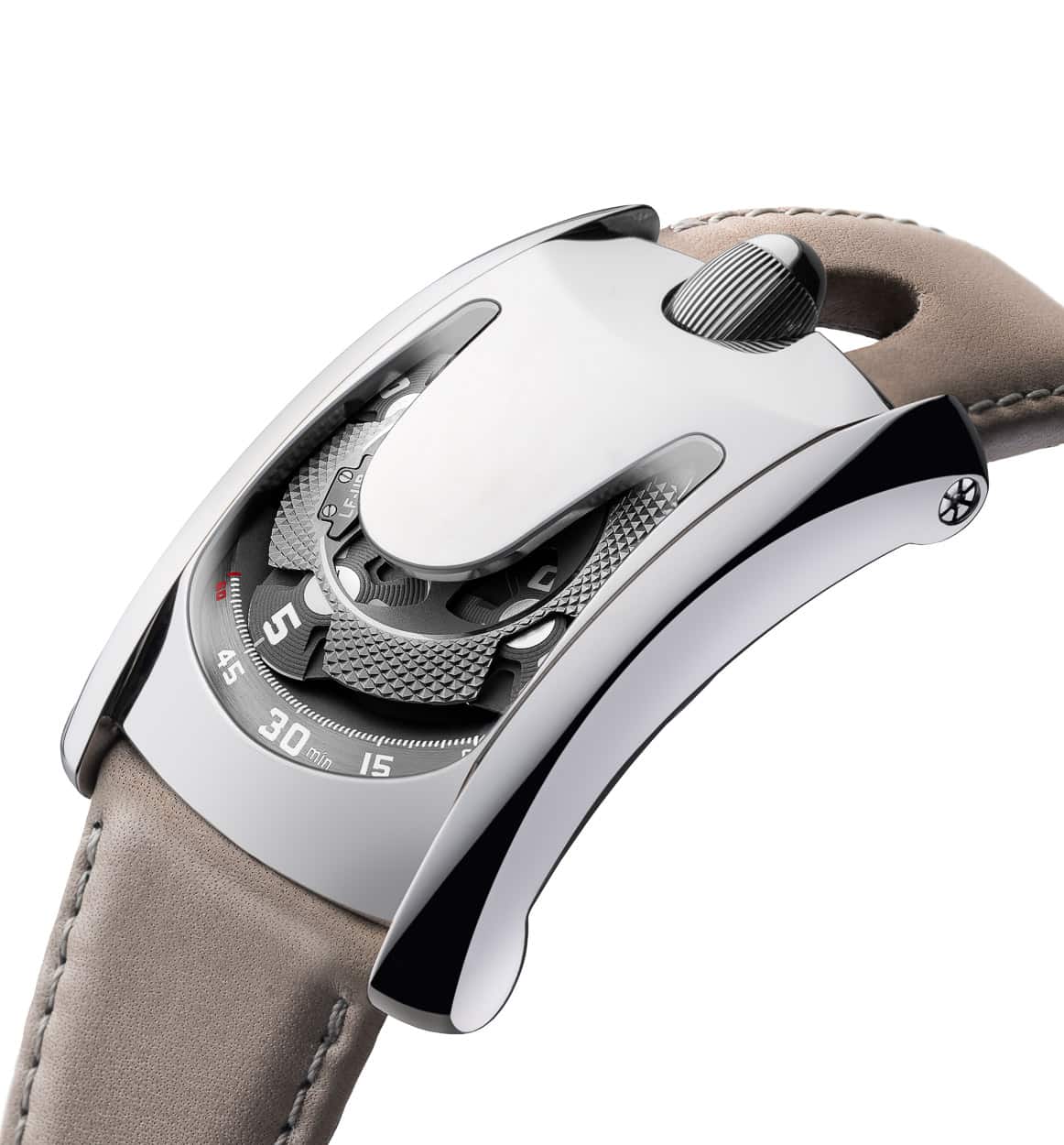 When unexpected marriage occurs between a classic, refined and elegant brand and a bold avant-gardist one, the result could have gone either way. In this case, I was really impressed with how the two manage to co-exist in the design and technical features. It has the basic DNA of an Urwerk satellite display, but with the finesse and curvaceous nature of Ferrier. It is smoother than an Urwerk and more aggressive than a Laurent Ferrier, yet, the whole is greater than the sum of its parts. Well done. Both of you.
Estimate CHF 50,000 – CHF 70,000
LOT #32
F.P. Journe Chronographe Monopoussoir Rattrapante Bleu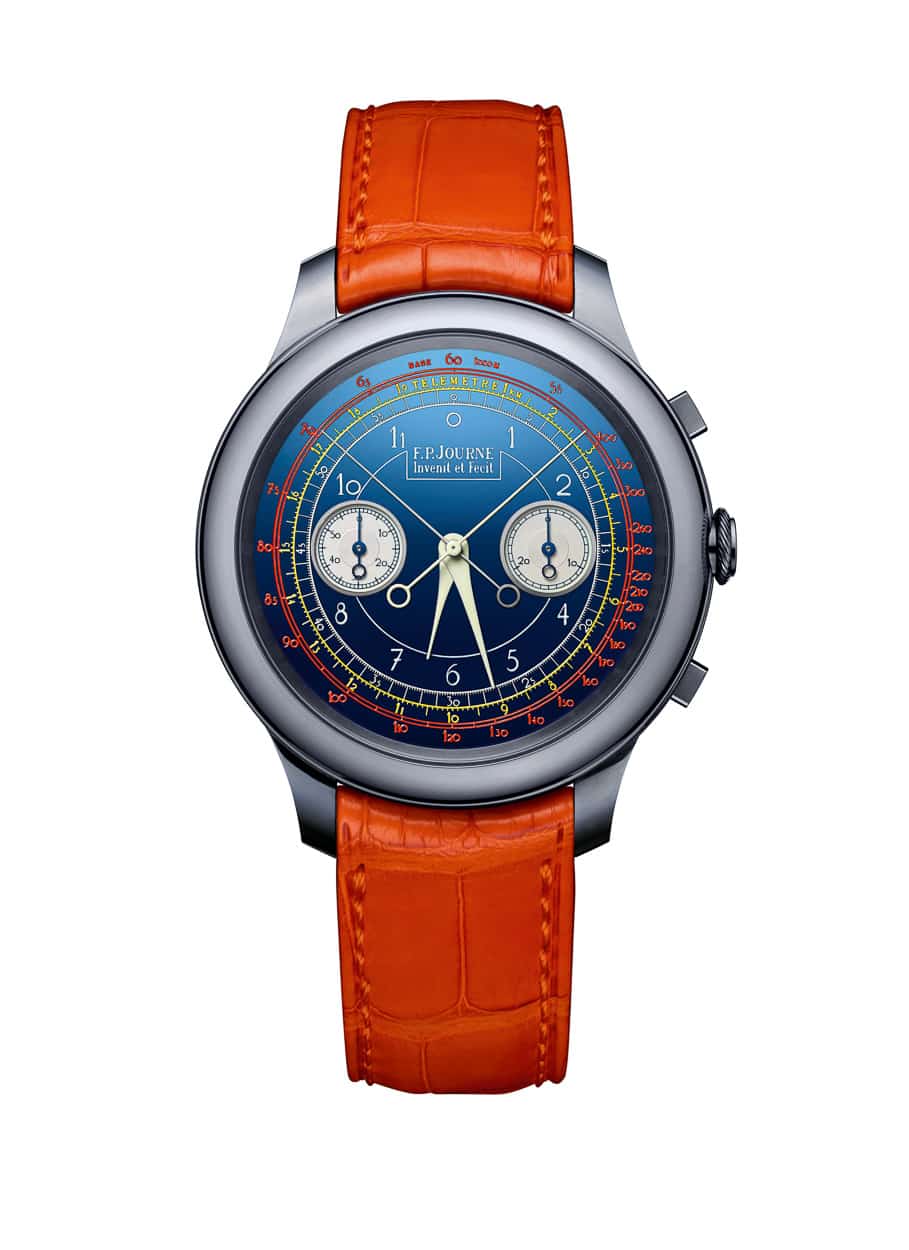 We find again here an ultra-classic dress watch totally revisited with contemporary colors and materials. I love equally the back and the front of this watch. The stunning 18K gold movement is a finely decorate split-seconds chronograph at its finest and is displayed through the sapphire case back. On the front, the contrast between the 44mm unique dark grey tantalum case and the blue chrome dial with orange and yellow scales and silver registers is just incredible. Journe went all the way for this one and the price tag will reflect the work behind the watch.
Estimate CHF 200,000-400,000
Rare Watches
The Christie's RARE WATCHES auction, which takes place on Monday November 13th in Geneva, is comprised of 217 lots in the catalog, which is 65 less pieces than in May and 109 less lots than one year ago November. Again, Christie's is focusing its attention on quality over quantity although the overall value seems to be going down as well. This is a sacrifice that we may see more and more from prestigious auction houses that either refuse to take watches due to poor quality, refurbished/fake components or unrealistic reserve prices from consignors. The total estimate value of this catalog is about CHF 8 to 12 million. According to our study of the catalog and their past performance, we estimate, conservatively, that they will sell over 85% of lots and reach about CHF 13 million versus the CHF 16 million from last May and CHF 18.5 million a year ago. Regardless of the numbers, the catalog is fantastic. It is diverse and offers a wide range of brands and models, not just Patek and Rolex, although exceptional pieces of these two leader brands are included, and we are looking forward to the auction.
Here are some of the wristwatches we found particularly interesting to see and research:
LOT #135
Patek Philippe 3448 White Gold 'Senza Luna'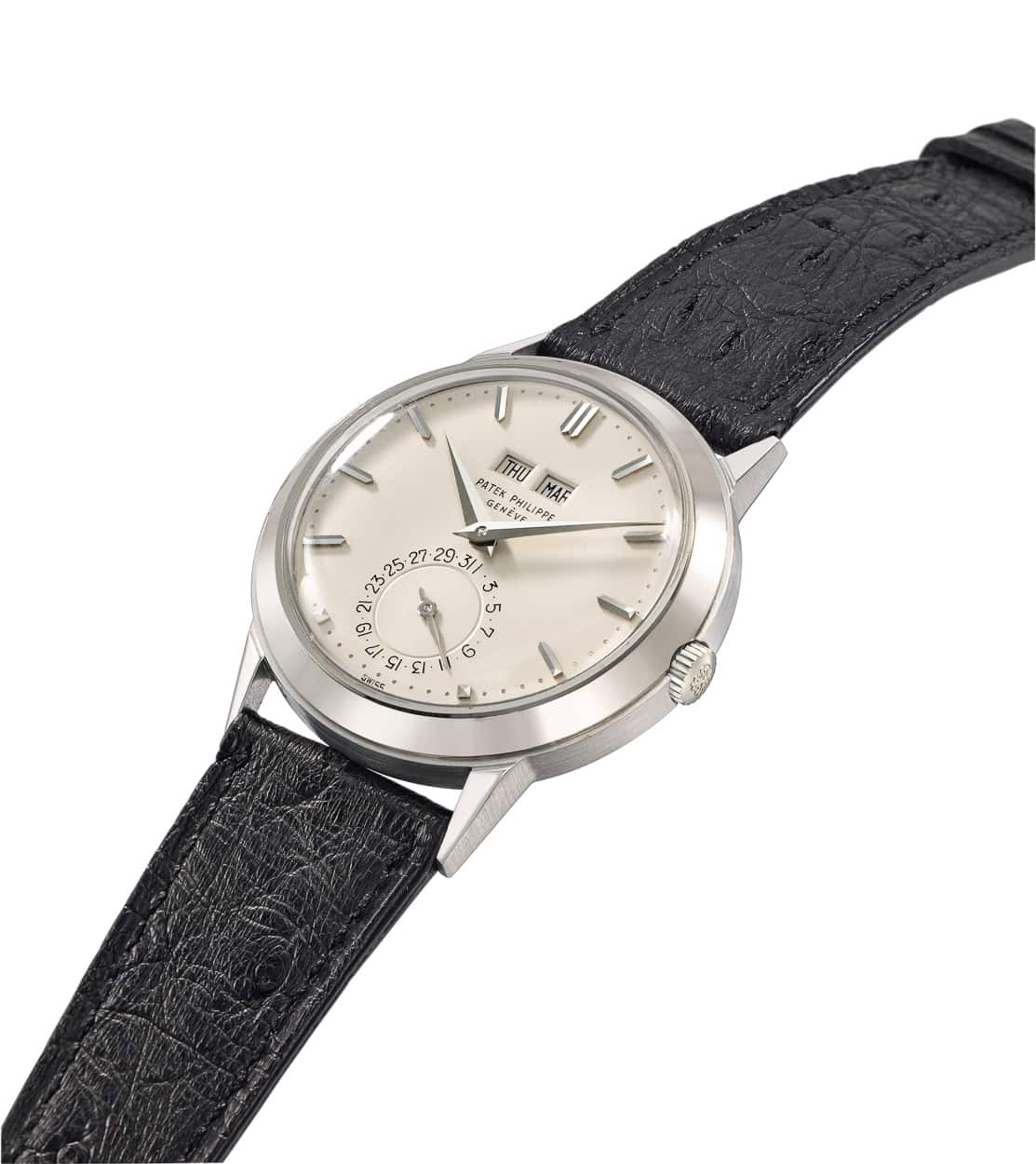 'Senza Luna' is Italian for 'without moonphase'. The standard production Patek Philippe 3448 had a moonphase indication inside the date register and was the brands first automatic perpetual calendar. A long and considerable debate has taken place about whether a factory made non-moonphase 3448 existed or they were all modified aftwards. The question has remained largely unanswered with no definitive proof… until now. I remember reading Cara Barrett's fantastic article researching these curious 3448's back in February on Hodinkee (If you've never heard of them, they are like Fratello, but based in NYC). However, it really came out of nowhere. A 'Senza Luna' hadn't appeared at auction in almost 10 years (2008, 'Banbery' 3448, 1.8 million Sotheby's) and the conclusion of the article was, well, inconclusive. Today, however, that is a different story according to Christie's. A stunning and, finally confirmed by Patek Phillipe archives, 3448 'Senza Luna' is up for sale. Last time the current 3448 appeared at auction was in 2006 at Antiquorum and it fetched a whopping CHF 695,000 and stayed with the current owner until now, so the archives information was unattainable without the watch present. The watch is in incredible condition and proves the understated power of Patek. The simple dial could appear plain without the moonphase window, but there is something fierce in the simplicity and the meticulous execution of this dial and case. The only unanswered question remains why the case has a moonphase adjustment corrector between the lugs. Nevertheless, the estimate is conservative and that makes it even more exciting. Let's see how the market reacts.
Estimate CHF 300,000 – 500,000
LOT #145
Universal Geneve Compax double signed Hermès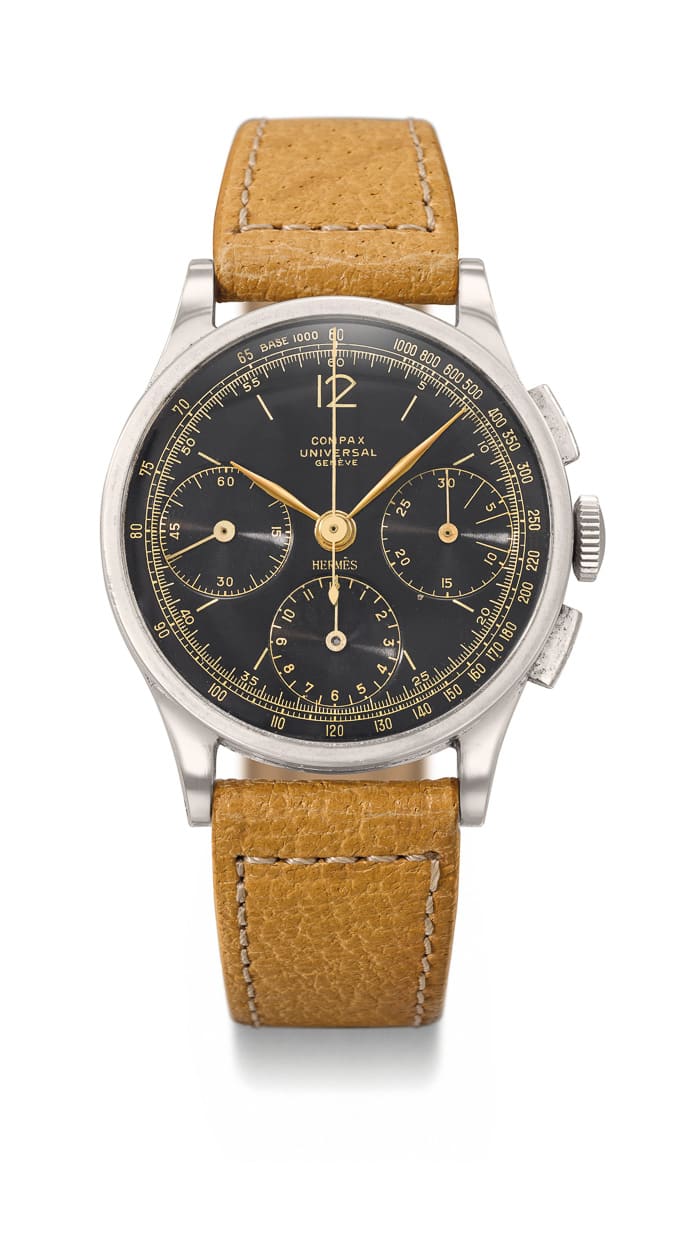 Yes, Hermès, the renowned French luxury goods manufacturer, used to retail Universal Geneve watches exclusively in Paris. And, yes, that meant dials would sometimes carry the Hermès signature. However, these are exceedingly rare and I don't think I've seen a black dial UG chronograph with Hermes signature sell for $35K at auction since 2014 at Christie's (to the best of my recollection). That one was different as it was a screw back round pusher chronograph. This square pusher snap back Compax has a slightly different dial lay out and the signature is lower on the dial as well. The present watch dial appears to be in excellent shape and the archives extract confirms the watch was produced for Hermes with signature on the dial. This watch is not something that we come by every day and although it is 34mm, it wears nicely on the wrist. The lot is offered without reserve and there should be quite a bit of interest on this one.
Estimate CHF 10,000-15,000 without reserve
LOT #152
Omega Speedmaster 2915-2 'Broad Arrow'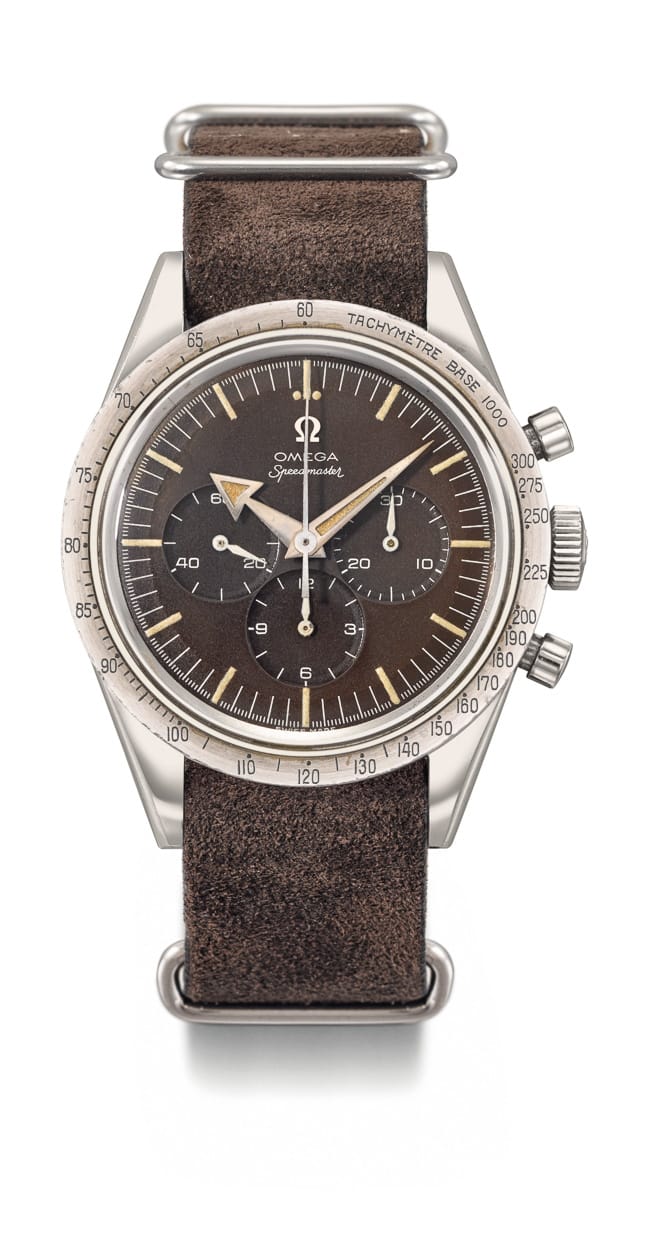 This reference has a been quiet the hot topic on the Omega Forums recently as a stunning first series (2915-1) just sold for a record price and, in general, these are highly sought after. The Speedmaster chronograph was released by Omega in 1957 and was the first wristwatch chronograph with a tachymeter on the bezel. Initially designed for automobile racing, hence the name, this watch was released along with the Seamaster 300 diving watch and the Railmaster anti-magnetic. The three are often referred to as the Omega 'Holy Trinity'. The trilogy was re-edited in a limited series by Omega this year for the 60th anniversary and although some worried that values may be hurt because an accessible clone had been created, but thus far, has only added to the hype. These first series are as sought after as ever.
This 2915-2 has ever so slight differences with its predecessor such as the position of the Omega on the dial and the rounded 3 of 300 on the bezel. It also has a 'tropical' dark brown dial and overall good look. I am not even going to venture a guess on the result, but I will say the estimate appears coherent with the watch.
Estimate CHF 80,000-120,000
LOT #184
Rolex Day-Date 1803 special order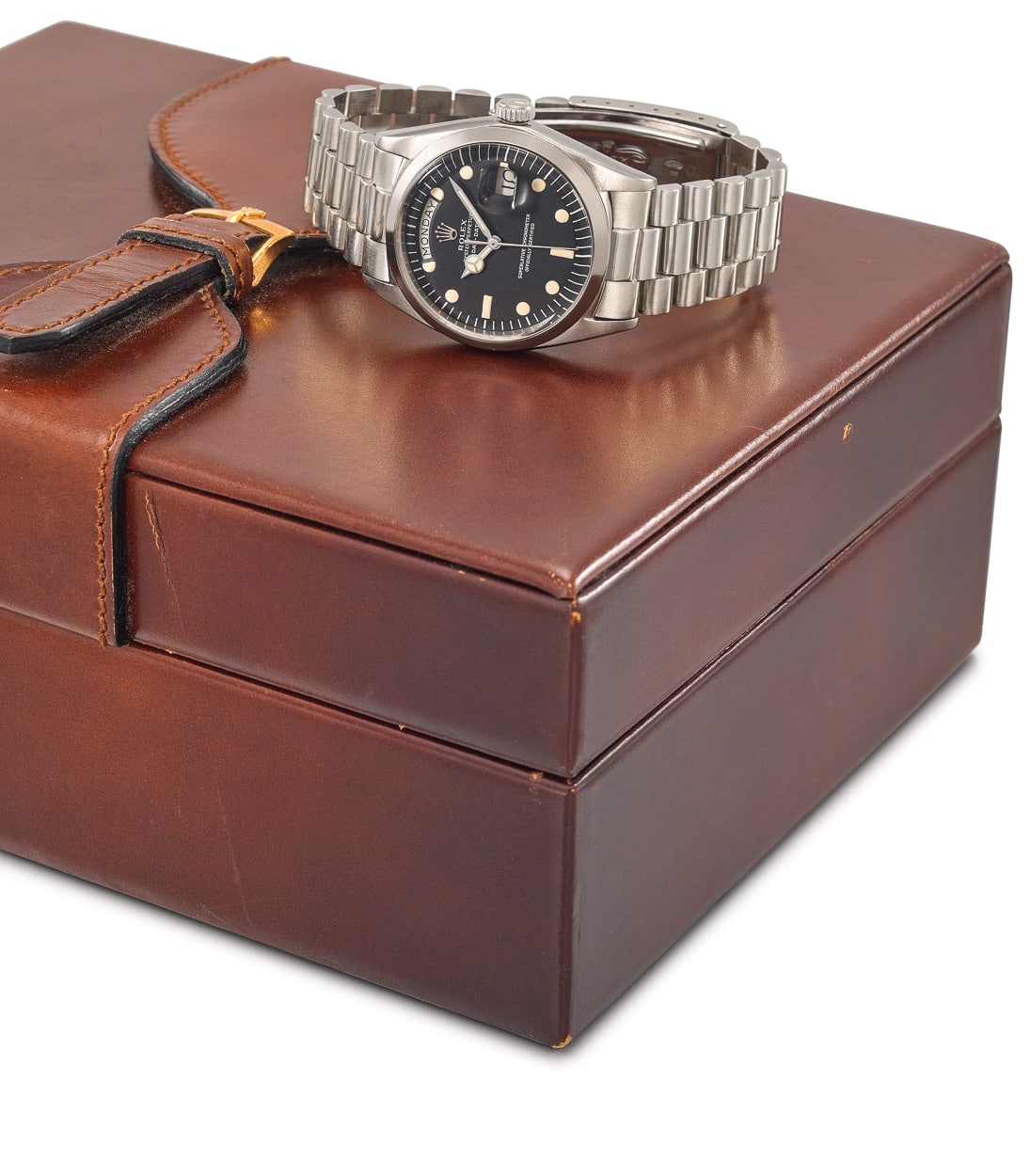 It is not every day we vintage watch like us have the pleasure of saying 'oh, I've never seen that before'. Thank you, Christie's. When I first saw the catalog, I was quickly flipping through the pages and suddenly my brain registered: Submariner with missing bezel. Then I stopped and was like, why would they sell that and do a double page spread? So, I went back, looked closely and was shouted 'Roy, get over here, you see this Day-Date? It's crazy. Crazy it is. This special-order Day Date has a smooth bezel and black matte tritium hour marker dial as well as the 'Mercedes' hands we are more familiar with seeing on sport models such as Submariners and GMTs. However, it has a weekday indication window at the top and therefore no typical big triangle luminous index. According to Sabine Kegel, who thoroughly did her homework before showing me the collection, there was a second piece made for the same retailer, but the special order came from this owner first. Rolex, regardless of whether it was 1969, is not known or has ever been known for accepting special orders. Quiet the opposite and therefore, this watch is totally exceptional in the truest sense of the word. I honestly have no idea how they came up with an estimate for this one, but looks fair to me and a good auction watch is a totally unpredictable one like this.
Estimate CHF 60,000 – 120,000
A big thank you to Sacha Davidoff for this Geneva November 2017 Auctions report on Christie's.