Speedy Tuesday – A Collector's Story On His Gold "Dave Navarro" Speedmaster
Once in a while, we receive stories from our readers on their Omega Speedmaster that we feature here on Speedy Tuesday. This week, it is Phil's story about his 18 carat gold Speedmaster Professional that he dubbed 'Dave Navarro'. I've met Phil on-line, via his instagram (@Phillterr) account and later on met him in New York during a watch event for which he was invited as well. For today's Speedy Tuesday feature, we have Phil's story on how he became interested in Omega and specifically his gold Speedmaster Professional.
Without further ado, here's Phil's story.
The Dave Navarro Speedmaster
Like many people, I tend to give my watches a nickname, often a name related to either the experience leading up to its acquisition. Some of my pieces will even get multiple nicknames, in the case of my gold Omega Speedmaster Professional, it's the Dave Navarro (click here for more info about him) or also known as the Money Monster, and here is its story.
I know I'm not the only one to ever utter a statement with conviction only to find myself eating those words at a later point. One of these humbling lessons has been to never fully judge a timepiece until it hits your wrist. At many points I have emphatically stated that I would never own a gold sports watch, because in a sense, it was counterintuitive. While I've been known to let my impulsiveness get the better of me at times, I'm generally very practical and all about functionality. I'm also someone who prefers lightweight pieces, as a point to this, my first two Omega Speedmaster watches were made of titanium. I love the feel and weight of titanium so much, a friend referred to me as a "titanium-whore".
So one night I'm at a local Omega boutique event and a collector is there wearing one of the highly sought after the 1980's numbered edition all-gold Speedmaster with the black bezel and gold dial (this one). This was the first time I had ever come across one of these pieces and I was essentially frothing at the mouth with the wonder of seeing one of these.
After some pleasantries, he offered to let me try it and the moment I put that piece on my wrist, it was like I was injected with some sort of need-serum, I don't know what it was about the piece, whether it was the weight or its simple presence, but I did know at that very instance that I needed to own a gold Speedmaster.
It was June of 2015 when I first was bit by the gold Speedy bug, flash forward a year later and George Clooney is staring in the movie Money Monster sporting an all gold Speedy with a black dial that I absolutely loved.  As timing would have it, I was fortunately in a financial position at the same time where I could actually do something about it if I were able to locate one so I immediately reached out to my friends at Omega. While this was an older model from last decade, I've learned to always have them double check the system in case there's a piece stranded somewhere looking for a new home.
And I'm glad I did check when I did, as it turned out, two new old stock pieces were found and coming to the US, however I soon found out that I was third on the list, the first one went to a dear friend and collector @seaspeedmaster and the second one was for @davenavarro the guitar legend of Jane's Addiction and Red Hot Chili Peppers, who is apparently also a watch collector. But with these pieces being sourced through Switzerland, there would be a delay in getting the pieces to the U.S., and apparently Dave opted for another Speedmaster and the story of my gold Speedmaster is all the more memorable.

Last year I posted part of this story on my Instagram and I thanked Dave Navarro for being an unintended part of this watch's journey. I wasn't expecting Dave to acknowledge or even reply to my post, but he did, and it shines a light on one of the truly remarkable aspects of watch collecting.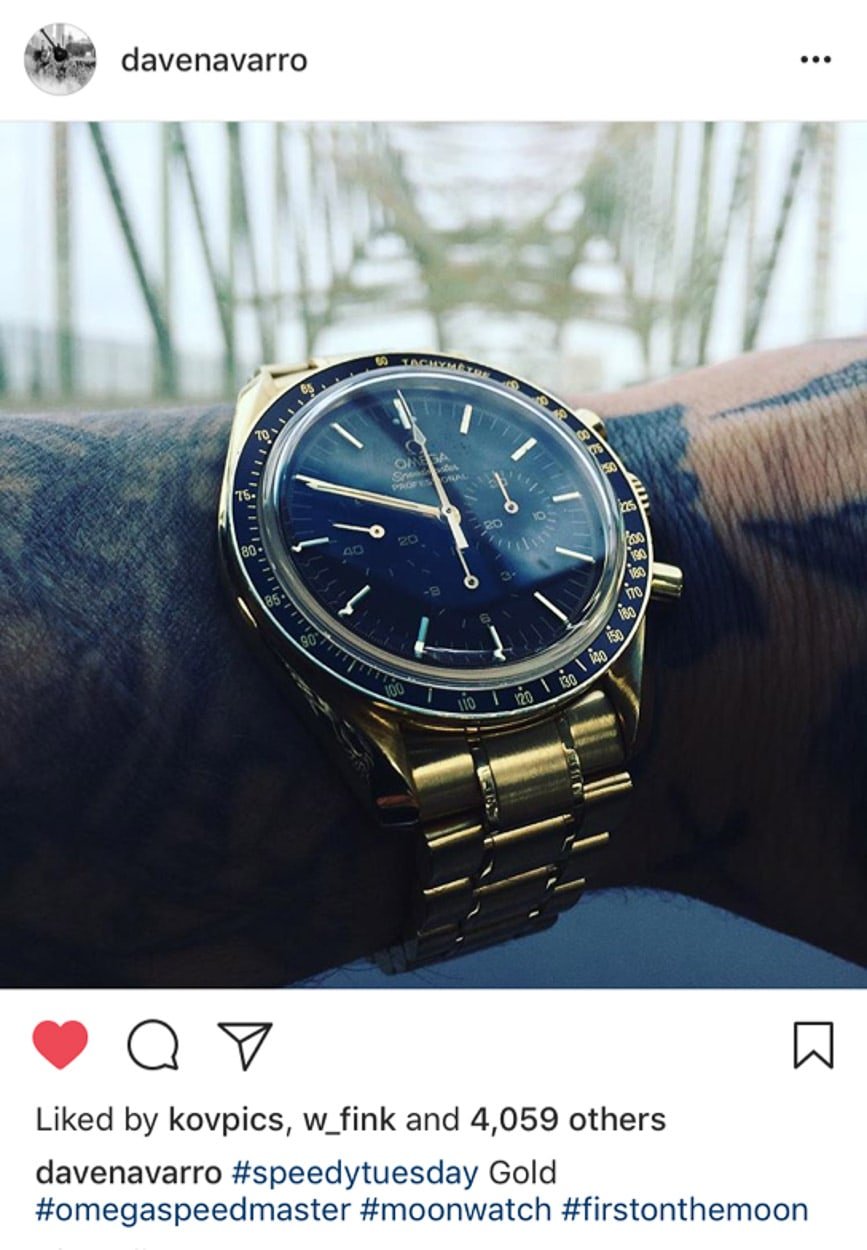 It highlights the connection between fellow watch collectors, regardless of what walks or paths our lives have lead us on. Amongst watch collectors there's an instant bond and trust level where you can simply hand over a watch worth tens of thousands of dollars to a complete stranger and all with a gleeful smile on your face. Oh, and for the other nickname, it was simply a byproduct of the Clooney movie, except that I found the piece to be so delicious I figured I would also affectionately refer to it as the Honey Monster.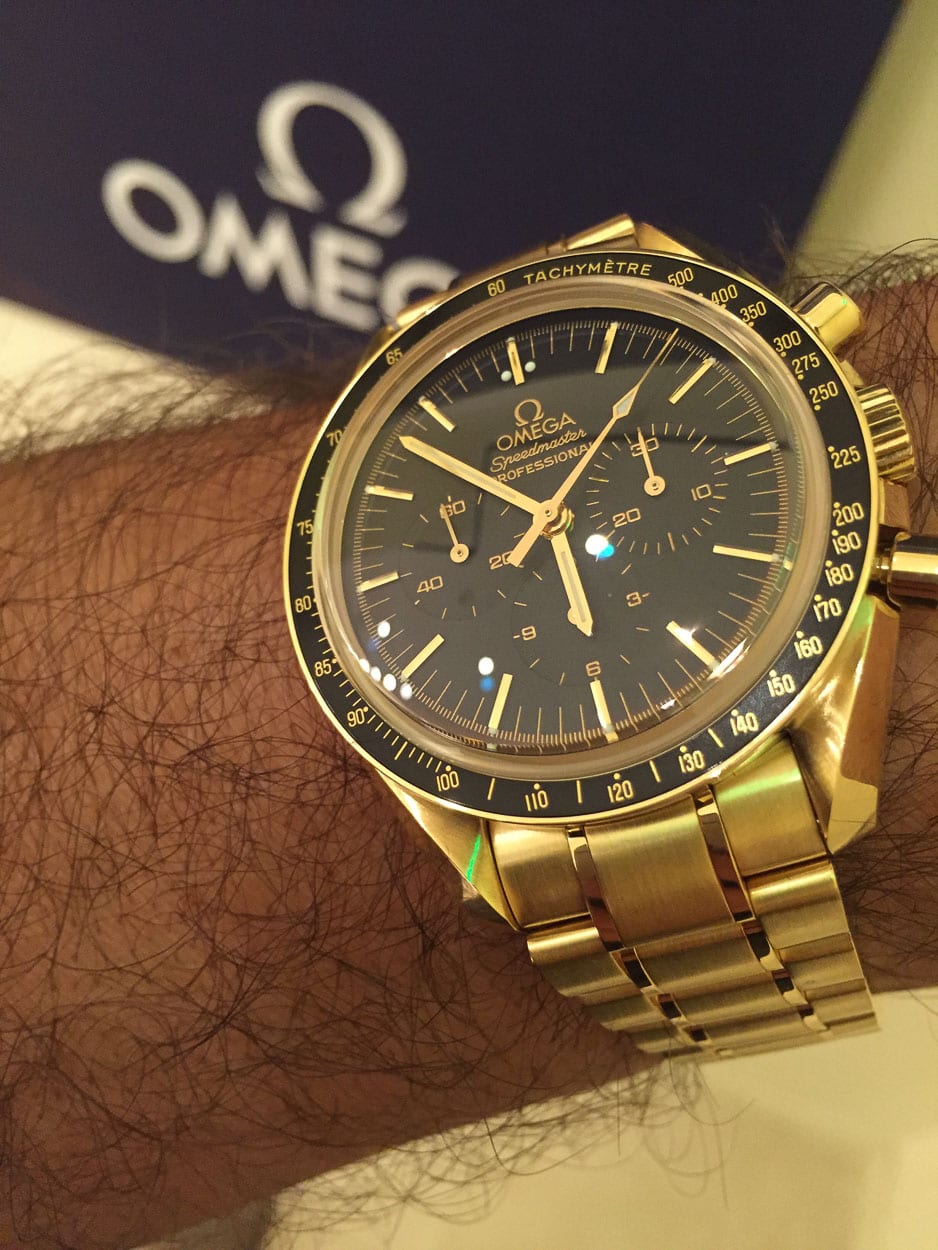 A big thank you to Phil for submitting this story to us.