NEW: The Grand Seiko 44GS 55th Anniversary Limited Edition Lets Us Have Our Angular Cake And Eat It
An unexpected rival to a certain 42mm polar white GMT?
You must think I've lost my marbles, surely the Rolex Explorer II is a tool watch. Or am I simply on a roll after a well-read article on Explorer I alternatives this week? Well no, and I'll give you my reasons. Unless your daily choice is a vintage Daytona or an 18K white gold AP, the Explorer II is not a tool watch — not anymore. Not for mere mortals anyway. It is a fresh white-dialed GMT watch, perfectly comfortable for traveling, in most cases under an expensive shirt. But even as the Rolex underdog it is rather predictable. The Grand Seiko 44GS 55th Anniversary Limited Edition is the sharp alternative. But what about the sensitive Zaratsu polish? Well like the Rolex, it's not a tool is it, so I'll welcome some hand-polished bling with my travel functionality. And Grand Seiko's High-Intensity titanium is pretty tough indeed.
The rise of Grand Seiko is thoroughly deserved, and here is another reason for discovering the value of Japanese craftsmanship. If you think the Rolex comparison is lateral, concentrate on its chilly white dial, and the intuitive GMT function. I love this Explorer combo, but find the brushed case a bit dull, and big. Once you have a brief look at how Grand Seiko moves the goalposts of case finissage you're done for. The 44GS 55th Anniversary Limited Edition quickly pulls you in for a closer look. The design code from 1967 is still fresh in 2021, and for me, this case is perhaps the sharpest knife in Grand Seiko's drawer.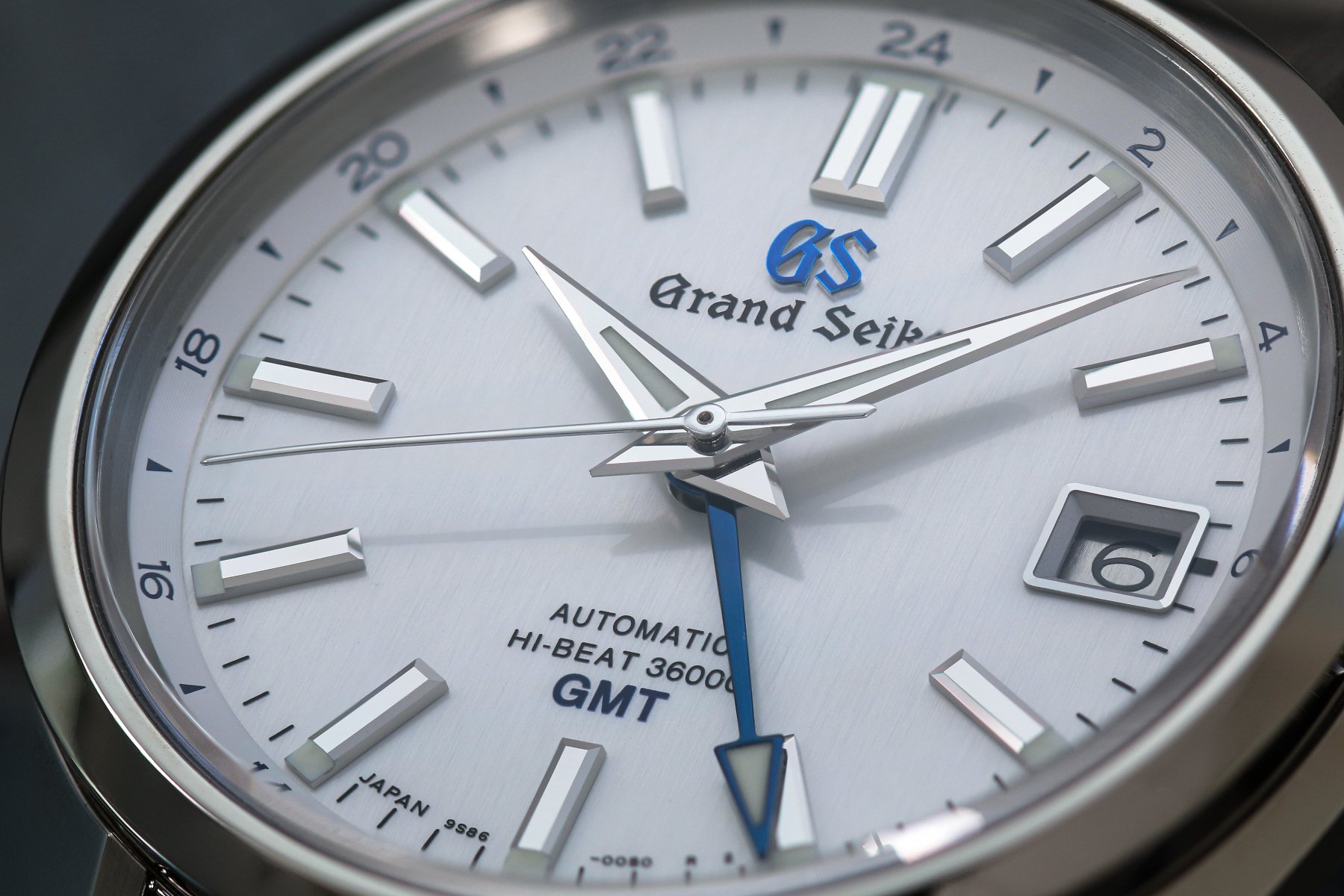 The Grand Seiko Hi Beat 36000 GMT SBGJ255
Yes, that 44GS case shape does induce a smile on any Star Wars fanboy. There is a hint of Star Wars Tie Fighter, and it is oh-so sharp. And thoroughly un-Swiss, as if watch design evolved in a parallel universe to Switzerland. Nothing emanating from the Vallèe du Joux or any other canton is even remotely similar to the broad, dynamically angled case sides framing the central circular section. You'll notice a darker tinge in the reflections even a small sliver of light generates, as this is polished titanium. Another point won for this edition of the 44GS against its lateral rival, as this is a flyweight presence. Add the 40mm diameter and shapely ergonomics and perhaps you're starting to see my point? Granted, as per the recipe for toughness, this ain't slim at 14mm, but the weight loss more than makes up for it.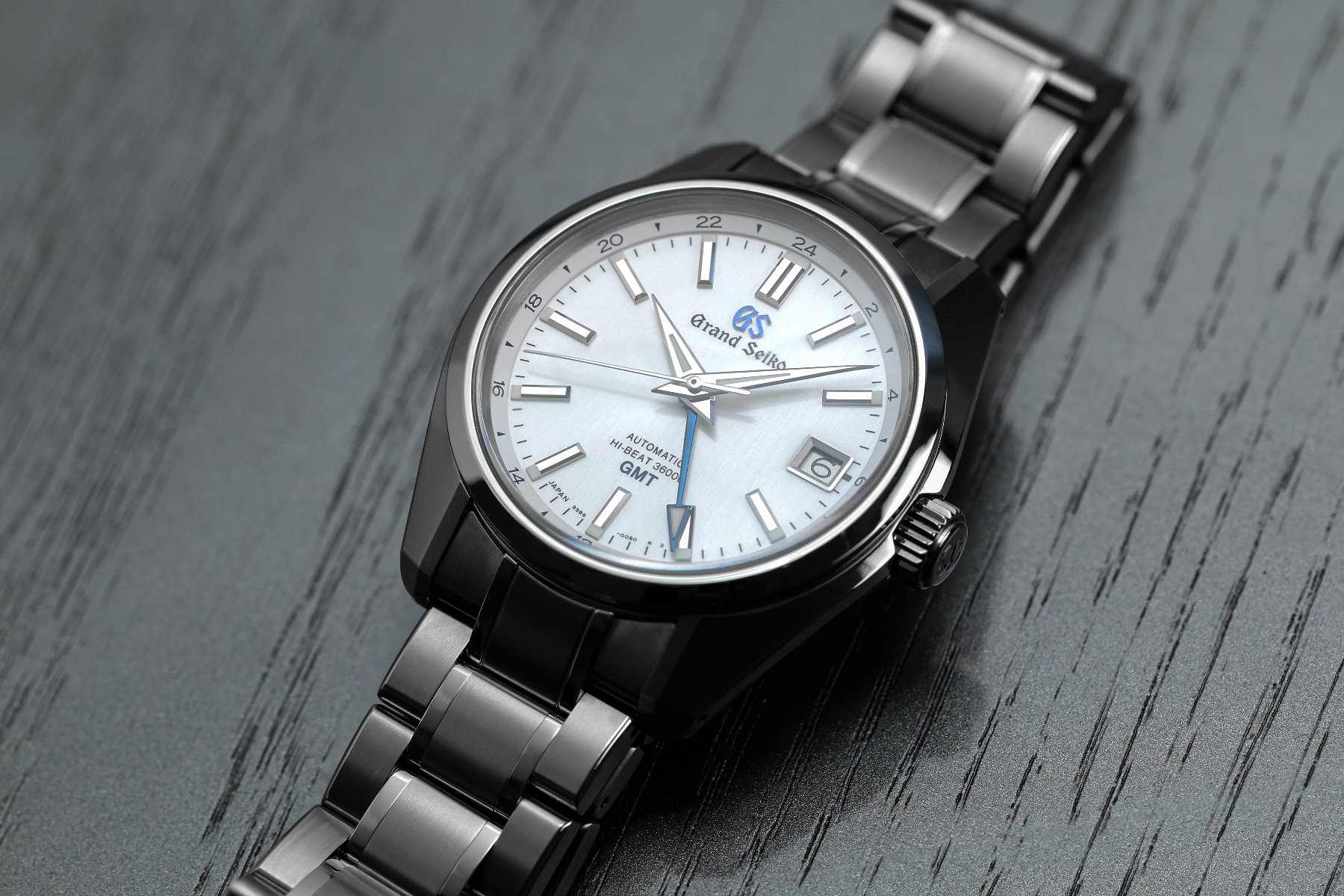 Too elegant for a tool watch comparison?
Do I have to remind you that we are not talking about tool watches here? The polished bezel might not have huge numbers engraved and lacquer-filled for legibility, but listen: The time you need to check your second time zone might be for a call home or emailing a colleague. It's not a situation where you need to save two seconds while running up a flight of stairs. You do actually have time to lift up your wrist for a closer look. Unfortunately, the details of the dial might make you lose another ten seconds or an entire minute, it is captivating.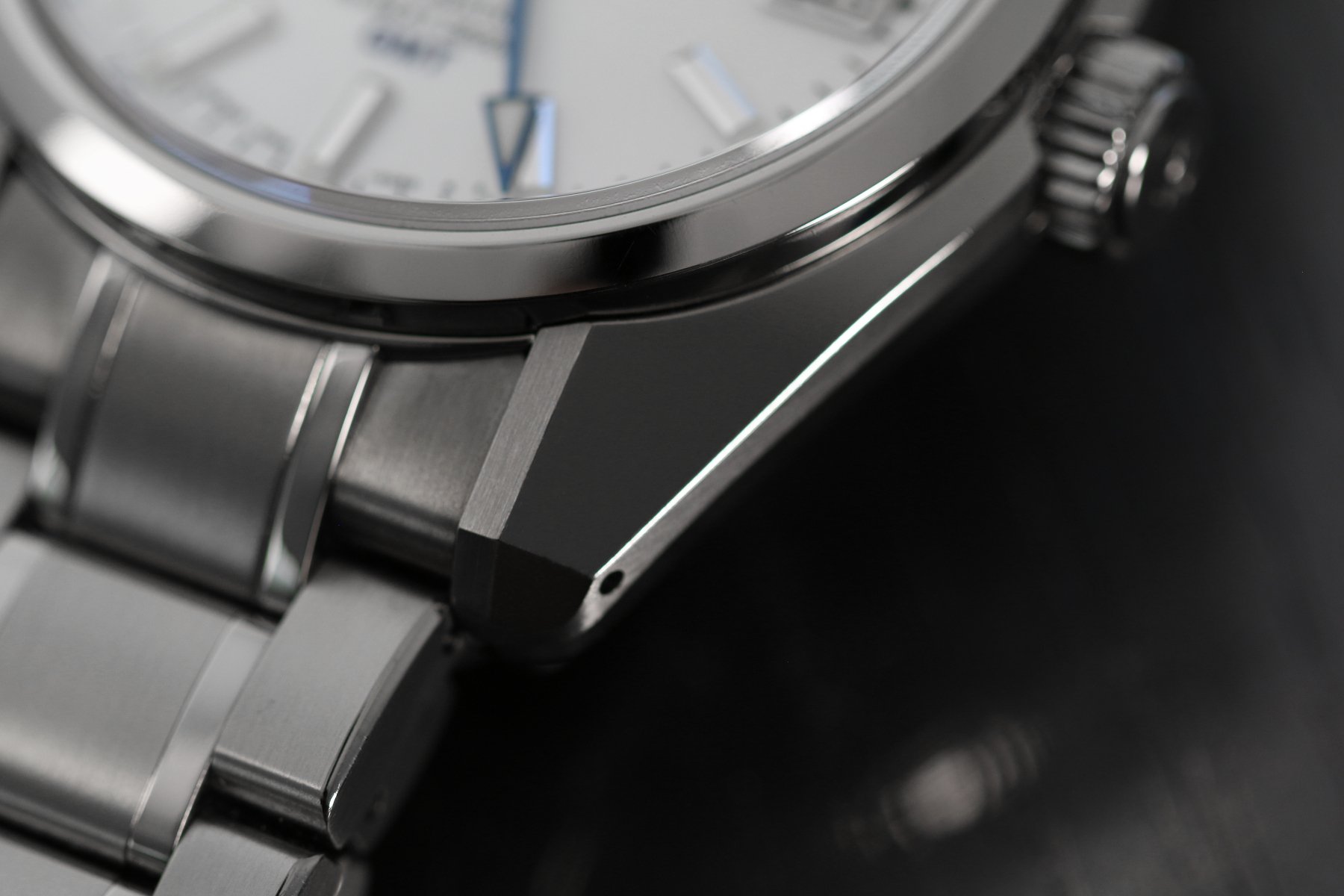 Angular perfection and Hi Beat buzz
This is where my personal box is ticked in a big way, even without any Swiss comparisons. You see I like Grand Seiko GMTs (no, really?), and boy do I enjoy the 36,000vph buzz of the 9S86 caliber. I'm not a big fan of the very round shape of the SBGE269-271 models or the chunky SBGJ239. They are travel cool, don't get me wrong, but I crave sharp lines. And this is where the 44GS case is simply unbeatable. I do get the similarities to prime cuts of steak, just how Lex preached in his story here, and the SBGJ201. This 55th Anniversary Limited Edition is no revolution, but a quietly refined version of the snowy white dialed "Mt.Iwate" 201. A brushed, silver-white dial sets off the dark blue logo and GMT arrow perfectly, and the baton indices are still indecently perfect.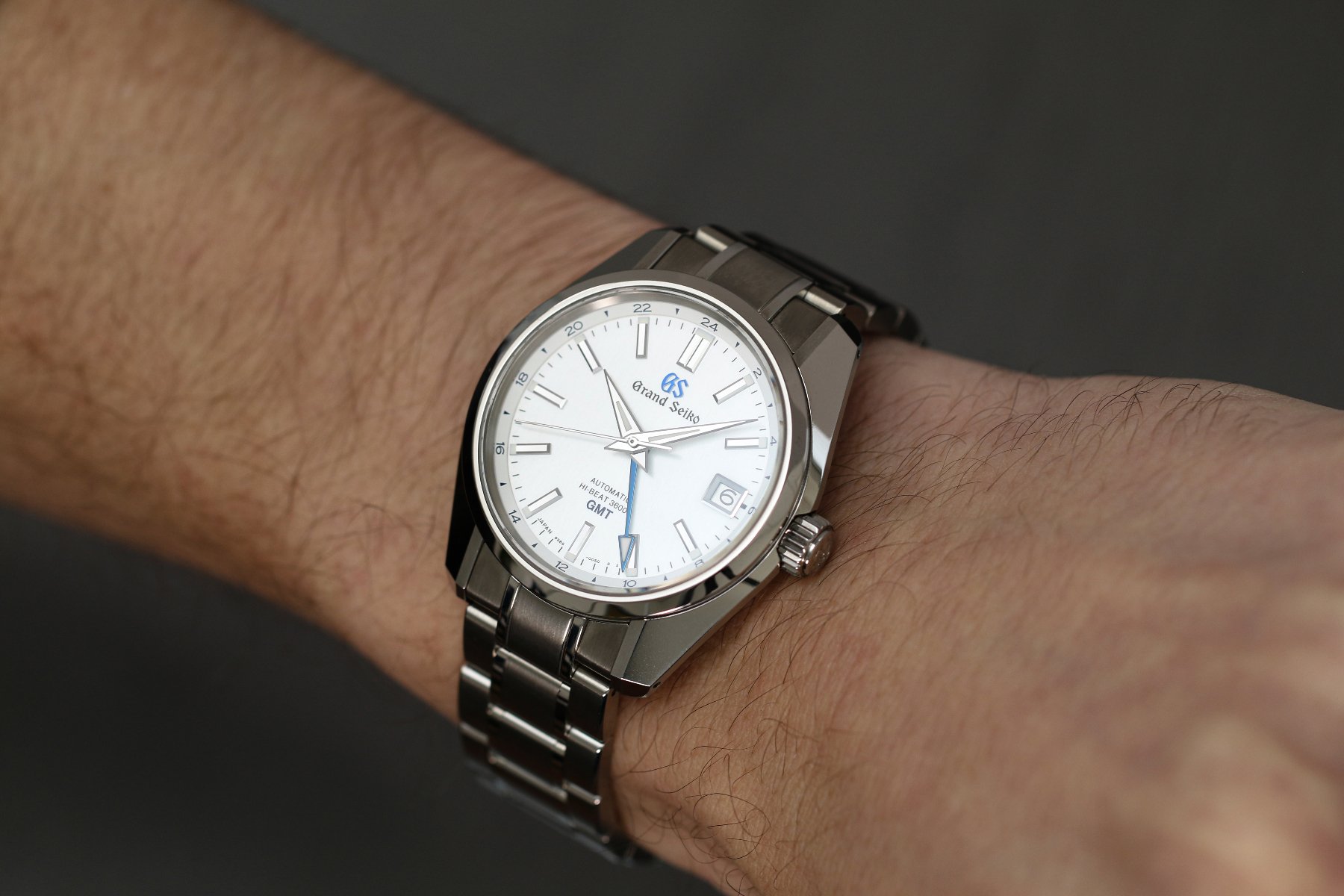 The high-intensity titanium case and bracelet have that rare combination of smooth elegance, a very personal design language, and unexpected light weight. A more dressy GMT than the laterally compared Explorer II, but much more comfortable on the wrist. The reduced size and weight, compared to 42mm of brushed Swiss steel, make my point. This SBGJ255 might look more dressier than the Rolley, but with its 40mm case and unassuming elegance, it is perhaps a better tool for the job? That job might involve travel, sports, and suiting up for an event, but neither piloting a Pan-Am 747 or exploring a cave. But let's face it, you don't do either of those things on a regular basis anyway.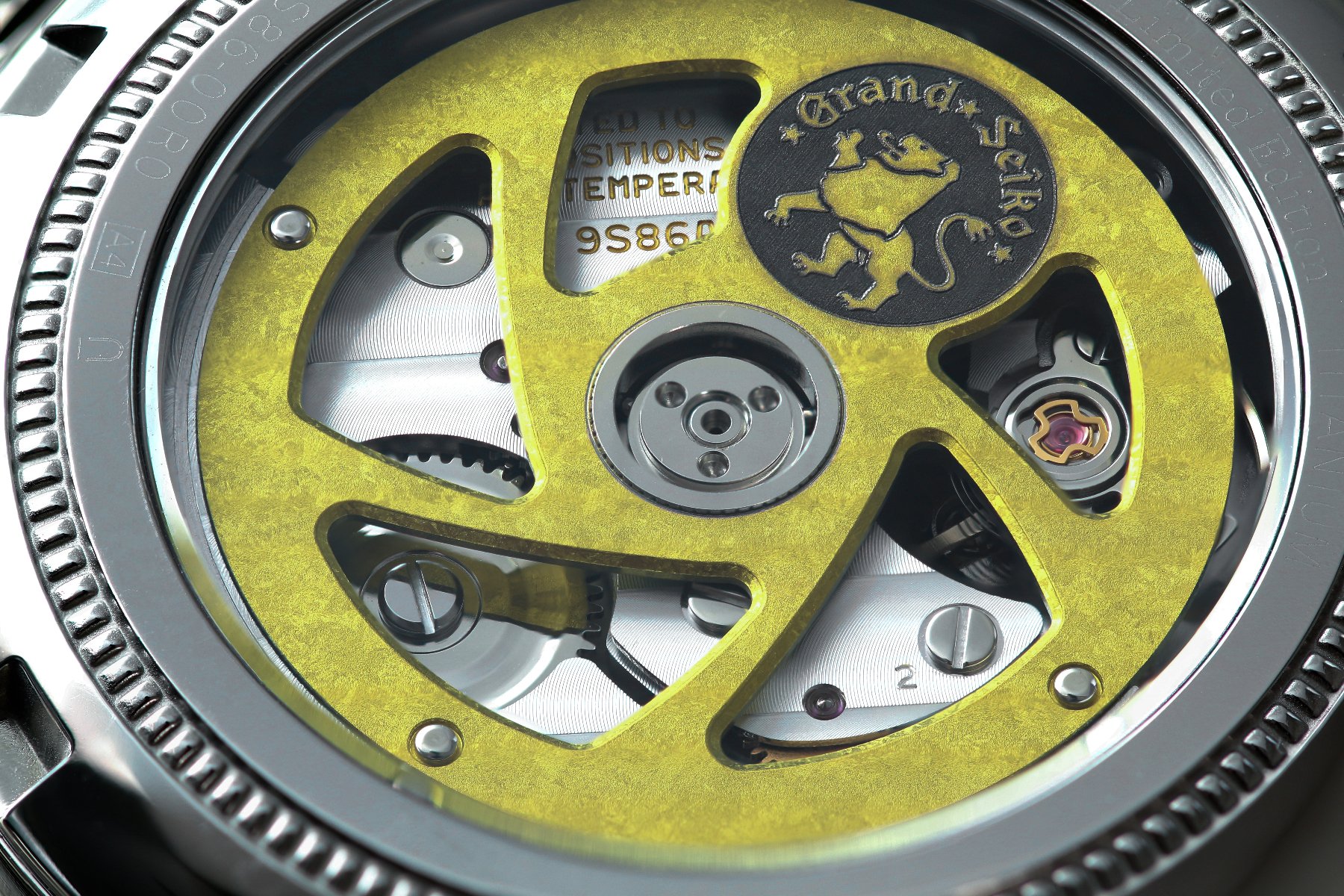 A limited temptation
With a 100m depth rating, dual-curved sapphire crystal, and the strength of Grand Seiko's High-Intensity titanium, don't rule out a bit of exploring though. This even has discreetly added lume, and we all know Seiko Lumibrite is the best in the business. Turn the SBGJ255 around, and this limited edition has a textured, gold/colored rotor twirling above the fast/spinning 36000 Hi-Beat caliber within. With a limited number of 1200 watches being produced at $8,500, you'll almost certainly have to be quick if you want to get your hands on one.