Hands-On A. Lange & Söhne Lange 1 Review – Reference 191.032 with Caliber L121.1
A. Lange & Söhne introduced this new Lange 1 with caliber L121.1 earlier this year at the SIHH. Time for a hands-on Lange 1 review I thought so I requested a pink gold version of this relatively young icon. As I wrote earlier this year (click here), there is only a few differences to note between this new Lange 1 and the previous version. The size of the bezel is probably – aesthetically – the first thing to notice as it makes the new Lange 1 appear to be a bit larger than the previous model, which is not the case. Luckily, A. Lange & Söhne made sure the case diameter stayed 38.5mm.
When I just became interested into watches and still living at home with my parents, somewhere in the 1990's, I used to buy these German watch magazines. Since I was living close to the border (walking distance basically), I bought them just across the border at this newsstand where they had a couple of them. Uhren Magazine, Armband Uhren and Chronos, they all still exist and today I am proud that Fratello Watches is part of the same publishing house as Chronos and Uhren Magazine. Anyway, every time I flipped open these magazines, a double page advertisement showed up from A. Lange & Söhne, most of the time about the Lange 1 timepiece.
As I repeated the same procedure of buying and reading these magazines for years, even when I moved to The Hague, the other end of The Netherlands (yes, that is about 200 kilometers). Whenever I was visiting my parents, I stopped over at the kiosk in Germany to see if they had the latest German watch magazines. And every time that A. Lange & Söhne advertisement locked me right in.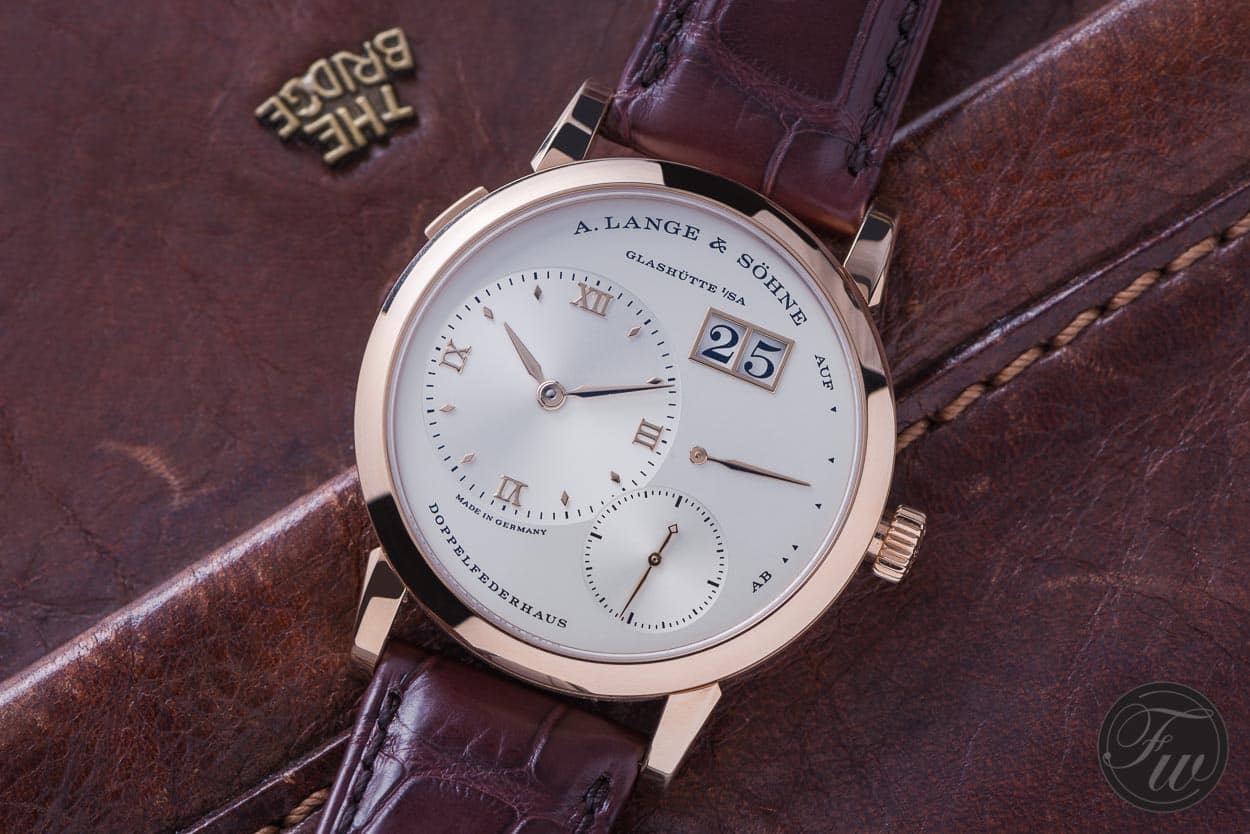 Fast-forward about 10 years. Graduated and working in the financial industry for a couple of years, I was looking for a new timepiece to add to my modest collection. Not exactly with a small budget but certainly also not with an unlimited budget, I was aiming for something more "haute horlogerie" than I usually did. I found out that a reputable dealer in the city where I worked had a pre-owned A. Lange & Söhne Lange 1 watch, in yellow gold. I believe their price for this pre-owned watch was around €17.000 or €18.000 Euro at the time. So I went there, had a look and tried it on. The size of 38,5mm was something smaller than I was used to, but the timepiece was classic enough and my wrist modestly sized enough to make me feel comfortable with it.
As I tried it on, I panicked a bit though. Is this the watch I really want, this kind of budget allowed me to pick about any watch I really fancied at the moment (and pretty much still does). The fact that it was yellow gold and not white or rose gold as well as the classic look & feel of the watch made me decide to hold off and not to pursue this purchase. I went for something different instead (a new 39mm Audemars Piguet Royal Oak Chronograph) as I felt I was a bit too young for a Lange 1 and needed something sportier.
Again a couple of years forward – and the Royal Oak Chrono was already sold to fund another watch – in the here and now, I noticed that I am warming up again for an A. Lange & Söhne. I've been to the SIHH a couple of times and A. Lange & Söhne happens to invite my colleagues and myself regularly to one of their events or introductions. That doesn't help to forget about the Lange 1 either of course. Every time I am confronted with that Lange 1, I feel that it might be the exit-watch (non-existent principle) for me, or perhaps just the ultimate dress watch to own at some point. I also looked at alternatives of course, like a Patek Philippe Calatrava (too small and classic) as there are more classic looking pieces around in this price category.
So with great pleasure I requested to borrow this Lange 1 from A. Lange & Söhne, in rose gold. It is the new version that they released this year at the SIHH in Geneva, amongst many other nice timepieces.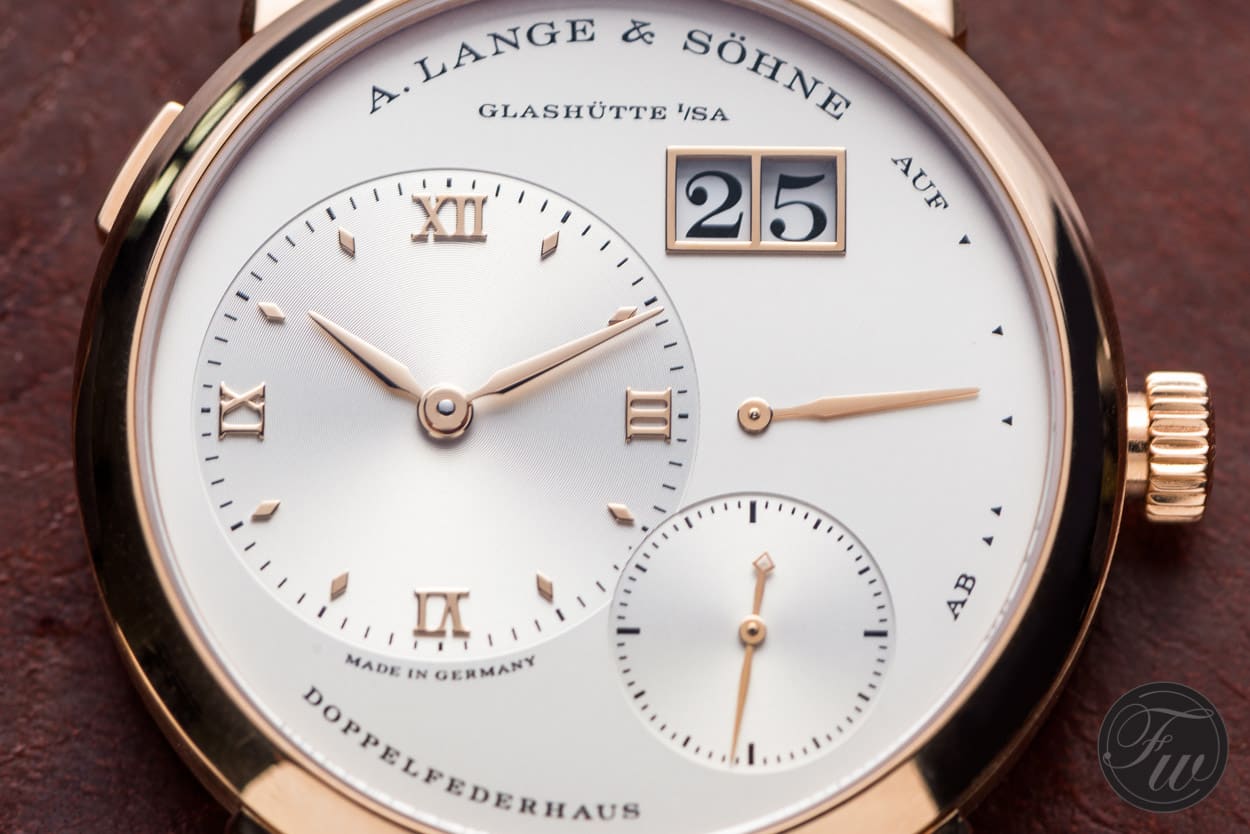 To be honest, the new caliber is the biggest change. After 20 years (the Lange 1 celebrated its 20th anniversary last year, click here for our coverage on that event) you could say it was about time for them to make some changes, on the other hand it shows how pretty darn good the design is (also based on its popularity). Lange did introduce some bigger versions of the Lange 1: the Grand Lange 1, with a whopping 40.1mm case but always kept the 38,5mm version in their collection.
So, the new caliber is the biggest change to the 38,5mm Lange 1 timepiece, caliber L121.1. If you take a look at at the balance-wheel part, you will see that it has a free sprung balance. The balance wheel has no adjustment screws on the outside of the rim, but six weight screws on top of it. Furthermore, this A. Lange & Söhne L121.1 movement has instantaneous date change at midnight. The movement has a power reserve of 72 hours. As said, but I didn't notice it at first, the watch appears to be a bit larger than its predecessor Lange 1 references, due to the slimmer bezel on this watch.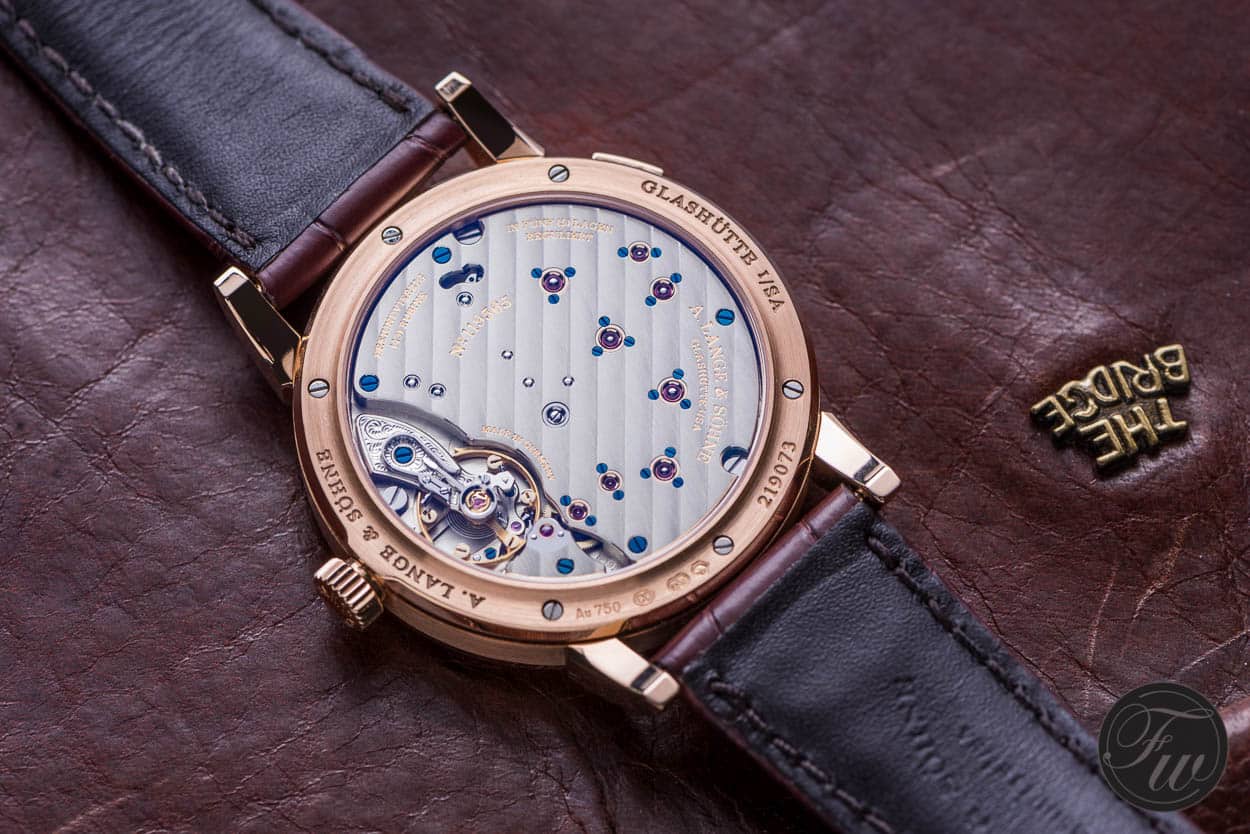 However, for me this Lange 1 review of the new reference 191.032 is not about these modest (at least for the eye) changes, but more or less to get an answer to the question whether I feel ready for a watch like this. So this Lange 1 review is a bit different from the other reviews I've written, as it is not about describing the details of the watch for you and discussing the movement for example, but whether it is a watch I will find myself ending-up with at some point.
I am still a sports watch guy myself, and let's face it: the Lange 1 is a lousy sports watch. It far away from the watches I normally buy for my own modest collection. But I do feel the urge since a year or so, to start looking for that serious dress watch. A gold timepiece (preferably rose or white gold) on a nice leather alligator strap and with impeccable finish of the dial, case and movement. As I've written above, there are more watches – from other brands – that have these features, but the Lange 1 is appealing to me a lot.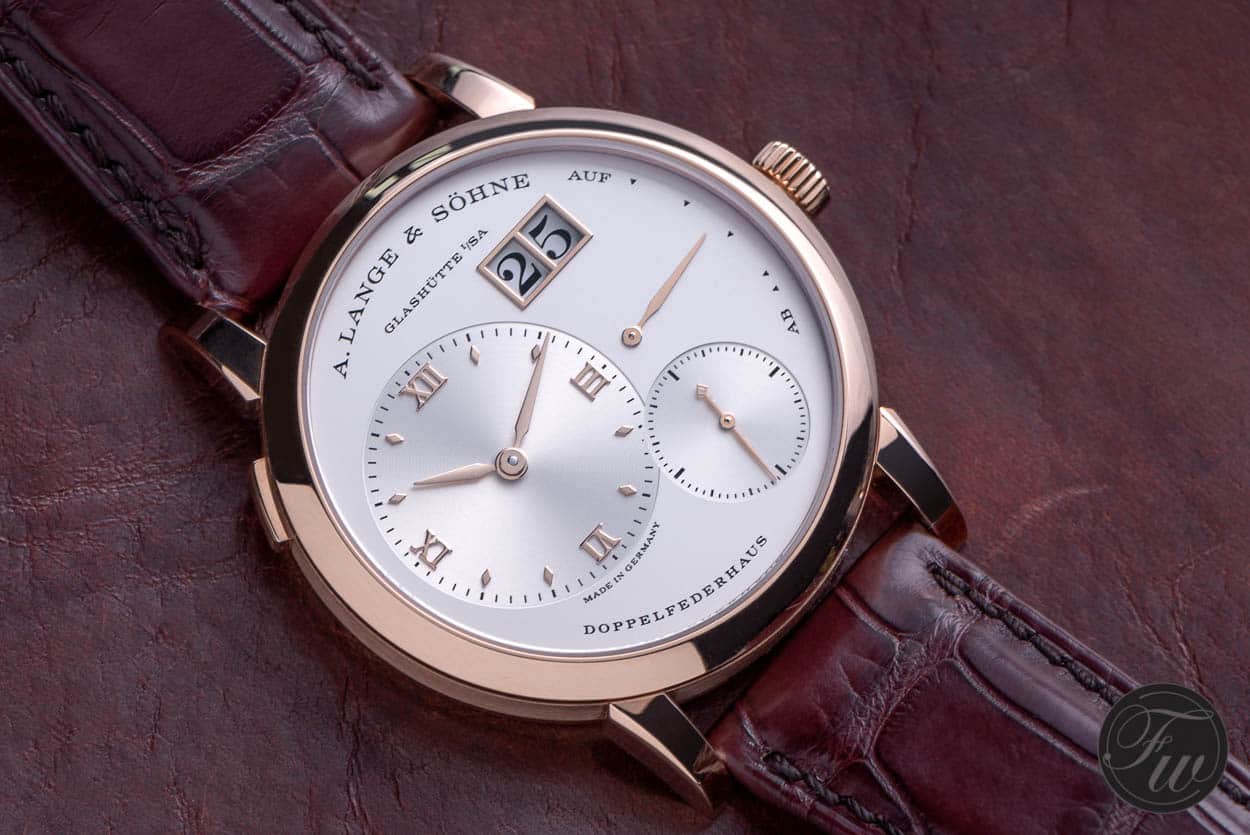 This Lange 1 is modest sized – which I love for a dress, or at least more formal, timepiece – with its height of 9.8mm and 38,5mm diameter. It is comfortable on the wrist and the buckle does its job nicely as well. Well-finished and signed Lange. I prefer a buckle over a deployant clasp, but I think I've mentioned that in other reviews many times already.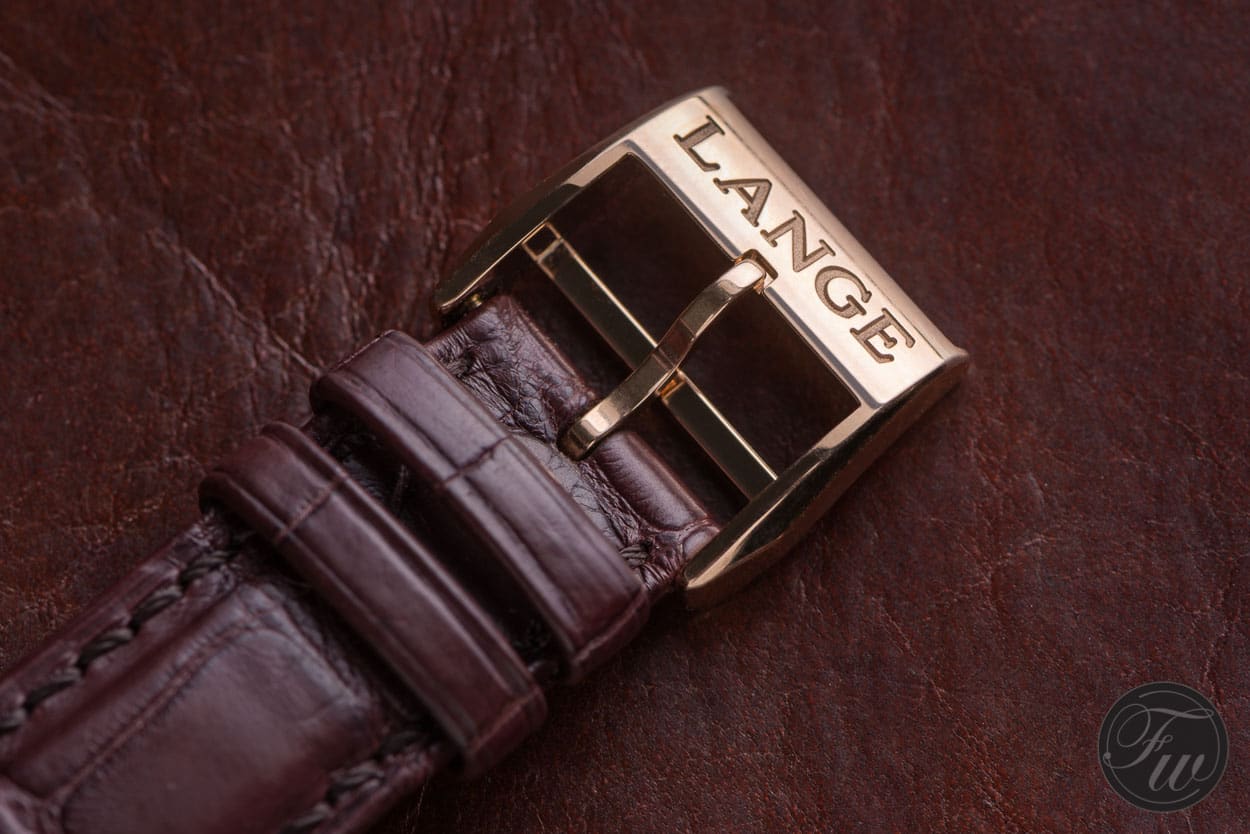 The rose gold case – which I specifically asked for – has a beautiful tone and is not as 'hard' as yellow gold on my pale colored wrists. White gold would have been an option as well, but I prefer the soft tone of rose gold instead. Without going into the details too much, the dial is awesome looking and changes a bit in different angles in the (sun) light. The hands and applied hour markers have the same nice tone as the case. There is quite a bit of writing on the dial, indicating the double barrel and power reserve for example, but that doesn't bother me (it did in the past). It belongs to the watch and there is not "too much info" on there in my opinion. The date aperture is much discussed, whether there should be an empty disc in the left window or a 0 when the date is ranging from 1 to 9. I guess there are as many people who love it this way as there are who dislike it the way it is now. It is something I could live with in any case. The Grosse Datum (big date) is a cool feature of this watch and partly responsible for making it so recognizable, and thus an icon perhaps.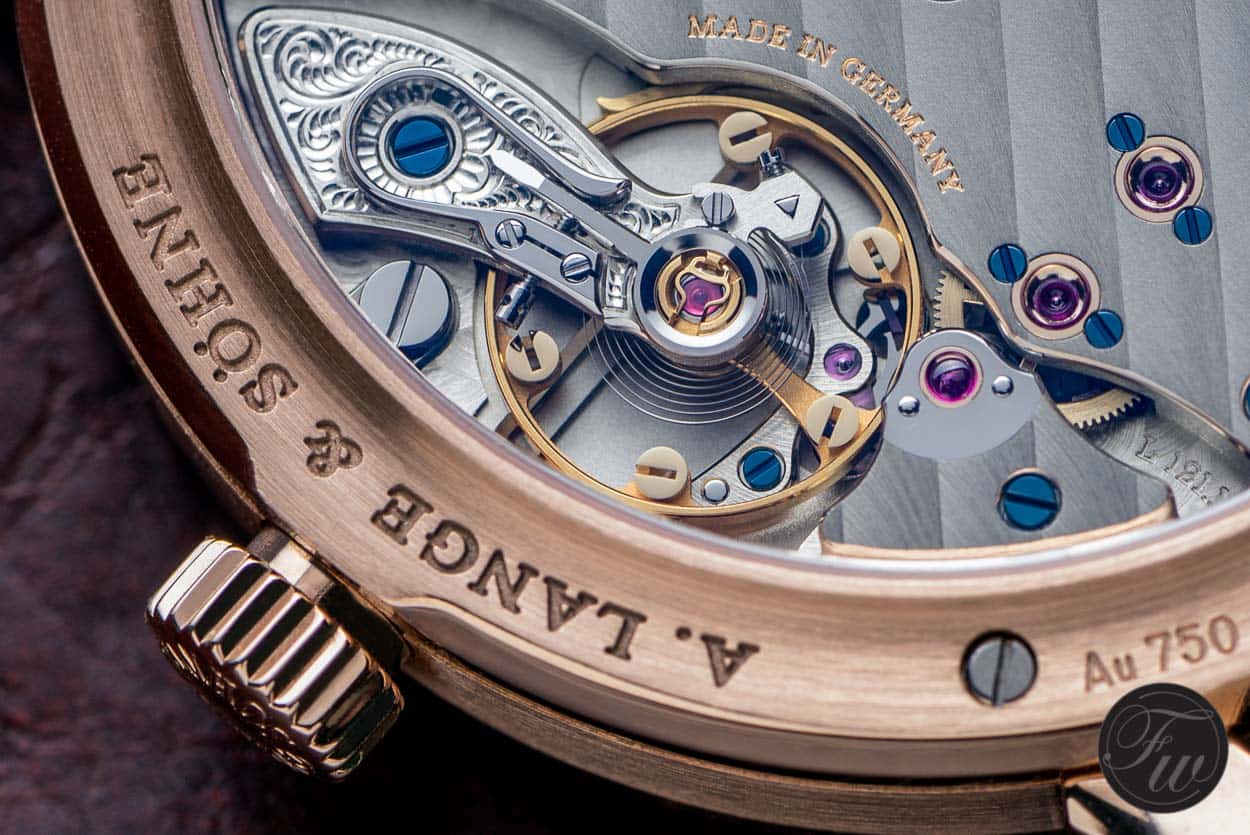 When wearing this watch, I noticed myself taking it of my wrist a couple of times per week to have a glance at the beautiful 3/4 plate (something typical for Glashütte watchmaking and also used by some of the other brands that manufacture watches in this village) and enjoy the view on the hand-engraved balance cock.
Did you know that by the hand-engraving of the balance cock of an A. Lange & Söhne, it can be identified which watchmaker has been working on your watch?
I received quite a bit of comments when wearing this watch for this Lange 1 review. From very positive to comments with some critics, but never negative. I also had this watch on my wrist when visiting other watch brands and without exception, they all wanted me to take it off so they could have a look at it. It is a watch that stands out and which is being admired for both its appearance as well as the craftsmanship of the movement. When I say comments with some critics, it was mainly about the style of the watch and whether that fits me (or not) and not really about the watch itself.
Other comments (on social media) had to do with the fact whether it was done wearing this watch with a polo shirt or casual outfit anyway. I believe, that the person who buys this watch has to decide for himself how he dresses and what watch he feels like wearing.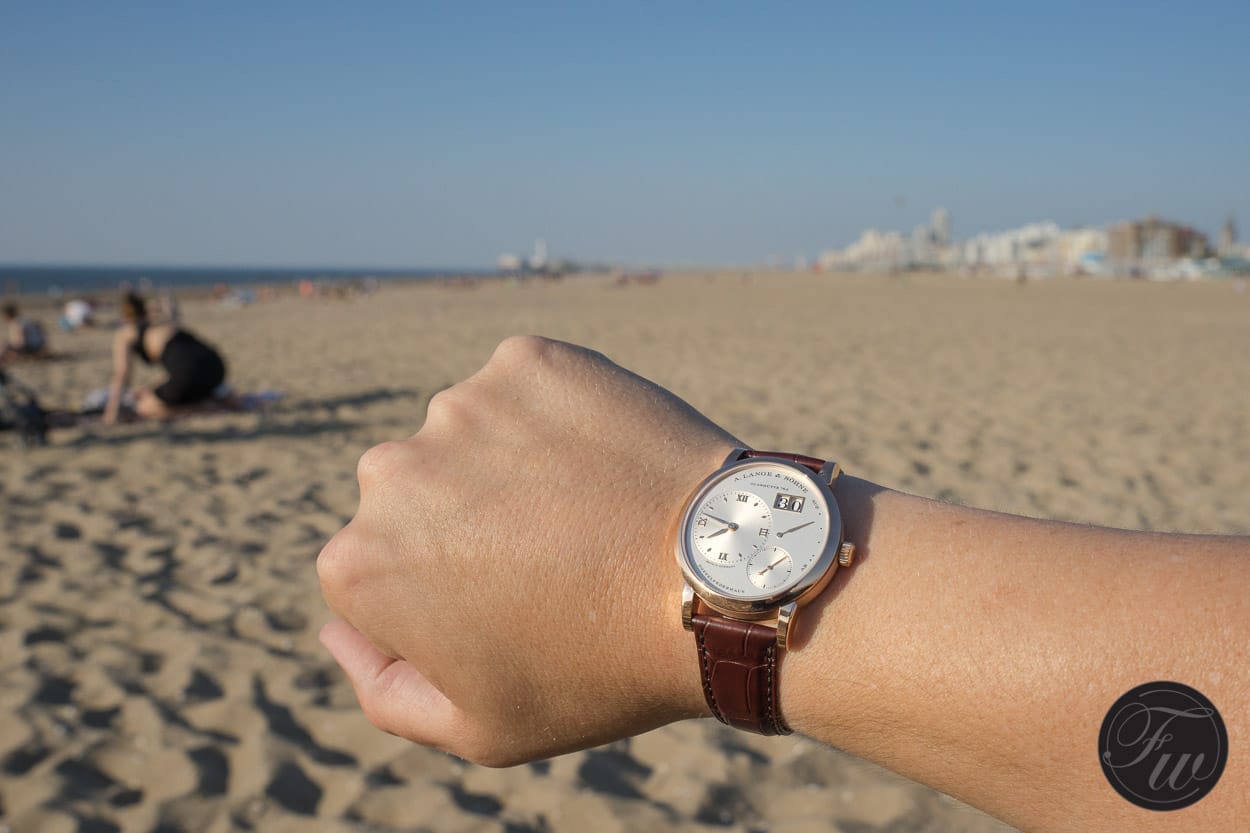 My wife bluntly told that she thought I am still too young for a watch like this (with my 38 years of age) while our photographer Bert for example, couldn't take his eyes of the watch and we discussed the idea of selling a number of our own watches and buying this Lange 1 instead (the exit watch principle to some extent). Anyway, most responses were great. It is surely a watch with presence, both for you – the wearer – as others who will definitely notice it. Perhaps not as an A. Lange & Söhne if they are not really into watches, but surely as a high-end timepiece.
A watch like this comes with a price tag of course, and this rose gold Lange 1 you see has a retail price of just over €30.000,- Euro. In the pre-owned market you can find its pre-decessor (Lange 1 reference 101.032) in rose gold under €25.000 Euro, in mint condition. Early yellow gold versions of the Lange 1 can be found under €20.000 Euro. Be aware that you might need to have these earlier models serviced and you need to take those costs into account when buying one.
After over a week of wearing the new Lange 1 watch, I have to say that I feel that I am more than ready to wear a watch like this. Despite some comments on my age and the watch. I think that these comments are also due to the fact that people know me as someone wearing stainless steel sports watches most of the time. However, I do agree that a watch like this is something you should not buy as your first watch when you are relatively young. It needs some understanding of the brand and watches in general in order to give it the right amount of appreciation. But if you already have your share of sporty Rolexes, IWCs and whatnot, the Lange 1 is definitely a serious watch to consider when you are in the market for a dress watch.
My craving for a Lange 1 became just bigger after wearing this new reference.
More information and specifications on this Lange 1 can be found here.
Image Gallery of the A. Lange & Söhne Lange 1 191.032