Hands-On: Panerai Luminor Submersible 1950 3 Days Automatic Oro Rosso PAM00684 Updated To PAM01164 With Improved Water Resistance
A Submersible that's happiest sipping cocktails and lapping up the sun
Today I have something out of my usual comfort zone in front of me — A Panerai PAM01164. I'm pretty happy to admit that usually, I'm not much of a fan of gold, and there are not many modern watches I'd specifically choose to purchase or wear in gold, be that yellow gold, red gold, or even white gold. I'm a stainless steel guy who would consider dabbling in titanium, but that's about it.
Nonetheless, I have this red gold Panerai Submersible to take a look at today, so let's do just that! Say hello to the Panerai Luminor Submersible 1950 3 Days Automatic Oro Rosso, reference PAM01164, an updated version of the PAM00684, which was, for all intents and purposes, the same watch but with an inferior water-resistance rating of 100 meters. The Stunning 42mm PAM01164 has bumped that all the way to 300m, adding some credible diving chops to the package.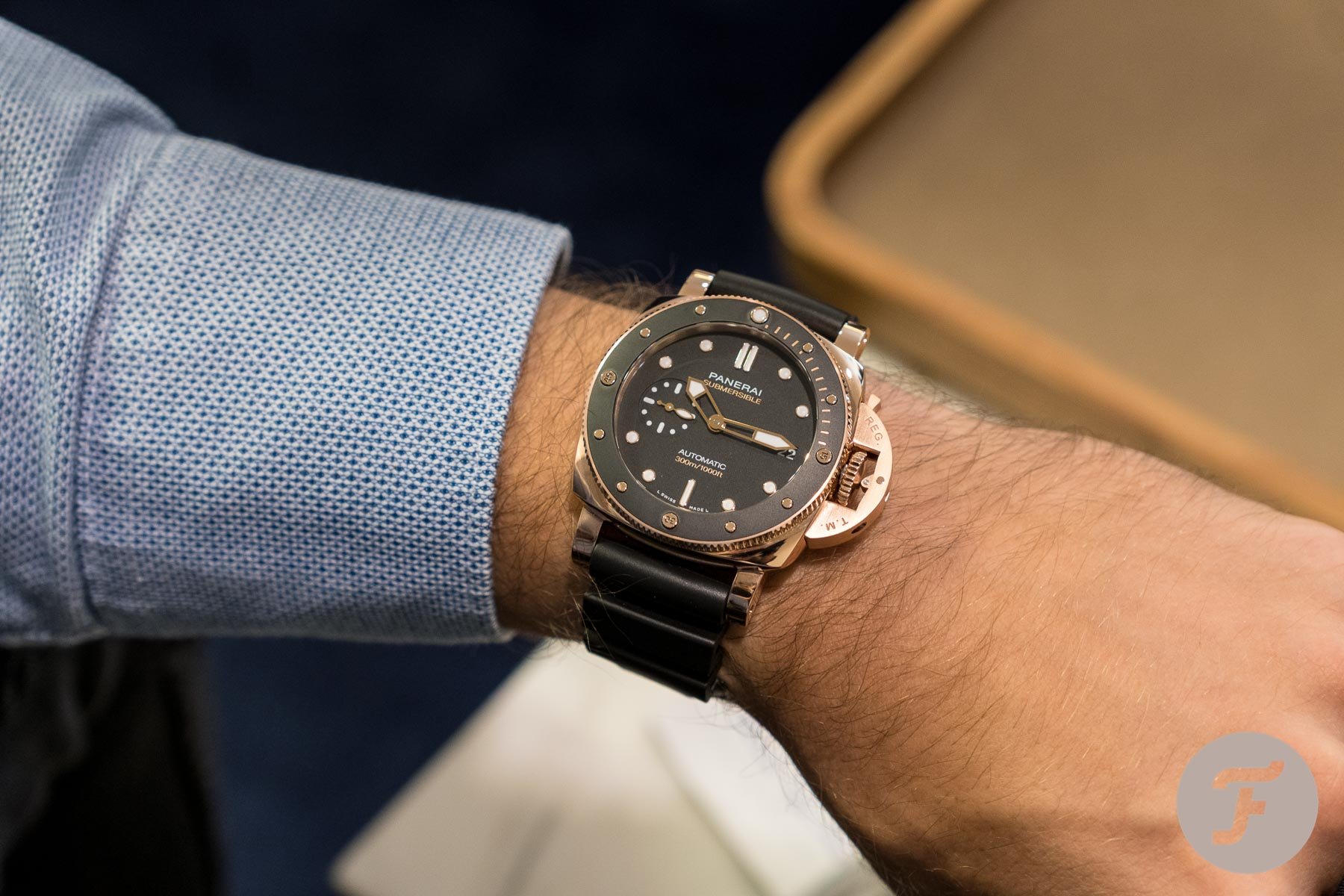 The L'Egiziano's smaller brother
The Submersible range is Panerai's modern dive watch with a rotating bezel. That said, the bezel design has roots in the brand's history. The bezel's design is inspired by a watch created by Panerai in 1956 for the Egyptian Navy, known as the mythical "L'Egiziano". This was a substantial watch with a case diameter of around 60mm. Pretty huge even by today's standards. Thankfully, the PAM01164 is the smaller brother and somewhat more wearable at a reasonable size of 42mm.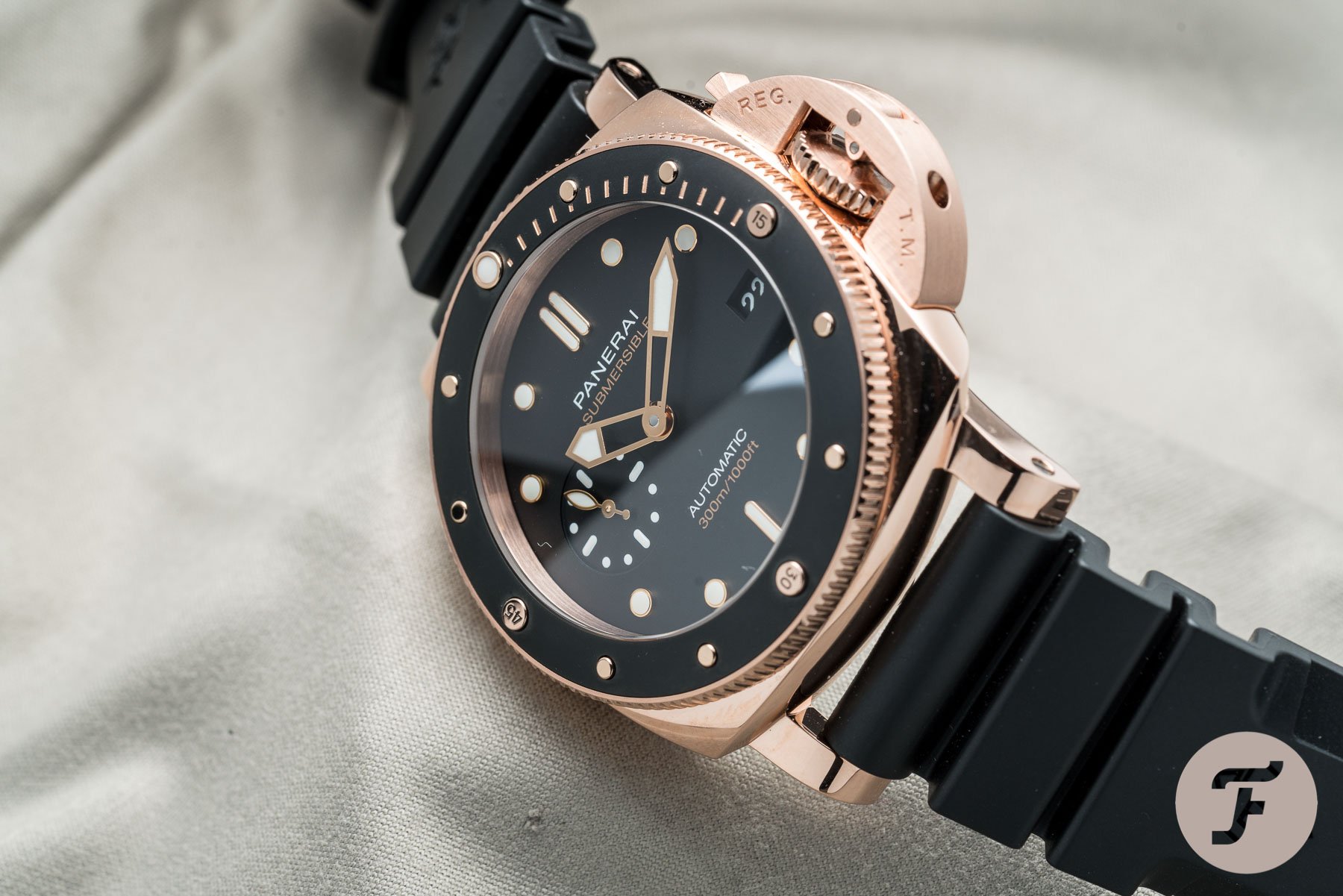 It's solid gold, baby!
The watch has a red gold case with a polished finish. This is probably the first thing which is not to my tastes. Let me caveat this by saying my opinions are purely subjective, and not everyone will agree. I don't love the polished finish. I fully appreciate that folk who buy this watch are partly buying it because the case is made of that Oro Rosso, which admittedly has a rather lovely hue to it compared to other gold alloys. For me, I don't love the shiny polished finish; I think I would have preferred a fully-brushed case to match the signature Luminor crown guard.
I'm not a massive fan of polished finishes on dive/tool watches as a rule, which rings true here. But, that said, I guess if you're buying a solid gold watch, you'll want to show that off. So it's probably appropriate for the people who would purchase the watch.
I can't see many PAM01164s going too near a diving expedition.
The bezel is made of matte black ceramic and then accented with red gold markers. I think the polished finish of these markers is rather nice. The polished markers and bezel work quite well. I just wish the case was brushed! The bezel is a pleasure to use, and thanks to its decent height, I can imagine it'd be pretty easy to operate with wetsuit gloves on if you were to take this as your diving companion. While I'm sure there's a couple of people who might, the average PAM01164 owner likely won't encounter this consideration. I can't see many PAM01164s going too near a diving expedition. The beach club or the pool is probably as close as these watches will get to water!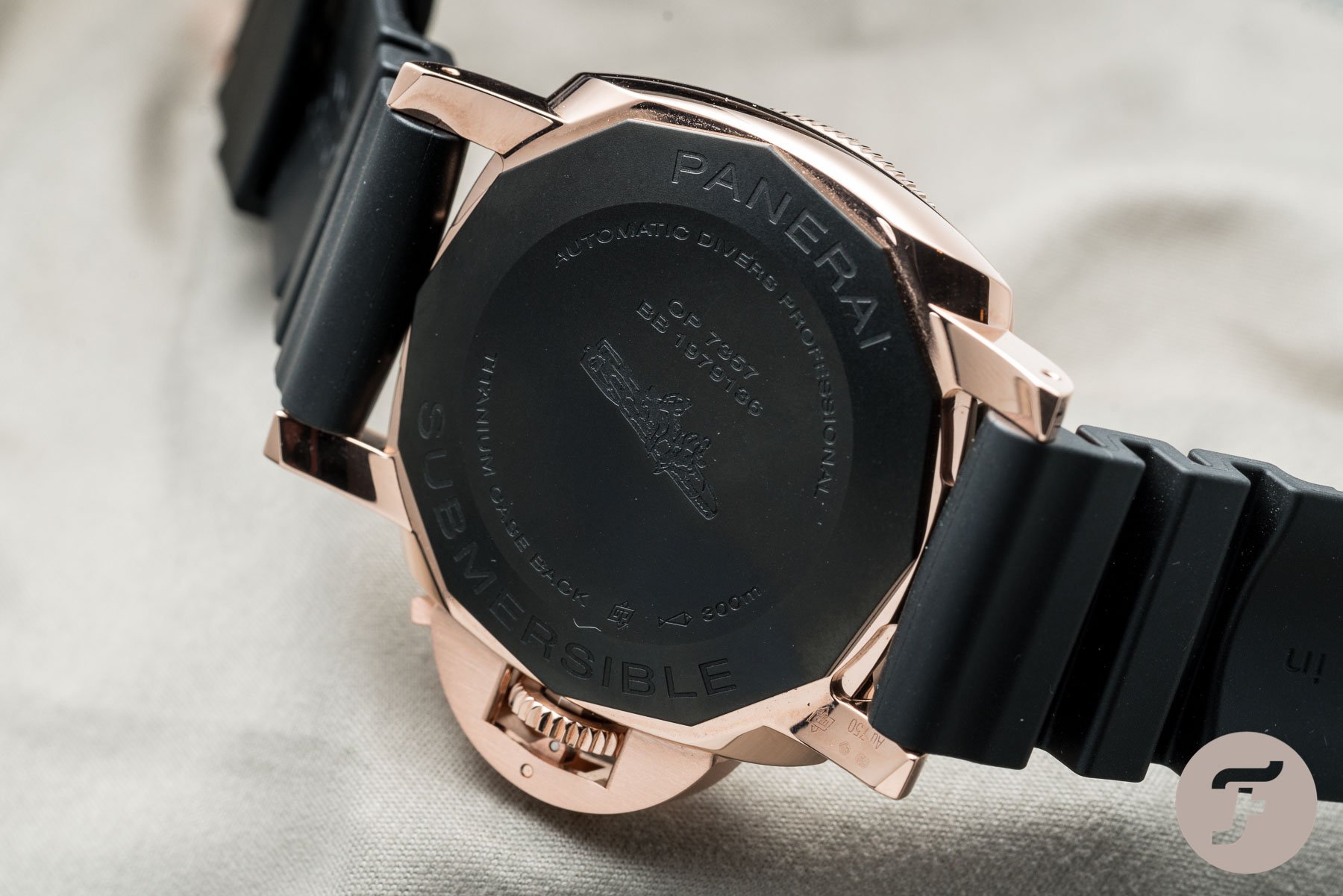 Now you can submerge your Submersible again
The water-resistance of the PAM01164 is now bumped up to 300m like the rest of the submersible family, compared to the 100m of its predecessor. 300m is much better, and allows you to undertake water-based activities with more confidence. While 100m is enough to go swimming with, I wouldn't be confident doing much more than that. Not an issue though, as the chances are that owners will be looking to show off the watch above the water rather than in it, no? I can see this watch being a great companion, sitting around a swanky beach club bar, a nice Hawaiian shirt…Am I starting to convince myself on the gold here? Maybe?
Panerai calls it Goldtech
Talking of the gold, Panerai's Oro Rosso is a unique proprietary alloy. It's different from the standard composition you might find elsewhere. Panerai calls it Goldtech, meaning it has a percentage of copper added, giving the material an intense red hue that is quite elegant and sophisticated. As I mentioned previously, it is an attractive hue. Platinum is another added element of the Panerai Goldtech alloy, as it helps prevent the metal from oxidizing.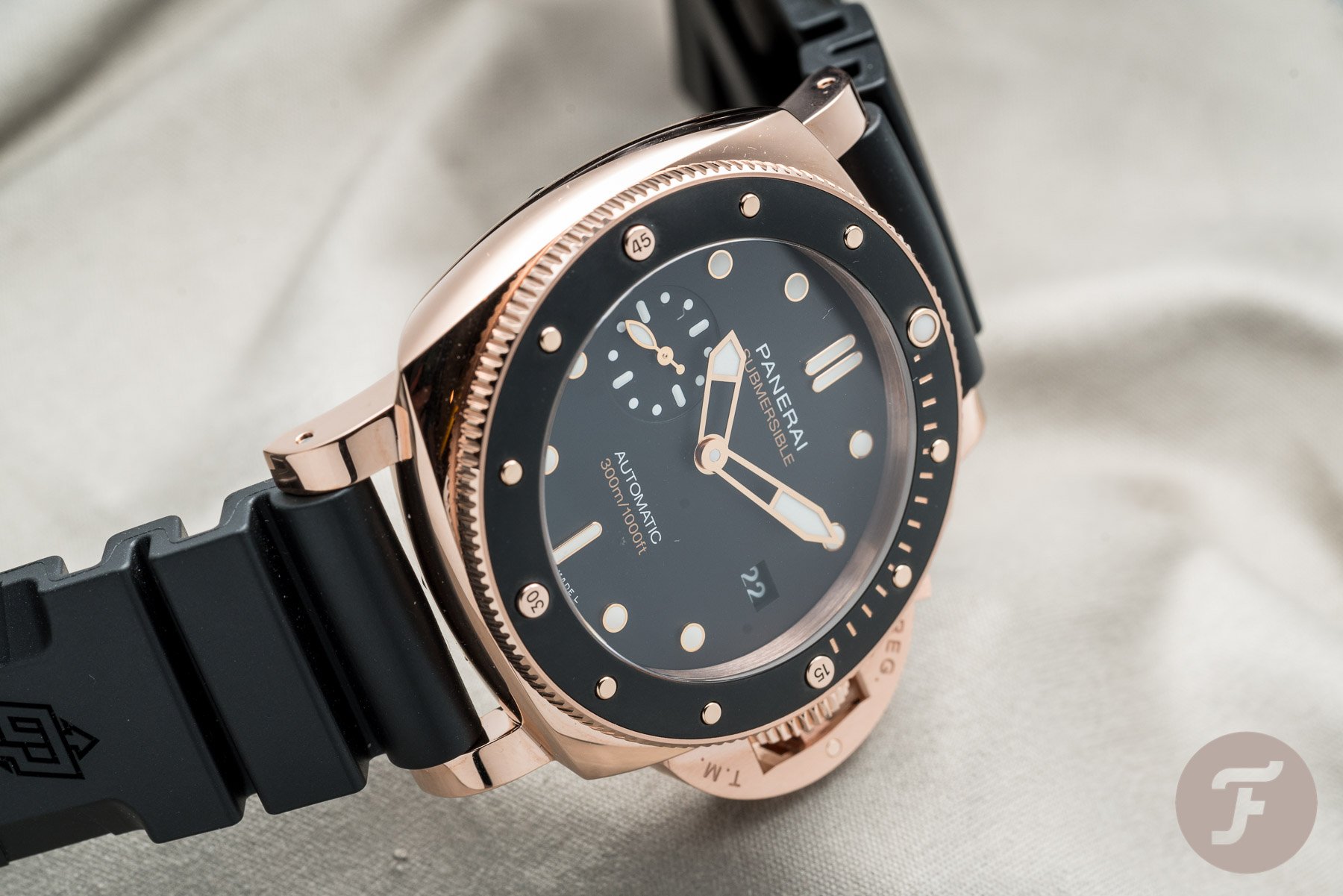 Powered by Panerai's P.900
Turning things over in the Panerai PAM01164's engine room is the P.900 caliber. The P.900 is based off of the OPXXXIV calibre, which is a shared calibre used within the Richemont group. It has central hour and minute hands, the small seconds at 9 o'clock and a date aperture at 3 o'clock. Consisting of 171 components, including 23 jewels, the movement is about 4.2 mm thick and operates at a frequency of 28,800 vibrations per hour (4 Hz). It's nothing particularly special, but a reliable movement, and one that one can assume is easily serviceable at any of Richemont's numerous service centres. For this money though, one could also reasonably have expected something in-house, like the 00684's P.9010. The P.9010 is without a shadow of a doubt a better movement due to its quickset hour function, which operated independently of the minute hand.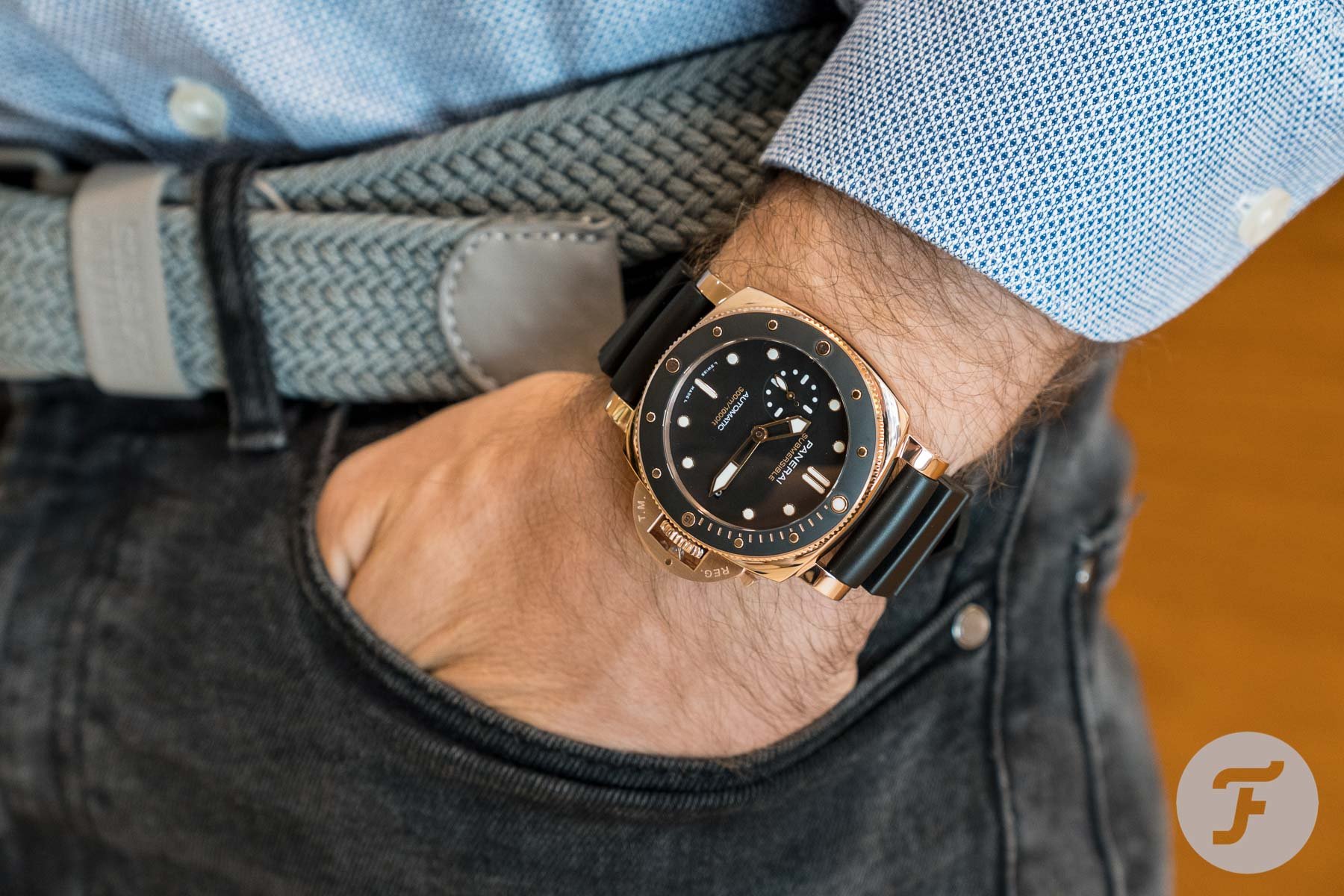 Make mine a mojito
So there we have the PAM01164 from Panerai. It's an attractive watch made from Panerai's proprietary red gold alloy, Goldtech. It's a nice enough watch, but probably not one I'd add to my list. It sits nicely on my wrist if a little heavier than I'm used to. But I'm not too fussed by the weight. The polished surfaces make it a little flashy for my tastes. Some may disregard the watch due to the flashiness but take a step back, and you'll quickly realize that this watch isn't meant for deepwater exploration despite is technical capabilities. It's intended for diving into your pocket for your wallet as you get the next round of drinks in at the beach bar. If you're buying, make mine a mojito. Thanks!
Note from the author: Thanks to the Fratelli members who commented to let me know about the mixup in this article! To err is human, after all!
Follow me on Instagram: @davesergeant
Watch specifications
Model
Luminor Submersible 1950 3 Days Automatic Oro Rosso
Dial
Black with applied luminous hour markers.
Case Material
Goldtech - Proprietary red gold alloy
Case Back
Closed titanium
Movement
Automatic mechanical, P.900 calibre, 12 ½ lignes, 4.2 mm thick, 23 jewels, 28,800 alternations/hour. Incabloc® anti-shock device. Power reserve 3 days, one barrel. 171 components
Water Resistance
30 ATM (300m)
Strap
Panerai black accordion rubber strap
Functions
House, minutes, seconds sub-dial at 9 o'clock, date at 3 o'clock