Hands-On Review: Boldr Venture Chaigo Limited Edition — A Field Watch Collaboration With Graffiti Artist Kenji Chai
The worlds of watchmaking and street art collide!
If you follow my writing, you'll probably have seen that I'm a big fan of independent brands and microbrands. Today's review is from one such microbrand, one that is no stranger to the pages of Fratello, the Boldr Venture Chaigo Limited Edition.
People often ask me why I love microbrands so much, and it's a difficult question to answer. If I had to guess, I would say that I favor the microbrands doing something different from a creative perspective. As most are limited by the movements available to them, they have to push their creative boundaries on an aesthetic level instead of the technical. Some brands know what they're doing and form a strong brand identity that follows them through their future releases. Other brands struggle to do this and fizzle out and die. This is one of the key things that sets the good microbands out from the. Well, not good ones.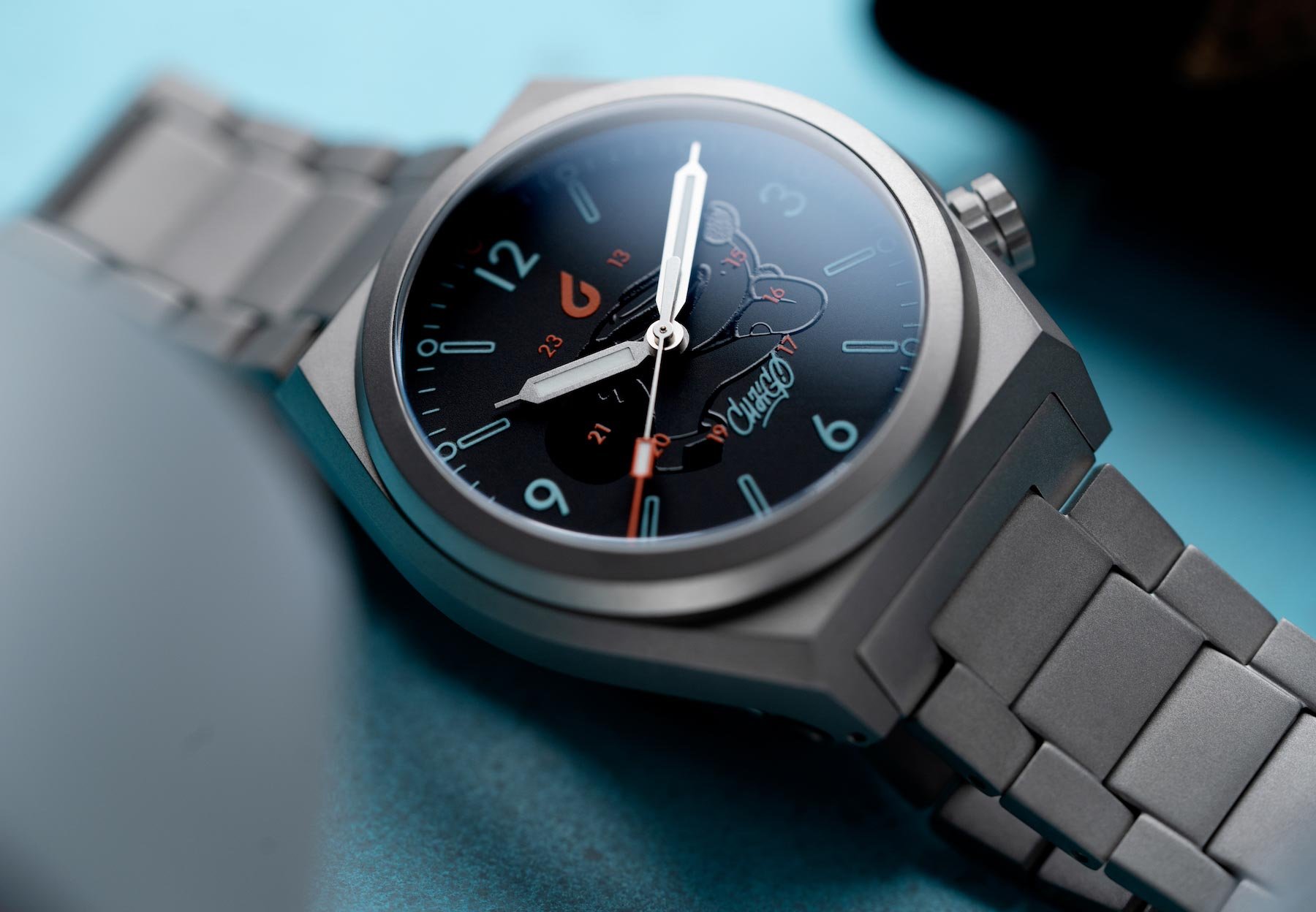 A Singaporean take on the modern field watch
Boldr is one of the more successful microbrands. Based out of Singapore, it has been designing and releasing watches with a focus on being tough and resistant to daily use. Rob and Mike have previously written about some of the brand's past releases here and here. Today I look at one of Boldr's newer Venture family members, the Venture Chaigo Limited Edition, a collaboration between Boldr and Malaysian-born graffiti artist Kenji Chai.
The Venture family is Boldr's take on the classic field watch, which the brand says "redefines toughness with tough-to-beat upgrades – the sturdy, stylish daily beater now features an automatic movement nestled in an indestructible full titanium case". I think it's a fair enough description as, from my experience, the watches are nice and legible and tick most of the boxes of what you'd expect from a modern-day field watch. The Venture Chaigo Limited Edition embodies this mantra while adding a twist in the form of vibrant street art inspiration.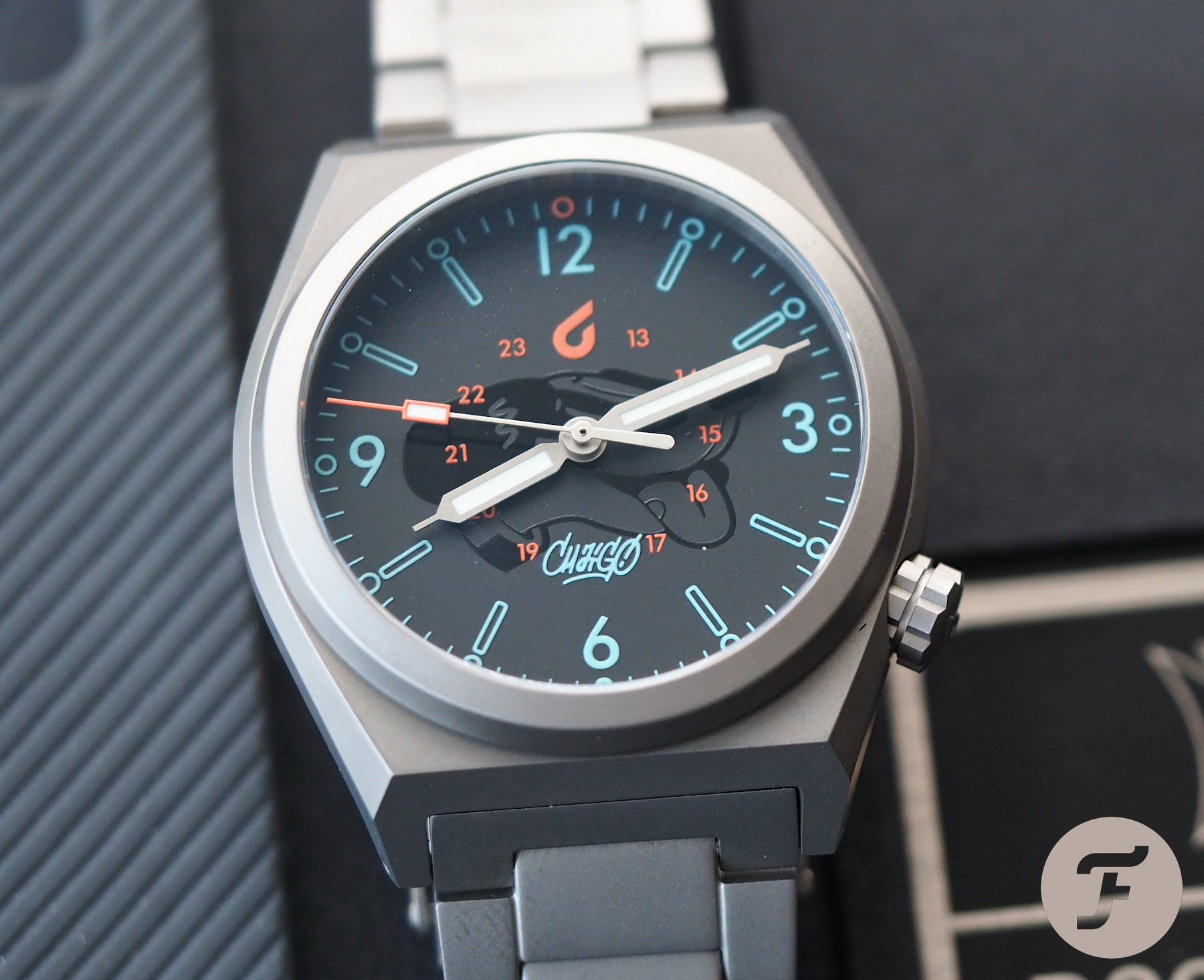 Meet Chaigo
Kenji Chai was born and raised in the city of simplicity, Sandakan, Sabah, and currently lives in Kuala Lumpur, where he developed his artistic style on the city's streets. The talented artist has found recognition in recent years thanks to his abstract and colorful takes on cartoon people and animals. "Chaigo" is his signature character, which he says is based on the story of a stray dog taking control of his destiny. It is Chaigo that we see adorning the center of the dial of the Venture Chaigo Limited Edition, with the character's name tag at 6 o'clock.
I wasn't too familiar with the work of Kenji Chai before spending some time with this watch, so a quick trip to Google helped me familiarise myself with some of his work. Bright colors and abstract surrealism are strong themes in Chai's work, so I was slightly disappointed to see that the watch is very dark and the exact opposite. I think Boldr missed a trick here as I reckon Chai could have come up with a killer design for the dial if given a little more real estate. Similarly, the Chaigo character is printed in glossy black on a matte black dial, so it hardly stands out. Given Chai's love for bright colors, it seems a little counterintuitive. That said, despite it not being as colorful as I'd have perhaps hoped, the watch is nice enough.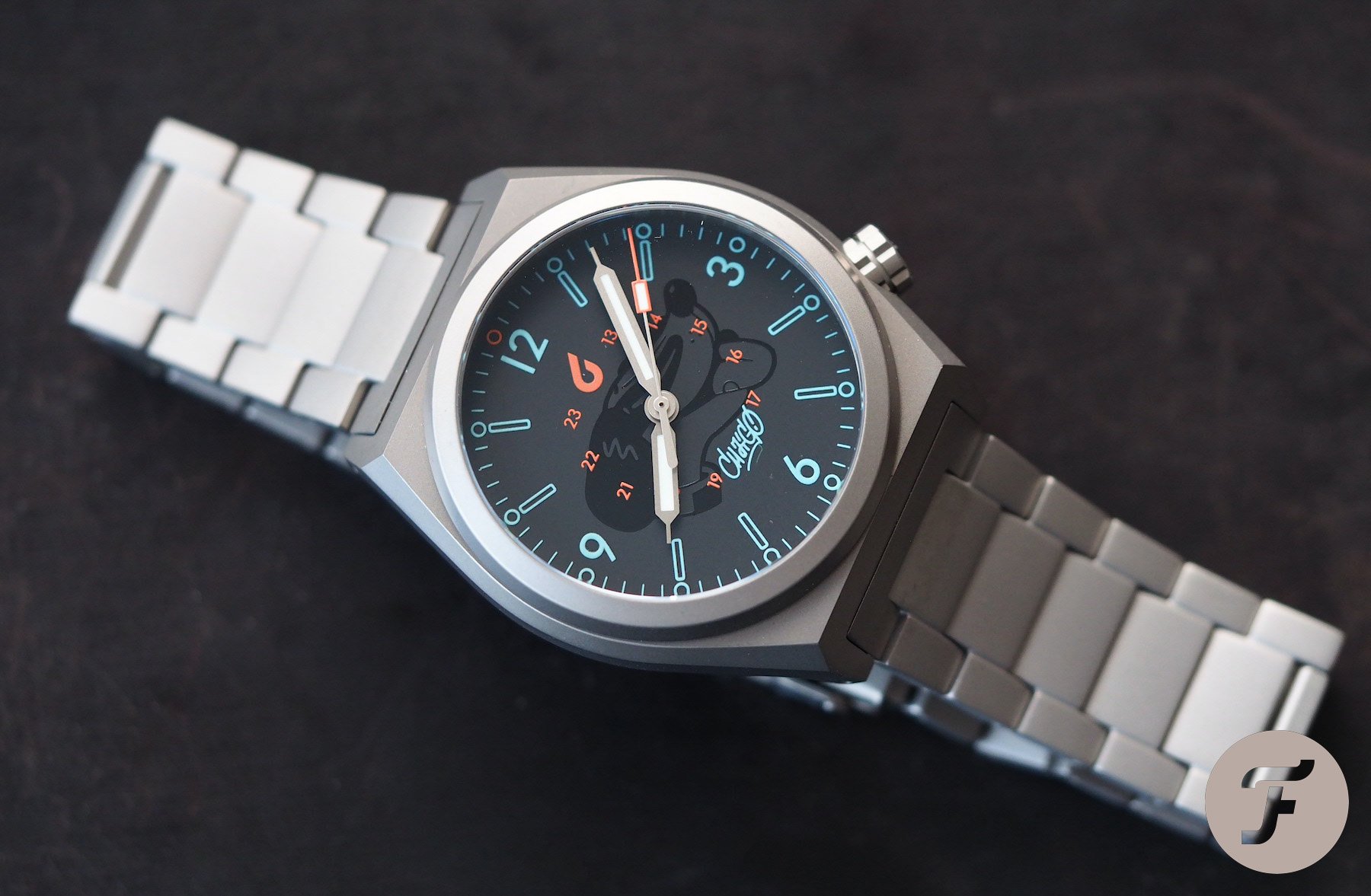 Tough titanium for the Venture
The case is a very nice size, at just 38mm. This is the first time I've ever worn a 38mm watch, and the size is very wearable. I usually prefer my watches around the 40-42mm mark, but I also like having other options in the collection to mix things up. This would be an excellent option for anyone looking to do the same with their collection. The titanium case is also incredibly light, as you'd expect, given the material.
The angular shape is reminiscent of Gerald Genta's work, but the inspiration is just that. Inspiration, rather than a blatant copy of one of Genta's famous designs. In the past year, there has been a surge of brands, both macro and micro, taking inspiration from the world of Gerald Genta. Some have added their own flavor and ideas; others have been a little too faithful to the original. Boldr's case silhouette is bold and modern, with just the right amount of vintage flair. The screw-down crown at 4 o'clock provides slightly easier use when on the wrist than the traditional 3 o'clock position. The Venture Chaigo sits proudly at 12mm thick. This isn't particularly thick in the grand scheme of things, but given the 38mm case diameter, the height becomes a little more noticeable. That said, the lightness of the titanium helps to offset this rather well.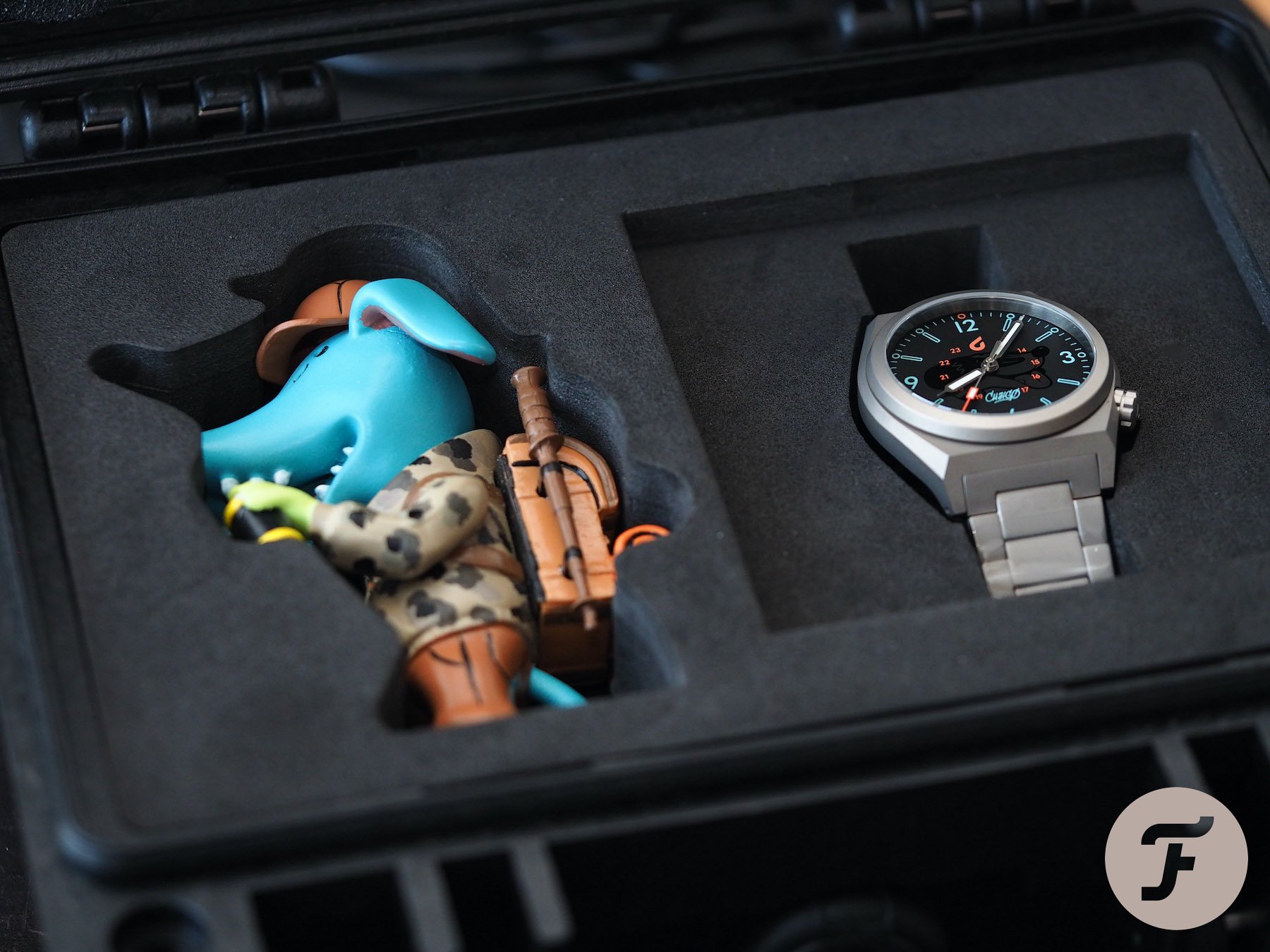 Dialing into Kenji Chai
The dial is a matte black/grey number. I previously said the dial is very dark, and it is. I had hoped for much more color here after looking at Kenji Chai's work. There is a splash of highlighting colors, though, thankfully. Sky blue Arabic numerals take position at the cardinal points, and small hollow sausages (I can't think of a better description!) mark the in-between hours. The minute track at the dial's edge is also in the same shade of sky blue, except for the small circle above the 12 o'clock marker. Here we see the contrasting and complementary highlight color orange introduced. The orange is continued to accent the inner 24-hour numerals.
The dial features the main tie-in to Kenji Chai. Chaigo, the dog, sits proudly but subtly in the center of the dial with his name "tagged" above the 6 o'clock marker. The hands are of the syringe type and appear nice and bright. I had no trouble telling the time in low-light conditions. That's a feature of all Boldr watches I've seen in hand. Lume has usually been quite good. I can't speak for longevity, though, as I've not worn the watch in extended dark conditions.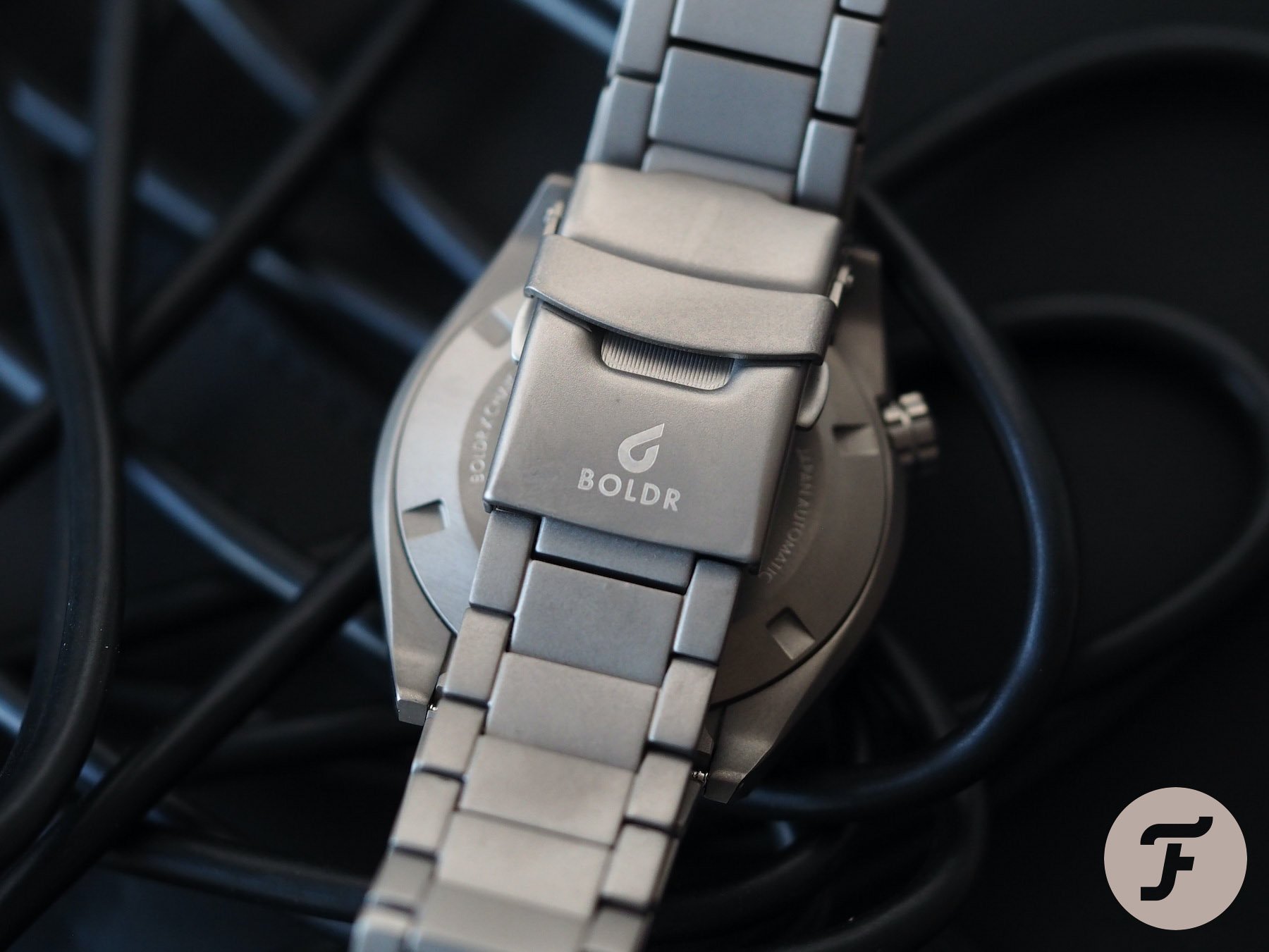 The NATO is mightier than the bracelet
Usually, I'd go for a bracelet over a NATO, any day of the week. However, here, the bracelet is one of the weaker aspects of an otherwise well-built watch. I hasten to add it's only a weakness for me; other people may quite like the bracelet. It is titanium, like the case, but with a single point of articulation between each link, meaning there's some stiffness that you may find off-putting. Those links are all one piece, rather than the three pieces they appear to be at first glance. It was comfortable enough but could have been more comfortable. Given the Boldr Venture Chaigo's price ($499), it's tough to be too harsh here.
Thankfully, if the bracelet doesn't do it for you either, then there's a rather lovely blue NATO strap included in the package. Kenji Chai designed the strap, and it gives me that healthy dose of colorful eccentricity I've been craving so much. I preferred the watch on the NATO over the bracelet. I'd have been quite happy to swap the bracelet for another NATO, but in orange to match the other accent color on the dial.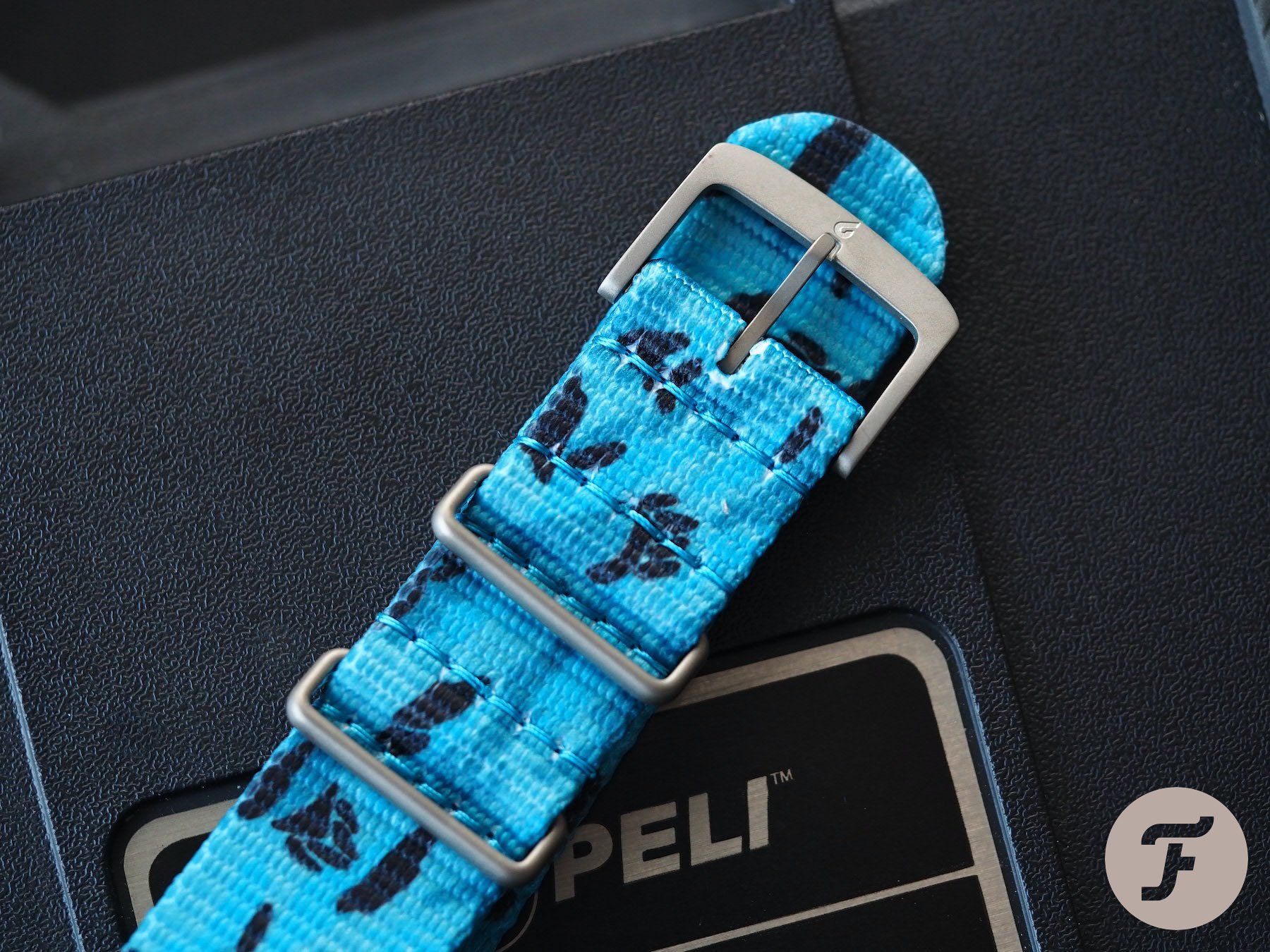 Budget doesn't always mean bad
Boldr plumped for a Seiko NH35 movement to run the show. It's a solid, budget movement and certainly reliable, even if it doesn't set the world alight with excitement. Sometimes this movement gets unfair criticism, but when you consider the price of $499, the only other option might be a Miyota 8-series. I certainly prefer the Seiko here. Perhaps a Miyota 9-series would have been even better, but that would have bumped the price up slightly, so I am happy enough with the Seiko movement. The NH35 has a power reserve of about 41 hours and makes for easy service/replacement. In fact, should you need to service your Boldr Venture Chaigo, it'd probably be cheaper to toss the old movement and replace it. Not great from a sustainability point of view, though…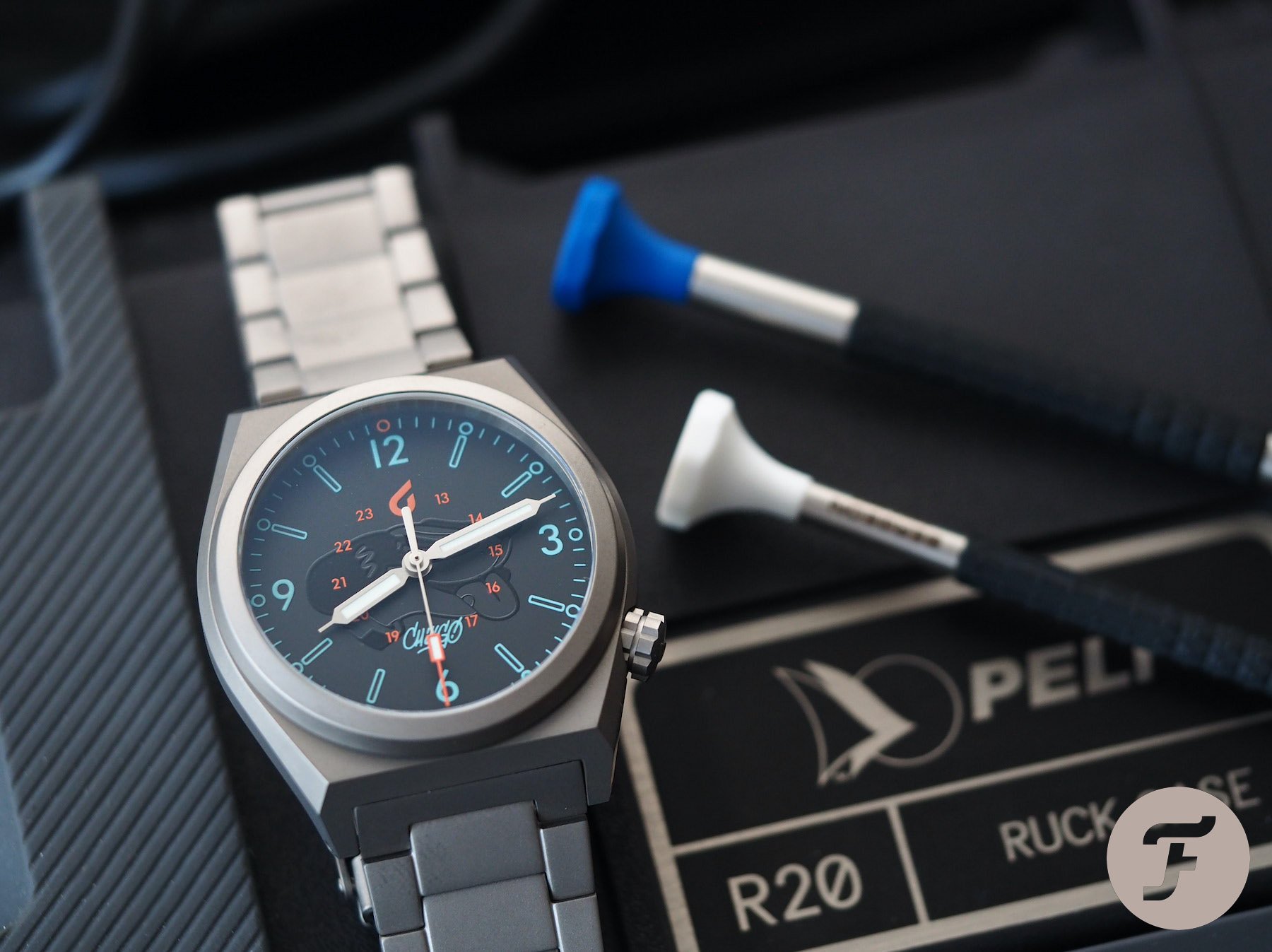 My take
The one million dollar question – would I buy it? If I'm frank, no, I wouldn't. But don't let that make you think it's not a good watch; it is. The Boldr Venture Chaigo offers a lot of value for the money. You're getting a solid titanium watch that is limited to just 160 pieces, plus it comes with a hand-painted collector's figurine of Chai's Chaigo character. It's a pretty cool touch that will endear the set to fans of the artist or collectors/fans of the streetwear scene.
I won't be buying just because it doesn't quite speak to me on a personal level. Even if the dial was super colorful like I had hoped it might have been, it's still not one that I'd add. As I said, don't let that put you off from experiencing Boldr's watches as they are great watches for the price, you just have to find one you connect with. For me, that'd be the Venture Field Medic over the Venture Chaigo. Find out more about the Boldr Venture series right here.
Follow me on Instagram: @davesergeant
Watch specifications
Model
Venture Chaigo Limited Edition Watch
Dial
Matte black/grey with printed Chaigo motif and tag
Case Dimensions
38mm x 44mm x 12mm
Case Back
Screw-down case back with embossed limited edition designer artwork
Movement
Japan SII NH35A automatic movement
Water Resistance
200m (660ft) / 20ATM
Strap
Titanium bracelet and blue Chaigo NATO strap with titanium hardware
Functions
Hours, minutes, central seconds
Special Note(s)
Limited to 160 pieces. Set includes a hand-painted Chaigo collectors' toy and Venture Chaigo stickers.