Hands-On Review Of The Affordable French Yema Speedgraf
Re-interpretation of a popular chronograph from the 1960's 
We are proud that the Fratello team was chosen to be the first to lay hands on a Yema Speedgraf prototype that goes on pre-sale next Friday!
I always find an unusual way of introducing my wife to a new watch that occupies (or is about to occupy) our household. Whether for a week or forever. Anyway, the evening when I unboxed the Yema Speedgraf prototype stamped 0000, we went for dinner to town. Before we left the apartment, I stood in front of my wife, looking straight to her eyes. I gave her a serious, slightly worried face, slowly raised my hand and put it on her shoulder. As dramatic as I could make it sound, I asked my wife: "Do you know, what the biggest issue is in the life of a watch collector?" She exhaled, as she probably knew there is nothing serious going on. I continued: "The re-issue!"
Yema Speedgraf re-issued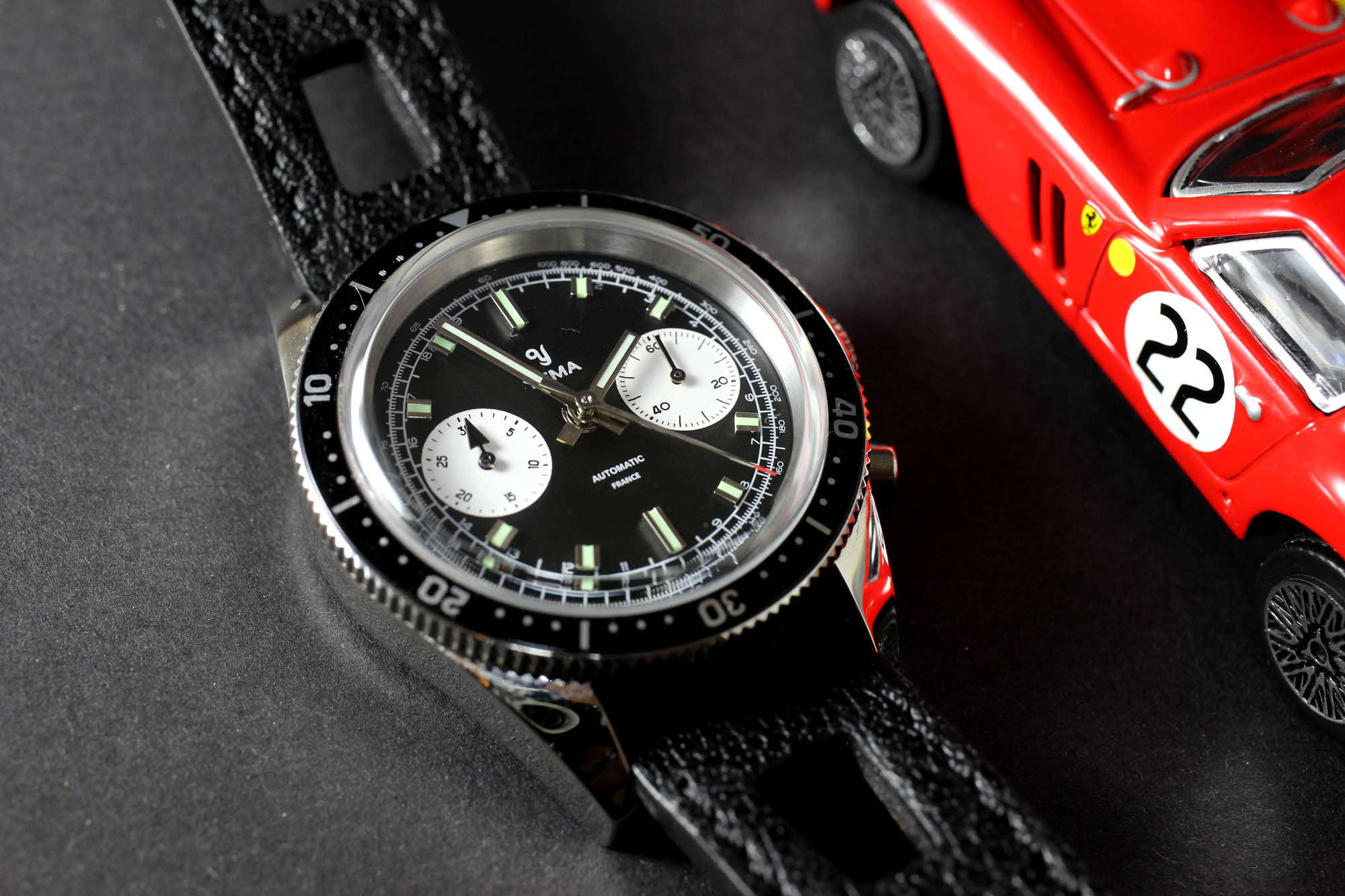 A red tip on the central chrono hand perfectly copying the inner circle of the detailed chapter ring with a tachymeter scale is the detail we have all come to love.
Issues with a re-issue
Is it really a joke though? One doesn't need to think twice to instantly name five brands that went down this path. I think I could count more brands that made re-issues that I can recollect names of American presidents. And as a cultivated European, I do know quite a lot of them. Brands re-issue a lot, from Alpina to Zenith. Some of them are 100% copies to the smallest details. Some nearly identical copies but come in different sizes or with small design updates. And some of them just re-home key design elements or design signatures. This way we all end up with a lump of new reproductions, re-issues, re-editions, remakes or re-interpretations.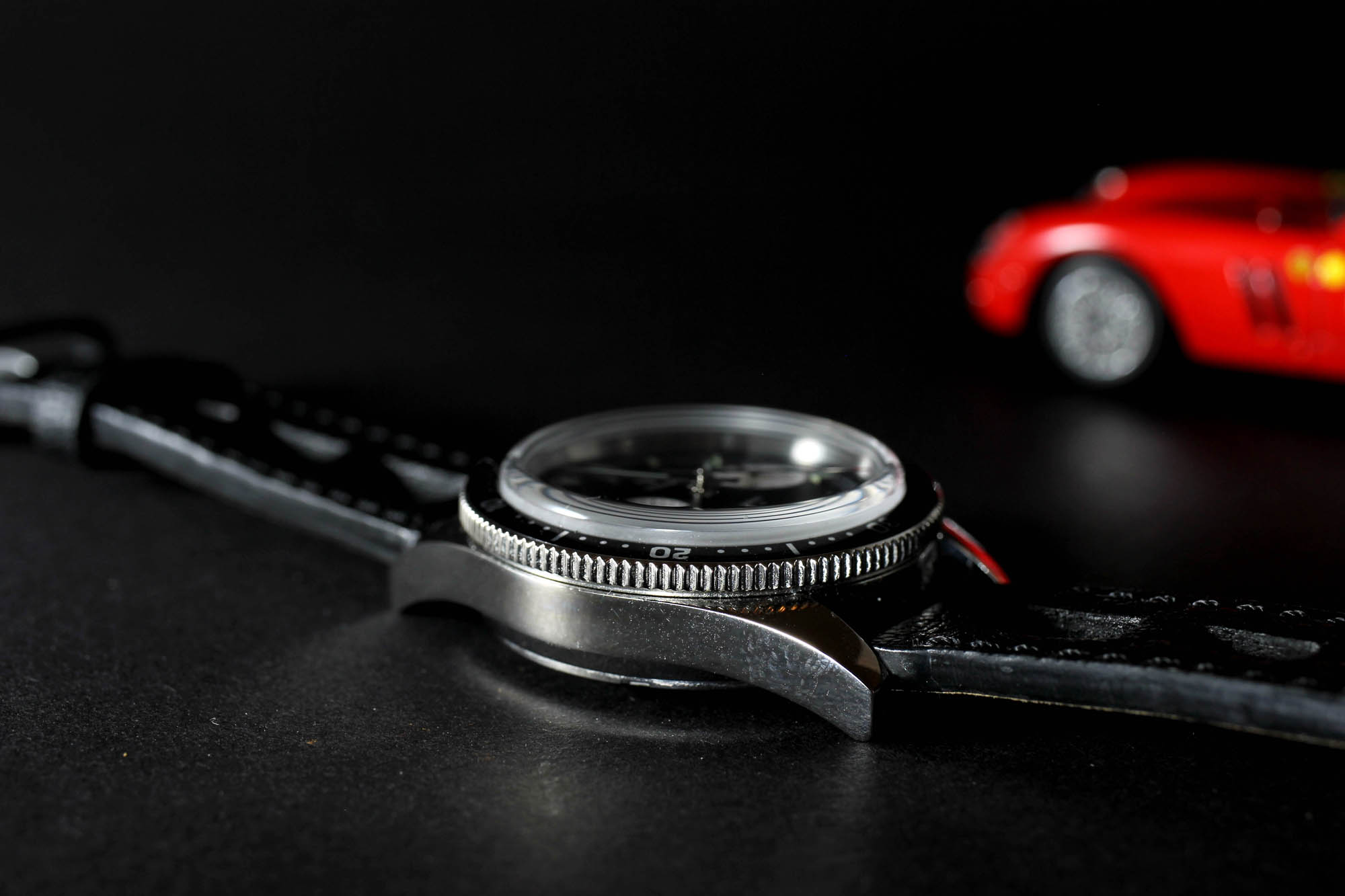 Well, it is easy to get lost in this game, that for some reason seems to be quite an effective product development strategy. Has the market had enough of these? We shall see. Imagine Porsche releasing a brand new 911 in the shape of a classic one from the late 1960s. But that's a different story. Let's focus our investigative eye on the re-issue at hand, the new Yema Speedgraf.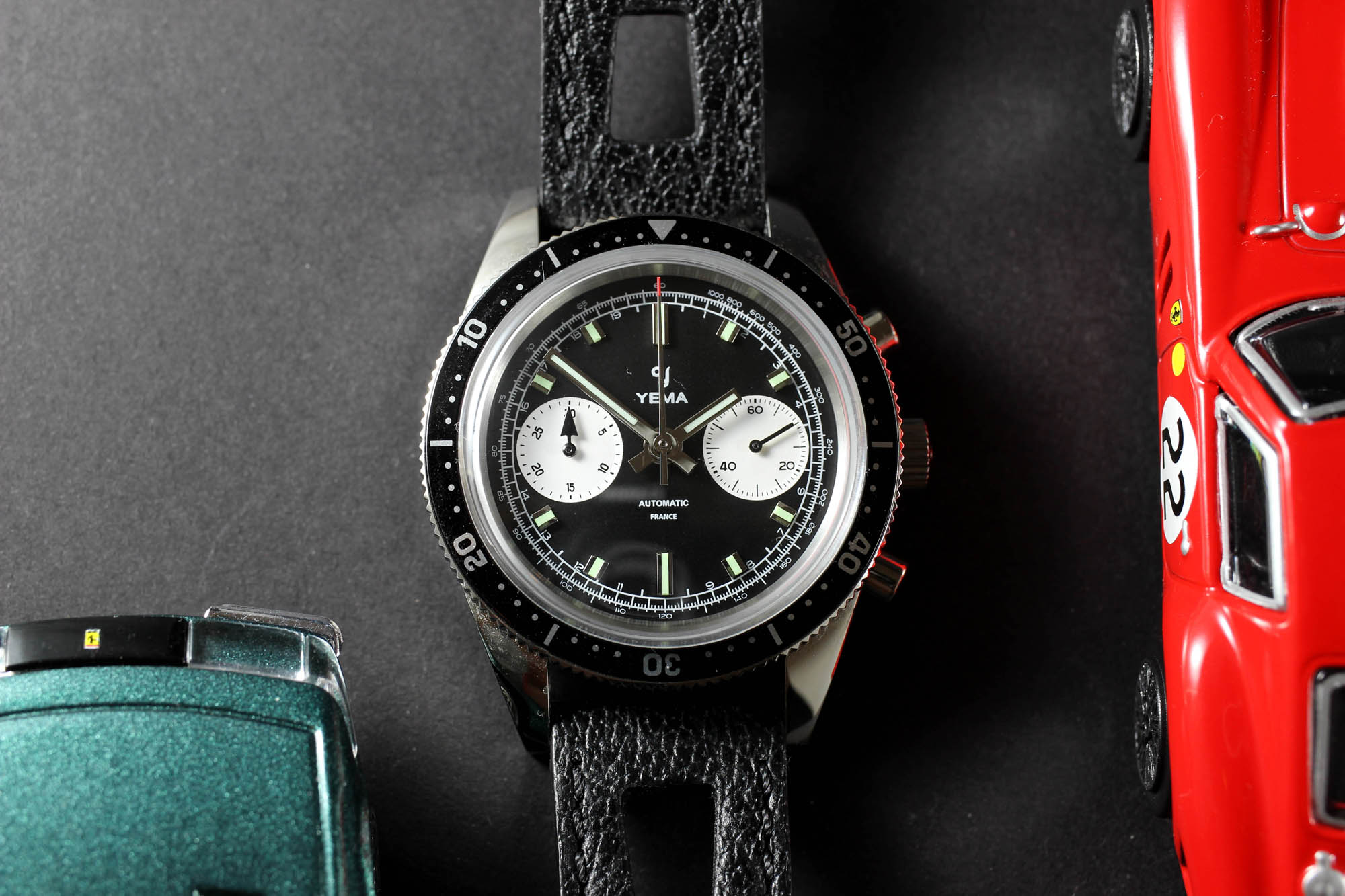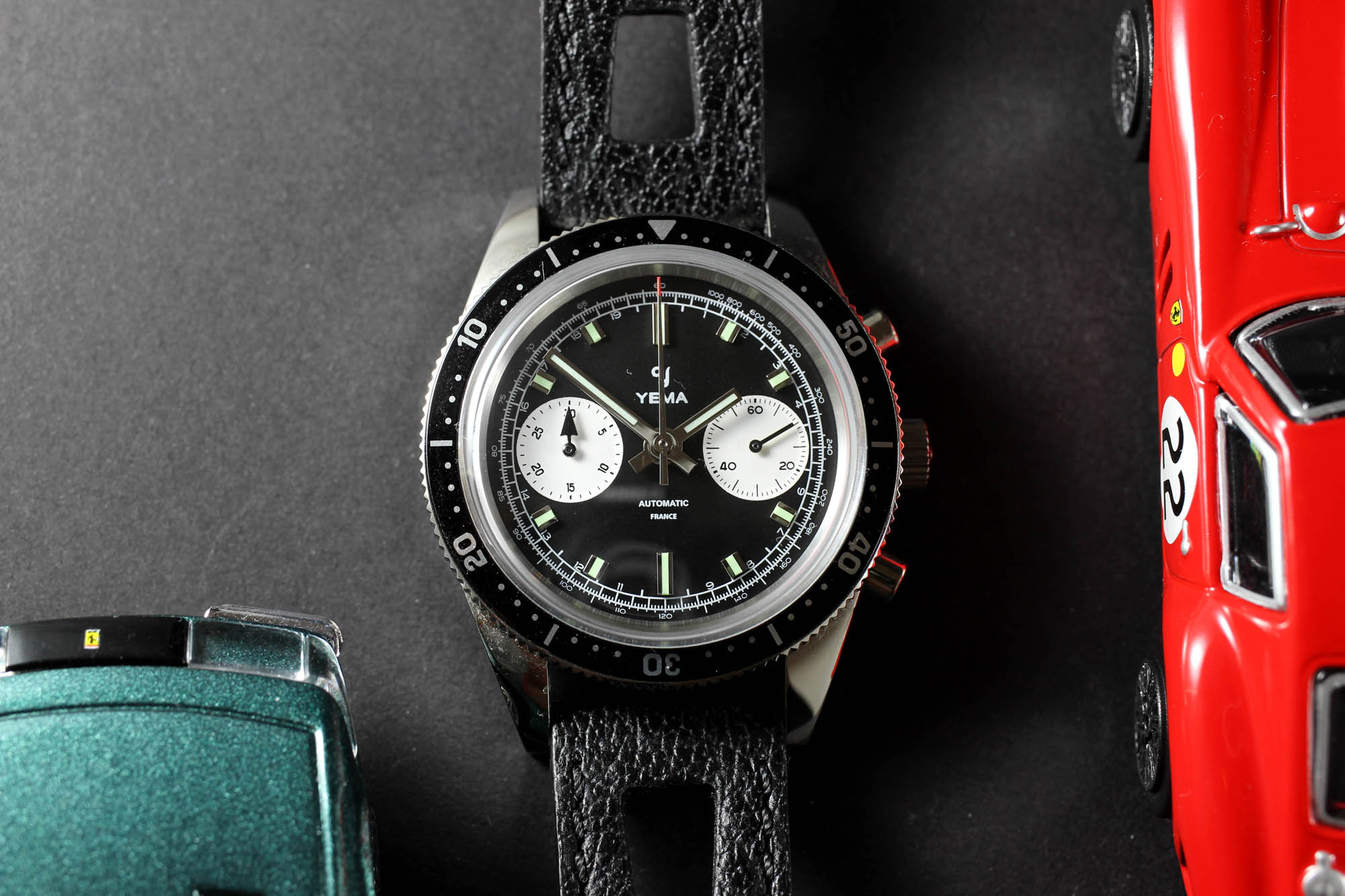 Due diligence first
If you want to have a full overview of the past and present, you should start with Mike's juicy comprehensive review of the original Yema Daytona chronograph that served as a muse for the Yema Speedgraf. A few key points to highlight: a stainless case with a 39mm in diameter, period typical 19mm lug width, screw-down case back, the rotating 60-minute bezel with backward counting, domed acrylic crystal, pushers "submerged" into the case and workhorse Valjoux 7730, a hand-winding movement with a 45-minute recorder. A genuinely entertaining bit on how the hell this Yema Speedgraf chronograph ended up with the nickname Daytona comes as a bonus in a way only Mike's pen can produce. Enjoy.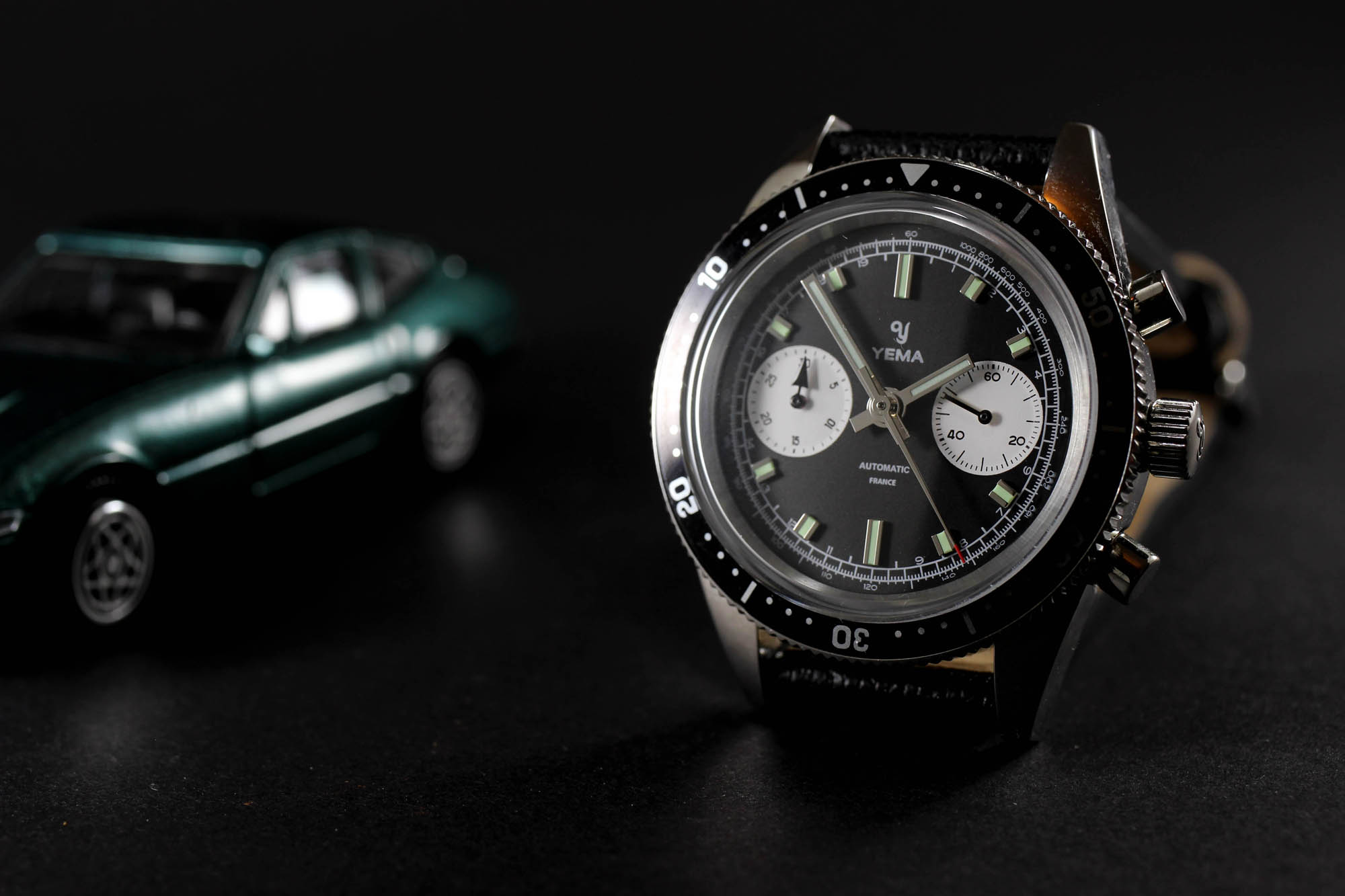 Revived Daytona
Crazy or super crazy, the Yema Daytona name for the original model was clinched and adopted. Before trying me, try Google first. But you won't find any mentions or links to the Daytona (nick)name in an official press release for the Speedgraf. That's a good start. This "negligence" to avoid Daytona name may hurt the French Yema core fan base, but it's a smart way to get a new audience on board. I think the product guys did a great job of selecting Speedgraf as the name. It is catchy, dynamic, more modern with the "f" and it connects perfectly to the rich motor-racing heritage that Yema has.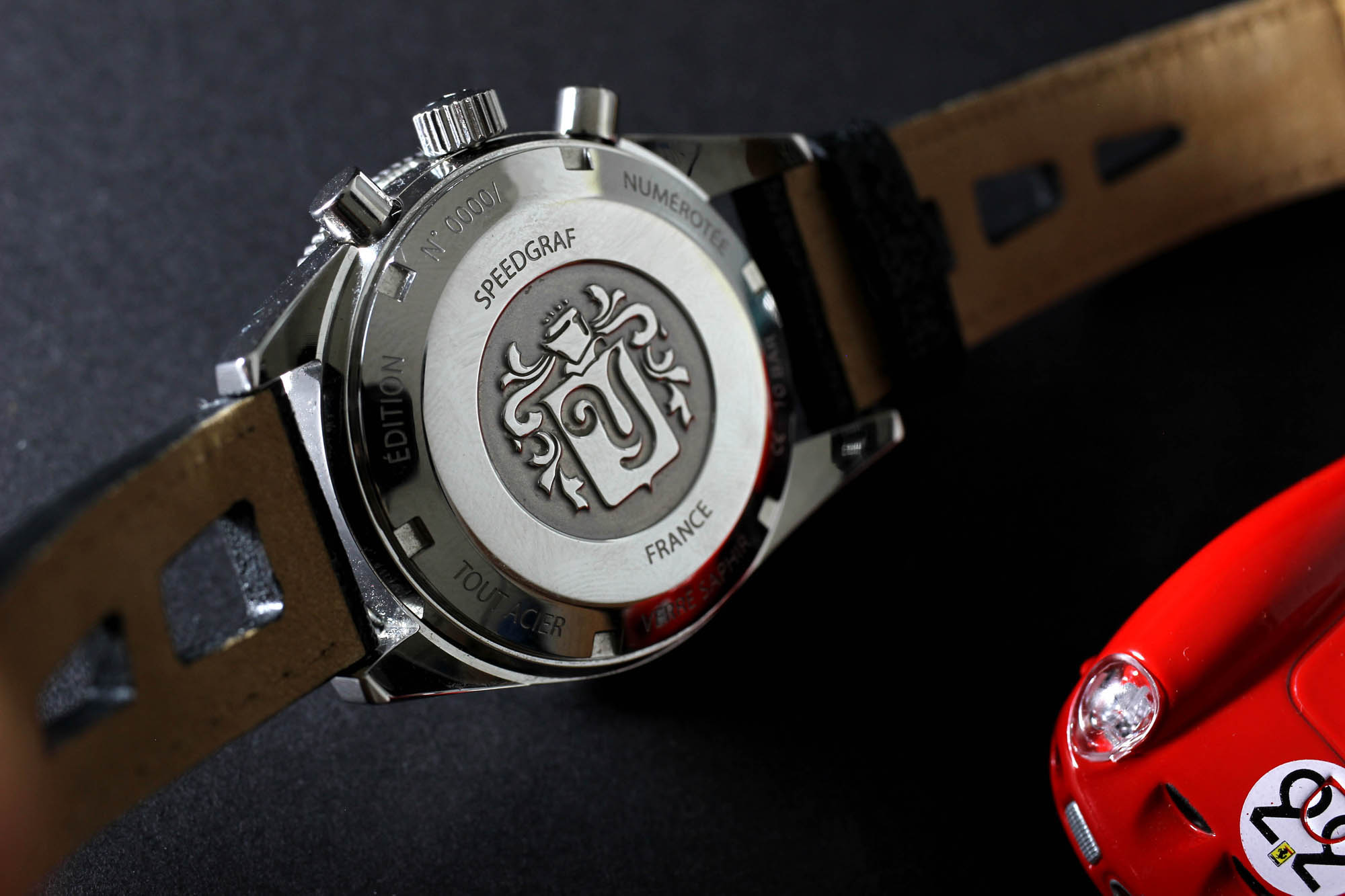 Yema Speedgraf hero moment
You like the design, but you are still not comfortable to lay some French chronograph next to your Omegas, right? I feel you. Mike wrote briefly about the history of Yema before, which might help to shift your opinion. If that won't be enough, just know that Yema was the first French watch sent into space. It was the first French diving watch to go below 300m, the first French watch on a North Pole pedestrian trek and the official watch of France's Air Force One pilots. Indeed, they don't have a global world's first, but it should be more than enough to spark a proper dinner table conversation. And did I tell you Yema only asks for 1499 Euro / Dollar for the story?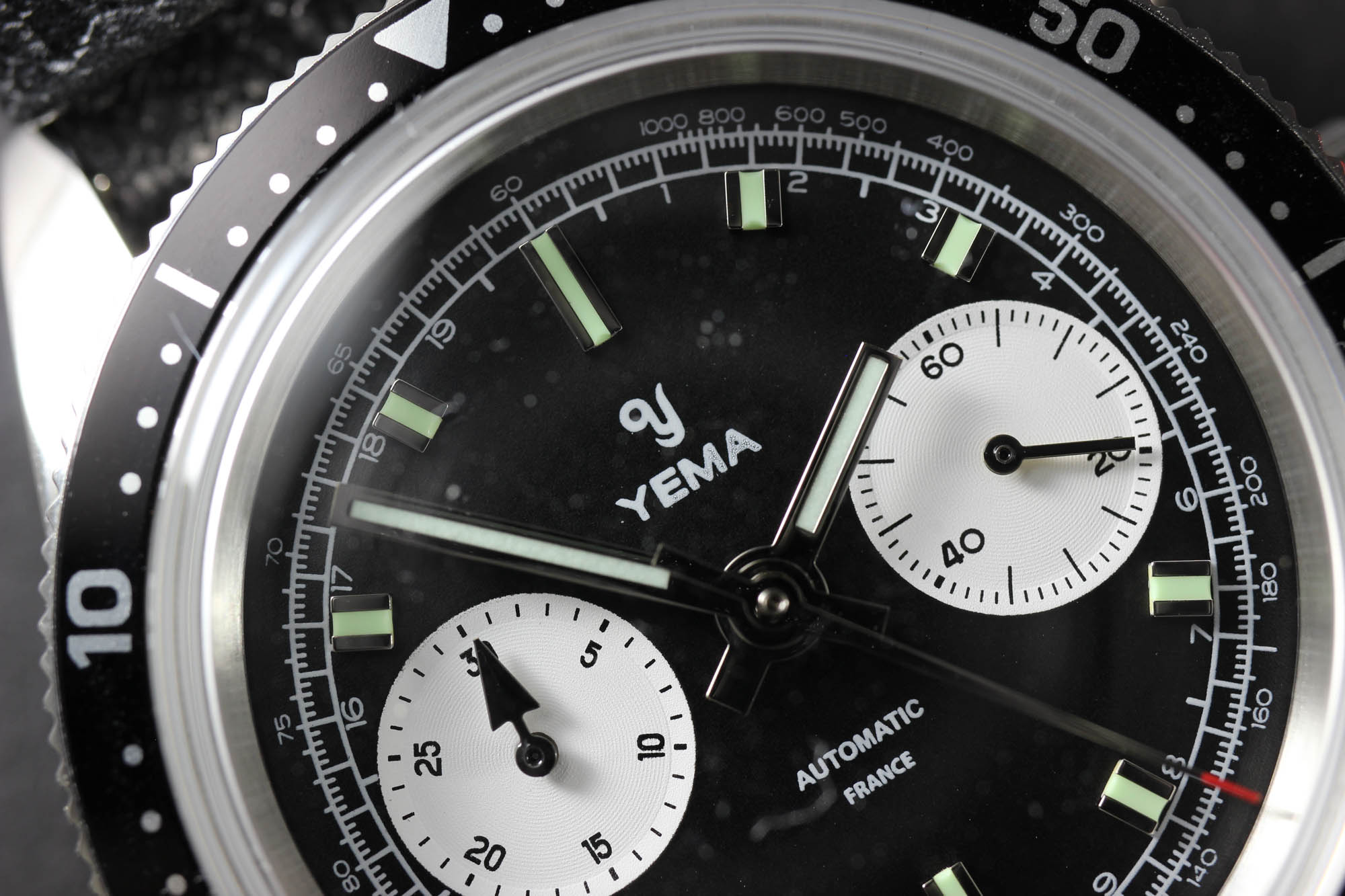 A big smile came up the moment I found out that minute counter doesn't jump from minute to minute, but sweeps all the time slowly. 
Neo-vintage chronograph
This is precisely what Yema says about the Speedgraf. We don't hear this term very often (guess why), but as a guy from the copywriting business, I have to say I like it. RJ used the term in 2017 too. Like it or not, it fits the watch I am looking at when writing this piece. So how 'neo' is the Speedgraf in comparison to its vintage predecessor? From the brief sum-up of the 1960s Yema Daytona mentioned above, the Speedgraf is the same in almost all respects. Updates include the domed acrylic crystal changed with a more present sapphire, the crown is a bit wider, and the pushers stick out a bit more. As before, the movement is "outsourced," this time supplied by Seiko.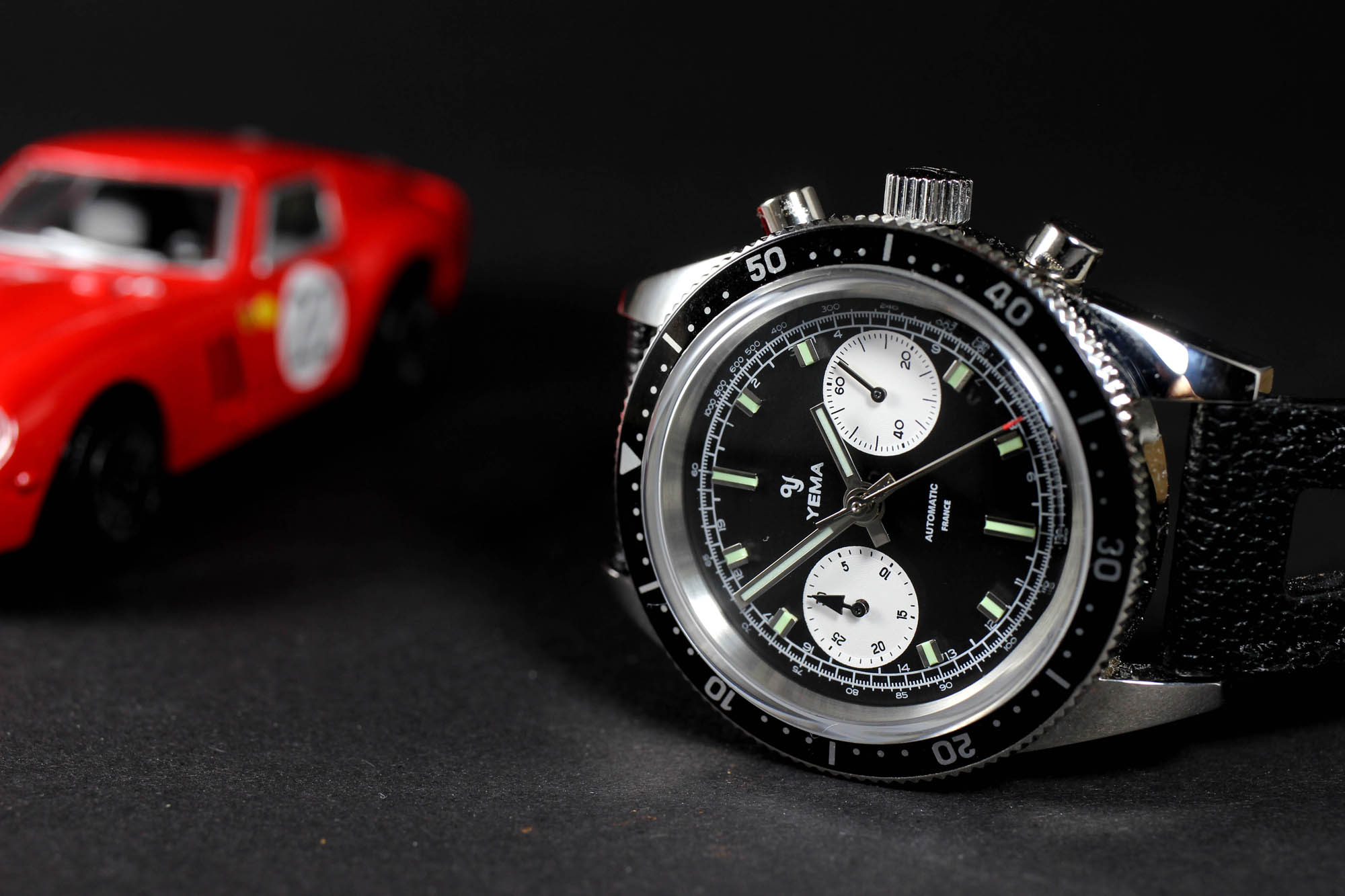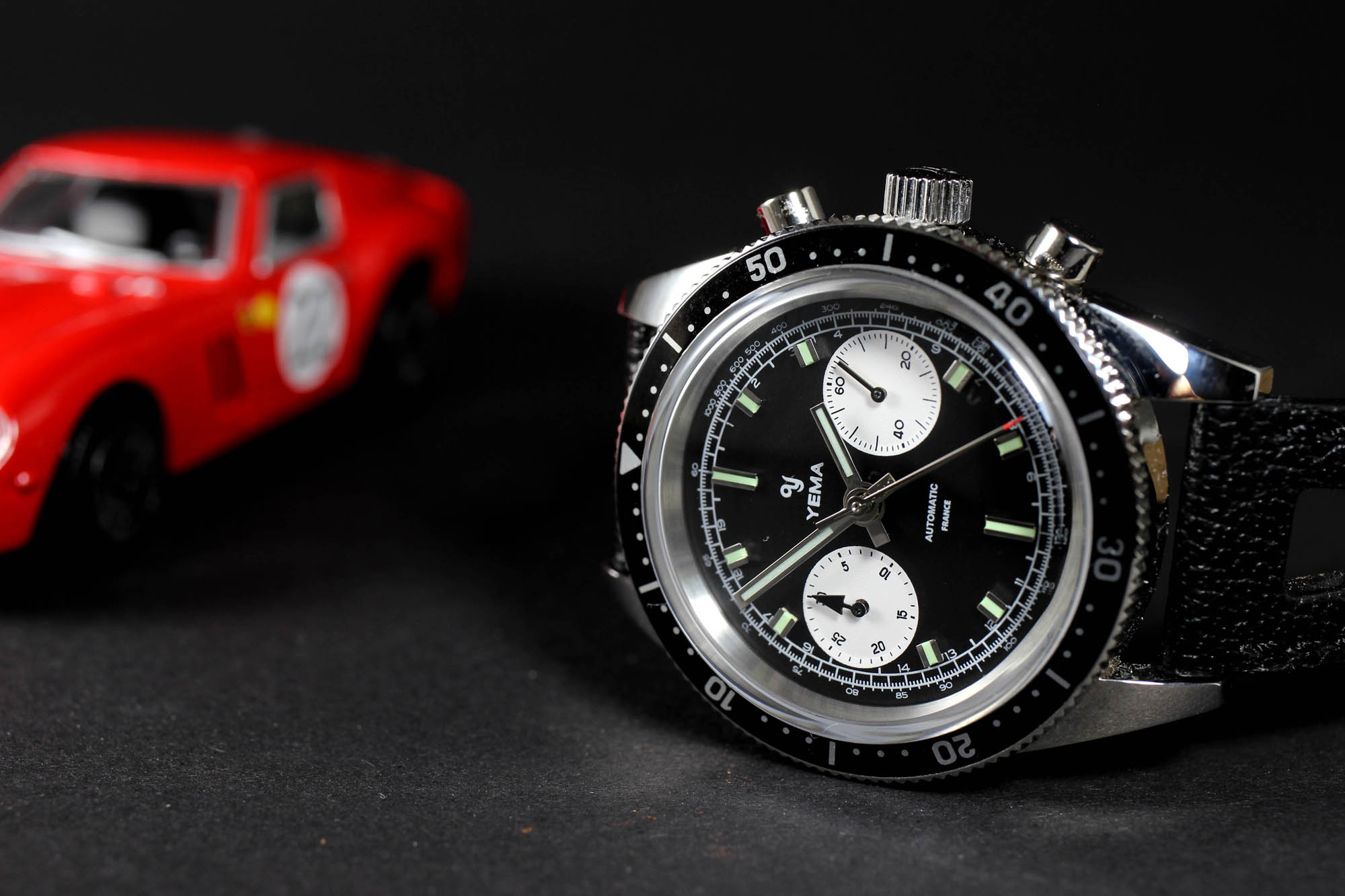 Movement talk
You might be quite surprised to learn there is a Japanese heart beating inside. The dots connect the moment we realize Seiko bought Yema in 1988 until it ended up back in French ownership in 2004. It is an unusual piece of history that works as a perfect explanation as to why Seiko was selected to make the Speedgraf more affordable. My impression of the movement is that it tells time, it makes the central chrono move and it counts the minutes up to 30. That much to say. But don't expect that pressing the pushers will be as satisfying of an experience as playing with your EP fitted Gallet or Venus fitted Breitling.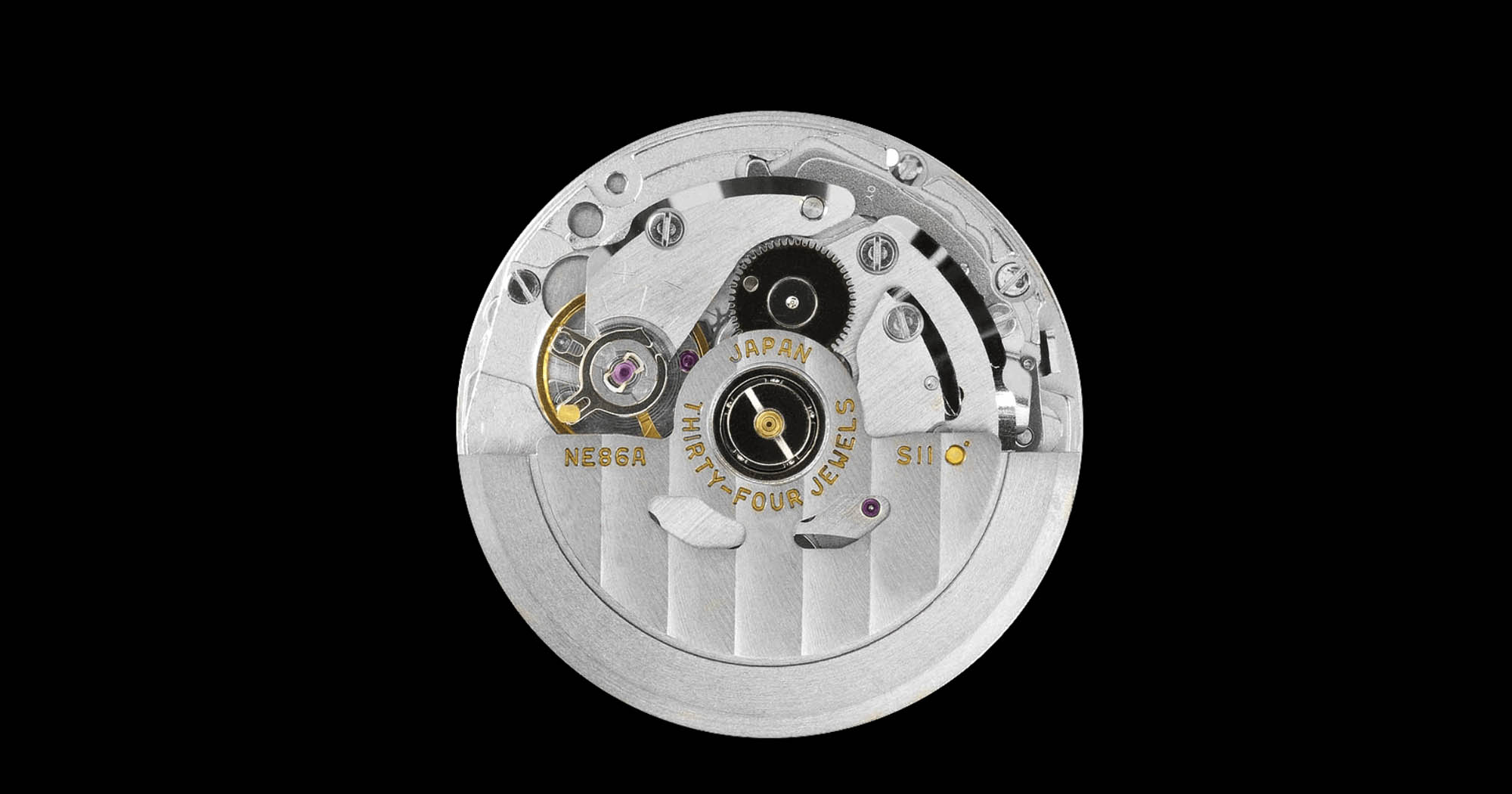 From Valjoux to Seiko
The recent Yema release of the Superman Heritage Bronze came with nearly the same price-tag. Incorporating the newly developed Seiko NE86 in a chronograph priced in the same range is a result of an attempt to build a mid-range chronograph series. The other pair of Yema moto-sport chronographs priced 2300 to 2600 Euros are powered by an ETA / Valjoux 7753. By the way, there were some that voiced criticism on Yema's aggressive (or at least enthusiastic) market push as they released two limited series in the short span of a few months, now expanding it with non-limited Speedgraf. But if there is a market for it, why not. By the way, thumbs up to Yema for keeping the watch portfolio clear and still quite modest.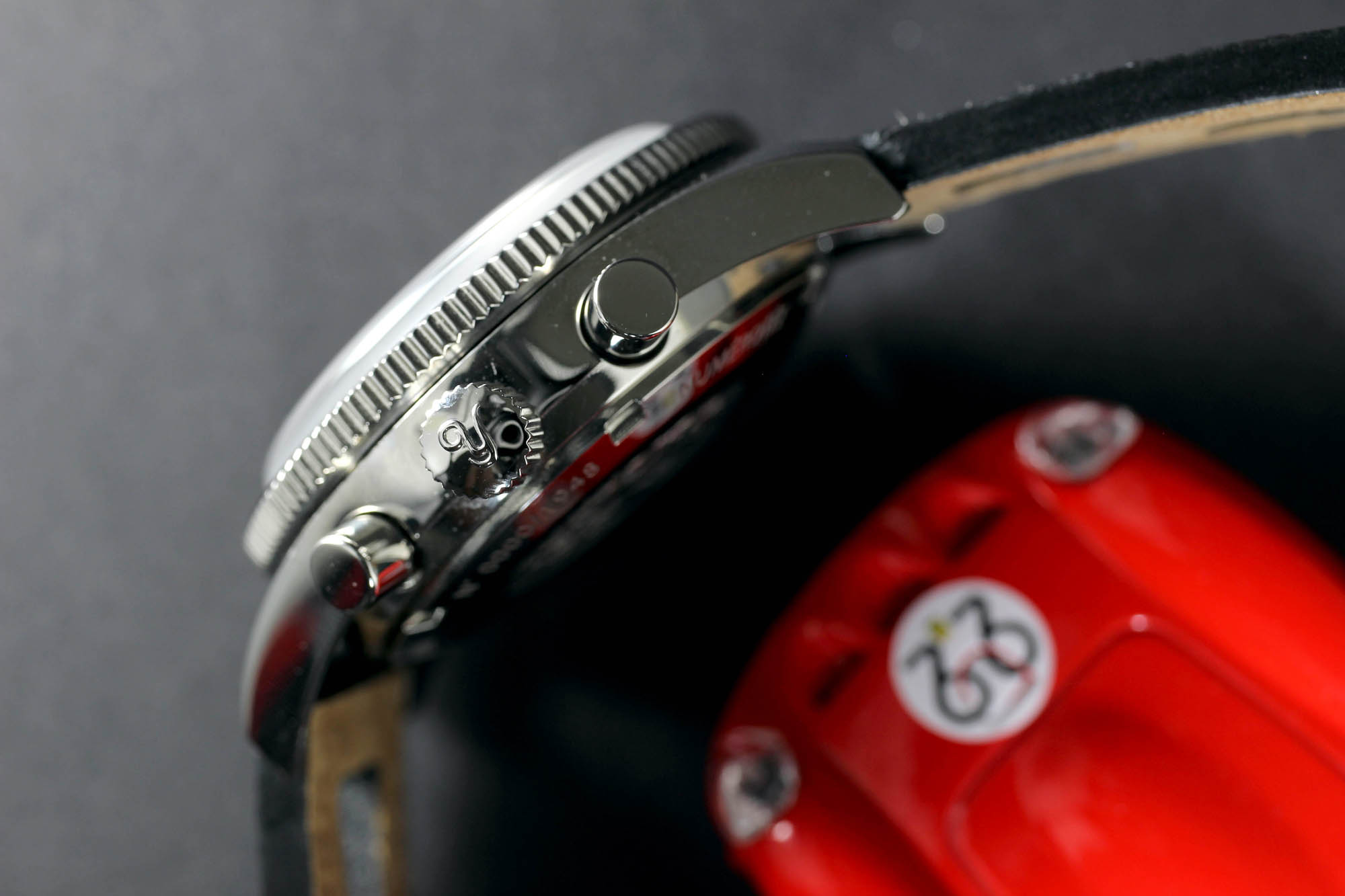 Confusion between Yema Speedgraf and Daytona
What else should you know besides the change from Valjoux to the 34 jewels Japanese caliber that beats at 28,000 A/h and offers a power reserve of 45 hours? Something probably linked to the change of mechanics, don't go searching for a 45-minute counter on the right. It has been swapped with the seconds. And actually, don't go searching for a 45-minute chrono at all. It has been changed for a 30-minute "only". Just imagine the confusion of all the vintage collectors that happen to own both the original Daytona and the current Speedgraf. First world problems. By the way, a big smile came up the moment I found out that minute counter doesn't jump from minute to minute, but instead sweeps all the time slowly.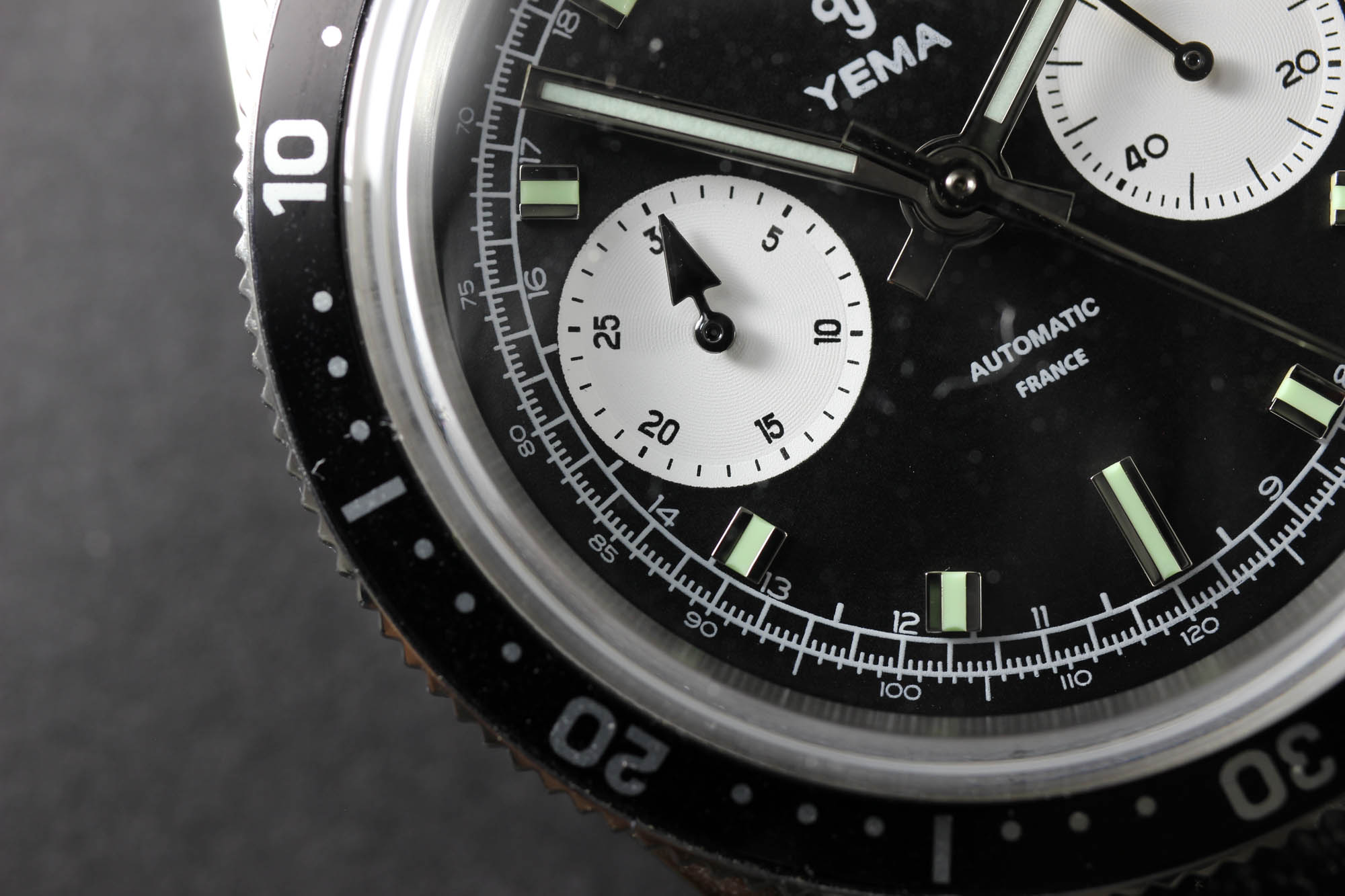 Sorrow for the step sub-dials
I have never held the original Yema Daytona, but after seeing Mike's pictures with the white sub-registers that step sharply down from the dial I feel a bit, ehm, robbed. I will forget about the Seiko caliber. We can't see behind the steel case back, and after all, neither the Seiko nor the ETA is in-house anyway. Even if Seiko comes to my mind, I would play it on the movement's novelty. And Seiko is hot now. But coming back to my sorrow, I miss the step from the Yema Daytona that adds more on depth when looking at it. But maybe that's just my thing. For the record, the sub-dials are sinking slowly and have that circular relief lines as the original.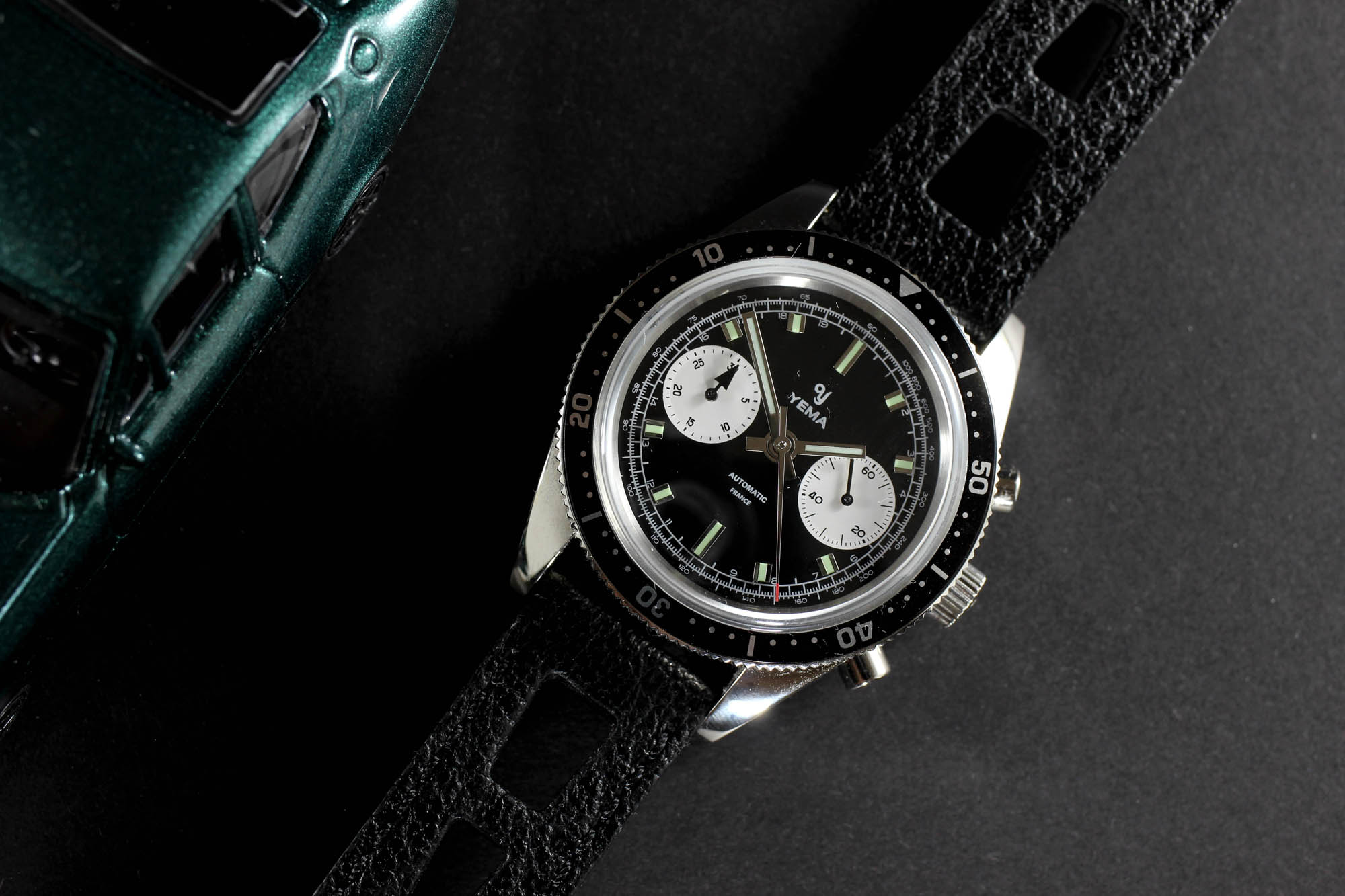 Little warming things
A red tip on the central chrono hand perfectly copying the inner circle of the detailed chapter ring with a tachymeter scale is the detail we have all come to love. The creative arrow-hand spinning in a minute sub-counter has been preserved, although with a straighter and more modern look. But its long tip, actually longer than the rest of the hand, makes it vintage-looking enough. The aluminum bi-directional bezel proportions and numerals styling are my favorite elements of the design. While the bezel of Superman Bronze clicks, this one spins freely. One might knock on their foreheads and ask why it wasn't made the other way around as the Superman comes with a legendary bezel lock.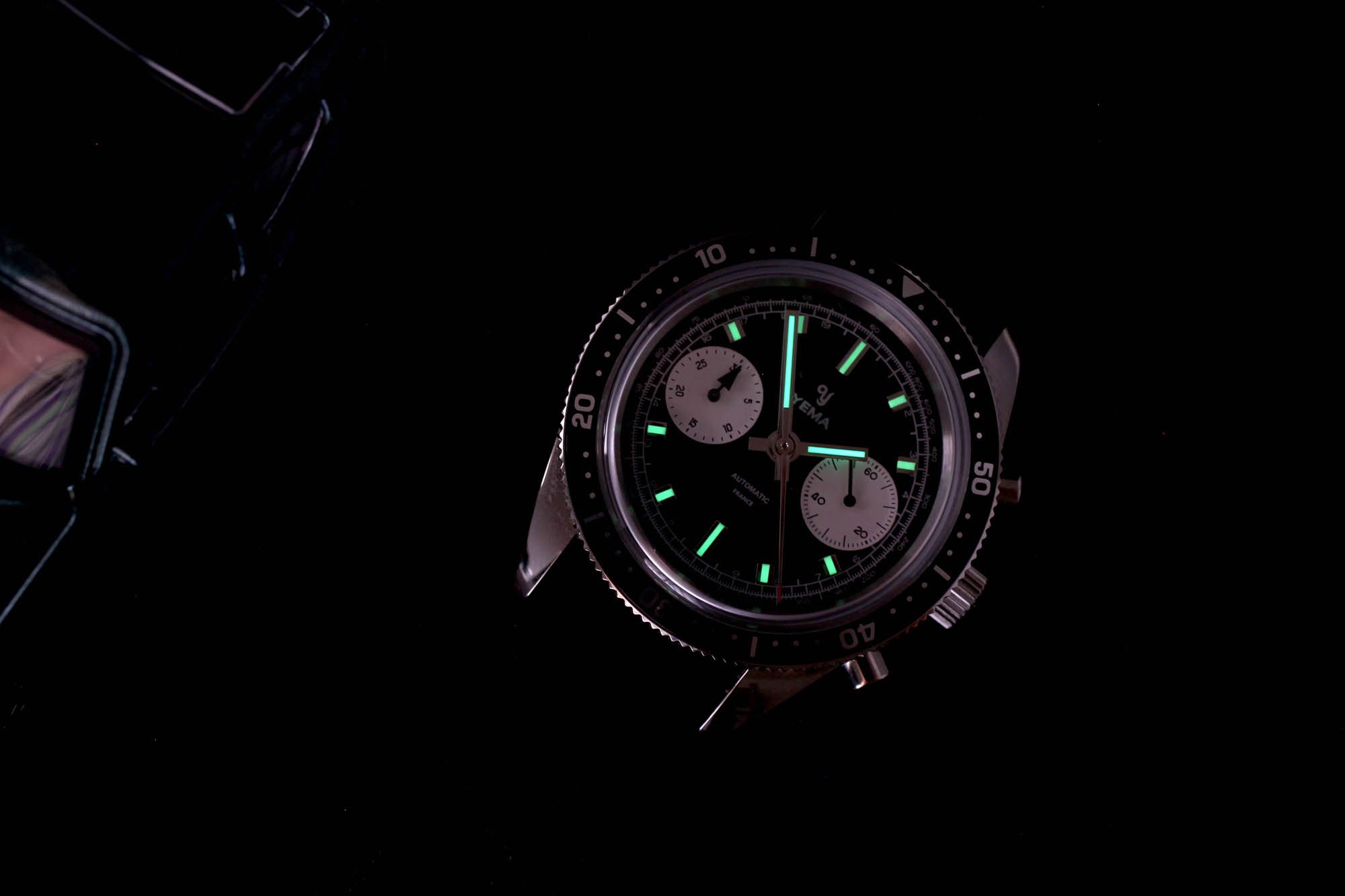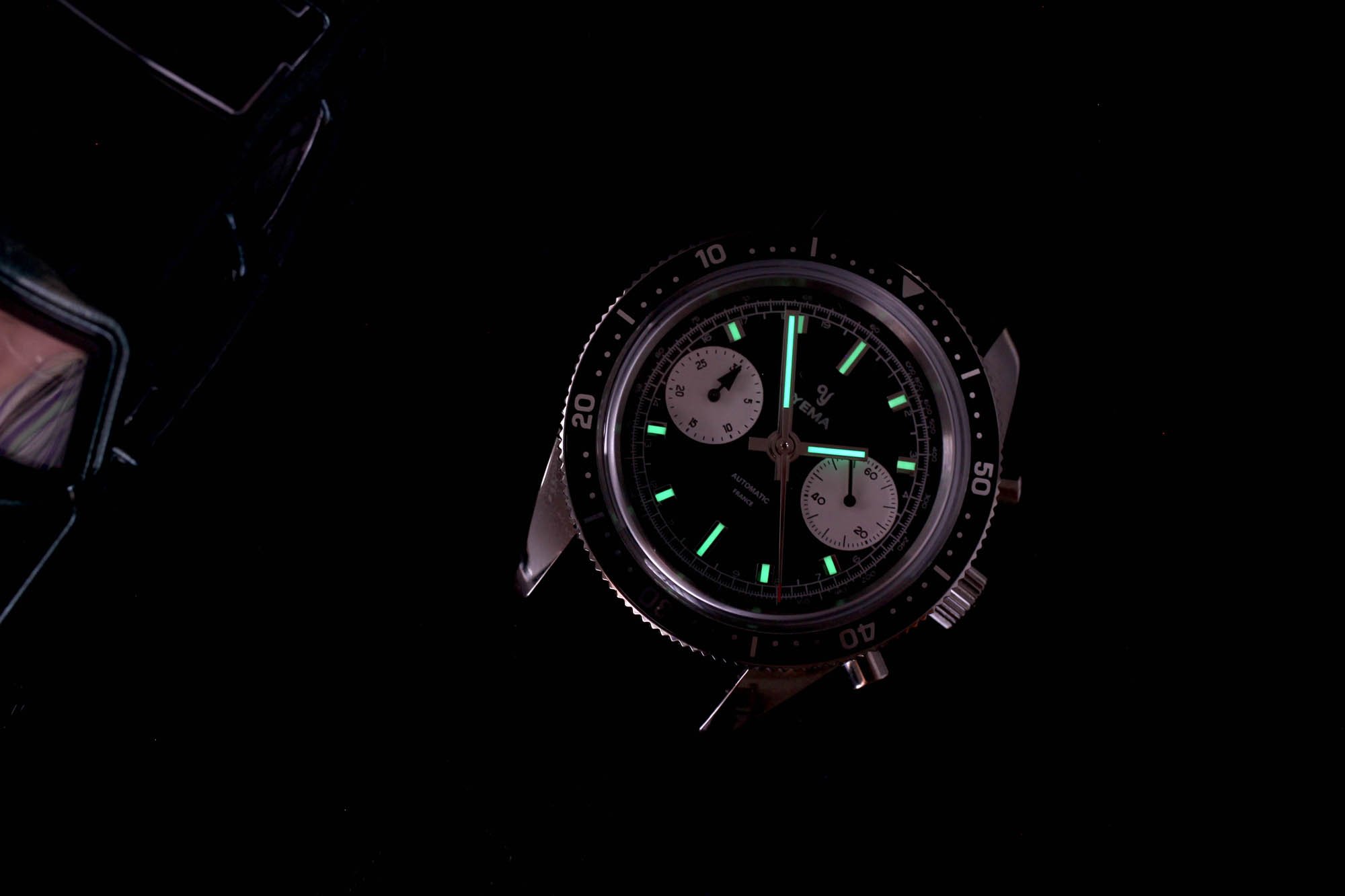 Yema Speedgraf shotgun notes
The words Automatic and France are printed slightly higher than usual, and higher than on the original. I find it disturbing in a positive way. The hands are simple, admittedly a bit boring, but at least true to the original. They just got much more for Super-LumiNova C5 than 50 years ago. Applied markers with perfect luming give the dial more plasticity. The case back comes with a typically deep and solid engraving of a stylized Yema emblem. The rally racing vintage style strap is a bit thick but gentle. Most importantly, it made me feel more "Andretti" when driving my zero-performance 1984 VW Golf through the morning traffic.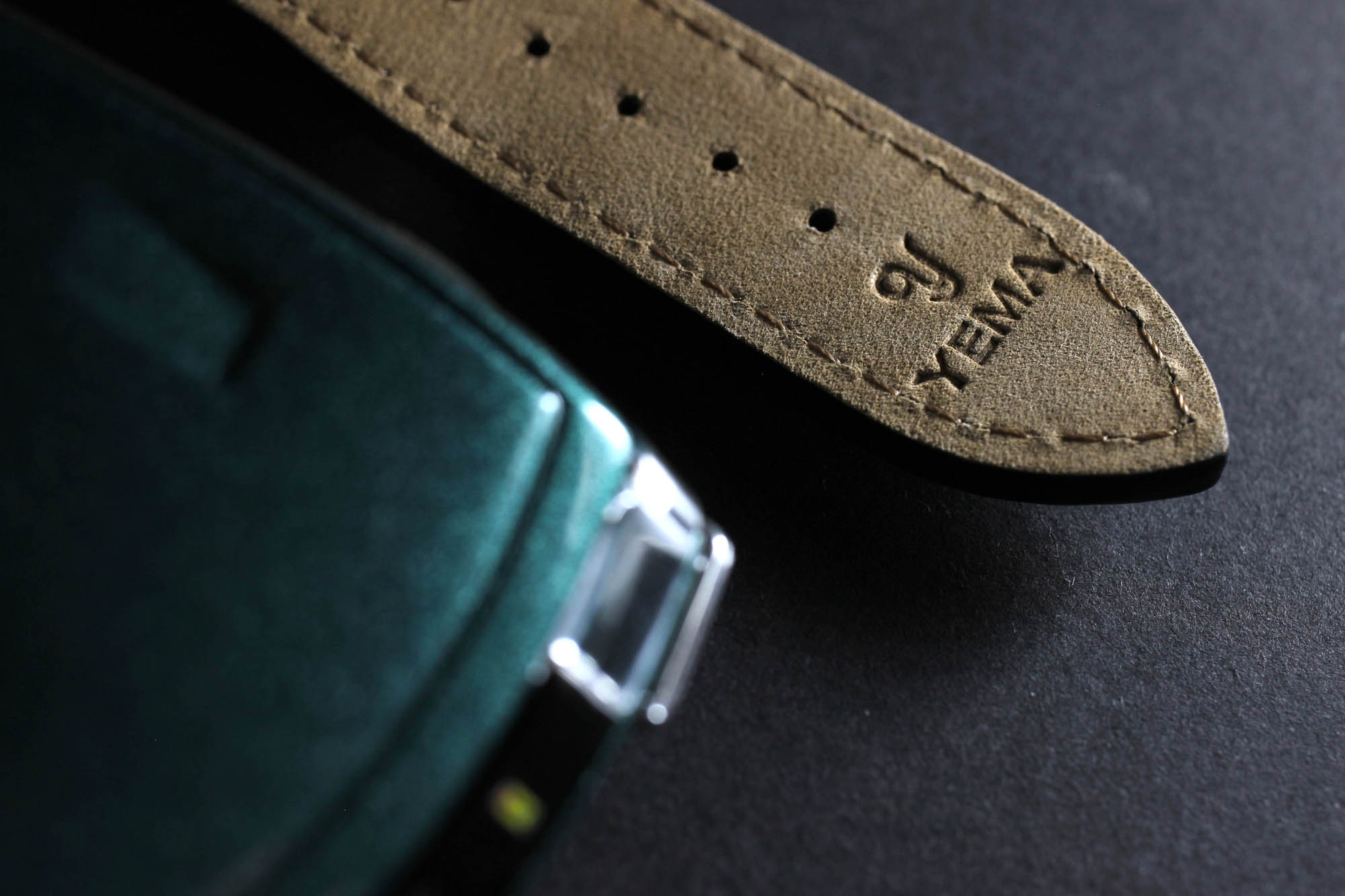 Pricing and availability
The Yema Speedgraf expects to be a more accessible chronograph due to the attractive price tag of €1499. It will be available for pre-order as of the 20th of September. Check the Yema website; the countdown is already on. Numbered first 300 Speedgrafs is a nice bonus for quick decision-makers. If you make a pre-order among the first hundred, you might even get one before Christmas.
Watch specifications
Dial
Black matt dial with Super-LumiNova C5 markers and hands. Red-tipped second hand
Case Material
Polished stainless steel case with Aluminum bi-directional bezel
Crystal
Sapphire domed crystal with AR treatment
Movement
Automatic Seiko NE 86
Strap
Black aged leather, perforated Rally racing style vintage strap
Functions
Chronograph, 30 min counter