Hands-On: The New Le Chronographe Monopoussoir Louis Erard × Massena LAB Watches
A striking silver and gold duo with minimalist looks and a far-from-minimalist movement
Louis Erard is one of those brands that I follow closely. There is always an interesting story behind each of its models, whether it's a remarkable collaboration, a great technical complication, or a wonderful, eye-catching dial. And what if it's all three of those ingredients? That can be even better! I had a chance to try out Louis Erard's latest collaboration with Massena LAB. The latter brand, founded by William Massena, has worked on a multitude of interesting limited editions. This is the second collaborative effort with Louis Erard, and it stands out immediately. But is it as good as it looks?
Last year, the two brands unveiled the Le Régulateur Louis Erard × Massena LAB. This regulator watch featured either a rhodium- or gold-finished dial, and the latter was nominated in the Petite Aiguille category of the 2022 GPHG. The regulator watch is indeed a Louis Erard signature that the brand utilizes for its "private" collection as well as collaborations. My favorite one, without a doubt, is the version made in collaboration with Alain Silberstein. It featured alongside two other watches in the Le Triptyque series, each showcasing a "skeletonized" tonneau case, Alain Silberstein's instantly recognizable and colorful dial design, and different complications. Not long after, the brand released two of those models with a white dial, which again showed the magic of the ingredients. The one watch missing from that second series, however, was the monopusher chronograph, the same complication that Massena LAB and Louis Erard chose for this collaboration.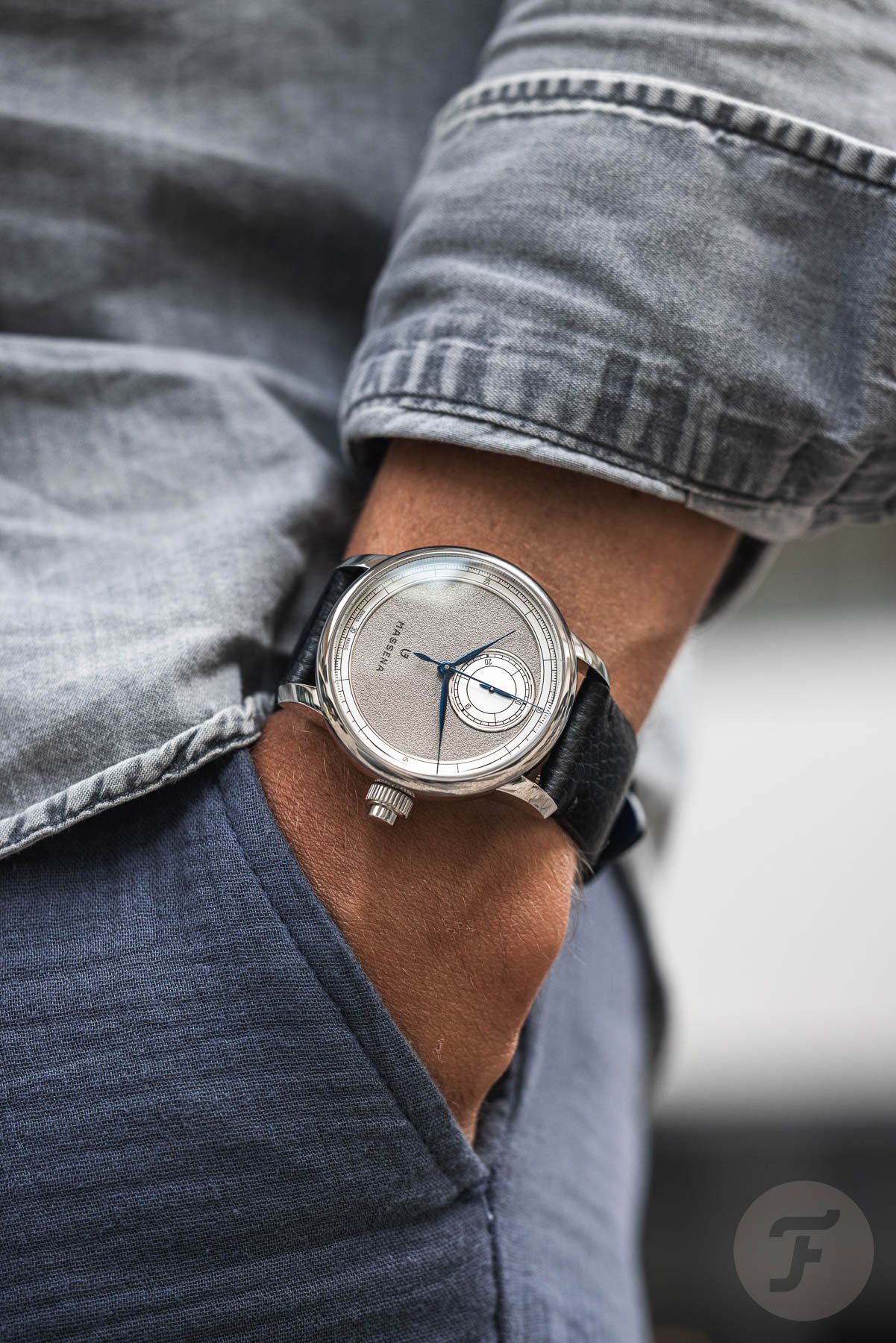 Le Chronographe Monopoussoir Louis Erard × Massena LAB
While these new watches utilize a different complication, they maintain the overall aesthetic from the brands' first collaborative effort. For the Le Régulateur Louis Erard × Massena LAB, you could choose from either a gold or a rhodium variant. And this time around, it is no different. This creates a nice visual link to the first two watches and gives collectors a great opportunity to start collecting them as a series. And as both brands focus heavily on pieces that are actually accessible to collectors, it only makes sense that they chose this path.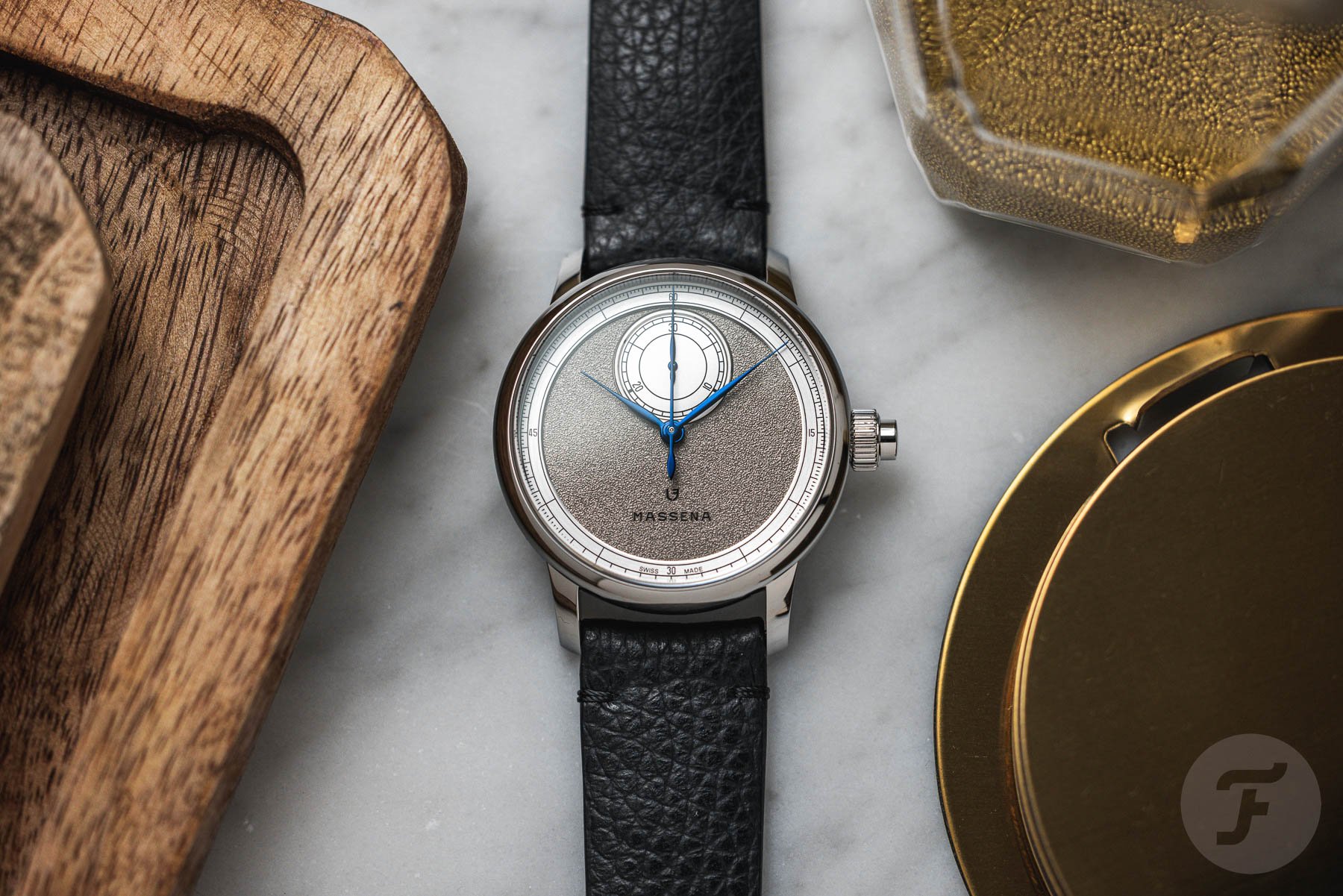 I was immediately intrigued when I laid eyes on these two new watches. While I liked the two Le Régulateur models, these two Le Chronographe Monopoussoir versions are my favorites. Like their predecessors, they have a classical and minimalist style but also the added intrigue of a rather-uncommon complication these days. So I was happy to spend some time with both of these new watches.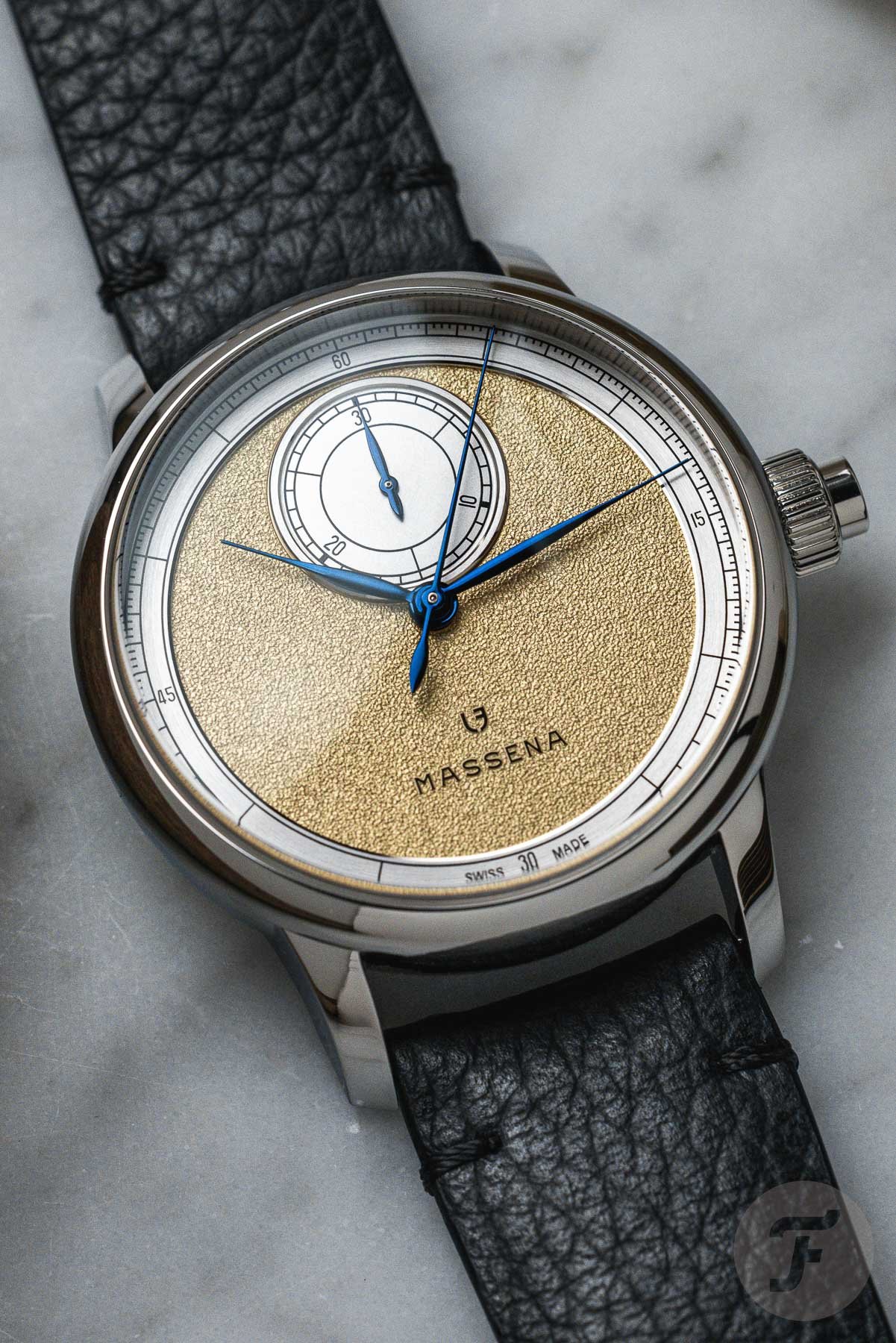 Le Chronographe Monopoussoir in overview
Let's start with some basic specs. The watches feature an impressively sized stainless steel case measuring 43mm wide, 15.7mm thick, and 50.4mm from lug to lug. So while the watch has classic looks at first glance, the dimensions of the case are anything but classically modest. The case also takes a 22mm strap, has a 5-bar water resistance rating, and features a domed sapphire crystal with AR coating on both sides.
If we zoom in on the dial, you will see a rhodium-plated outer flange on both models that features a circular satin finish and diamond-cut edges. On this flange, you will find the seconds/minute track as well as the subdivisions for the elapsed seconds. The lower plate features a grainy texture and is available with either a rhodium-plated or 2N gilded finish. The only functional element on the dial itself is the silver opaline 30-minute totalizer at 12 o'clock. Additionally, you will find the small logos of both brands in black on the lower half of the dial. Hovering above the dial and the 30-minute totalizer is a set of manually finished and blued leaf-shaped hands. These elements combine to create two minimalist and stylish dials that stand out immediately.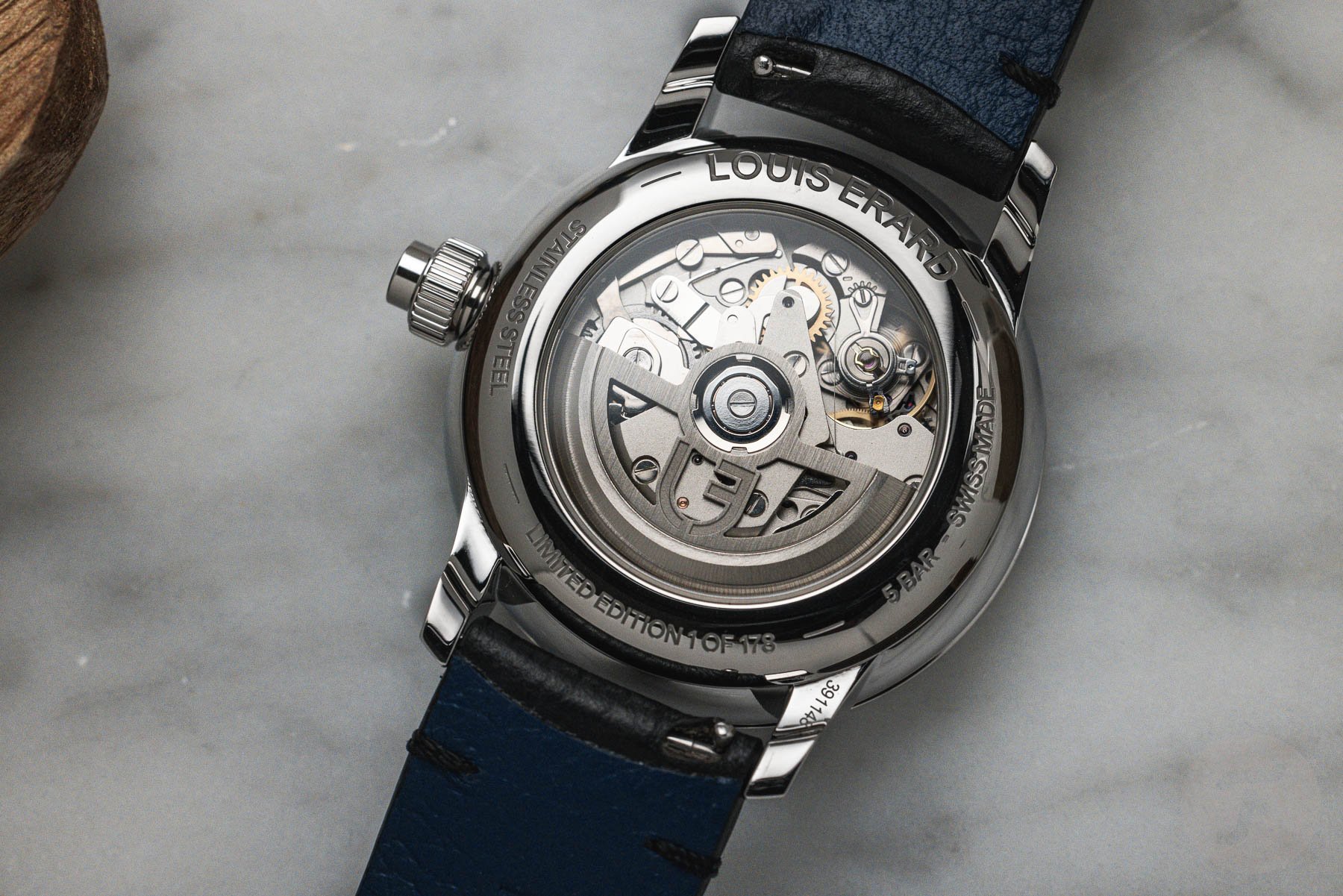 The Sellita SW500 MPC a
If you're familiar with Louis Erard, you probably know that the brand uses third-party movements to keep costs down and offer complicated but affordable timepieces. We see that here too, with Louis Erard having chosen the automatic Sellita SW500 MPC a caliber to power these pieces. It's the go-to monopusher movement for the brand that was also used for the Alain Silberstein collaboration.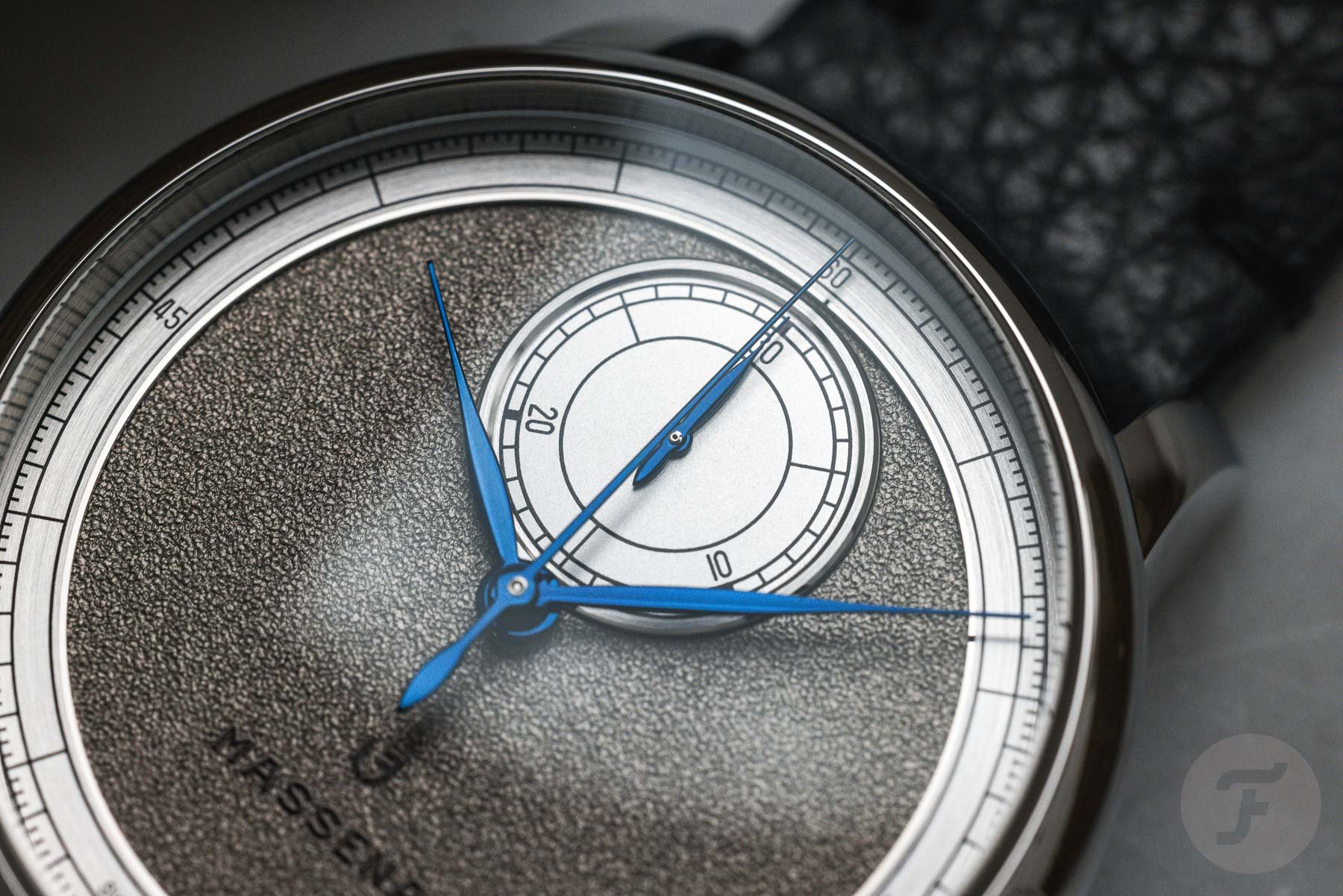 The 25-jewel movement is one of the monopusher variants of the Sellita SW500-1, whose architecture is based on the famous Valjoux 7750. It operates at 28,800vph and, according to Louis Erard, has a 48-hour power reserve (though Sellita indicates 62 hours here). Louis Erard uses the élaboré grade of the movement, and it comes with an open-worked and Louis Erard-branded rotor. The movement is visible through the sapphire window on the steel case back, where you'll also find the individual number of each watch. In total, 178 pieces will be produced, 100 of which will come with the gold-colored dial and 78 with the silver-colored dial.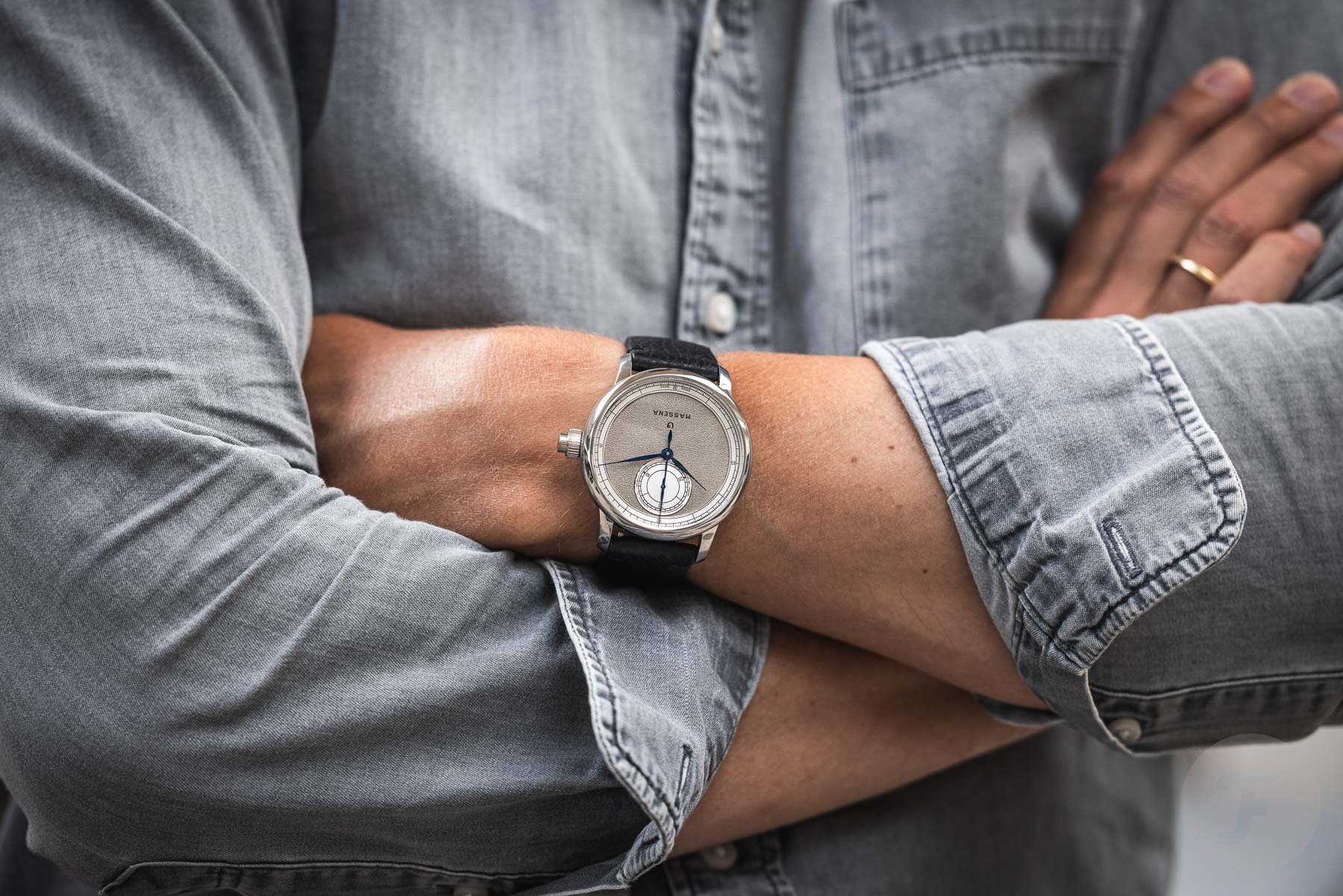 Le Chronographe Monopoussoir Louis Erard × Massena LAB on the wrist
As the dimension would suggest, these watches are big and chunky. From the second you pick them up, you realize that they are not for people with small wrists. Thanks to the curvature of the lugs, the case does sit firmly on my wrist. But even for me — and I am a big guy — the fully polished case with the domed sapphire crystal was a seriously chunky piece on the wrist.
It is certainly not the first watch I have worn with a thick case, but for some reason, it's particularly memorable in that regard. I guess the combination of the minimalist looks with such a chunky profile initially threw me off. And honestly, it is a bit too chunky for my liking. Of the two variants, I prefer the silver-colored version as it is less in your face. On top of that, it wears very nicely with a variety of different colors and clothing styles because it is more neutral in its overall presence.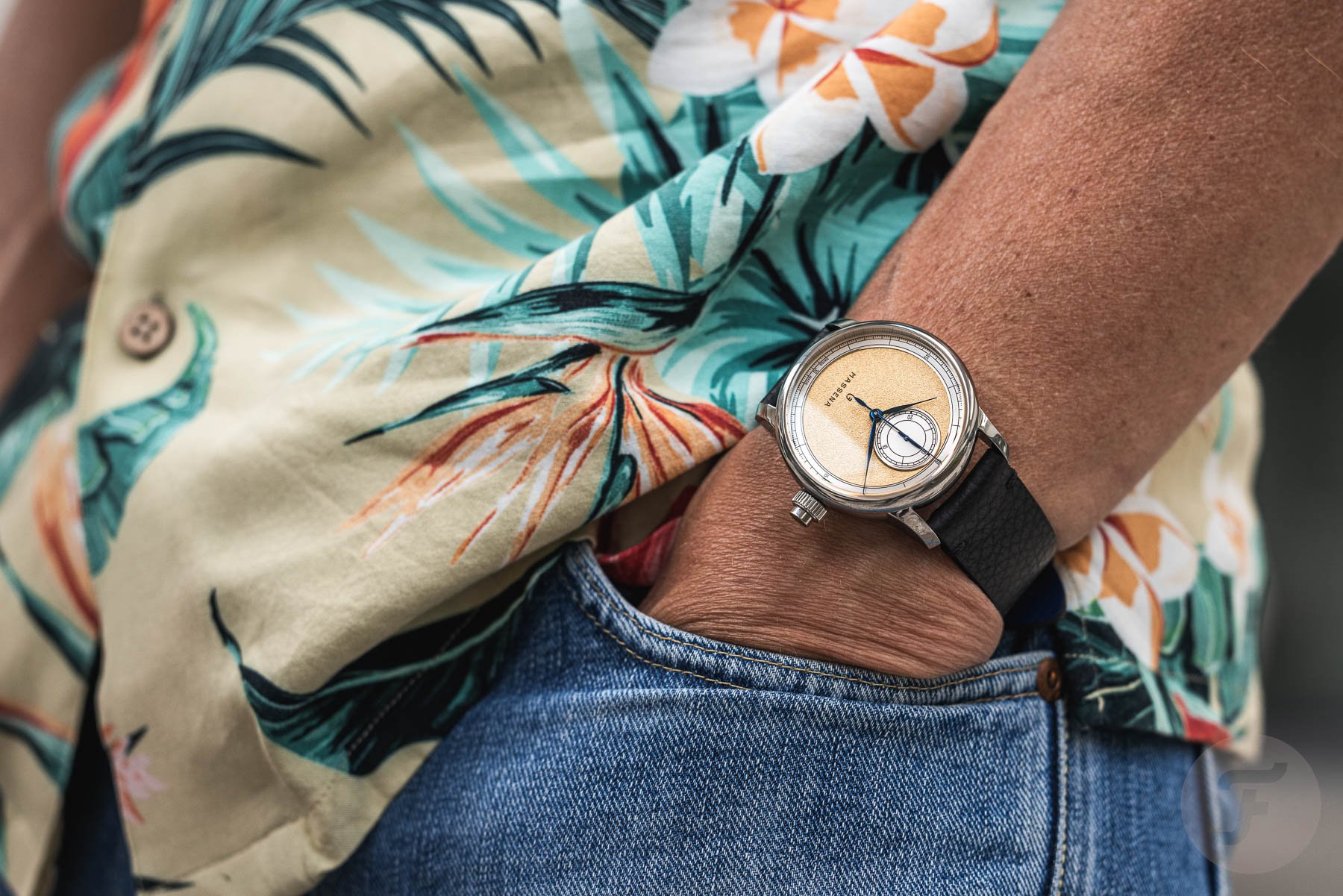 The watch does balance out nicely on the wrist, though, thanks to the black 22mm grained calf leather strap. Not only is the strap quite nice in that regard, but it is also super comfortable to wear. The inside of the strap features a blue lining for a nice, surprising detail and a hint of extra color.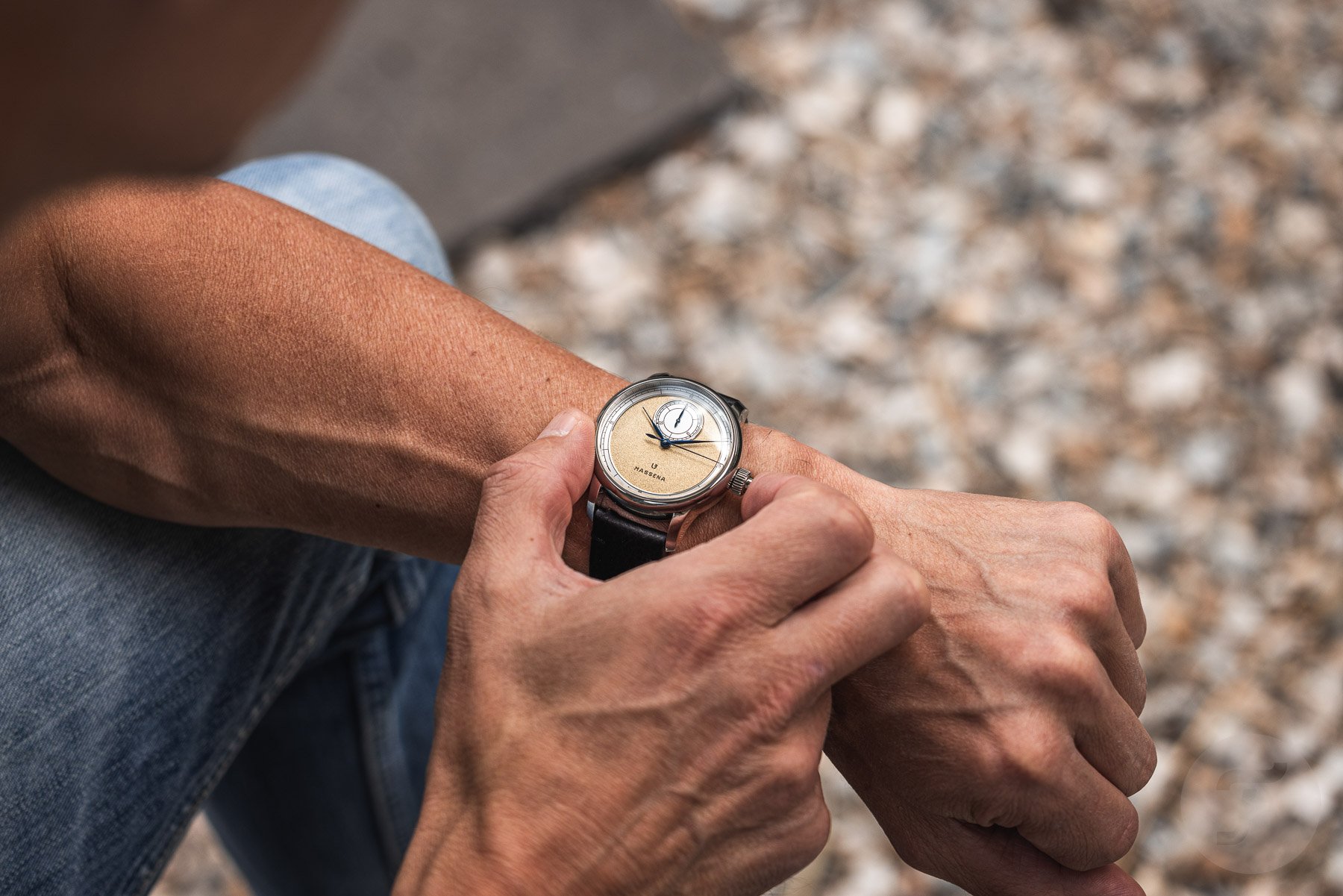 Operating the monopusher chronograph
Once on the wrist, the monopusher chronograph is very easy to use. The single pusher within the crown starts, stops, and resets the chronograph with a series of firm clicks. You can use the crown to wind the watch manually and, of course, set the time. A monopusher chronograph is a required taste. During the time we had the watches in the office, we discussed the preference for a more common dual-pusher or a monopusher chronograph, and the opinions were mixed. But I have to say that the style definitely has its charm and is easy to use. After some time with the watch, it grew on me quite a bit.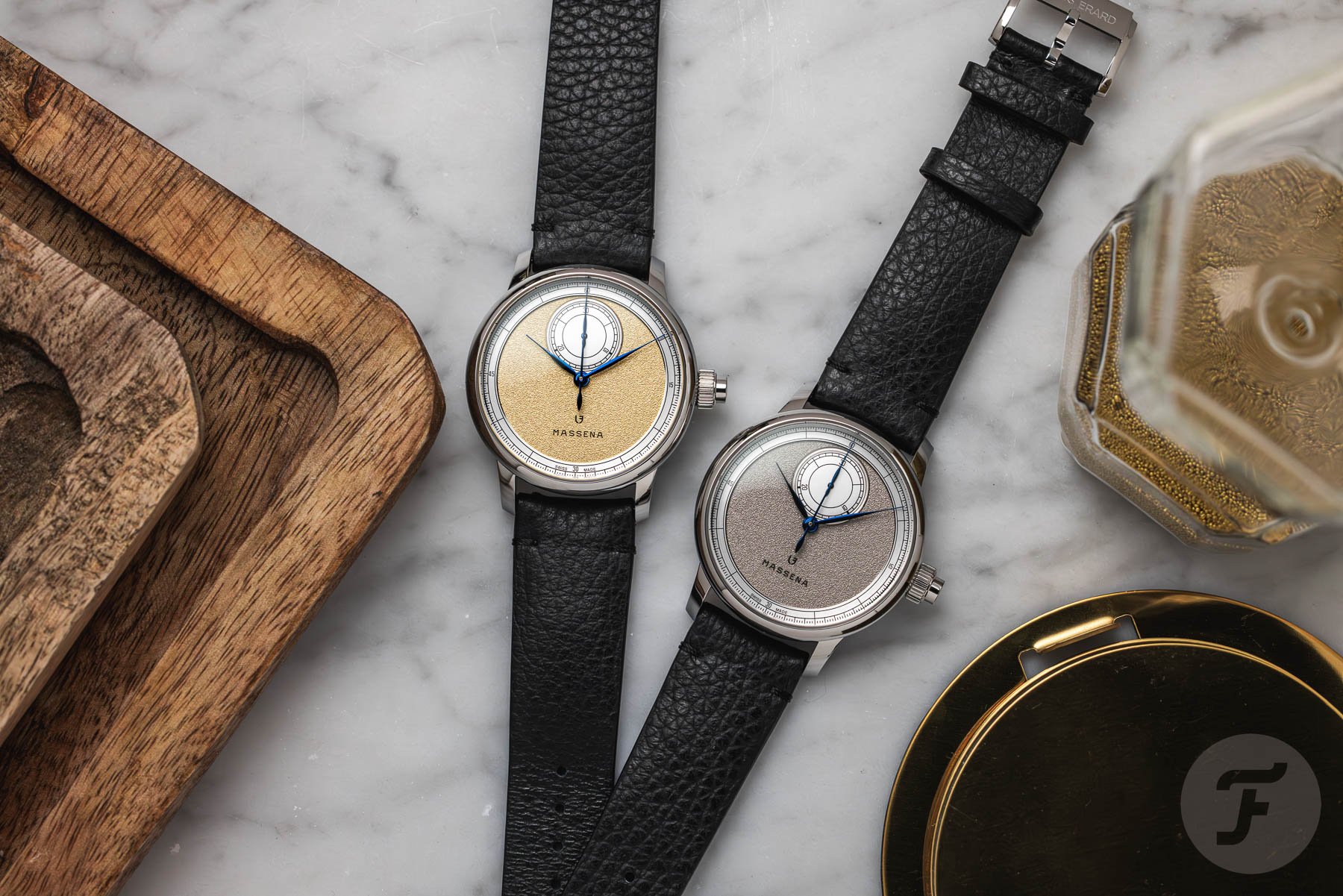 Final thoughts on the Le Chronographe Monopoussoir Louis Erard × Massena LAB
I'll admit that I had a hard time getting used to the size of these two pieces. With a fully polished case and shiny, popping dials, these watches have an abundance of wrist presence. But that doesn't necessarily have to be a bad thing. When a watch has plenty of wrist presence, it keeps you coming back to look at it throughout the day. And I experienced that with these pieces too. They look absolutely stunning, and I greatly appreciate that both brands put a lot of effort into making sure that you can enjoy some outstanding complicated watches for relatively affordable prices.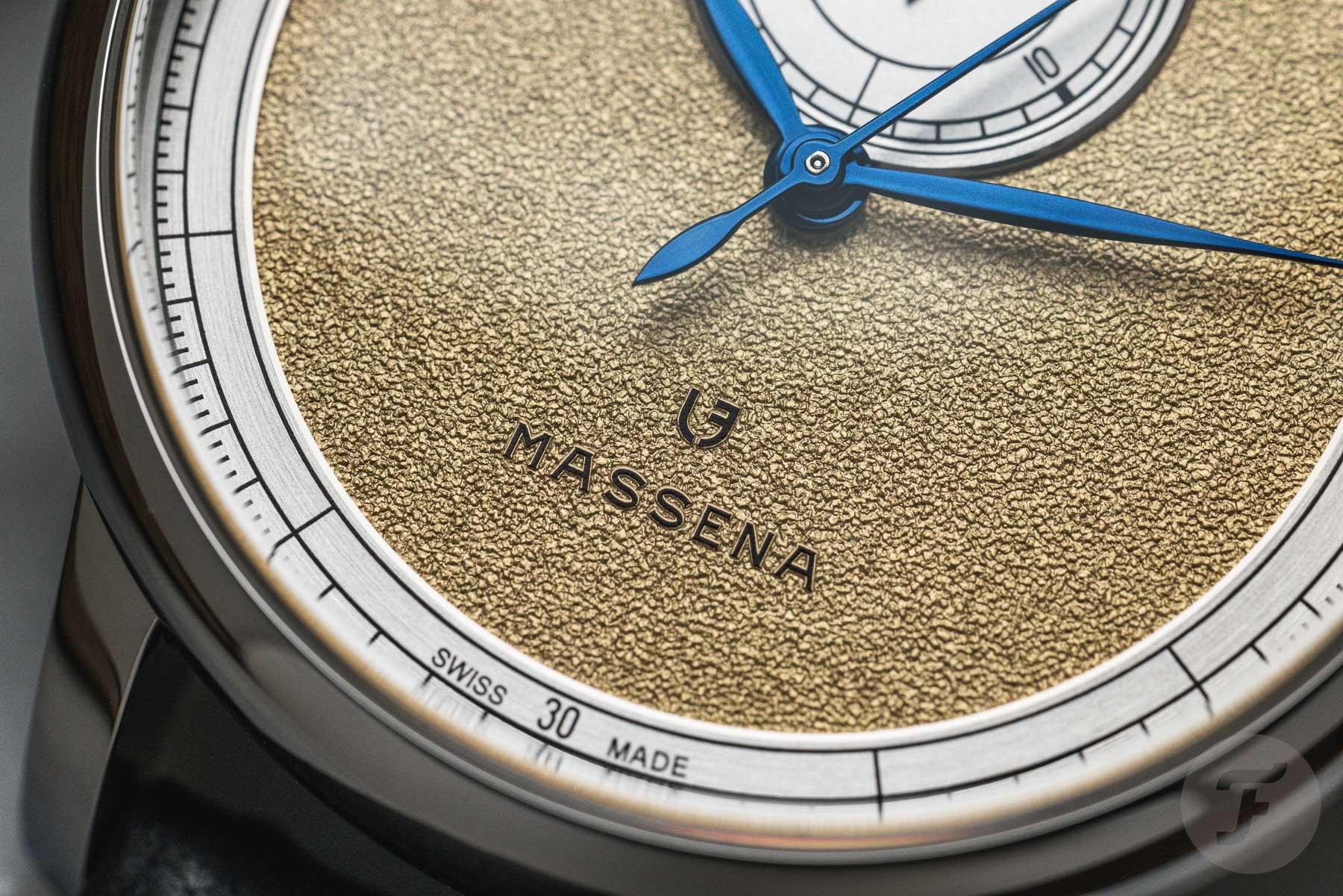 I say "relatively" because both versions have a retail price of CHF 4,250 before taxes. A quick conversion to euros and adding taxes results in a watch with a price of around €5,000. That is serious money. But what you get in return is a serious watch. The dial, the hands, the monopusher movement, and the finishing are all very well done. But does that all make up for the large, chunky case? While some people will love these pieces in all their greatness, I would have enjoyed them much more at a smaller size and especially with a slimmer case. Nevertheless, I very much appreciate what Louis Erard and Massena LAB have achieved with their collaborative efforts, and I'm sure there are more on the horizon. In the meantime, I'm sure that collectors will swoop up the 178 pieces of these two limited editions in short order.
For more information on these Le Chronographe Monopoussoir Louis Erard × Massena LAB models, visit the official Louis Erard and Massena LAB websites. Let us know in the comments section what you think of these two monopusher chronographs.
Watch specifications
Model
Le Chronographe Monopoussoir Louis Erard × Massena LAB
Dial
Rhodium-plated (silver variant) or 2N gilded (gold variant) lower plate with rhodium-finished outer flange and 30-minute chronograph counter
Case Material
Stainless steel
Case Dimensions
43mm (diameter) × 50.4mm (lug-to-lug) × 15.7mm (thickness)
Case Back
Stainless steel with sapphire exhibition window
Movement
Sellita SW500 MPC a — automatic monopusher chronograph, 28,800vph frequency, 48-hour power reserve, 25 jewels
Water Resistance
5 bar (50m)
Strap
Black grained calf leather strap (22mm width) with blue lining and pin buckle
Functions
Time (hours, minutes) and chronograph (30-minute counter and central seconds)
Price
CHF 4,250 (excluding taxes)
Special Note(s)
Limited series of 178 pieces, 100 in gold and 78 in silver