The New Le Régulateur Louis Erard x Massena LAB Channels Vintage Marine Chronometers
Louis Erard adds another collaborative partner to its stable
Louis Erard is an exciting brand that strives to offer accessible luxury watchmaking with traditional styling. Over the past few years, the brand has also worked with some heavy-hitting names to produce collaborations that have caught the eyes and the hearts of the community. You may recall Le Régulateur Louis Erard x Vianney Halter or the two collaborative series in conjunction with Alain Silberstein. There are more, but these two watches stick most vividly in my mind. Now, Louis Erard has teamed up with industry veteran William Massena's Massena LAB to produce a new Le Régulateur with distinct vintage marine chronometer vibes.
I don't know about you, but I wouldn't have automatically chosen Le Régulateur as the go-to model for collaboration projects. I'd have assumed its relative quirkiness would make it an unwilling canvas, but it appears that I would have been very wrong. You only have to look at the past efforts to see quite how surprisingly versatile a canvas it can be. Now, Massena LAB has proven as much once again with the watch we see here today.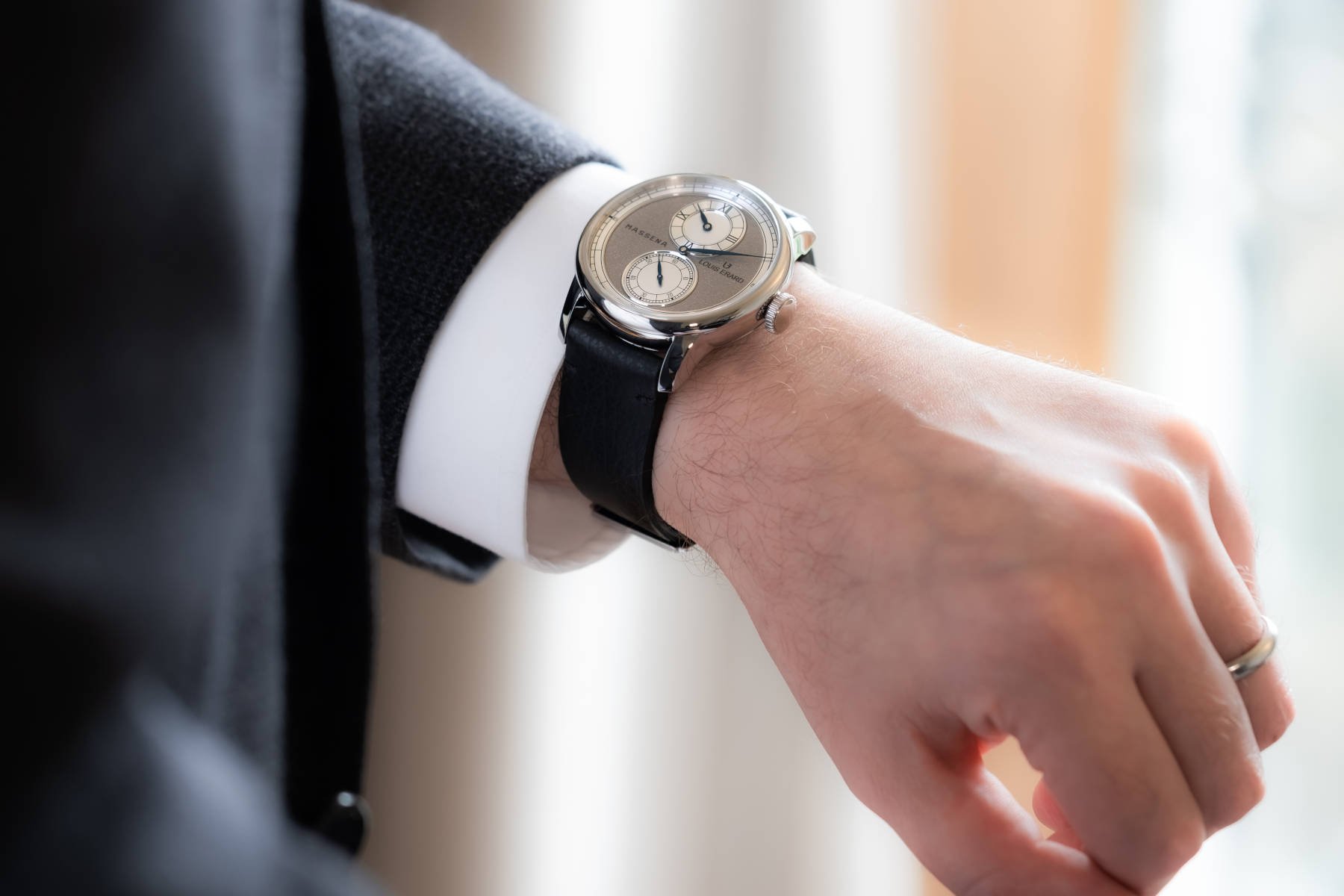 A new guise for Le Régulateur
Under the surface, the Louis Erard Le Régulateur remains unchanged from previous versions. The specifications alone are not what attracts people to these collaborative models, but they're still important. The elephant in the specs room is probably the size. For a watch with dressier/classier sensibilities, some might argue that the 42mm polished stainless steel case is "too large".
If it ain't broke, don't fix it…
Size is a very subjective thing when it comes to watches. I'd be inclined to agree that a 42mm watch without a bezel is likely to wear more prominently than the raw numbers might suggest. In turn, that'd probably put me off, but Louis Erard's Le Régulateur collaborations sell. If they didn't, why would the brand keep making them? If it ain't broke, don't fix it, as they say. The 22mm lugs are in proportion to the case and balance the watch head on the wrist better than 20mm lugs would.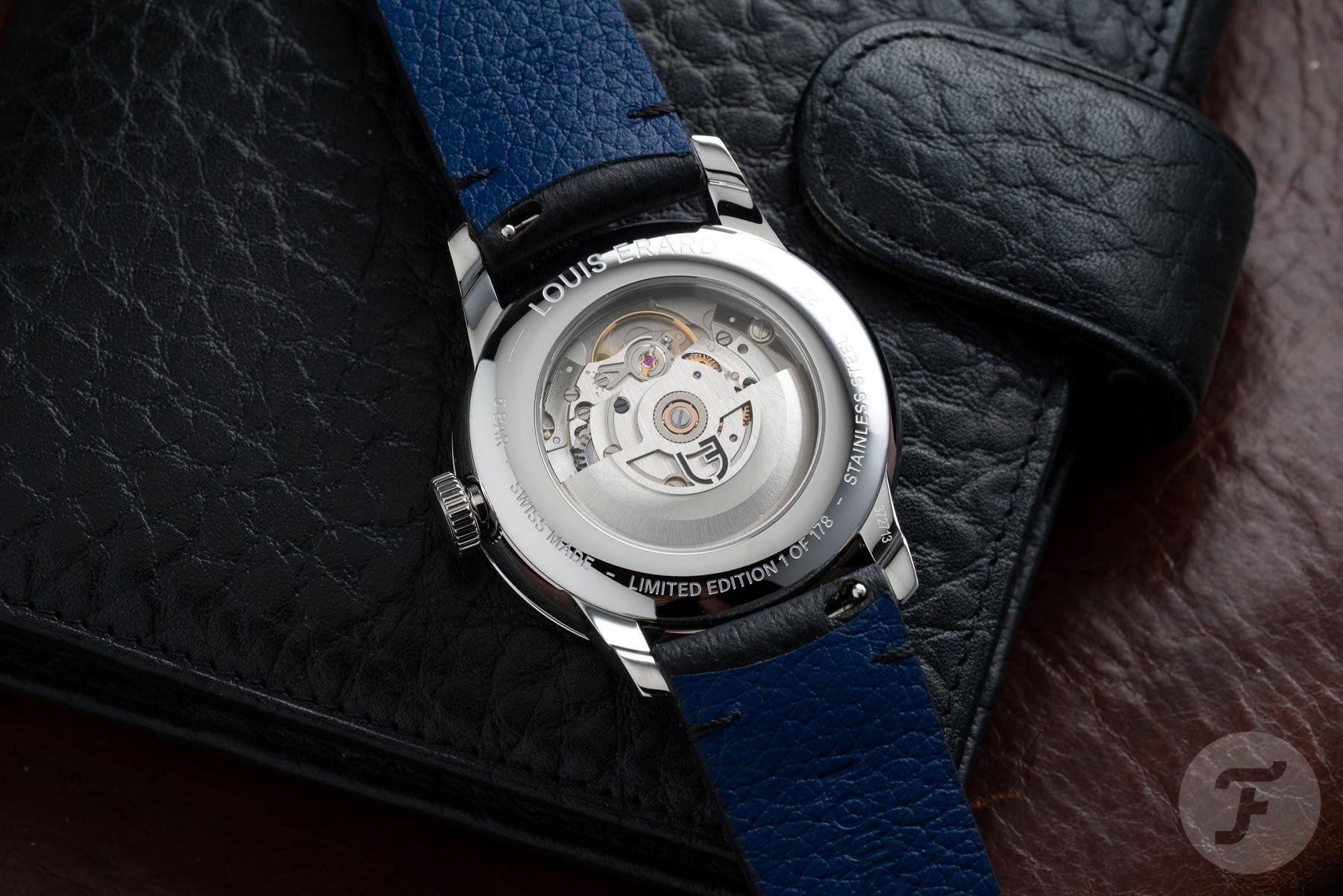 Sticking with the standard
Louis Erard uses the automatic Sellita SW266-1 movement in all of its Le Régulateur watches. In the interest of keeping things affordable, the Sellita is a smart choice. Now, a Sellita caliber may not be as sexy as something completely "in-house". Nevertheless, it's a reliable movement and easily serviceable, two features that are infinitely more important in my opinion. The movement offers 38 hours of power reserve. This is more than a day and a half, which is ample time in the grand scheme. However, the power reserves are one of the few things that I dislike about the Sellita movements.
I think an automatic watch should offer enough power reserve that you can take the watch off on Friday evening and put it back on Monday morning…
In this day and age, 38 hours is not a lot, and personally, I'd like to see more. Why? I think an automatic watch should offer enough power reserve that you can take the watch off on Friday evening and put it back on Monday morning with it still running. I know this is a first-world problem, but I'd be remiss not to stand my ground on a point I feel pretty strongly about. Obviously, this is on Sellita, not Louis Erard, though!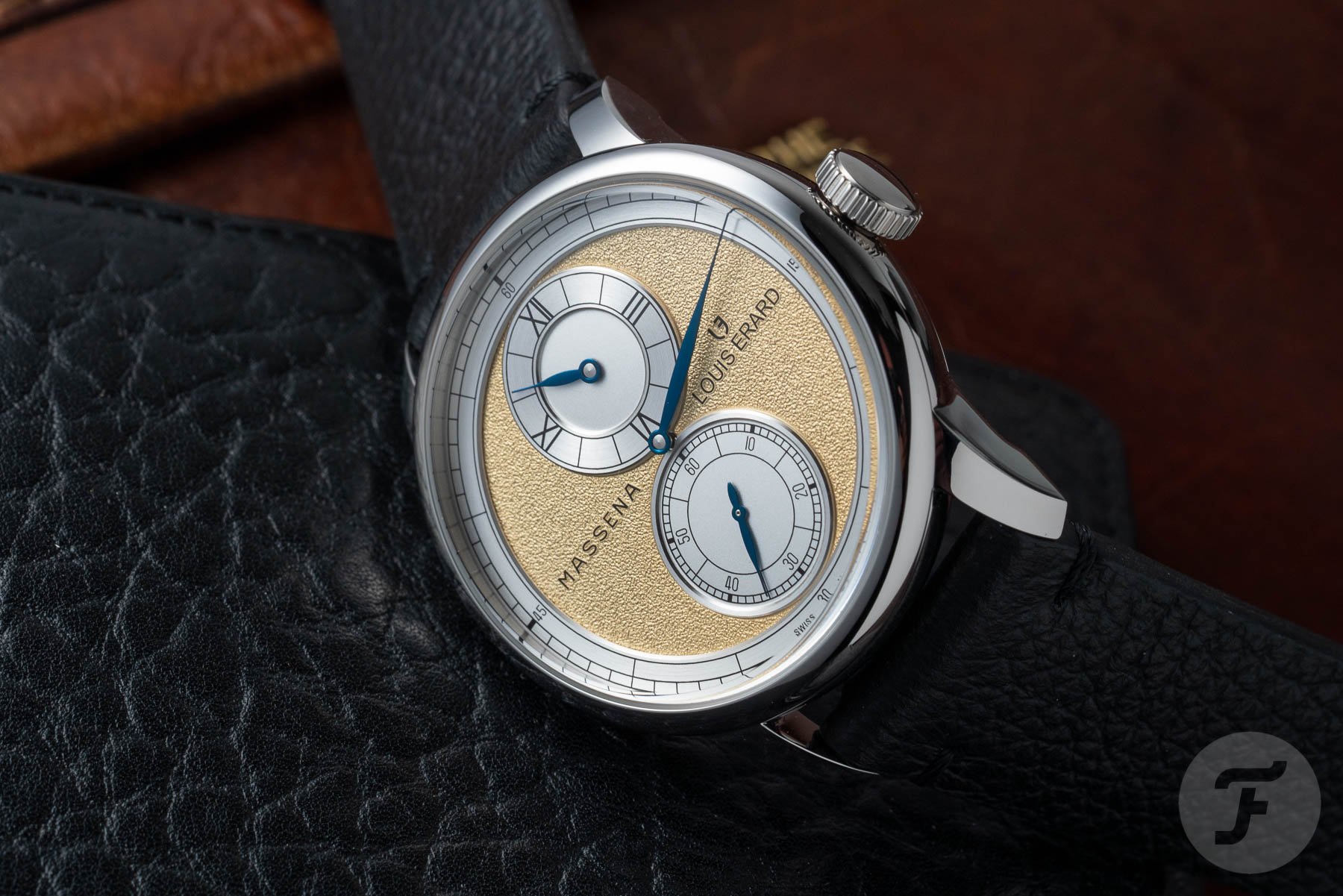 We're all here for the dials
The dials are most certainly the main attraction here. They are designed to put on a show, grab your attention, and leave you wanting more. Louis Erard provides the stage for Massena's design, but always with the same goal in mind — to offer luxury watchmaking quality at an affordable price. It was Massena LAB who wrote the script, combining contemporary watchmaking with 19th-century marine chronometers as a guiding principle.
Massena's dials are made up of two levels. The two flanges on the hour and seconds counters (at 12 and 6 o'clock) are rhodium-plated with a circular satin finish while the centers of the sub-dials are silver-plated opaline. The large central minute hand points towards the outer rhodium-plated flange with a circular satin finish. Louis Erard used rhodium or gold plating for the lower plates, opting for a grained finish to further increase the contrast with the counters and enhance the readability of the gorgeous blued-steel leaf hands. Finally, a signature Massena LAB crown adorns the case at the traditional 3 o'clock position. Louis Erard presents both watches on a black grained calf leather strap with tone-on-tone stitching and a polished stainless steel pin buckle.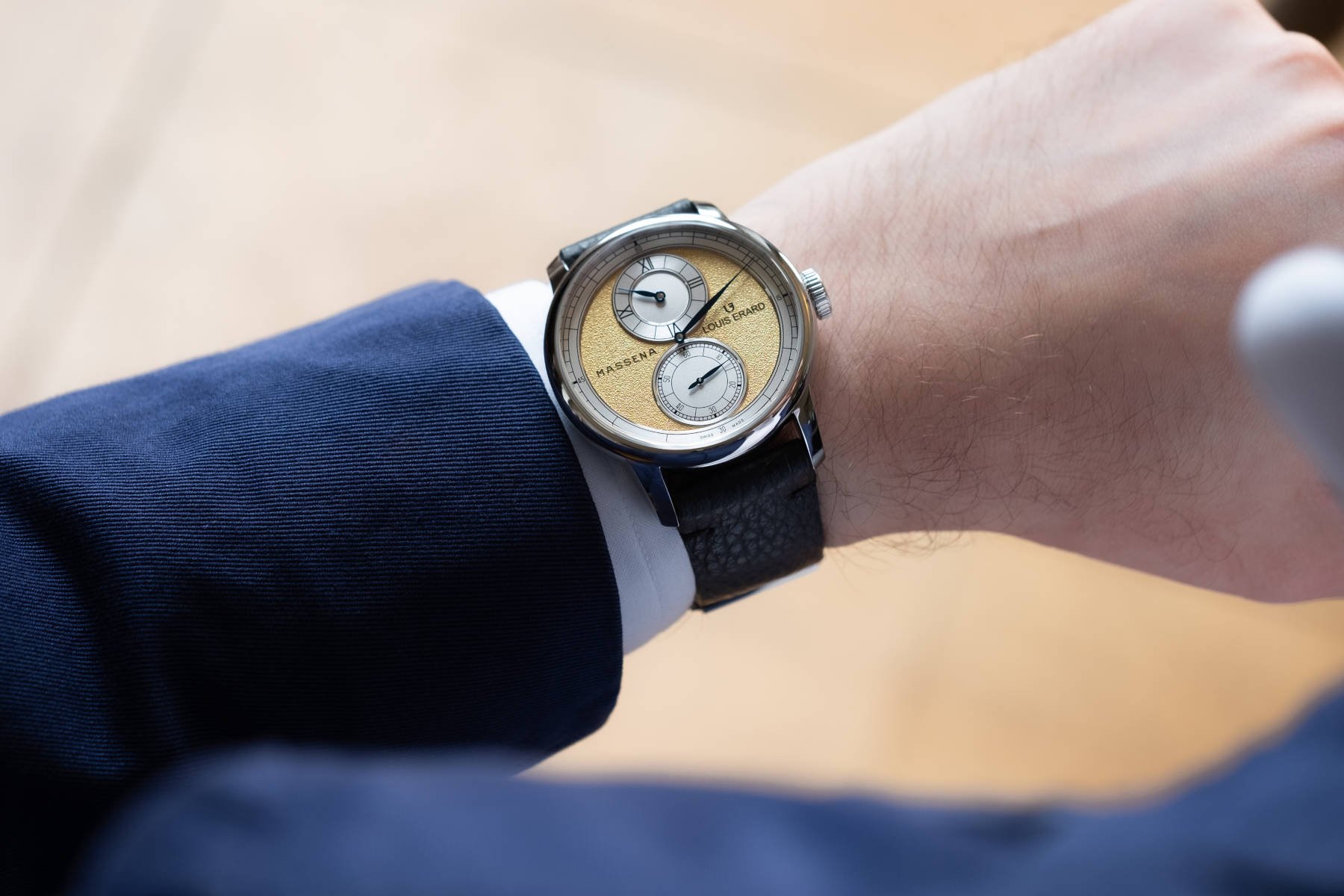 Why it just works
As William Massena explains, "A successful collaboration is one that makes sense. Louis Erard allowed me to mix codes, cite the classicism of a master watchmaker like Antide Janvier, and democratize a style usually reserved for wealthy collectors." I think that's the reason Louis Erard's collaborations work so well. The brand allows its partners to take the reigns. Rather than stifling creativity through bureaucratic red tape, it allows its partners to realize their vision. That's why, even when the watch may not totally be to my tastes, I will also appreciate and have time for what Louis Erard is doing on this front.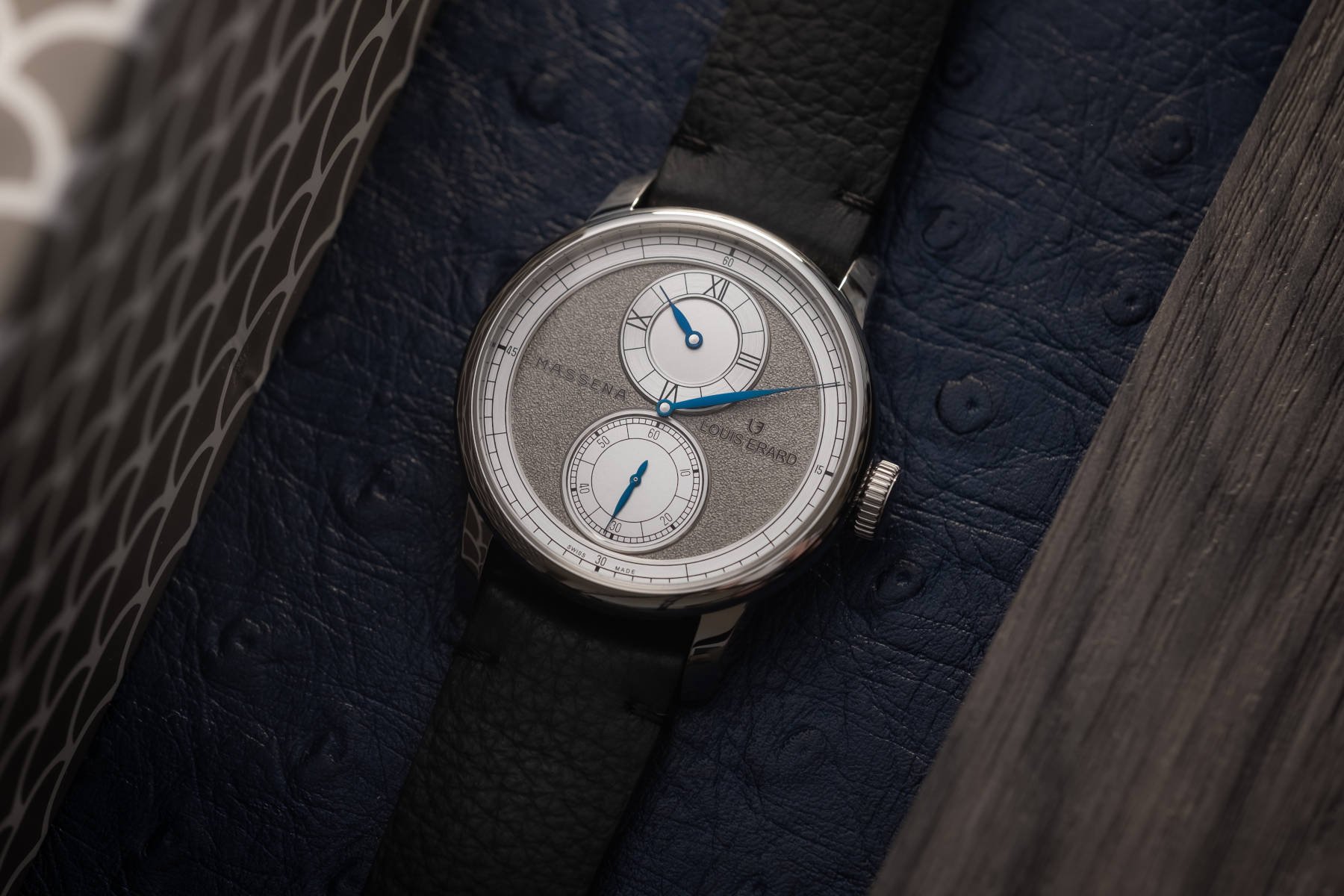 Le Régulateur Louis Erard x Massena LAB price and availability
The Le Régulateur Louis Erard x Massena LAB costs CHF 3,600 with 178 pieces of each dial variation. You can find out more on the official Louis Erard website.
This is a preferred position post. Learn more.
Follow me on Instagram: @davesergeant | @fratellowatches