Hands-On: The Nezumi Voiture Norinder Edition — Full Throttle In Swedish Racing Colors
A familar face but with colorful and race-proven overtones
It's no secret that I enjoy the presence of the Voiture Chronograph from Nezumi Studios. It's a big value prop in its meca-quartz versions, and should you feel like leveling up, it has a mechanical brother. In 2023, it's close to a small-brand classic, having the same cheeky Zorro-mask design since 2015. Now it's time for a track-ready version and a great alternative for race-colored daily cool.
Car- and race-themed watches always seem to be just a tad too much on the nose for me. But I've still got a love for racing and a penchant for the evocative Gulf-colored TAG Heuer Monaco. I'm not saying this Swedish meca-quartz Chronograph is an alternative, or am I? To me, the TAG does indeed evoke Steve McQueen and that elusive racing vibe but messes up a tidy dial. For a lot less, the fresh touch of Ulf Norinder's racing colors seems a perfectly natural fit on the masked Nezumi Voiture.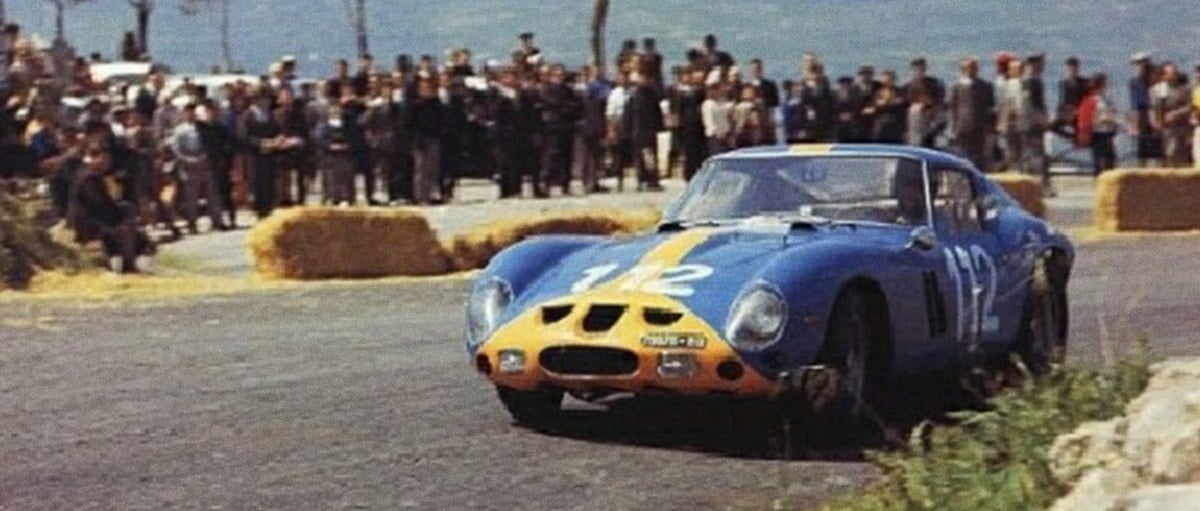 The inspiration
Have a look at this grainy 1965 photograph. Who of a certain age (over 40ish) doesn't love the myth of the Ferrari 250 GTO? You might think to find the Swedish coloring an inside reference, but the racing provenance that inspired it is legendary. As a competitive privateer racer of the '60s, Ulf Norinder was one of the last of an iconic breed. His racing career stayed quiet until he bought a one-year-old 250 GTO in 1964 (don't google the 1964 price or you'll be crying; it now sells for €60–70 million at auction). In 1964, Ulf Norinder and Canadian John Cannon raced the 250 GTO at Daytona and finished fifth. At the Targa Florio road rally, Norinder and Picko Troberg finished second in their class and ninth place overall. So that's provenance checked. How about that colorful dial?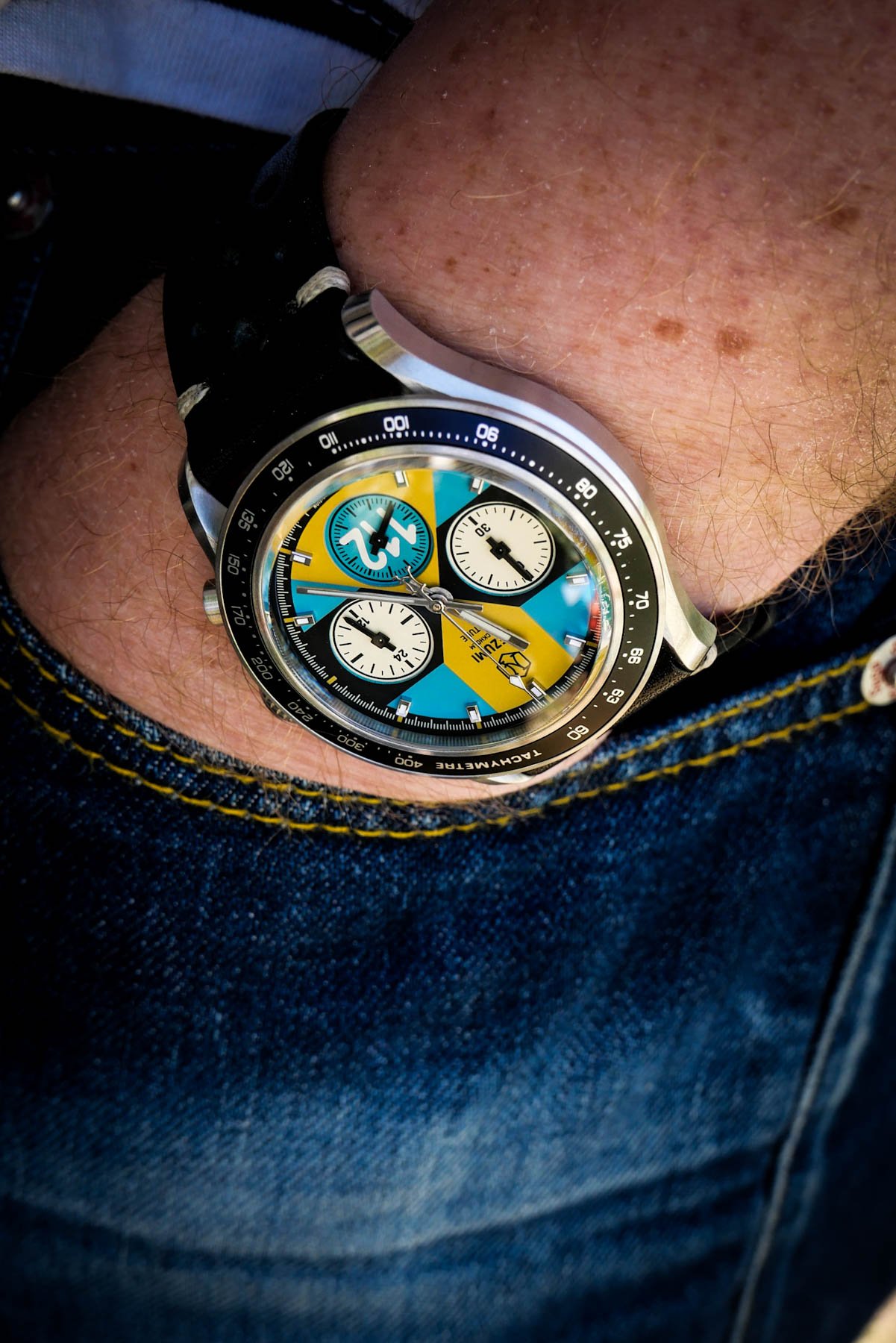 A dial that makes a difference
If you haven't seen the Voiture's dial before, there's a strong Zorro-mask vibe going on. You may have seen it in the 41mm Breitling Top Time from 2020, and the '60s inspiration is equally strong in both watches. For some of you, it's perhaps a tad too busy. That was my first impression, but the soft vintage vibe of the coloring and even the print quality of the Voiture makes it seem like a 38–39mm watch.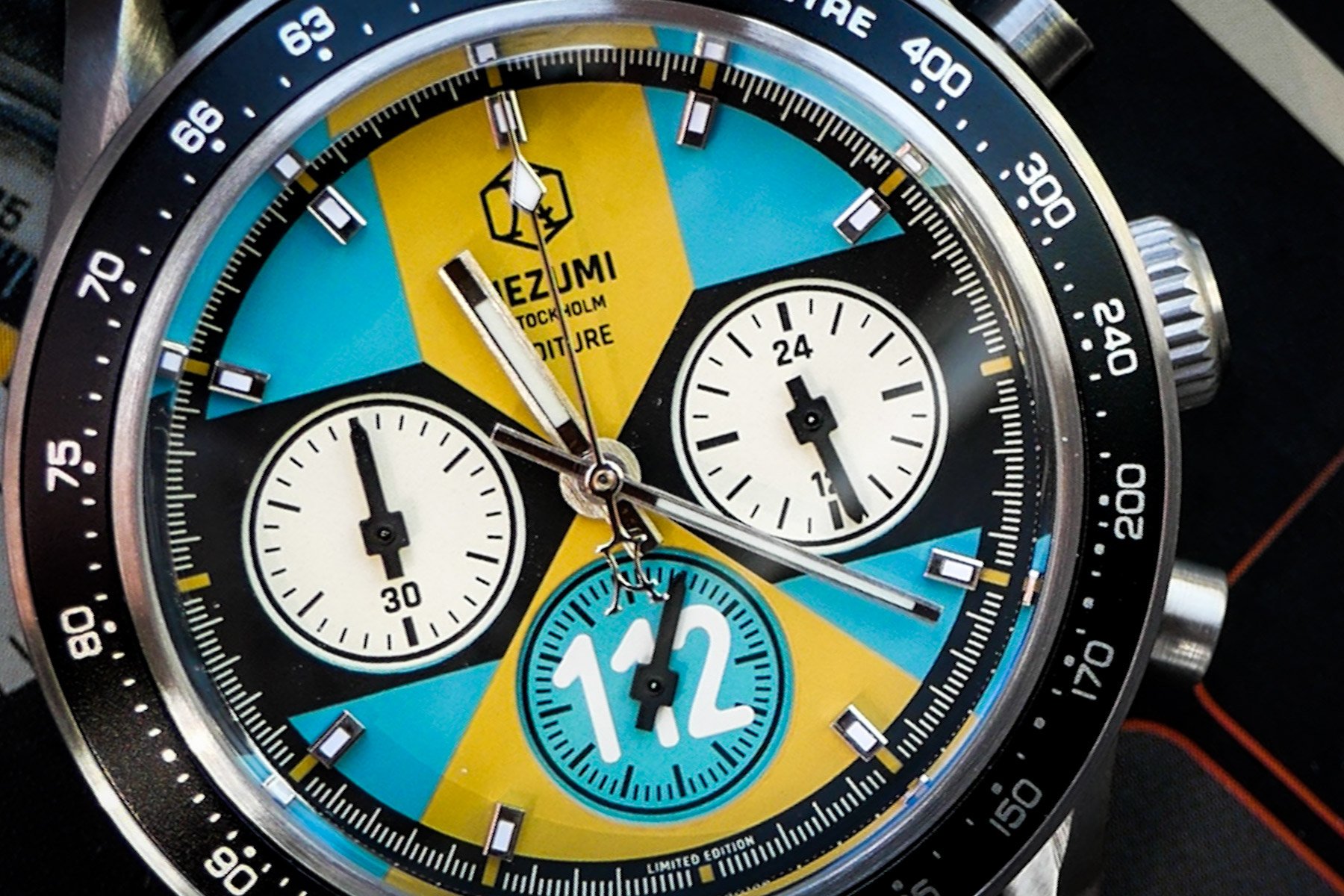 What surprised me the most was that this Norinder Edition, despite being even busier, just added to the charm. The Voiture case for this edition has been softly brushed rather than keeping the sharp, polished details of the regular model. This means the dial details get less competition while emphasizing the tool-like solidity. Just like on the podium-placed GTO, a broad yellow line runs down the center. The running seconds at 6 o'clock are made into a cheeky race roundel with the 112 starting number of the Ferrari. So far, so racy.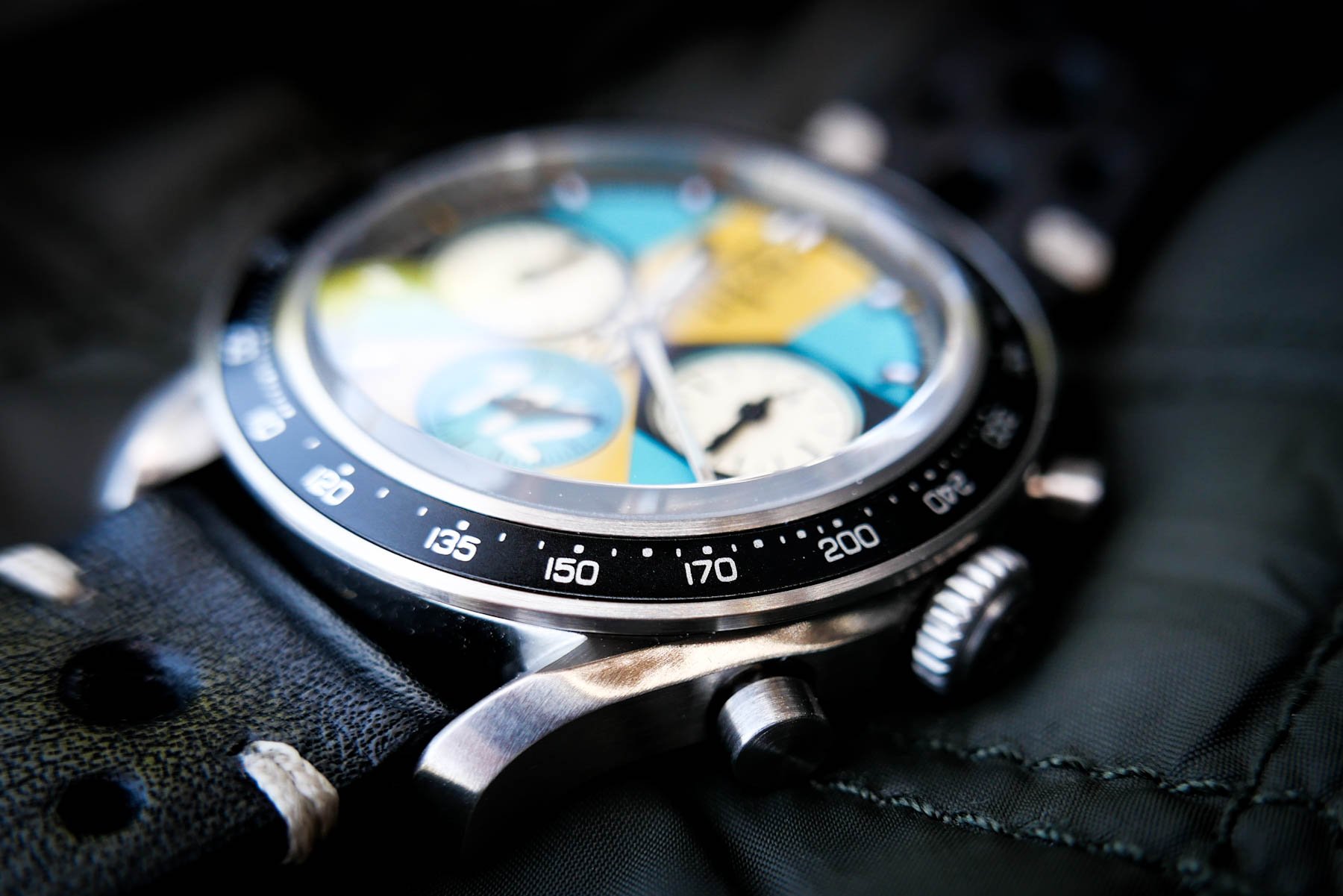 Too busy or time-traveling cool?
That's the question I kept asking myself, even if I am a lover of colorful wristwear all day, every day. And the same goes for automotive-themed wristwear, a tainted term. But you know what? Nezumi Studios pulled it off in my eyes, probably because I already like the mad mask design of the Voiture and racing in general. But let's be honest; if you're a former or current petrolhead, a rally strap holding a compact chronograph with a busy dial screams '60s/'70s race day. And even if the Swedish colors might be a bit, well, Scandinavian-centric, there are a few great pluses here. The dial has an instant cheer-up effect and the ability to transport you to a time when fast cars were cooler than their electrified counterparts today.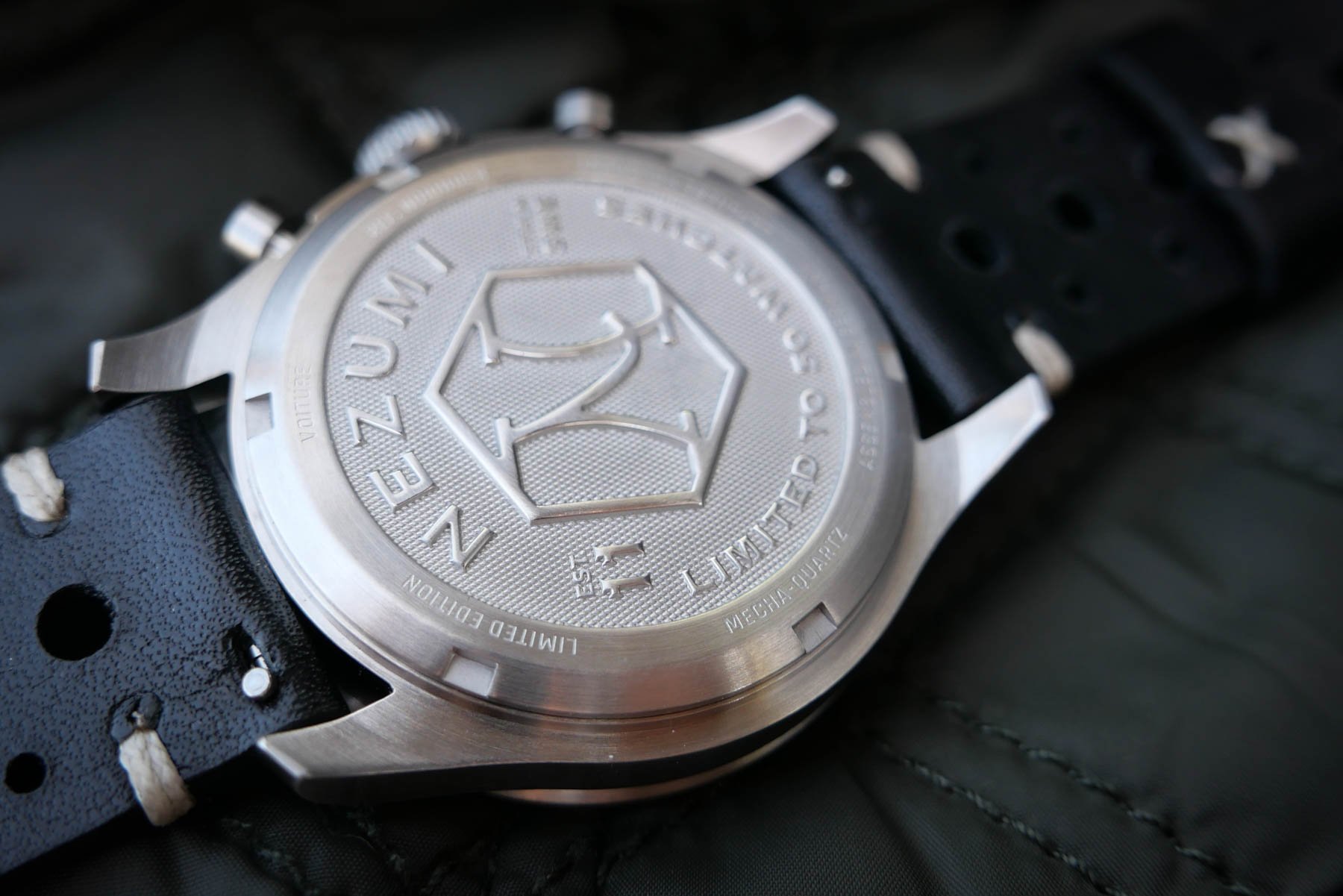 A racy conclusion
Top this with a very good price of around €365 before taxes, and the Nezumi Voiture Norinder Edition is a race winner in my book. For this price, you'll get a veg-tanned leather strap and a cool yellow-lined leatherette case as well. Now you'll just need those racing overalls.
Unfortunately, while writing this article, this batch sold out. However, I'm sure that with a comment petition, Nezumi's David Campo could come up with some more. For more thoughts on the case of this baby, check my previous Nezumi Voiture story here. It's got the same slim 40 × 47mm case with lyre lugs, which has been so successful for Nezumi over the past eight years.
So, my racing Fratelli, was this a cool piece of racing-tinted wristwear, or did the dial make you dizzy with its plethora of colors and patterns? I'm all for maximalism and petrol fumes, but let me know what you think in the comments.
Watch specifications
Model
Voiture Norinder Edition
Dial
Blue, yellow, and white with black sub-dial frames and applied luminous indices
Case Material
Stainless steel (316L) with aluminum bezel insert
Case Dimensions
40mm (diameter) × 47mm (lug-to-lug) × 13mm (thickness including crystal)
Crystal
Double-domed sapphire with antireflective coating on underside
Case Back
Solid stainless steel, screw-down
Movement
Seiko VK63 meca-quartz chronograph
Strap
Vegetable-tanned leather rally strap (20mm width) with quick-release spring bars
Functions
Time (hours, minutes, small seconds), 30-minute chronograph, 24-hour indicator, tachymeter bezel
Price
SEK 4,240 (approximately €365 / US$395 before taxes)
Special Note(s)
Limited production of 50 pieces