Hands-On: The Oak and Oscar Olmsted 38
A Fantastic, No-Nonsense Field Watch
We take a look at the Oak and Oscar Olmsted 38, the brand's "re" – entry into the field watch segment.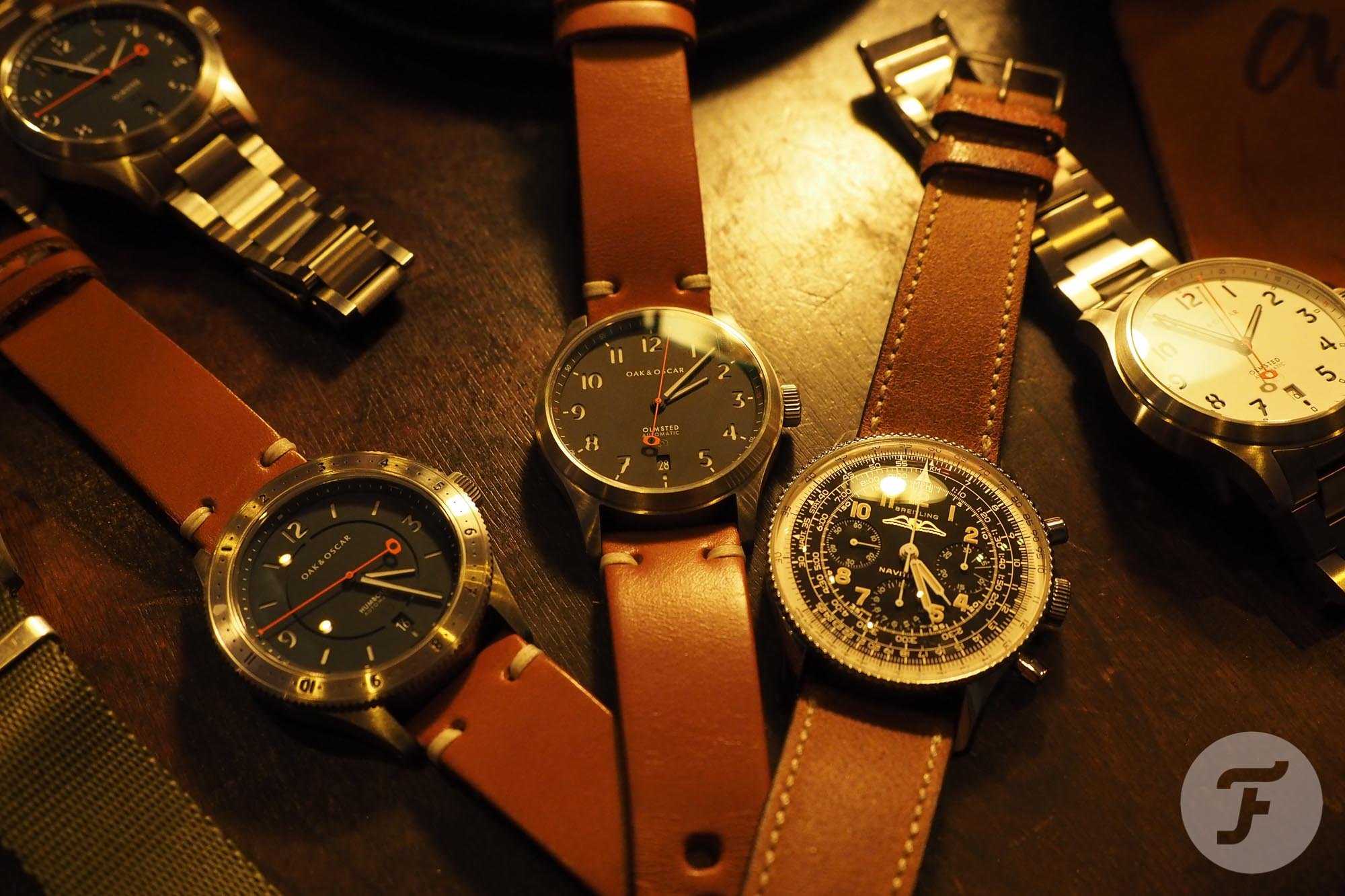 By the time you read this, about a week will have passed since a small group came together in Frankfurt, Germany with Oak and Oscar's Chase Fancher (founder) and John Hatherly (creative director) at my absolute favorite cocktail bar on the planet (a shameless plug for Antony's thanks for hosting us!) to share some drinks and to take a look at the Chicago-based watch brand's newest watch: the Oak and Oscar Olmsted 38.  As mentioned, the watch is a simple 3-hander with date that falls into the oft-referenced "field watch" category.  We first saw this watch in photos a few weeks back and while it looked nice, I wasn't 100% sure that it was my cup of tea.  Well, and it wasn't the sazeracs talking, I left the evening smitten with this new lineup of watches that will soon be available as regular production models.  How smitten?  I bought one and there was no discount…nada.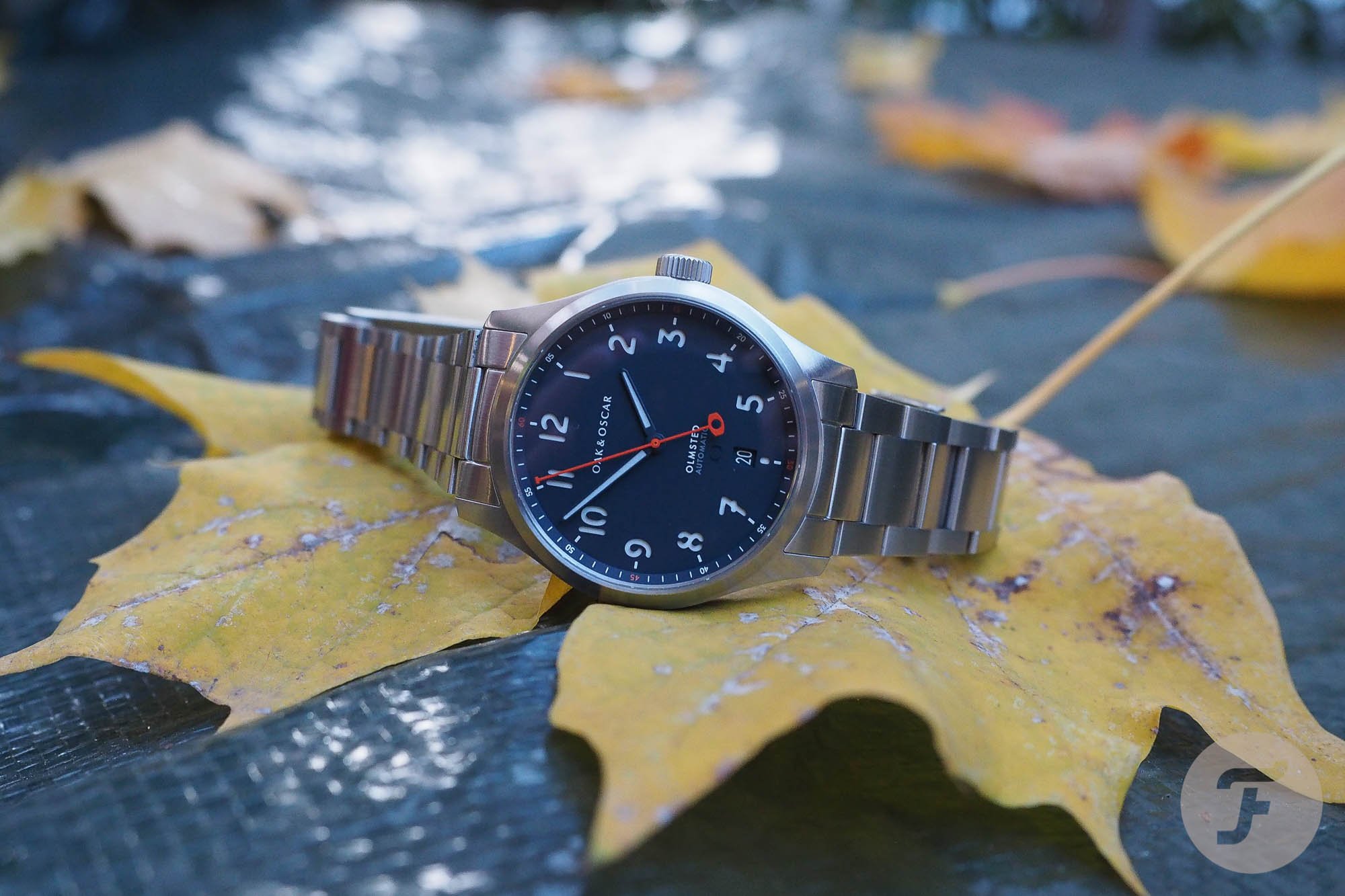 Oak and Oscar – Around Since 2015
Since its inception in 2015, Oak and Oscar has basically come out with a watch per year.  The initial watches were limited editions, but with last year's introduction of the "Humboldt", serial production watches are now part of the collection.  That's not to say, though, that special collaborations aren't still under consideration as we saw a baseball-inspired watch just a few months ago that brought in the well-known company, Wilson.  But here we are in late 2019 and it was time for a new release.  That watch is the Oak and Oscar Olmsted 38.  The name of the watch, by the way, comes from Frederick Law Olmsted, who is widely considered to be the father of American landscaping.  He was responsible for designing NYC's Central Park, Detroit's Belle Isle and Chicago's Jackson Park amongst others.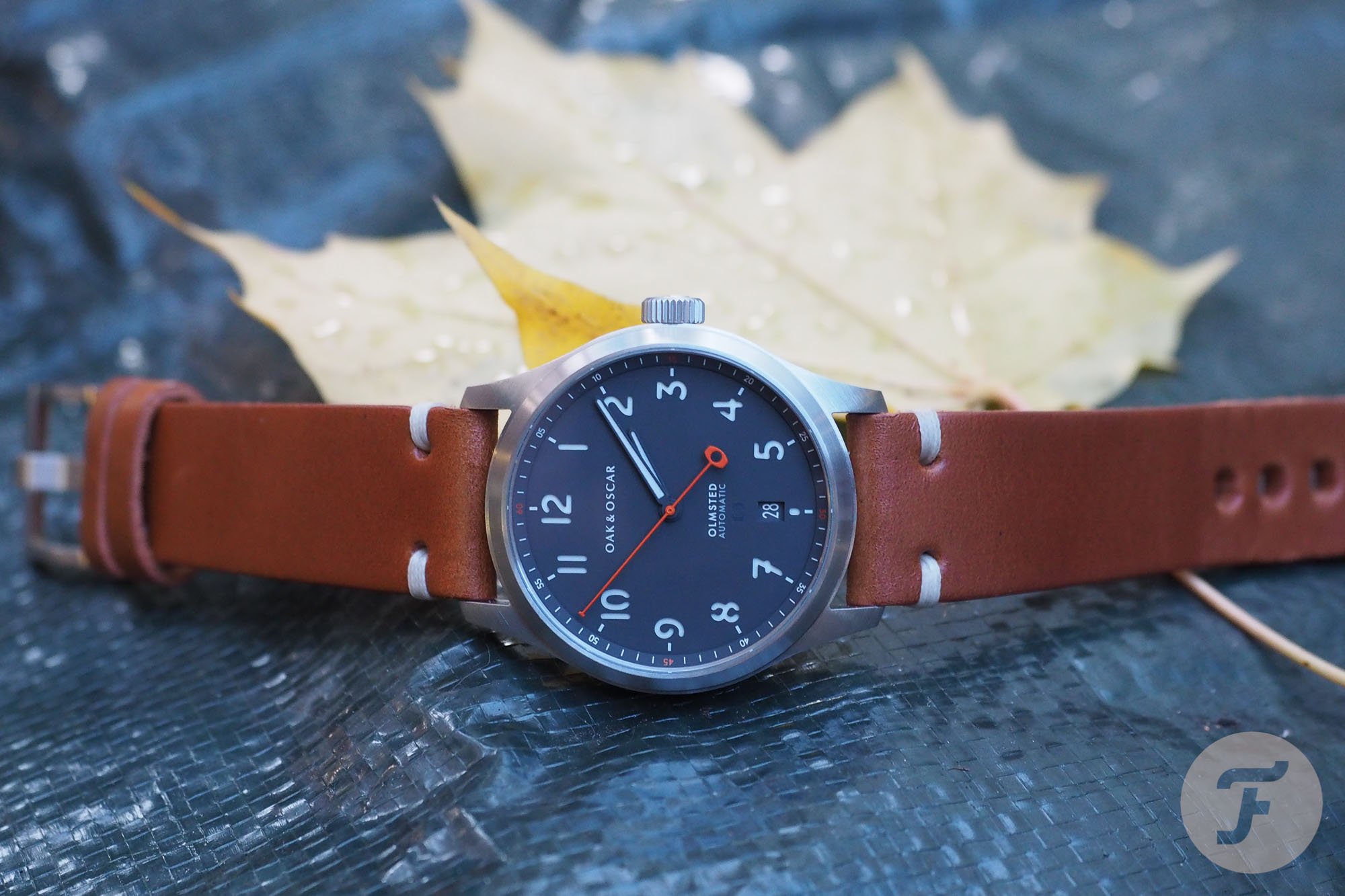 The Oak and Oscar Olmsted 38 – Field Watch
If we talk field watches in relation to Oak and Oscar, you can travel back to 2015 to view the company's first watch in the Burnham.  It's actually categorized as a field watch and can be credited for setting the brand's stylistic direction.  It contained features such as a sandwich dial, a sweep seconds hand with a counterweight in the shape of the company logo and colors such as grey and orange.  While all of those characteristics haven't always been found together on every watch since that time (other dial colors aside from grey have been used, for example), there's a nice stylistic flow from one model to the next.  Unlike many brands large and small, Oak and Oscar is relatively unique in the sense that you know you're looking at one of their watches when it's being presented.  But back to the Burnham.  It was a fine looking watch, but at 42mm, it was too large for someone like me.  With the Oak and Oscar Olmsted 38, you can take a wild guess at the new, approachable diameter.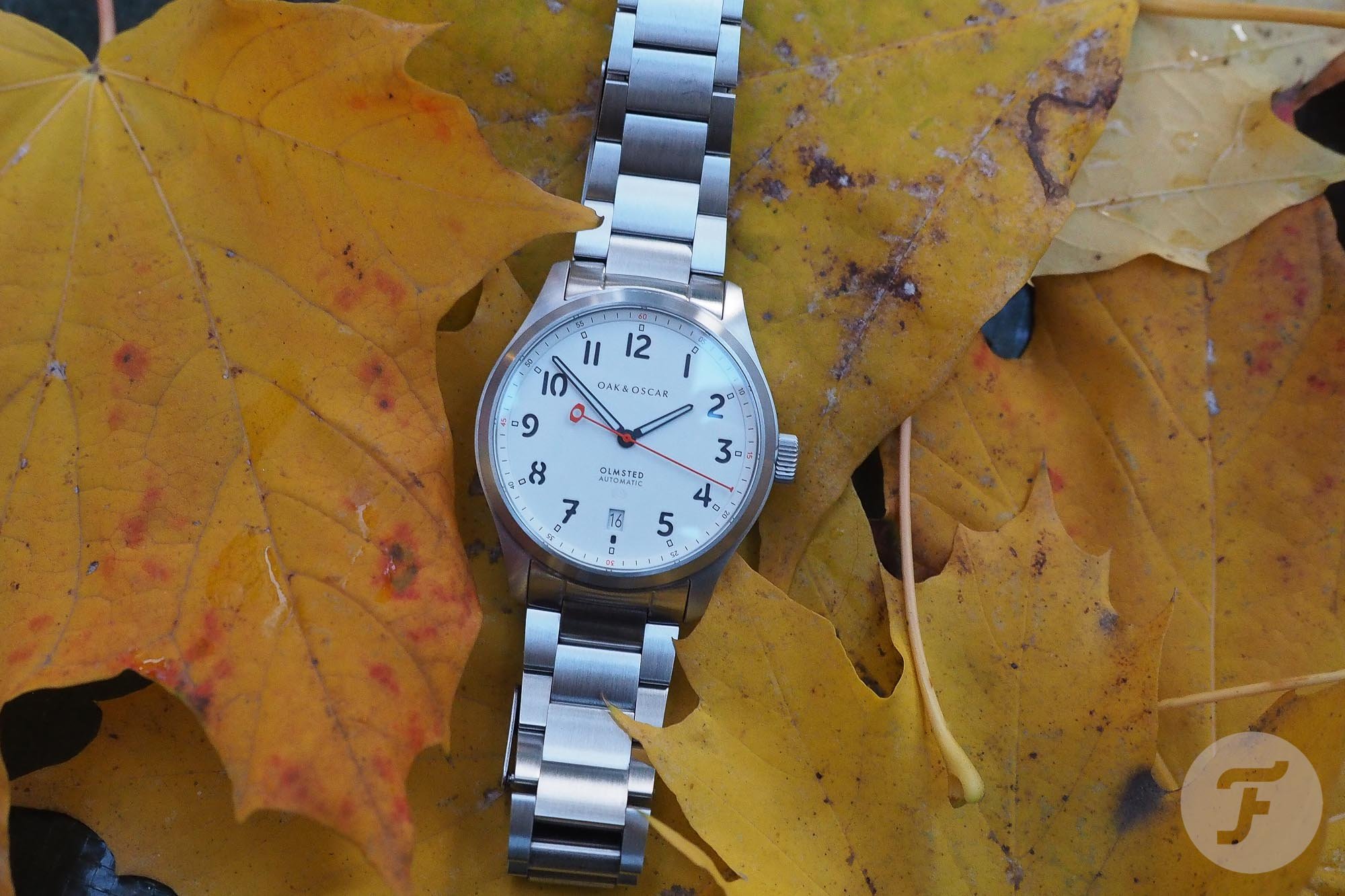 The Details – Executed at a Very High Level
As mentioned, on paper, the watches look good, but seeing them in person brought the known attention to detail to light.  And, as I'll discuss shortly, the wearing made all the difference in the world.  Regarding the looks, the Oak and Oscar Olmsted 38 is available in one of three dial colors: white, dark blue and grey.  All of the watches contain the typical sandwich dial, brand hallmarks such as the "hashed" 7, the sweep hand with logo counterweight that glides over a barely visible logo above 6:00, and a dial color-matched date wheel.  Notably, and somewhat obviously, the SuperLuminova color on the white dial differs from that of the grey or blue.  A cool upward angled chapter ring features orange font at the 15/30/45/60 to add a subtle touch of pop on the purpose-designed dial.  And the quality?  In talking to the team, they routinely reject components to the extent that their suppliers often think they're working with a far more expensive brand.  So, yes, they're picky…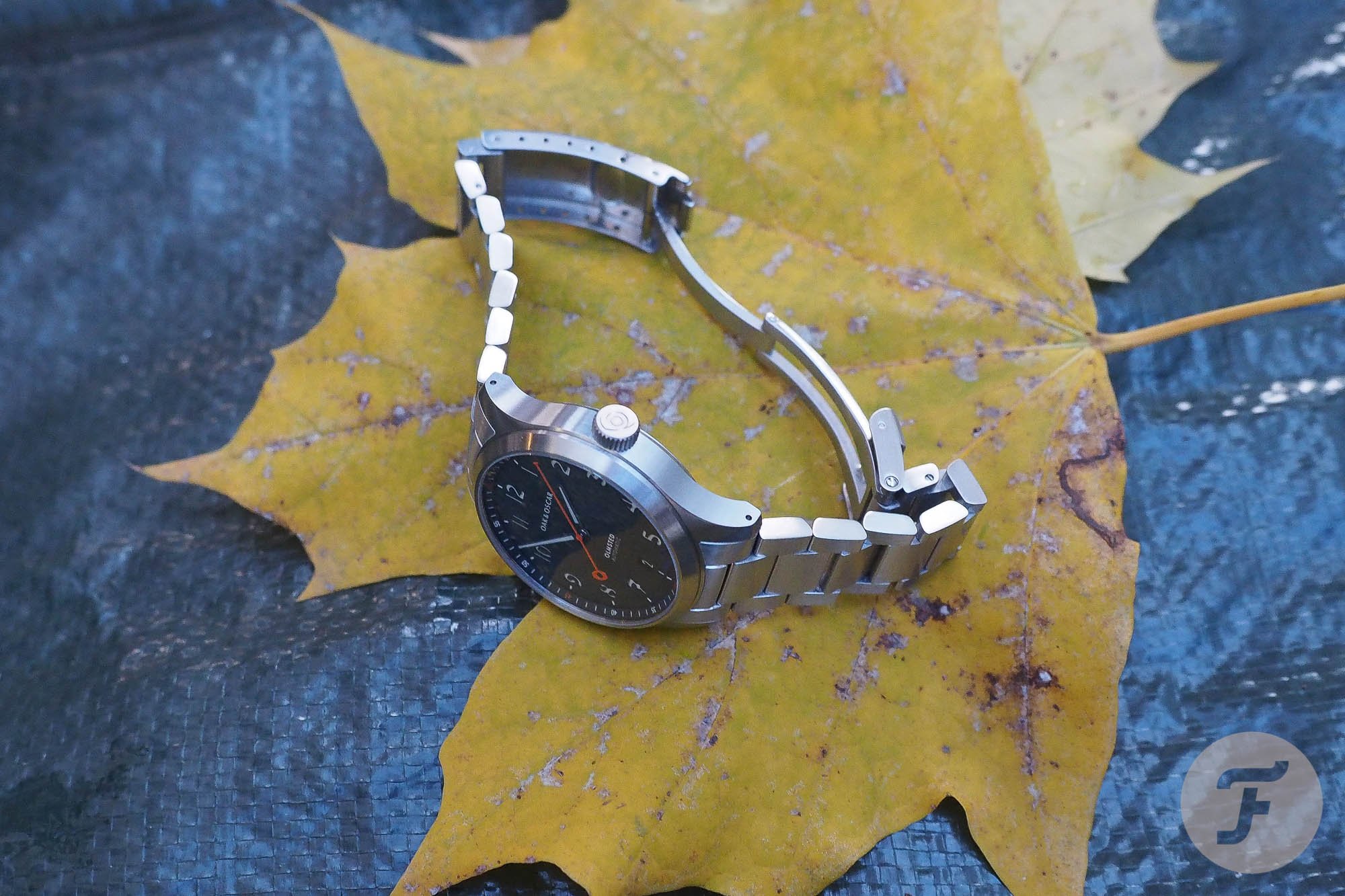 A Bracelet to Scare the Big Brands…
Buyers also get their choice of either a Horween leather strap or bracelet on the Oak and Oscar Olmsted 38.  The 20mm wide leather is thick, yet supple and truly feels like something that will break in beautifully.  It's hard to go wrong with that choice, but what of the bracelet?  I'm a tough critic when it comes to bracelets and I take shots at my concerns with them no matter who's making them.  These days, that's like shooting fish in a barrel because a good bracelet is really hard to find.  Or, as we've seen with a lot of independent brands, many bracelets show up again and again and only the name on the clasp changes.  For me, a good bracelet is comfortable, well-finished, offers lots of articulation, strong, just as thick as it needs to be and contains a clasp that's not overwrought.  Ah, and on the clasp front, it needs to have an underlying folding deployant that isn't so long that it overhangs the underside of my wrist.  If you consider just about everything Rolex did pre-solid end links, that would be a loose description of what I like.  When it comes to the bracelet on the new Olmsted 38, I am absolutely overjoyed to say that it's fantastic.  In fact, it boggles my mind at how a small brand got this so right when so many larger brands get it so wrong.  Actually, it shouldn't boggle the mind because I chatted with John at length about the design and he informed me that he literally obsessed over the links, their shape, the finishing, etc.  It is a truly awesome bracelet that should be felt (it's on the Humboldt as well) – it's that good.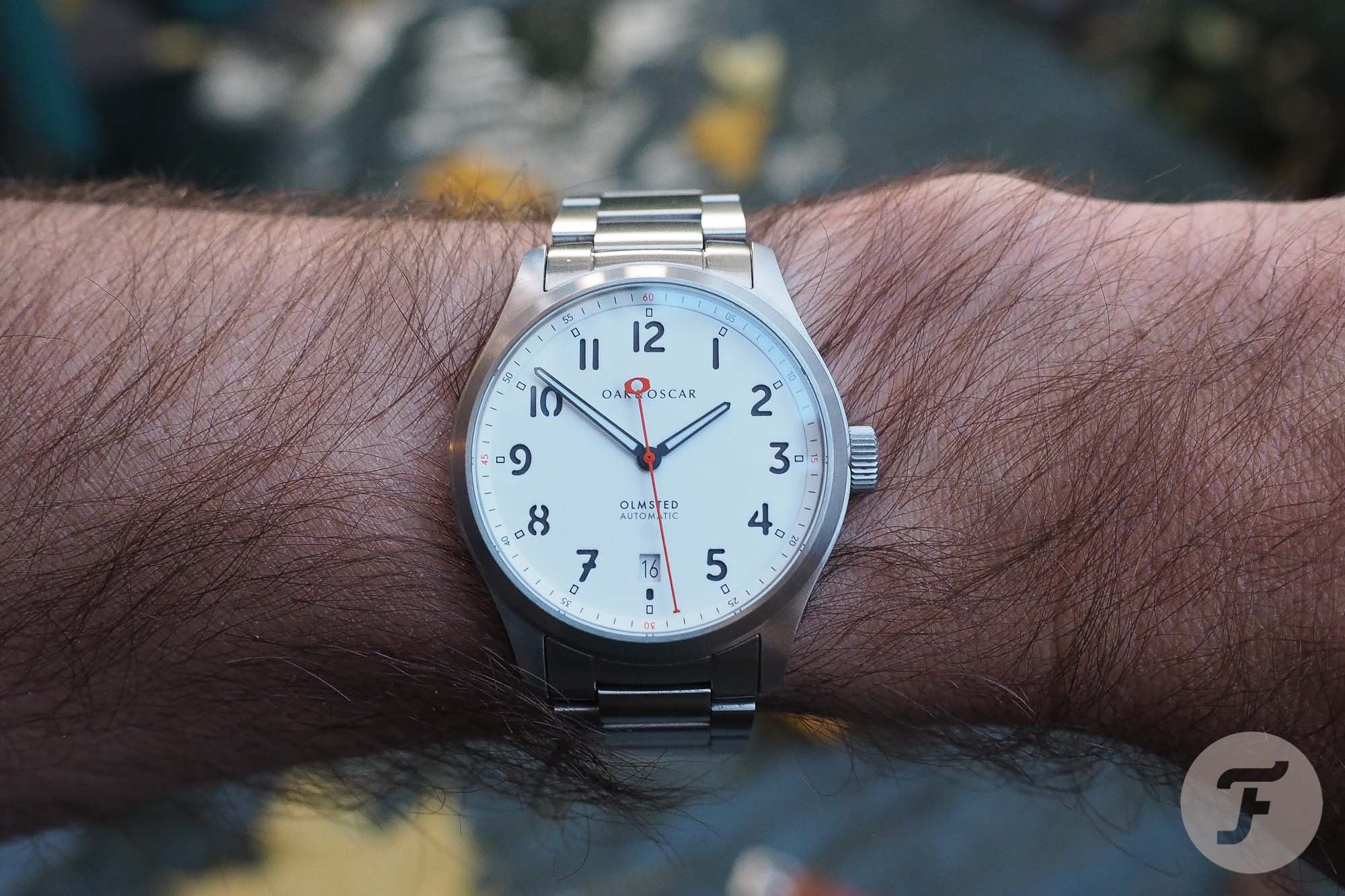 Sooo Good on the Wrist
So, it likely sounds trite and/or cliché to say that Oak and Oscar Olmsted 38 feels as good as a 36mm Explorer on the wrist…but it does.  It fits the wrist perfectly with its 44.9mm lug to lug and the slim 10.8mm thickness makes for a very, very easy wear.  The watch head feels very solid and the jangly bracelet (the end links do not overhang) gives it that "well worn pair of jeans" type feeling.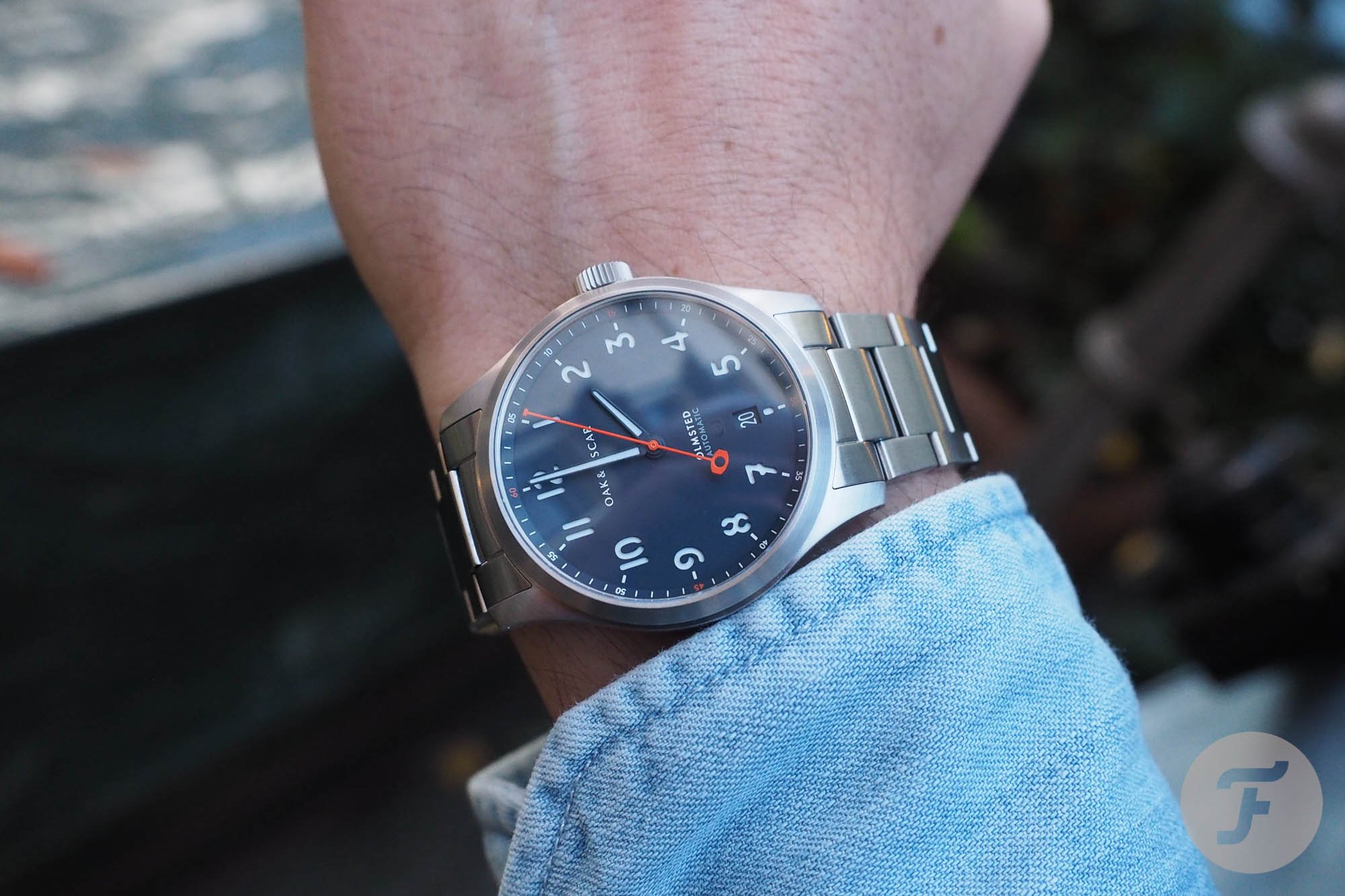 The fact that the screw-removable links taper down to the clasp is also a real key to the comfy fit.  Regarding that clasp, it has a flip-lock for safety and plenty of micro-adjust (5 slots to be exact).  What I really like is that the underlying deployant is quite short and, therefore, does not protrude from the side of my wrist.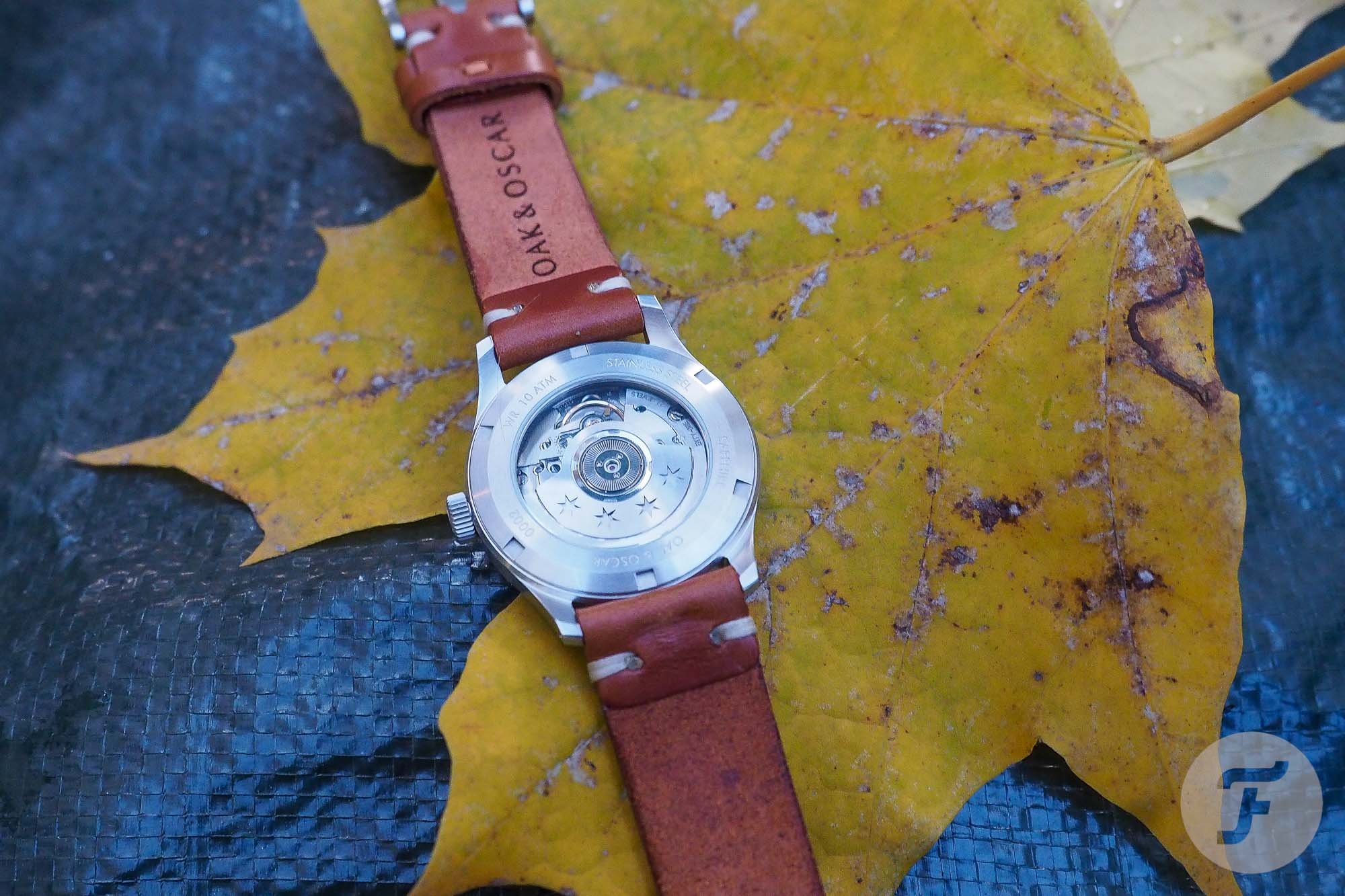 As for other specifications on the Oak and Oscar Olmsted 38, double-domed sapphire is employed with anti-reflective coating along with a signed screw-down crown.  The case back screws down and shows off the decorated (with the 4 Chicago stars) ETA 2892A2 and the watch is good down to 100 meters.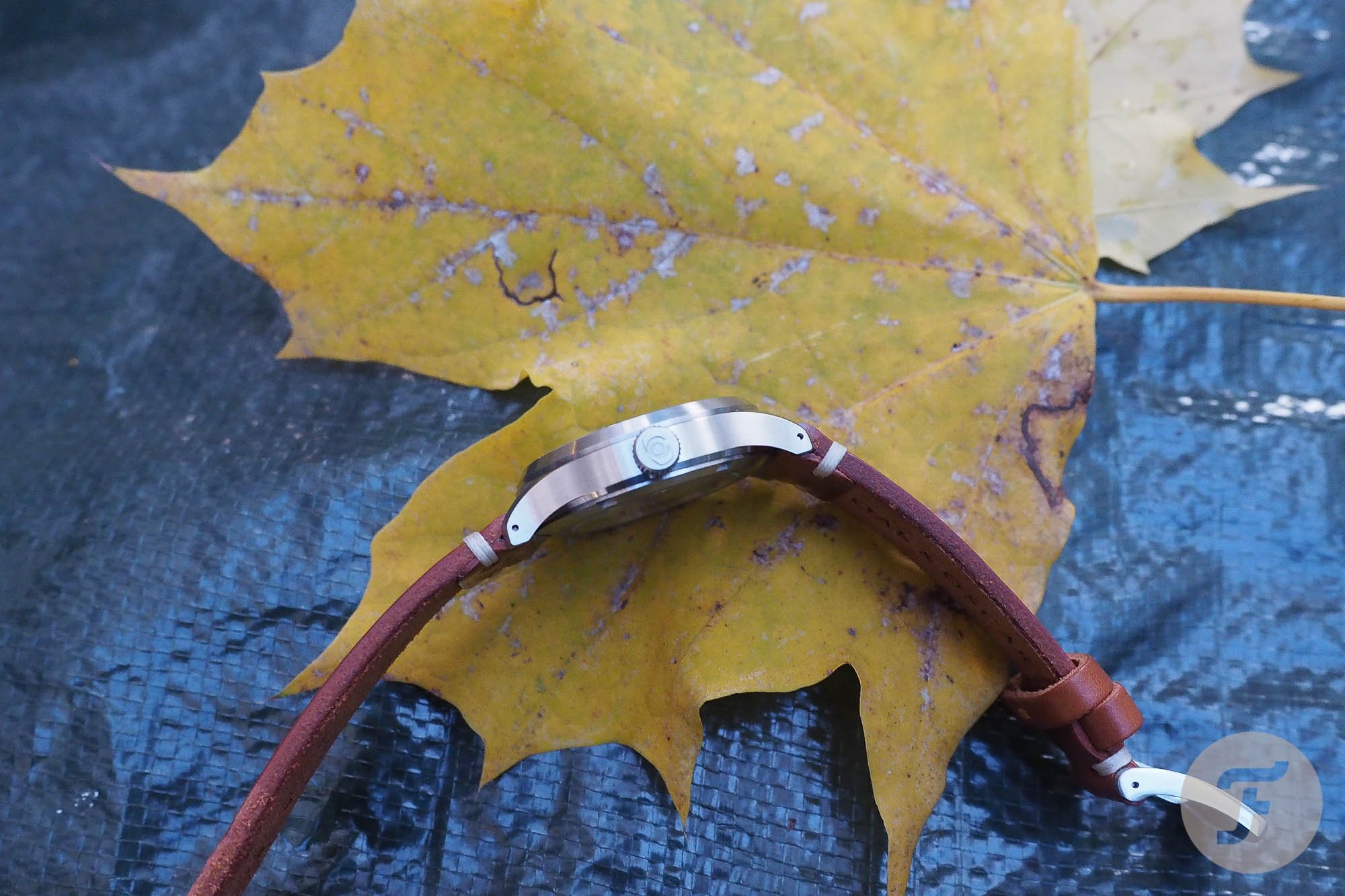 Finally, one of the brand's signature watch pouches comes with a tool and olive drab nylon strap.  Changing out the bracelet or strap is a breeze due to cross-drilled lugs.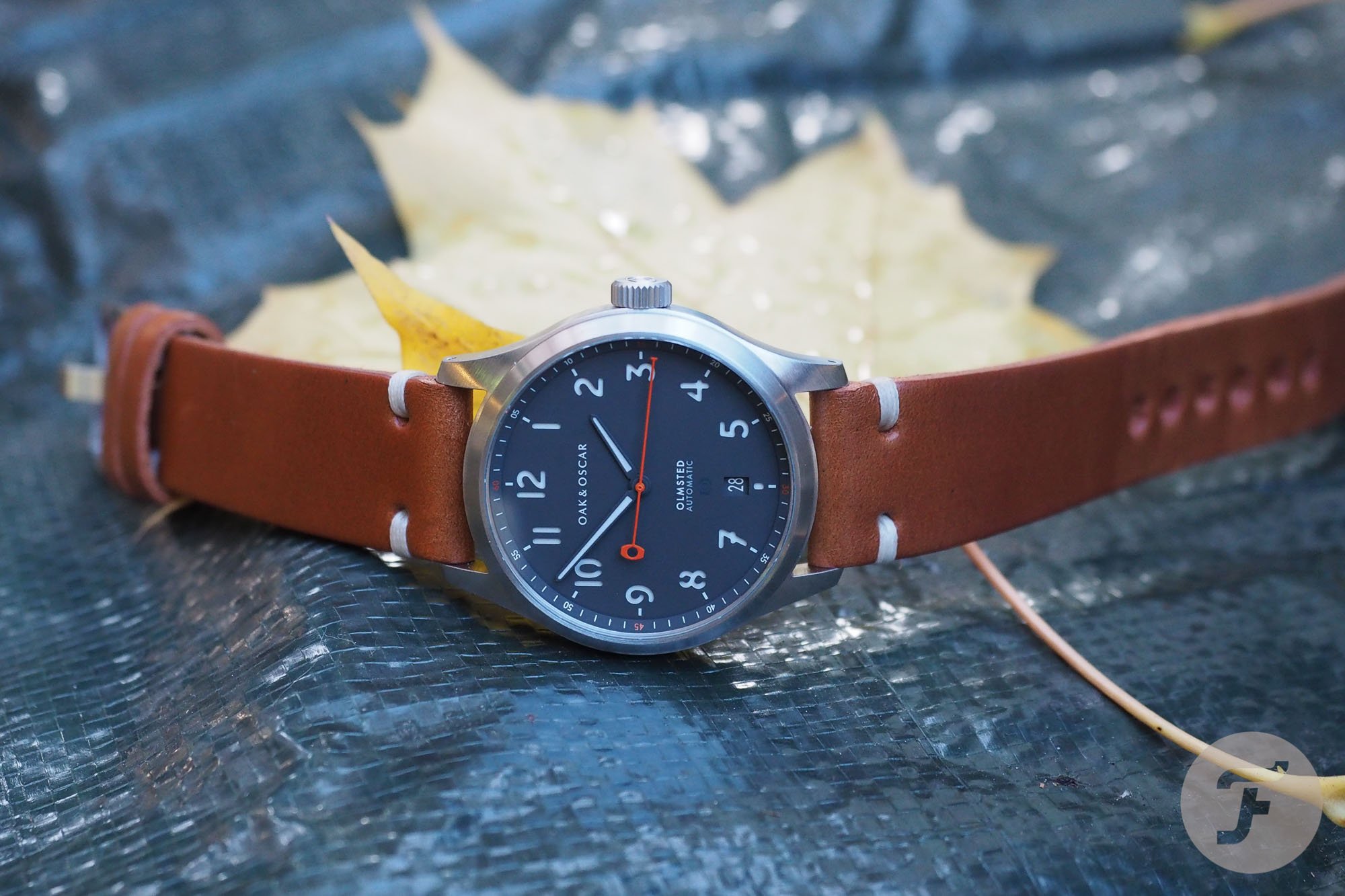 Pricing and Final Thoughts
Is there anything absolutely revolutionary here with the Oak and Oscar Olmsted 38?  Of course not; there are loads of field watches to consider from brands big and small – especially at the retail price of $1,375 on strap or $1,575 on steel (take $100 off of each during the current introductory period).  But, this is a nice example of a smaller brand introducing yet another solid and attractive watch within its styling parameters, while managing to exceed expectations on the details.  The case work, the dial and surrounding fittings, and that damn bracelet…all are fantastic.  If you're looking for a great everyday watch from a brand that not everyone is wearing, the Olmsted just might be for you.  I'm pretty excited to get mine and to start wearing the heck out of it.
The Oak and Oscar Olmsted 38 is shipping soon and can be found and ordered on the official Oak and Oscar site.
Watch specifications
Dial
Sandwich dial with either a Super-LumiNova BGW9 base dial (grey / navy) or luminescent hour indices (white) - Color-matched date wheel with custom typeface located at 6 o'clock
Case Material
316L Stainless Steel
Case Dimensions
38mm Diameter, 44.9mm Lug to Lug, 10.8mm Thickness, 20mm Lug Width
Crystal
Double-domed sapphire crystal with multi-layer anti-reflective coating
Case Back
Screw-down, Display back
Movement
ETA 2892A2 automatic 21 jewel mechanical Swiss movement, 42 hours power reserve, 28,800 bph
Water Resistance
100 meters
Strap
Horween Leather or Stainless Steel Bracelet. Olive drab nylon strap included.
Functions
Time (HH:MM:SS), Date
Price
$1,375 on Strap. $1,575 on Bracelet
Special Note(s)
Comes with watch travel pouch and strap changing tool.