Oak and Oscar Ashland – We're Talkin' Baseball!
Oak & Oscar Plays Catch with Fellow Chicago Brand, Wilson, and Produces a Winner
Roasted peanuts, boiled hot dogs, and buckets of cold, watery American beer can only mean one thing: baseball.  It's October and just in time for the postseason of America's pastime, we're excited to talk about the new Oak and Oscar Ashland.
Most countries have a sport that's relatively unique and, thus, hard to translate to foreigners.  Living in Germany, I'd say that handball qualifies as such a sport.  For the Commonwealth and its former colonies, let's all agree that cricket is the sport no one else on earth understands (I finally do and happen to love it).  But for America, there's one sport that the majority of our planet finds confounding, and let's just say it – boring, and that's baseball.  Well, folks, I'll profess that I love baseball.  I grew up playing it, had grandparents on both sides who followed it somewhat religiously and told me amazing stories about the sport's Golden Age.  This period from 1920 – 1960 was magical.  Players lived in neighborhoods (my grandmother grew up in Chicago down the street from Cubs HOF'er Gabby Hartnett) with normal working people and kids looked up to names such as Ruth, Mantle, Aaron, Gehrig, Williams, Banks, Robinson, and others as heroes.  In fact, many were heroes off the field and served in World War 2 in more than a publicity capacity.  Personally, I grew up as a Baltimore Orioles fan and have become a Detroit Tigers fan.  Yes, my life is tough.  All that being said, any time I hear of something baseball-related, consider my interest piqued.  Such a thing has just occurred with the Oak and Oscar Ashland.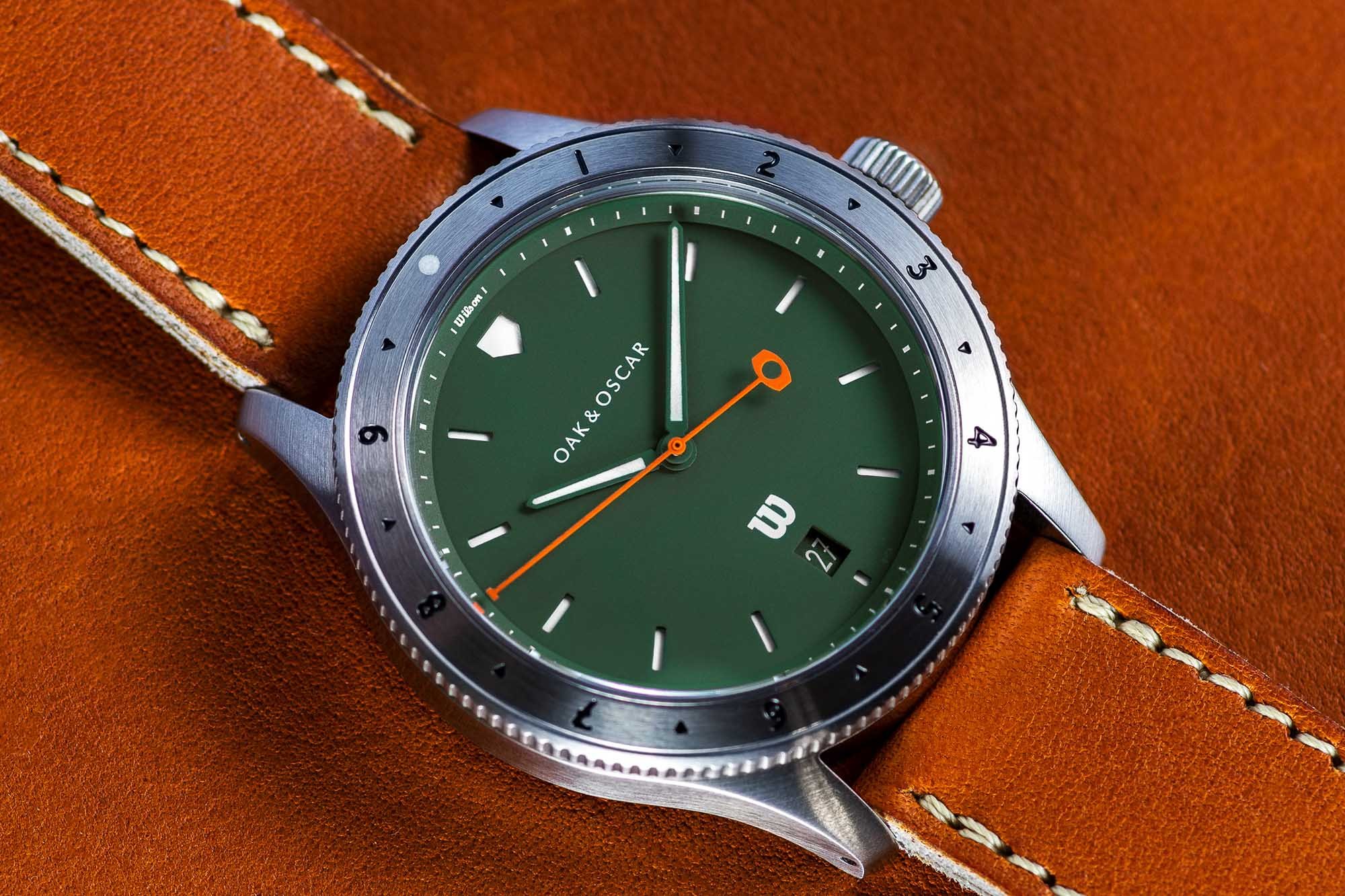 The Oak and Oscar Ashland – Following up the Humboldt
By now, you're likely familiar with Oak and Oscar, the independent brand from Chicago, Illinois, USA.  Founder Chase Fancher has successfully grown the brand over the last several years by releasing new watches on a nearly annual basis.  Three different limited edition watches were released to great fanfare before a serial production model debuted about a year ago in The Humboldt.  That model has been on wrists for months and the reviews have been fantastic.  We got a chance to see one in the metal at this year's Baselworld when we sat down with both Chase and and John Hatherly, the brand's Creative Designer.  But the duo showed us something else of interest that we had to keep under wraps until now, the Oak and Oscar Ashland – a watch with an actual tie-in to baseball.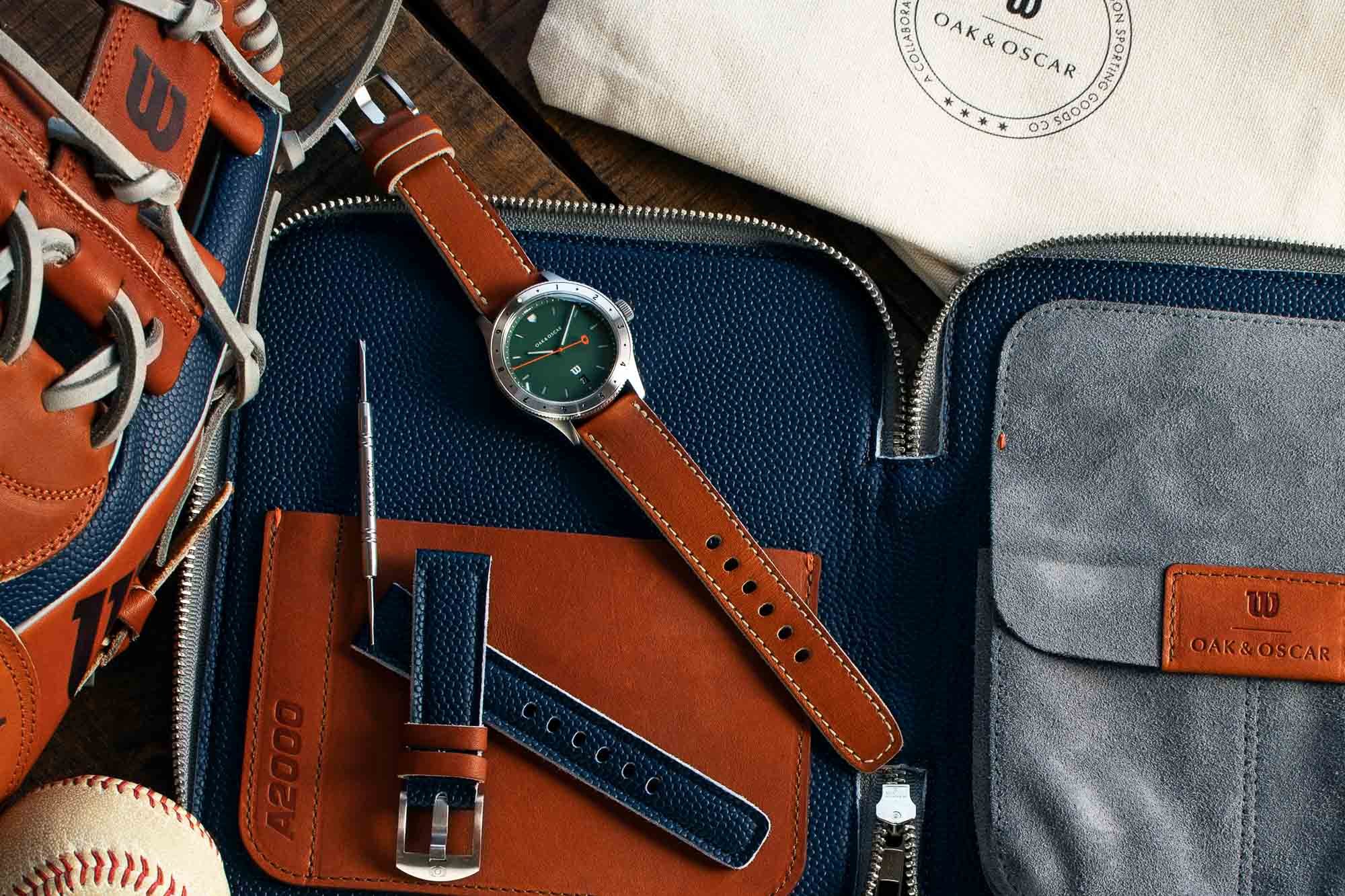 A Collaboration with Wilson Sporting Goods in Chicago
You see, Chicago is the home to many businesses, both storied and new.  The company in focus today was once known as the Ashland Manufacturing Company, but is now known as Wilson Sporting Goods. Wilson is a business more than a century old that's well-known across many sports as an equipment maker, but very well-known in baseball.  In fact, my grandfather had – and still used into the 90's – a 40's Wilson baseball glove.  My Dad had a Ron Cey edition and my first baseball glove was a Wilson George Brett edition before I moved up a size to a Wilson Ron "Louisiana Lightning" Guidry mitt!  So, yes, Wilson is a household name, especially in my house!  It just so happens that Wilson reached out to Chase and they met for lunch to talk about a possible collaboration – something to tie baseball into timekeeping and, possibly, as a reward to some of its employees and sponsored Major League players.  This was how the Oak and Oscar Ashland was born.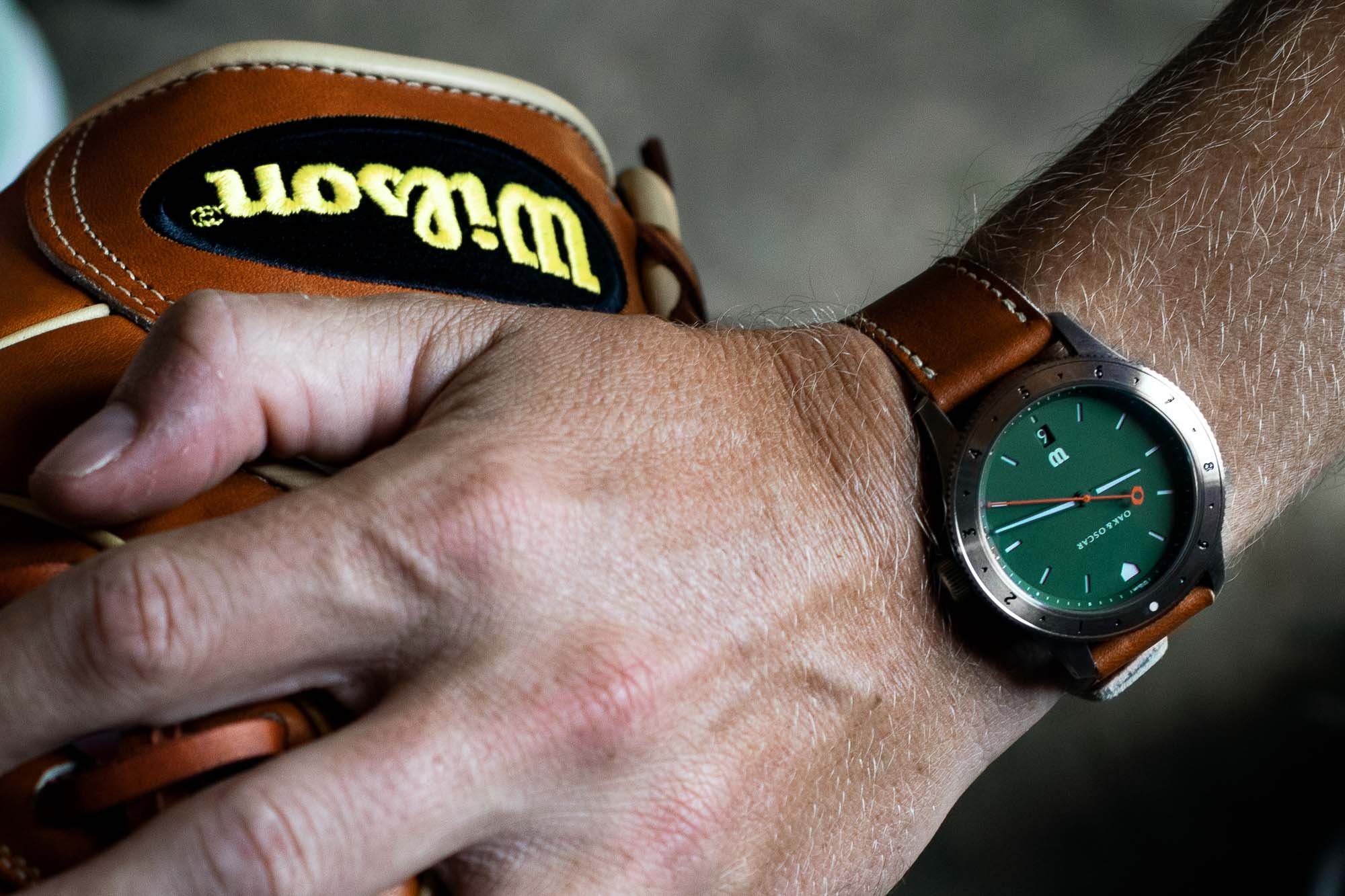 Baseball and Timing?  An Innings Tracker!
But if you know anything about baseball, time is one thing that is completely disregarded!  In fact, newcomers to the game would say it's possibly the game's biggest issue!  But like a recent tennis watch that my teammate Tomas reviewed, things like scores and progress of the game are important.  Baseball is divided into 9 innings and each has a half – the first half is the "top" of the inning while the second and final half of the inning is the "bottom".  In what I can only describe as a nod to old-school complications (think internal bezels for things like pulsations, film exposure settings and the like), the team at Oak and Oscar came up with a bezel that allows the wearer to track the current inning of the game.  At 12:00, you'll notice a trapezoid on the dial which is "home plate" in baseball.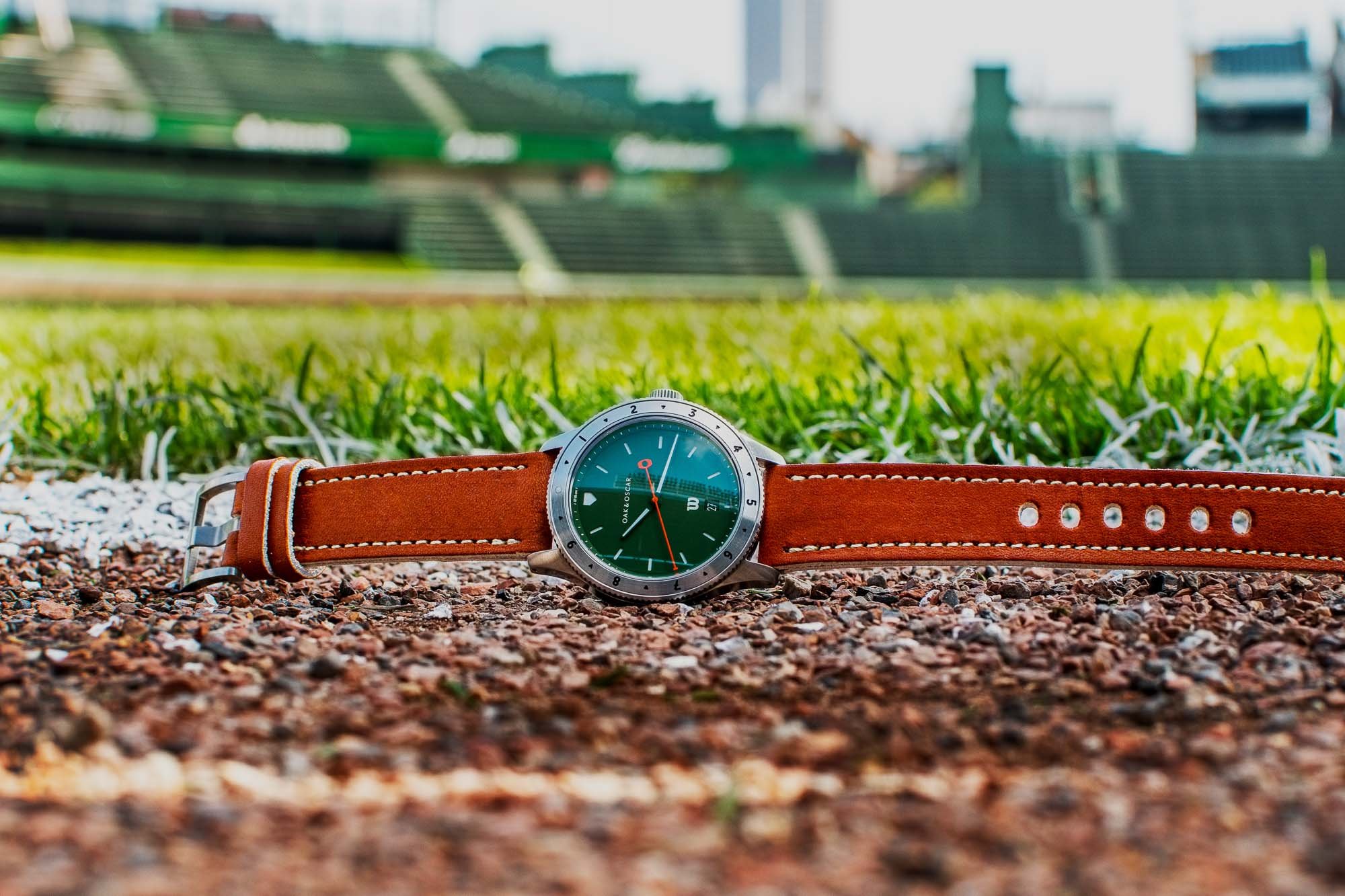 The wearer simply rotates the dial left to put either the inning number above home plate (this signifies the top or beginning of the inning) or the arrow to the right of the number above home plate (this signifies the last half or bottom of the inning).  It's simple, but the Oak and Oscar Ashland affords a very cool way to stay involved in the game as it proceeds.  And for those of you who follow postseason baseball, you'll not that games often reach extra innings because these are typically pitching duels that end up in a tie after 9 innings of play.  Well, for baseball novices, there are no ties in baseball and the game continues until someone decisively wins.  You'll see that on the bezel after the 9th inning, things move to an arrow which would signify the 10th inning and then "1" starts after this and symbolizes the 11th inning.  Again, it's simple but it works nicely.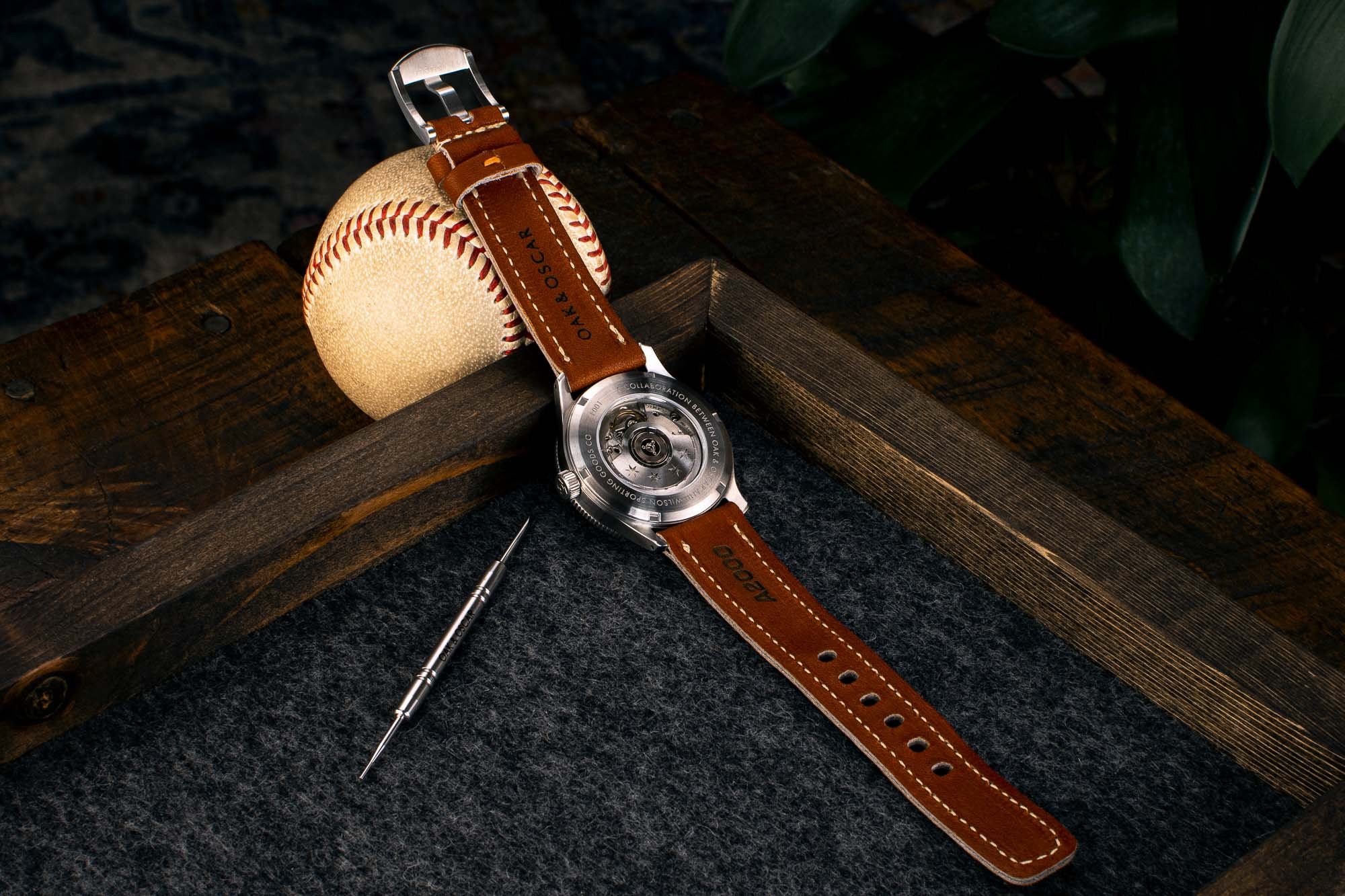 Baseball Themed, but Versatile
Regarding the design of the Oak and Oscar Ashland, the brand used the Humboldt as a foundation and that's a good one in my opinion.  The 39.5mm stainless case (40mm at the bezel) is a wearable 12.4mm in height and 46.8mm lug to lug.  For those rainy days at the ballpark, there's 200 meters of water resistance so that also means you can take part in the age-old activity of tarp sliding during rain delays.  The crystal is anti-reflective sapphire.  Inside the Ashland beats the ETA 2892A2 automatic and that means a quickset date, hacking, and easy serviceability should the watch require it after the 2-year warranty expires.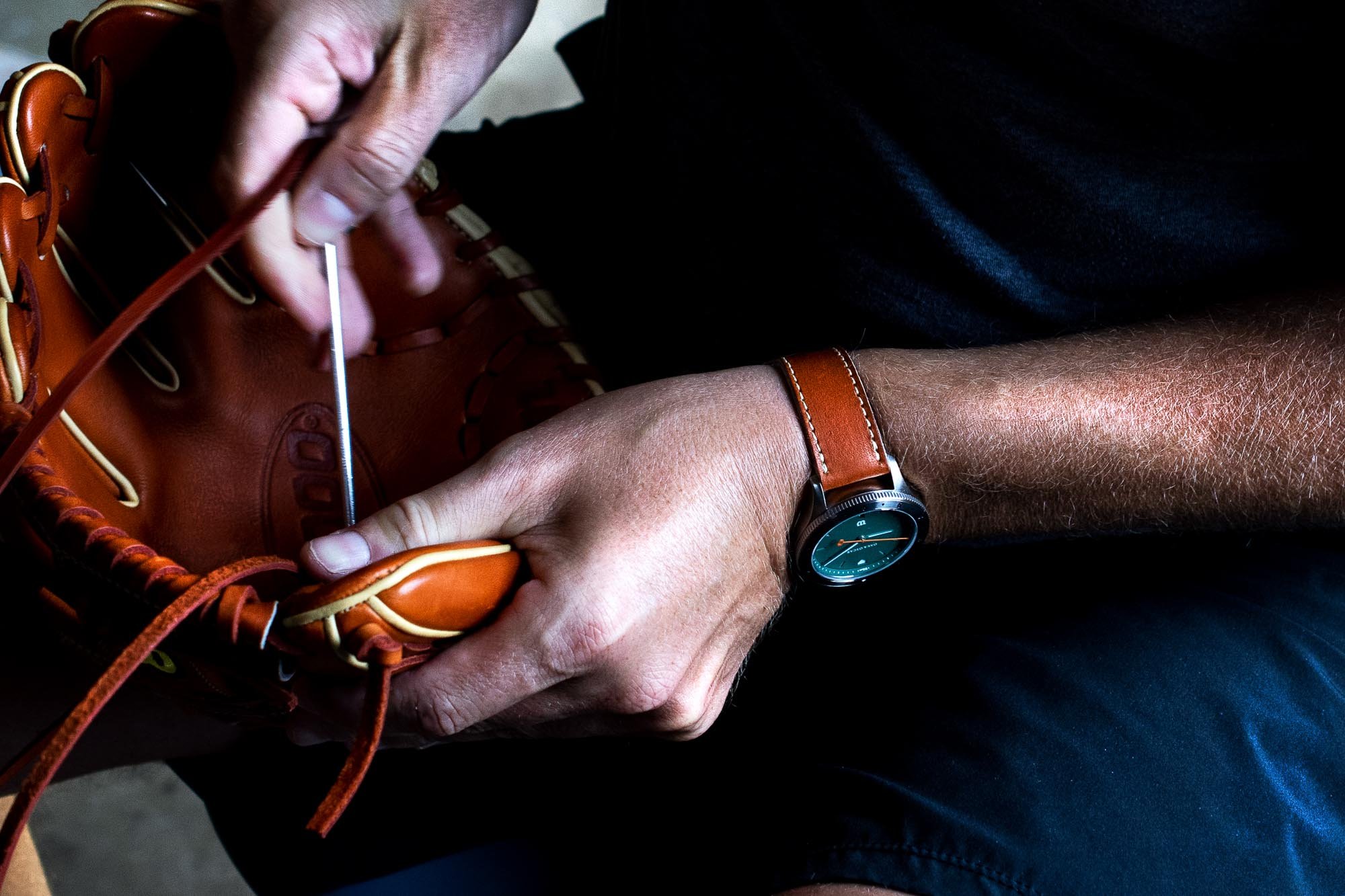 Great Baseball Diamond Colors
Styling wise, the Oak and Oscar Ashland goes with a green dial, handset, and chapter ring that evokes the color of a grassy baseball diamond.  Baseball diamonds feature orange clay and white bases and chalk stripes.  Here, those colors come into play with the orange sweep seconds hand.  The white indices are set into the brand's signature sandwich dial while the white Wilson "W" logo sits just above the color matched date wheel at 6:00.  The caseback is a screw-down display unit and mentions the collaboration between the two brands along with the numbered edition.  The rotor has the 4 stars that are found on the City of Chicago's flag.  But there's more…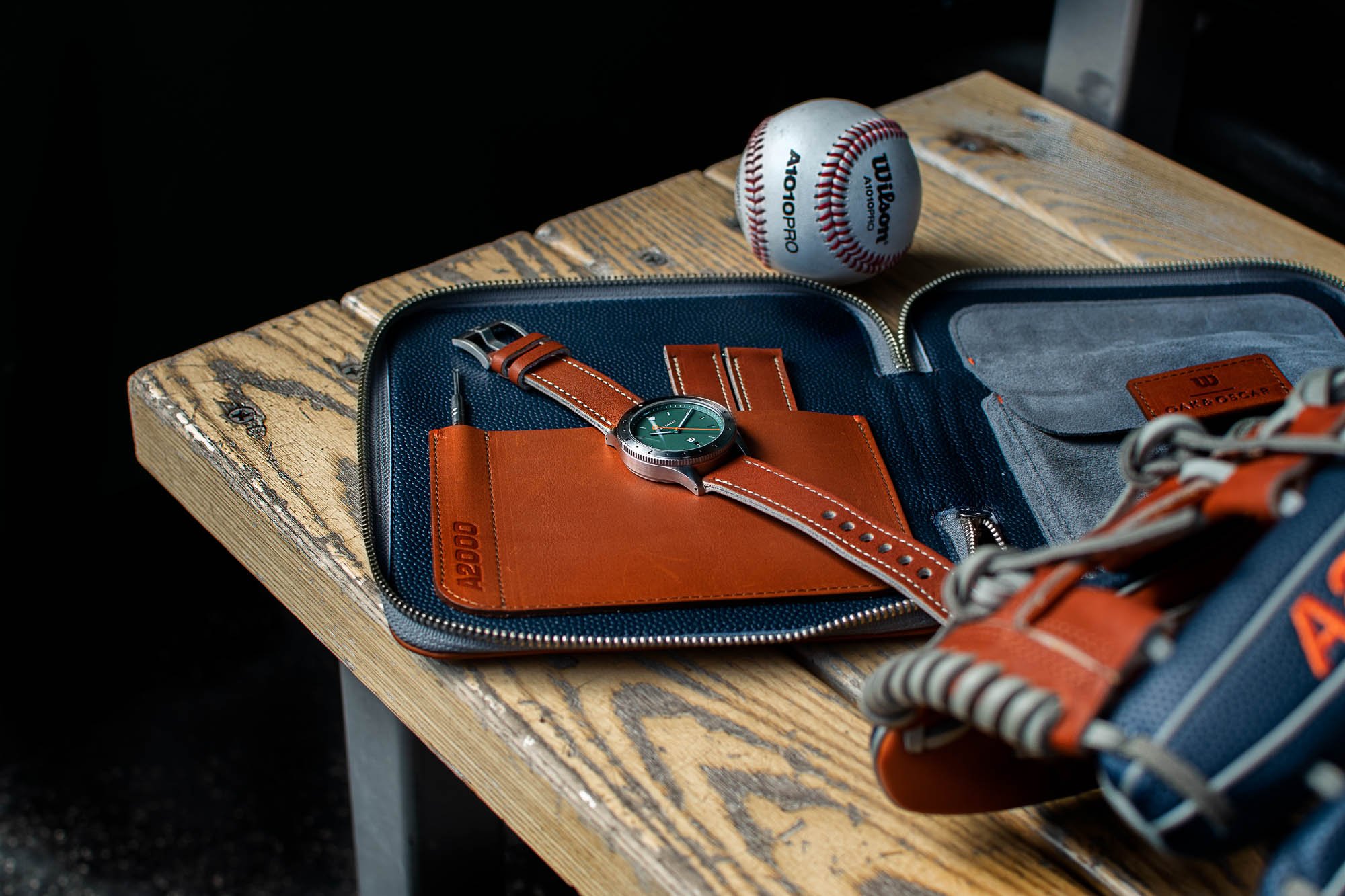 Fantastic Straps and Watch Wallet
The copper-colored 20mm strap on the Oak and Oscar Ashland is made of the same leather as found on Wilson's pro-level A2000 baseball glove.  The back of the strap even calls out the glove model.  Also included is a navy strap made from Wilson's SuperSkin, a synthetic material that's half the weight of leather but much stronger.  Both of these straps are made by Indiana-based Woodn Steel.  And this isn't a surprise as fans truly love Oak and Oscar's packaging, so a watch wallet is also included that's constructed of the both strap materials.  The packaging is produced by local Chicago workwear maker, Stock Mfg. Co.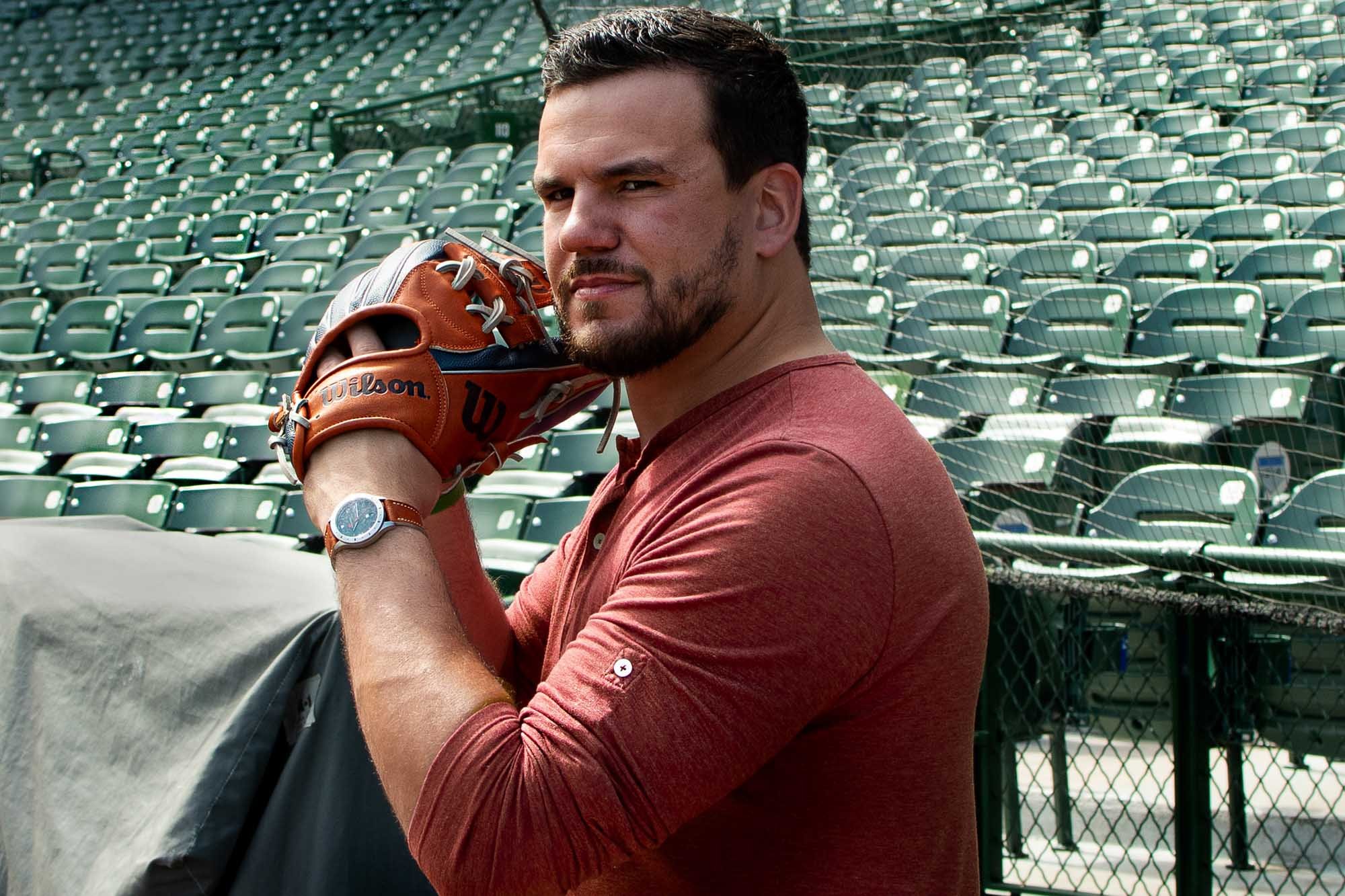 Limited Edition and a Special Wilson Baseball Glove
Now, unlike the Humboldt, the Oak and Oscar Ashland is not a serial production model.  After all, this is a very focused product and aside from the few other baseball hungry regions or countries out there (Canada, Japan, Korea, and countries south of the USA), it's unlikely to garner large international interest.  Therefore Oak and Oscar have produced just 130 of The Ashland.  100 will be made available for general sale (with portions from sales going to a Chicago-based dog rescue charity, One Tail at a Time) while 30 will be reserved by Wilson for employees and players.  One watch will be donated and auctioned to benefit Chicago Cubs slugger (39 homers in 2019!!!) Kyle Schwarber's first responder charity, Schwarber's Neighborhood Heroes.  So, there won't be many of these for watch-loving baseball fans.  The watches will sell for $1,850 and are available now for shipping.  And, to see how deep and well thought out this collaboration is, there's even the opportunity to buy a limited edition Wilson A2000 glove for $300 with the watch that has the name of both brands along with the 4 Chicago stars on the palm.  It's cool stuff and I'd call the glove a must buy if you're already going after the watch.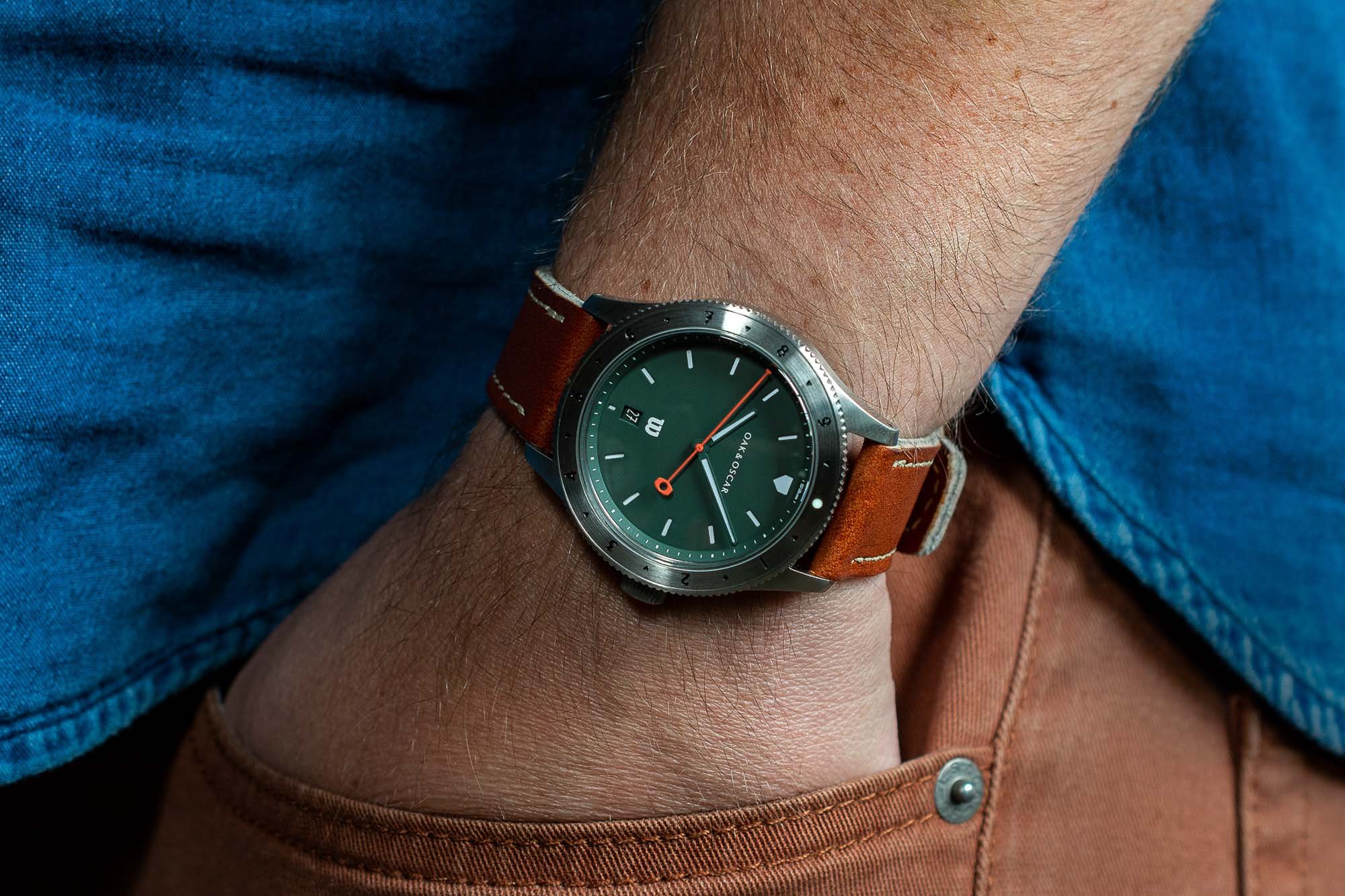 Final Thoughts
If you can't tell, I'm a fan of the Oak and Oscar Ashland.  It's a really cool collaboration that has a fun and easy-to-operate "complication".  After all, there are plenty of other activities that have their own watches, so why not baseball?  We definitely wish Oak & Oscar and Wilson plenty of success with the Ashland.  Now, let's see how many Verlander can mow down this October!
For more information on the Oak and Oscar Ashland, visit the official Oak & Oscar site.
Watch specifications
Dial
Green sandwich dial with Super-LumiNova BGW9 Lume
Case Material
316L Stainless Steel
Case Dimensions
39.5mm Diameter (40mm Bezel), 12.4mm Thickness, 46.8mm Lug to Lug, 20mm Lug Width
Crystal
Ant-reflective Sapphire
Case Back
Screw-down display back
Movement
ETA 2892A2 automatic 21 jewel automatic, 42-hour power reserve, hacking with quickset date function
Water Resistance
200 meters
Strap
Wilson Copper A2000 Pro Stock Leather Strap, Wilson Navy SuperSkin Strap
Functions
Time, Date, External Rotating Bezel "Innings Counter"
Price
$1,850/$2,150 with limited edition Wilson A2000 baseball glove
Special Note(s)
100 piece limited edition, comes with themed watch wallet