Hands-On With The Fleux FLX001 And FLX002 Dive Watches
Getting a taste for NOS 1960s divers 
Vintage-inspired watches are popular among collectors, and brands, both big and small, offer us many options for all types of watches and all budgets. But today, I would like to suggest that there exists a sub-genre of vintage-inspired watches — super-vintage ones that look like new old stock but from a brand created only a couple of years ago. As in, watches that use modern technology and manufacturing techniques but look old. Am I making any sense? Anyway, what we're going to talk about today is the brand Fleux Watches and its first two-watch collection — the FLX001 and FLX002. 
Yes, vintage-inspired watches are everywhere, whether from Swiss brands reviving old references or microbrands releasing watches whose designs are anchored several decades back. In his recent article, Jorg listed his favorite microbrands to keep an eye on in 2023. Many of the brands he listed dip into the vintage playbook, and some, as is the case with Airain, literally recreated their most iconic models. When a brand does vintage, it generally borrows elements from popular and iconic models from the distant past. Mixing them, the output is something surprisingly cool. 
Without further ado, let's take a look at Fleux's first two watches. Please note: the models photographed are prototypes, so please pardon a bit of dust.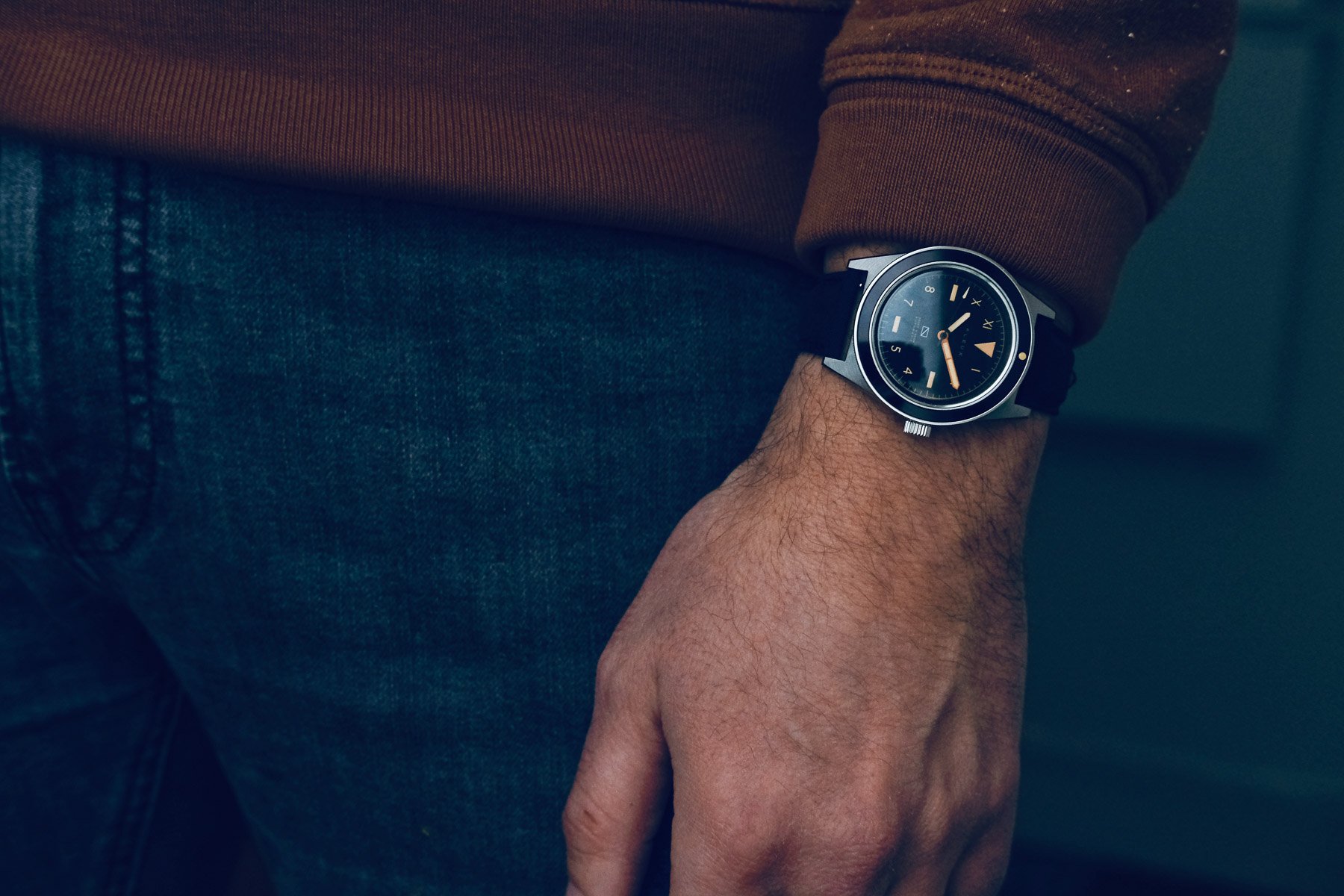 Fleux Watches
Fleux is the brainchild of Edward Cho, a Canadian watch collector in the hospitality business (he owns and runs a hotel). Ed always had a thing for collecting watches and especially vintage ones. Like many, he was mesmerized by the fact that certain 60-year-old designs are as popular today as they were when they debuted. This is something that cannot necessarily be said about watches that came out in the past decade or two. And the reason is that those vintage designs stuck the perfect balance between originality and practicality. In other words, they looked good and were easy to read. These kinds of things don't disappear.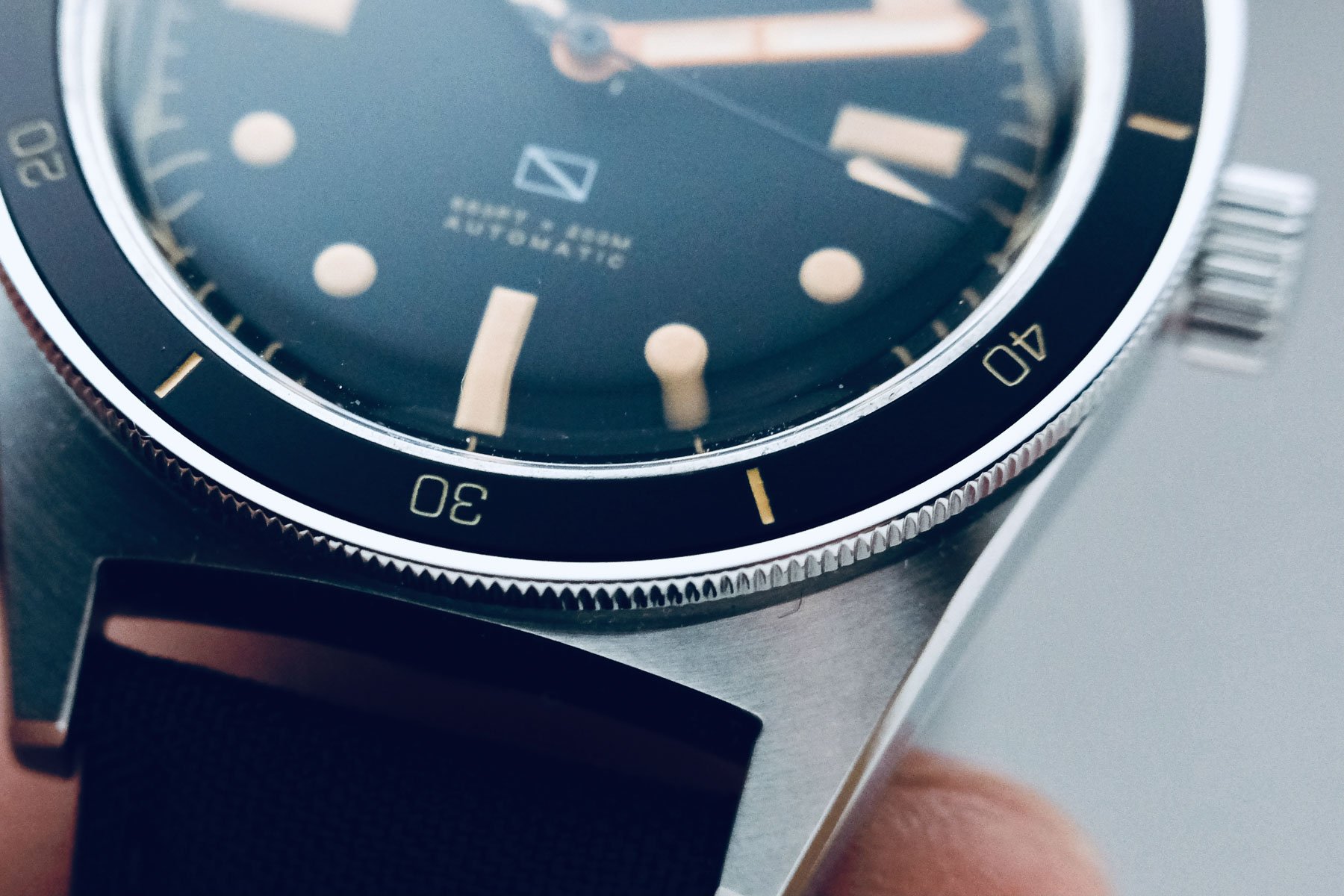 Humble origins
Ed's first and most significant experience with mechanical watches came from his grandmother, who raised him. Every morning, he would see her winding a men's-sized Rado. Noticing that Ed was mesmerized by the spectacle, she would tell him, "You have to feed it to make it come alive." He realized that mechanical watches can be living objects that come with the added benefit of keeping us organized. From that point on, Ed was hooked. He collected all sorts of watches, from a Timex Ironman to Swiss watches at various price points. Eventually, he crossed paths with vintage divers, and from then on, there was no turning back.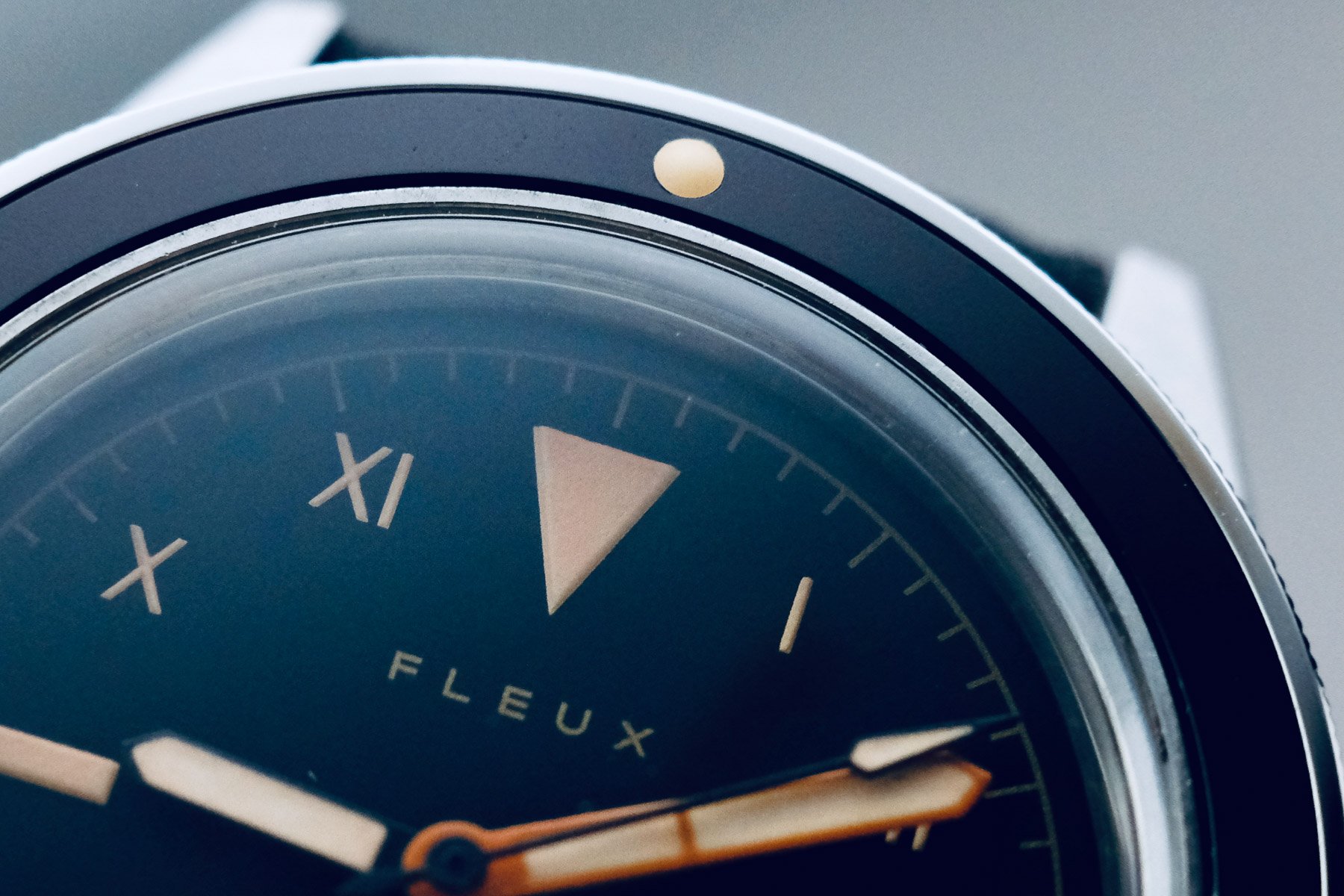 Ed then challenged himself to design a watch that looked as if it had been teleported from the 1960s but was made with modern technologies and parts. The thing with actual vintage watches is that they are no longer capable of performing certain tasks. I don't know anyone diving with a 1960s diver, for example, or timing a car race with a 1970s chronograph. They aren't that reliable or precise anymore. But that shouldn't stop anyone from owning a watch that looks like it was designed 60 years ago. Hence, Fleux Watches.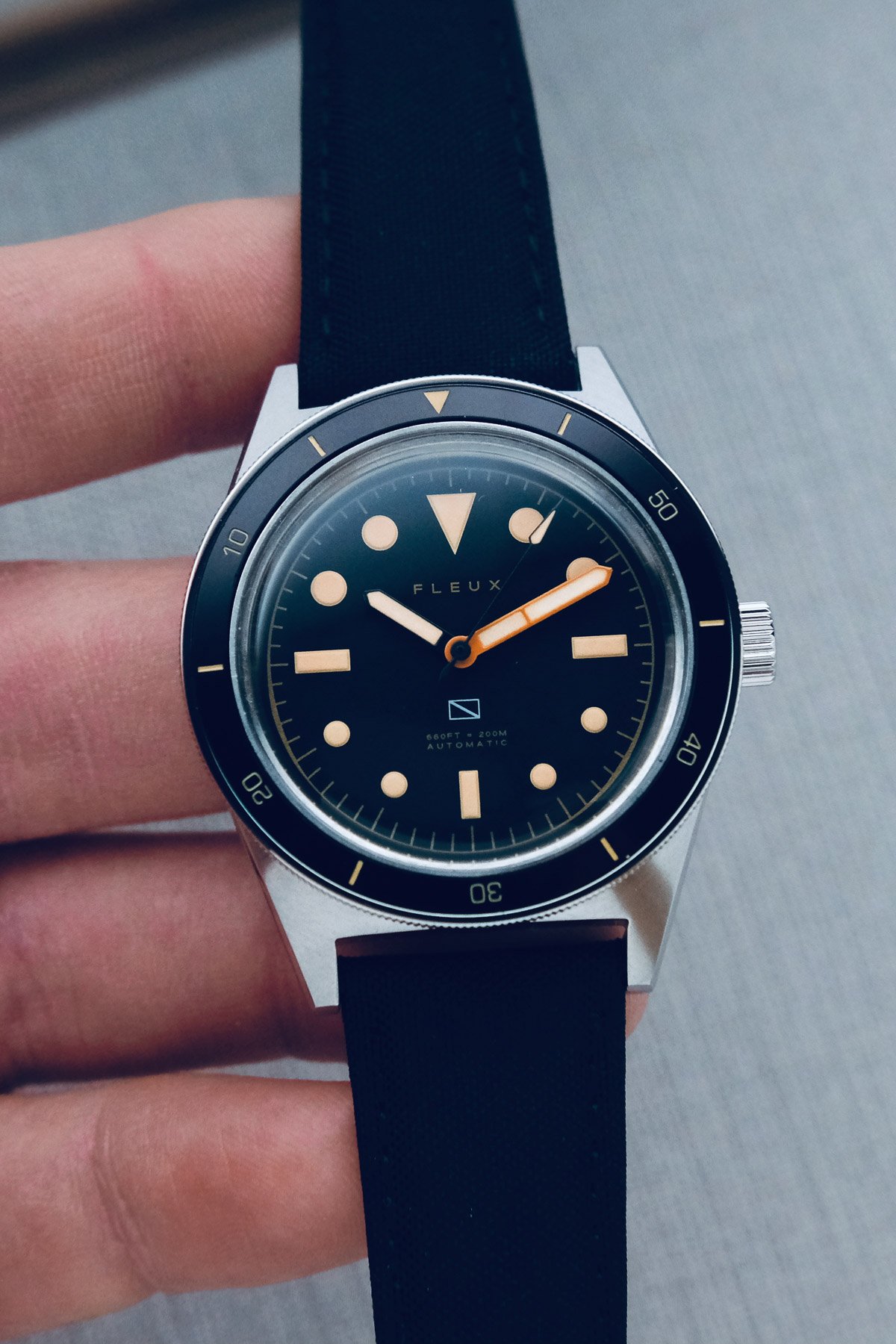 1960s divers, anyone?
This is the part of the hands-on review where I might say things you may not agree with. But hey, it's okay. It's all a matter of personal opinion, and horology is a subjective matter after all. I'm saying this because, at first glance, we can see that Ed drew inspiration from certain iconic models of the past. This is a common practice, and I dare you to point to a 100% original design that humans can actually wear (here, I'm referring to machine-style watches that cost more than a home and are impossible to wear).  To be frank, Ed doesn't hide the fact that past models inspired him. 
As they say, if it ain't broke, don't fix it.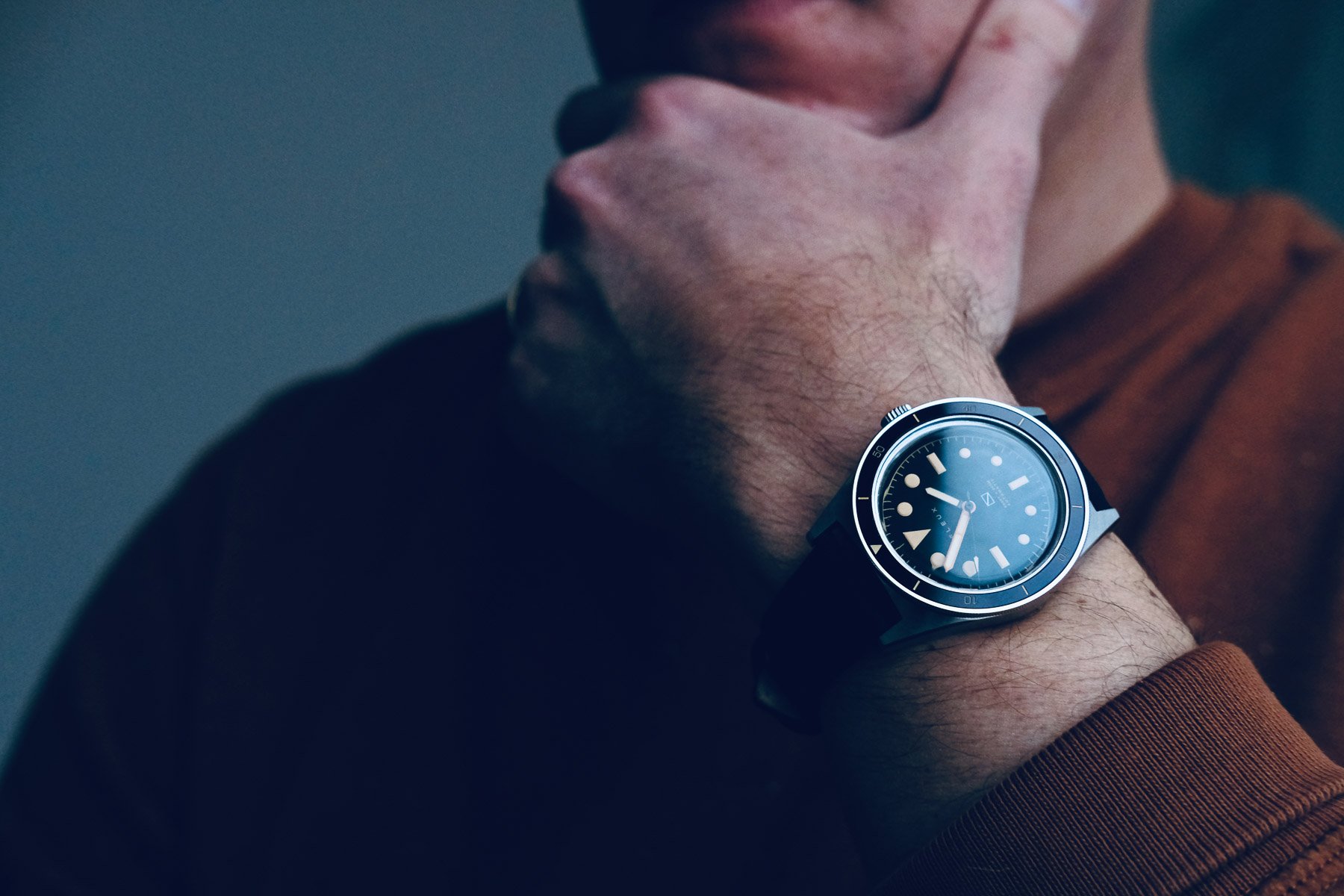 In general, vintage-inspired watches are made to look old through the use of smaller case sizes or patina-toned lume. Ed's first creations show their vintage inspiration not only through borrowing certain visual elements from old, iconic references but also in how he treated them. We all know about "fauxtina" and chemically-modified lume, dials, and cases. The former mimics how an old watch would look now, many decades later. The latter goes a step further and speeds up the aging process (the opposite of why people get cosmetic surgery!). Ed did a bit of both.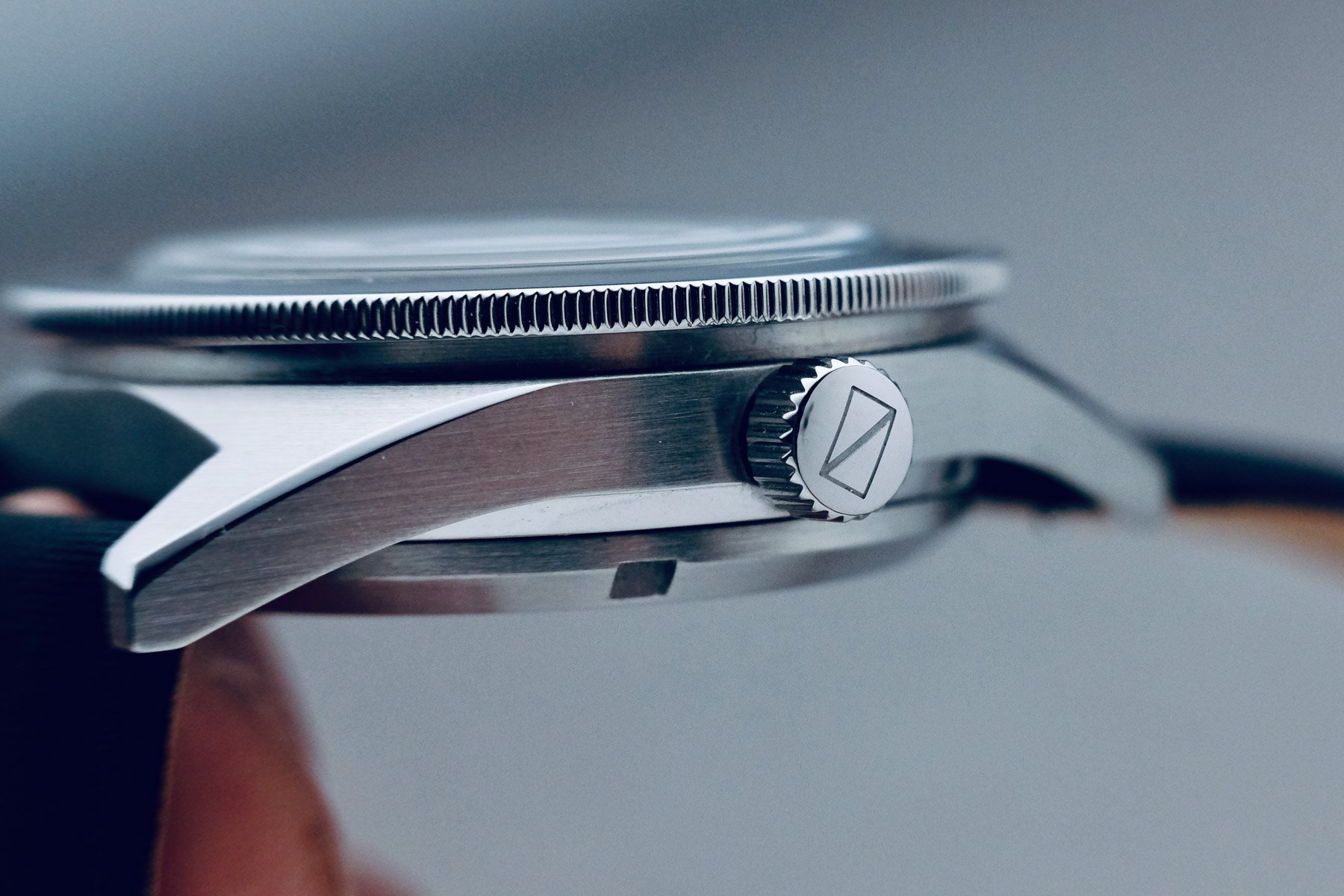 Friction-fit bezels are glorious
First, let's talk about the bezels adorning the FLX001 and FLX002. Both models come with friction-fit bezels, something that's not common in modern watches. Exceptions can be found in the Seiko SSK line, which Nacho wrote about last year, and Hanhart's chronographs, which Balazs has covered in the past. Friction-fit bezels were commonplace until Blancpain released the Fifty Fathoms, and they even stuck around for a long time after that. Most early dive watches and pilot's chronographs had this type of bezel (I recently re-watched Christopher Nolan's Dunkirk and gushed over Tom Hardy's character's Omega CK2129 with a friction-fit count-up bezel).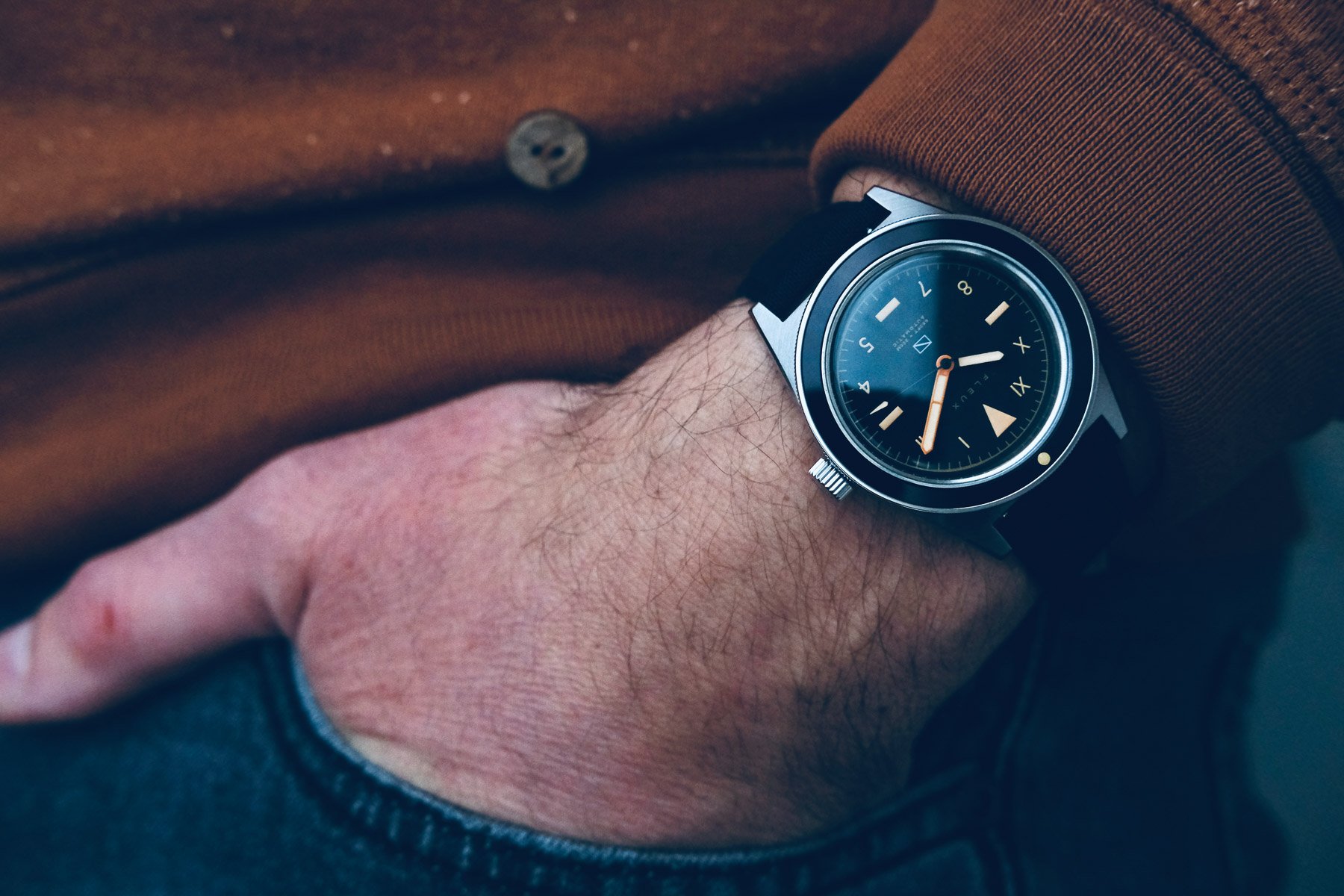 The bezel on the FLX002 is not only friction fit but also of the "Bund" style. This type of bezel was designed for German underwater commandos who needed to track elapsed hours, not minutes. Blancpain used this style as well as, more recently, Squale and Unimatic have too. The one on the FLX002 has a lume pip marker instead of the traditional inverted triangle at 12 o'clock. The bezel on the FLX001 has a countdown scale (from 60 to 0 minutes) and highlights each five-minute increment. If you are a diver, you could agree that a countdown bezel is more useful than a count-up bezel.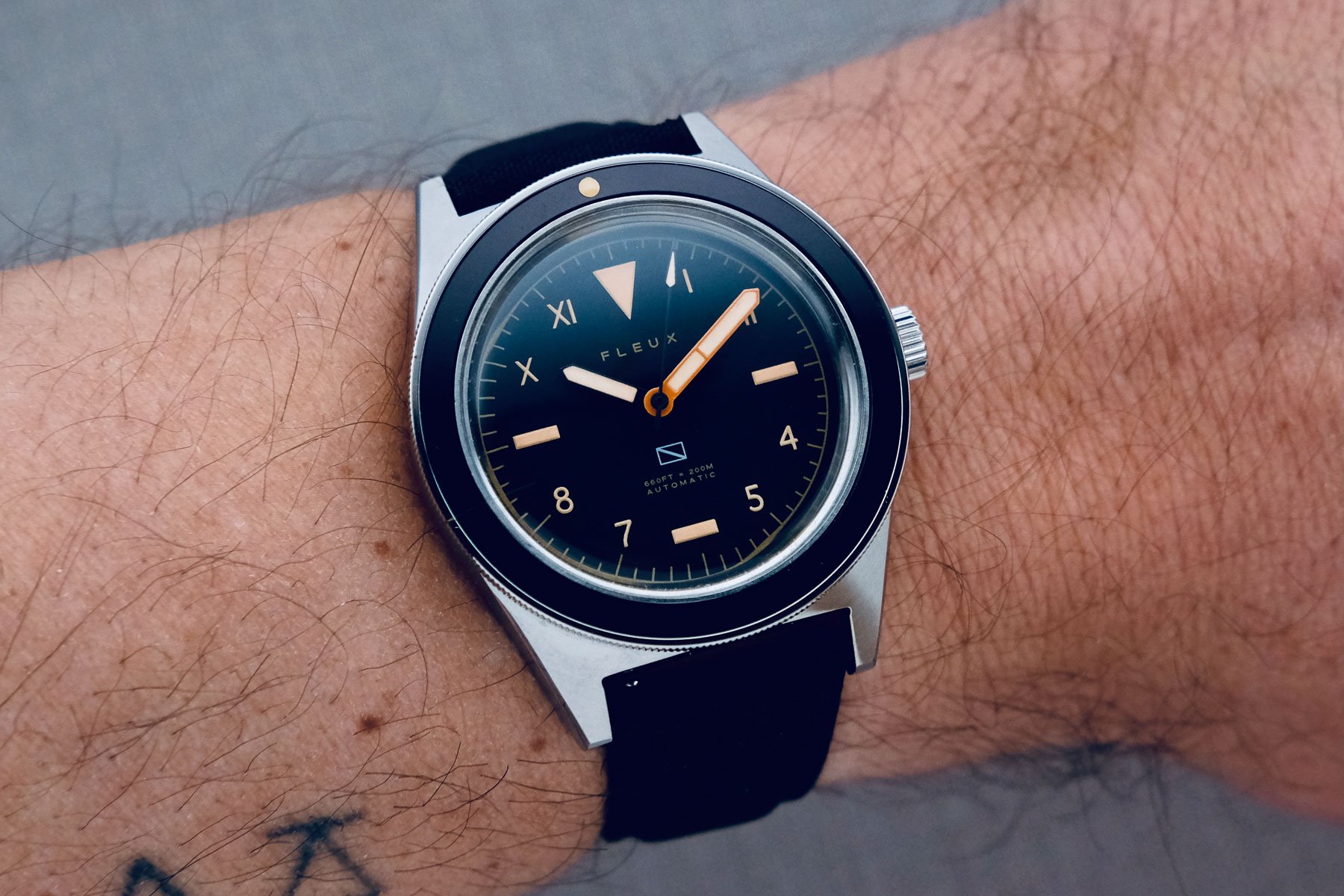 As you've noticed, the bezel inserts are shiny. And no, they're not ceramic but aluminum with a ceramic-looking finish. Ed wanted to replicate the vintage vibe of Bakelite bezels by using ceramic, however, this would have seriously increased the price tags of the FLX001 and FLX002 (more on that later).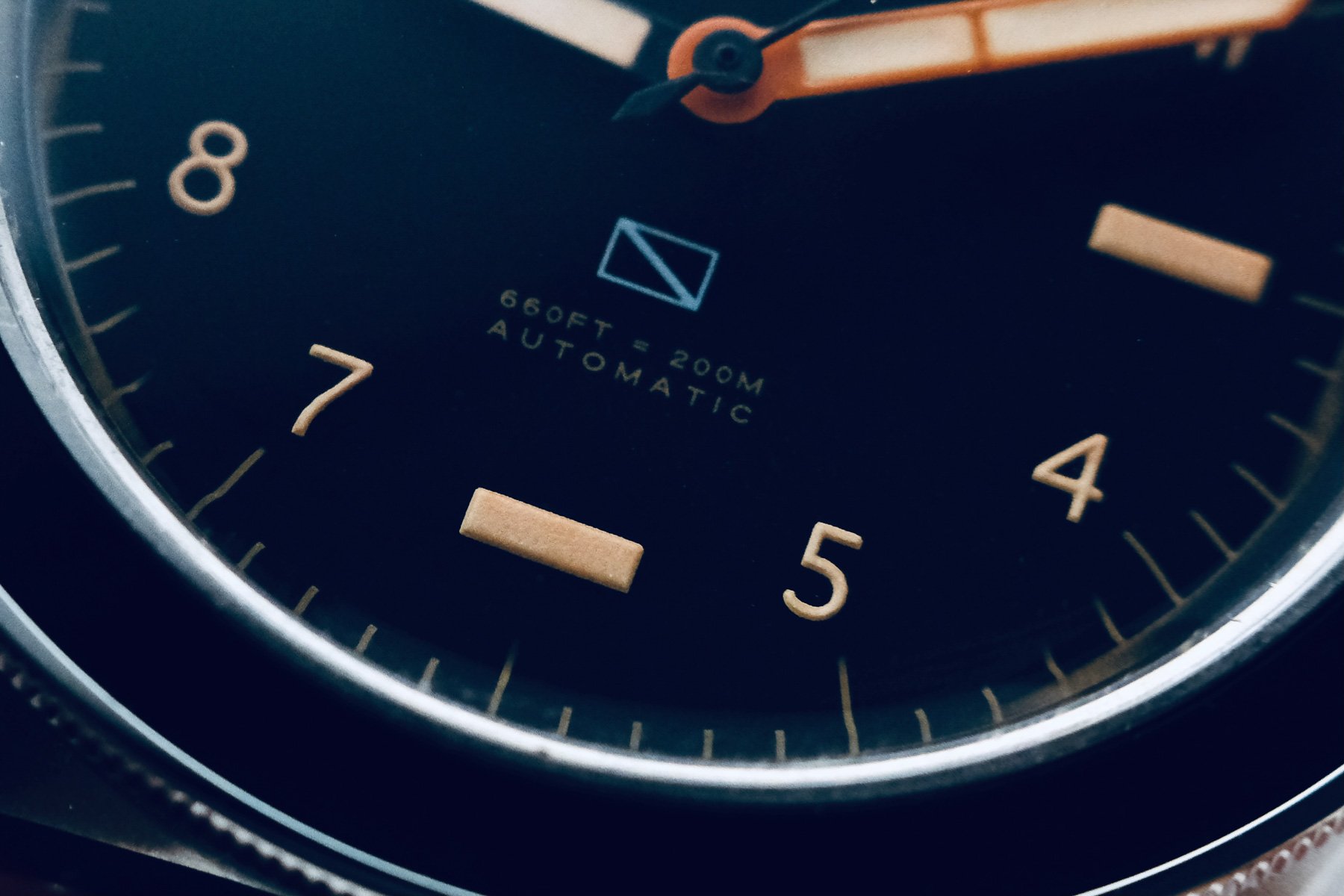 There's more to vintage watches than aged lume
Besides using friction-fit bezels that are definitely vintage in style, Ed also made a few other choices to enhance the NOS effect of his first two watches. Earlier, I talked about aged lume, and yes, he chose the Super-LumiNova C3 "Old Radium" blend for his watches. Set against matte black dials, this lume oozes vintage, showcasing burnt orange and light brown hues. This color is echoed everywhere else on the dial, except for the diver's flag, which is printed in white. As a result, the whole watch looks vintage, not just some parts of it.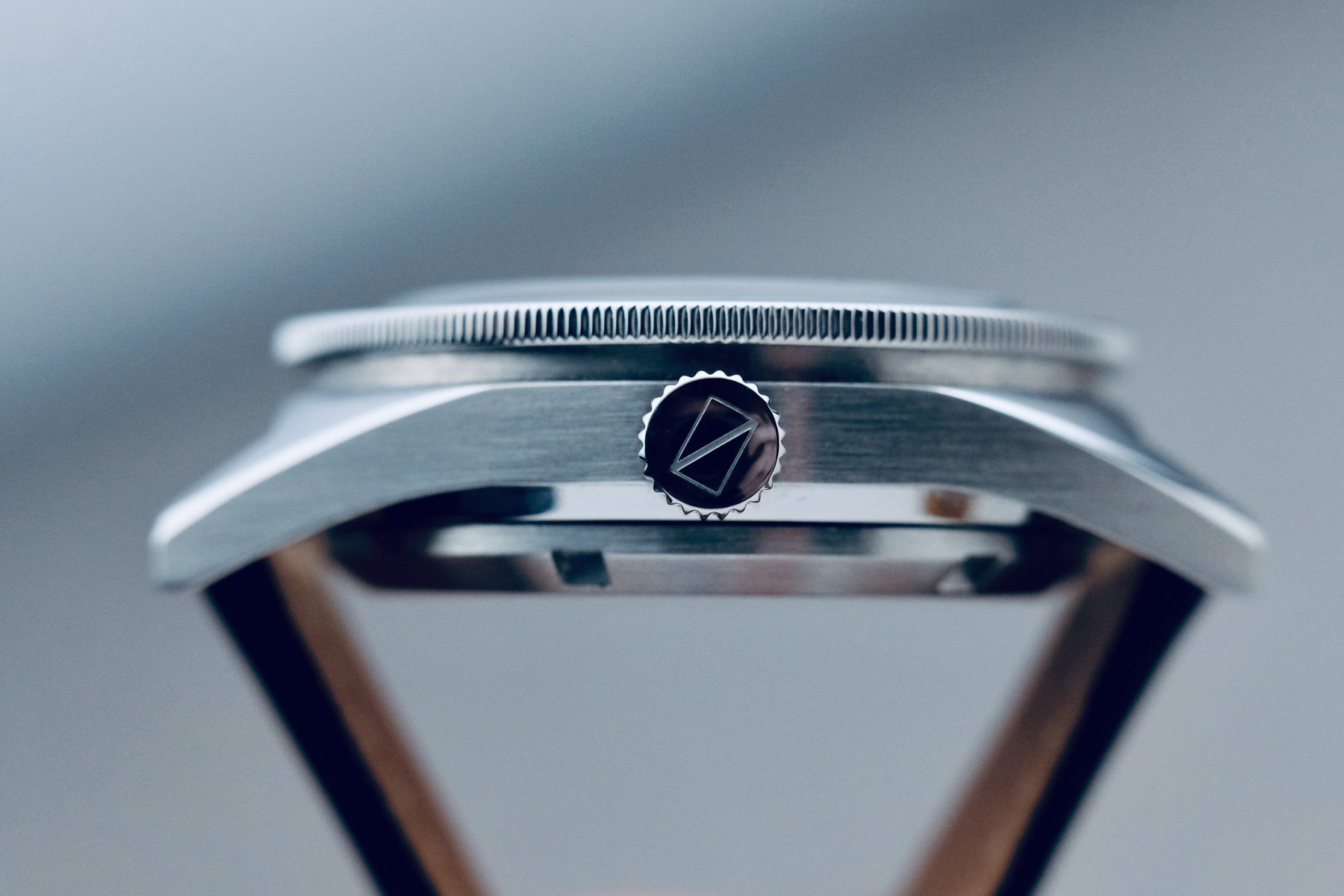 Furthermore, the FLX001 and FLX002 come with domed acrylic crystals that reinforce the warm tones that emanate from the dial. Surprisingly (to me), I didn't see any distortions when holding the watch at an angle. This effect is something that many people are after, but I am not one of them. I like to be able to see the dial clearly, so the absence of distortions is a plus in my book. While the FLX001 mixes circular, baton, and triangle-shaped markers, the FLX002 went "California." This is another vintage nod as the first dial with this layout — Rolex's Error Proof dial — dates back to the 1930s (it didn't become a "California dial" until the 1980s).
Earlier, I mentioned the fact that Ed borrowed certain elements from iconic models. Now is a good time to talk about this. You have all noticed the Squale-like handset. To be fair, however, it was common for dive watches from the 1960s to come with an oversized and brightly colored minute hand and a dwarfed hour hand (think Doxa, for example). But yes, it does look very similar to Squale's handsets. And besides the Bund-style bezel insert, the overall case shape nods to about 200 dive watches from the 1960s and '70s.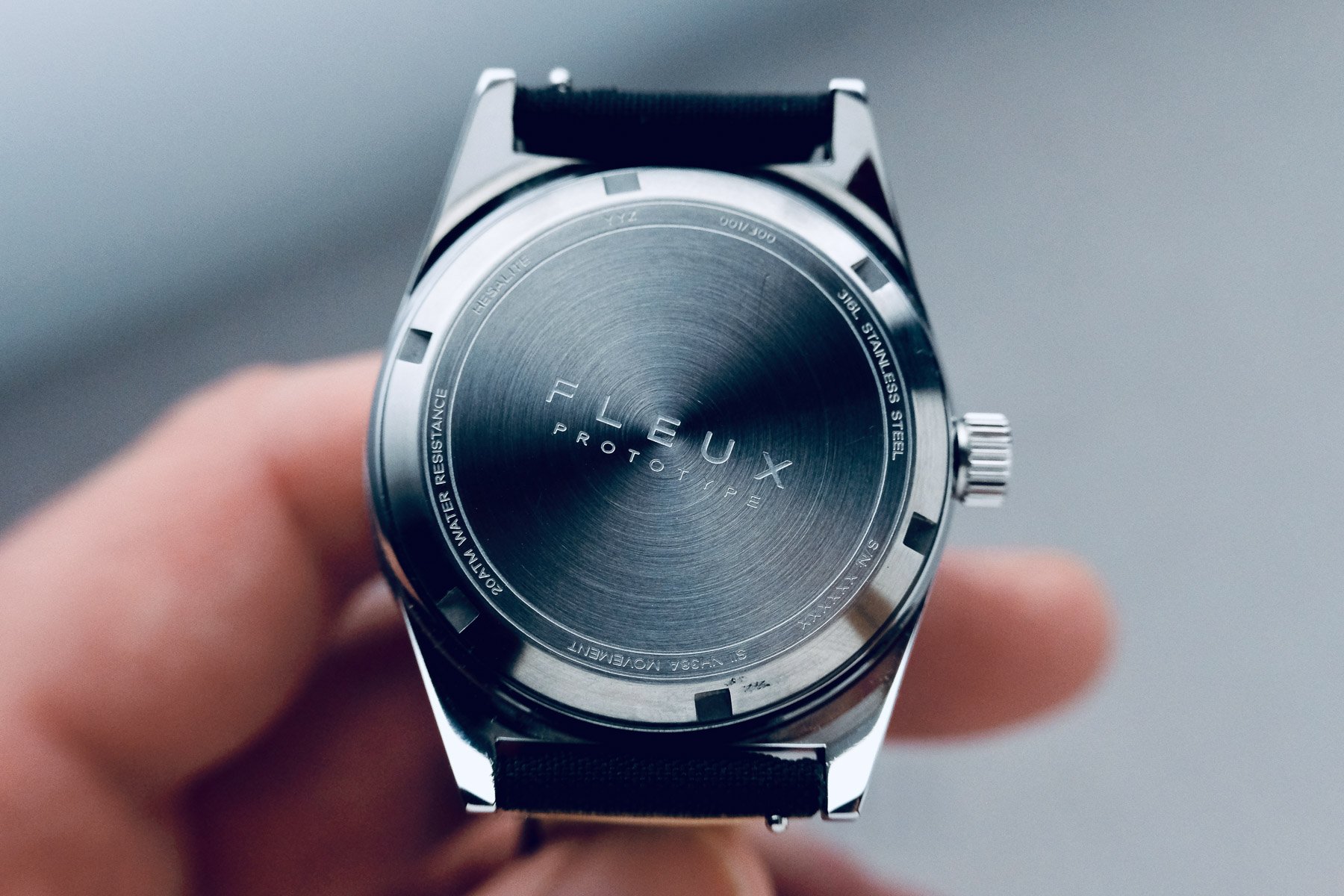 The specifications you should know about
All right, enough talking about vintage. Let's go over all of the other specifications that make this watch modern and solid. First, we'll start with the dimensions, which are the same for the two models — 38mm wide, 47mm long, 14mm thick, and 20mm between the lugs. I know, 14mm sounds a bit thick. However, it didn't feel so when I wore the watches as the lugs turn down dramatically. Furthermore, the domed acrylic crystal and the bulbous case back, which are reminiscent of vintage dive watches, accentuate this measurement. Admittedly, having a Seiko NH38A movement probably didn't help. Seiko movements like this have a reputation for being on the thicker side.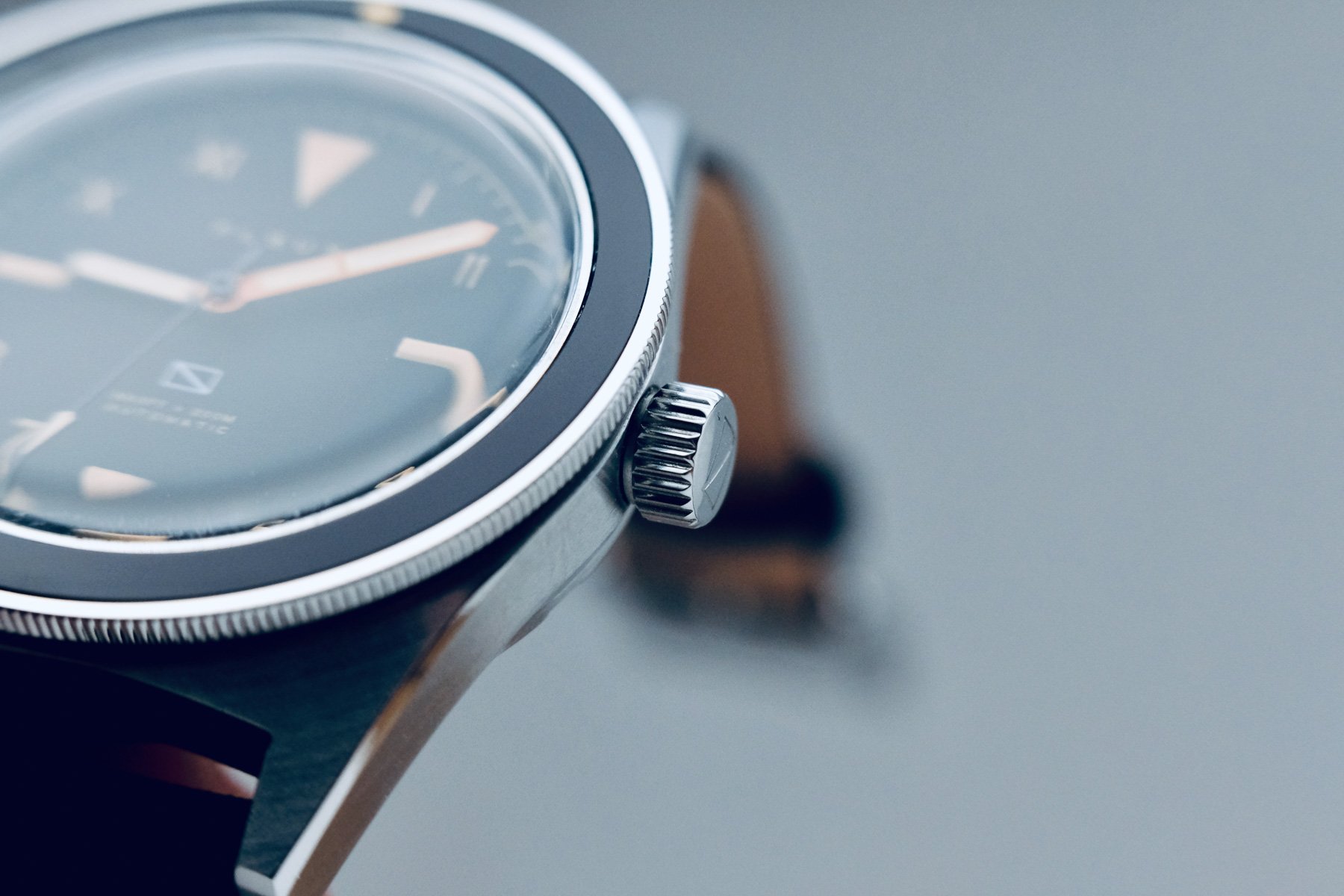 However, you do get a 200m water resistance rating thanks to the screw-down crown and case back, which I think is a pretty sweet trade-off. Speaking of elements of the case, let's talk about case design. It comes with an overall geometrical appearance, from the lugs that turn downward and the horizontal cuts near them to the soft appearance of the coin-edge bezel. The predominantly brushed finish accentuates the case's geometrical lines. Furthermore, the polished chamfer running along the case edges is a nice visual bonus that catches the light.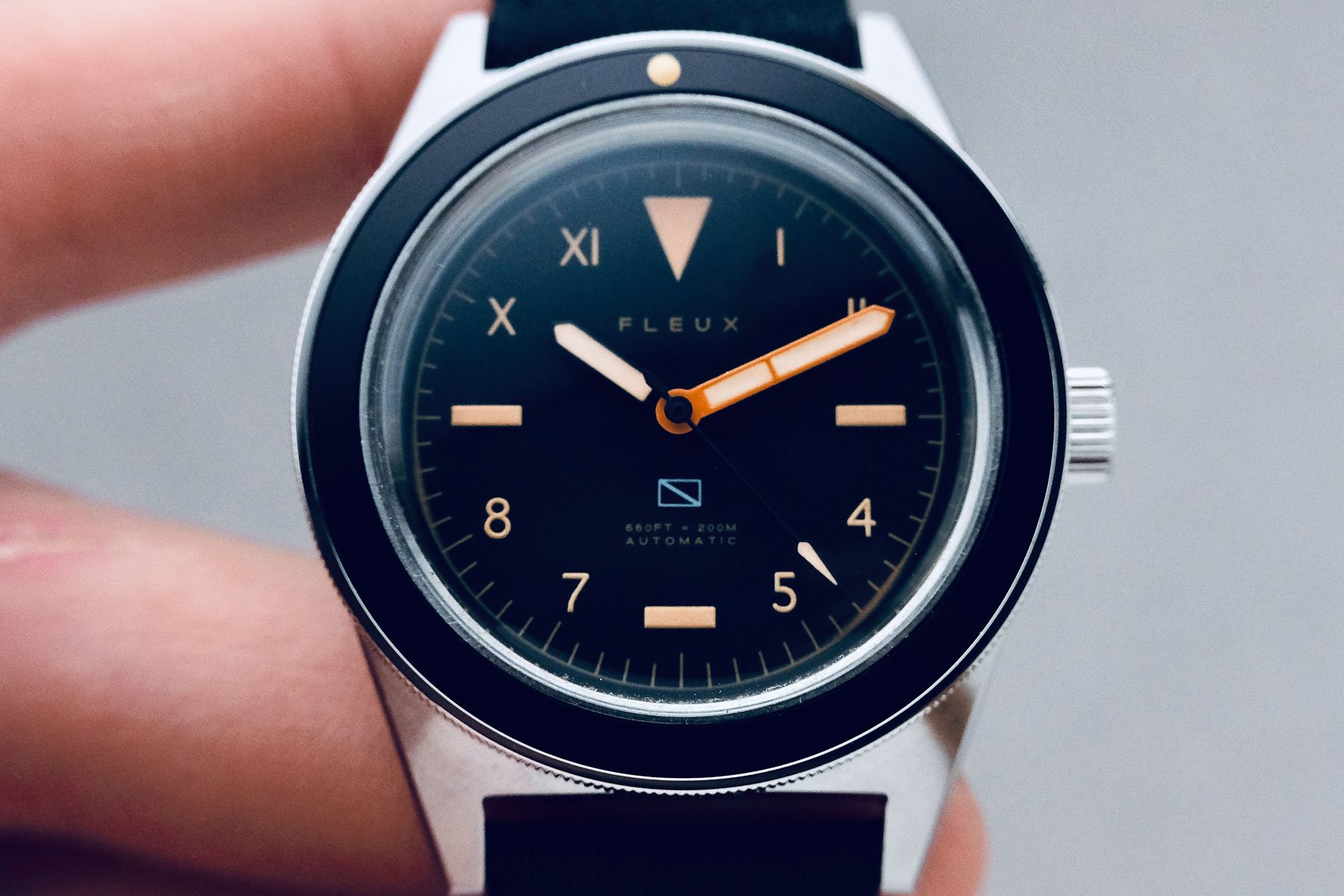 These are dive watches
Besides being water resistant to 200 meters, Ed's first models further nod to their aquatic raison d'être with the scuba flag. This is a well-known visual element that you can find everywhere in the diving world, from the actual flags that divers use to signal their presence underwater to motifs painted on the side of dive boats and scuba-related equipment and merchandise. This flag is present on the dial below the cannon pinion as well as on the polished crown. I find it particularly interesting that Ed chose to highlight it in this matter. It does remind us that the FLX001 and FLX002 are, first and foremost, capable dive watches. 
Final thoughts
You must be into vintage-inspired divers if you made it to the end of this article. Writing about vintage-inspired watches can be somewhat tricky as they nod to the past in various ways, not always elegantly. Although this is very personal, I find that Ed did a good job of mashing together his favorite characteristics of divers from the 1960s and beyond. I definitely missed a few details in this review, for which you will have to forgive me. There was a lot to be said about the overall yesteryear vibe that emanates from Ed's first two models.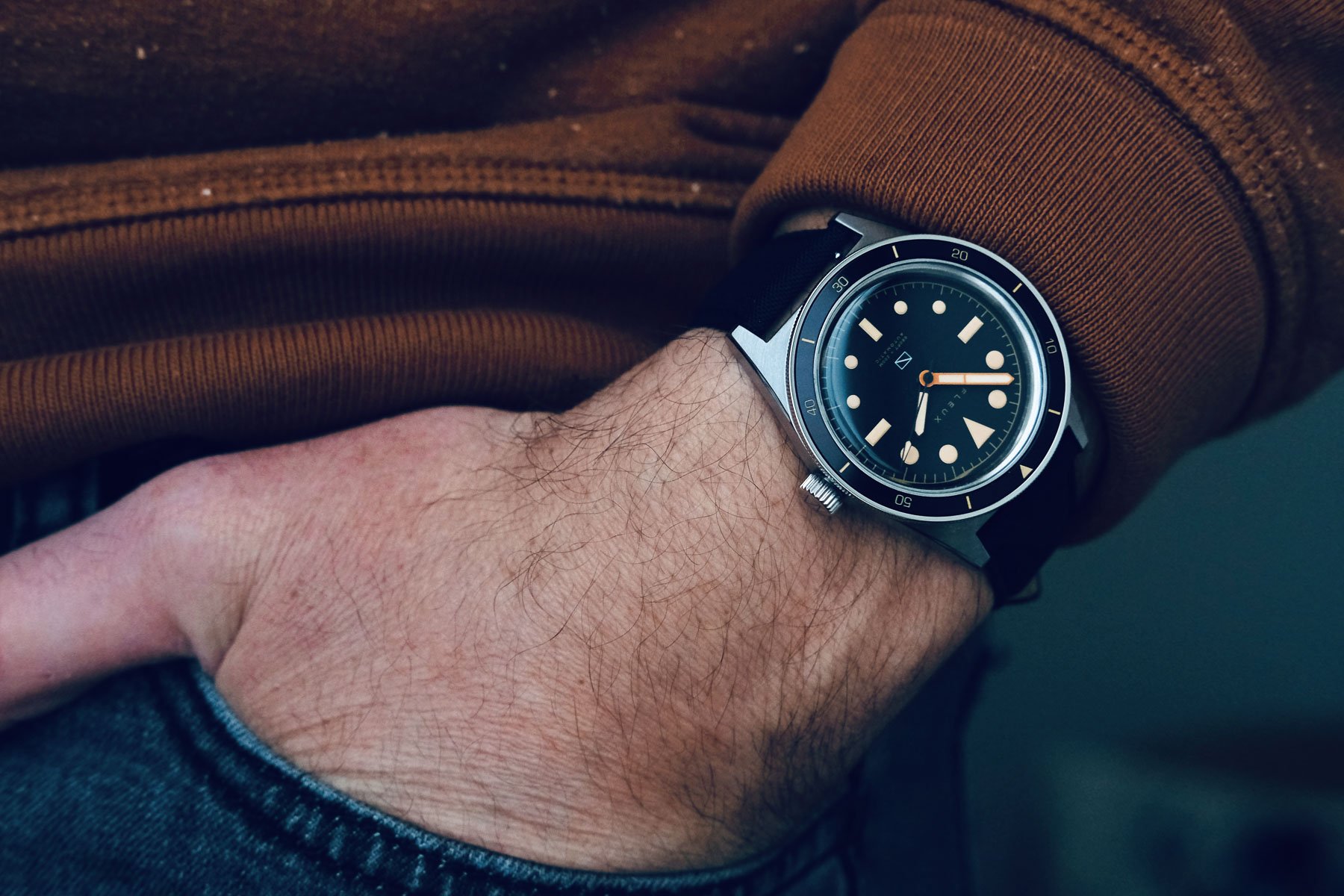 As a final point, the FLX001 and FLX002 will retail for US$499. They will be available through a Kickstarter campaign launching in early to mid-April, with estimated delivery in September 2023. I suggest signing up for the brand's newsletter to learn more about the campaign.  
But enough of my thoughts on the Fleux watches. What do you think of them? Are they too vintage, or do they strike the perfect balance? Please share your thoughts in the comments below.