Hands-On With The Schofield Patinated Bronze Beater B3 — Big, Brawny Bronze Is Back
Is my love of big watches being reignited?
My love of quintessential British watchmaking is no secret. Indeed, thanks to my dad's emigration from Norway more than 40 years ago, I feel half Brit. But that didn't stop me from doing a sacrilegious thing. I had the first (very rare) watch released by Giles Ellis of the Schofield Watch Company, the Signalman GMT from 2011. But I sold it to a former Fratello colleague because it was feeling too big. Too much writing and less gym time making my arms scrawny? Who knows, but I do kind of regret it, and going hands-on with the Schofield Patinated Bronze Beater B3 brought it all back with the warm feeling of bronze and gold.
The Signalman GMT was, at around £3,000, my first big spend on wristwear, and true to my contrarian nature, it was from an independent brand. It was an enticing mix of a brawny 500m-rated tool watch (yet with no diver's bezel) and a sweet GMT-functioning layered dial. Fast-forward to my 2023 preference for 37–38mm wristwear, which is now being corrupted. A few big pieces have started to creep back into the box, like the Aera D-1, another British 44mm tool watch. Let's blame it on my conflicted inner child or just a realization that big watches can feel comfortable. But bronze? Yes, it's back, chunky, and with a ready-made patina. That would have sounded all wrong to me last year, but going hands-on with the Schofield Patinated Bronze Beater B3 has made me rethink.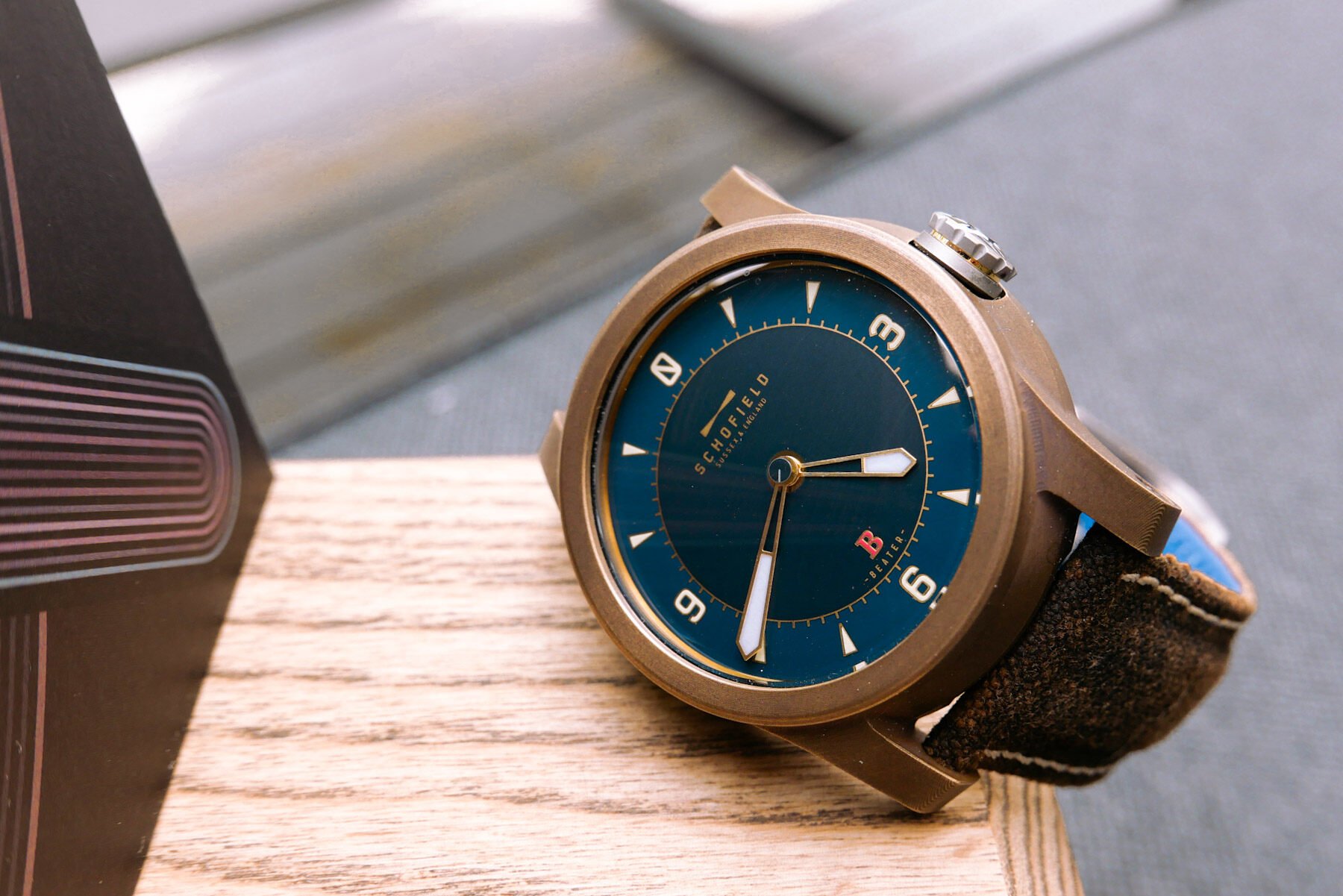 First impressions of packaging delights
Yes, packaging means a lot. Even though many of us put the big presentation boxes away and keep the watch in a glass case or one of those silly winders, it matters. Packed in between egg-crate-like cardboard, the Schofield watch box is a beautiful piece of carpentry in ash with an inlaid enamel logo. Inside is a circular center section of leather in the lid that'll touch the crystal when closing and an Easter egg in the shape of a lapel pin in its own inlaid aperture. There is also a separately packaged dust cloth and a solid wood watch holder.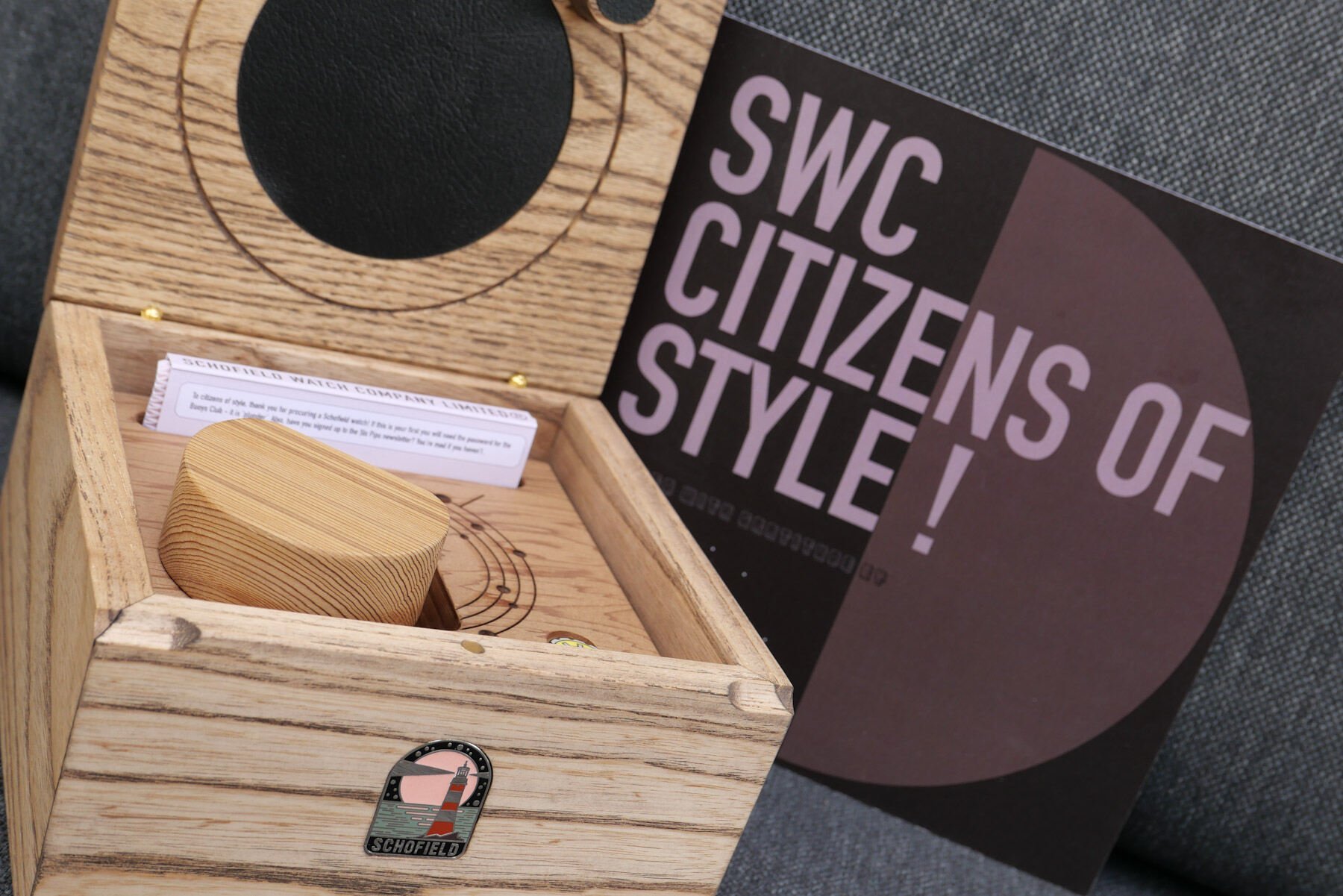 We've all seen the too-glossy massive boxes of Swiss brands with tough tools inside. This one is different. Opening the chamfered-edge lid with its brass hinges opens your mind to the quirky and obsessively detail-focused world of Giles Ellis. Yes, it's an intricate design that'll make big Swiss brands blush but with a rawer edge that befits the brawny Bronze Beater B3. This makes for a hand-crafted and thoughtful introduction for buyers new to the brand and sets the tone (even the bar).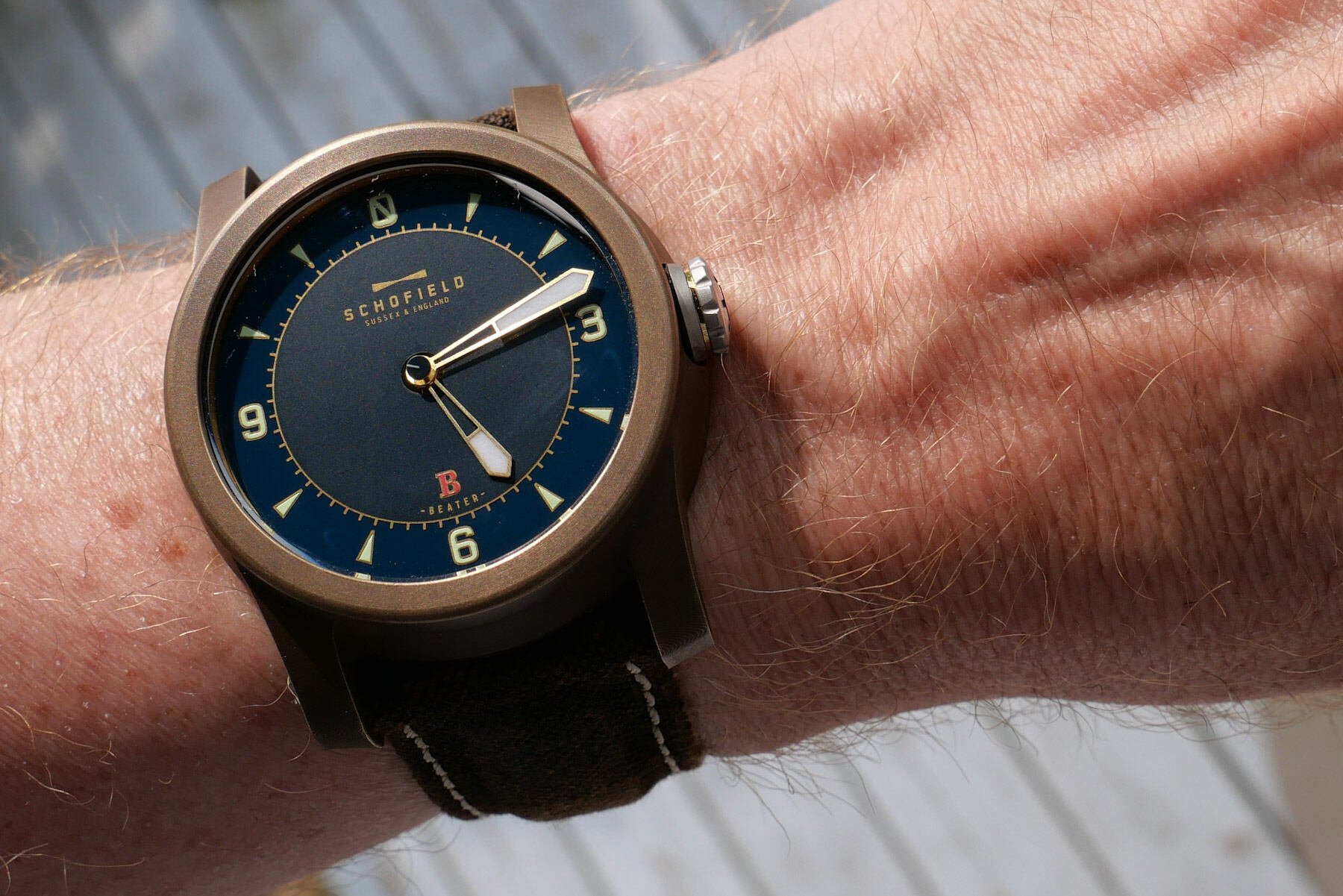 With the Bronze Beater, big feels good
There's no beating about the bush here: a 44mm watch with a 14.8mm thickness will never feel svelte or slip under a cuff. You will always feel its presence, but this is different. Even if the lug span is a long ~52mm (47mm from pin to pin), it's all about the case back. Because it's flat — very flat. That means the lugs can do their job curving around your wrist rather than poke out into the air as with many brands that should know better. The case back is almost completely flush, meaning the lugs drop down almost 3mm for that all-important wrist hug. So this feels more like a comfortable 42, even if the lugs are long. The curve-hugging shape makes a big difference.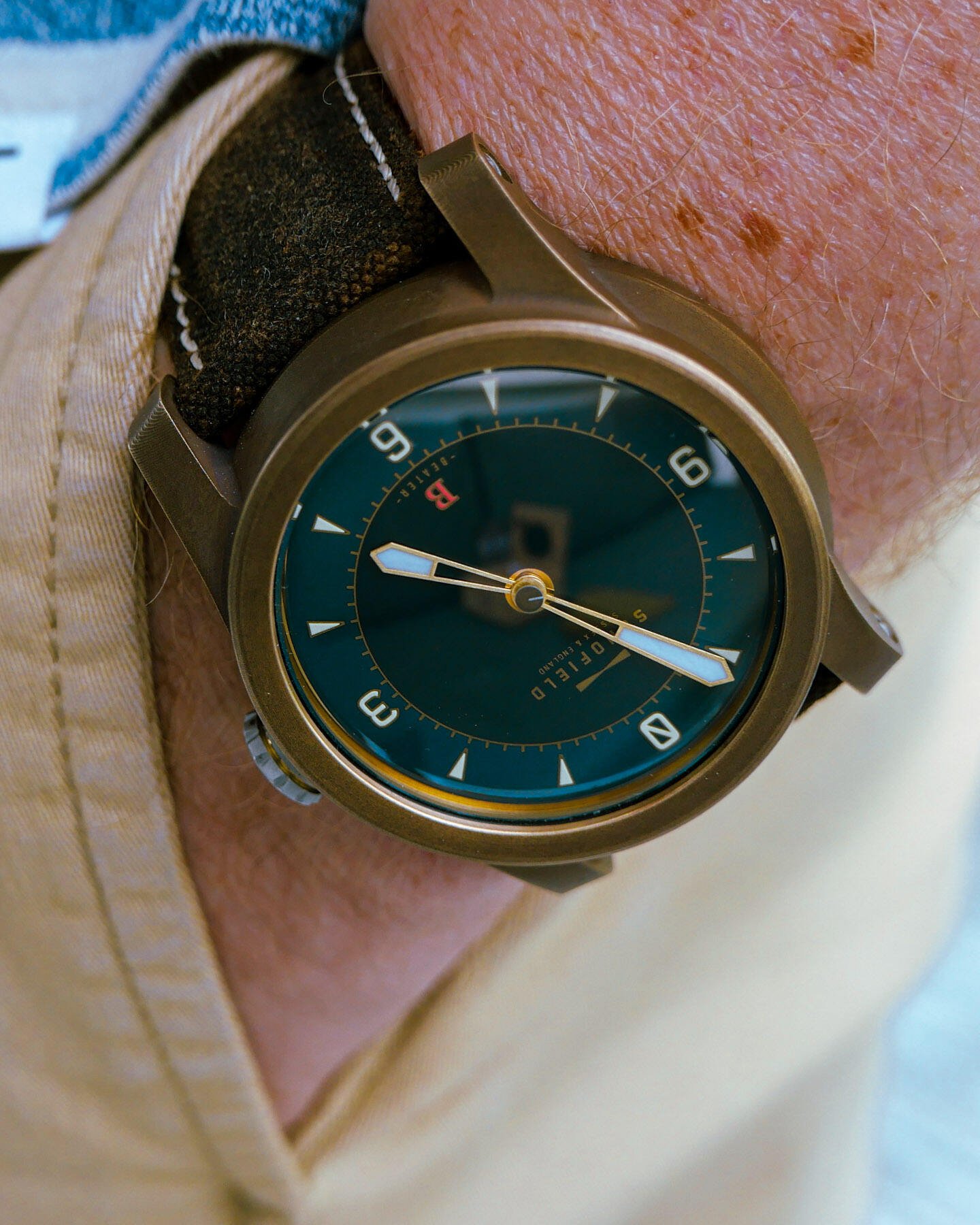 Bronze is back but pre-patinated this time
The life of a bronze watch is usually in constant flux, and the BBB3 can be ordered in its untreated bronze form, but this version is different. Treated with Giles's special baths of acid and dye, the case gets a dark, burnished finish, which is then treated to stabilize the result. That means the Bronze Beater I'm wearing here feels strangely at home right out of the box. The dark, soft, and even patina is akin to an ancient artifact from a sailing vessel, and it feels familiar, even friendly. The soft bronze case has faint traces of striations from a coarse finishing medium to increase the surface area for the oxidation process. It's a rich, soft brown color that will develop a touch of lighter polish on all sharp edges as you wear it, creating a personal story.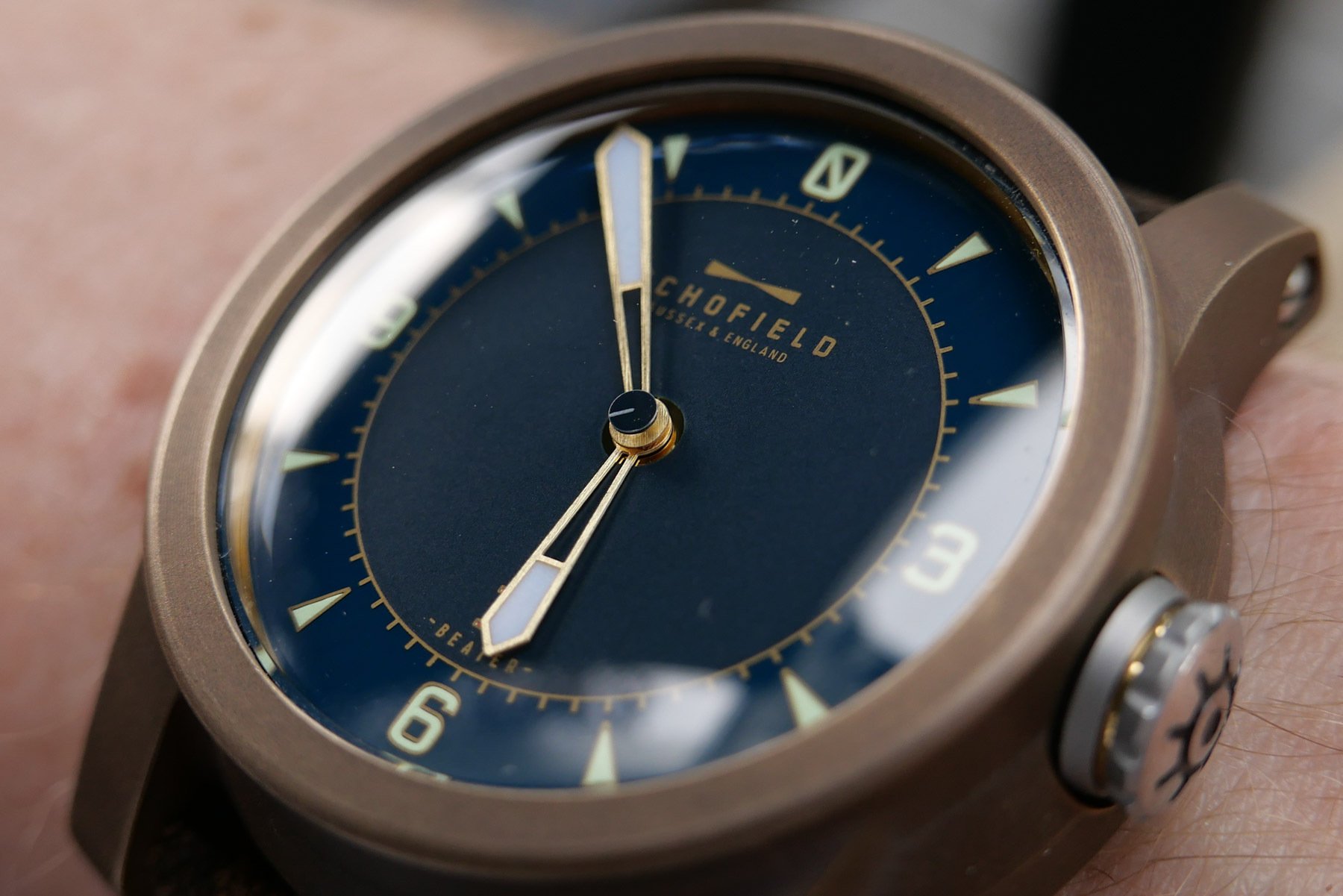 Deep petrol blue and gold create a juxtaposed delight
So, that soft brown case feels good despite its ballsy size and lug stretch, but a Schofield is about the small and thoughtful details. They combine to make the Bronze Beater B3 rather elegant for its quirky tool-like impression, starting with the crown. A broad, domed affair in steel, it matches the screw-fit lug pins and has a polished top, blasted sides, and an inset polished gold ring. My only gripe is winding it. While I'll usually put in a good 20–30 twists before setting the time, with this crown, I'll give up at 10. However, the design and the thoughtful integration into the case make it worth it, to be honest. The dial itself is a typical Schofield design with a broad outer section in a mystifyingly deep gloss petrol blue.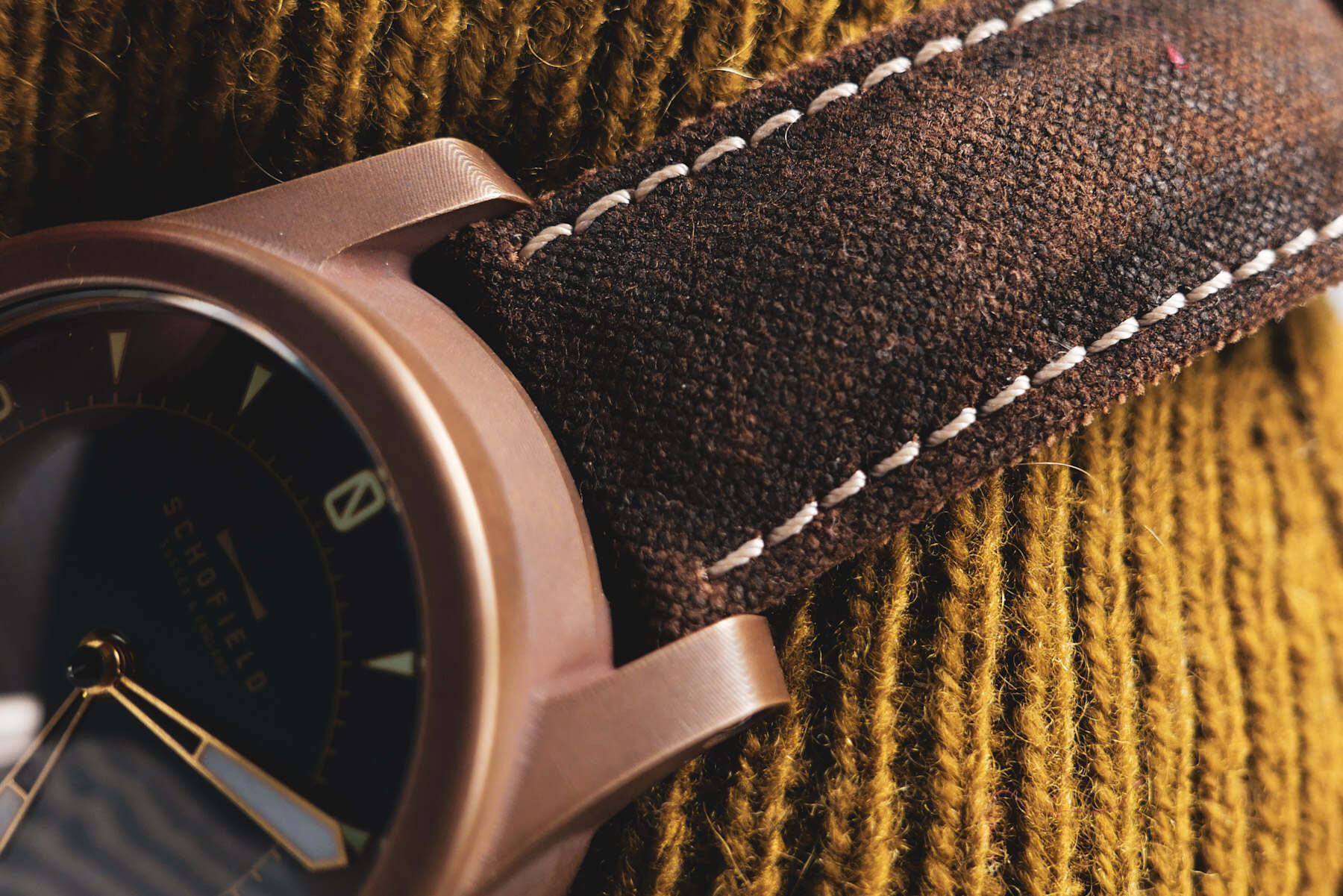 It's a studied choice that makes for a dark dial that comes to life with tinges of green in the light. The dial's center is silky matte blue within a ring of gloss gold, and the brushed gold-tone sword hands have a proper dose of Super-LumiNova. Bronze is not an easy color to work with, and Giles Ellis underlines his skills as a designer through this unusual palette. The strap itself is the same brown Japanese Mudloth as on the B4 we reviewed in 2021, and with its bright blue lining, frankly, it deserves a separate chapter. Just one of Giles's hand-crafted straps in a bewildering array of materials, this one has a deep, waxed texture with a worn-in look that is a perfect match to the bronze. It has a tough look, but it straps on with soft, vintage comfort.
The tiny, rotating icing on the cake
Just as I suspected when opening the wooden box, the careful blend of warm patina with a rather dressy dial works like a charm. The gilt-tone detailing finds a suave contrast in the deep blues of the dial, and the overall style refuses to be categorized. It is simply a Schofield, born in Sussex, polarizing and recognizable. To me, that makes a great watch rather than a medium-fit-for-all recipe. My favorite detail is the Sign-Of-Life indicator, visible in the center. You thought this was a two-hander, right? Wrong. A tiny glossy blue disc with a thin white line rotates in the center. This is one of many mesmerizing details in a watch that has a distinct style language and, quite literally, big charm. It'll be hard to see it go, to be honest, another case of on-paper sizes being re-interpreted by ergonomics and sheer presence.
You'll find the Patinated Bronze Beater B3 for £3,348 (including UK VAT) and the rest of the big-cased family on the Schofield Watch Company website.
So, my Fratelli, am I right in reconsidering larger watches, or has the summer sun got to me as I'm boiling in the home office? Let me know your thoughts on both big, brawny watches and the resurgence of bronze in the comments below.
Watch specifications
Model
Patinated Bronze Beater B3
Dial
Blue-on-blue design with gold detailing
Case Material
Pre-patinated bronze
Case Dimensions
44mm (diameter) × 52mm (lug-to-lug) × 14.8mm (thickness, not including lugs)
Case Back
Solid stainless steel with deep laser engraving, screw-in
Movement
STP 1-11 — Swiss automatic, 28,800vph frequency, 44-hour power reserve
Strap
Customer's choice of material, 24mm tapering to 22mm with tang buckle
Functions
Time only (hours, minutes, and hacking sweep seconds)
Price
£3,348 (including UK VAT)
Warranty
Two-year international guarantee