Strap Check: A Touch Of Green With A 24mm Pebro Strap Completes Thor's Schofield
Big is beautiful, and this strap underlines why this beast is a keeper
As an unrepentant strapaholic, I read all of my fellow editors' Strap Check articles with great interest. I'll also be honest and admit to buying way too many straps, for sure. I'm changing them willy-nilly, but have mostly given up on NATOs. They are cool in the summer, but I take watches off for swimming and showering, and those extra five seconds of fiddly off-and-on procedure drive me bonkers. I've had several instances when I bought a watch online and ordered a new strap for it before the watch arrived, so it is a deep affliction. This time, my strap check brings a touch of green by Pebro.
Most watches these days have a 20mm lug width, especially if you've weaned off the 42-46mm brutes like me. There are, however, two lovable monsters left in my collection. After my Seiko Marinemaster, my Schofield Signalman GMT is the only big one, and it's my only watch that requires a 24mm strap. This refined brute came on a black sharkskin strap with an olive-green lining that matched the color of the power reserve indicator. I love that strap, but I have taken it off to save it, and a replacement has been incredibly hard to find… Until now.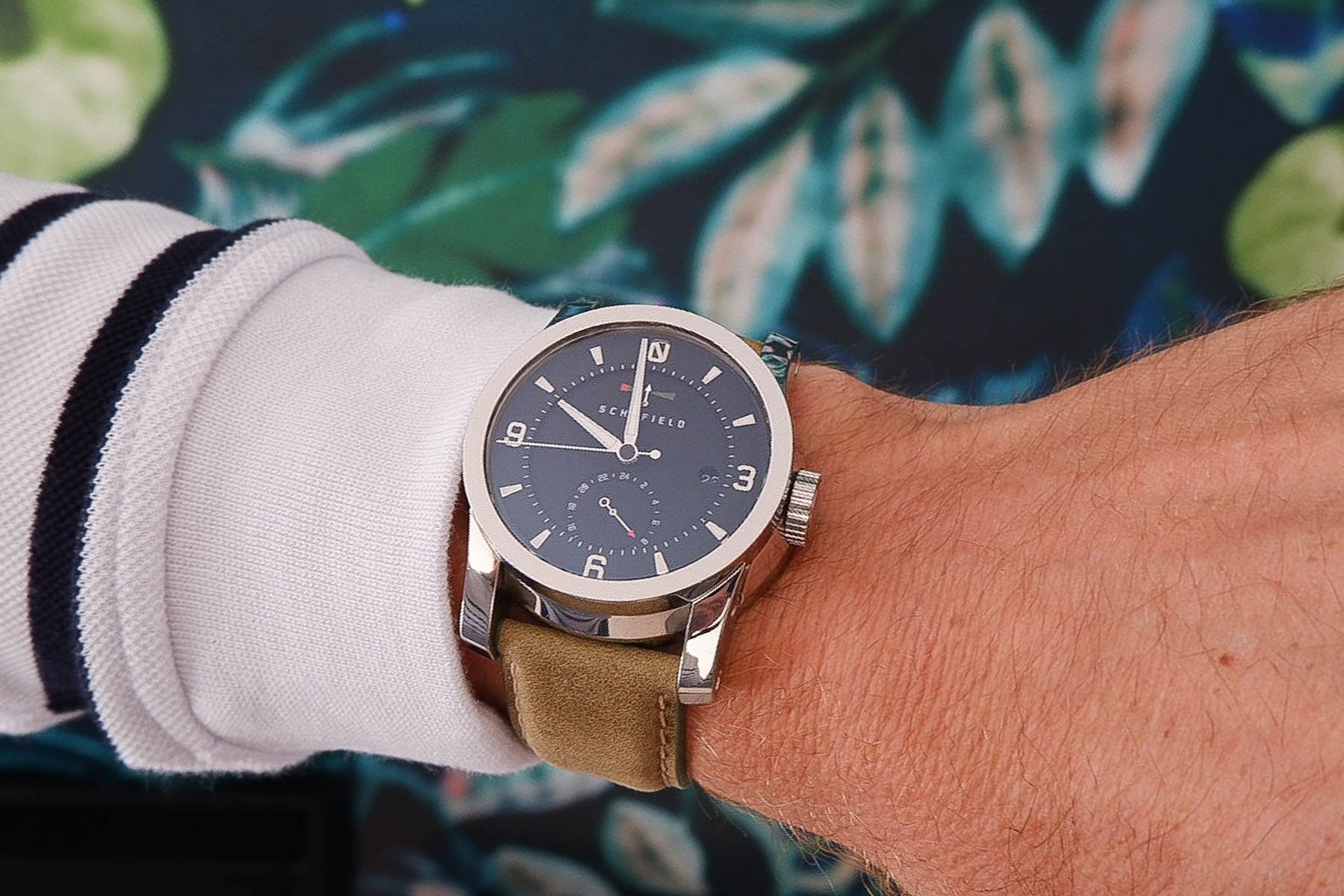 A soft green-tinged strap from Pebro
I'm neither particularly loyal to strap brands nor generous with my budget. Proportionally, a €3,000-4,000 watch deserves an €80-120 strap, but I do love a bargain. To be honest, I find the notion of €250-350 for an extra OEM strap for a €3,000 watch unthinkable, no matter the brand. I would buy a selection of four non-OEMs every day of the week. Watchobsession UK (not sponsored, I promise) still carries a big selection of brands when most online strap purchases in 2022 are from one-make web shops. The German brand Pebro has surprised me with its selection of colors and quality, this one being the CADW model. These padded straps are a great example of the Pebro output, slightly distressed and twistably soft.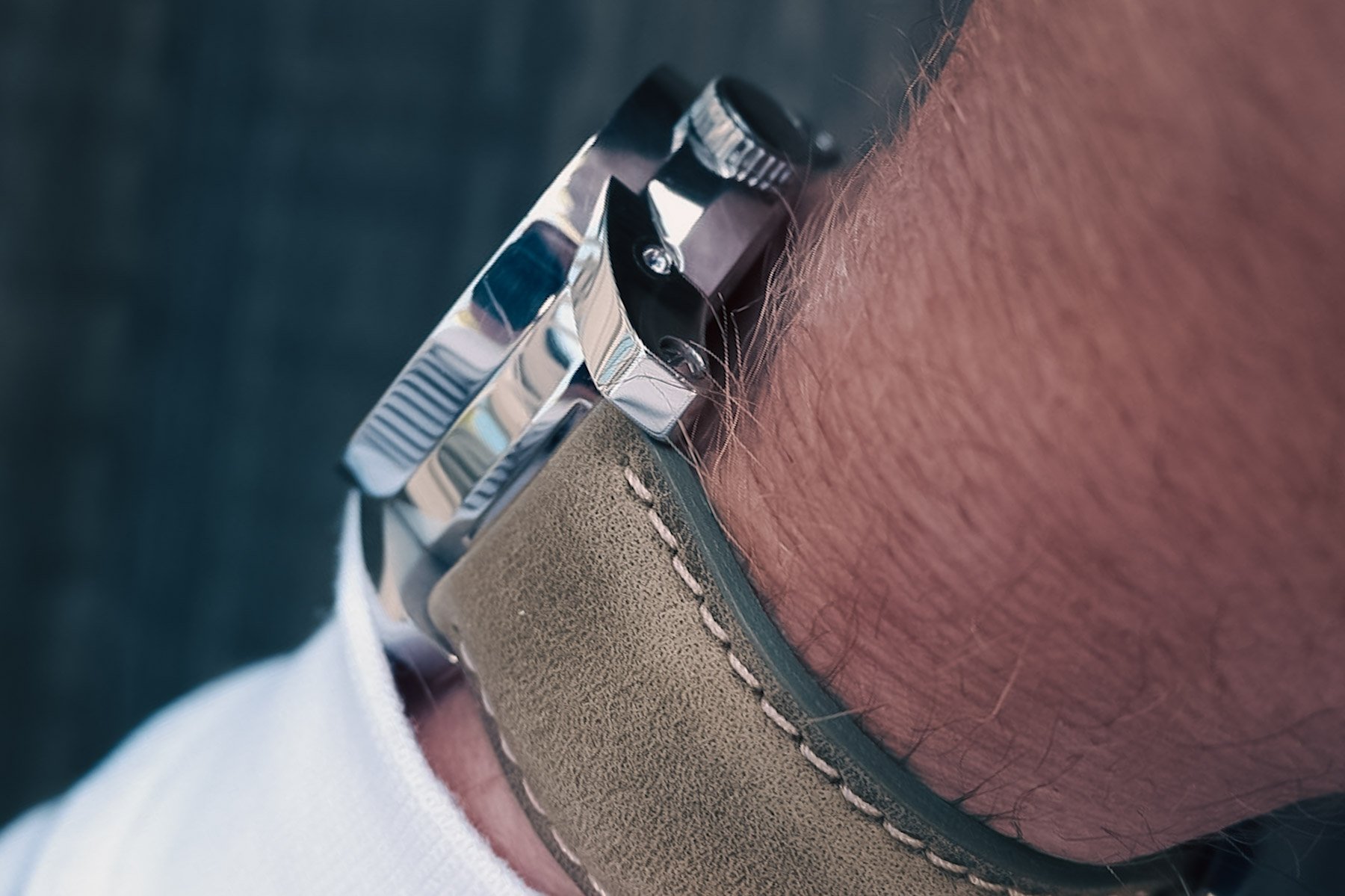 Small-wrist challenges met with a big watch
With my 7.5″ wrist, I should stay away from big watches. Not to mention, 24mm straps usually come in the stiff-as-wood-but-will-soften category. I'm too old to wait a week for a hard strap to soften up. Hell, I can't even wear the same watch every day. This olive-green Pebro CADW sits in the perfect middle ground of being substantial enough for a big, heavy watch and still soft enough to feel instantly at home. The strap is made from distressed vintage calf leather with a soft leather lining and a pistachio-colored edging. The surface is matte, soft, and will age beautifully with time. At about €40, the German quality in this Pebro strap makes me want more, and they come in as many as 12 colors and five widths. Yes, this Schofield deserves a €100 strap, but why overspend when you can find exemplary value craftsmanship for less than €50?
A big watch with a deeper meaning
An intensely matte two-tiered dial with a balanced layout is a testament to Schofield founder Giles Ellis's design background. The design is unusual, the only similar dial found in the Leica watches that came much later (hmm…). There is something intensely satisfying about the cohesive design. It is obvious that every component from the indexes to hands has been designed with an obsession for detail. The long minute hand just reaches the outer edge of each index, while the hour hand sweeps past the raised minute-and-hour track within a hair's breadth. My favorite detail is the linear power reserve indicator below 12 o'clock shaped like the light emanating from a lighthouse. As fate would have it, its right side is exactly the same olive green as the edge of my Pebro strap. Matchy goals well and truly met!
I didn't choose Swiss, and this (in 2012) was the first time I spent €3,500 on a watch.
This is one of the last two big watches in my cabinet. Like my Marinemaster 300, it wears ergonomically soft, with lugs curving down lower than the case back. Big brands, take note! I didn't choose Swiss, and this (in 2012) was the first time I spent €3,500 on a watch. At the time, it felt like €10K, and why? Because of the personal feeling you get in being able to communicate with the founder of a small brand and having a true limited edition (mine is number 8 of 300 pieces). Unlike with most brands, this case and dial were never repeated in production by Schofield, making it feel pretty special.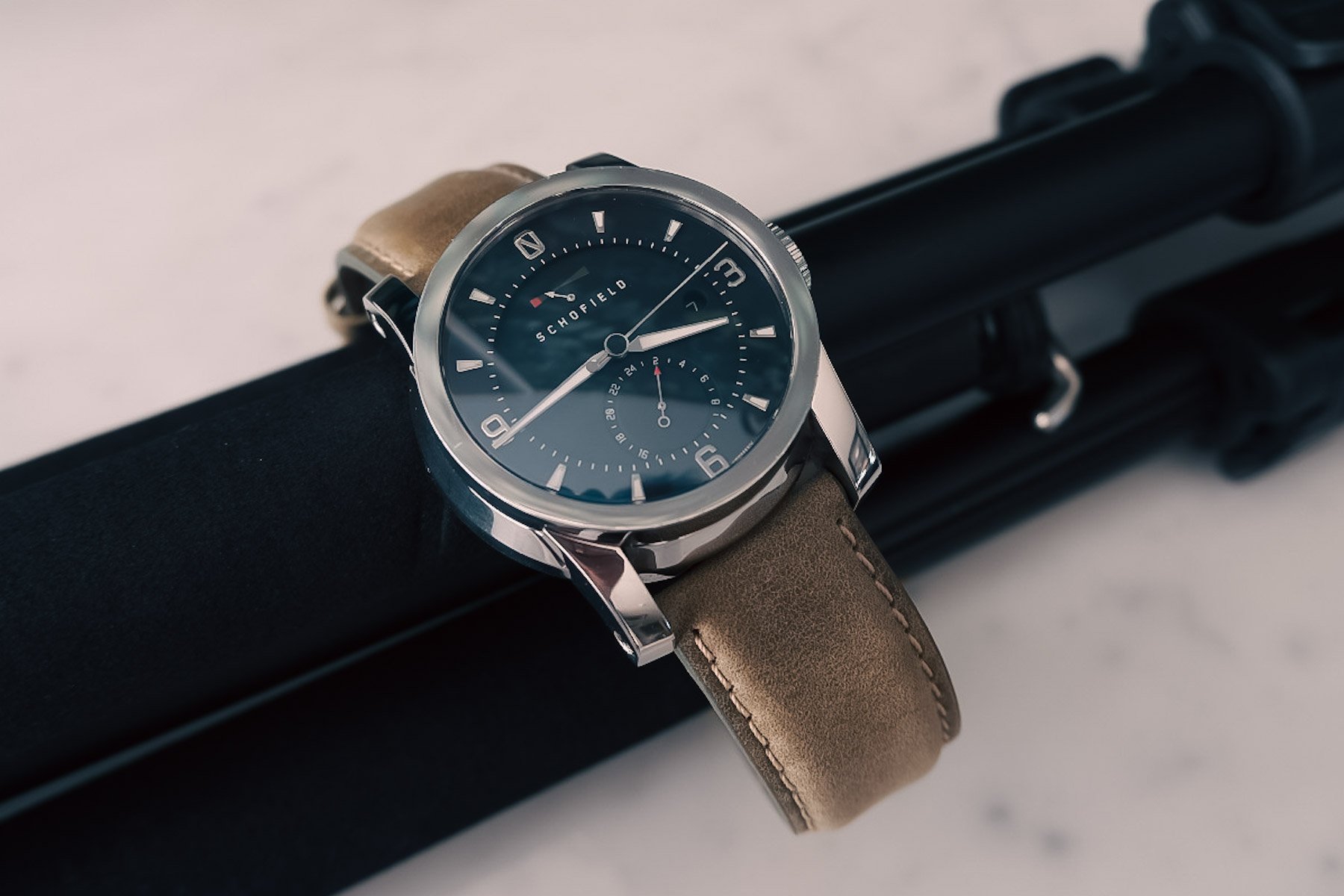 What makes the Schofield Signalman GMT different?
This is a big sports watch with a 500m depth rating, yet it maintains a rather dressy appearance. I love the rock-solid irony, as this is no diver. My only gripe would be that the date window is too restrained. From most angles, the numbers hide deep within the Soprod 9335 caliber's depths. At 44mm, the Signalman is big but cone-like in shape, with the top being about 41mm. The case, hands, and indices were inspired by the lighthouses of last-century Britain, hence the name. As Schofield's debut watch from 2011, it's remarkably mature for a first model. Like Rob's Japanese-inspired Schofield, this case shape remains the brand's base. But this rather formal debut has morphed into a microcosmos of big wrist art. The Pebro strap in its pistachio-hued beige color is a perfect contrast to the big-cased, twin-level dial. On this watch, it has found its forever home.
What about you, my Fratelli? Are you strapaholics, or do you stick to OEM straps until they fall off from exhaustion? Perhaps you have that one strap brand you love and stick to. Let us know in the comments.
Find me and follow me at @thorsvaboe