Hands-On With The Sinn UX And The Sinn 240 — Two Classic References From The German Brand's Lineup
Hardcore watches with hardcore aesthetics
Today, we take a look at two long-existing references from Sinn's impressive catalog. We have not covered these specific models on Fratello before, and I think we should. Here we have a tough-as-nails diver in the UX and a capable pilot's watch in the 240. Both aim to perform a task with reliability and perfect legibility under any circumstance. But does that come at the expense of some refinement?
Sinn offers other watches geared more towards a comfortable daily wearing experience. These two are more hardcore. Let's find out if I can pull them off or if my laptop lifestyle is a bit too indoorsy for these brutes.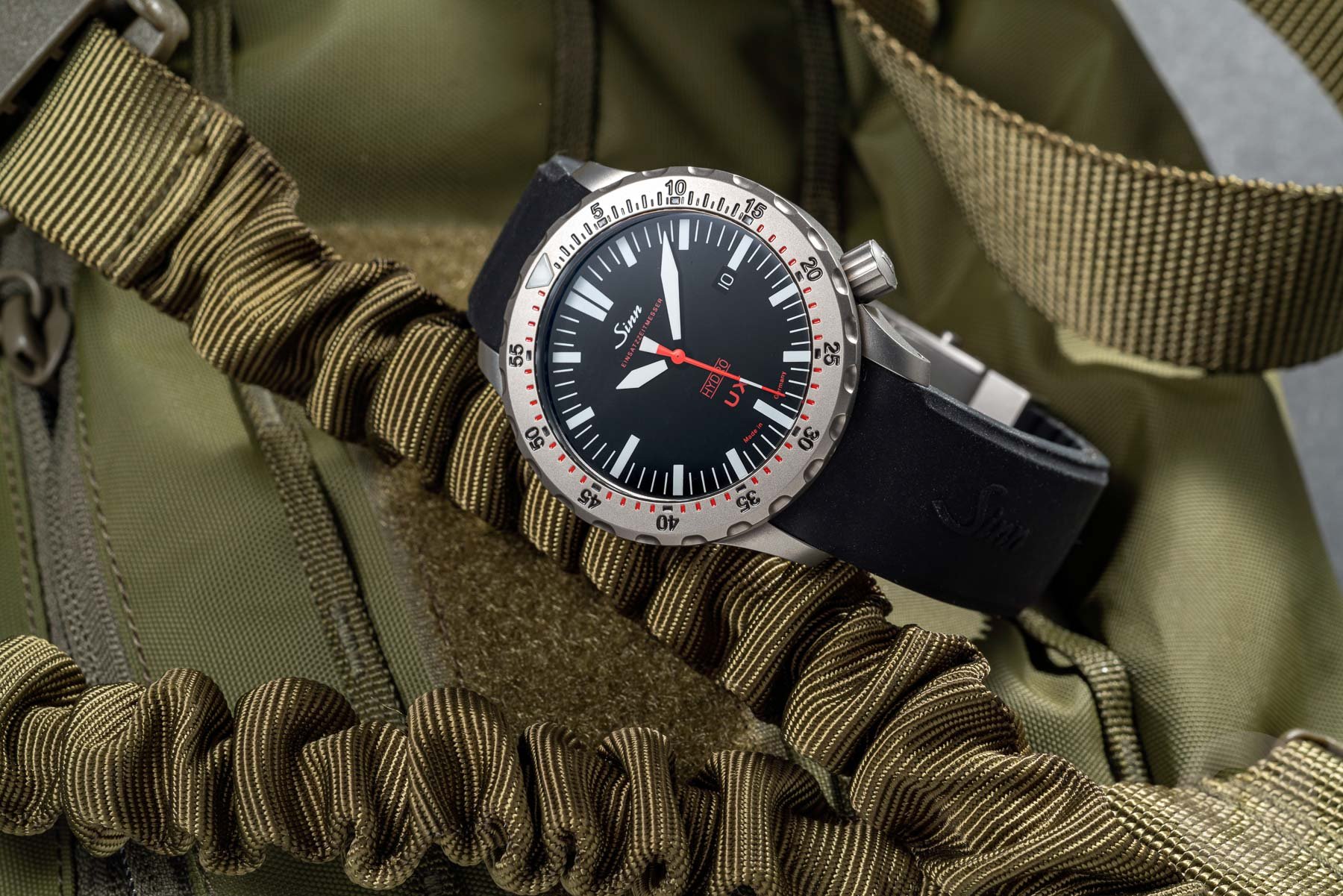 Sinn UX
The first of the two Sinns we have here is the UX. It is arguably the tooliest of Sinn tool watches. And that says something, considering the very task-oriented nature of the brand. What we have here is a quartz-powered (temperature-stabilized ETA 955.652) diver with a water resistance of 500 ATM or 5,000 meters(!). The quartz movement is specced to run within 10 seconds per year. We all applaud Grand Seiko for that, but you can get the same kind of performance from this Sinn.
The crazy water resistance is, in part, enabled by the oil-filled "Hydro" case. Air is compressible, but oil is not (depending on the type of oil). This means the watch becomes like a solid block underwater rather than an empty tin can like air-filled watches. Another great benefit is the complete lack of reflections underwater at any viewing angle. On dry land, the oil has a very interesting optical effect. When you tilt the UX, the crystal looks like an LCD display or even a sticker. The dial gets visually pushed up against the glass. There is no sense of depth. It really is quite cool.
The UX comes in a corrosion-resistant, media-blasted submarine steel case. It measures 44mm × 51mm × 13.3mm. The uni-directional bezel is tegimented for scratch resistance. My test unit came on a rubber strap with a large clasp with micro-adjustment.
The Sinn UX aesthetic
The UX is an archetypal Sinn watch. The satin submarine steel, with its warm champagne tone, is a dead giveaway. The matte black dial with the stark contrast of white and chili-red accents is also characteristic. It is both supremely legible and stylistically distinctive.
The Sinn UX is a large watch. A very large watch, in fact. I wear watches with similar dimensions, but the UX looks comically large on me. It might be the completely flat top combined with the light-toned bezel, but it wears large even for its already large dimensions. I agree with RJ's premise that "the right size" for a watch is independent of wrist size. But in this particular case, I do feel that you need a substantial wrist to pull this one off. Sinn describes having opted for the largest possible dial for legibility's sake. I get that, but I think at 41 or even 42mm, it would speak to a significantly larger group of potential buyers.
The overall look of the Sinn UX is very cool. It is not easy to design a dive watch that is truly original and distinctive without it looking forced. The UX pulls it off. It does not trigger any associations with the Rolex, Omega, and Blancpain creations that set the template for dive watches. At the same time, it looks very natural and effortless.
Seeing the UX for what it is
I think the Sinn UX is extremely cool-looking. I also think its technology is super impressive. It really does feel like you could use it to hammer a nail into a log. If you get the fully tegimented version, it would even look brand new after such carpentry shenanigans.
It is worth noting that the Sinn UX is a watch purely built for purpose. It is used by German special forces, and it feels that way. That is both a positive and a negative. From a dive-watch point of view, this is really as good as it gets. Well, except for the relatively poor lume, that is. But as a daily watch, it does not quite do it for me. It has an overpowering stance on the wrist. As you can see from the photos above, it works well on RJ's 18.5cm wrist. Not so much on my 17cm wrist. You either need a big forearm or you need to regard it as a pure diving tool. This is not a Tudor/Rolex/Omega kind of do-it-all diver. It is too cumbersome. As long as you are aware of that, it is thoroughly impressive. Granted, Sinn does not pretend that it is anything other than a tool.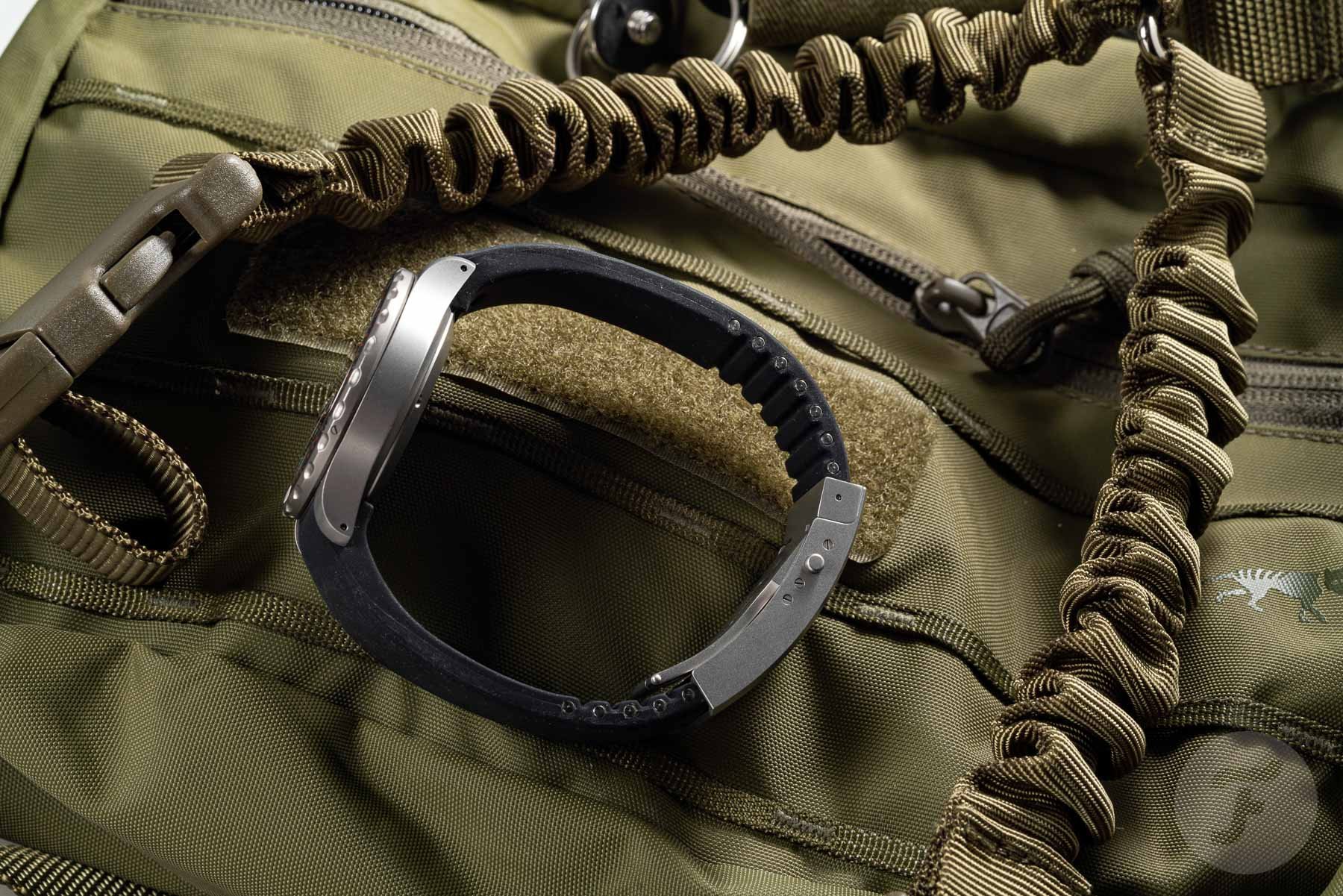 The rubber strap proves my point. The clasp is the size of some of the larger JLC Reversos. It really does feel like you are wearing an additional watch on the underside of your wrist. You could get a small-clasp model, but you would forfeit the micro-adjustment. The integrated ends of the strap are so tight that it is annoyingly tough to find the lug hole with the spring bar. Again, it is a bit cumbersome for me as a watch lover. It probably works for a Marine.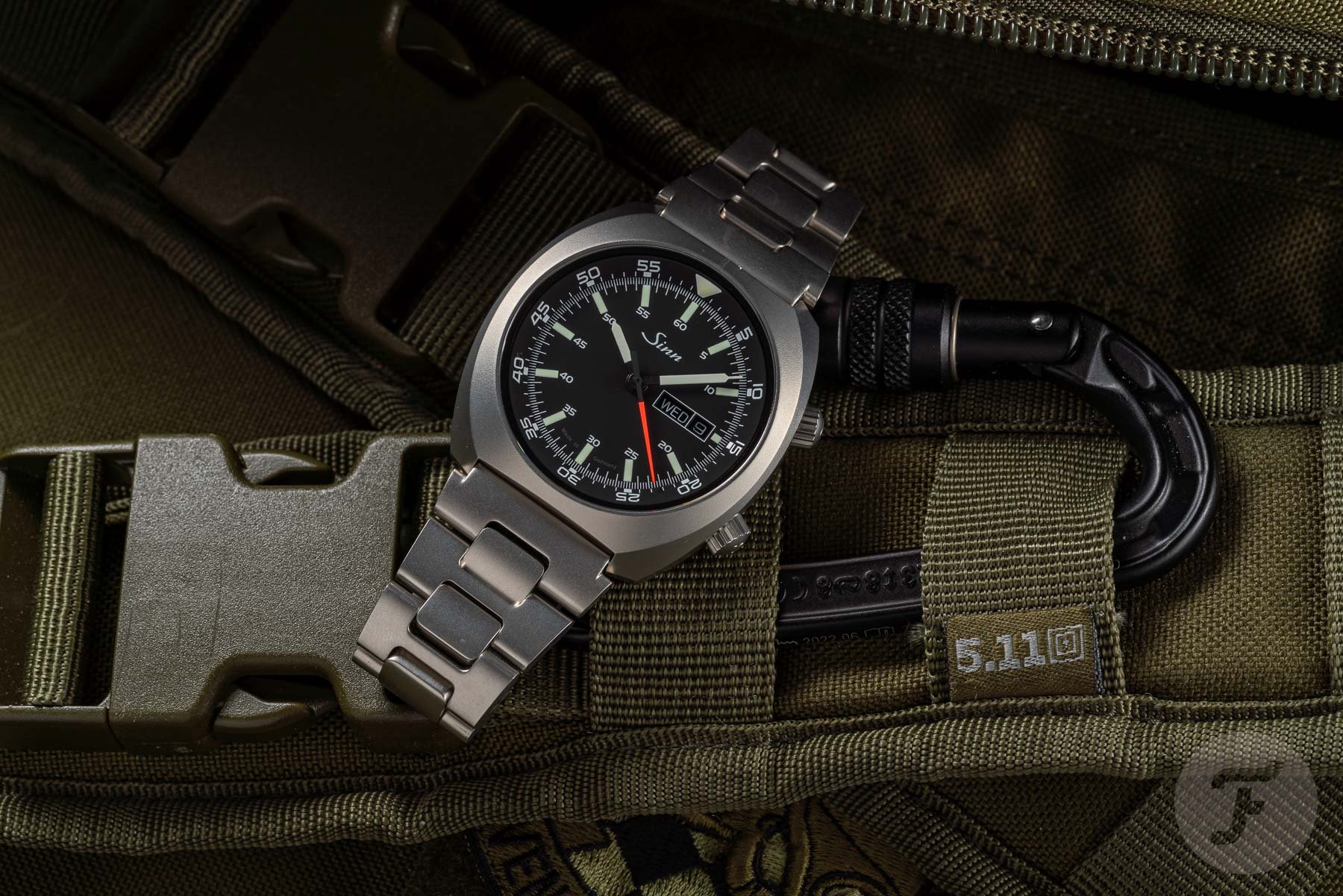 On to the Sinn 240
The Sinn 240 is one of the German brand's pilot's watches. It is a 43mm × 46mm × 11mm blasted stainless steel, cushion-shaped automatic. It features an inner rotating bezel, and it is low-pressure-resistant as well as water-resistant to 100 meters. The Sellita SW220-1 caliber is operated via a non-screw-down crown at 4 o'clock. A second crown at 2 o'clock operates the inner bezel.
We have another matte black dial with white printing. The seconds hand on the Sinn 240 is a fluorescent signal red rather than the Sinn-typical chili red. Like the UX, the 240 is fitted with a double AR-coated sapphire crystal. It is also antimagnetic per DIN 8309 spec, just like the UX.
My demo unit came on the 22mm H-link bracelet. It features a folding clasp with micro-adjustment holes (although no on-the-fly mechanism) and a diver's extension. The bracelet is fine, but the end link is a bit much. It flares beyond the 22mm width for optical integration with the case. The result is a bit too much satin-finished steel for my liking. Aesthetically, I think the 240 works better on a strap.
The Sinn 240 design
The 240 suffers from the same issue as the UX in terms of optical size. It wears large, even though its lug-to-lug is only 46mm. It really is a massive slab of steel, especially on the bracelet. The 240 fits my 17cm wrist, but I cannot help but feel it looks better on a larger wrist. This is a matter of taste, of course.
I do really like the dial of the 240. It is all about contrast. The fine minute track and inner minute numerals contrast nicely with the thick luminous hour indices, and the busy outer perimeter contrasts the negative space in the middle very well. The thin, super-bright seconds hand jumps off the dial beautifully, while the handset is a thing of beauty in any case. The syringe minute hand and pencil hour hand appear to float, thanks to their matte black heart. Finally, the dial is just perfectly legible and visually balanced. Magnificently done, Sinn!
So is the 240 more up my alley?
I need to remind myself that these watches are not designed to be refined. Still, there are some issues that I feel should be addressed, even if these are pure tool watches. The inner rotating bezel is ever-so-slightly wobbly, and its mechanism feels a bit rattly. Especially when I hold it to my ear, it just does not sound as solid as I would expect from Sinn. The Sellita SW220 will never be the pinnacle of refinement, but it is particularly coarse here. Winding it feels rougher than I am used to from this common ébauche caliber.
The bracelet is more of the same. It is nice that its sizing links are held together with thick hex-head screws. Still, the tolerances all around are not quite as tight as I had hoped. The whole thing is a bit rattly, like on lower-end Seiko watches.
I absolutely love the dial. Its design and execution are fantastic. However, the wearing and operating experience of the entire watch just does not really do it justice. You can see from the pictures how it wears on a 17cm wrist and an 18.5cm wrist. It is a matter of taste. Hopefully, this helps you to form your own opinion.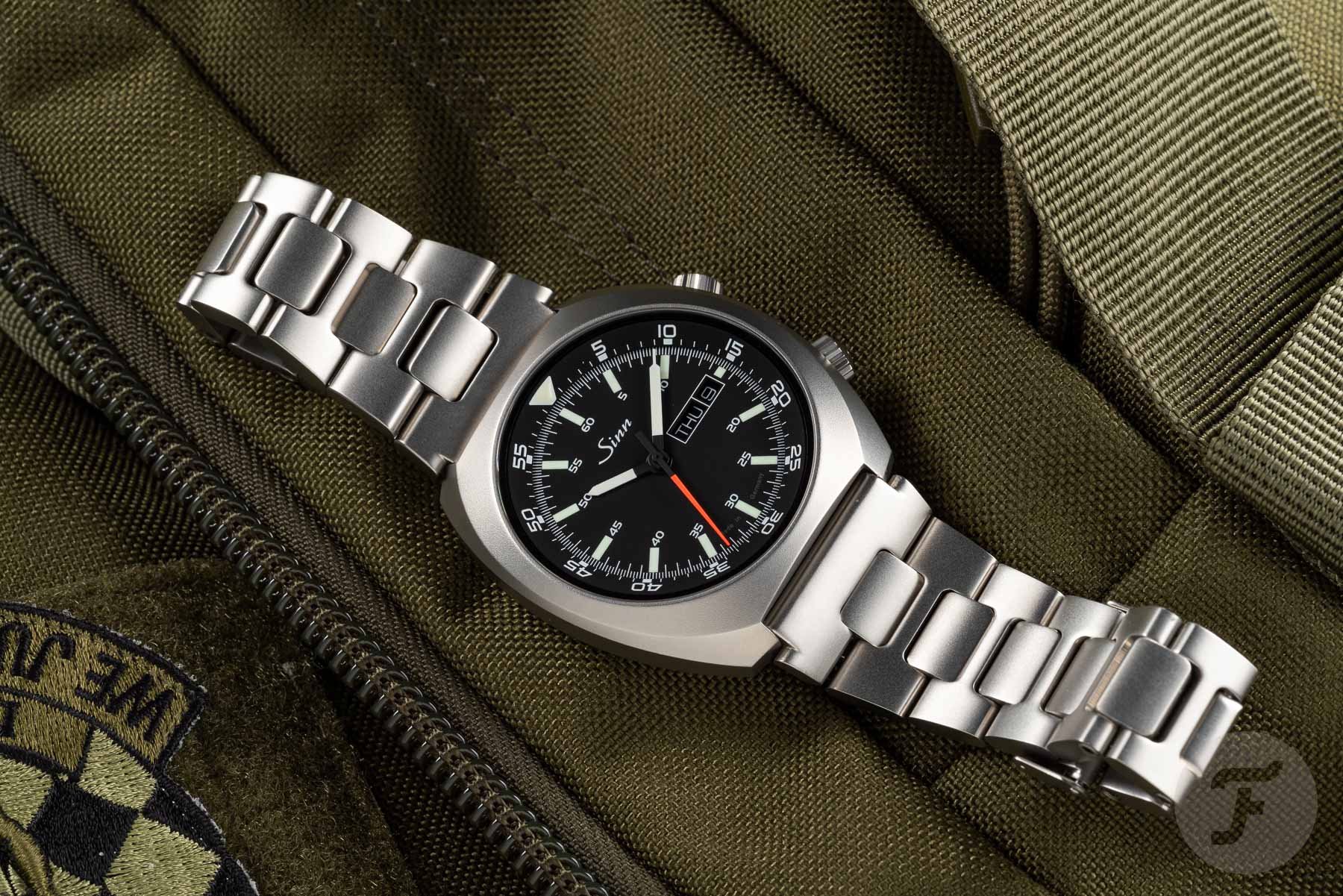 A word on the value of the Sinn UX and Sinn 240
Maybe I am just being overly tough. A lot of my criticism dissipates when you take two things into account. First, you are looking for a real beater watch that you do not intend to wear for anything other than honest, hard labor. Second, you compare the prices to alternatives on the market.
The UX comes in at €2,300 on the rubber strap or the bracelet. You can find decent dive watches for that money, but nothing even close to this in terms of technology. If you want the ultimate in legibility, accuracy, and durability with an original design, the UX is a tremendous value.
The 240 starts at €1,690 on a leather strap. As much as I love bracelets, I would have this on a strap. I think it just looks better, and you save yourself €210. In today's watch market, it is really priced quite well. It is less than an Oris ProPilot, which is less feature-packed. The ProPilot does, however, feel a little more refined than the Sinn.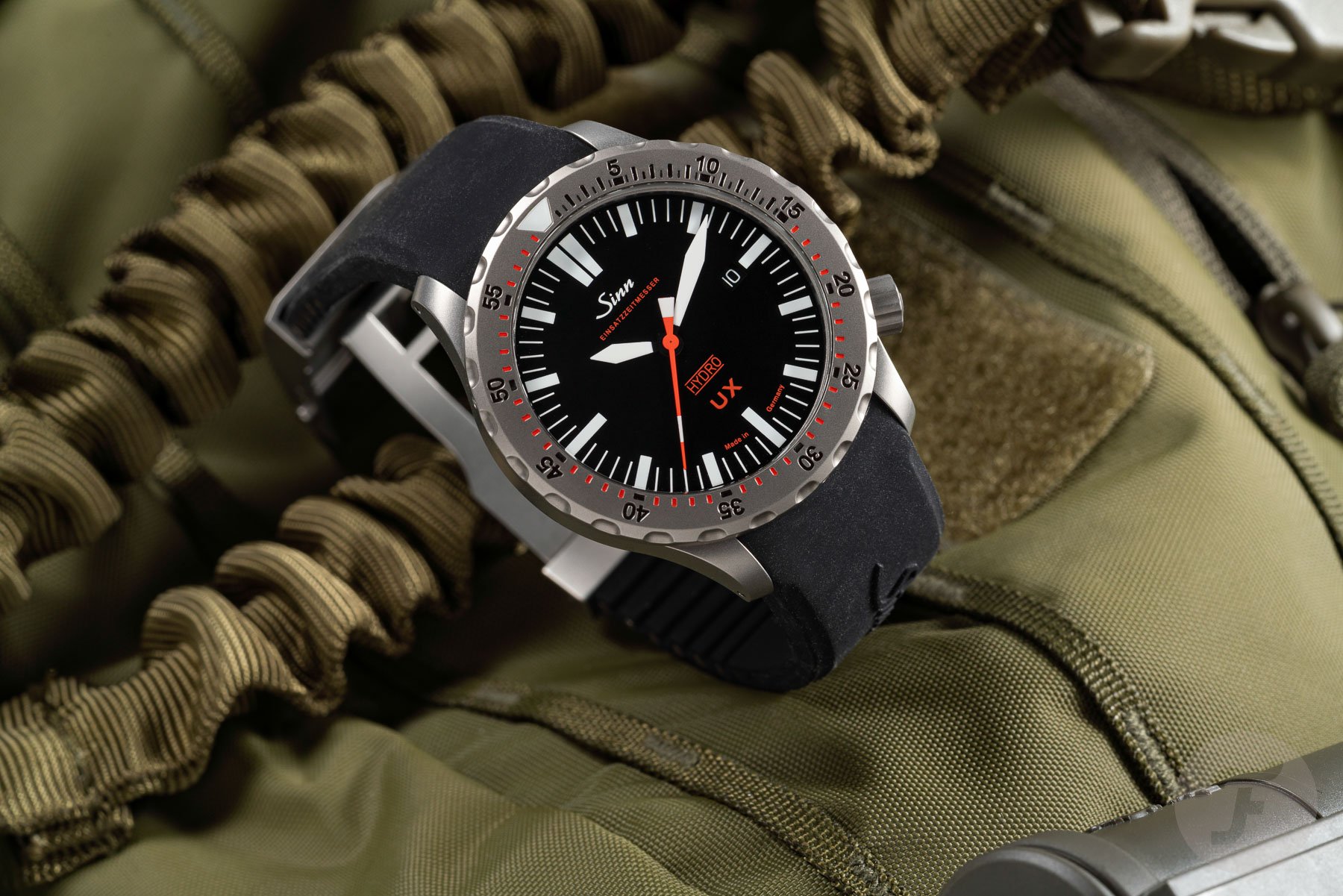 Closing thoughts
We could boil it all down to this: would I recommend these watches? After all of this, you may be surprised to learn that, yes, I would. I would urge you to try one on, though. You need to make sure that it fits your wrist in a way that you like. This is true for any watch, especially when it is particularly small or large. These are particularly large.
I think Sinn could speak to a larger audience if the brand just focused on a little more refinement here and there. But then again, perhaps that would alienate the core Sinn fanbase. And let's be honest, there are more refined watches already in Sinn's catalog. In fact, I have requested two of those for review to see if they might be more up my alley.
The Sinn UX and 240 are two thoroughly impressive watches. I will not be placing an order, but I can only applaud those who do. They represent a zero-compromise approach which results in two very original and capable watches. Perhaps my life just isn't adventurous enough for these…
You can also find and follow me on Instagram: @time_travelers_journal