Hands-On Tissot T-Touch Expert Solar Review
Being a kid in the 1980's, I grew up with digital watches. In fact, my first watch was a Casio that I got in 1986 during a holiday in the UK. Still have it and it still works. Today, my focus is a bit more towards mechanical watches, but I see no reason to neglect a good digital watch. Including Apple's smartwatch (that we reviewed here) and the Z-33 or X-33 from Omega. All interesting digital watches and today's subject is no different; the Tissot T-Touch Expert Solar Review.
Although I was familiar with T-Touch watches, introduced in 1999, but I never actually handled one before I got my hands on this Tissot T-Touch Expert Solar. To be honest I always thought that they were a bit gimmicky and more or less a watch for tourists that visit Switzerland and want to have a nice – but functional – Swiss made watch. Upon first inspection the "gimmicky" aspect disappears very quickly, as  the T-Touch screen works flawlessly and the navigation through the functions is so easy that I don't need to pick up the thick (very thick) manual that was delivered with the watch. But before I come to the functions of this watch, let's have a look at the design and specifications first.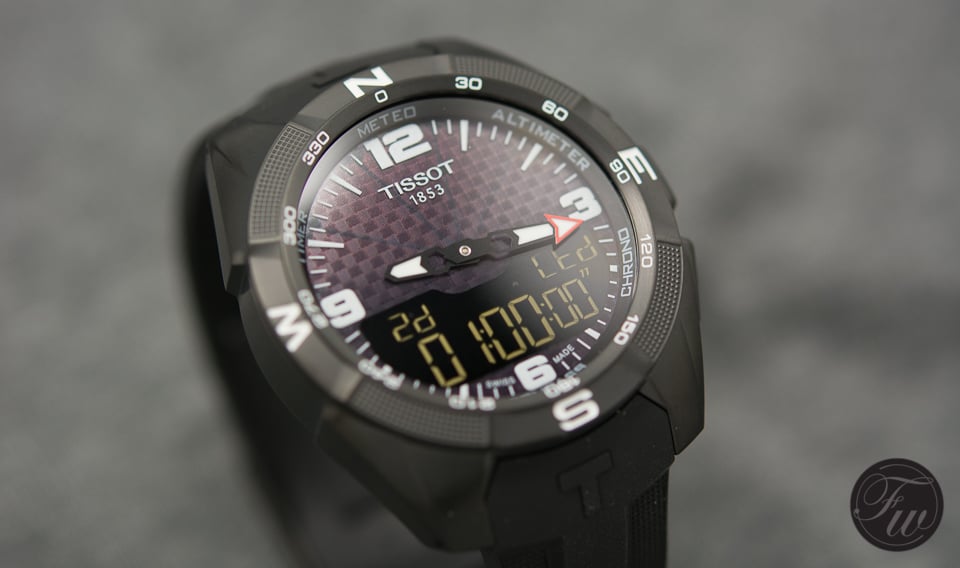 Tissot T-Touch Expert Solar reference T091.420.47.057.01
Despite the fact that this watch is a digital quartz watch, it is by no means cheap and I am not talking about the list price of €1025 Euro. The 45mm diameter case (thickness of 13mm) is very solid and made of titanium. As you can see, it received a PVD treatment for the black finish. Attached to this case is a rubber strap with a double folding clasp. Everything makes quite a solid impression, as you would expect from a digital watch with this price tag. To be frank, I don't feel the difference in quality with the higher priced Omega Speedmaster X-33 case although that watch has perhaps a bit more of an outspoken design. The sapphire crystal touch screen is interesting, as it doesn't feel like a crystal that has a 'touch' function, but yet it works like a charm. Tissot used black carbon for the solar dial, which gives the watch this tactile tool watch appearance. The titanium PVD bezel has a compass scale which comes in handy for the corresponding function, to which I will get back below.
Personally, I feel the watch is a little bit too big for me, although I've handled more similar sized watches. It is probably due to the design that this watch really is 'present' on your wrist. However, for those who actually will use all of its functions are have a specific purpose for it (be it professional or in sports) probably will appreciate the big size. I have a desk job most of the time and wear cuffs or sweaters, so I don't see myself wearing this watch during my working / desk hours.
The readability and legibility of this watch is awesome. The white printing has been done very nicely and it is immediately clear to me where to find what. Unlike with a lot of Casio watches I've handled (and have), this watch shows me where I need to be when I want to access a certain function, e.g. compass at 6 o'clock, chronograph at 5 o'clock and alarm at 7 o'clock. Just put your finger on the sapphire crystal on those locations and the function will change on the dial. The hands will indicate the current function for a while before they move back to the current time.
On the right side, you will find three pushers. To activate the T-Touch screen, you need to push the 'crown' button once. A second press will activate the backlit. Now, you can activate all functions on the T-Touch Expert Solar by pressing gently on the crystal. Most functions on the crystal (Meteo, Altimeter, Chronograph, Timer, Compass etc.) have a second function, by pressing it twice. Press the center of the crystal and you will see that the display indicates the date, press again and you will see the first timezone, press again for the 2nd timezone and a third time for the battery level. This way, you can play around with all functions of the watch, summing it up to a total of 20! The + and – buttons are mainly used to set times/dates etc.
All functions will work immediately except the meteo and altimeter function, these (might) need calibration which can be done easily with the + and – pushers.
As written above, the Tissot T-Touch Expert Solar is quite large and the rubber strap it comes on is also quite lengthy, so you probably need to cut it to have it properly sized for your wrist. The rubber strap has a nice pattern and sits tight on the wrist. The folding buckle has two buttons that need to be pushed to release it. See below.
The titanium caseback of the Tissot T-Touch Expert Solar comes with the usual information like model number, sapphire crystal, water resistance information and the brand's name and founding year. Interestingly enough the caseback also indicates that it is a Smart Watch. Not sure how to interpret that, as there is no specific connection that can be made to your smart phone or that this watch has specific functions that are 'smart'.  The movement inside is an ETA E84.301.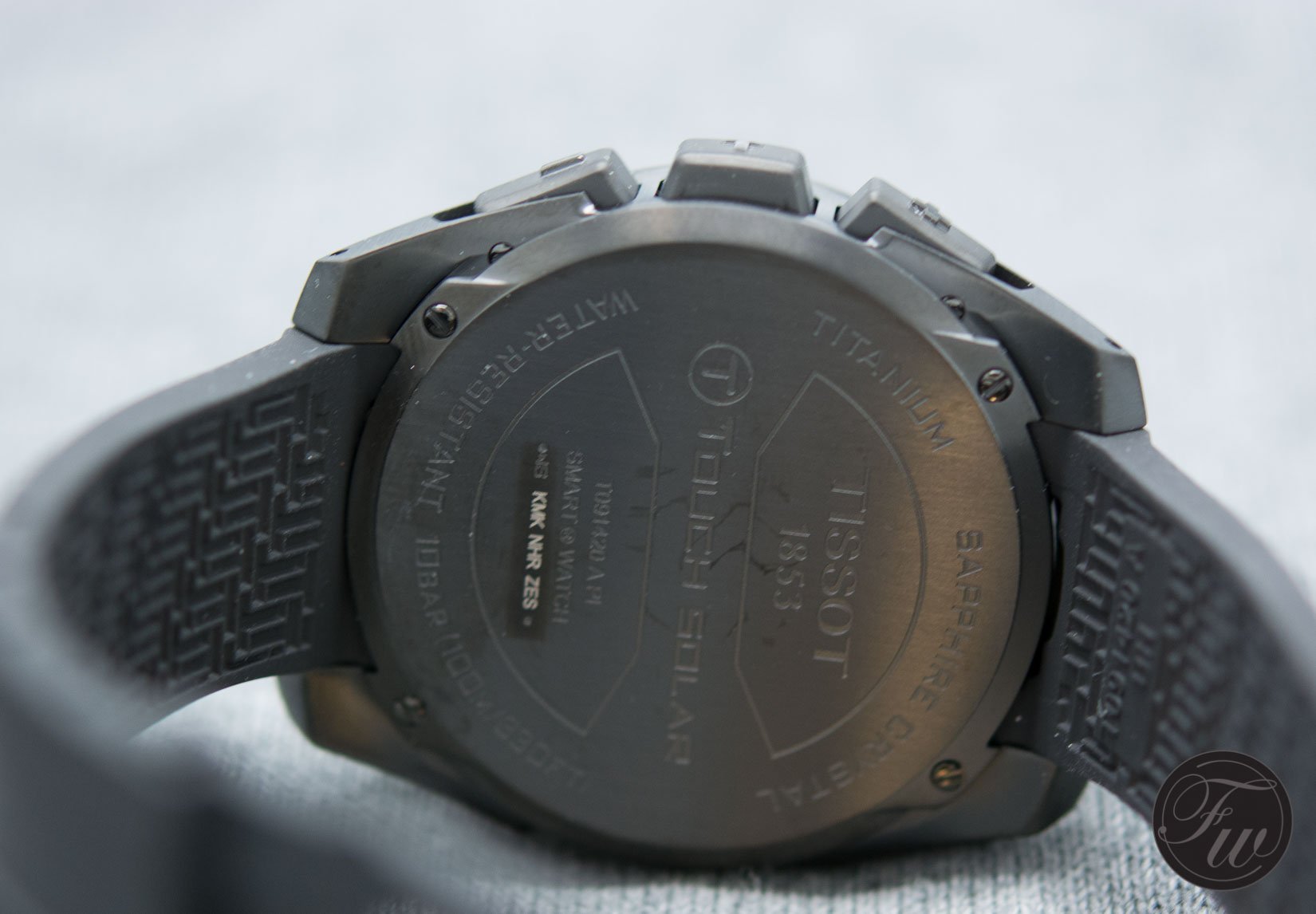 The watch comes in a rather simple box with a white outer carton. The white outer carton has a separate 'space' for a little booklet on Tissot watches. Rather useless in my opinion, as you just bought one, but it gives an overview of the other watches you could have bought instead. I guess that most people who buy this watch do not care for such things and only keep the black box that holds the watch.
As said, €1025 might not sound cheap for a digital watch, but it is still far less than some of the digital pieces from Omega and Breitling (these two brands do offer different functionality though,targeted at pilots and other professional use). Professional G-Shocks from Casio also approach the €1000 Euro rapidly (some are even around €2500 Euro). For €1025 Euro you do get a solid Swiss made watch with the quality you expect from one. For those active in sports, especially tracking and hiking etc. it is a very interesting (professional) timepiece and very easy to operate. I think that is one of the most important aspects (besides weight, size and overall toughness) of such a watch, that you can operate and navigate through all its functions without having to do a quick look-up in the manual.
More information via Tissot on-line.