Henry's GADA Watch — The IWC Mark XV IW325301
This IWC is a master of understated cool
"Go anywhere, do anything" (GADA) watches are an interesting concept, but what does "go anywhere, do anything" actually mean? Does a watch like this need to be able to handle pretty much anything, or can it simply be the watch that we choose to accompany us on life's adventures? Perhaps it's both and one more thing — a watch that gives us a sense of confidence that we really can go anywhere and do anything with it on our wrist. When I think of my GADA watch, it has to be my IWC Mark XV. It has come with me on some of my most fun — and sometimes scary — travels.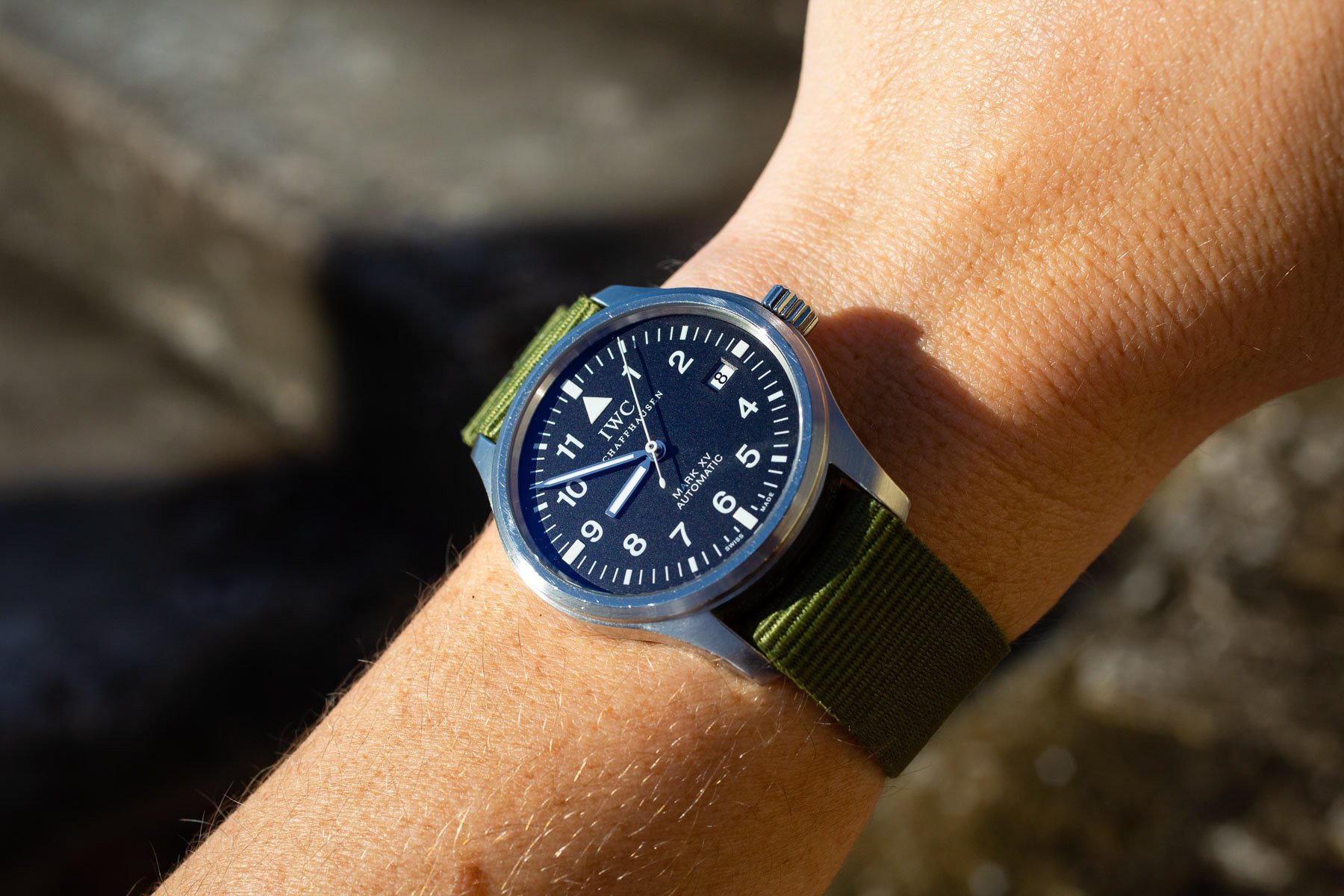 An underground adventure
The clanky whir of gears moving the massive open-work steel lift on its slow journey into the depths of the earth does nothing to calm my nerves. It is 2017, and I'm visiting the mothballed Mount Lyell mine in the Australian island state of Tasmania. As the lift begins to stop at the mine's floor, the whir changes to a whine.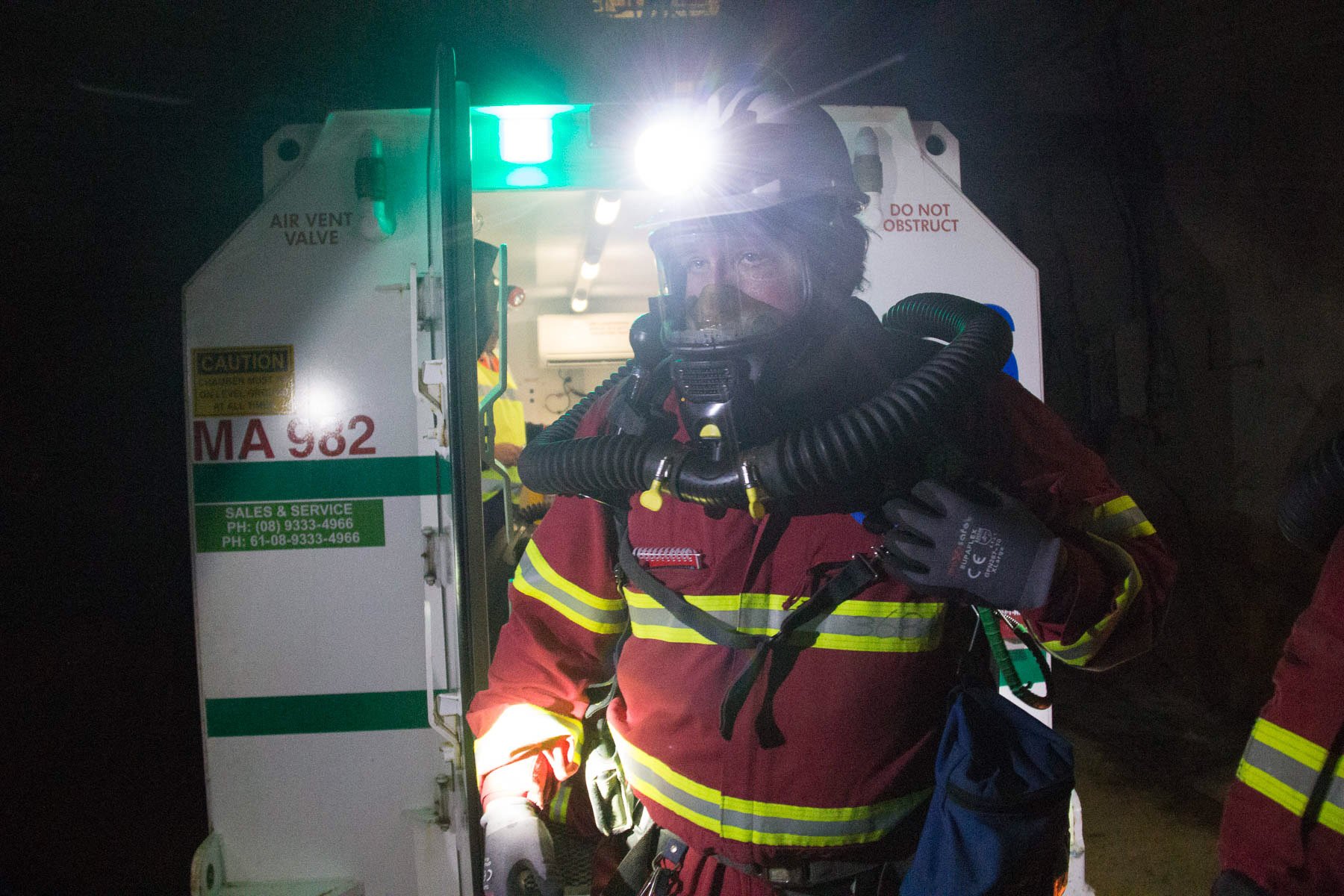 The whine signals our arrival 1,100 meters (3,600 feet) underground. This far under the earth, sound doesn't seem to travel as far, as if it struggles to pierce the very thick atmosphere here; everything feels muffled. I am not just nervous because of a sense of claustrophobia. Mt. Lyell is also a deadly mine. Three miners tragically died in the mid-2010s, while an infamous fire killed 42 at the start of the 20th century. 
A little nervous, I remember looking down at my watch, an IWC Mark XV. It's a special timepiece that my father gifted me before I moved to Tasmania, and it has accompanied me on almost every adventure since. I rub the glass as it's quite wet down at the bottom of the mine, and the watch tells me the journey down has taken almost 40 minutes. The triangle marking 12 and the luminescent markers at 3, 6, and 9 o'clock glow brightly. Indeed, it's comforting having a trusty watch this far down. In fact, it feels kind of confidence-inspiring.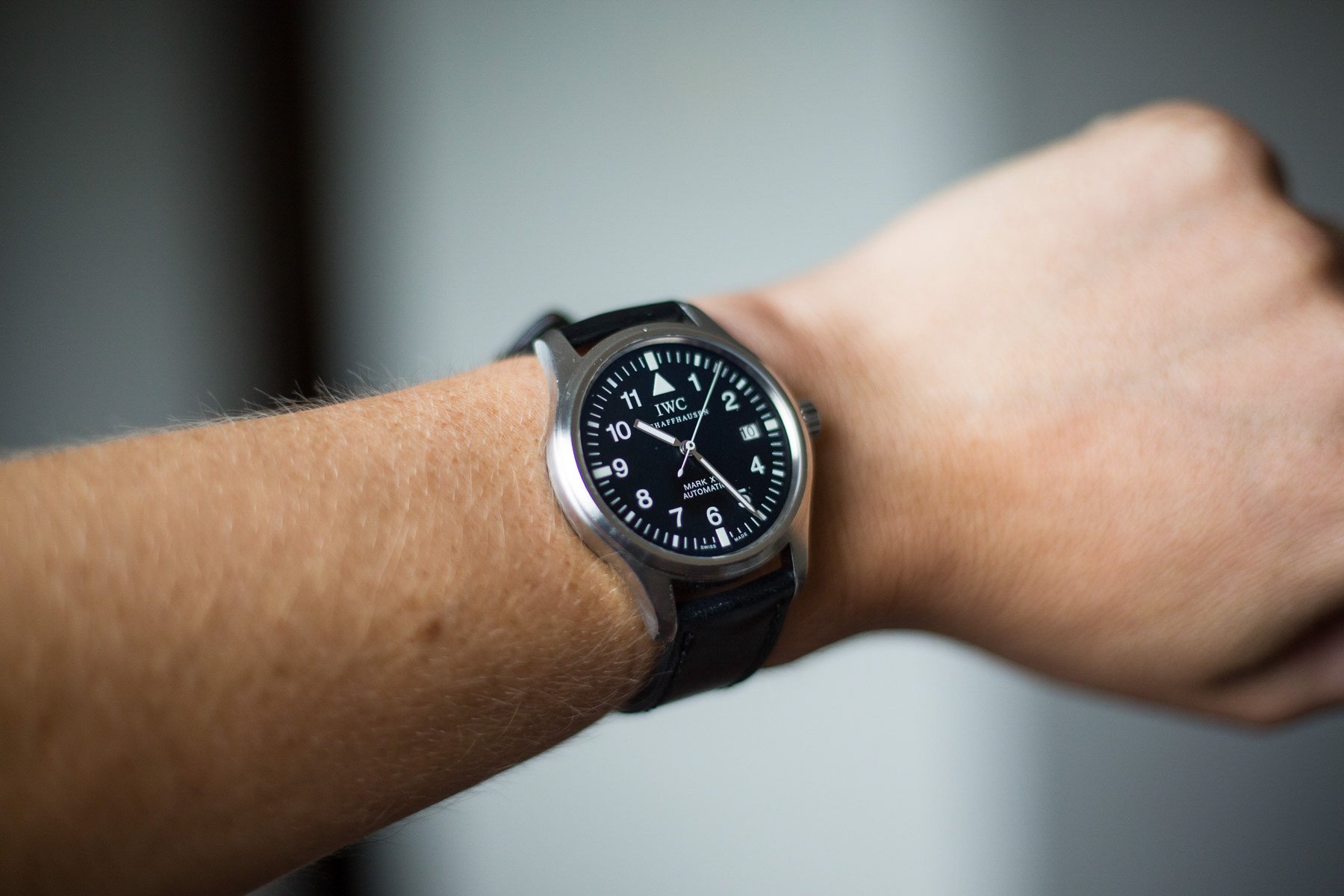 A timeless design
The IWC Mark series of pilot's watches are understated timepieces built for adventure. It's uncommon in the watch world that something can be both iconic and under the radar, but I'd argue the IWC Mark series is one such special breed. Starting with the post-World War II IWC Mark 11, the Mark series are often considered great watches in enthusiasts' circles but seem to not often be mentioned or seen in the wild (as Michael noted in this story on the Mark XII).
If the Mark series of watches are the pinnacle of understated cool, then the IWC Mark XV ref. IW325301 is at the top of the tree. This watch pays due homage to the design language of the Mark 11 while providing hassle-free ownership. With a case diameter of 38mm, a thickness of just over 9mm (almost 11 if you measure the crystal), and a 47mm lug-to-lug, the Mark XV wears like a dream.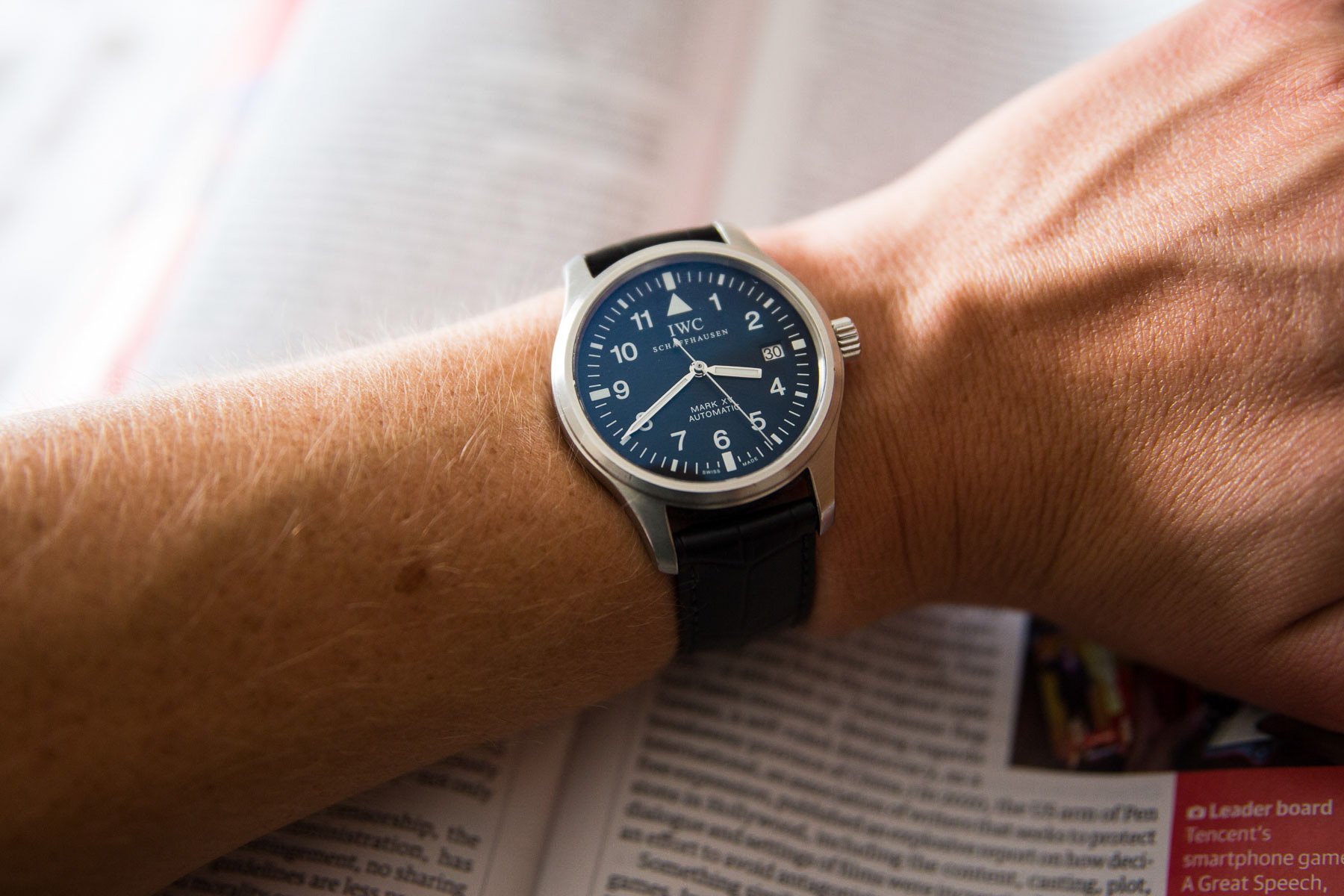 These excellent dimensions are matched with rugged construction. A water resistance rating of 6 bar and a screw-down crown make this a watch you can take in the water (as long as it's had its yearly pressure test). It's also a watch you can take hiking, and it is the easiest watch I have ever owned when it comes to the glance test (glancing down at a watch to quickly tell the time). On the legibility front, this thing is an absolute winner.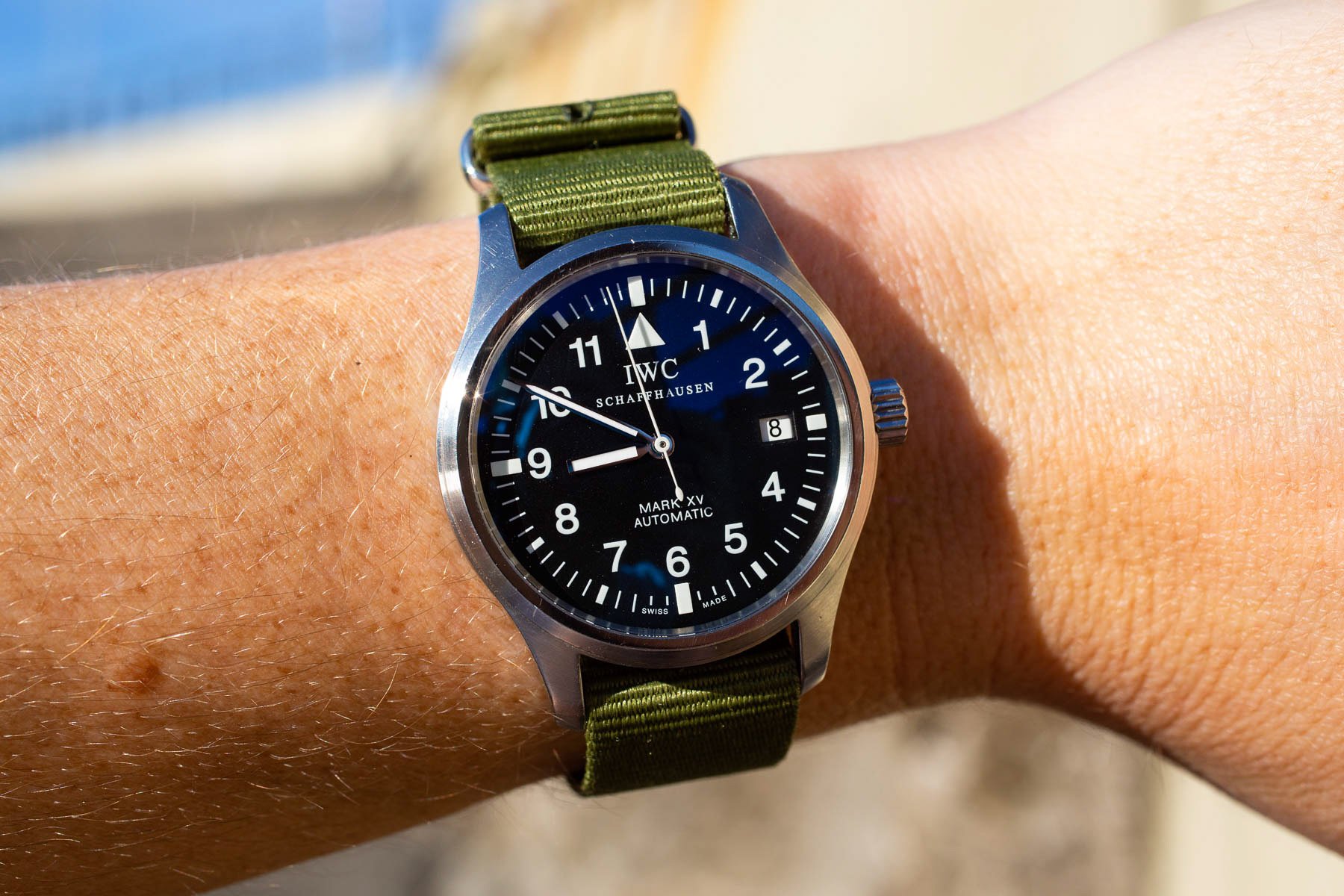 Let's go swimming
IWC seems to describe its water resistance ratings a little differently than many other watch brands and shows a lot of confidence in the quality of its watches. Take a look at this page on the IWC website, and you will see that a watch tested at 3 bar by IWC can be taken swimming, while 6 bar allows for snorkeling! When I think of what I need in a GADA watch, being able to swim and snorkel with it is a must. Living by the Pacific Ocean, I'm a thalassophile, so I will be in the ocean literally every day. 
The Mark XV's sea-going capabilities, dreamy dimensions, and classic design make it the ultimate GADA watch for me. Do you think the 19mm lug spacing would be a problem? In that case, just chuck this thing on a NATO and decide on your next adventure.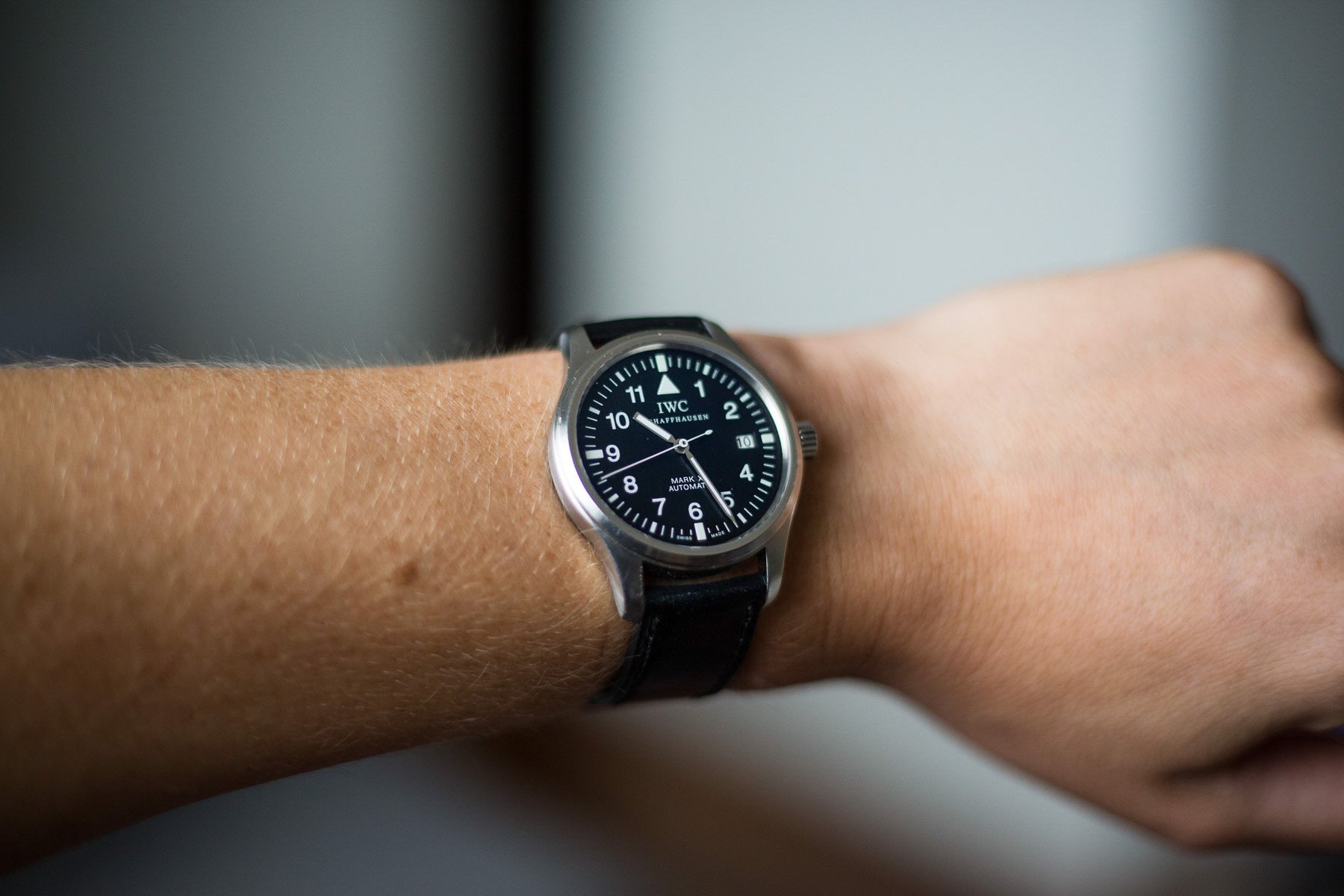 Part of owning a GADA watch should also be the ability to have it serviced far down the line, and this IWC has you covered here too with the caliber 30110 ticking away inside. This is an ETA 2892-A2 movement heavily modified by IWC to enhance durability. So with this movement inside, you can be sure that servicing this watch will not be an issue as we move into the future. The IWC Mark XV was produced from 1999 to 2005, so it is what we could now call "neo-vintage."

Final thoughts
Sadly, the IWC Mark XVI and subsequent iterations of the IWC Mark pilot series, though technically excellent, miss the mark on classic proportions and the aesthetics of the Mark XV. Even the new Mark XX, which brought in an updated movement and even greater water resistance, doesn't quite get the balance right in my view. 
So considering form, heritage, quality, capability, and function, the IWC Mark XV is and will always remain my first true GADA watch. It even trumps my other GADA piece, the Tudor Black Bay Fifty-Eight in blue, because the proportions are just so… *chef's kiss.*
What is your favorite watch from the IWC Mark series? Am I way off the mark here, or have I hit the nail on the head?