Watch Strap Review Part 3. – Introducing: Heuerville Straps
We love our watches, there's no doubt about that. That's why you're here, right? There are all those other things surrounding them though; watch winders, watch rolls, tools perhaps but most importantly straps. No decent watch site can function without a strap review. That was in my head when I came up with this idea and presented it to the team.
Nevertheless we gave it a twist. We would like to introduce some of the lesser known craftsmen to the wider audience. People whose work we find interesting or out of the ordinary. Who – most of the time – hand make their products at home, educate themselves and improve their technique so when their product reaches you and you put it on your timepiece you feel what they do right after they finish your strap: satisfaction and pride.
I can't believe another month has passed. We continue our travel around the world in search of great straps and even greater guys behind them. We have already visited Cyprus and met our good friend Kastatona Strap and then jetted over the big water to check out a few incredible straps made by Mr Detroit Strap Co. This month we come back to cloudy Great Britain to meet and exceptional and well known strap maker and total gentleman, Stewart from Heuerville.
Heuerville Straps
Heuerville is no new brand at all. It has been around for quite some time now but as the name indicates served a selected few, namely the Heuer fan boys. The man behind the brands Stewart is a big Heuer fan so when he deiced to start making straps (and what a great idea it was) the watches and straps he used as inspiration were of Heuer's vintage pieces. If you check out his stock – which I encourage you to do so – you'll see that most of the straps have a close resemblance to the original vintage Heuer racing straps. In my opinion those straps represent the quintessential of watch straps of that era, a very cool looking thing whether you have an Omega, Heuer, Memosail or even a bygone brand who were big at the time.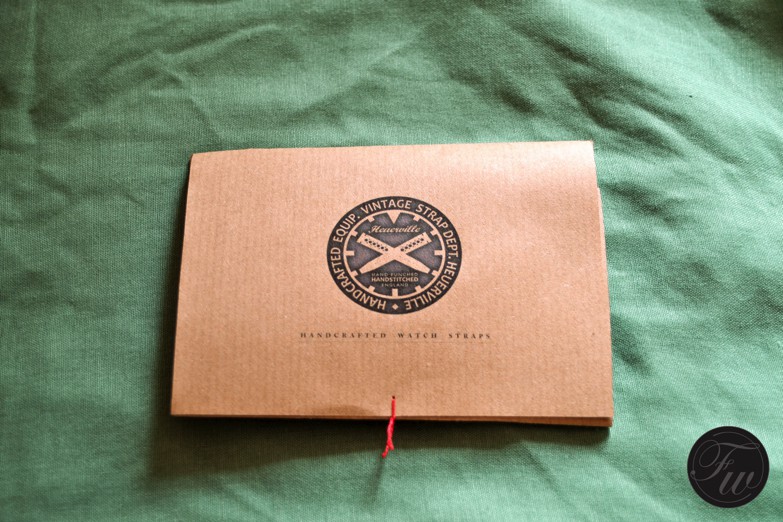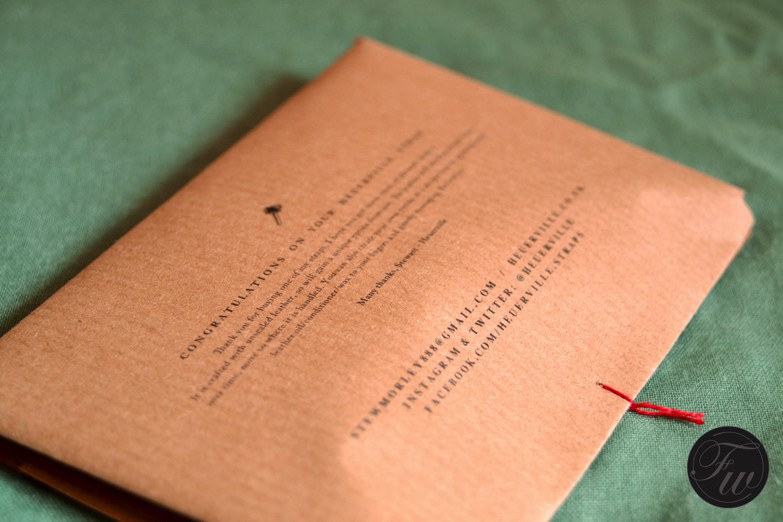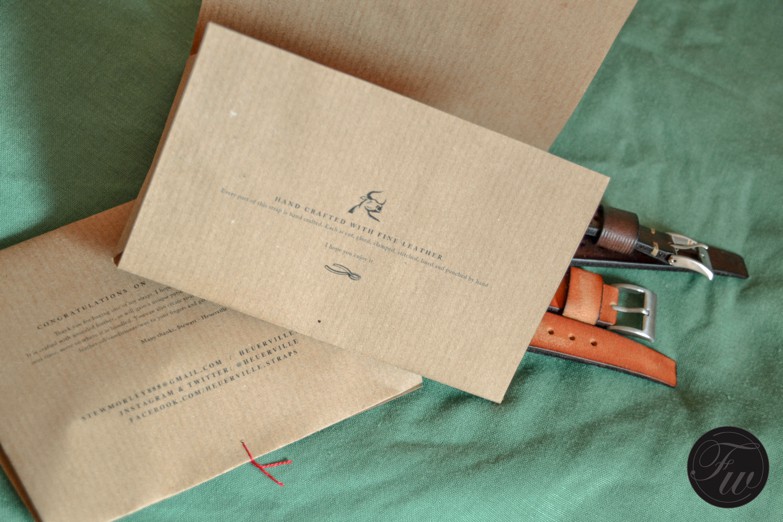 Let's get back to Heuerville though. Stewart was very generous and sent me four straps for review. Even the packaging was pretty cool. I know these are little things but it shows how serious and detail oriented he is. The Heuerville straps were wrapped in an envelope-like brown paper sleeve and wrapped in another paper bag and then places in a box. As soon as I took them out of the bag it struck me how soft and flexible these straps are. Previously when I reviewed straps they were always a bit stiff and needed time to break in. These one are so soft and light you barely recognize them on your wrist.
I got 3 Heuerville racing straps; a Mojave Tan, a Blackhawk Grey and an Umber Brown. How cool these names are? I also received a plain strap in Blackhawk color. All straps are 20/18mm which is very comfortable. The reason I say so is unlike in the previous cases where the straps I got were 20/20mm in this case it is much easier to put a deployant buckle on them. Which I did. I know a strap is meant to be worn but when you spend £60-79 GBP for a strap you might want to keep it as long as you can. They are approximately 12.5-13cm and 7.5-8cm long, 5mm on the thickest (at the 20mm end) and 2mm on the thinnest (at the 18mm end) part.
Stewart takes orders for special sizes and measures as well. If you have an extremely large wrist or would like to do something custom made email him and he will sort it out for you.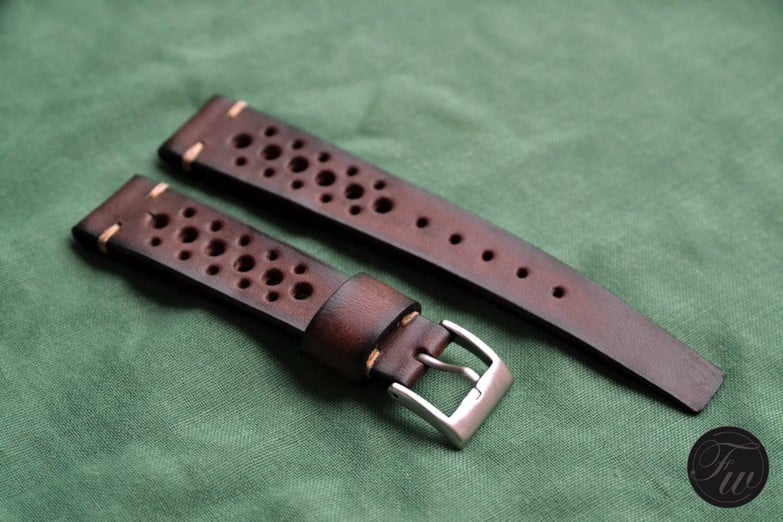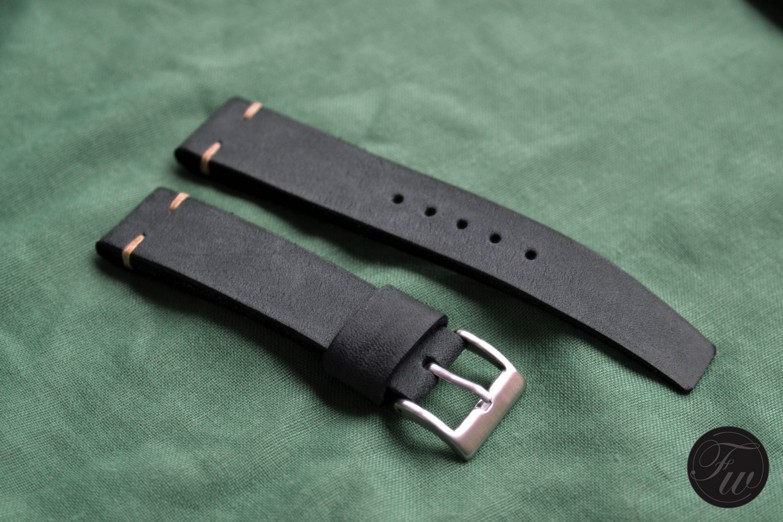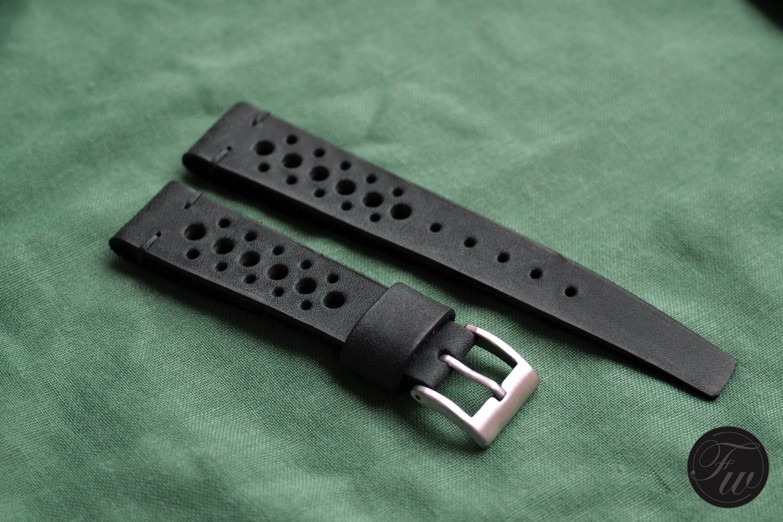 I semi-touched the material side of the Heuerville straps; now let's dig a bit deeper in. He is using unsealed quality English leather. Now the most important part here is unsealed. It means that over time the strap will develop a certain patina.
Weather conditions, the warmth or sweat of your wrist and many other features take part in this but be advised that with over time it will become a bit deeper and darker. The inner sides of the Heuerville straps are covered with soft black leather, the edges are not sharp, and the stitching is even. As said before I used them on a deployant clasp but all Heuerville straps came with a buckle for plug-and-play purposes 🙂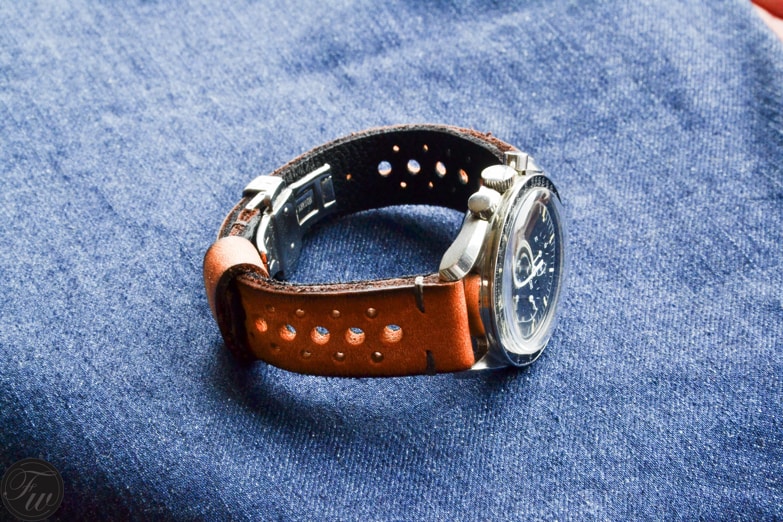 Because the Heuerville straps are not too thick or bulky they look great on basically any watch whether it is a 40+mm chronograph or a smaller sized watch. I wore mine on the Mojave tan for over a month and have to say it looks amazing on the speedy. I took my watch to Salon QP recently and the we had after it and had numerous compliments on it. Some people say they did not like how it is thicker on the 20mm side (where it is attached to the watch) and get thinner toward the buckle end. It does not bother me at all. It feels great on my wrist, does not stuck the inner leather is very soft and comfortable; it's just a great strap to wear.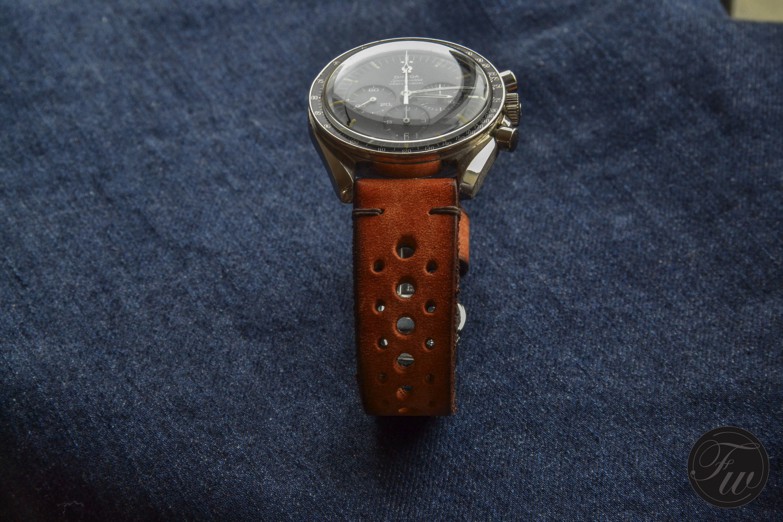 The prices are £60 GBP for the plain straps and £79 GBP for the racing straps. Heuerville also offers big hole-type rally straps for the same amount as the racing. They come in various colors too. From Bluestone to Honey Tan you can pick your color and style. I challenge you to find a watch in your collection within reasonable sizes and color to which you cannot find a color and style combo from Heuerville's selection. All in all these are fine, quality products. If you want to spice up your modern watch or would like to add some more coolness to your vintage do not hesitate to order them, you won't regret.