Hot Take: The Silently Introduced Tissot PRX Powermatic 80 "Ice Blue"
The lovely watch that snuck into the PRX collection
Without any press release or announcement, this Tissot PRX Powermatic 80 "Ice Blue" entered the collection. It features a very fresh-looking blue dial inside the immensely popular PRX watch.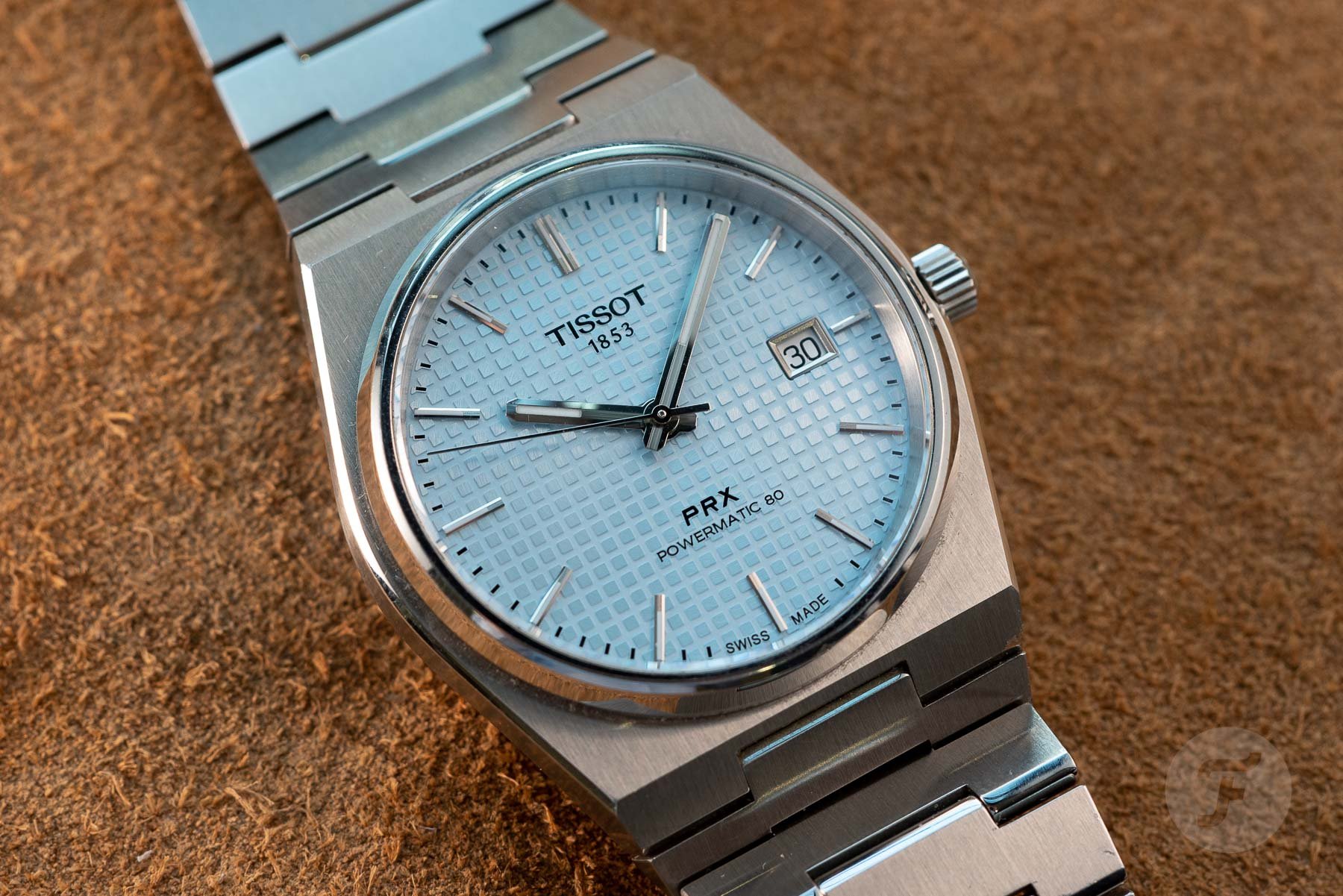 Tiffany Blue? No, ice blue!
Okay, I've never bought anything from Tiffany (not on purpose, though), but despite that, I can't stand the robin's-egg blue shade anymore. It's a color I would never have considered before the hype, and it's one that I still would not consider today. It was a nice "fun" and fresh color when Rolex came out with it in 2020, and it raised some eyebrows when Patek Philippe used the official Tiffany color in 2021. But from that moment onwards, with every other watch that reeked of "Tiffany Blue," I just shrugged my shoulders. So I was a little bit afraid that Tissot would do the same for the PRX Powermatic 80, but the brand has come up with this pleasant surprise we've got right here.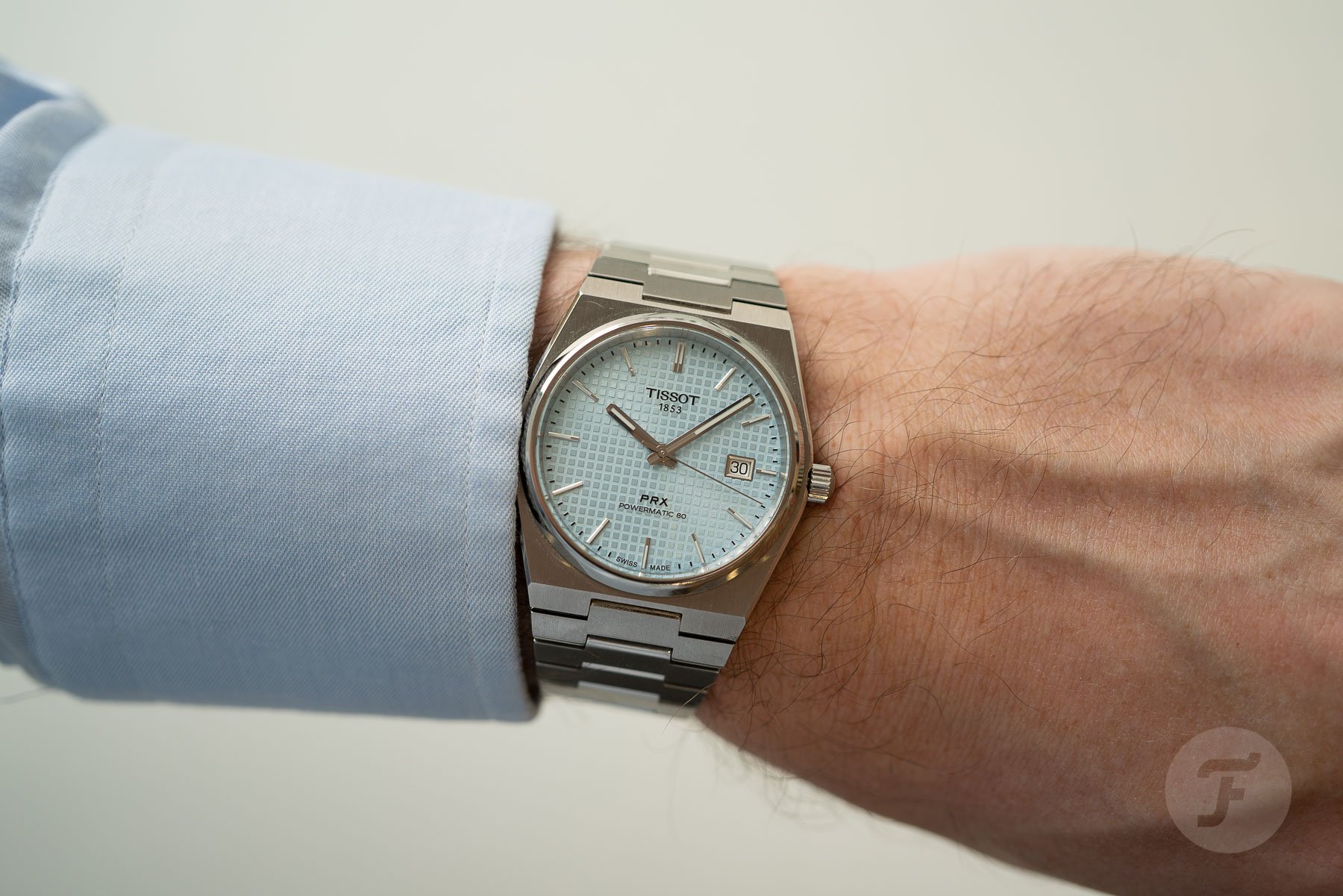 Tissot PRX Powermatic 80 "Ice Blue"
When Tissot showed us this new PRX Powermatic 80, we immediately thought it looked fresh! The color is much more to my taste than Tiffany Blue, and it's similar to those ice-blue platinum Day-Date dials. This dial color works in both summer and winter, I'd say. Last summer, I purchased the PRX Chrono "Panda," and although I am happy with it, I think I also need to add a regular PRX at some point.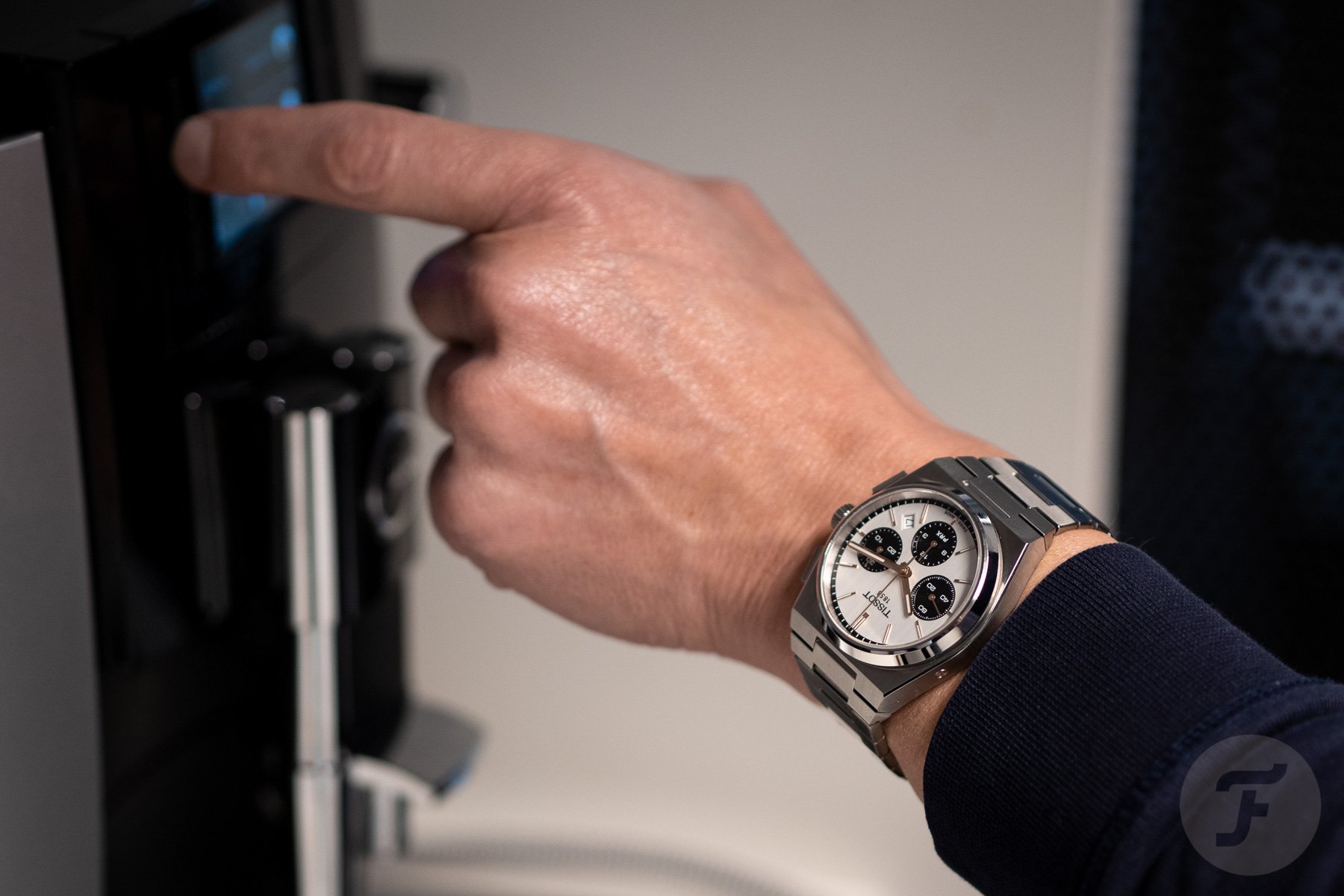 These watches are great value for money, and besides, they look cool! I've noticed they get a huge amount of traction, and I see them everywhere, even outside of the little watch bubble we live in. In fact, I spotted a black-dial Tissot PRX Powermatic 80 on the wrist of someone when I had an appointment at the local car dealership this morning. With a retail price of €745 / US$675, you can hardly go wrong with a watch with these looks (and specifications).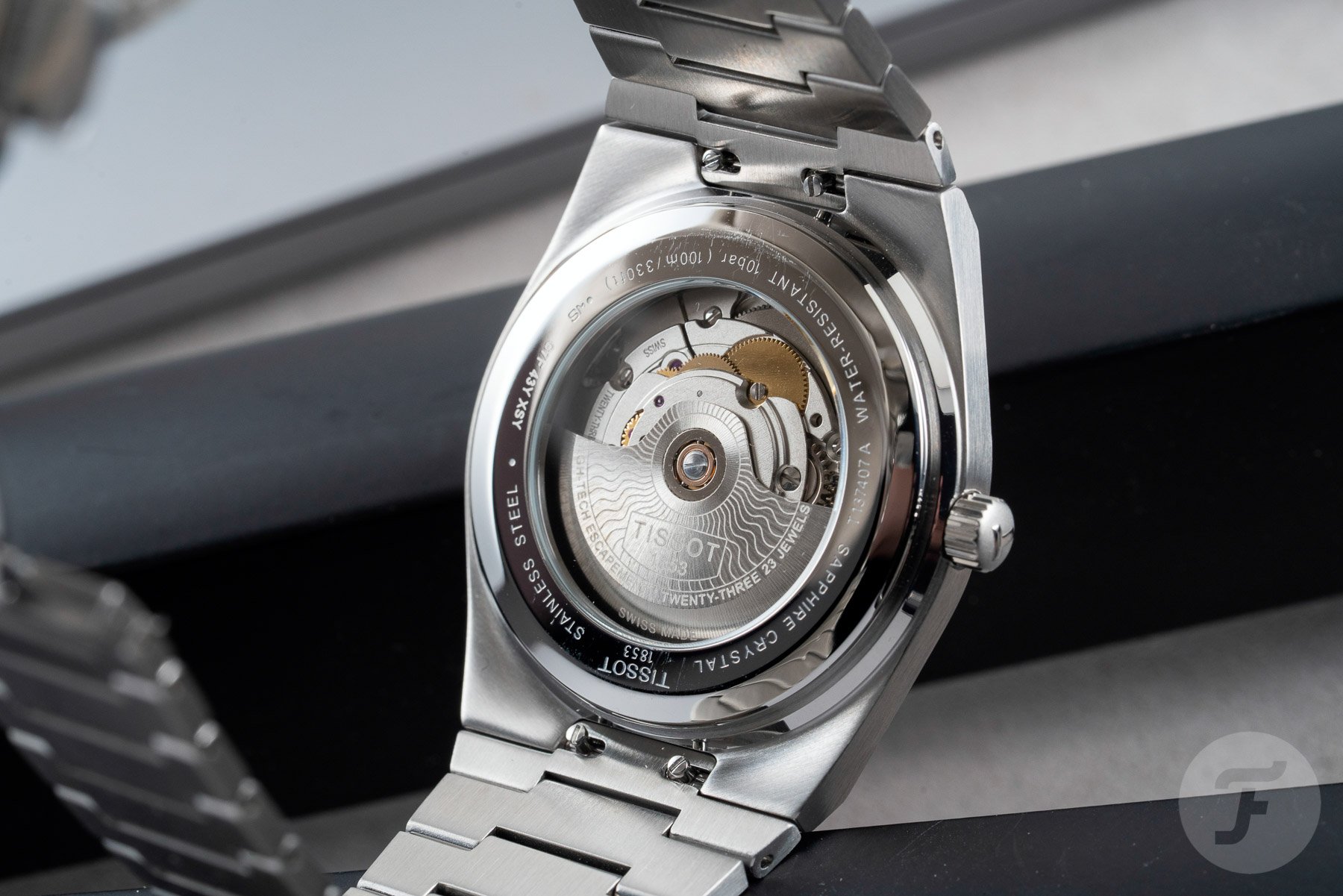 Powermatic 80
The watch comes with a stainless steel bracelet, but you can easily swap it out for a strap. Leather straps that fit the PRX models are available on Tissot's website for €60, and rubber straps are also available from Delugs for US$180. To be frank, I only like the PRX on the stainless steel bracelet. It's part of the integrated design of the PRX and what makes it so identifiable as such. Inside is the Tissot Powermatic 80 movement, which is a modified ETA 2824-2 but with an 80-hour power reserve. It's nothing fancy, just a good movement. For the fans, it can be observed through the sapphire window on the case back.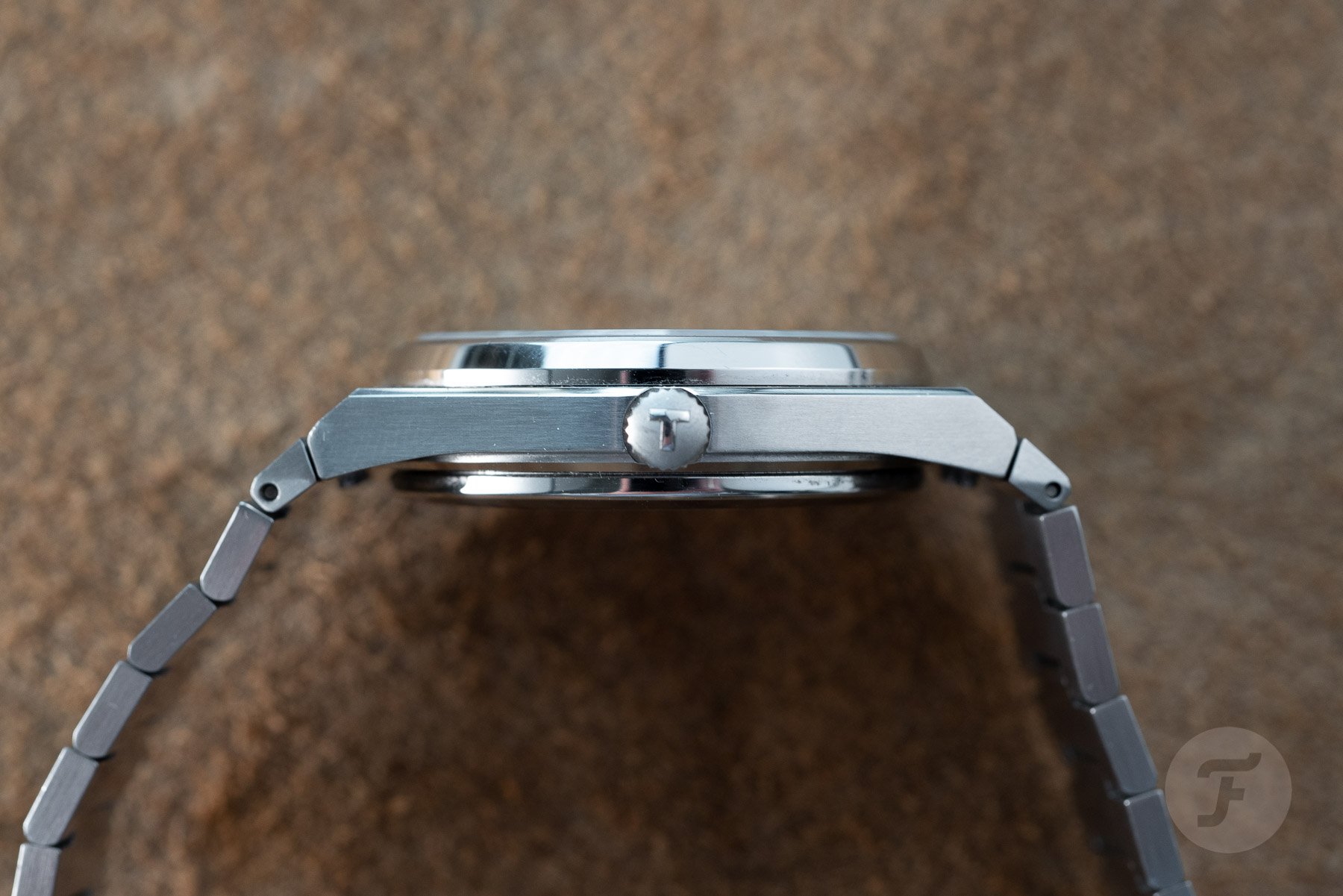 You can't go wrong with the Tissot PRX
Whatever version you choose, there's no way you can go wrong in owning a Tissot PRX. For some, it might be their first step into mechanical watches, and for others, it could be their 10th or 30th watch. The 40mm case is very pleasant on the wrist, and the non-chrono PRX is just 10.9mm thick (see above). The Tissot PRX Powermatic 80 "Ice Blue" has reference number T137.407.11.351.00 and is available now. As written above, the retail price is €745 / US$675. We wrote several articles on the PRX, but you can read Jorg's in-depth review of his Powermatic 80 here.
What do you think of this new addition to the PRX Powermatic 80 lineup, and what other dial colors would you like to see? Let us know in the comments.