How Much Does It Cost To Be An Omega Speedmaster Moonwatch Fanatic?
Breaking down the costs of this watch obsession
So you've just bought your first luxury wristwatch. For the sake of argument, and being this is Fratello, let's make it one of the brand new Master Chronometer Omega Speedmaster Moonwatches. To a lower level of detail, let's say this is the Hesalite version with a matching steel bracelet. Quite a nice catch — perhaps it was a gift to yourself for reaching a milestone or just something you always longed for. Maybe it was a strong interest in the space program that brought the Speedy to your attention.
Whatever the occasion may be, you've handed down €6,100 to land the Master Chronometer Moonwatch with Hesalite and you're happy. But now you want to go deeper into this hobby and you're wondering how much more it'll cost you. Well, I'm here to break down the costs for the accessories that turn curiosity into full-blown enthusiasm.
Of course, you wouldn't need anything other than the watch to enjoy it. But as many of us have found out, there are certain items we couldn't live without that make this hobby so engaging. Some of these items I've bought myself, so prices are based on my experience. But RRP may vary depending on your local currency. It's always worth checking out discounts from big online retailers. At the end, I'll tally up the total and try not to make your eyes water too much. I will also categorize them by necessity so you can decide how deep you want to go down the rabbit hole.
Watch stand
First things first, you may be finding it hard to take the Speedy off the wrist on the first day. But at some point, you're going to want to remove it to go to bed or bathe. Sleeping with a watch is fine, but I recommend not taking the 50-meter water-resistant Moonwatch in the shower with you. The new smaller Omega box may now be more suitable for storing on your bedside table. But with an outer box, strap holders, and inner cushion, the presentation box may not be the quickest way to grab-n-go.
On top of that, it's nice to have the Omega on display when you're not wearing it. I suppose you could always leave it on its case side or folded on its bracelet on a desk, but somehow it seems inelegant to place it this way. That is where a watch holder of some sort comes into it. The Watch Stand has you covered with a suspended cushion that rests the watch facing upright and allows the bracelet to dangle beneath. It's sleek, stylish and doesn't mess up a bedroom's feng shui. The basic option from The Watch Stand is €219.
Obviously, there are cheaper options that you can purchase from department stores, but I like the bespoke nature of this watch stand and the special attention paid to the details enthusiasts love. Later when your collection expands, a larger watch box with more compartments will be necessary, but as you just have the one watch, a single watch stand will do.
Item: The Watch Stand
Price: €219
Necessity: Medium/high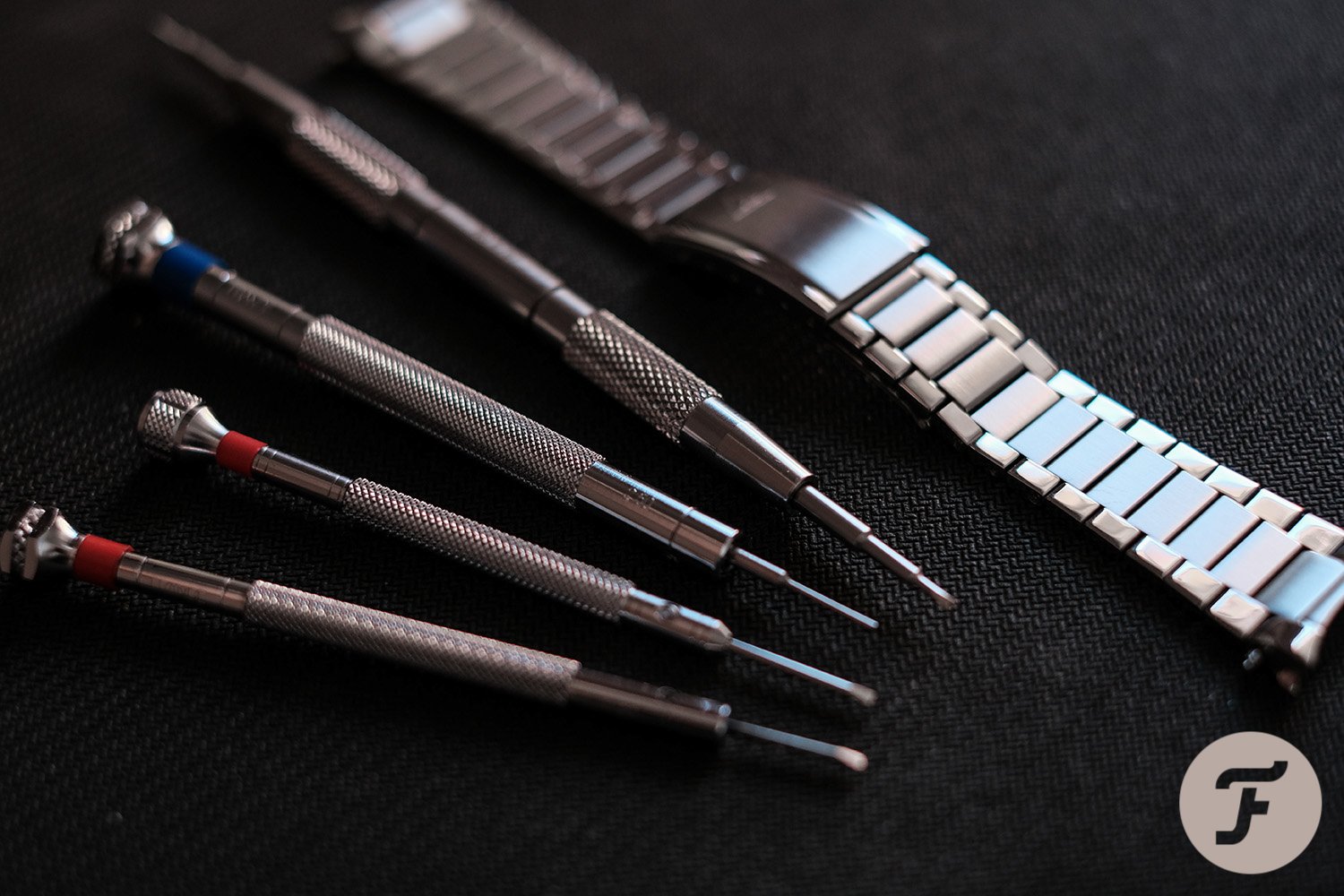 Spring bar tool
The Nixon bracelet on the MC Moonwatch is very nice and comfortable. But you recollect seeing astronauts strapping on the Speedmaster with a black Velcro strap that went around their spacesuit sleeve. But before you even think about changing the strap, you'd need to tools to do so. No longer do Omega supply a strap changing tool in the regular Moonwatch box. So this time you'll need to find them separately. I've tried, tested and broken many strap changing tools in my time. But the one that puts up with my ham-fists is the Bergeon 6767-F spring bar tool.
These don't break the bank too much and pay for themselves with the abuse I've given them. The F version I have has a finer forked end at 1.2mm, but the standard 3.0mm is compatible with the Speedmaster bracelet.
Item: Bergeon 6767 Spring Bar Tool
Price: €25
Necessity: High
Watch straps
Now you have the tool, let's choose some straps. In all honesty, how I choose my next strap is totally down to scanning the Watch Strap Review column right here on Fratello. And if you're choosing a strap for the Speedmaster with 20mm lugs, the choices are suitably endless. Perhaps if you're starting out on changing straps yourself, it might be worth going with more affordable options. However, you may be looking at the Cordura strap that is an alternative option for the new Speedmaster Hesalite as a potential strap.
The OEM Omega straps tend to be quite pricey, and are often sold separately from the buckle. So my personal recommendation is to go with one of the Artem sailcloth straps. Artem straps compare quite favorably with even Blancpain's sailcloth straps at a fraction of the price. Mr. Ace K productions went into more detail with this comparison on his YouTube page here. For an extra €40, you can also get the Artem deployant clasp.
Item: Artem Sail Cloth Watch Stap Black
Strap: €75
Deployant buckle: €40
Necessity: Medium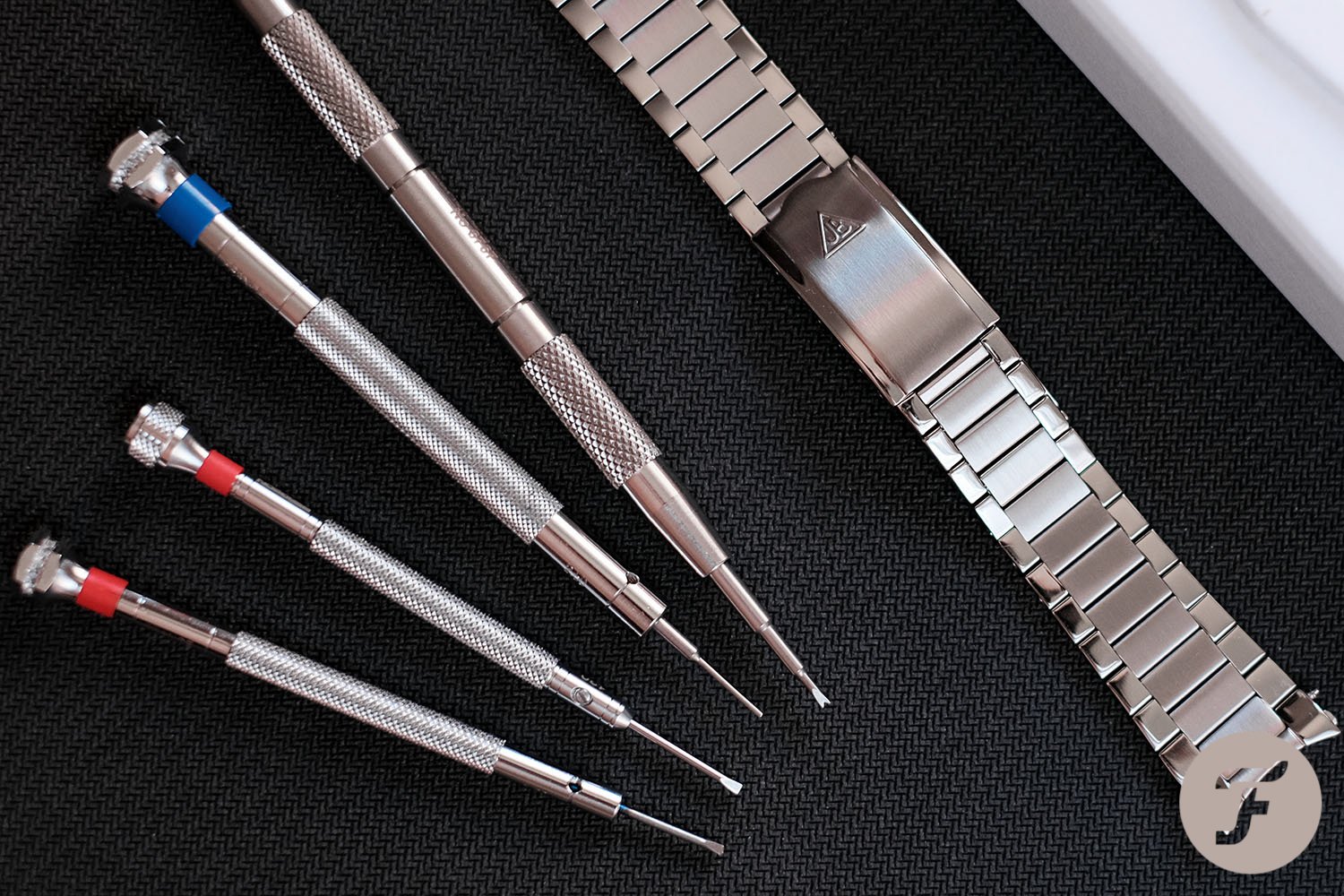 Micro-adjust screwdriver
Let's say you're happy with the bracelet, but as the warmer months roll on, your Moonwatchis starting to feel tight. Neither of the two micro-adjust positions on the Speedy clasp is giving you the comfort you need, Therefore you need to add some links. Your local AD can assist, but if they're closed or you want to learn yourself, more tools are in order.
Since 2014, the Speedmaster uses screws to hold the links in place and it's the same case with the newest Moonwatch. Once again, I'm recommending Bergeon tools purely based on my years of trial and error. The Bergeon 6899-120 screwdriver has a 1.2mm flat head that's perfect for the new Speedmaster bracelet. I'd also suggest buying two as a backup. As the saying goes, two is one and one is none.
Item: Bergeon 6899-120 Screw Driver Tool
Price: €20 x 2 = €40
Necessity: High
Horological artwork
By this point, your Moonwatch fandom knows no limits, and your yearning to adorn your home in horological decorations. Artwork allows you to enjoy the Omega Speedmaster details in large frames. The Art of Horology provides great-looking prints with a wireframe outline. The distinct silhouette of the timepiece shows just what a design icon it is. A decent-sized print with an aftermarket frame will set you back around €50.
For another level up, it's worth keeping a close eye on the artwork of the Dark Side of the Watch. I really like the hand-drawn detail in the Speedmaster Moonwatch print. Especially with the subtle fade that blends with the surface of the moon. The site is in development at the moment, but you can reach out to Dark Side of The Watch directly via Instagram for personally hand-signed prints plus a certificate.
Item: The Art of Horology Artwork
Price: €50
Necessity: Low
Item: Dark Side of The Watch Artwork
Price: €150
Necessity: Low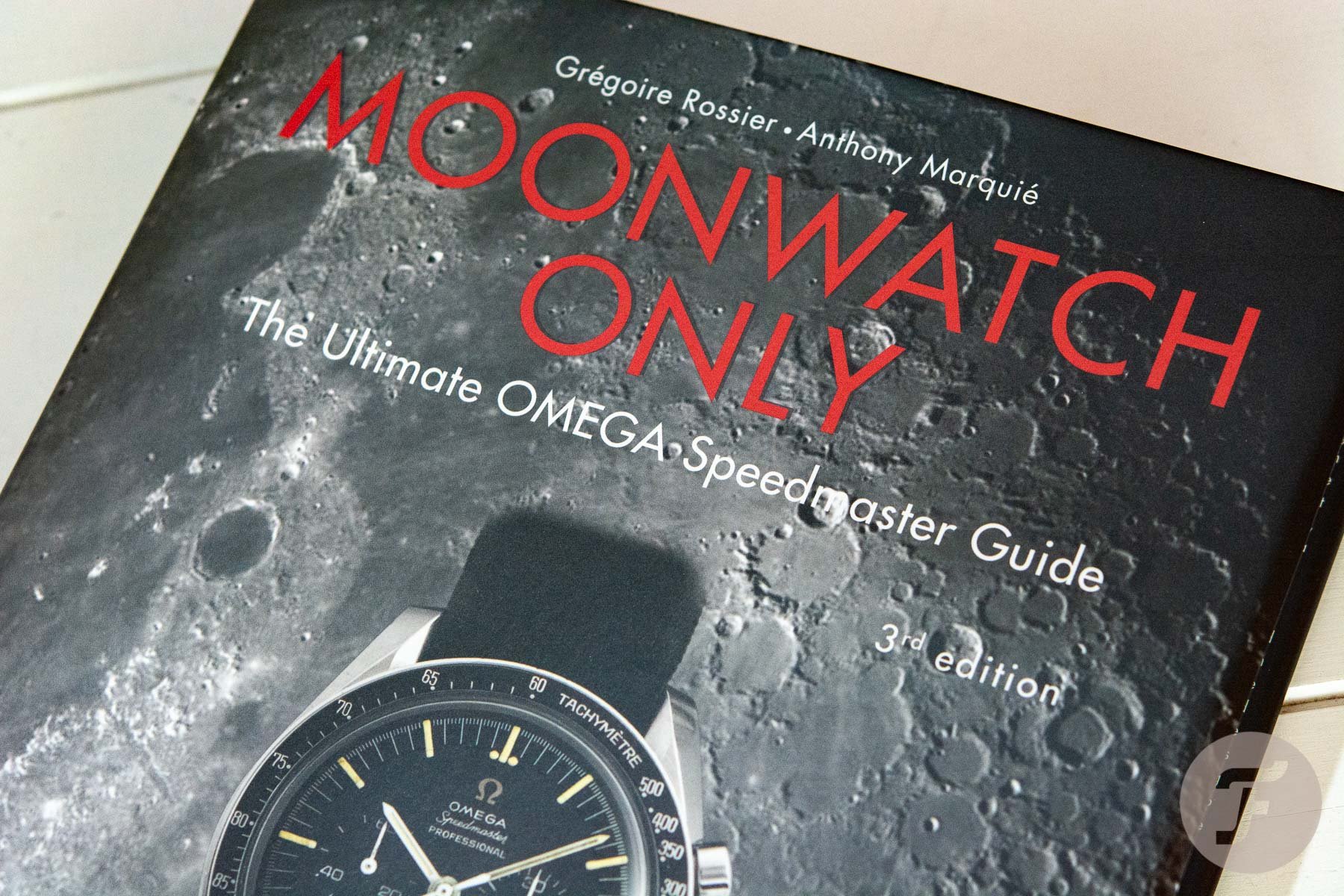 Moonwatch Only third edition
You've taken the plunge, but studying the watch itself only goes so deep. Of course, for any Speedy fan, the #SpeedyTuesday section of Fratello provides a wealth of history, reviews, and rare editions of the famous chronograph. But for a coffee table book collection, look no further than the Moonwatch Only third edition. In nearly 600 pages, Moonwatch Only provides a catalog of all Speedmaster versions with great images and in-depth specifications.
Item: Moonwatch Only book
Price: €250
Necessity: Medium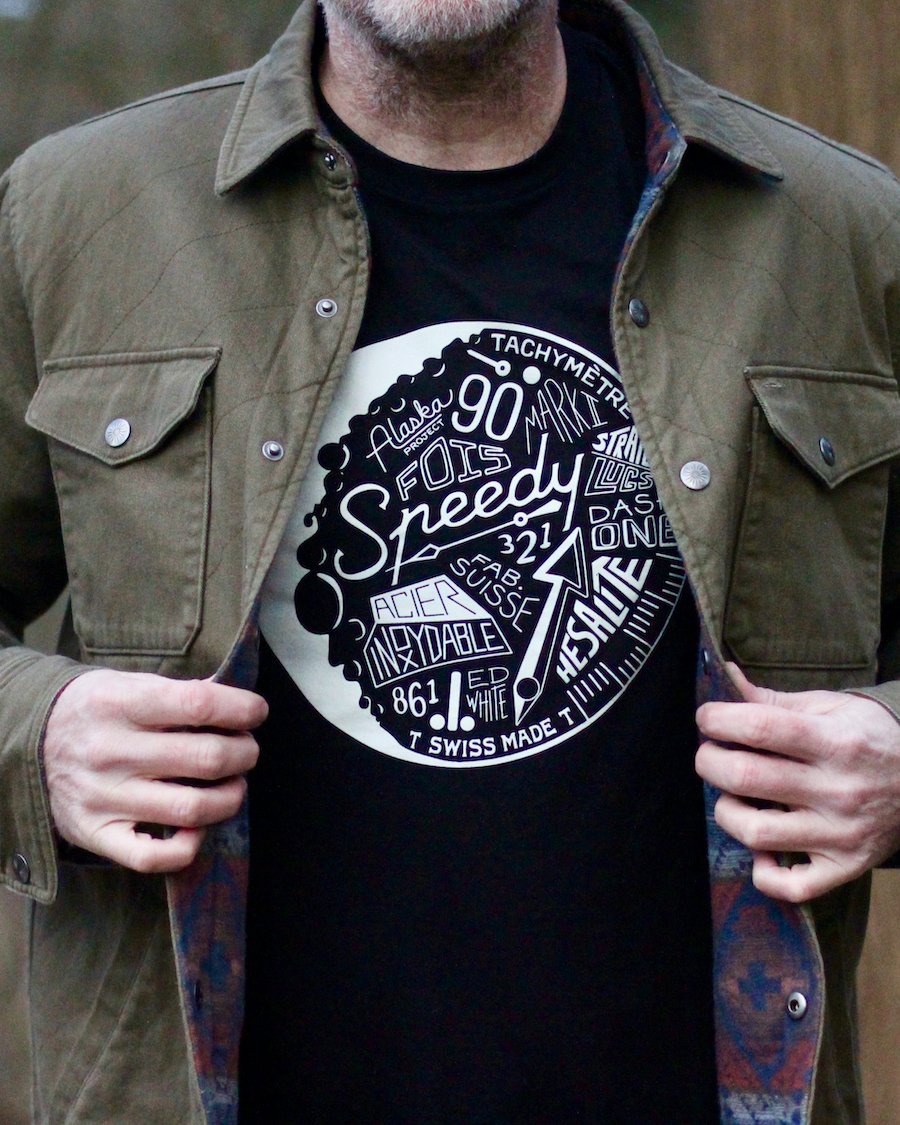 Watch Thing Speedy T-shirt
Lastly on my list of Moonwatch fanaticism is a little extra item that only watch enthusiasts can boast. Watch Thing T-shirts take the craze to a whole new level. The Speedy T-shirt is subtle enough to not make it too obvious but full of Easter eggs for the keen eye.
Item: Watch Thing Speedy T-shirt
Price: €30
Necessity: Low
Tally up
Now let's assess the damage. €264 will get you the tools you need to get you going. But, €859 is the cost for all the items on this list. This is on top of the purchase of the Moonwatch itself, so all in all, you're looking at a €7,000 bank deduction. A hefty price to pay but worth it for kicking off the passion of watch collecting.
Any items you couldn't live with that you'd suggest? Or items from this list you've bought yourself? Let us know in the comments below.