No Money, No Problem: How I Started Collecting Watches On A Budget As A Broke College Student
The humble start to my watch-collecting journey
From an outside perspective, watch collecting is often seen as an exclusive past-time for the wealthy. But as soon as you take a closer look, you begin to see that there is another side to it. It is one that is much more humble and down-to-earth — people who enjoy a Seiko diver, Vostok Amphibia, or a digital Casio watch as intensely as some might enjoy a Rolex, Omega, or Patek. This is where I made my start. A time in my life when the watch budget was non-existent, as a university student living in the city of Münster in North-Western Germany. Considering my limited means at the time, I still look back fondly on those first steps into the world of watches and what they taught me. And looking at the present and how my collection has grown in the past year, things are looking bright!
Though I'm not sure I'd fully recommend following in my footsteps, I still feel that it's a story worth telling. At the very least, it will show how much fun can be had for next to no money, and how that can grow into a very real appreciation and passion for watches. Today I'll be showing you the first few watches in my collection. I'll also share the tools and resources I used to find them. From the good to the not-so-great, the downright shameful, and the ones I still own and wear today! Though sometimes a lot of luck is involved, there are certainly deals to be had out there. Sometimes they're lesser-known brands from back in the day or just downright lucky bargains that you can find with enough time. The 10 watches I'll show you today cost me a total of €500 and were purchased over the course of a two-year period.
The journey begins
I've told this story before, so I'll give you the TLDR; during a screening of La La Land I went to on a visit to the UK in 2017, I noticed Ryan Gosling's gold Omega wristwatch. I already had some awareness of watches at this stage, but nothing in-depth at all. After the movie, I did a little bit of research to find out more. This was the gentle push that made me fall head-first into the watch rabbit hole. I decided to find a similar watch for myself. As I was in England at that time, visiting my parents in Oxford, I decided to do a very general search on eBay. There's a good chance that I simply searched for "mechanical watch" and sorted by "cheapest first". Skipping all the results for listings selling explicitly broken watches, it was there that I found the perfect watch.
It was a 34mm gold-plated Montine Of Switzerland, with a "buy it now" price of £20. Including shipping, it came to about €25 in total. And after impatiently waiting a couple of days — time never advances quite as slowly as when you're waiting for something to arrive — the watch was pressed through the letterbox, in a small orange bubble envelope. Tearing the top off of the envelope revealed a bundle of the thin foam-like material I would become very familiar with over the coming years. And inside, was my first mechanical watch! A wonderful Montine Of Switzerland from the 1970's on a lizard strap. This is a watch with a lot of sentimental value. It's one that I wore a lot, and which will likely never leave my collection.
Montine Of Switzerland
It was everything I had hoped. Watching the seconds hand sweep around the dial and holding it close to my ear to hear the balance ticking back and forth would keep me occupied on the flight back to Germany. As it turns out, the watch kept time incredibly accurately and ran for the entire duration of its power reserve. For the price, this was quite a lucky purchase. Unfortunately, that was something that I took for granted. For a short period of time, I was under the impression that you could simply pick up all kinds of vintage watches in perfect condition both on the surface and under the case back for €20. But it was not until I decided to buy my next watch that I realized this was not the case without a bit of legwork. Either way, I was hooked!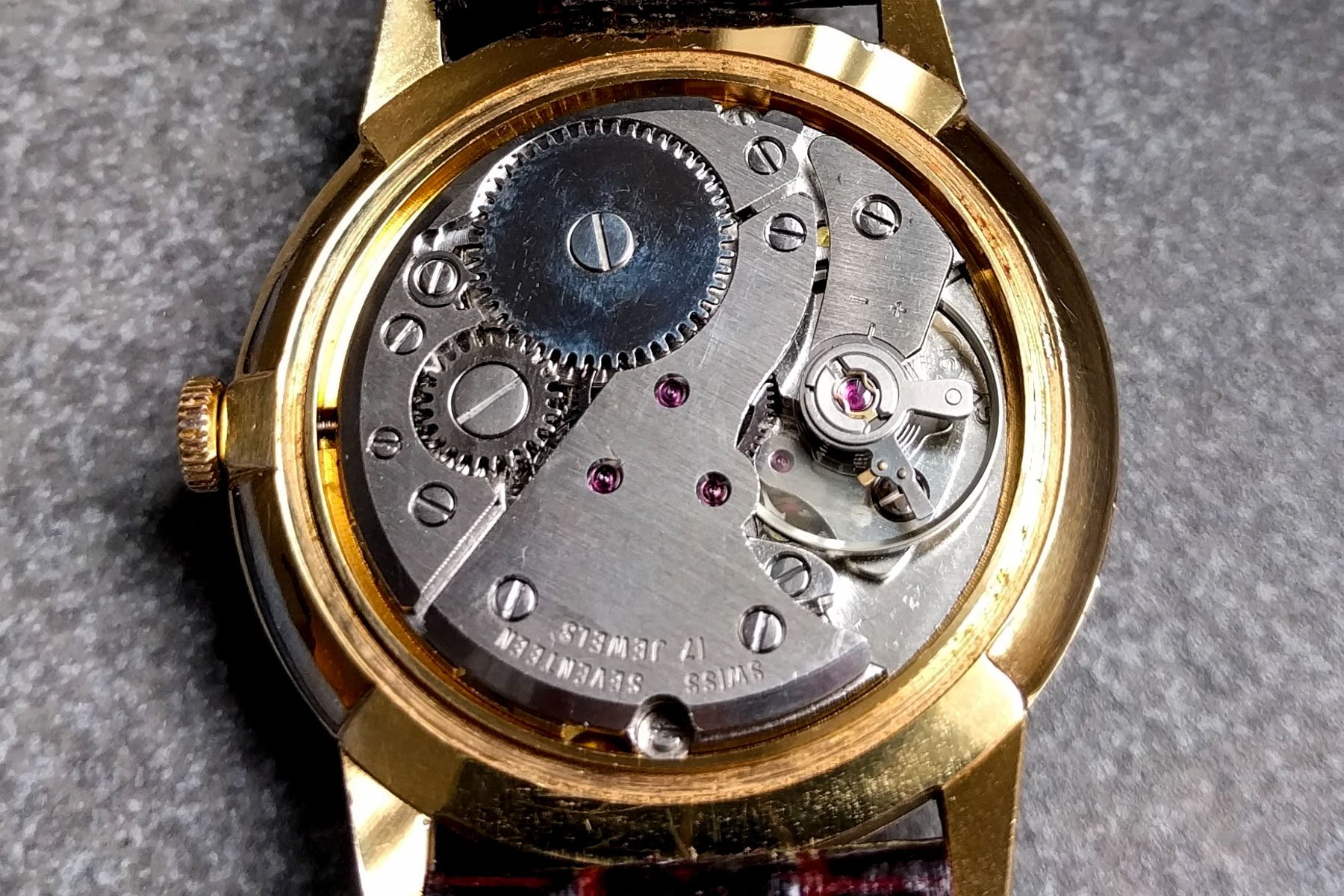 It was definitely too late to turn back, so the next purchase followed just a couple of months later. But in that time, I spent a lot of time researching the Montine Of Switzerland brand to a varying degrees of success. There was not much out there about these watches. At some point, I even dared to pop off the case back to see what was inside. Thanks to my research, I found valuable reference sites, such as Ranfft Watches and the Thiemard manufacturer symbol lookup tool (as well as other sites that I can't seem to find today). This is how I cut my teeth, and I eventually developed a knowledge and understanding of the weird and wonderful world of cheap vintage watches. All that while following my curiosity and expanding my collection.
eBay Kleinanzeigen Interlude
It has almost become a running gag at Fratello HQ. I start a conversation with, "Hey, I found this awesome vintage watch for sale-" and someone will likely interject with a hint of knowing sarcasm in their voice, "On eBay Kleinanzeigen?" And as it turns out, nine times out of ten, that is indeed the case. Now, Daan wrote an article earlier this week on the risks and rewards of buying watches from private sellers, so I won't bore you with the details. But know, that unless otherwise specified, this was where I bought all of my first watches. That much may be clear. But you (unless you are German or live in Germany) might be wondering, what the hell is eBay Kleinanzeigen anyway? That's a fair question to ask! The answer, in short, is that it's a classified ads platform. The German word Kleinanzeige literally translates to "small ad".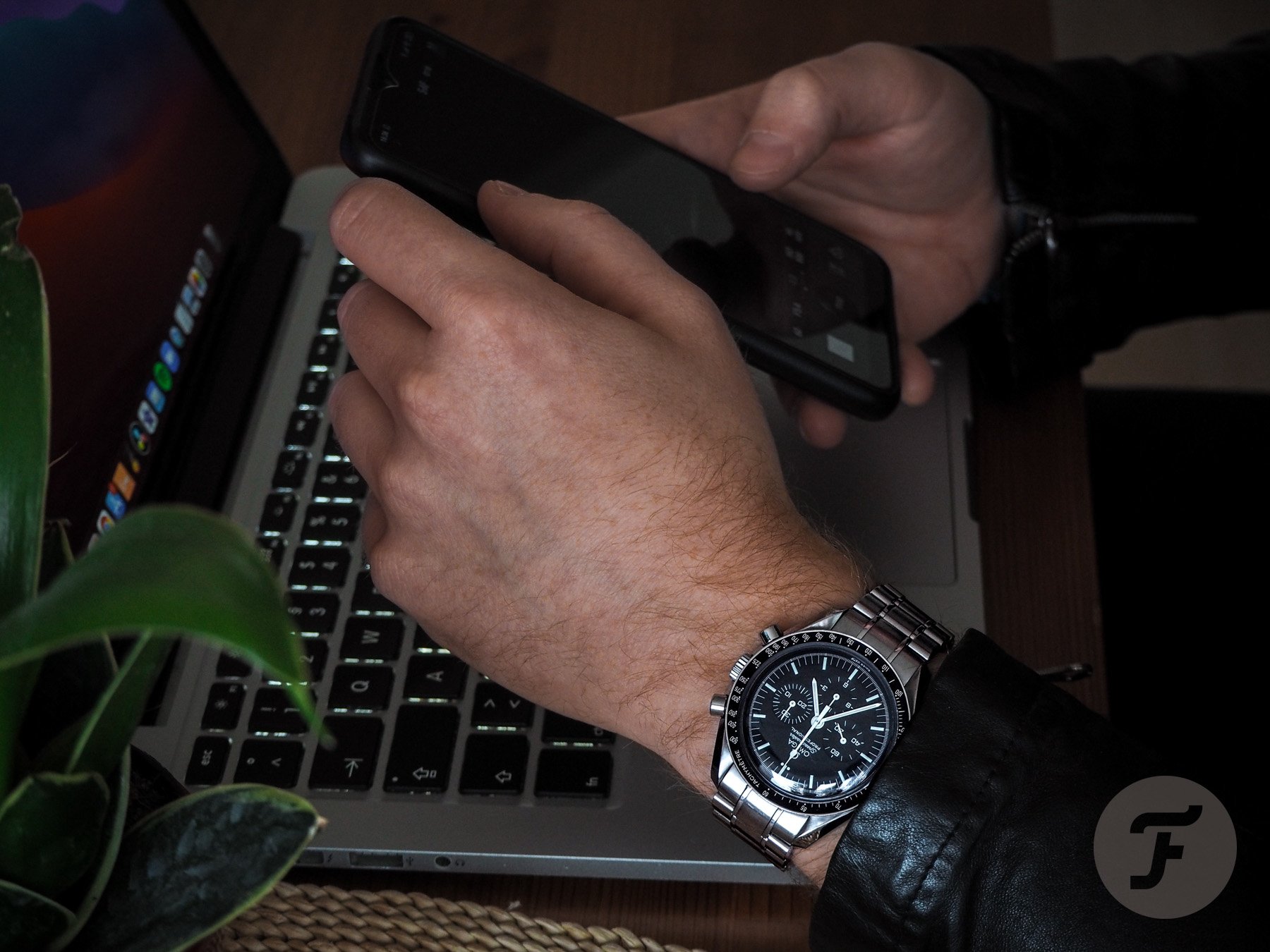 So, in essence, eBay Kleinanzeigen is a platform similar to Craigslist, Gumtree, Kijiji, Wallapop, Marktplaats, and many more. Here, private individuals can post ads, free of charge, in order to sell or give away anything from houses and cars, to plants, old kitchen utensils, and antique clocks. Imagine a vast online antiques market that's open 24/7 and constantly receiving new merchandise. If you're anything like me, that's a dream come true. It's the kind of place where people sell their old watches, and with some luck, where bargains can be found. Going through this list today, I wouldn't see myself buying those watches now. But in some way, I'm glad that I did back then. My curiosity was satisfied, and I learned many valuable lessons in a fairly low-risk manner. Keep in mind, the total value of these 10 watches, is "just" under €550.
The journey continues
After having enjoyed the Montine for a few weeks, curiosity struck again. This time, it demanded a steel-cased automatic watch. So what better brand to go with than Seiko? Well, when you're trying to keep the price below €50, even Seikos can be tricky to get your hands on. But with a little bit of patience and plenty of scrolling, I ended up finding a well-loved Seiko 7005-8200S for just €30. It's a true case of "one man's trash", but nonetheless, after putting it on a perforated rally-style strap, it looked the part and kept me satisfied for a little bit of time. This 37mm Seiko ran rather well, but the tiny crown that sat recessed into the case made it quite tricky to adjust. It did not take long until this one got old. And though now I'd say the '70s is my favorite era of watch design, I decided to wind back the clock…
…All the way to the 1940s, that is! My next watch was one that taught me to appreciate patina as well as quirky complications. The watch in question is a 33mm gold-plated Berg Parat watch with a black dial, a small-seconds register, and a pointer-date complication. I really enjoyed this watch. It really felt like it had been through hell and back and had the scars to show for it. Some research even revealed a potential military background. It blew my mind that this thing had remained intact for over 60 years. And not only that, but it still kept good time. My lucky streak continued, as even without service, this watch kept time within ±30 seconds per day, and the date ticked over nicely at midnight sharp. Even the black leather strap it came on was comfortable enough. Whereas the Seiko was sold, this one remains in my collection to this day.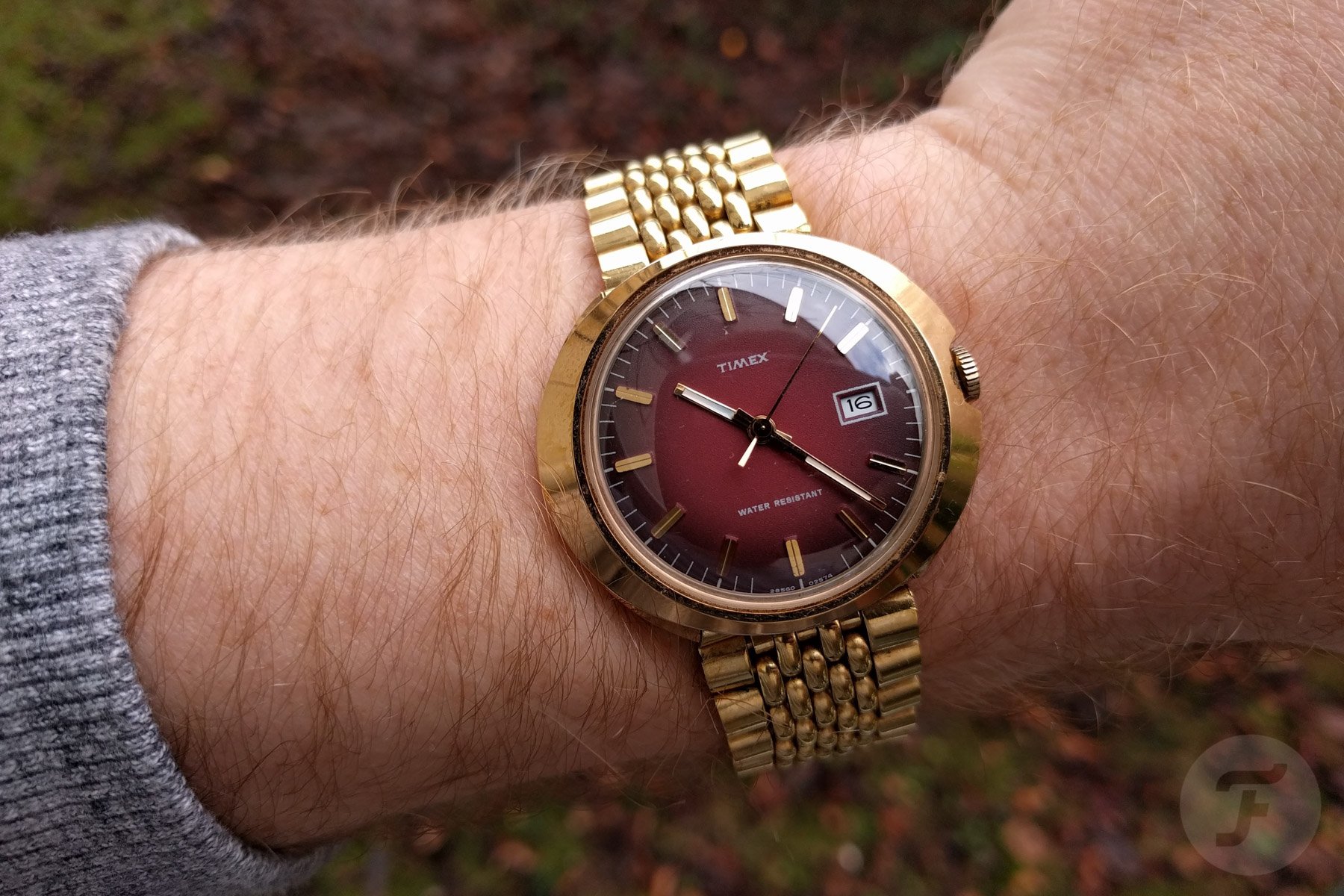 Collecting by the decade
At this point, I started to reflect on what and how I was collecting. Though the recurring theme with these watches was "cheap and cheerful", I also noticed that I was slowly completing a list of decades. Back then, I thought the Montine was from the '60s, I knew the Seiko was from the '70s and I was pretty sure that the Berg Parat was from the '40s. So the obvious next step was to find watches from the '50s and '70s. Just €20 got me what is perhaps the most explicitly '70s watch I have ever seen and worn. It's a beautiful hand-winding Timex in a unique oval case similar to the Omega Dynamics from the same time period. With a deep maroon fumé dial and a stunning aftermarket beads of rice bracelet featuring an anchor on the clasp, it was in unbelievably good condition for a relatively cheap vintage watch. I wore it on occasion but eventually sold it to a Timex collector.
Nothing about this process was too scientific. I wasn't really checking serial numbers or making sure these watches were from the decade in question before purchasing. All that happened after I received them — this was all part of the fun. This included a lot of polishing crystals with Polywatch. Sometimes, I even had fantastic results, like on the LOV Aqua-Sport you see above, for example. This was my '50s watch. Something about the dial layout, hands, and small seconds reminded me of Omega Seamasters of that time period, which made me enjoy it all the more. The domed silver dial, applied numerals, and creamy lume also had the same effect. This was a €28 purchase and one that I still have today. Do I still wear it? Not really. But I'll always have fond memories of researching the brand and wearing it in those early collecting days.
Focusing on form
After following a loose pattern of collecting watches from those key decades, the search continued, but not really following a specific pattern. But the next two watches were similar in that they both had somewhat odd shapes. The first, was a lovely Duward Continual, with a square gold-plated case and a beautiful linen dial. Almost unsurprisingly at this point, the watch ran perfectly, and after a quick polish, the beautiful domed square crystal looked incredible. Researching the brand revealed its rather interesting Spanish roots, as well as the link it shared with Aquastar. And though the incredibly cool double-signed Duward Aquastar divers were never in my price range, this neat square watch kept me company during many a long lecture. I still own this one, but can't remember the last time I wore it. Still, it was nice to have an angular option in my watch box.
I have already written about the next watch that made its way to my collection. Compared to the €18 that the Duward set me back, this one seemed to cost a fortune at €60. But looking back at it now, it's probably the single best deal I have ever found in my time combing through eBay listings. I'm talking, of course, about my TV-dialed Omega Genève ST 166.0190. Sold and shipped as a broken watch, it arrived in a comically small bubble envelope without any additional padding or protection. I distinctly remember missing the postal delivery and running down the street after the Deutsche Post worker on her yellow bike. The watch itself worked and kept time well. The crown didn't stay in, so adjusting the time is tricky. This one will hopefully get a much-needed service soon, and will likely never leave my collection.
Plenty of personal watch collecting firsts
The next two pieces I added to my collection both represented big firsts in my collecting journey. The first was a Poljot chronograph that I picked up at a local flea market for €70. This was my first mechanical chronograph. This Russian chronograph features the Poljot caliber 3133 inside, which I soon found out was manufactured using the old machines that once produced the Valjoux 7734. These were sold to Poljot and shipped to the East. The watch felt very delicate, and on a period-correct rubber strap, it was rather top-heavy. Something about it didn't live up to what I wanted from a vintage chronograph, which meant that it didn't get much wrist time. Just a couple of years later, I sold it for a small profit and didn't look back. Thanks to selling the Poljot, I was able to afford my Tissot Seastar Navigator. Talk about trading up.
Speaking of firsts, this next watch ticked two off my list. This Bentima Star was not just the first watch I spent more than €100 on (I paid a whopping €140 for it), but it was also my first gold watch. That's right! This little 34mm slim dress watch has a case made of 10K gold. Actually, as I am writing this I remembered an additional first, which was that this was the first time I purchased a watch with an engraving on the back. This engraving, though rather cryptic, was fun to research. Ultimately, it told of the watch's first owner, G. Griffiths, who worked for the "Salop" or Shropshire "L.O.C" (Local Optical Committee). Come to think of it, this was also the first watch I ever had serviced. A small issue with the winding mechanism was quickly fixed. This watch is still in my collection and gets some wrist time every now and then.
Turning a profit
These last two watches are polar opposites. The first was a funky 1970's Precimax on its original signed H-link bracelet. I love the brushed gray dial on this watch, which transforms from a deep black to a light gray. The day and date wheels in black and white are also a nice touch, and the big block hour markers tower above the dial, adding plenty of depth and mirroring the silver outer minute track. A red seconds hand ticks around the dial, with a small window where the tritium lume has crumbled away. The yellow seal around the crystal provides an extra hint of color, much like that of the Omega Genève. For €65 shipped, this 37mm beauty got plenty of wrist time in the summer when I got it and has made it back on the wrist from time to time after that.
The final watch on my list is one that is no longer in my collection. In hindsight, I do somewhat regret having sold it, as I haven't seen anything like it since I bought it. This wonderful Alpina dress watch, with fixed bars, a gold-plated case, beautiful dauphine hands, and a glossy black dial set me back €50. The consolation is that when I did sell it, I managed to do so for almost 10 times what I originally paid for it. In some way, I'd still love to own it, but it would likely be sitting in my watch box unused like most of these early acquisitions. This is the final watch on the list of my first 10! All-in, these set me back less than €550 over two years. It just goes to show that even without much money, you can build an interesting and varied collection.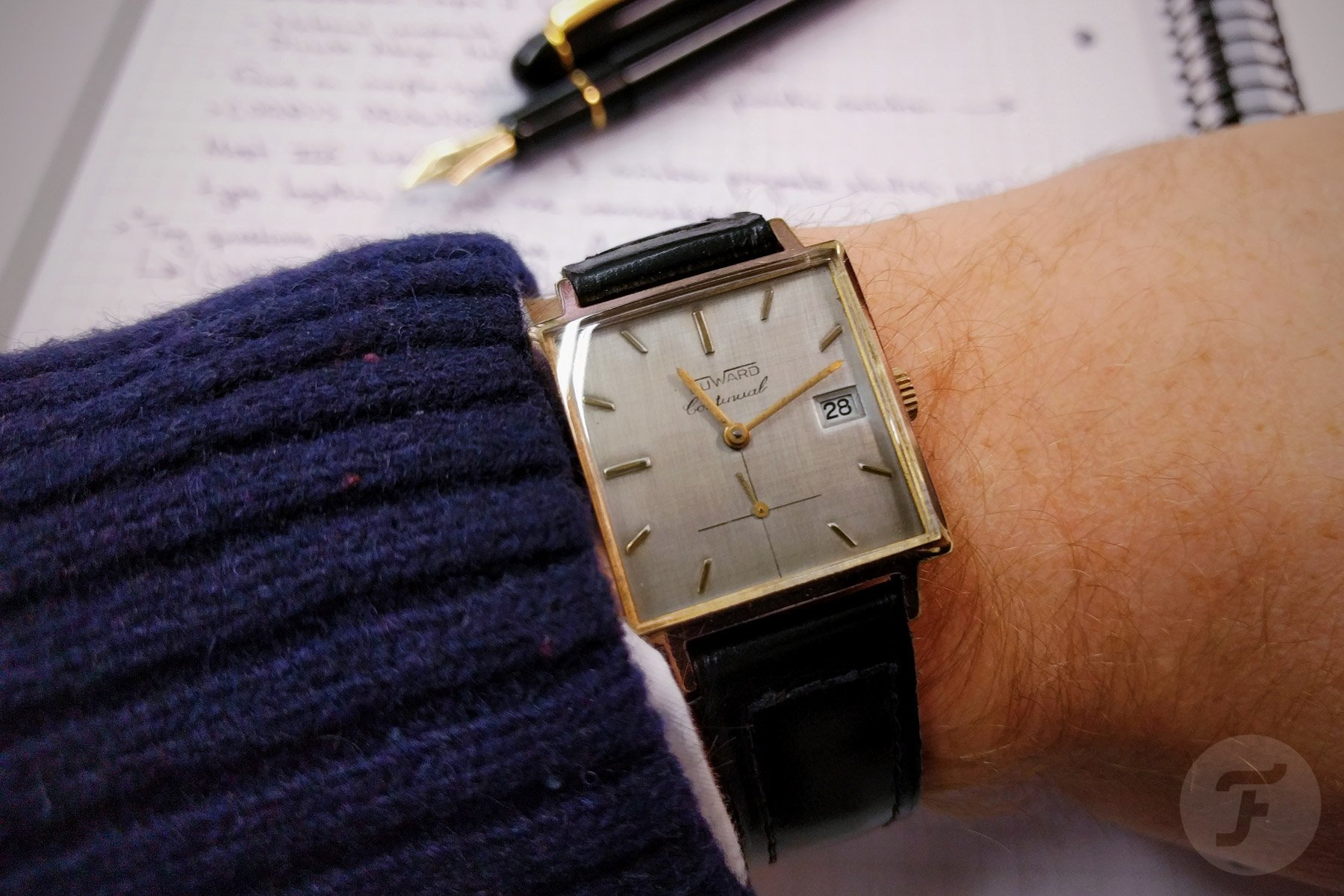 Final thoughts
My goal with this article is to show young collectors that it doesn't take much to start a collection. Though I would still encourage being careful when buying vintage watches from private sellers, I'd also offer the same piece of advice that a lot of investors also offer: don't invest more money than you feel comfortable losing. Even when sellers describe their watches as being in good working order, when it comes to a private purchase, there are no guarantees. That said, there are plenty of amazing watches from lesser-known brands out there to be had for peanuts! Keep an eye on your local classified ads and see what you can find. And if you're new to the world of watches, don't be afraid to get yourself a cool vintage piece. You never know, it might end up being the start of a long collecting journey!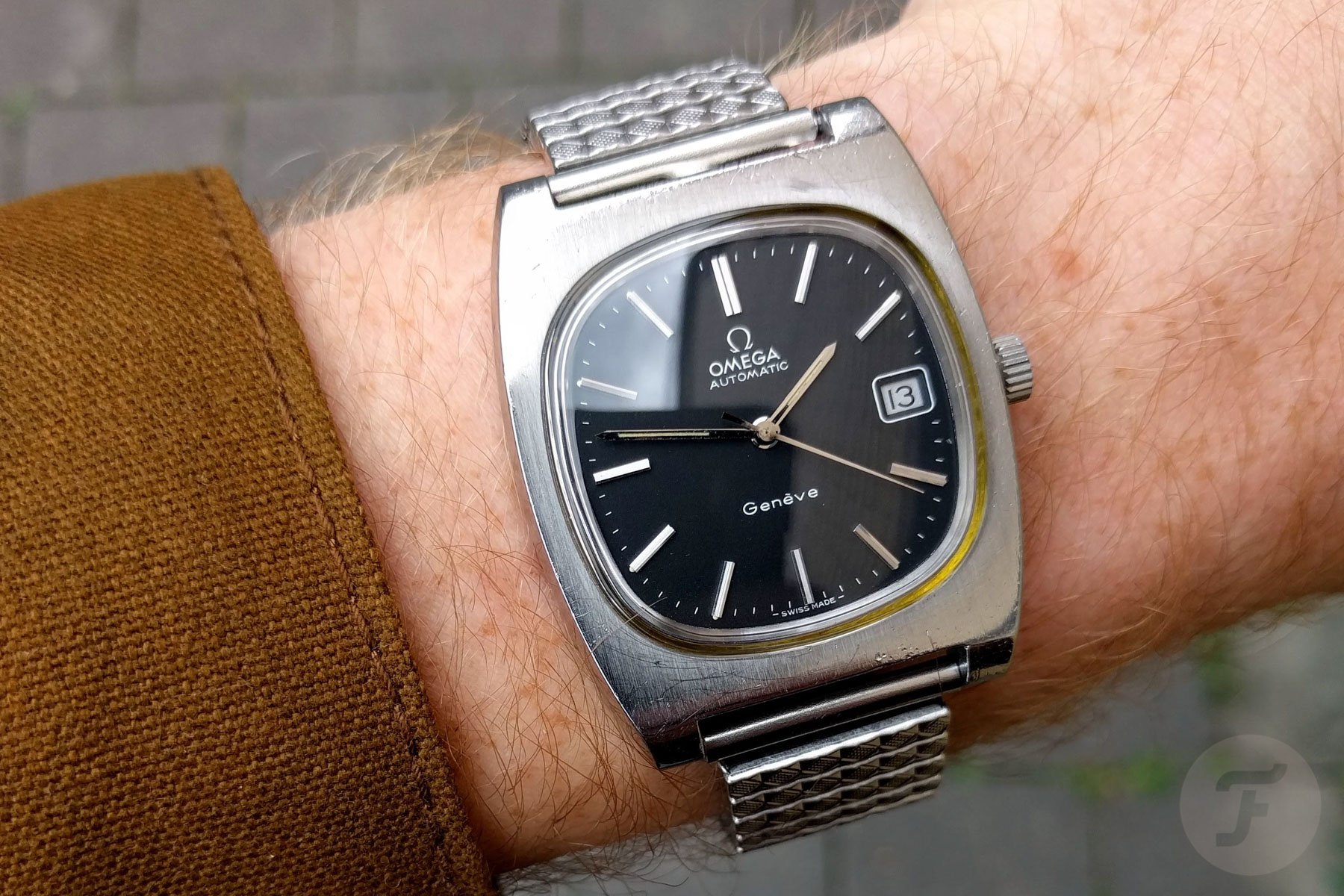 I hope you enjoyed this trip down memory lane as much as I did. I'd love to hear your thoughts. Let me know which of these vintage beauties is your favorite in the comments down below. I'd also love to hear about your experience buying vintage watches. Have you ever found one of these rare deals yourself? Did you also start your collection in this way? Share your story in the comments below!
Follow me on Instagram @ncgwatches