Independent Insights: MICROMILSPEC × Haaland "Goldenboy", Sartory Billard, Feynman Timekeepers, And Studio Underd0g Play The April Fool
A round up of some of the cooler independent watches that you may have missed...
I don't know about you, but this week has been a good one. First of all, the weather has been glorious here in England. Long may it continue. I have plans this Easter weekend to get out into the countryside and go mushroom hunting. The elusive, and tasty, morel mushroom is coming into its incredibly short season which is pretty exciting (for me, at least!). This week has also been pretty good because I've found a few new projects that I think might be of interest to the Fratelli. So without further ado, welcome to another Independent Insights!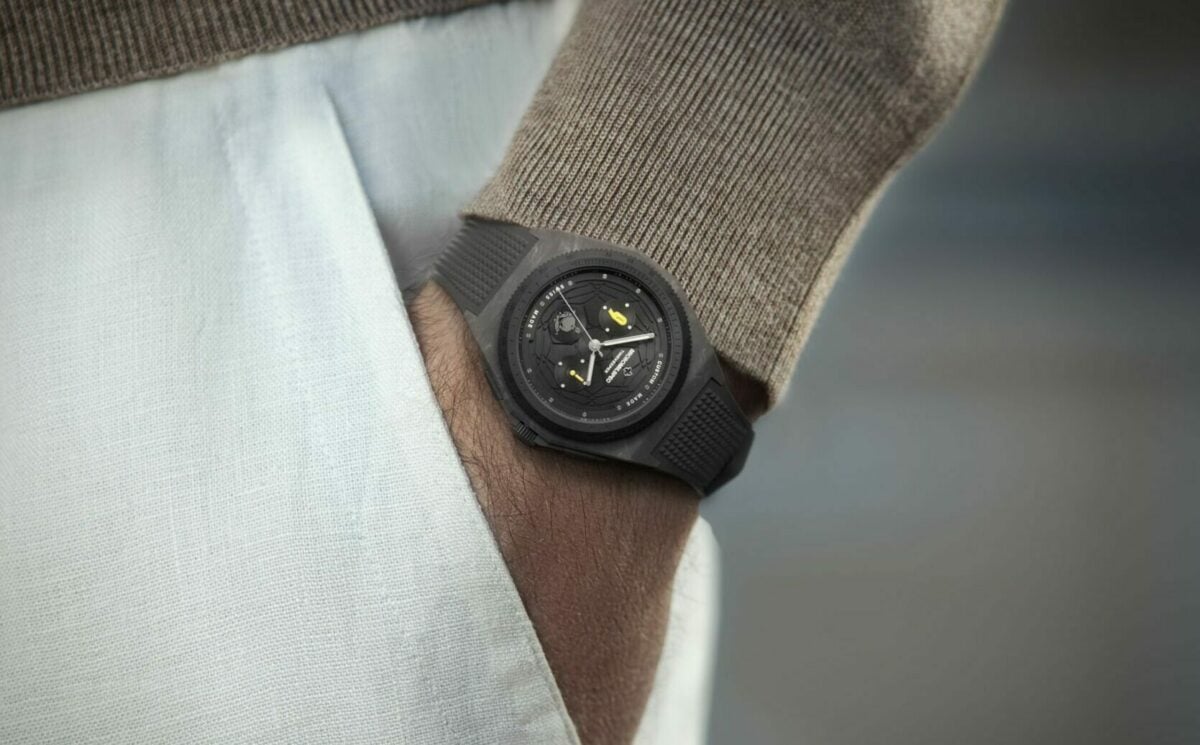 MICROMILSPEC x Haaland "Goldenboy"
One for the football fans here. I am a long-suffering football fan. My team, Tottenham Hotspur, is the perfect example of a team that never entirely lives up to its full potential. We've gone so close to multiple honors recently but never quite managed to seal the deal, #FML. If you are a follower of the beautiful game, you cannot have missed the meteoric rise of the young Norwegian prodigy Erling Braut Haaland. He made a name for himself, banging in goals for fun at RB Salzburg before moving to Borussia Dortmund and picking up right where he left off. This incredible form has led to daily transfer speculation that he will be heading to one of Europe's top clubs this summer.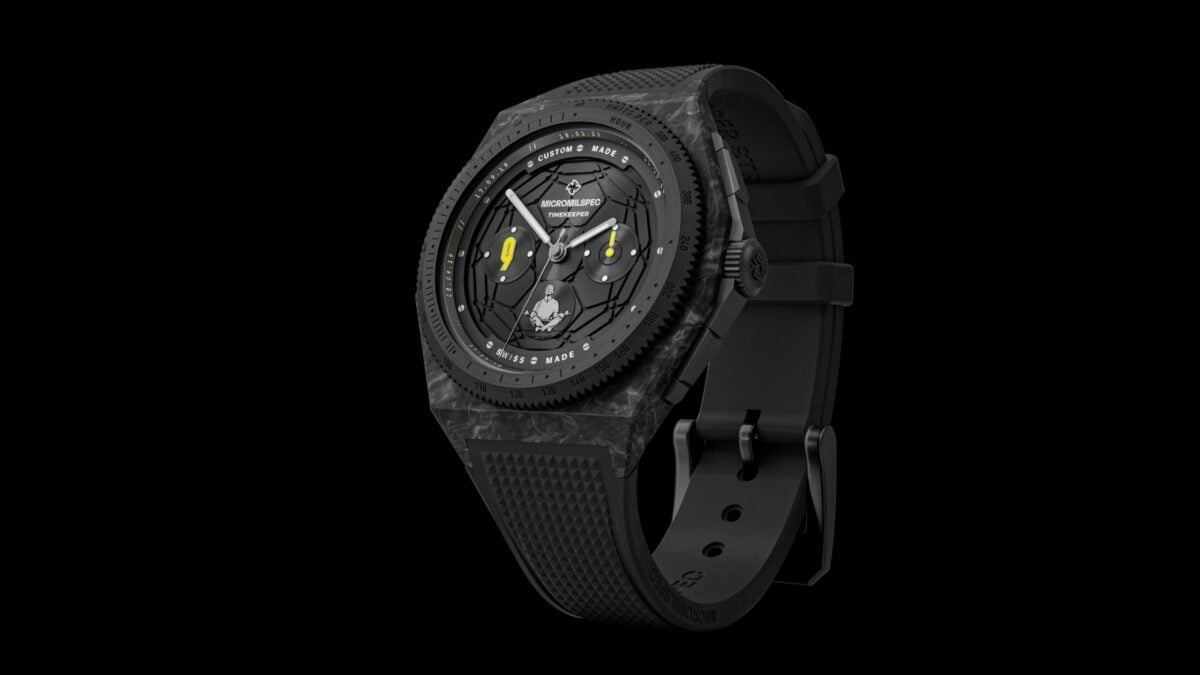 The resulting watch is a slick, modern timepiece with several embellishments that hold significant meaning to the player himself.
Taking a step away from his footballing exploits for a moment, I was curious to see his name pop up in relation to the watch industry this week. Norwegian independent brand, MICROMILSPEC, has worked with Haaland directly on creating a one-of-a-kind watch, especially for the player. As fans of their countryman, a mutual friend connected MICROMILSPEC to the player and his father, and a positive conversation ensued. The resulting watch is a slick, modern timepiece with several embellishments that hold significant meaning to the player himself. In November 2020, Haaland won the prestigious "Golden Boy" Award for 2020, given to a young footballer playing in Europe perceived to have been the most impressive during a calendar year. The watch has inherited that same nickname.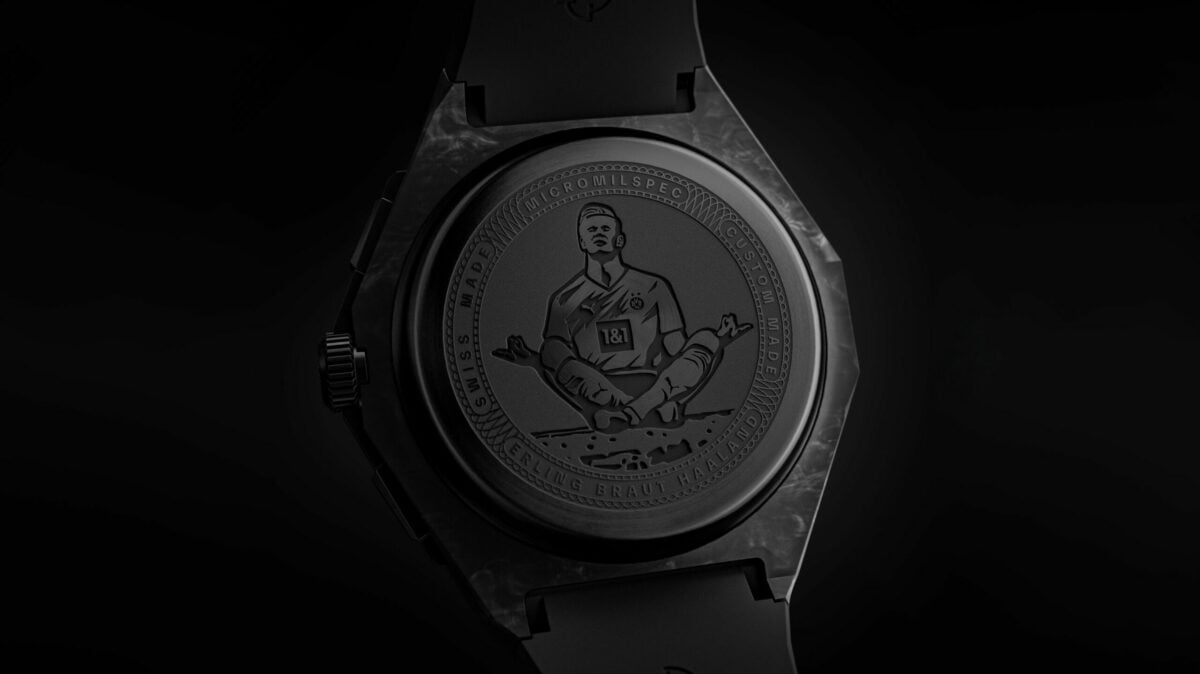 Meet the "Goldenboy"
A silhouette of Haaland's signature "lotus" goal celebration is located at 6 o'clock. The hand of the 30-minute subdial is a rotating number" 9″, a reference to Haaland's shirt number. Both the counter hand and the small second hand are in Borussia Dortmund yellow. The entire watch features a strong black and yellow color scheme (my favorite color combination!), reminiscent of the Dortmund colors. Surrounding the dial is an engraved rehaut, with dates referencing personal milestones within Haaland's young career. The case is based on MICROMILSPEC's signature octagonal shape, made from a lightweight forged carbon composite. Turning the watch around reveals a detailed view of Haaland in his signature celebratory pose on the case back. Inside, you'll find the Vaucher Manufacture Fleurier VMF 3022/12 running the show.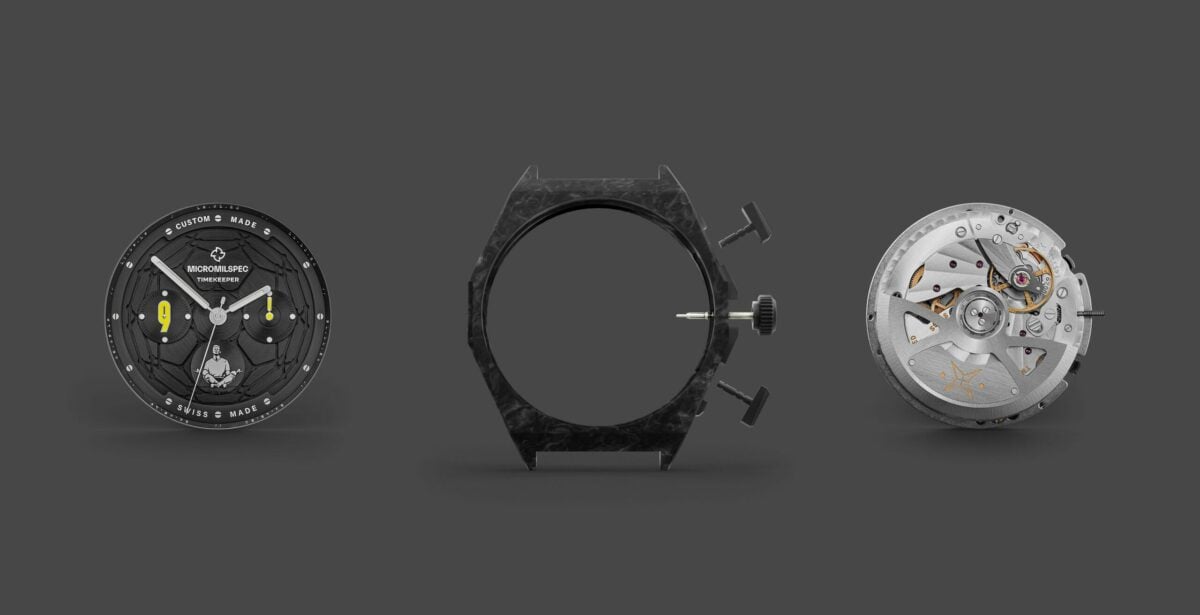 I'm not expecting everyone to look at Haaland's watch and love it; at the end of the day, it's a one-off piece designed in conjunction with the player's own tastes. But that's the cool thing about this watch. Customization! The watch industry's customization sector is growing quickly as more and more collectors strive for the perfect watch and one that truly reflects them as an individual. Previously you had to go to opposite ends of the spectrum to get this kind of experience: either the dirt-cheap, questionable quality watches that feel as cheap as they are or the super high end of things.
These kinds of custom options are only now becoming more commonplace within the industry, and it's something I support. It's not an approach that suits every brand or every customer, but it's nice to have the option to express oneself! I look forward to seeing more from MICROMILSPEC in due course. One to watch! Visit MICROMILSPEC's website for more information about the brand. You can also see some of the other projects the brand has worked on, on its Facebook page.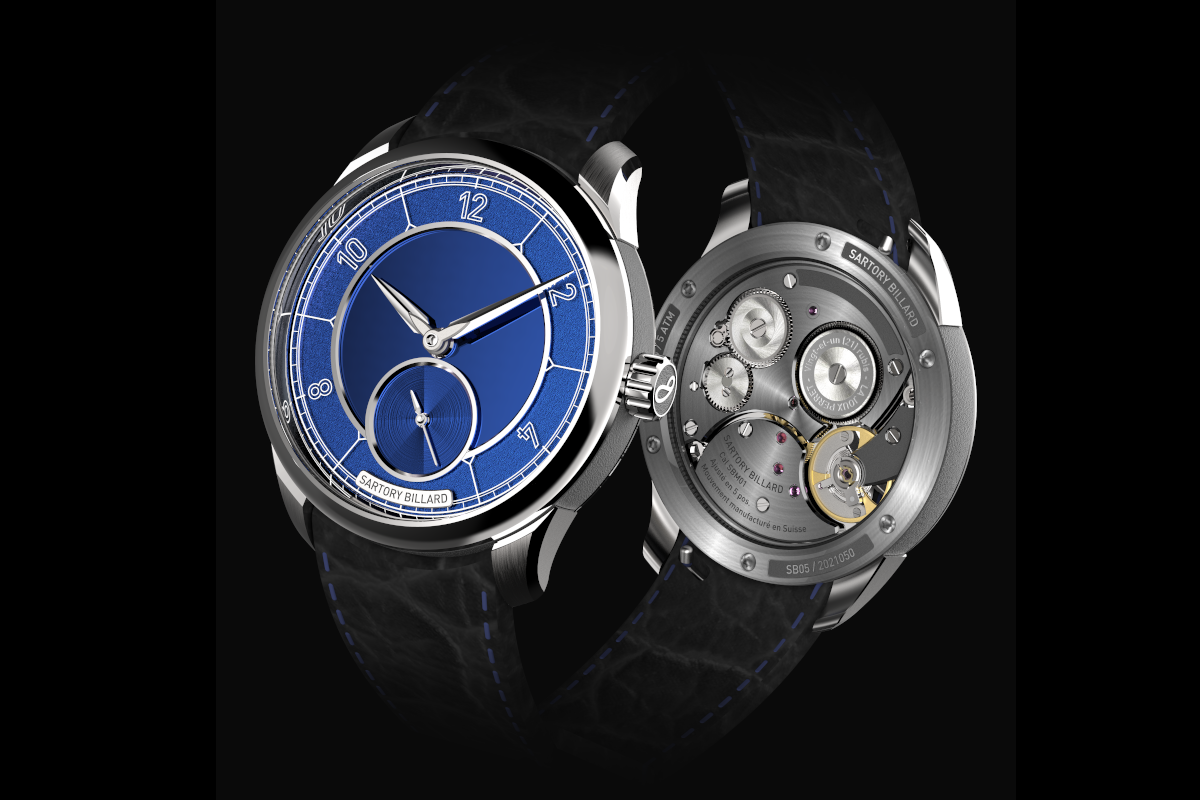 Sartory Billard announces its new flagship
Swiss indie Sartory Billard announced the successor to its SB04, the SB05, at the very end of last week. Sartory Billard has built up a name and reputation for producing custom watches for customers, focusing on stunning dials and hand finishing. The SB05 continues this focus while providing an upgrade over its predecessor in numerous ways.
The La Joux Perret hand-wound movement imparts a bit more visual appeal at the rear of the watch…
Firstly the movement is a significant and welcome upgrade. Gone is the venerable ETA 2824-2, and a hand-wound La Joux Perret movement replaces it. A welcome upgrade that helps take the SB05 to the next level. While 2824 is a solid movement, it's just that. It's reliable and respected, but it's not exactly a "pretty" movement, and it's not something I'd be particularly bothered about admiring through the display case back. The La Joux Perret hand-wound movement imparts a bit more visual appeal at the rear of the watch — that's for sure!
Made just for you
The design of the SB05 is a custom experience. Customers have a lot of input on many different parts: case material, dial materials, and colors, hand colors, etc. While the overarching SB05 blueprint will remain the same, the customization enables the customer to morph it into a specific and individual piece. To add extra weight to the final watches' quality, Sartory Billard SB05 has gone through technical development with Comblemine and Voutilainen & Cattin SA. Yes, that Voutinalinen.
Reception has been pretty good so far since launch. According to the brand's social media channels, 75 SB05s have already been reserved! So if you want to add one to your collection, you'll be waiting until 2022. All the watches are made to order and assembled by hand. Quality takes time! Find out more on Sartory Billard's website.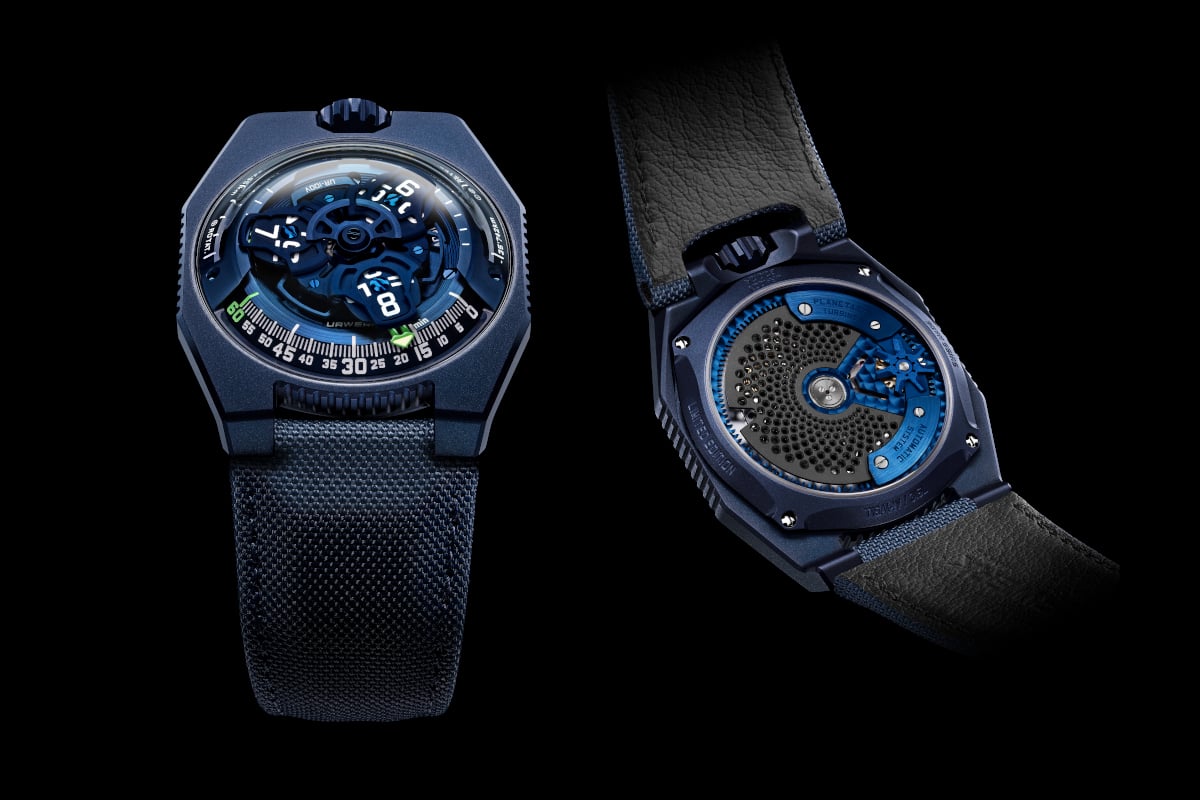 URWERK UR-100V "Blue Planet"
I'd be remiss not to mention my beloved independent, URWERK, this week. Especially seeing as the brand introduced us to the newest sibling of the UR-100V family. I won't go into too much detail here, as you can read thoughts in my article from yesterday. Anyone who follows my articles will know I am a big fan of URWERK, and I can tell you right here that I loved the new release too. The blue is a mature and brooding hue and one that lends itself perfectly to the UR100-V silhouette. Go read the article for more!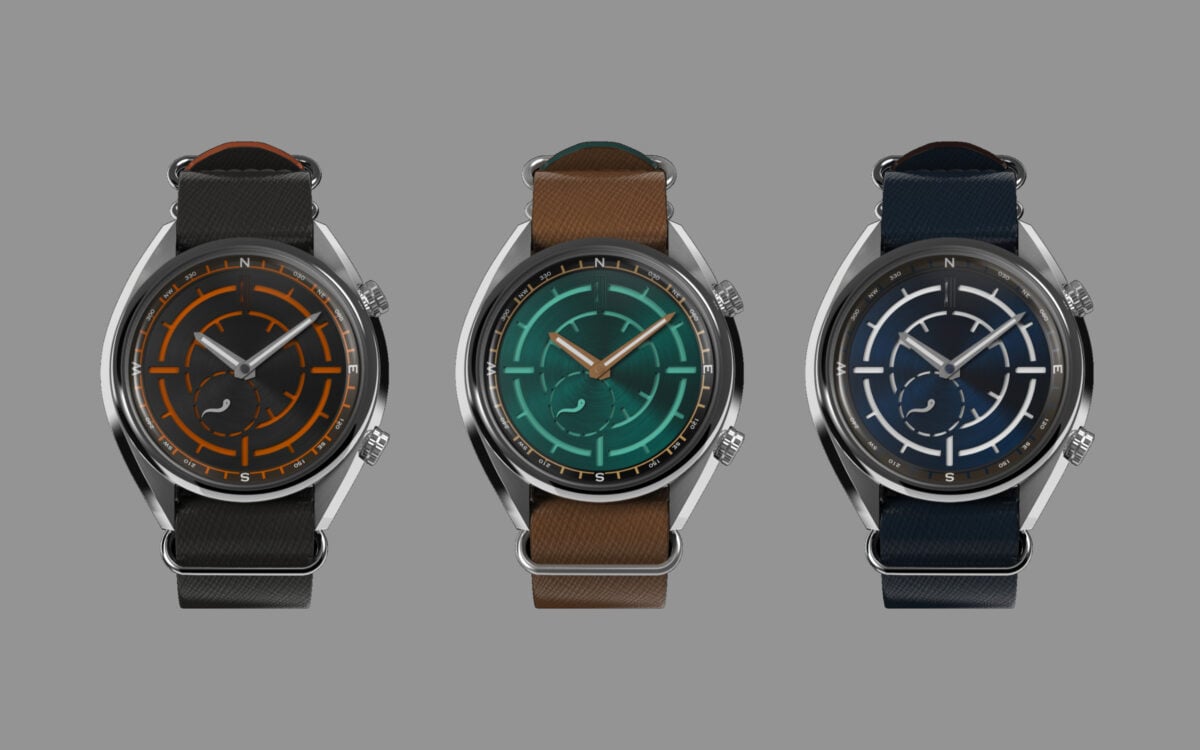 Feynman Timekeepers announces the follow-up to the Cove Collection
Feynman Timekeepers is a microbrand hailing from the sunny shores of Singapore. Today the brand has announced the follow-up to the successful Cove collection, the Fjord. Indeed it uses the same case silhouette but with several key upgrades. The Cove was a nice watch, and I previously wrote about it before working here at Fratello Watches. I liked the case shape and felt it had quite a unique character. It definitely wasn't for everyone, but Feynman had done a great job creating something that channeled its brand identity and continued on from its first launch. Intended as Feynman's interpretation of an outdoor tool watch, the Fjord's name hints at the integration between land and water. Gone is the Cove's internal dive bezel, instead replaced with an inner compass.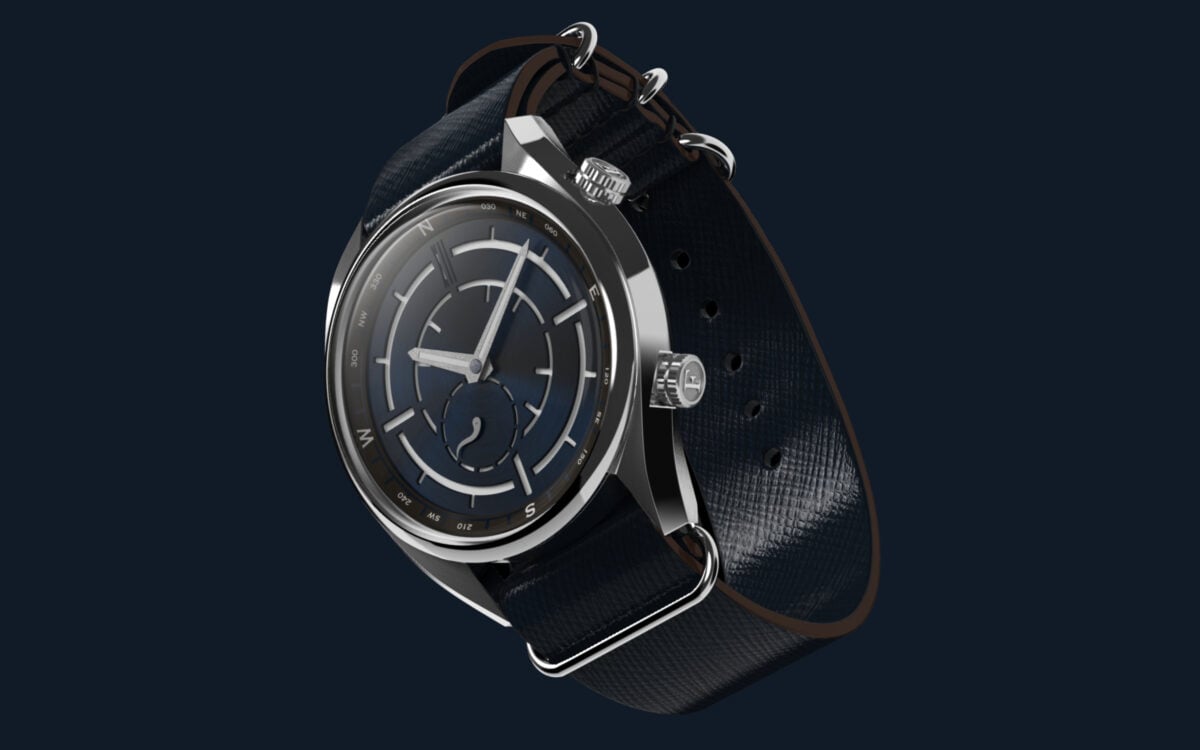 The most significant upgrade, though, is the lume and dial. Feynman Timekeepers will be utilizing Chrono.AMR lume, which will feature on the base dial, offering ample night-time glow through the CNC-milled radial top dial. Collectors love sandwich dials due to their tendency to allow lume to shine — pun totally intended. Chrono.AMR lume is developed by Chrono Advanced Material Research, a new development lab that creates cutting-edge materials for applications in the horological industry. If you want to get technical, the new lume compound provides 93,000mcd/min2 of brightness at first activation, compared to 300mcd/min2 offered by conventional Swiss SuperLuminova.
If you like what you see on the render images here, give Feynman Timekeepers a follow on social media here, and keep an eye on the microbrand Facebook communities over the coming months. I expect we'll start to see more images of the prototypes very soon! The launch is planned for the end of June 2021 via Kickstarter.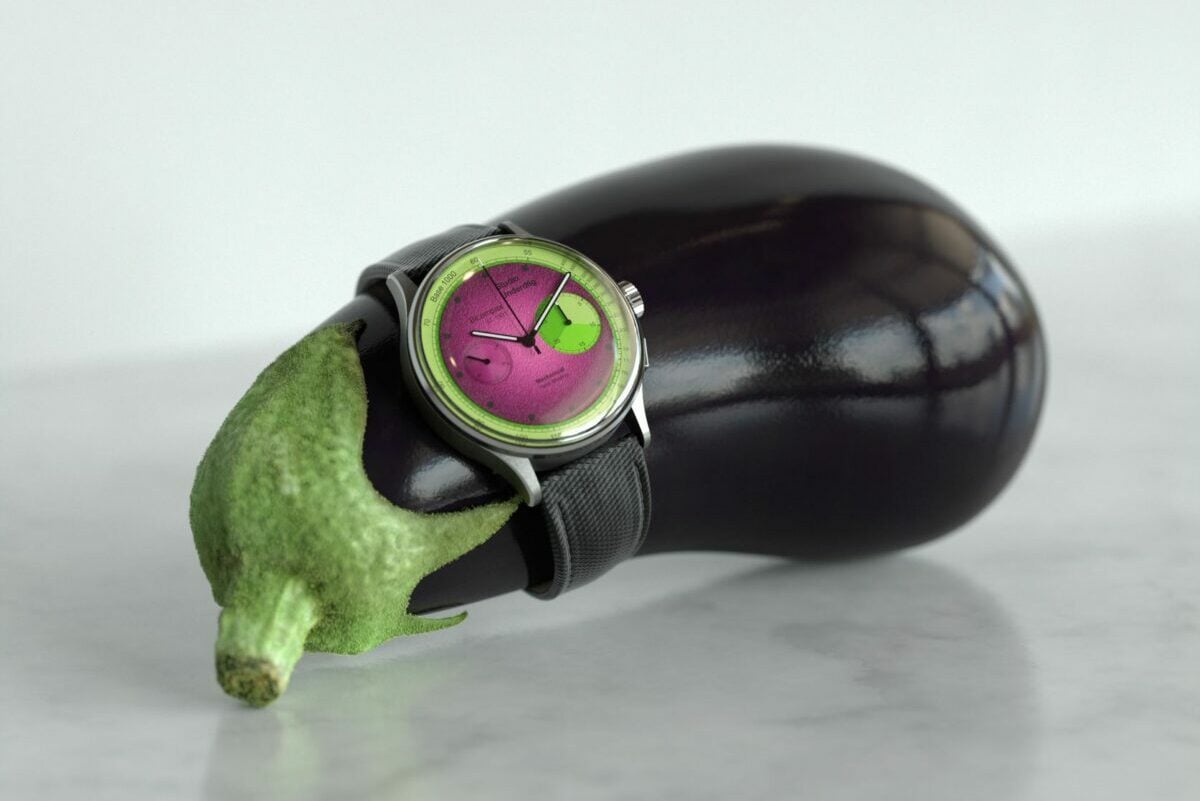 Studio Underdog play us for April fools
If you look at the date, you'll see it's April 1st. Surprise! As is tradition on this date every year, brands across all industries like to poke a little fun at themselves (and us!). This year Studio Underd0g took liberties with our gullibility-levels.
Playing on from the incredibly successful Watermel0n chronograph (read our review here!), the brand announced the following:
Having successfully launched our playful debut collection last month via Kickstarter, we've seen a demand for some new color-ways. 🍆🍆🍆🍆🍆🍆🍆🍆 We're pleased to announce our latest eggplant/aubergine-inspired watch, which features a thin slice of genuine eggplant/ aubergine skin on the dial. This will naturally age and wrinkle beautifully over time.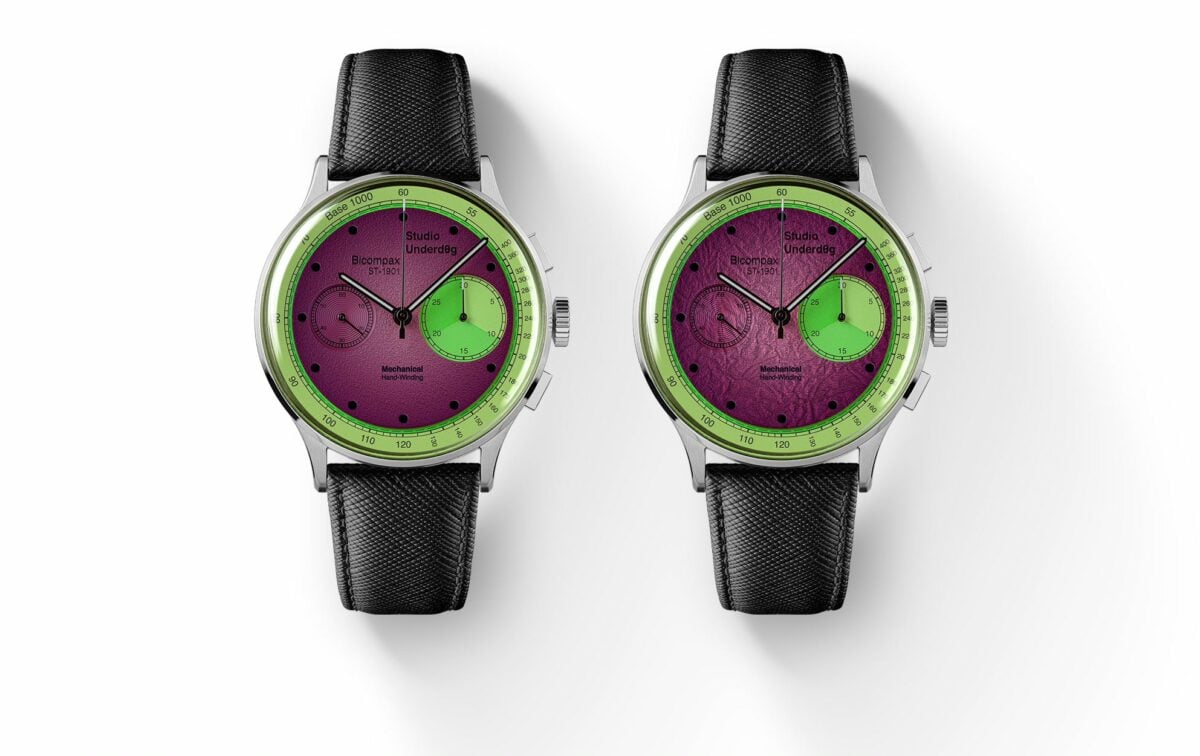 I mean, it kind of sounds half feasible until you think about the fact it's a chunk of aubergine. And would do more than just wrinkle. This playfulness and keenness to poke fun at its own collection is undoubtedly a slice right out of the Moser playbook — bravo!
And that is it for this week. What do you think of the watches mentioned here today? Be sure to let me know in the comments! What do you like, and what do you dislike? Also, do let me know of any brilliant April Fools pranks you might have seen this year. I always enjoy a good giggle.
Follow me on Instagram: @davesergeant