Introducing: The Garrick Regulator MK II — A Bespoke Take On Asymmetrical Style
Taking the Regulator to a new and customizable level
Is British watchmaking experiencing a proper renaissance? I keep returning to this point, and the releases from Dave Brailsford and Simon Michlmayr's Norfolk brand underline it. Even with 2023's blend of increasing inflation and uneasy times, we see a strong trend, and the Garrick Regulator MK II is yet another example of why and how.
Despite our ever-increasing digital world of new releases, or even because of it, Great Britain is reminding us of what made it the 18th-century center of our beloved industry, with complex creations and famous workshops long before the Swiss grabbed the world's attention. There is a reason the term "GMT" hails from the Greenwich Observatory in London, you know. These days, with Bremont, Fears, and greats like George Daniels, eyes are back on the British Isles. For today's feature, we travel to Norfolk, where Garrick Watchmakers has a traditional and personal twist on a storied complication.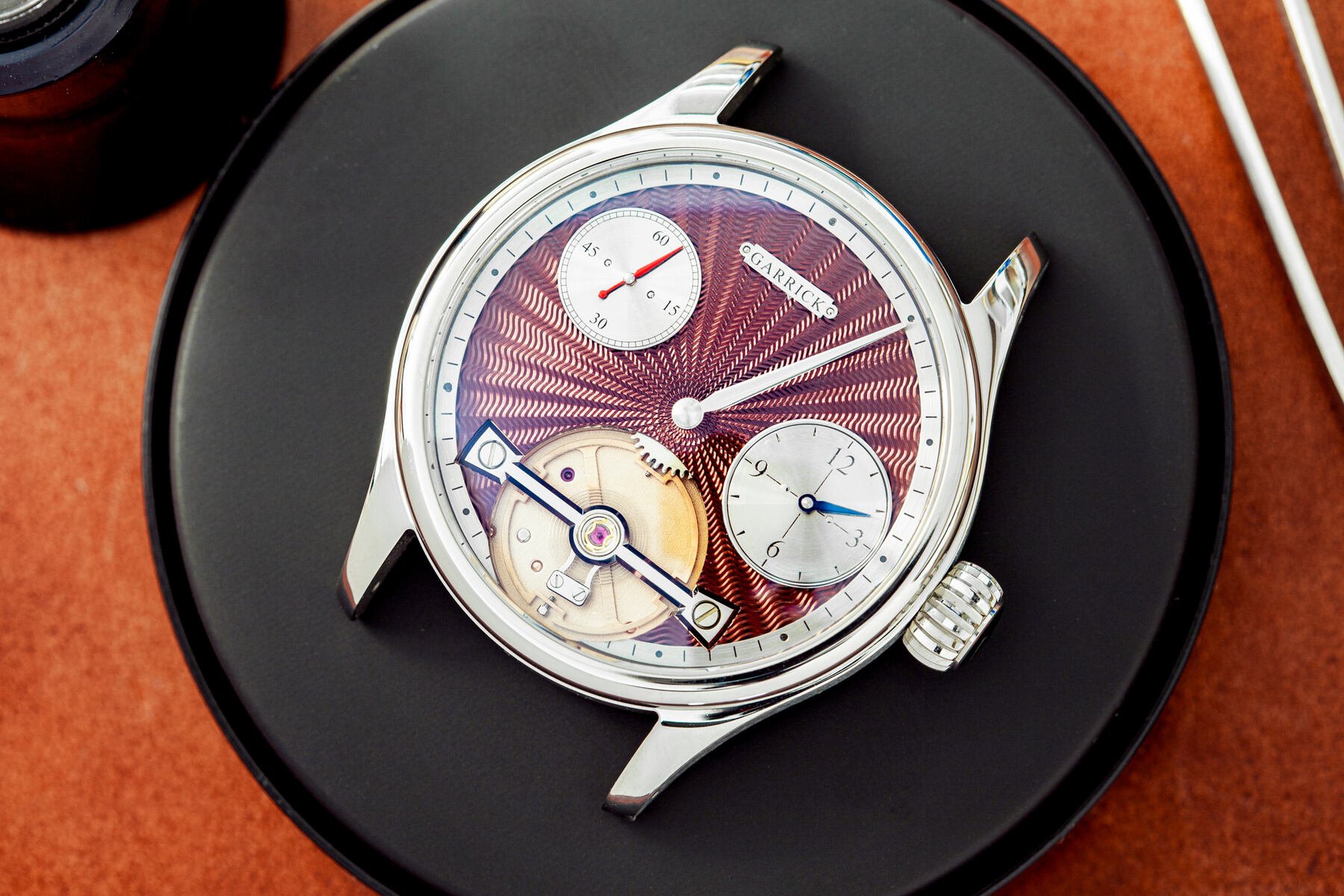 Garrick is carving out its bespoke niche
Garrick is different in a good and rather-traditional way and, to me, represents the essence of why we love small brands. Garrick's raison d'être is to provide a more personal take on small-scale horology. And with the brand's output, surprisingly big values lie in the smallest details. Dave Brailsford and his team have a strong-minded persuasion to keep things local, no matter the higher costs. There is a lot to be saved with outsourcing, but with every part that comes ready plastic wrapped, you lose a part of the brand integrity. Even Garrick's 42mm cases are machined locally in 904L stainless steel — not the run-of-the-mill 316L we see so often — and manually finished in the brand's workshop. Add the same wide range of customizable options as in the chameleonic S6, and the tone is set for this important release for the brand.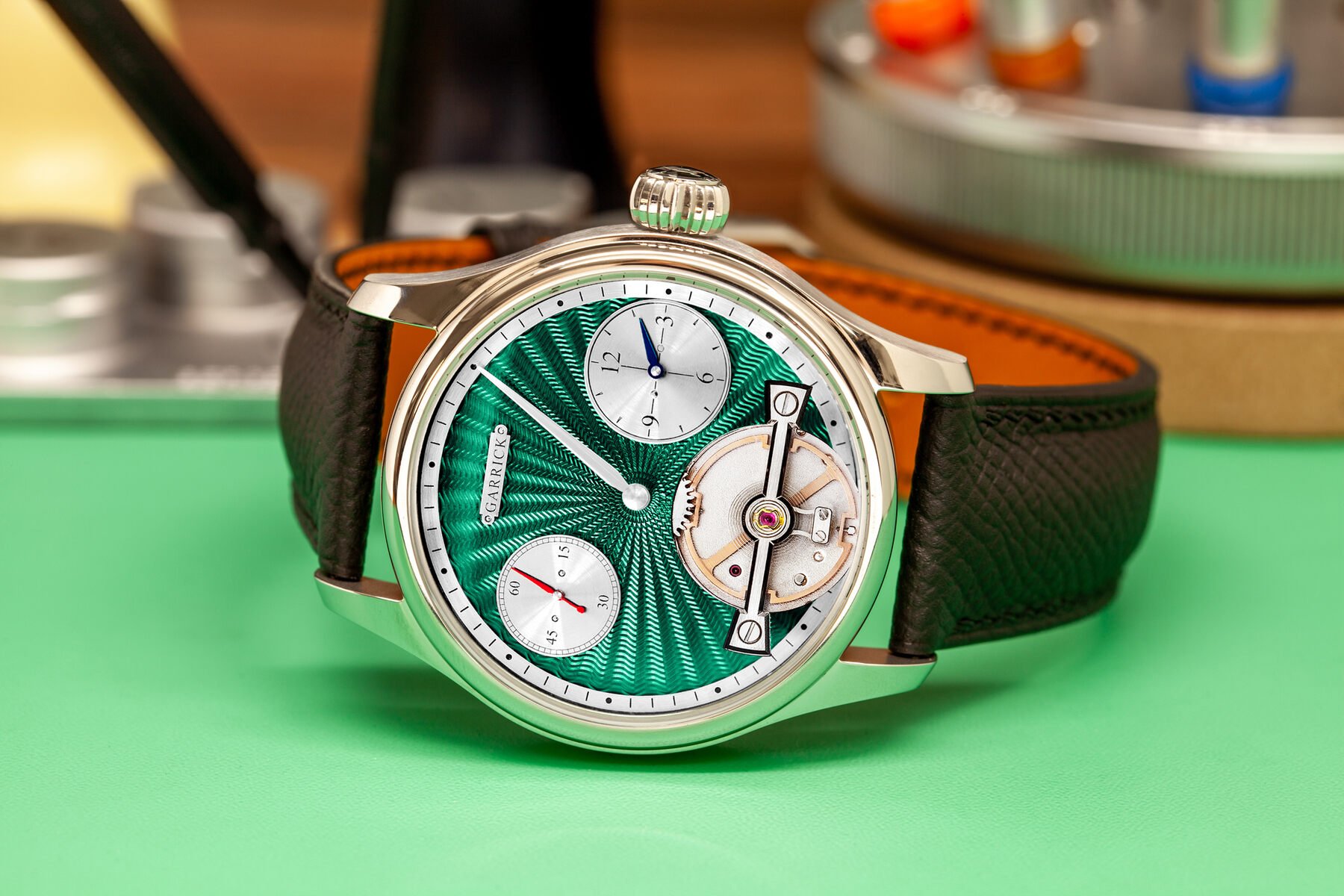 First impressions of a storied dial layout
As the MK II, this is an evolution of Garrick's first Regulator, and it's infused with the same charm and an important dial layout in watchmaking history. The Regulator is inspired by the late 18th and 19th centuries when timekeeping was a navigational aid with marine chronometers. The three-split layout of the Regulator was also present in many watchmakers' master clocks, the reference to which their other timepieces were set. Today it represents a look back at a rich history, while the Garrick Regulator MK II offers to encapsulate your style within an ergonomic 42mm steel case. And considering the starting price of £9,995, this represents value considering this small-scale watchmaker's production. With choices from frosted gray to vivid crimson engine-turned dials, it is very much a made-to-order wristwatch. And for under £10K, that is not a big investment in individuality today.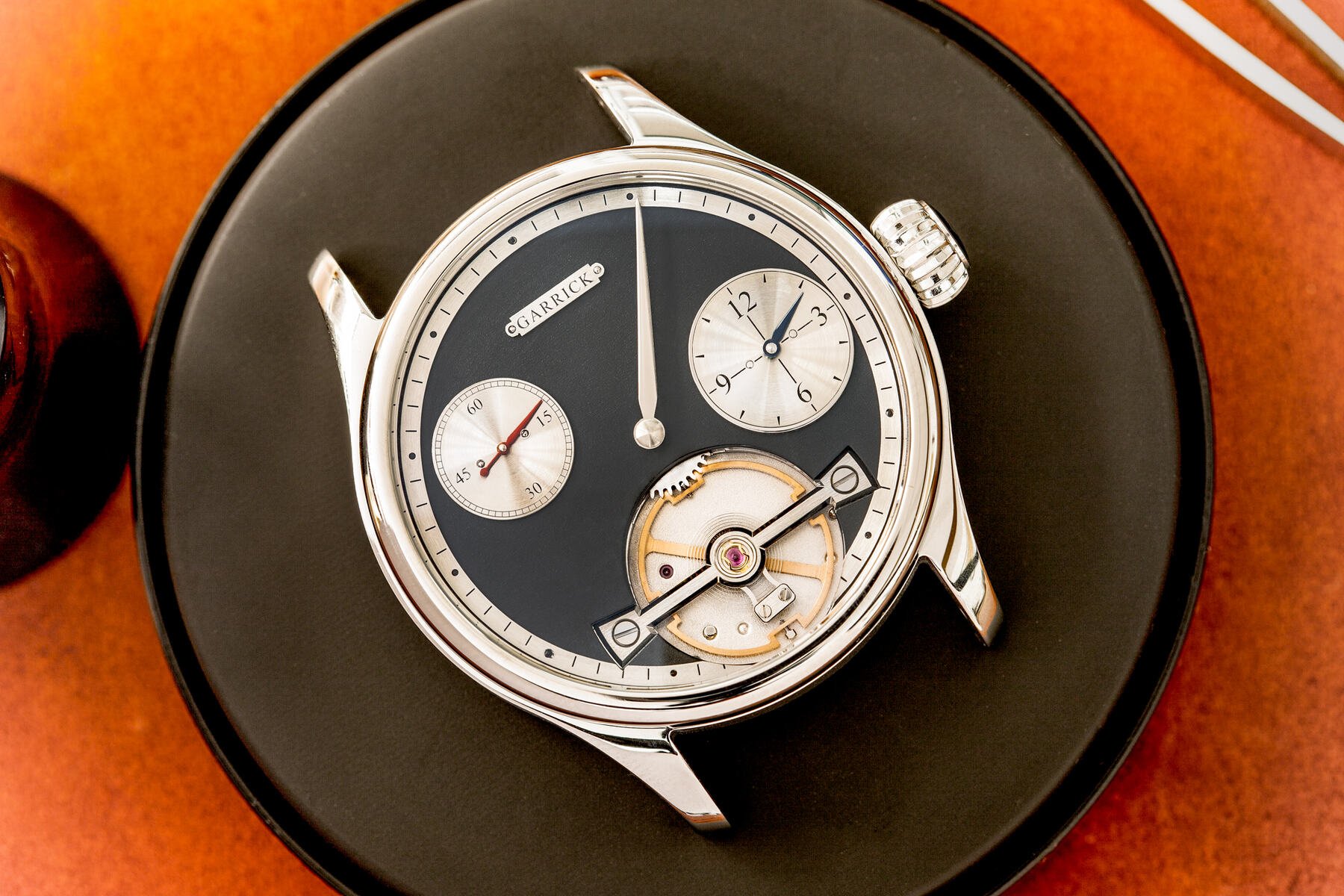 A twirling focal point
The dial choices for the MK II are many, with common parts in a sophisticated brushed or sunray steel finish. Among them is a brushed and engraved chapter ring with hand-filled markers encircling the dial. A sunray-brushed sub-dial at 10 shows the running seconds through a popping red pointer and detailed outer track. The hours are shown on a crosshair dial at 3 o'clock, and the lancet hands even come with a choice of polished, grained, or blued finishes. But the strong focal point here is the Trinity balance. Visible through a cutout at 6 o'clock, it's a feature of the Regulator we also saw in the Fears collaboration last year. And its free-sprung design makes for an ever-fascinating focal point. I can easily see myself lost in the options here, so "focus" is the name of the game.
It will remind you that this is not about style or a wrist flex but craftsmanship on an intrinsic level.
Affixed by a hand-beveled bridge and countersunk screws, it keeps pace with the seconds at 10, reminding us of the deeper soul of a mechanical watch. Now, I'm no stranger to an easy-going summer watch with a non-mechanical movement. But twisting the oversized onion crown and seeing the first oscillations of a frontside balance is something different. It will remind you that this is not about style or a wrist flex but craftsmanship on an intrinsic level.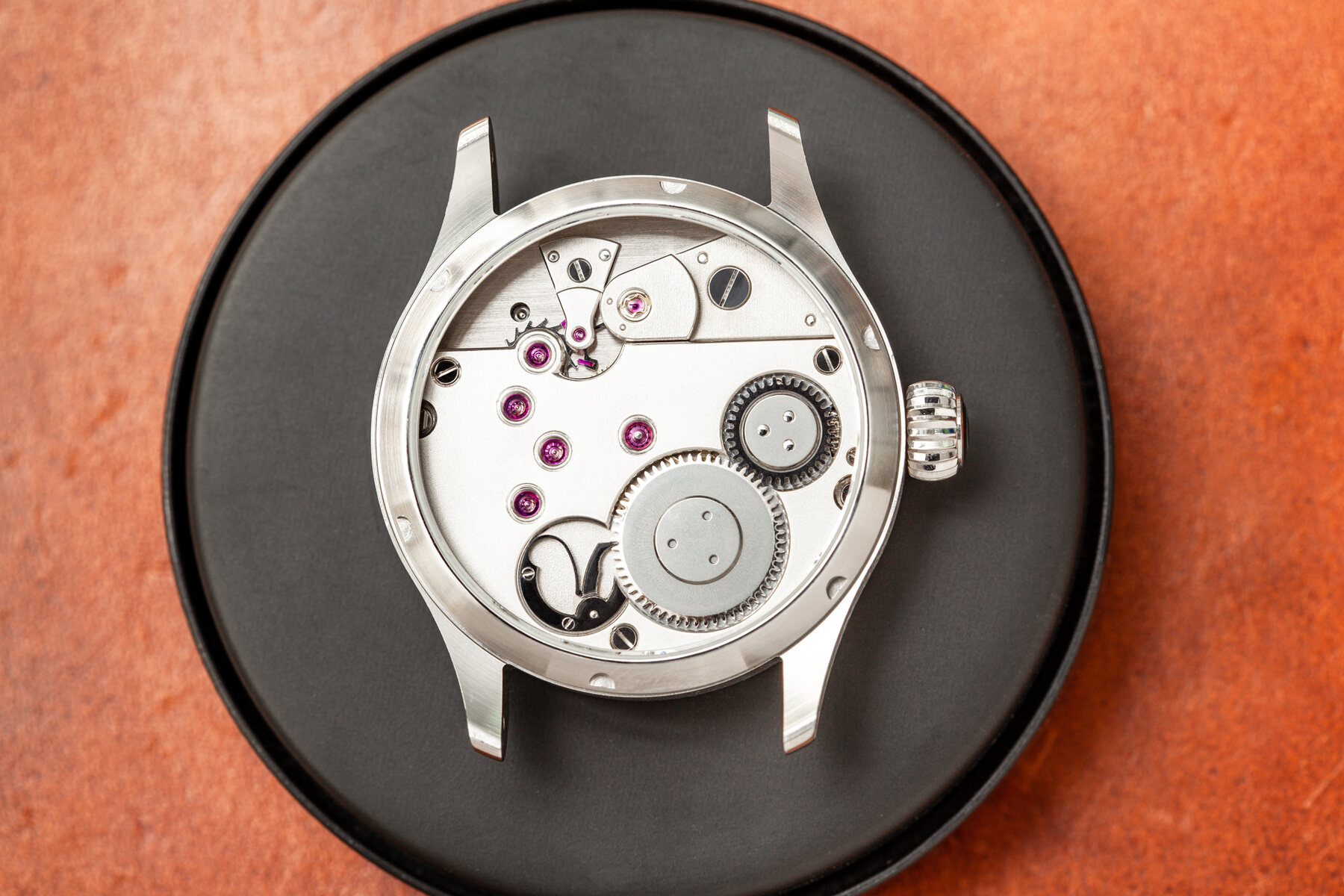 Choices, choices…
For me, the brilliance of the new Garrick Regulator MK II is its importance as a symbol. It represents a longstanding effort of small-scale British watchmakers. It's time they reclaim their place on the podium dominated by the Swiss for too long. But that doesn't take away from this piece's strong presence stylistically. There is a balanced harmony within the asymmetric dial. While the minute hand slowly turns on its own, the life-affirming movement of the balance makes for a dressy spectacle. Yes, I know many of you would like to see this in a smaller case size. I get it. But I enjoy the 42mm size for two big (no pun intended) reasons. For one, the oversize, hand-finished balance wheel deserves a sizeable dial. On top of that, the Regulator is enriched by its juxtaposed feeling of contemporary size with a traditionalist heart.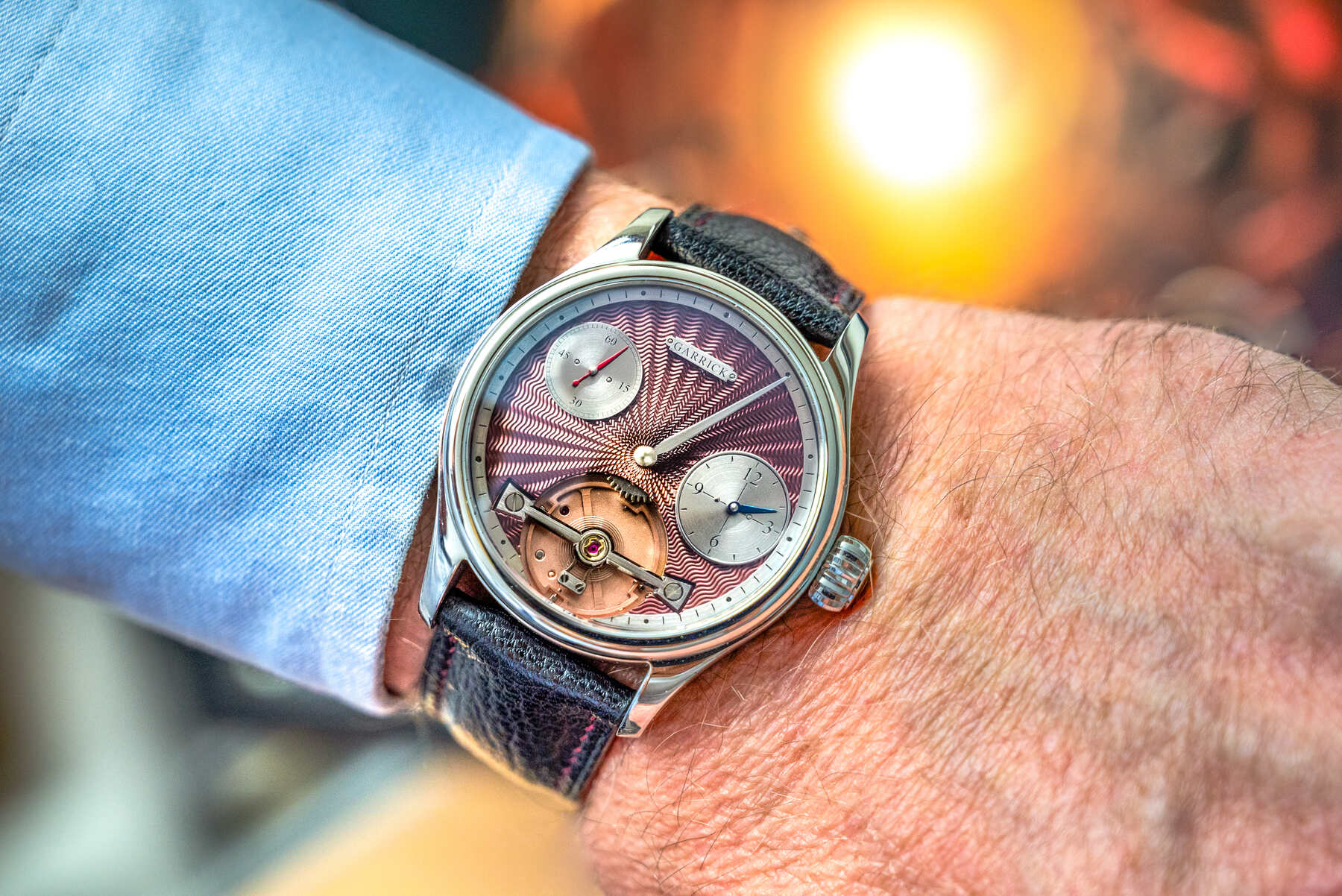 Final thoughts on The Garrick Regulator MK II
The in-house engine-turned dial is a Garrick trump card, and the intense guilloché pattern invokes a personality change. Its flamboyance is delightfully offset by the big crown and the sleek 42 × 10mm case design. So consider it a slim presence, with a 22mm lug spacing offering a wide choice of straps. If I had the choice, I would be torn between a suave, dark frosted dial and the extroverted engine-turned options. And consider this to be only a starting point. The UT-G02 caliber is assembled and finished by hand in the Garrick workshop, and its parts can be engraved, frosted, or black polished. Garrick's watchmaker Stuart Smith also bevels all of the movement's visible edges and bridges, adding another dimension to the Regulator.
The in-house-developed and -assembled caliber is regulated to keep within +5 seconds per day and comes with a gold or silver frosted finish as standard. Considering the options available from Garrick, each watch is based on client dialogue. So yes, the opportunities for further bespoke options are temptingly open. The big-balanced complexities of the Regulator MK II will also stand up to the rigors of everyday life better than you might think. Sure, its 19-jewel caliber, with its 18,000vph frequency and 45-hour power reserve might seem vintage-inspired in its details, but the Regulator MK II still has a 100m depth rating.
So, what do you make of this, Fratelli? Do the bespoke temptations of the Garrick Regulator MK II offer a tantalizingly good alternative to Swiss big-box brands? Let me know what you think in the comments.
Watch specifications
Dial
Frosted and engine-turned finishes available in a choice of colors with brushed steel chapter rings and logo plaque. Hands handmade in steel; grained, polished, or heat-blued hours and minutes hands; heat-blued or polished sub-seconds hand.
Case Material
904L stainless steel
Case Dimensions
42mm (diameter) × 10mm (thickness)
Case Back
Sapphire steel with sapphire crystal, screw-in
Movement
Garrick UT-G02 — manual winding, 18,000vph frequency, 45-hour power reserve, 19 jewels, in-house free-sprung balance, tested and regulated to a daily variance of +5 seconds, gold or silver frosted finish
Water Resistance
10 ATM (100 meters)
Strap
A choice of leather straps (22mm width)
Functions
Time only — regulator display with central minute hand; seconds and hours displayed on separate sub-dials
Price
Frosted dial: £9,995 ex. VAT (outside the UK) and £11,994 inc. VAT (UK) | Engine turned dial: £10,995 ex VAT and £13,194 inc. VAT (UK) | Bespoke Garrick Regulator MK II: POA