Introducing: The HYT Conical Tourbillon Infinity Sapphires 
A dazzling twist on the brand's most intricate design
The Neuchâtel-based watchmaker HYT launched into the horological universe some ten years ago with a hydromechanical watch that indicated the time using brightly colored liquids. Then, earlier this year, HYT brought out the impressive Conical Tourbillon Black Eklipse (limited to just eight pieces). Now the brand has introduced its latest watch, the HYT Conical Tourbillon Infinity Sapphires. This model builds on the Eklipse, offering much of the same except with a different aesthetic twist.
Earlier this year, my colleague Lex described the HYT Conical Tourbillon Black Eklipse "like a star system within a star system — a system gone rogue." It is a pretty accurate summation of my first impressions of HYT's latest offering. Except rather than rogue system or some alien galaxy, this HYT reminds me of very own galaxy lit by the Sun.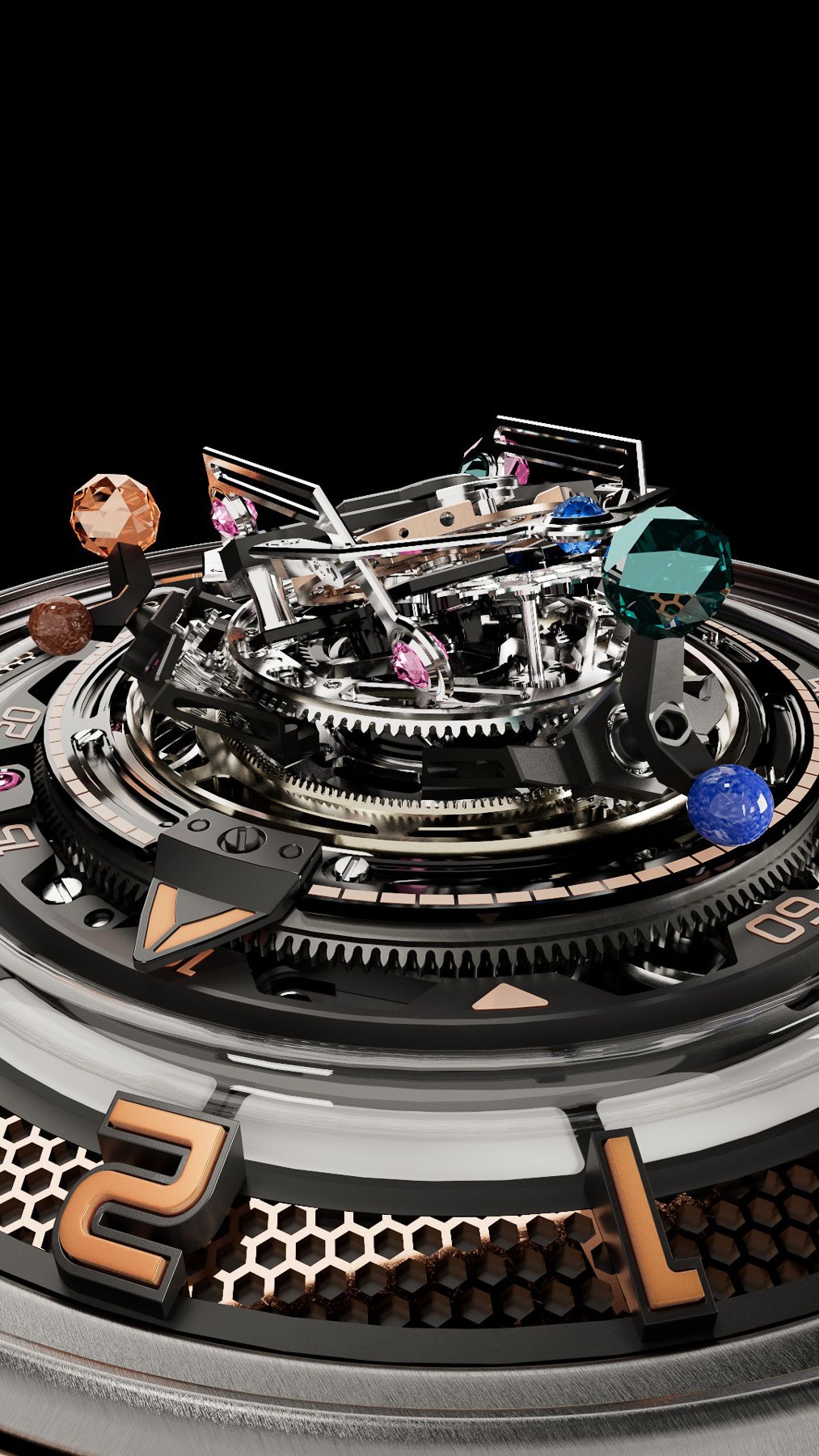 The HYT Conical Tourbillon Infinity Sapphires shines bright at an angle
The HYT Conical Tourbillon Infinity Sapphires utilizes the same central tourbillon system exhibited in the Eklipse. This means that it is not simply any tourbillon but a tilted one. Eric Coudray, a master watchmaker at HYT, proceeded with this design on the basis of similarly inclined-balance tourbillons first developed in the late 1920s by Walter Prendel, a German watchmaker based in Groitzsch. Prendal had built a six-minute flying tourbillon with a 30-degree angle and tilted balance to improve the tourbillon's overall stability. Here, the spiral balance is on a 30-degree incline, with the escape wheel at 15 degrees and an anchor at 23 degrees, just like with the Eklipse. 
The tourbillon itself makes a complete clockwise rotation in 30 seconds. Surrounding the edges of the tourbillon are three faceted 2.5mm sapphires, which look like brightly colored planets orbiting the central motion of the tourbillon that draws your eye in. The gems, each a different color, rotate at different speeds, creating a dazzling array. Each sapphire is tracked with a counterweight that has its own color. Moving further in, we find six smaller sapphires, at around 1.5mm, set within brackets.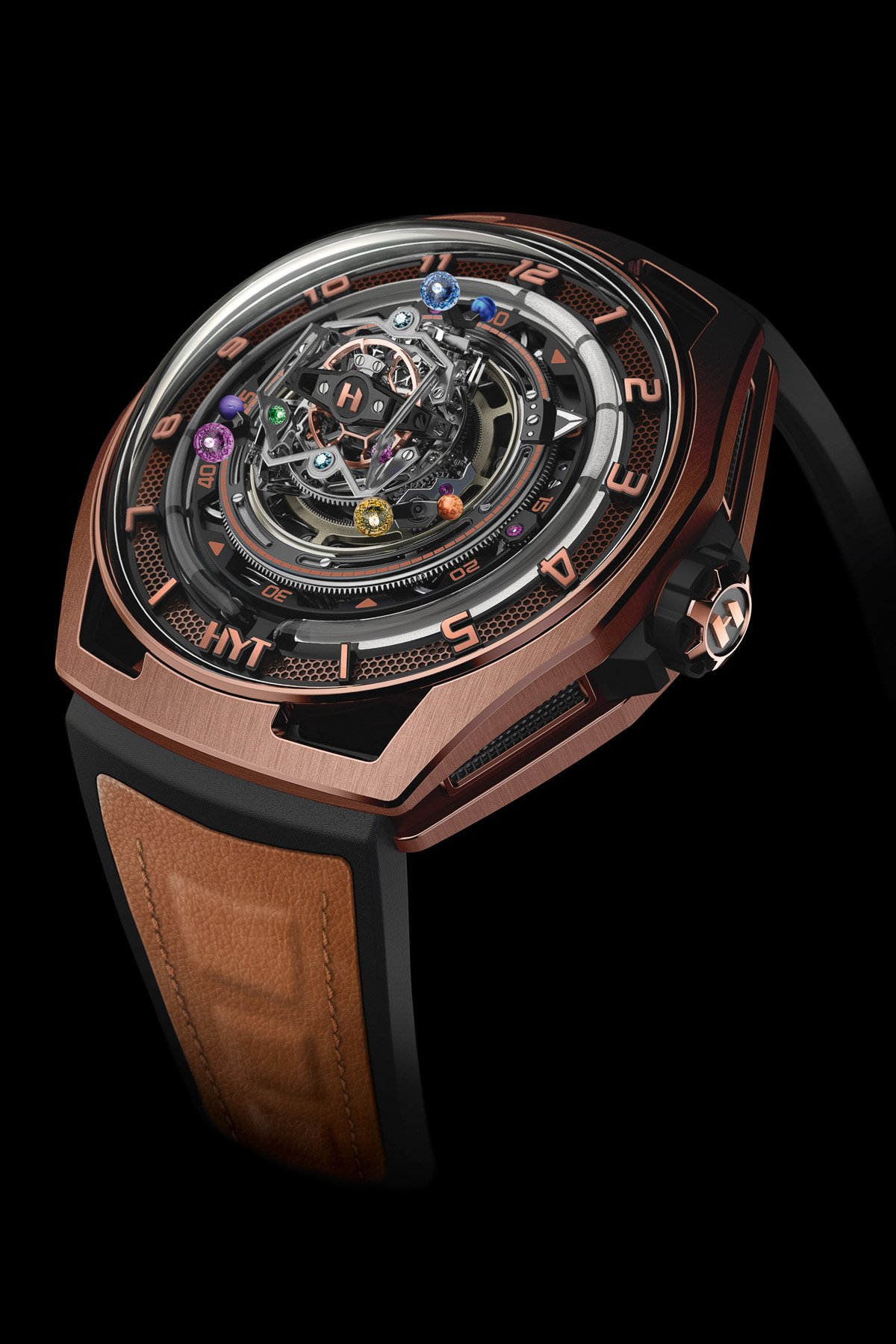 The HYT Conical Tourbillon Infinity Sapphires
The case and crown are made of 5N gold, also known as red gold, and black-coated titanium. The case itself is 48mm wide with a lug-to-lug length of 52mm and a thickness of 25mm. Yes, you read that last number correctly, though we can put attribute much of it to the tourbillon and the intensely dome-shaped, antireflective crystal. The dial is black-coated brass with black-coated appliques and beige lumed numerals. The watch also comes with a black rubber strap with brown leather inserts and a sandblasted titanium buckle.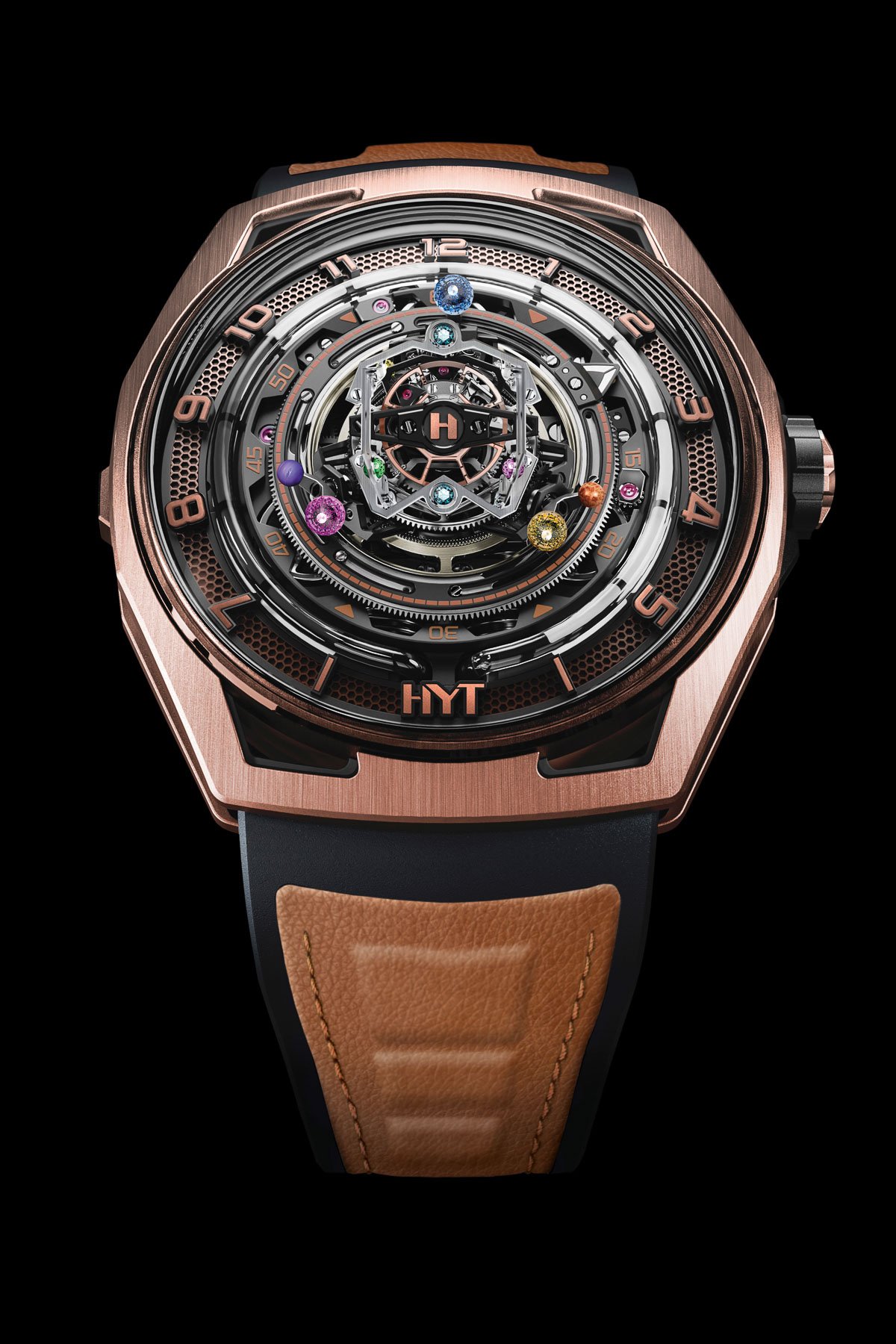 Moving to the movement is where things get serious: Besides a central minutes hand, the hand-wound 701-TC movement in the HYT Conical Tourbillon Infinity Sapphires has retrograde fluidic hours, a tourbillon (no surprises there), and nine colored sapphire fixtures amounting to 0.35 carats. The 701-TC has a 40-hour power reserve, 61 jewels, and a 3Hz frequency (21,600 vibrations per hour).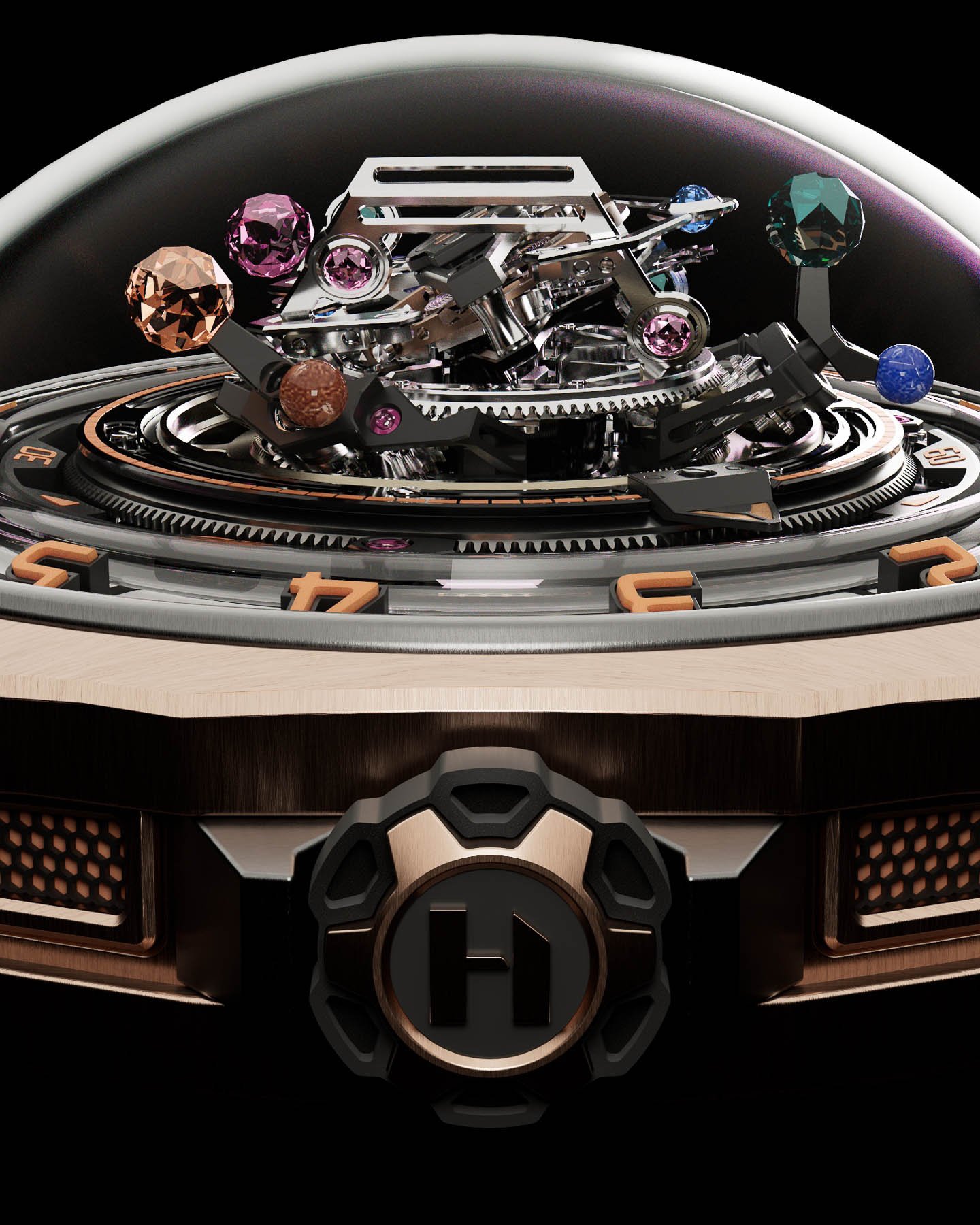 Final thoughts
The movement itself has many of the hallmarks of a very highly finished caliber, including chamfers and a mix of straight graining, satin-finished bridges, and polished screws. It is all there. In addition, it features what the brand calls a "chaotic animation." By this, HYT means that the rotating spheres create an animation of sorts by the fluidity of their movement.
The watch is water resistant to 3 ATM, making it not particularly pool friendly, though why you would take a tourbillon into the pool or the ocean escapes me. My colleague Lex noted in his original article that the 701-TC movement is quite loud in an endearing and fascinating way, so I would love to see what one of these looks (and sounds) like in the metal. But as a limited edition of just eight pieces with a price of CHF 390,000 before taxes, this is a rare and expensive bird indeed. What do you think, dear Fratelli? I would love to read your impressions in the comments.
Watch specifications
Model
Conical Tourbillion Infinity Sapphires
Dial
Skeletonized black-coated brass and red gold with black-coated appliques and beige lumed numerals
Case Material
18K red gold (5N) and black-coated titanium
Case Dimensions
48mm (diameter) × 52mm (lug-to-lug) × 25mm (thickness including crystal)
Crystal
Ultra-domed sapphire with dual-sided AR coating
Movement
HYT 701-TC — manual winding, 21,600vph frequency, 40-hour power reserve, 61 jewels, 533 components, central conical tourbillon with multicolored sapphires (0.35 carats)
Strap
Black rubber with brown leather inserts and sandblasted titanium pin buckle
Functions
Time (retrograde hours with fluid display, minutes), 30-second tourbillon with chaotic animation
Special Note(s)
Limited to eight pieces