Introducing The Oak & Oscar Humboldt GMT
A great choice in the GMT field comes from Chicago
It's not every day that we get a new Oak & Oscar release, so when one comes along, I tend to give it a long look. I've enjoyed how the small Chicago-based brand has kept a consistent design ethos since its first watch in 2015. That trait of instant recognizability is something that fans seem to love. And why not? Oak & Oscar makes solid watches that serve a purpose while boasting big-brand level finishing. Thankfully, today's new Humboldt GMT continues those trends.
Since 2015, we've watched Oak & Oscar morph from a maker of limited-edition watches to a brand that offers serial-production pieces for a period. The Olmsted 38, for example, is still on offer in two of its three colorways (the white dial is coming back). The original Humboldt, a rugged piece with an external rotating 12-hour bezel, was on sale for four years and is now sold out. I like this strategy because it flies in the face of the current trend of "FOMO," secondary market gouging, et cetera. Happily, the new Humboldt GMT will be a normal production model.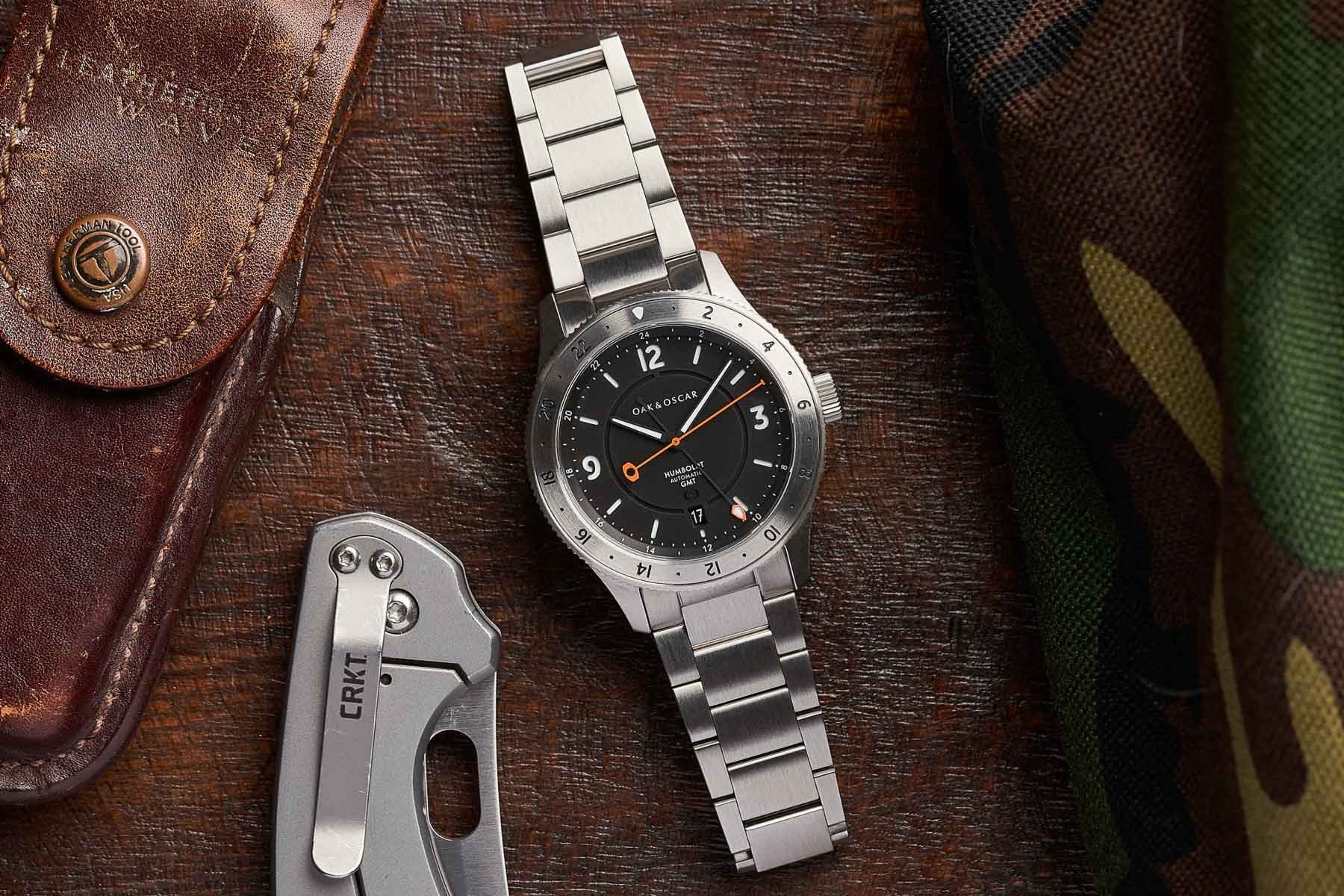 The new Oak & Oscar Humboldt GMT
As the name implies, the Humboldt GMT offers one of watchdom's most practical complications. Much like a certain unobtanium reference from a certain Swiss brand that loosely rhymes with "Bowflex," the new Oak & Oscar comes with an external 120-click rotating 24-hour bezel and an extra hand on the dial. GMT fans will be happy to hear that the Sellita SW330-2 automatic powers this watch. I say that because it allows the wearer to quickly set the 24-hour hand — something I really like as well.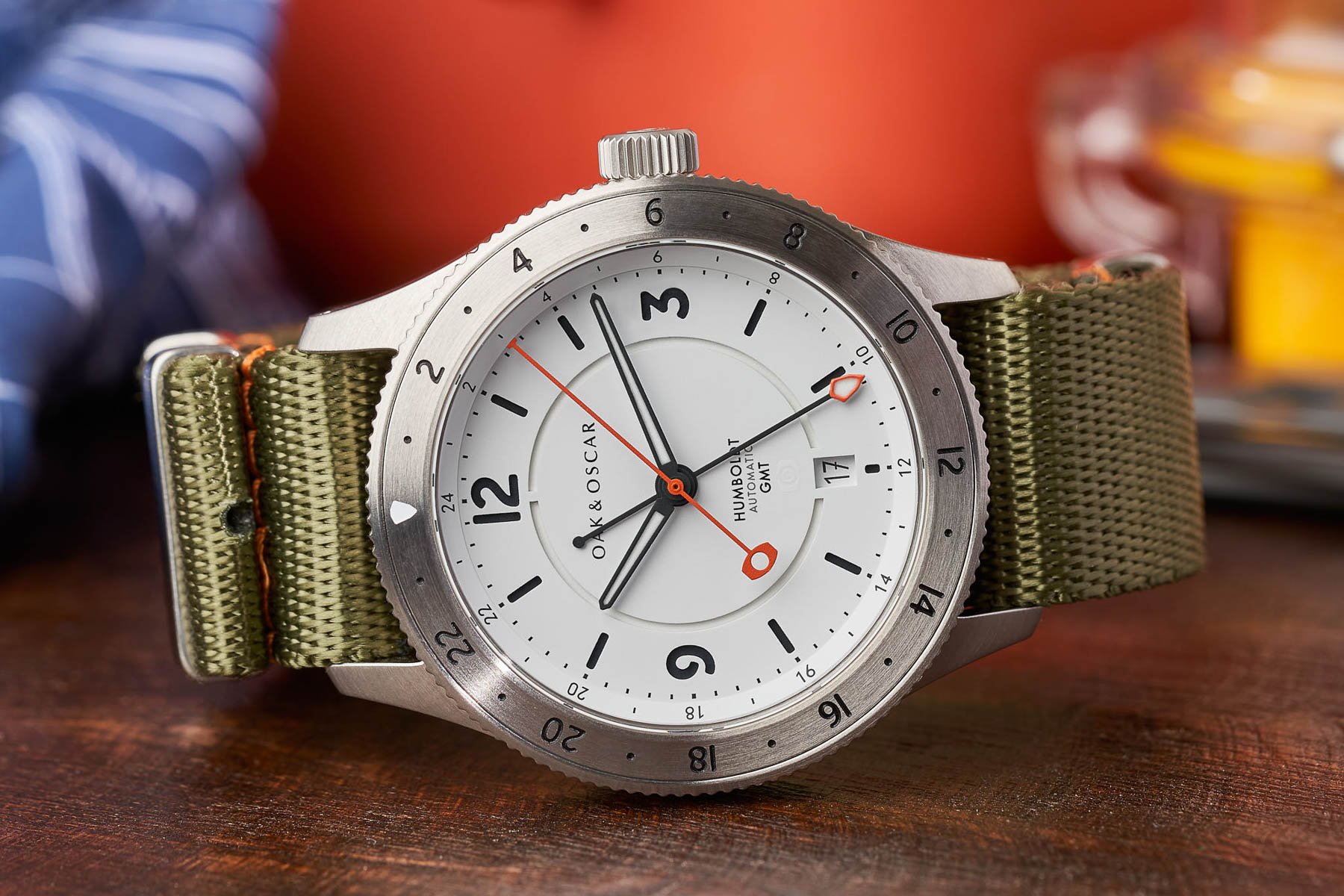 Anti-magnetic and shock-resistant
The Humboldt GMT brings some additional treats along for the ride that are all firsts for Oak & Oscar. First, the movement sits within a Faraday cage to help ward off the effects of magnetism. Second, and at the same time, that cage is rubberized for shock protection. On the bracelet side of things, the same excellent fully articulated links return, but this time they're paired with a new clasp. Oak & Oscar has designed this new clasp with a toolless six-position micro-adjustment.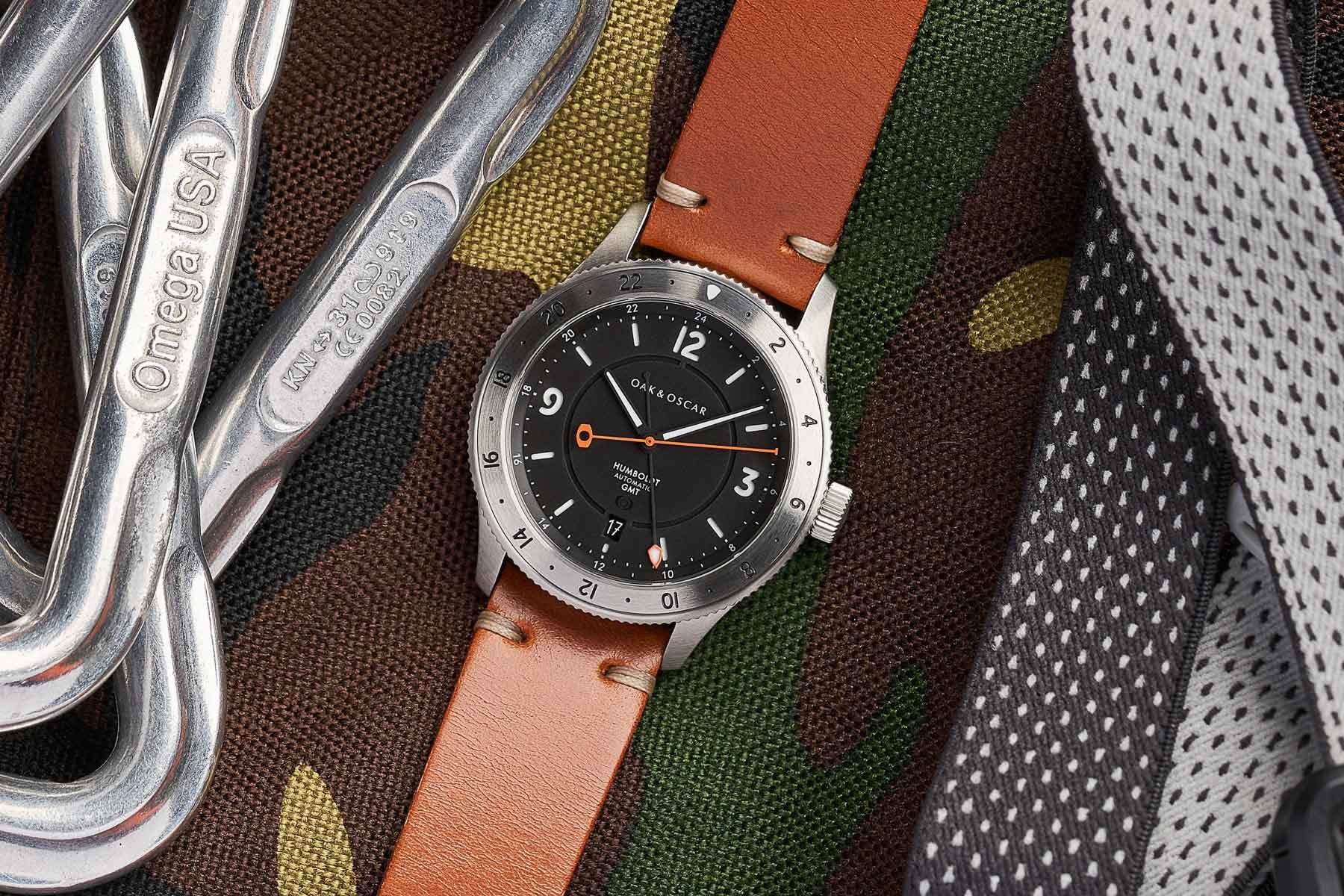 As far as colors, the Humboldt GMT will be available in three options. First, there is a white-dialed version. This model has black numerals and batons under its sandwich dial. In this case, Super-LumiNova BGW9 is used on the hands, the arrowhead-shaped bezel pip, the 24-hour hand, and in a ring just inside of the indices. On the black-dialed version (the brand's first-ever matte black dial, by the way), the numerals and hour markers receive the lume treatment along with the hands. Thirdly, there's a navy variant that follows the black version as far as lume application. It's a neat difference that drives distinction between the three models.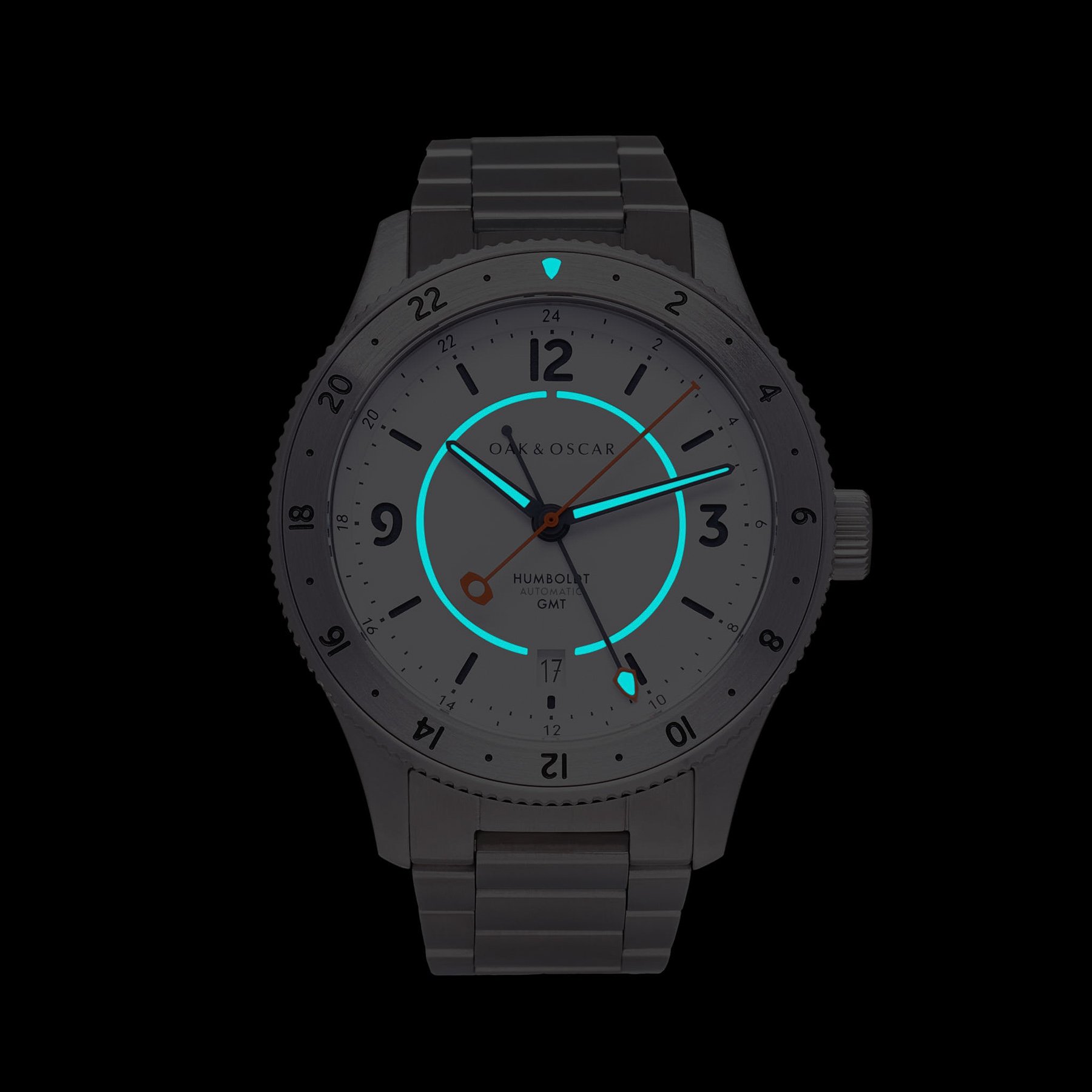 Three dial options and serious wearability
As far as the dimensions, the Humboldt GMT retains the same wearability as the original 12-hour model. The case is 39.5mm in diameter with a 40mm bezel and a 46.8mm lug-to-lug span. The thickness is an attractive 12.5mm, and the lug spacing comes in at 20mm. Oak & Oscar offers 200 meters of water resistance along with a screw-down crown and a double-domed sapphire crystal.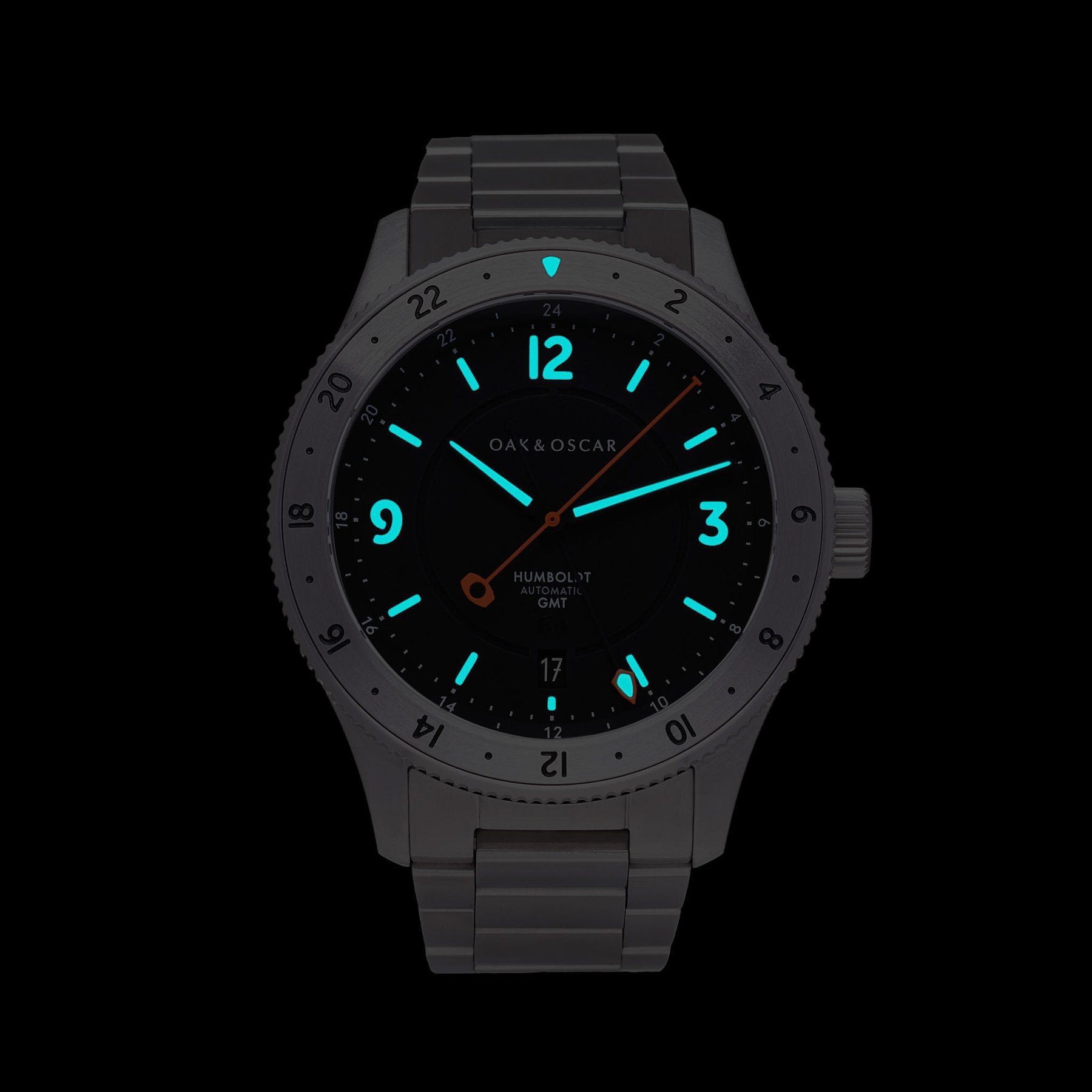 I've always enjoyed Oak & Oscar watches and the Humboldt GMT is no exception. I like that they're serious pieces that are made to be worn day in and day out, which is something I cannot say about the offerings from many "microbrands". Those brands often offer something a bit niche, whether that's a loud color or a play on a weird '70s design. They give us something fun that we wouldn't spend big money on from a more established brand. The problem that I find with these fun watches is that they're just that —"fun". They end up in the drawer at some point. When I look at an Oak & Oscar, I actually see watches that look mature enough to compete with big brands.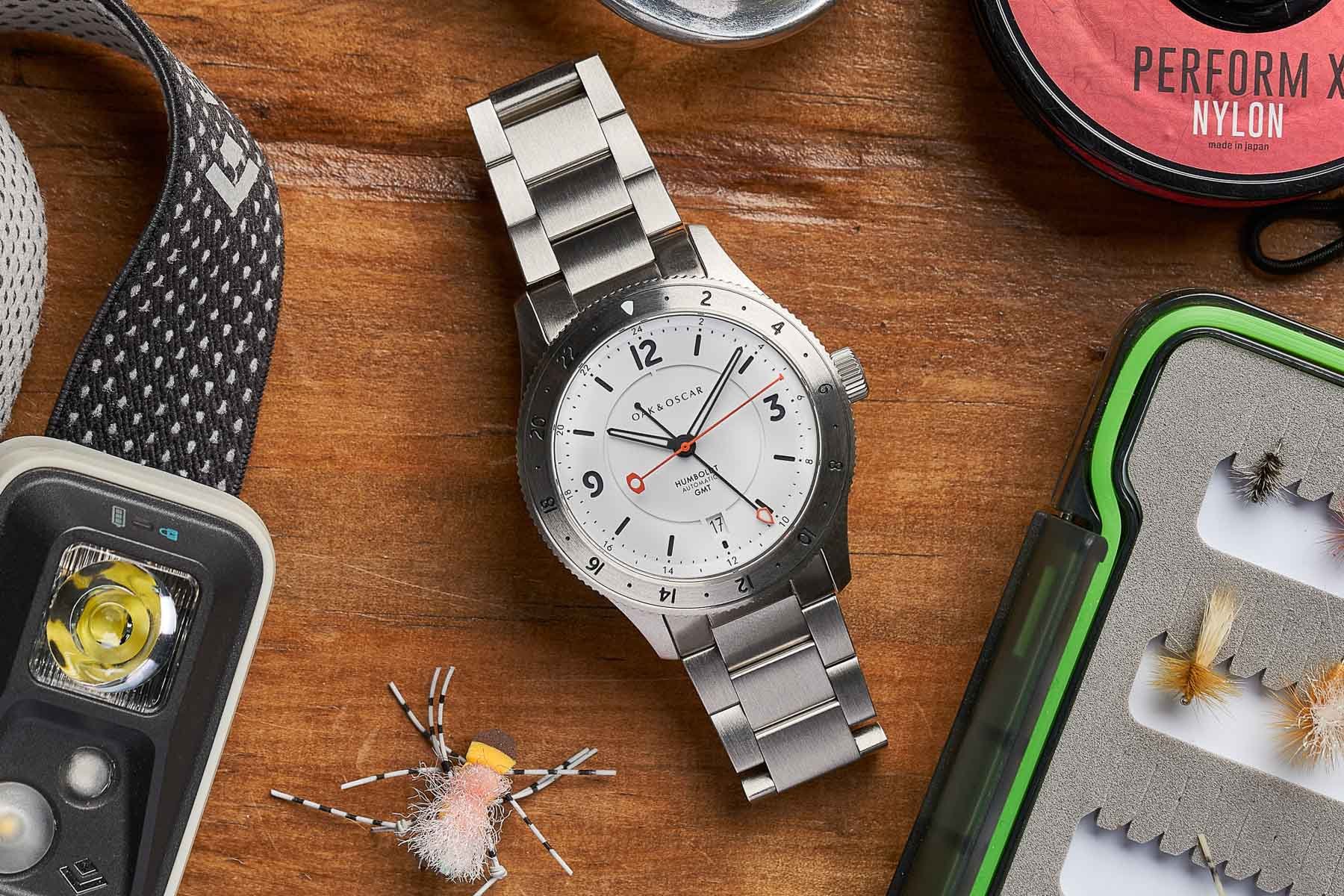 Final thoughts on the Humboldt GMT
Just look at the Humboldt GMT. In any guise, it's great! In fact, I'd say that these are probably my favorite Oak & Oscar watches yet. The entire watch just feels well executed. In fact, I like this watch as much or more than some GMT pieces costing double or triple. On that front, potential buyers should be pleased with the pricing. The bracelet version will launch with a price of $1,985 (normal pricing will be $2,125) and a version on brown Horween leather will ring in at $1,825 (normal pricing will be $1,925). No matter which you choose, a handy canvas wallet and a nylon strap will accompany the watch. Expect the new GMT to ship within 5-10 weeks. Final verdict: this release was truly a nice surprise!
For more information and to order, visit the Oak & Oscar website.