Introducing The Oris New York Harbor Limited Edition Aquis
Seafood has never been so good
Oris has done it again. The "Change for the Better" mission brings us a new environmental partnership and new limited-edition Aquis. I've been excited about this one since I first heard that something was happening in New York regarding a new Aquis. Notably, this is a limited-edition model attached to my home turf — the United States. But now that I've seen the images (and will soon see the watch in person) I'm excited about Oris's new use of mother-of-pearl in an Aquis watch. And what a dial! Though mother-of-pearl comes in a myriad of colors, in the New York Harbor Limited Edition, it's an understated pastel green, matching the hue of the waters of its namesake. But what can New York's harbor offer as far as environmental activism? Well, I hope you like oysters.
I'm sitting in the Sacramento airport about to head to New York for what is undoubtedly going to be a great time of an Oris watch release. More on that in a later article. It's not often that a dense urban center, a restoration-focused environmental non-profit organization, and a watch release all align. It makes travel for the press and everyone else a little easier. Personally, I'd never turn down an excuse to venture into the wilderness. But, for all its glass and steel, New York City is still a part of the natural environment around it. And some good, hard-working folks decided it was time the city gave back to the environment it has long depended upon and affected. If people get to enjoy some quality seafood along the way, that's just a perk.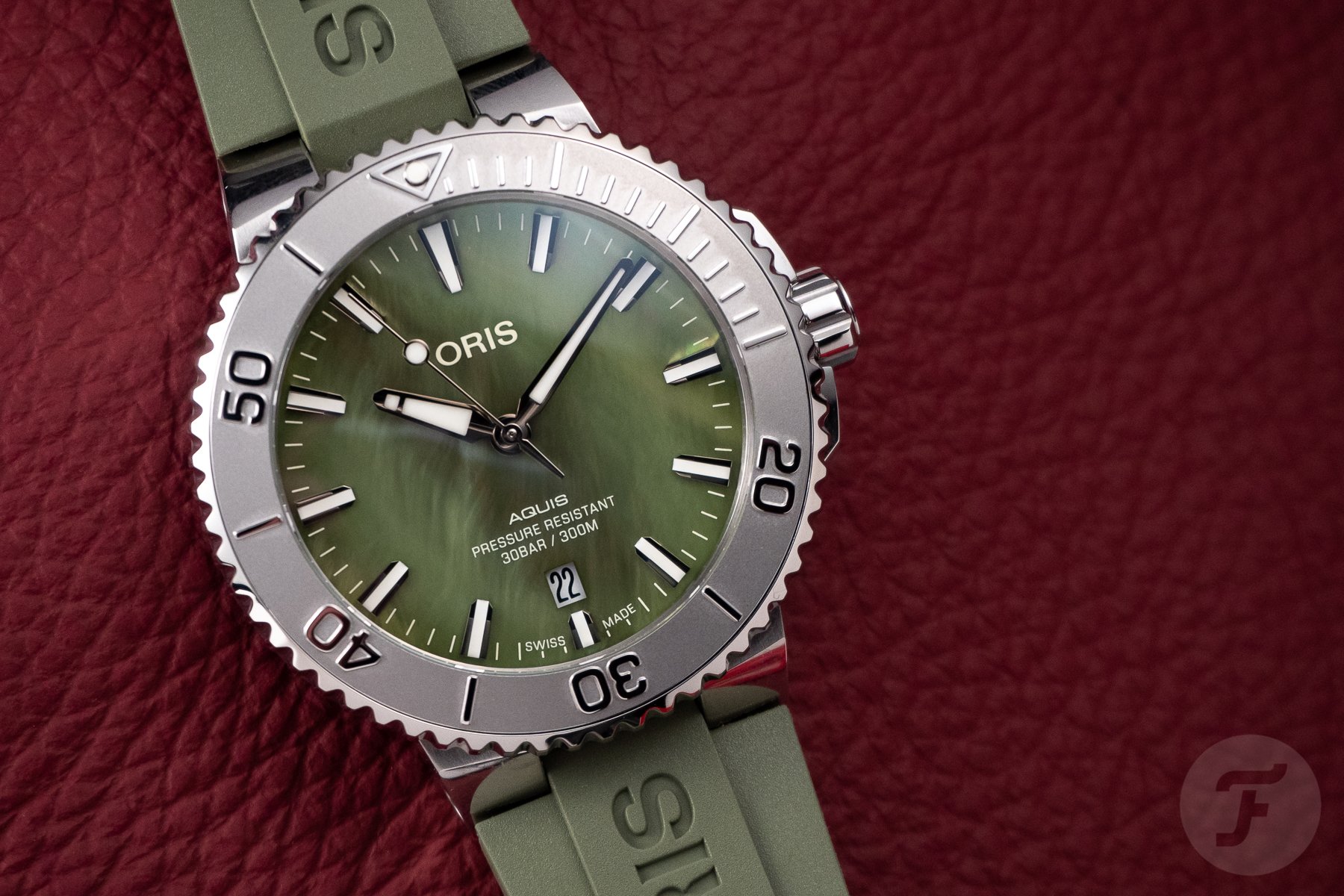 The importance of oysters
Unlike Oris's efforts with Lake Baikal or the Wadden Sea and the associated organizations, this partnership is more function-focused than just the general preservation of a site. Restoration is the focus. Before New York Harbor became a sludge pit of pollution in the 1900s, it supported 220,000 acres of oyster reefs. Now, the gourmands among the readers may be salivating, but oysters don't exist solely for being sucked down with a squeeze of lemon.
An adult (living) oyster can filter as much as 50 gallons of water a day. Established oyster colonies are habitats for other lifeforms. In the pristine, pre-Industrial Revolution waters of New York, the filtration and ecosystems that the oysters provided were just a part of a whole. It was business as usual, as far as nature is concerned. But in our current climate predicament, we need all the help we can get in purifying our waters. It's time to rebuild the oyster population. Enter the Billion Oyster Project.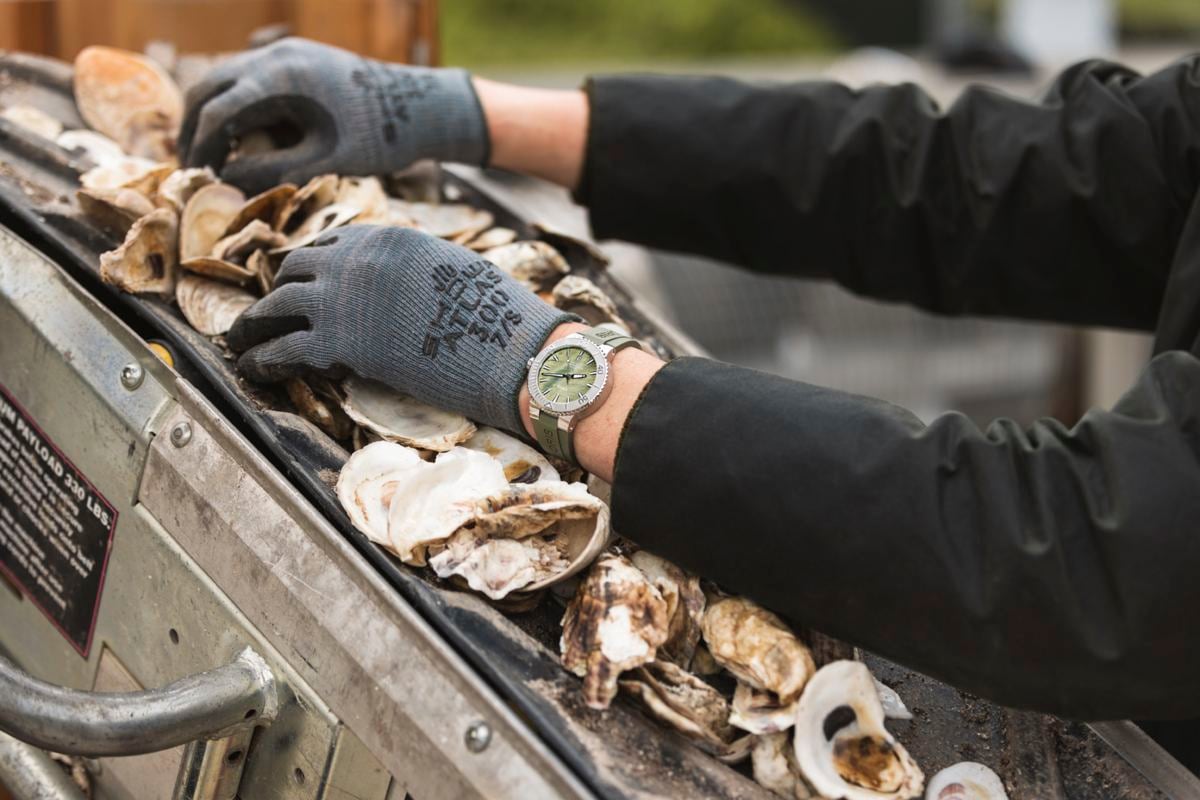 Billion Oyster Project
So far, Billion Oyster Project has seeded 14.5 acres of the New York Harbor, introducing some 75 million juvenile oysters to their new homes. This has been a monumental effort involving over 11,000 volunteers and 8,000 students. Oh, and over 50 New York restaurants. Because the trick to creating new oyster beds is old shells. Each week, Billion Oyster Project collects 6,000 pounds (2,722 kilograms) of reclaimed oyster shells and begins the long process of making them into new oyster habitats.
It takes over a year from restaurant to harbor, but the ball is rolling now. Pete Malinowski, executive director and co-founder of Billion Oyster Project, hopes to eventually engage over one million people in the project and bring back over one billion oysters by 2035. It's promising to see organizations such as Billion Oyster Project take the initiative not to conserve but to restore natural habitats and processes. It's a project worth promoting.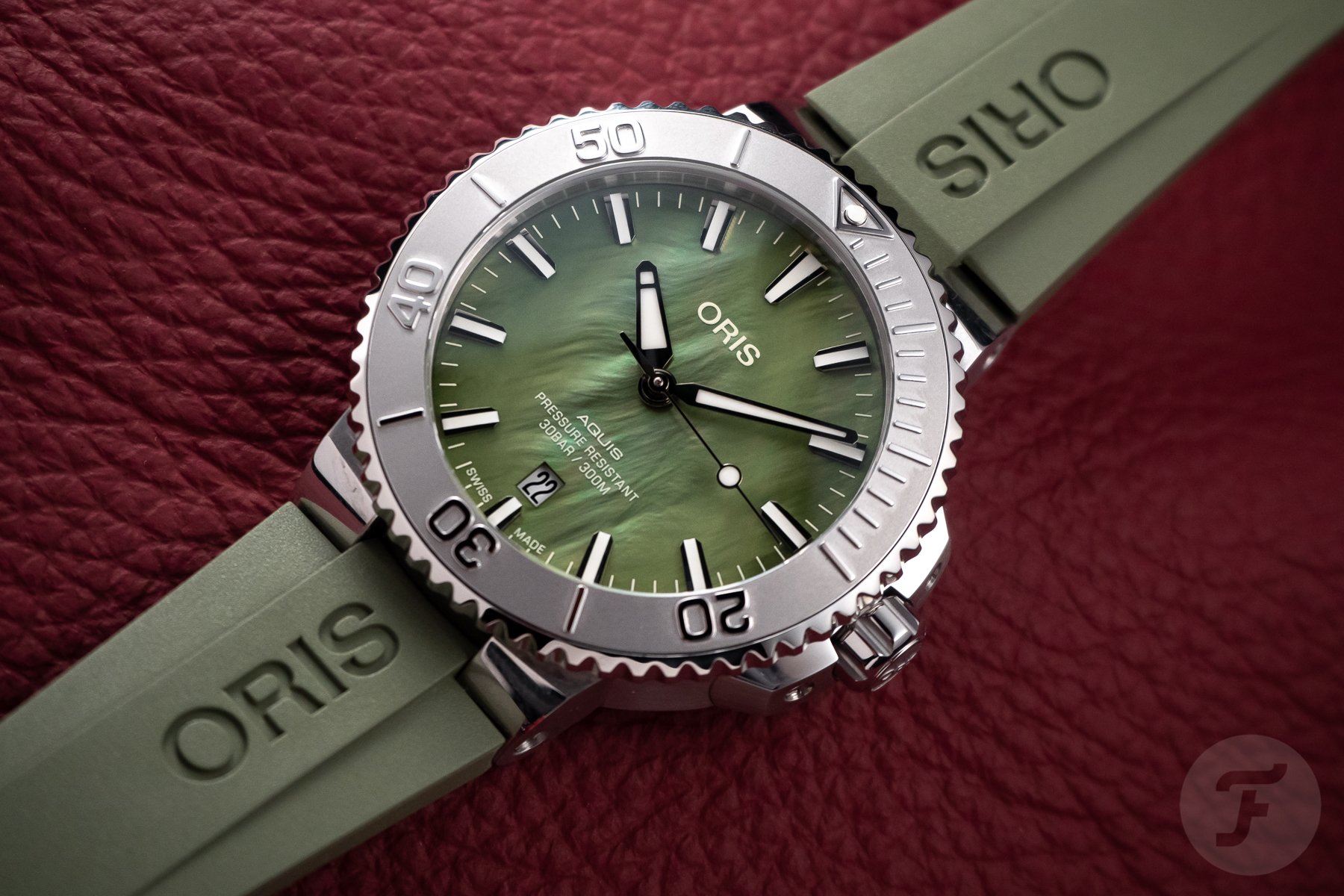 Oris New York Harbor Limited Edition Aquis
Promoting is exactly what the Oris New York Harbor Limited Edition is doing. Of course, some percentage of sales of the 2,000 limited units will go directly to Billion Oyster Project. At CHF 2,400 per watch, that could be a decent amount. But Oris's role is less about financial support and more about increasing awareness. That's something I've touched on before regarding the brand's environmental partnerships. I think it's great that Oris is now playing with unique dial materials (the Aquis Upcycle was a great start). Mother-of-pearl has a demand, even if it's a niche one, and Oris could've released this Aquis unconnected to any good cause. I'm thankful that the brand has paired such a unique watch with such a fitting and unique approach to environmentalism.
And that watch is something. Of course, the dial captures the attention. Not having the chance to handle an example yet but having experience with other examples of mother-of-pearl, I imagine there is a shimmer and glow to the Aquis dial. That quality paired with the unique green color can't help but evoke images of calm waves and ripples of murky green water, perhaps not unlike New York Harbor. I'll get a chance to get my hands on an example soon enough and get back to you on whether the poetry actually exists.
Now, mother-of-pearl doesn't actually come in that color of green. Not naturally, at least. To achieve the desired effect for the New York Harbor Limited Edition, Oris worked out the perfect combination of mother-of-pearl overlaid upon a pigmented background. The results speak for themselves and open the door as to what is possible for mother-of-pearl dials.
The Aquis specs
The watch comes paired with a similarly-colored rubber strap and standard steel Aquis bracelet, matching the stainless steel case for when one wants to dress it up. The 41.5mm diameter should make this model wearable on almost all wrists. The bezel is a cool sandblasted steel with raised, polished numerals and polished edges. All other elements, like the handset and hour indices, are typical of the Aquis. The date window sits at 6 o'clock as well.
As pretty as the mother-of-pearl dial makes it, this Aquis is just as sea-worthy as the rest with 300 meters of water resistance. A double-domed sapphire with an anti-reflective coating ironically keeps that mother-of-pearl from getting wet. Inside the watch is the Sellita-based Oris 733 caliber with the trademark red rotor, but you won't see it. The case back is a solid steel embossed number, depicting what else but a cluster of oysters? Again, for the foodies among the Fratelli, that might be an even more welcome sight than the movement.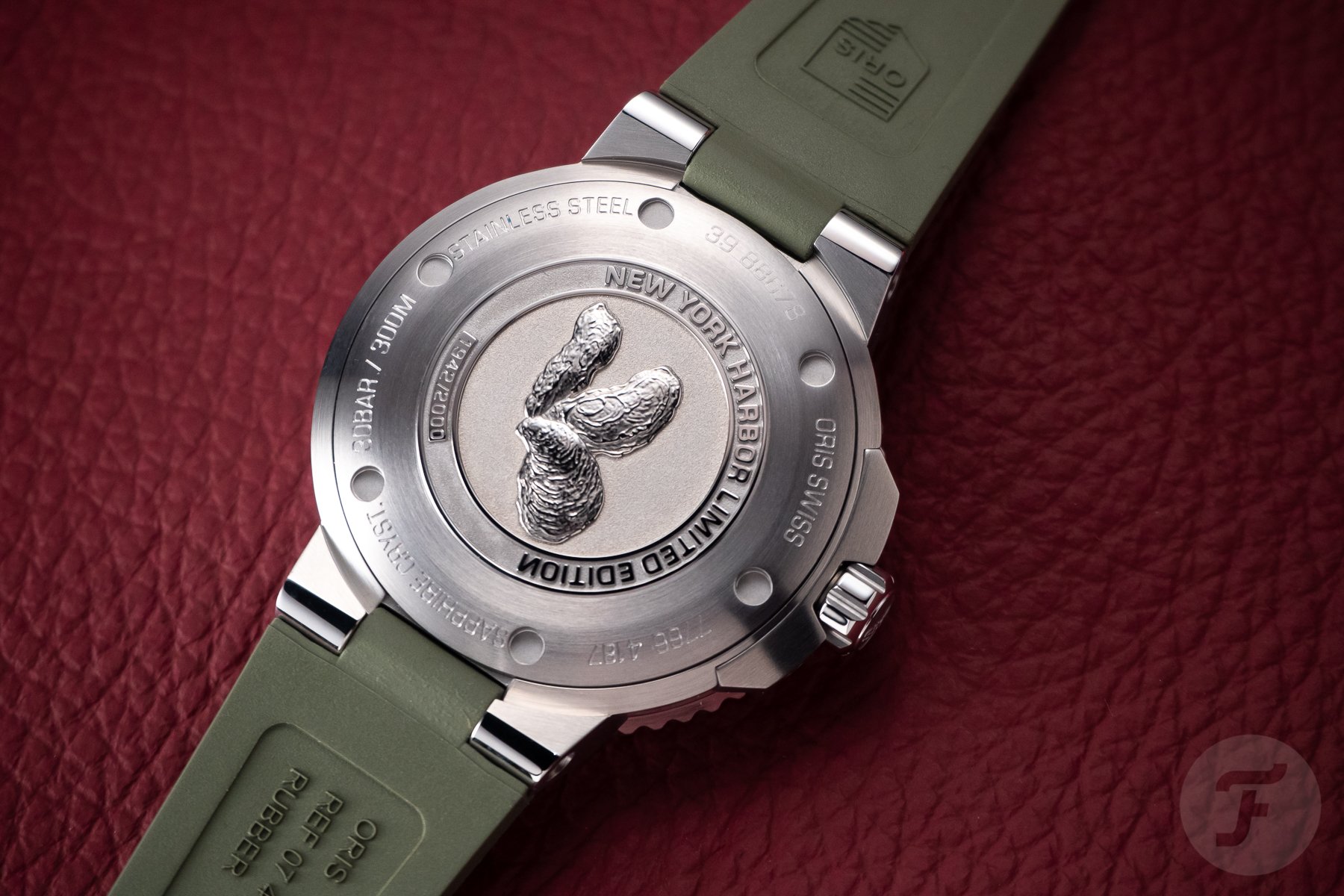 Change for the Better (and tastier)
The Oris New York Harbor Limited Edition (can we just call it the Oyster? Or will Rolex sue?) is a departure in many ways from the brand's previous limited editions. We're seeing a new dial material (as far as I'm aware), and we're also seeing a partnership with an organization that is, in my mind, very un-sexy as far as environmentalism goes. Selling the allure of repurposing diners' slurped-up oyster shells for rebuilding oyster beds in an industrialized harbor is no easy job (and I've tried). It's nowhere near as attractive as, say, preserving a pristine lake or a tidal flat. Yet, as a cause, it's every bit as worthy.
If anything can benefit such a worthwhile and smelly endeavor, it's a partnership with a luxury watch company to produce a watch that is undeniably more attractive and straightforward than the elevator pitch. Here's to all the interesting conversations that the 2,000 units of this interesting watch will spark. Good luck, Mr. Malinowski and the Billion Oyster Project, and good on you.
You can find more information about the New York Harbor Limited Edition and the Billion Oyster Project on the official Oris website.
Watch specifications
Model
New York Harbor Limited Edition Aquis
Dial
Green mother-of-pearl
Case Material
Stainless steel
Case Dimensions
41.5mm diameter
Crystal
Domed sapphire with anti-reflective coating
Case Back
Etched stainless steel
Water Resistance
30 bar (300 meters)
Strap
Green rubber strap plus stainless steel bracelet
Functions
Hours, minutes, seconds, and date
Special Note(s)
Limited to 2000 pieces