Last week, we were invited to join IWC on this beautiful location at 'Kasteel de Hooge Vuursche' to have a look at the new IWC Ingenieur Chronograph collection. Although we already saw them earlier this year in Zürich during the Passione Caracciola (report can be found here), we wanted to have a closer look.
Goodbye Genta
From what we understood during the presentation, IWC is moving away from the famous Gérald Genta design for their Ingenieur collection. Instead, they want to come with an Ingenieur collection that is based on their 1955 Ingenieur reference 666 model. The IWC Ingenieur Chronograph collection they presented to us are the first step in that direction. Not entirely true, as they did a homage collection a couple of years ago, including an Ingenieur.
A pity that they will discontinue the Genta legacy perhaps, but I can also imagine that this was not the easiest collection to sell (I am still a fan of those watches though).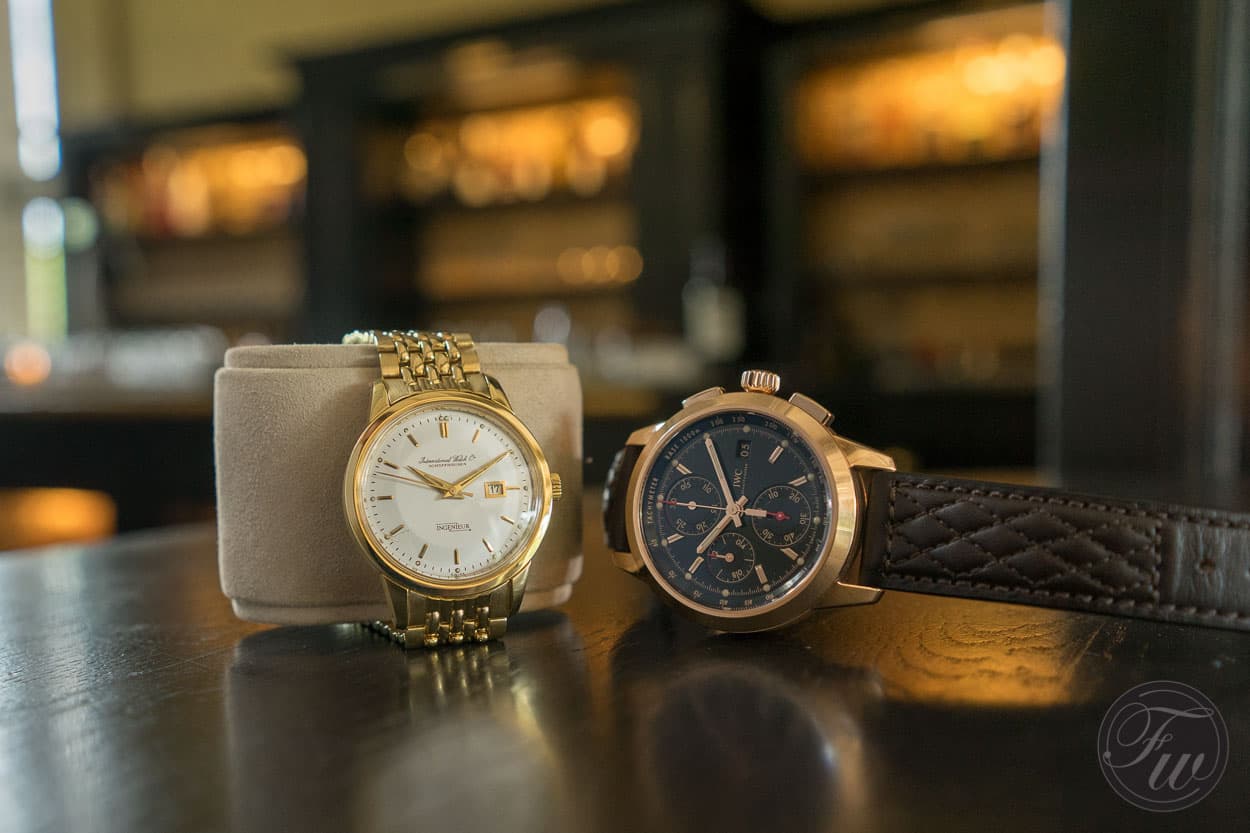 Limited Edition
Although the new IWC Ingenieur Chronograph collection is presented as three limited editions (more later), we expect that IWC will shortly follow-up with a regular collection of Ingenieur watches in the same new 'Reference 666' style. The fact that IWC introduces this new model in limited quantities, doesn't match with the thought that this new model will be the Ingenieur from now on. This probably means that IWC will continue to create new watches with similar design features in the near future. Anyway, IWC decided to introduce them as limited edition for now. The collection will consist of three different limited editions that commemorate different events.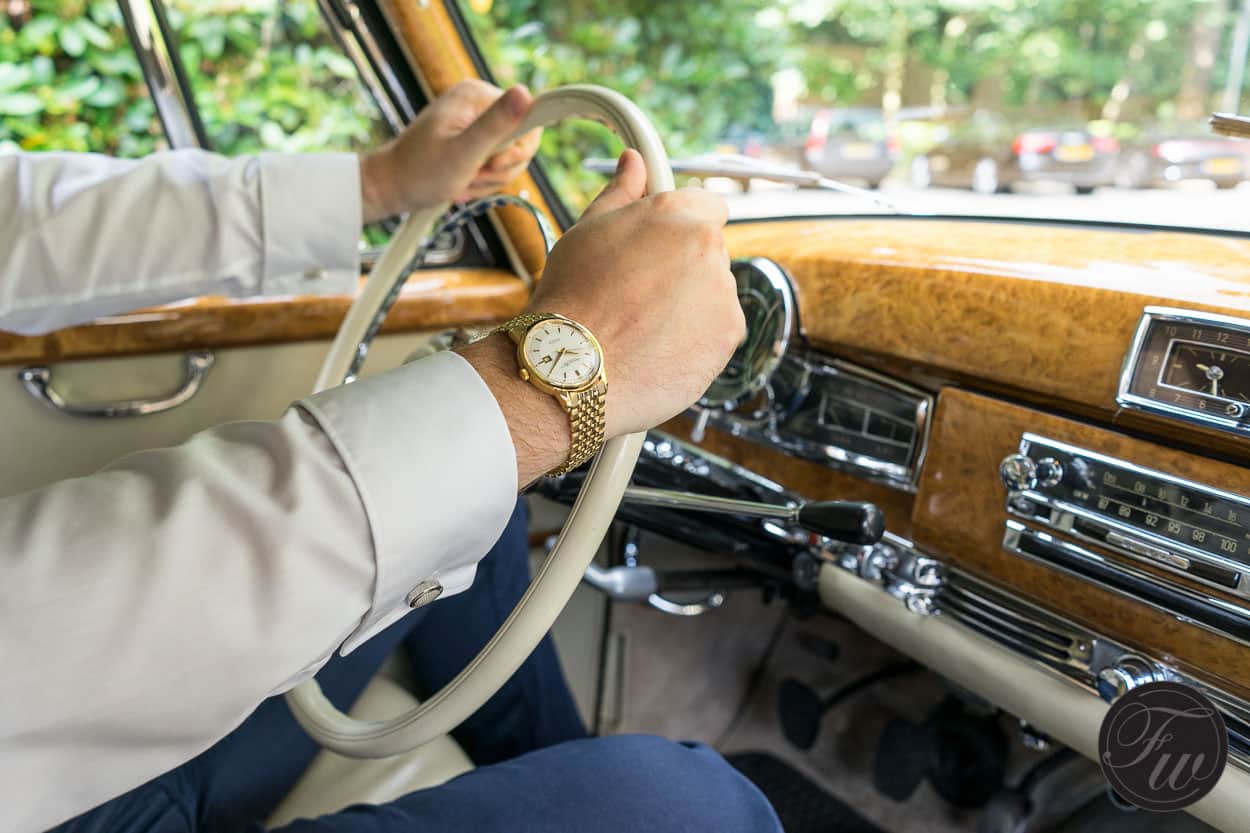 Specifications
These three watches have their own specific characteristics, but what they have in common are the new in-house developed caliber 69370 movement, a diameter of 42mm  (height is 15mm) and a leather strap with 'AMG' stitching. Not sure whether this is the official name for it, but it reminded me of the leather AMG interior. The rectangular pushers are nicely done and luckily, no crown guards. The water resistance of the watch is 6 bar.
Caliber 69000
The movement is part of the new caliber 69000 family, which is IWC's answer to Breitling's caliber B01, Omega's caliber 9300 and Rolex' caliber 4130. A 30mm column-wheel chronograph movement with 46 hours of power reserve. This family of movements will be mainly used in IWC watches below the magical 10.000 Swiss Francs/Euro price category.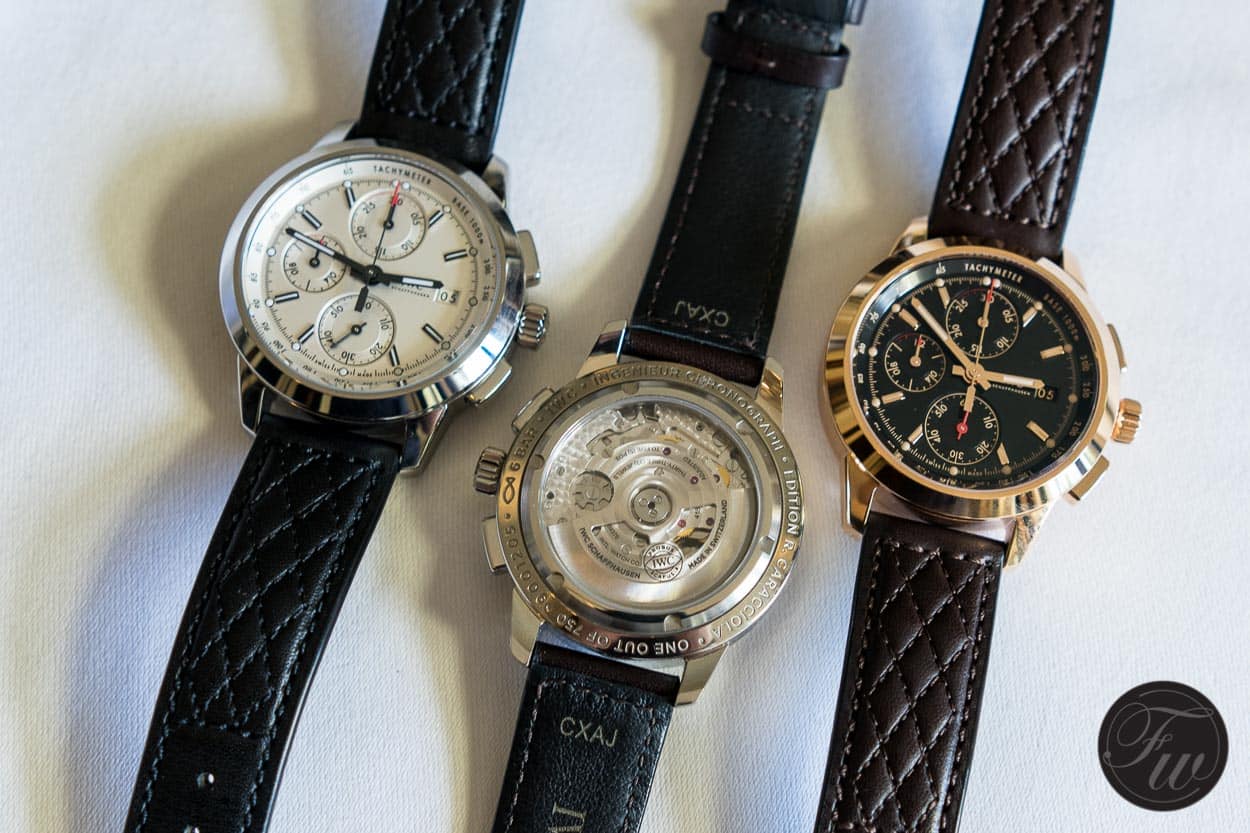 1.  IWC Ingenieur Chronograph Edition Rudolf Caracciola IW380702
This model comes with a beautiful slate colored dial and a stainless steel case. The case shows resemblance with the original Ingenieur 666 from 1955. It comes on a brown leather strap with the 'AMG stitching'. This edition is dedicated to racing driver Rudolf Caracciola, who took three European Drivers' Championship crowns in the 1930s. The list price of this IWC Ingenieur Chronograph will be €8000 Euro, including taxes. This watch is limited to 750 pieces.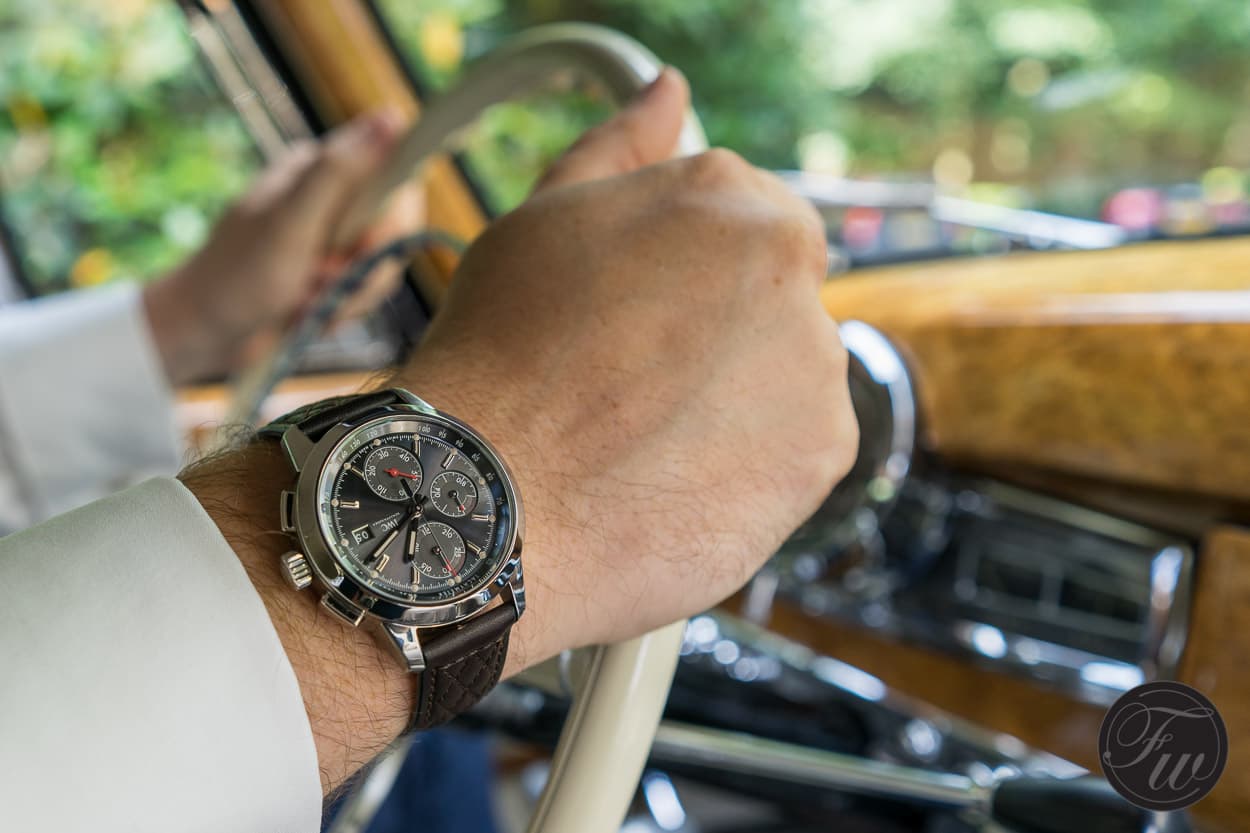 2. IWC Ingenieur Chronograph Edition W 125 IW380701
The IWC Ingenieur Chronograph W125 commemorates the Mercedes-Benz W 125 Silver Arrow. The famous racing car from the 1930s. The silver-plated dial refers to the car and the use of titanium for the case to the light-weight of the Silver Arrow (by scraping of the paint of that car, they reduced the weight with 1KG). This watch is also limited to 750 pieces and comes with a black leather calf strap with 'AMG stitching'. The price for the IW380701 is also €8000 Euro, including taxes.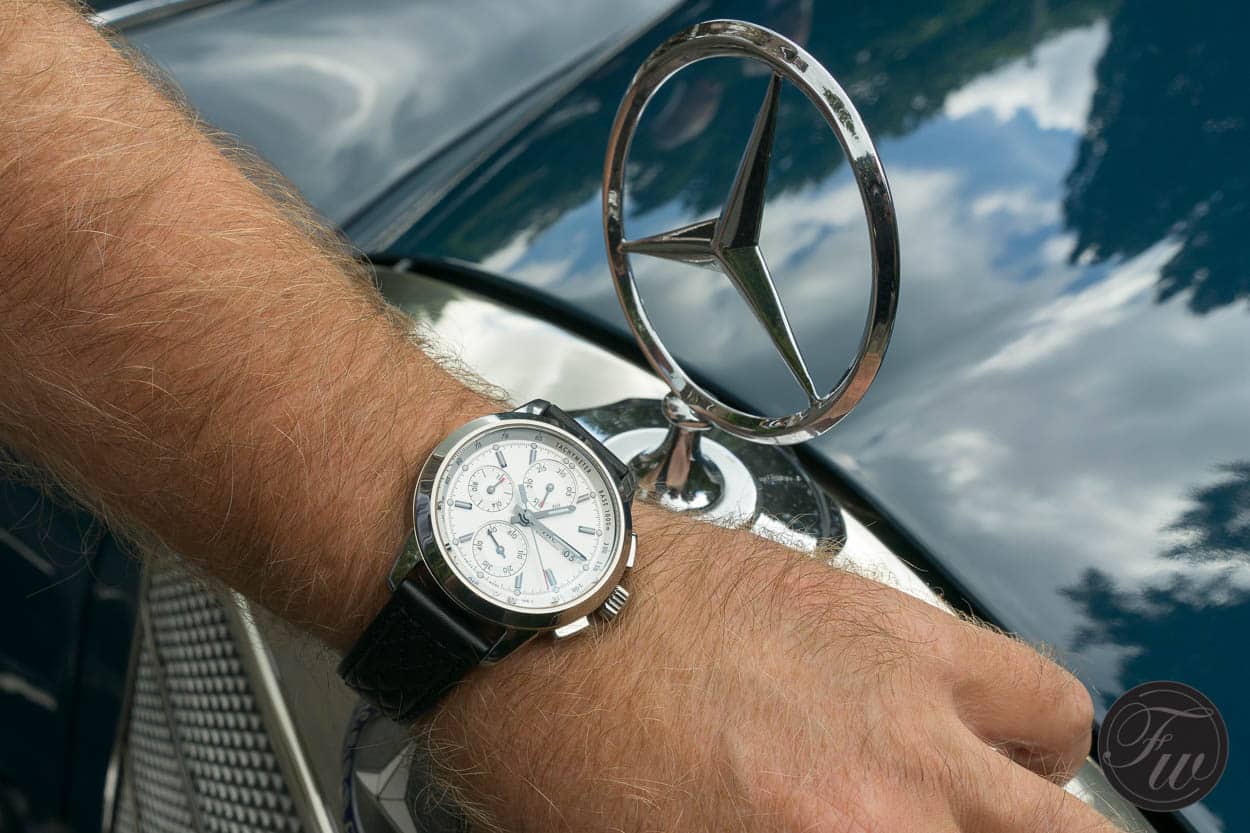 3. IWC Ingenieur Chronograph Edition "74th members' meeting at Goodwood" IW380703
The flagship of the IWC Ingenieur Chronograph limited edition models is this "74th member's meeting at Goodwood' edition. This model refers to the historic motorsport event near the south coast of England of this year. It is the flagship, as the case is made of red gold (and comes on a brown calf strap with 'AMG stitching'). The price of this reference IW380703 is €20.600 Euro, including sales tax.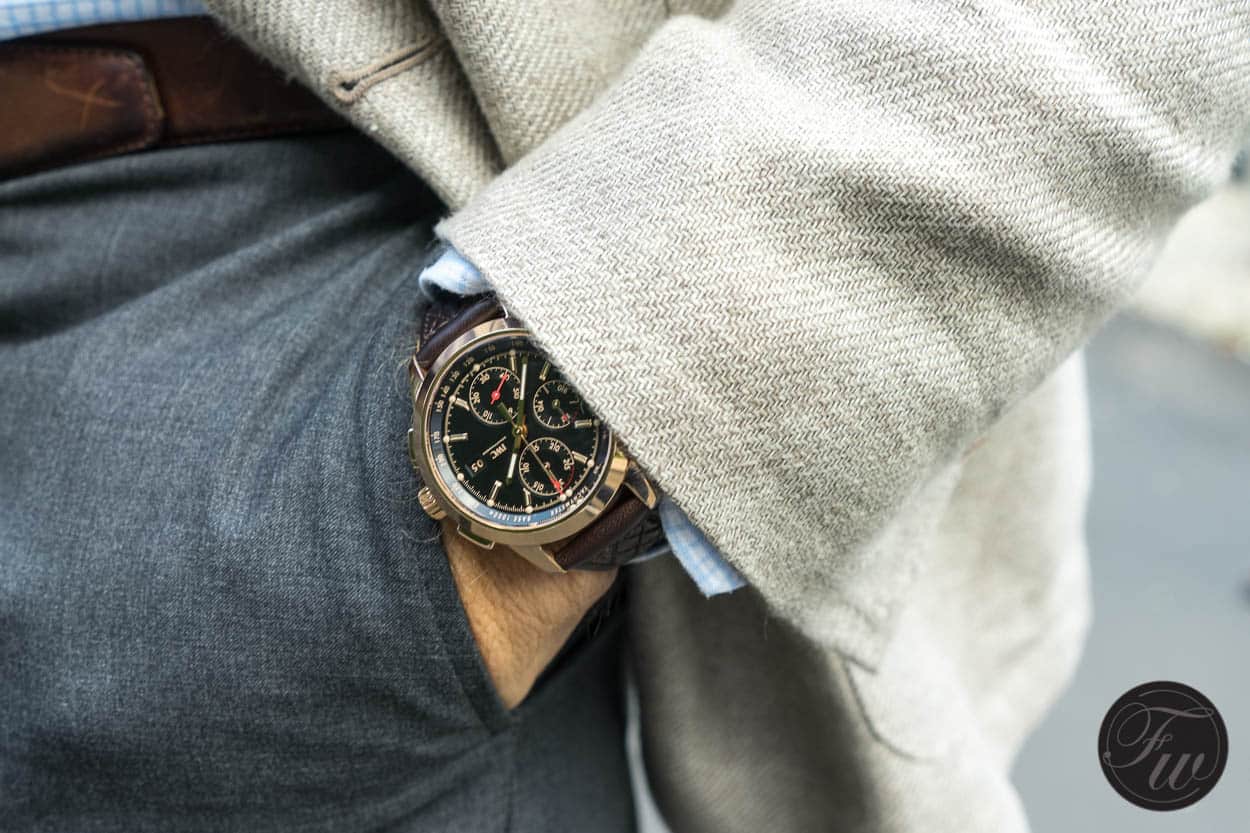 Some Thoughts
The fact that the IWC Ingenieur is moving away from the Genta design is something we pity a bit, but the new Ingenieur 'Vintage' Chronograph looks actually stunning in the flesh. The diameter of 42mm is refreshing, as most new chronographs (of various brands) are often over 42mm. We were a bit surprised that IWC doesn't charge more for the titanium model over the stainless steel Ingenieur Chronograph. Normally, titanium is more expensive.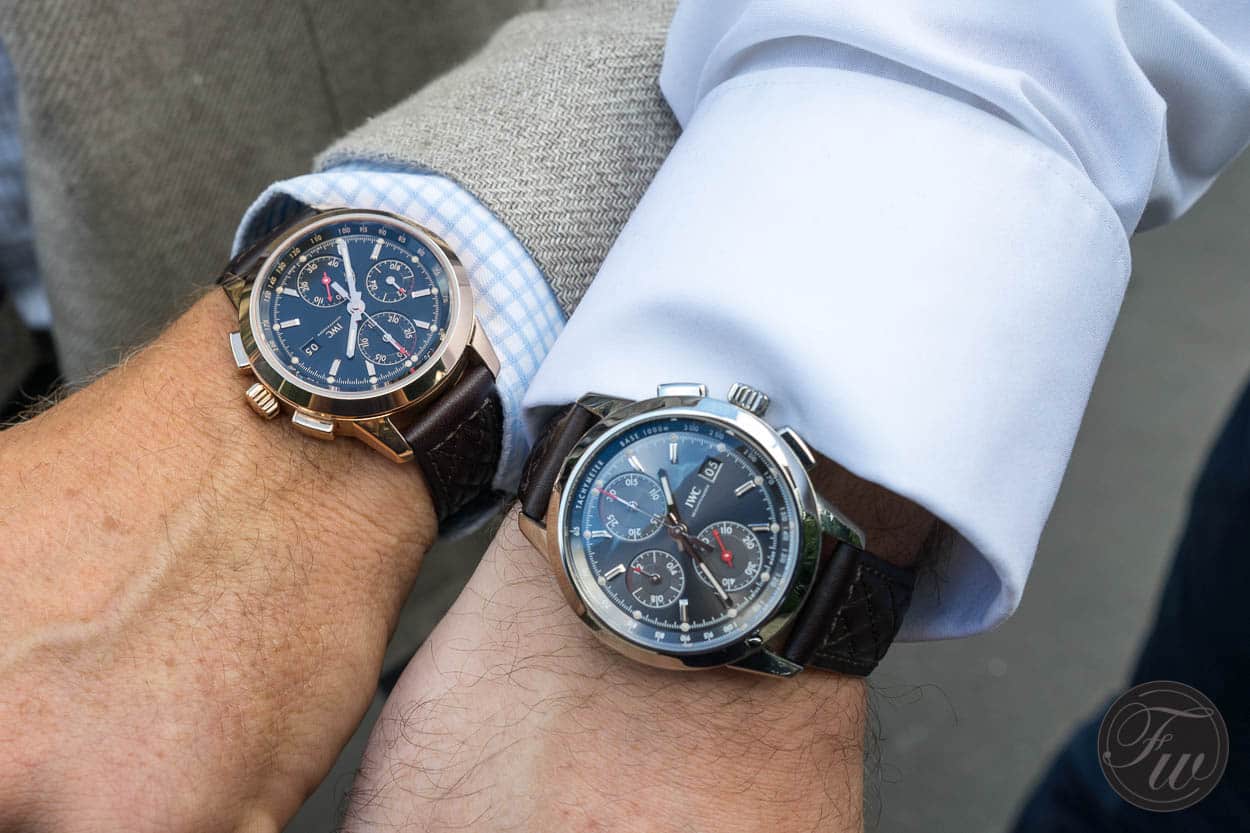 Although I am a fan of the classic 'compax' lay-out of the dial, with registers at 3, 6 and 9 o'clock, the current lay-out is nicely done. The applied markers, fat hands and some red accents on the dial are beautifully done. Although it is definitely a sports watch, the classy racing strap, rectangular buttons and 'rich' dial make it something to wear as a dress watch as well.
Delivery of these watches will take place in October.
More information via IWC online.

Robert-Jan Broer, born in 1977, watch collector and author on watches for over a decade. Founder of Fratello Watches in 2004.

Latest posts by Robert-Jan Broer (see all)