Jaeger-LeCoultre Master Control Perpetual Calendar – 52Mondayz, week # 14
A bit of Richemont attention in post-BaselWorld days
A bit of Richemont attention is appropriate in these post-BaselWorld days in my opinion. So for this week, I pick my late father's Jaeger-LeCoultre Master Control Perpetual Calendar as 52Mondayz watch.
Jaeger-LeCoultre Master Control Perpetual Calendar – 52Mondayz, week # 14
He bought this watch to commemorate the millennium year 2000. It was a variation to the regular Master Perpetual with a silver dial. This model with a black dial was only in Jaeger-LeCoultre's collection for one or two years and sports a glass back.
Master Control 1000 Hours
Most 'Master Control 1000 Hours' models, like Master Moon, Master Geographique, and the Master Réserve de Marche, became available later with a black dial for one or two years in that period.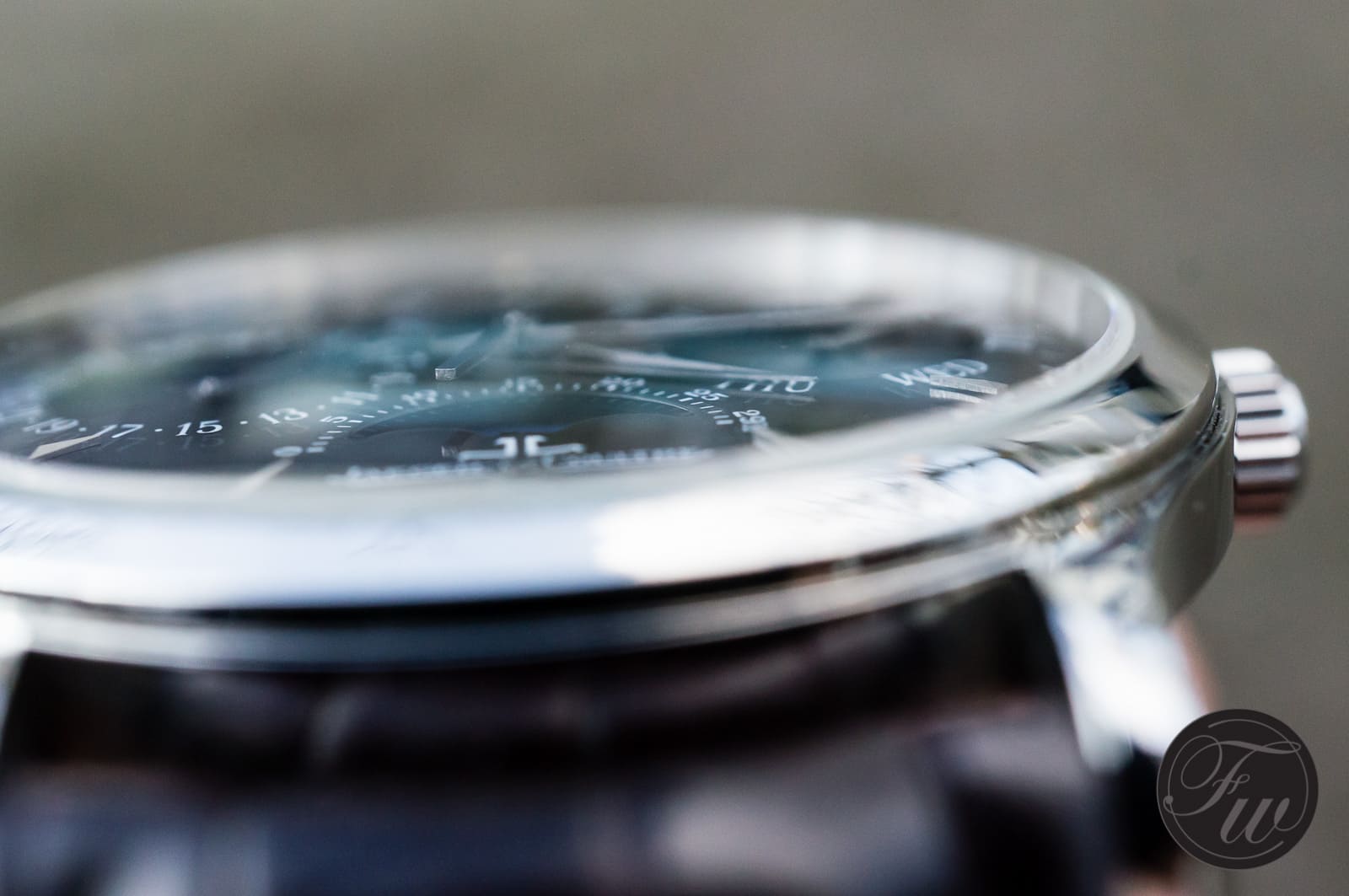 Sporty black dial
The black dial gives the watch a slightly sporty character that suits the stainless steel casing well. And the black dial version, in contrary to the silver dial version, has a sapphire case back through which the beautiful 889/440/2 caliber can be admired. This caliber is only 4.55 mm thin, has a diameter of 26mm, and has 50 jewels. The frequency is 28.800/h and the power reserve 38 hours.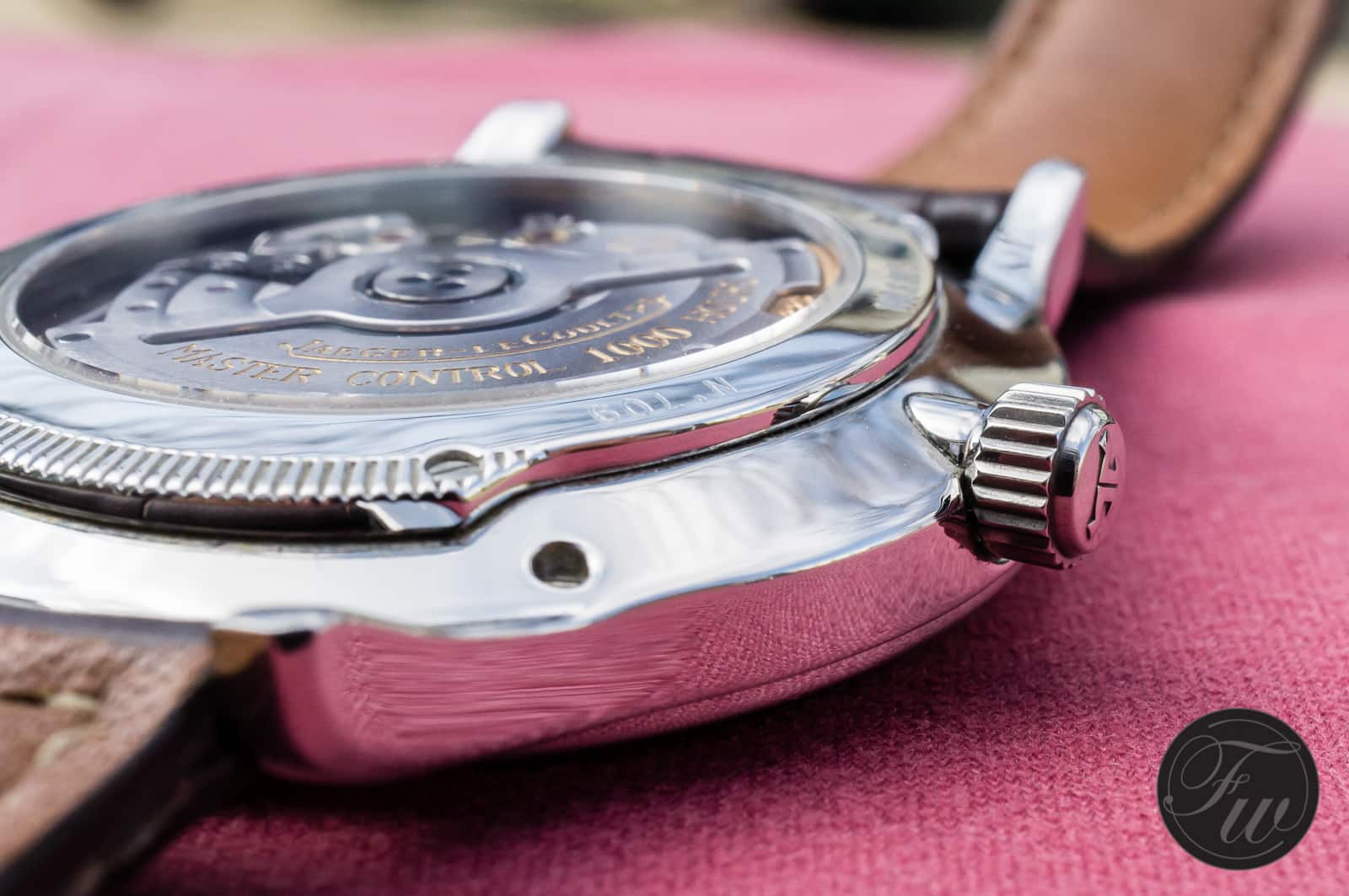 A sleek watch
With a casing thickness of only 10.1mm, this watch has a very sleek appearance. It's helped as well by the form the casing was build in, the sides of the watch are only half of the total thickness. This can be very well seen at the position of the crown which seems to be positioned halfway under the watch. The diameter of the watch is a very comfy 37.2mm, it's sapphire crystal is slightly domed and the watch is waterproof to 50 meters.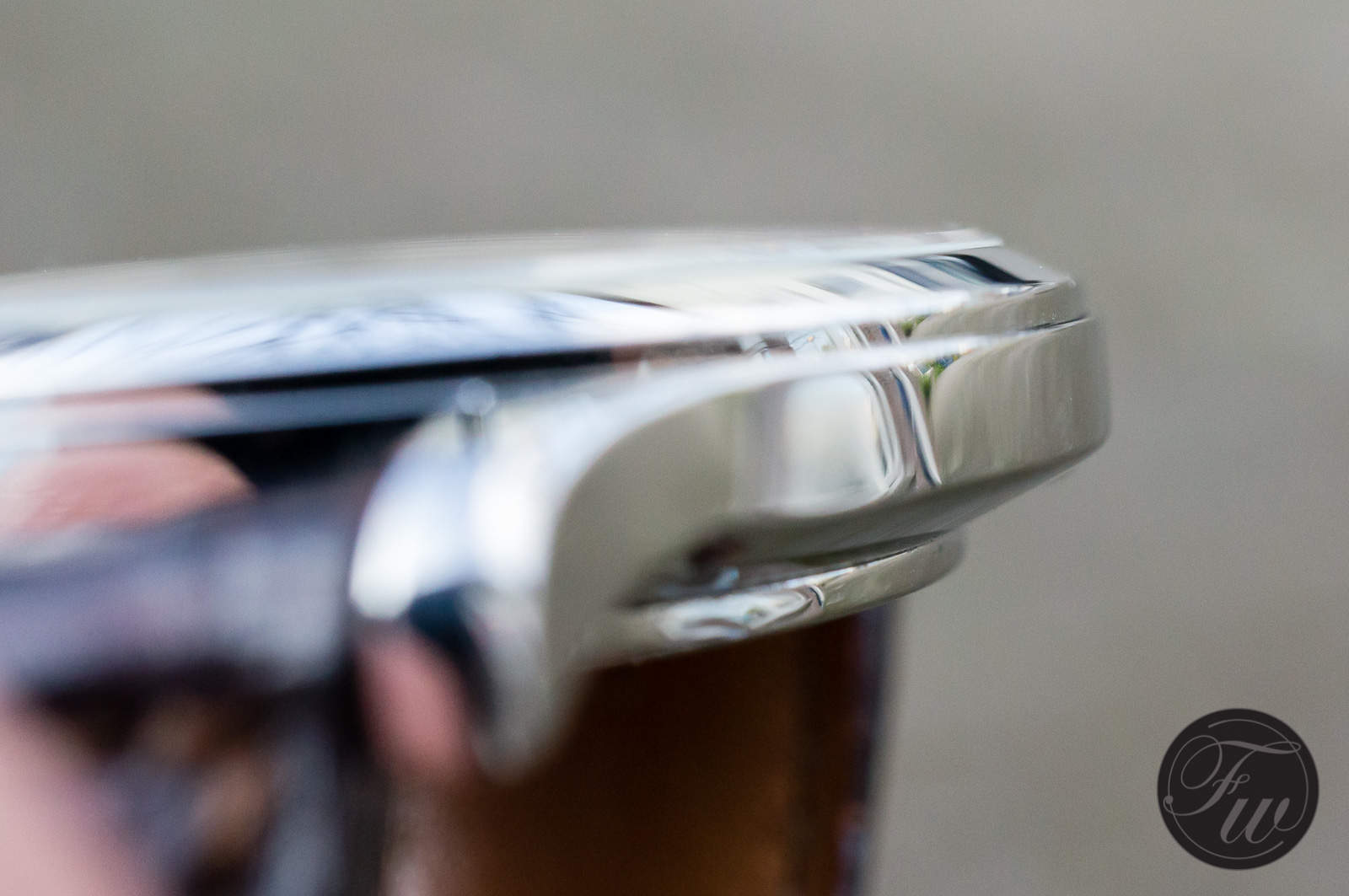 Classic timepiece
Perpetual calendar watches are often considered classic complicated timepieces. So it's not often seen that a perpetual calendar has luminous hands and hour marking dots – which is perhaps more contemporary. This watch has both, which I consider very suitable for a watch with a black dial and stainless steel casing. However, the version with silver dial and even the version with the rose gold casing, from the same series have these tritium accents as well.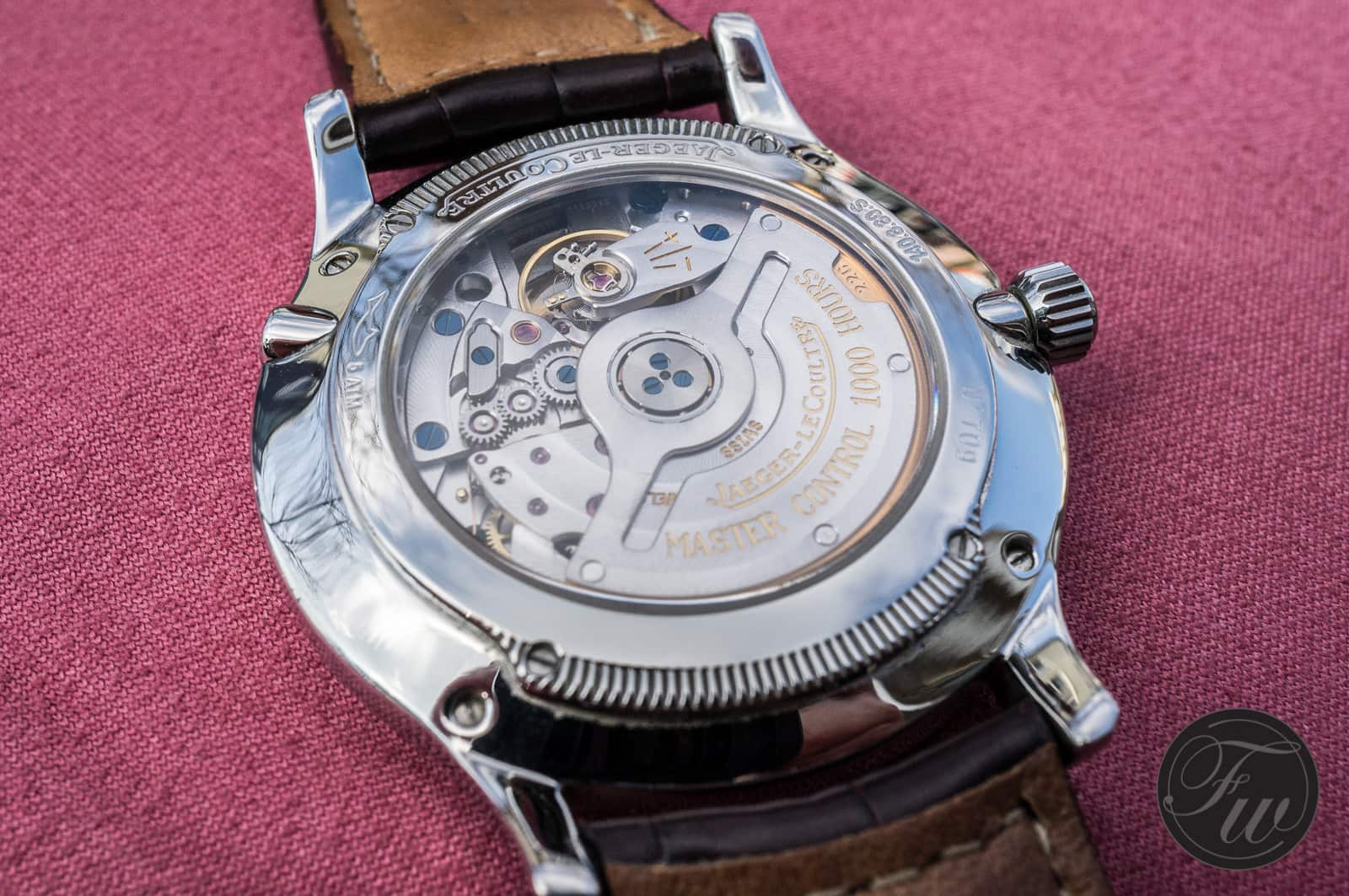 The hour and minute hands are sophisticatedly half-polished and half-matt. Because of this, they're very well readable under almost all (low) light conditions. All other hands are polished steel (or probably white gold). The printing in the dial is silverish-white, and the tritium dots are finely rounded by red circles.
Perpetual Calendar
The perpetual calendar indicates the date, day, and month by hands, and the moon by a rotating dark blue disc including shining gold stars and moon. The cherry on the pie is the two-digit year window; much nicer than any sort of leap year indication.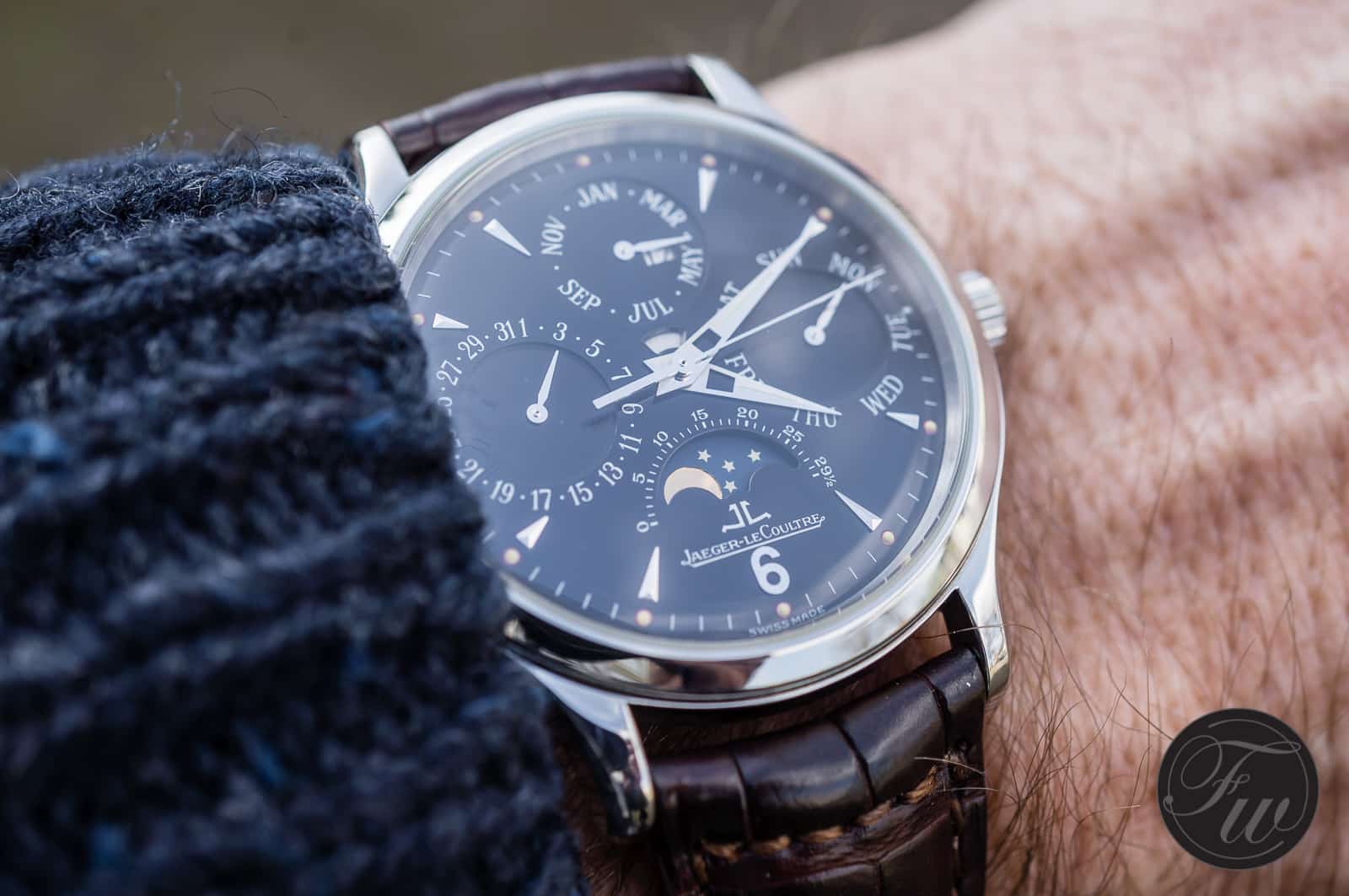 A small window has been made in the dial, just above the center. In this window a rotating disc can be seen, indicating white throughout the day, and red in the hours around midnight. This is to indicate that during these hours the perpetual calendar can not be set without damaging or deregulating the movement. Something always lurking at most other perpetual calendars.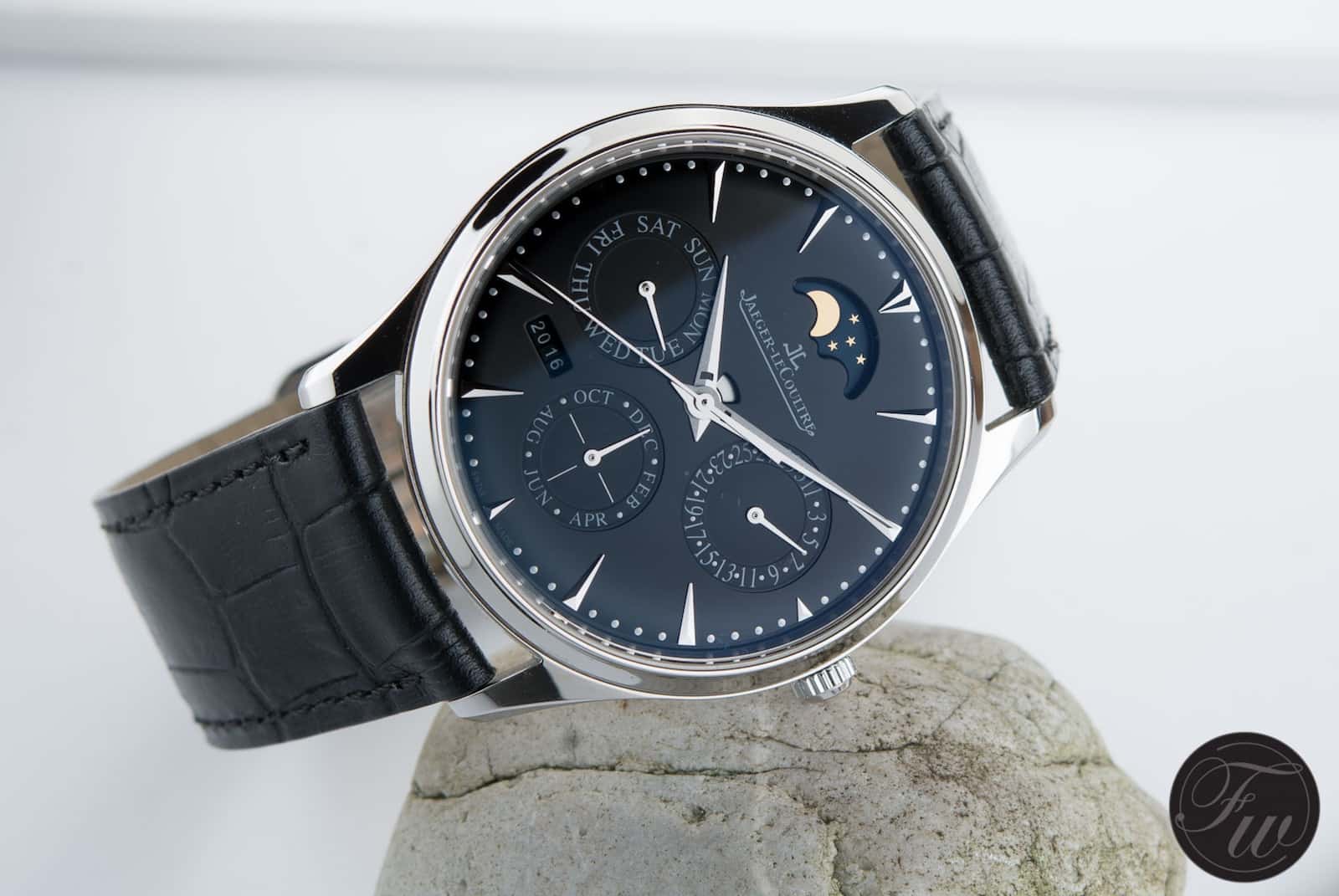 Jaeger-LeCoultre current Master Perpetual Calendar
It's nice to see that Jaeger-LeCoultre last year went pretty much back with their new Master Perpetual Calendar to the design and layout of this watch. It seems that just the dial – or more the perpetual calendar – was rotated 180 degrees. Further, the casing of the new Master Perpetual with 39mm is slightly larger, and there is no luminous material used anymore. Robert-Jan's review on this watch can be found here.
Reference and price
The Jaeger-LeCoultre reference number for this, to me very handsome, watch is 140.8.80.S. Seventeen years ago it was sold just below the equivalent of approximately € 10.000,=. For this price the watch still can be found nowadays, pre-owned of course. Jaeger-LeCoultre's current Master Perpetual Calendar has a price tag of double that amount.