Laurent Ferrier Classic Origin Blue Makes A Quiet Debut At Watches & Wonders 2022
Would I be crossing the line by calling it an everyday Laurent Ferrier?
In a week of wristwatch barrage from Geneva, the stand-out pieces are sometimes the more quiet-spoken ones. Laurent Ferrier is one of my favorite independent brands, and I can readily attest to feeling a strong desire for the blue-dialed Sport Auto. With a strong titanium case design and a different take on an integrated bracelet, it's the thinking man's Nautilus, and it cemented my love for the brand. But the Laurent Ferrier Classic Origin Blue is a very different take on comfortable, blue luxury.
In our sometimes-ironic world of wristwear, I would actually turn the tables on normal logic and view the Sport Auto as a suited-up watch at best. I know, it's a titanium sports watch, but it does have a decidedly strong presence. Each polished bracelet chamfer will immediately catch the light in a lounge bar, and with its value, I'm not going to take it skydiving, am I? This is why the new Laurent Ferrier Classic Origin Blue is the perfect everyday watch (if I win some kind of lottery).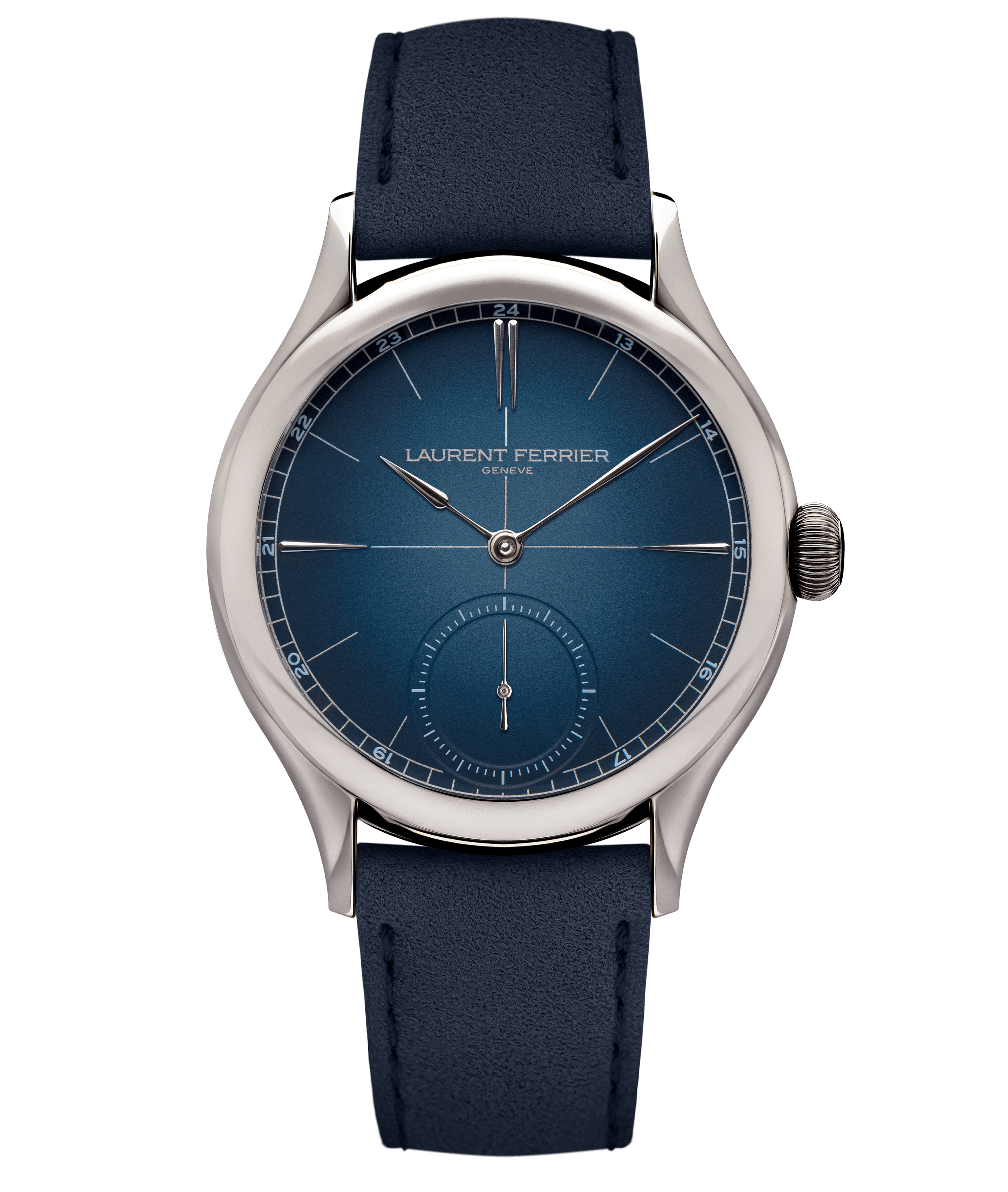 Surely, no Laurent Ferrier is an everyday watch?
That depends on your mindset, job, and well, general outlook on life. Personally, I am veering worryingly towards a narrower collection of watches. Though worries are exactly what there will be less of, as I only have two wrists, watches need servicing nonetheless. It doesn't matter what a bargain a 20-year-old chronograph was when you're slapped with an €850 service bill. A true story, and for me, a wake-up call. Faced with the timeless, quiet lines of a Laurent Ferrier, my heart beats faster, and it would happily make me reduce my collection further (read: 90%).  Perhaps a reasonable sacrifice to wear this formal, dusty blue Classic Origin most days of the week, a finely balanced chameleon of watch genres.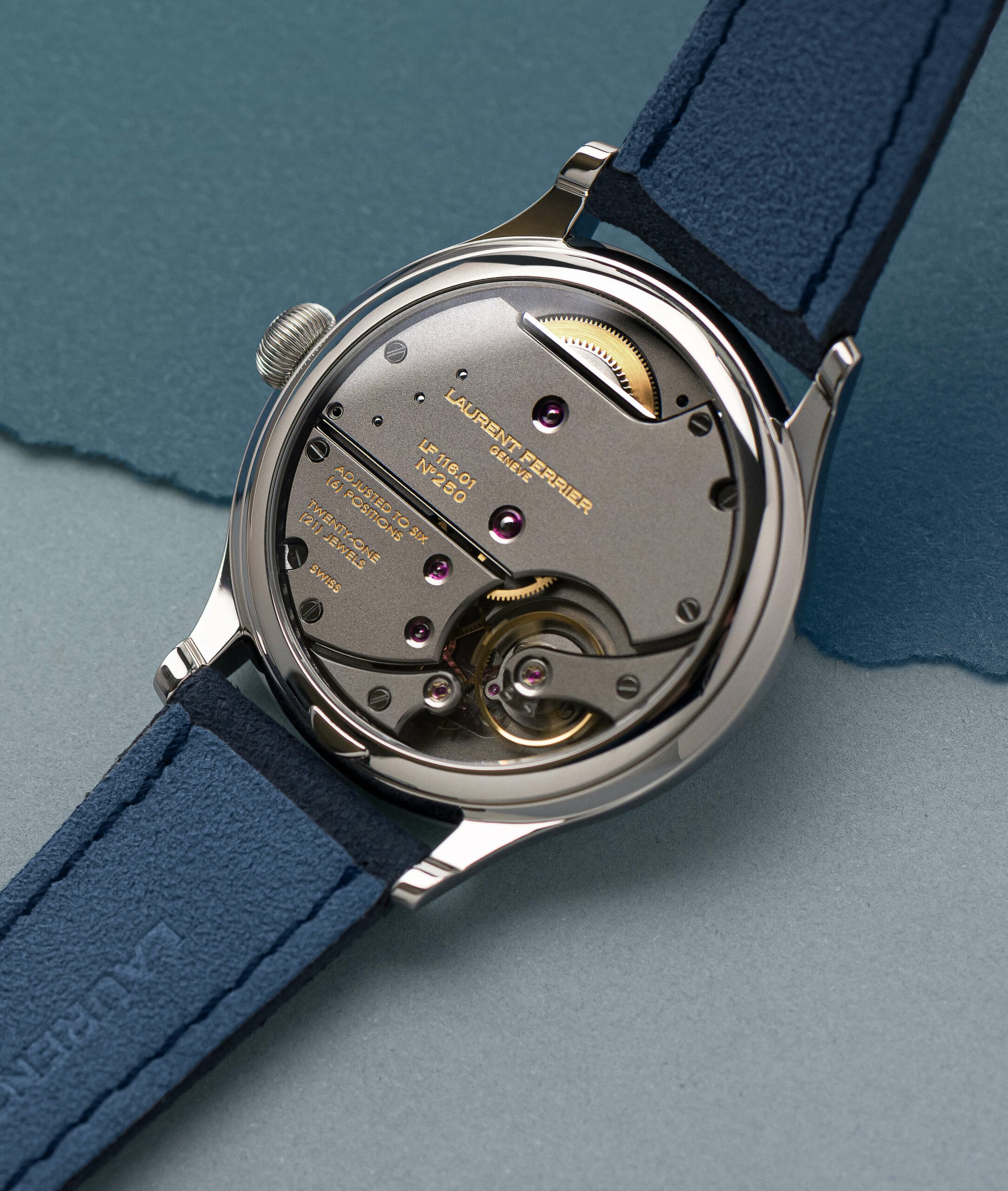 The quiet perfection of blue
Despite my story on suiting up with divers last year, this is a much better choice if I stop kidding myself. I'm no explorer, the scuba gear I have is a photo prop, and I never wear a watch astride my Bianchi road bike. I'm not selling myself as a style icon, but the refined elegance is simply versatile. Dressy, you say? The soft blue dial of the new Laurent Ferrier Classic Origin Blue is denim-indigo and makes me think of the Italian brand Barbanera. That brand's angle is a sharp suit jacket with a tailored denim shirt, or jeans and a camel overcoat. Just imagine how well this suits the suede strap and discrete dégradé dial. But this ain't no fashion story. Let's take in the recognizable Ferrier dial. Characteristically sleek, and with the trademark crosshair design, the dial is another step on the evolutionary Laurent Ferrier ladder.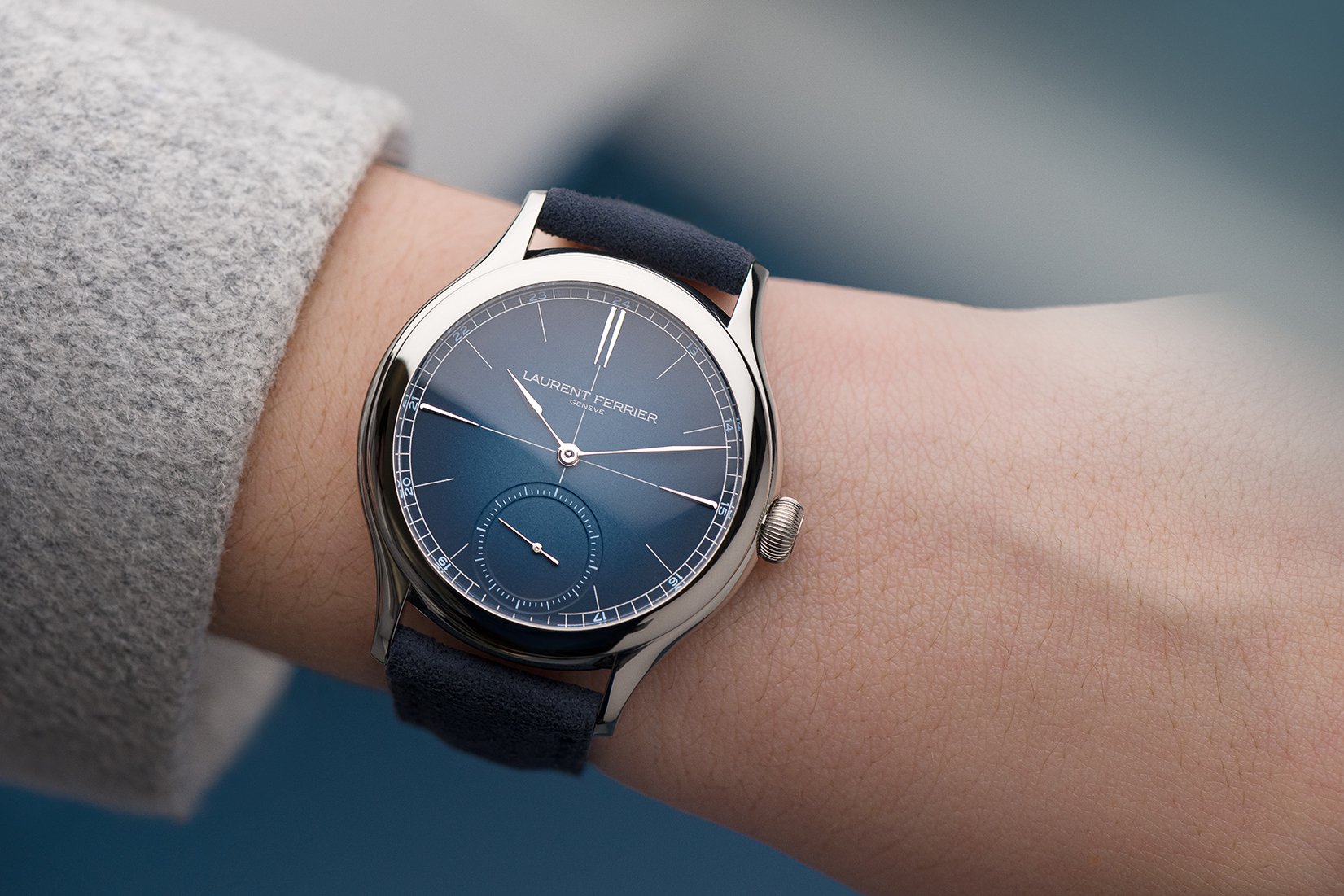 Crosshair Cool
Impossibly slim drop-shaped hour indices are applied, with the trademark double at 12 balanced out by 6 and 9. These are well-matched to the razor-sharp gray print of the minute and 24-hour track, and the muted colors are a studied choice. And of course, any LF dial scene would be incomplete without the hand-polished Assegai (African spear) white gold hands. What makes the Classic Origin Blue special is the riddling nature of the blue shade. It is a muted tone, but for some reason, the subtle gradient finish makes it intense. The pièce de résistance for me is the fresh touch of sky blue in the 24-hour numerals and seconds-dial track. With the gray print accompanying the dusty opaline blue, it makes the calm scene stand out against the polished Grade 5 titanium case. This metal is slightly darker than steel and hard to polish. But an "everyday Ferrier," really?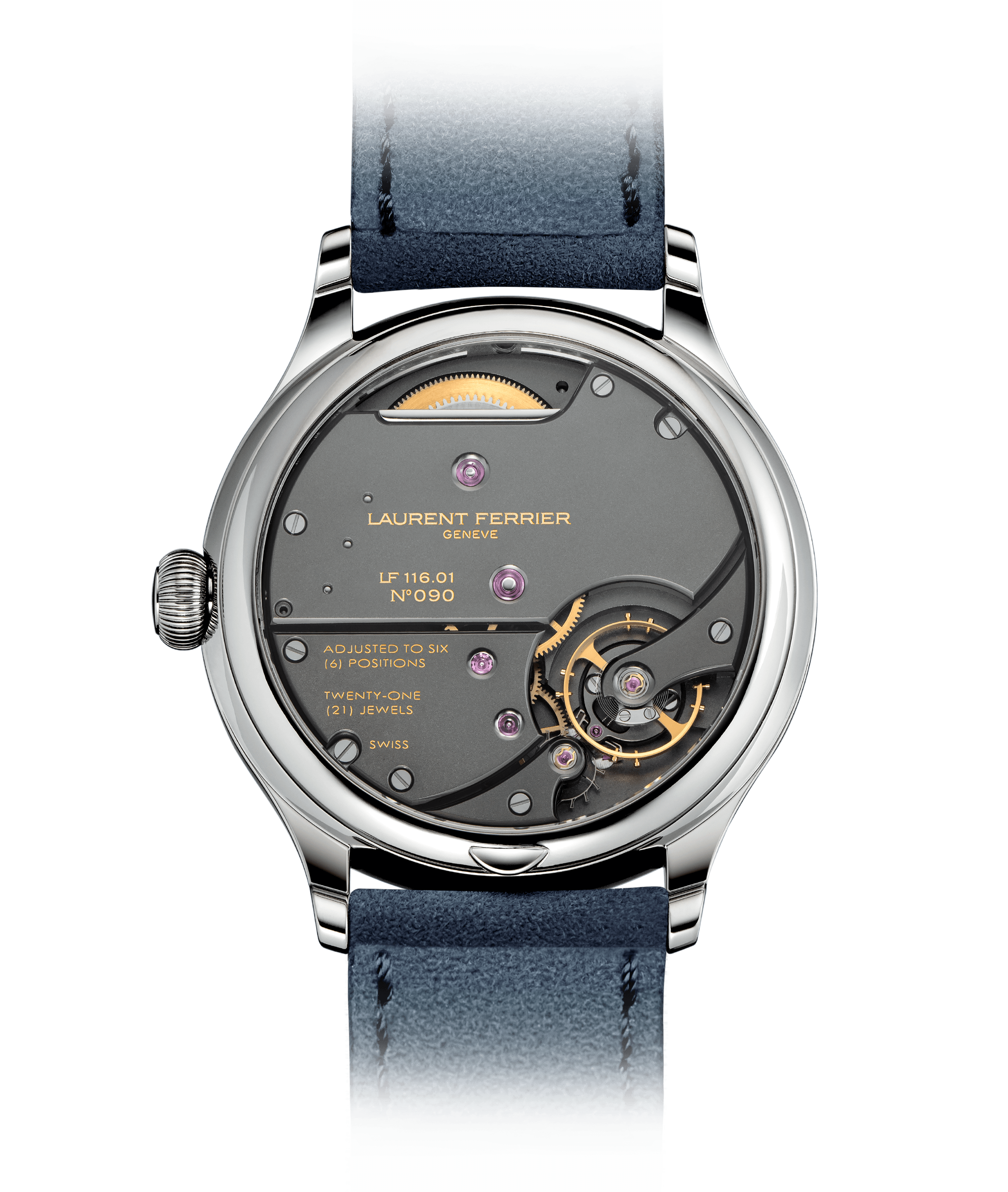 Lightweight luxury
Considering the lightness of titanium on an Alcantara-lined soft nubuck strap, comfort is absolutely guaranteed. With the soft surface texture of any hand-finished case from the LF atelier, the freshness of the dial has it doing a brilliant double-act. It precisely walks the line between formal elegance and a sporty nature through its color scheme, strap, and comfort. The everyday pleasure is only underlined each time you hand-wind the caliber LF116.01, which features the best crown on any watch today. Okay, that was way personal, but just look at that ball-shaped beauty. I love the look of a sleek, flat crown, but this is often ruined by the pain of winding it. One twist of a Ferrier crown, and you'll be sold. So if your budget doesn't allow it, try this on anyway, just don't touch the crown or test its soft, exact haptics.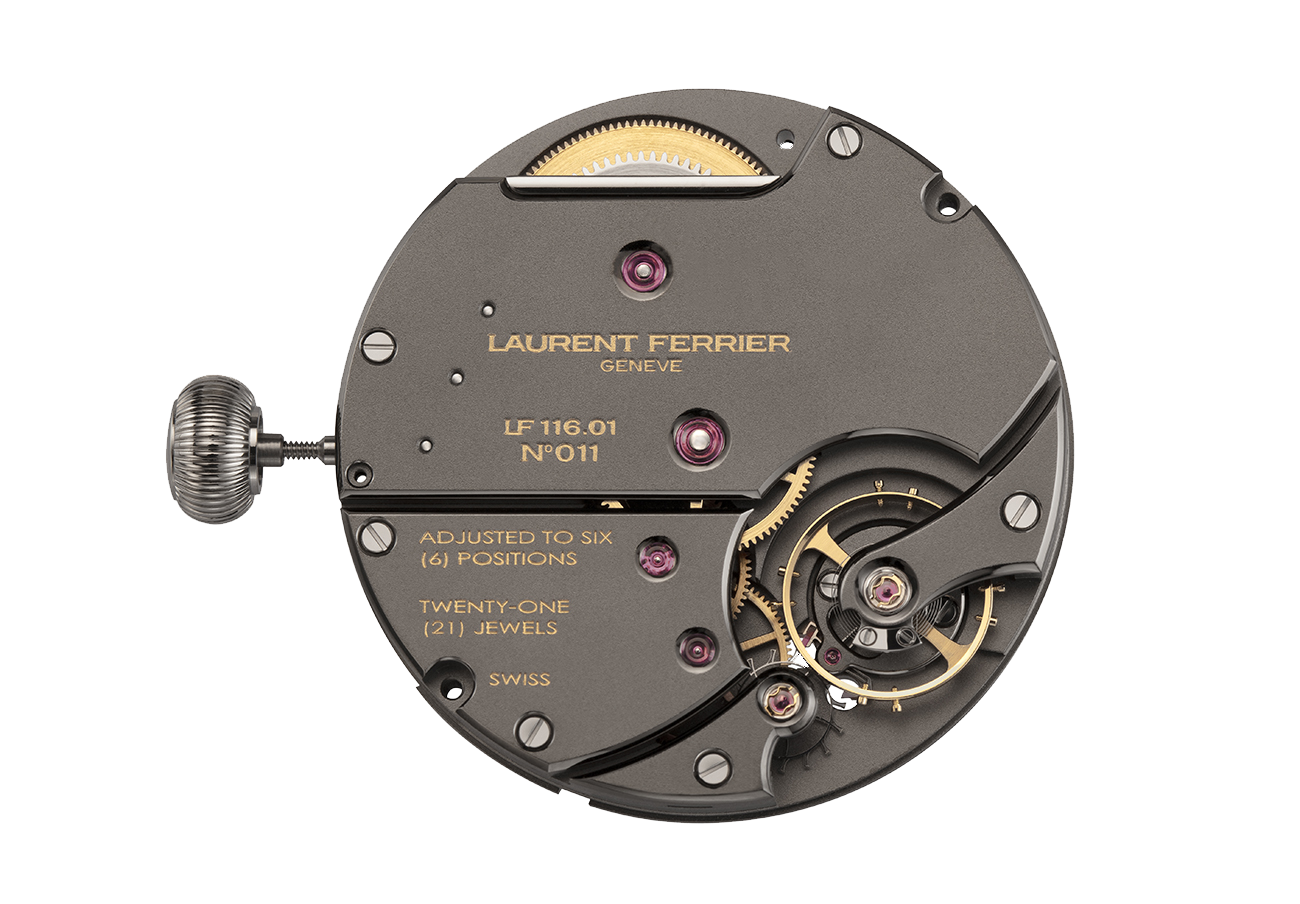 Turn the Classic Origin Blue around at your peril
And don't turn it around either, for that matter. The linear design of the anglage-perfect LF116.01 movement might just be too much to resist. If this is the first time you see a Ferrier movement, you'll be struck by its minimalist ¾-closed design. The balance wheel takes pride of place, while the small details speak louder than any skeletonized marvel. The micro-bead-blasted bridges have a black rhodium finish, and the 80 hours of power reserve? It's proof of Laurent Ferrier's micro-engineering capabilities, displaying strength for such a small manufacture. But it's also rather unnecessary. With that dial and the comfort of a smooth 40 × 11.1mm titanium case, it begs the question: who in their right mind would leave this unworn for a full 80 hours? The price is CHF 31,000 before taxes. Head over to the Laurent Ferrier website for more information.
Find me and follow me at @thorsvaboe