Fratello EDC: Lex Shares His Everyday Carry Essentials From Montblanc, Ray-Ban, And Barbour
It's time to take another peek into the bag of one of the Fratello editors
In this series, we'll be sharing the Everyday Carry (EDC) items of our editorial team. The second "Fratello" to share the contents of his bag is senior editor Lex. What "essentials" does he carry with him on a daily basis?
Let's start with the bag itself. It's a Michael Kors bag that I bought six or so years ago… by accident. I accompanied someone into the Michael Kors store in Amsterdam because it was sale season. And what do you do when you're with someone who's looking for stuff and you're not? You try to find a place to sit to take it easy and bide your time. That's what I did. As I looked around a bit from my seated position, I glanced up and noticed a green camo tote bag high up on a shelf. It looked kind of interesting, so I asked the staff if I could take a closer look.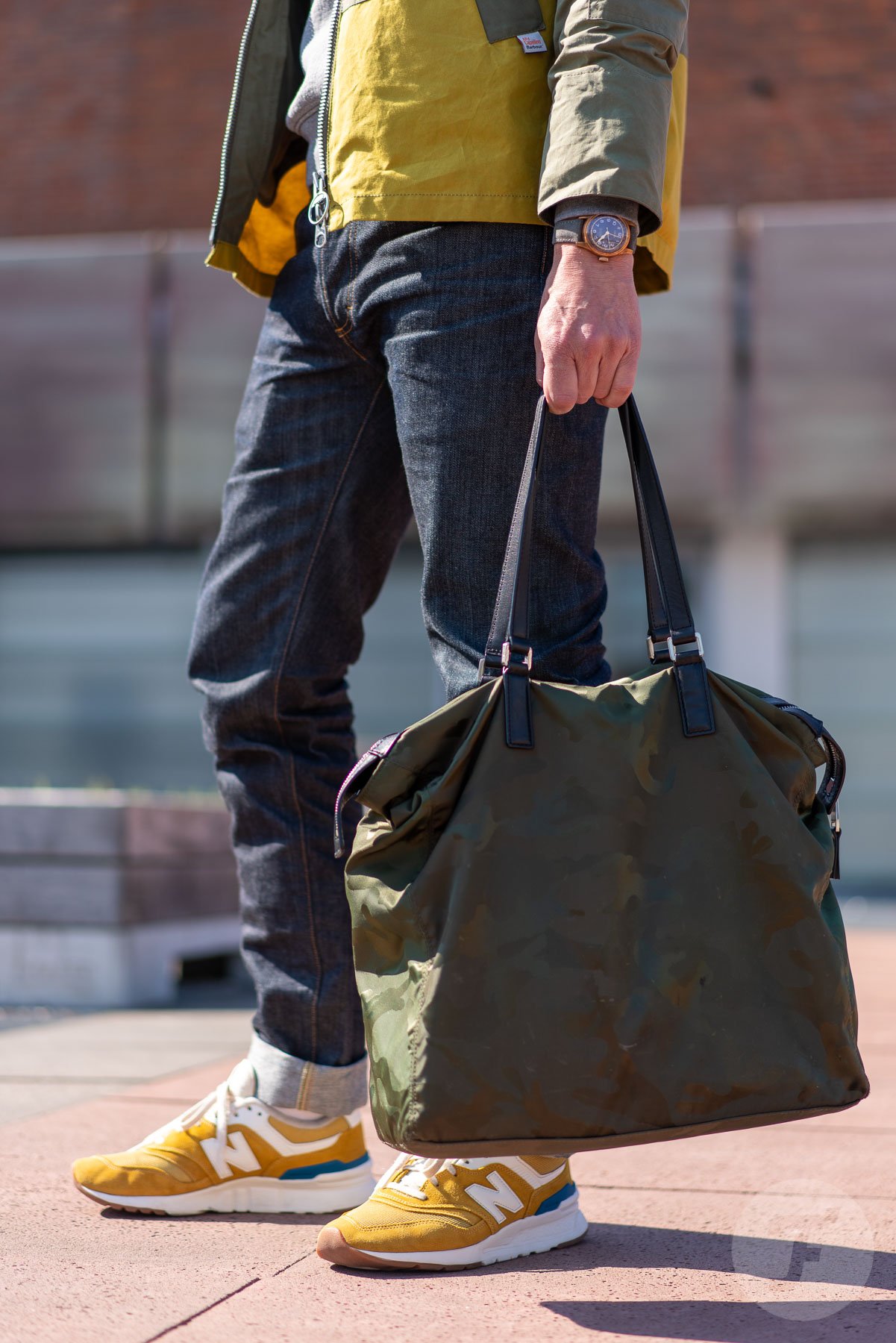 Lex shares his daily essentials: the bag itself
They said I was welcome to, and once I had the bag in my hand, I immediately liked it. It has black leather details, the heavy-duty nylon of the bag itself feels sturdy, and there's just a small brand name that doesn't spoil the otherwise almost totally functional appearance. Then again, the bag is not strictly "military" because it's also a bit glossy. Anyway, to cut a long story short, I wanted the bag. Luckily, it was also on sale big time. I got a 70% discount! That's why I also got the discounted duffel-bag version (but not the toiletry bag because that wasn't on sale for some inexplicable reason). Yes, I took plenty of pleasure in the big discount — hey, I'm Dutch! — but carrying it around almost every day brings me so much more joy. It's both practical and good-looking. That's what I think, anyway.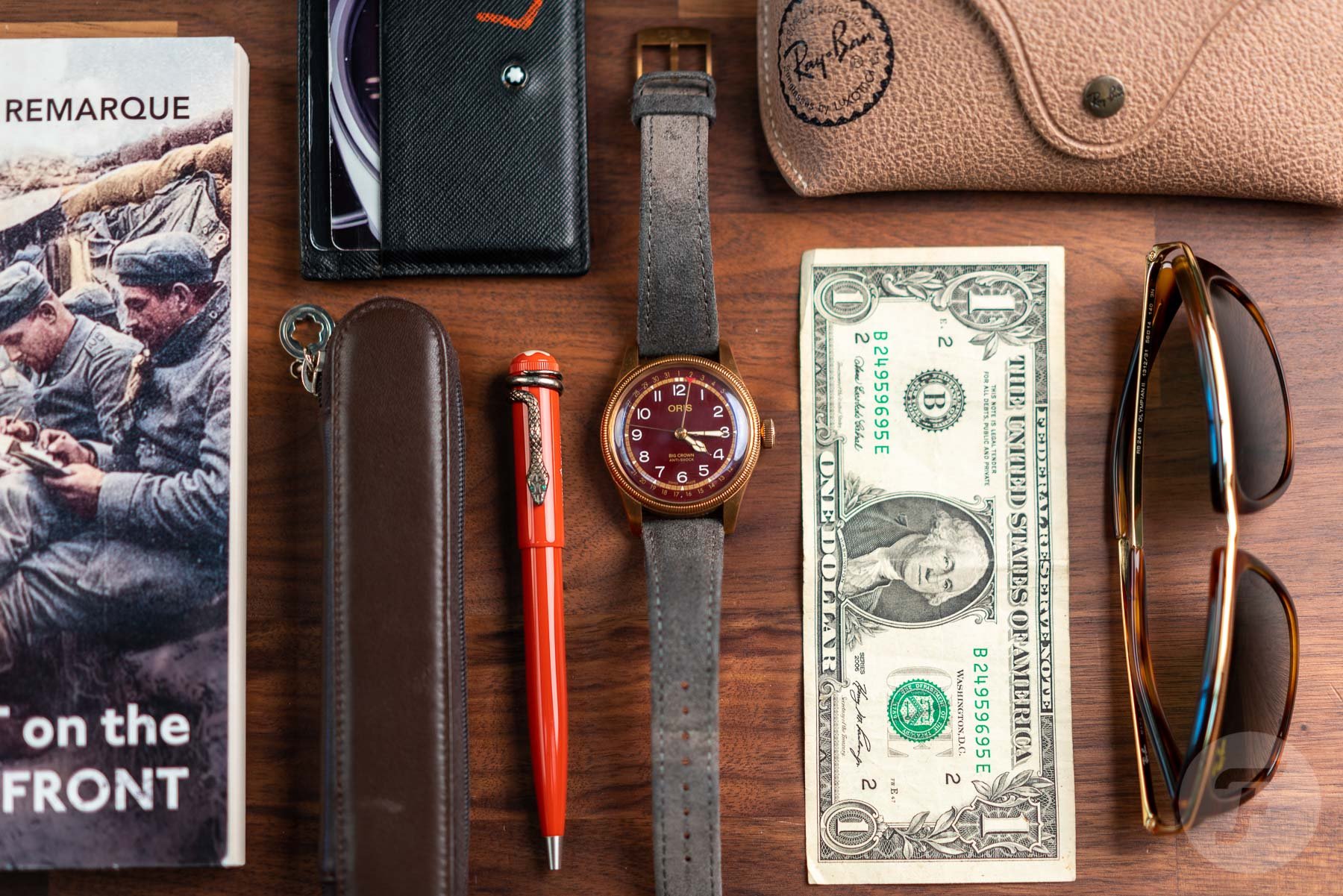 Ray-Ban Olympian II
Back in 1989, I was in the military. And in the summer of that year, I saw a pair of sunglasses that got me good. I had always liked Ray-Ban Aviator models, but they never felt or looked quite right. When I saw the slightly exuberant Olympian II, I thought I had found the perfect sunglasses. It's a Wayfarer model that gives me "Miami Vice" vibes. I bought them, but my commanding officer didn't allow me to wear them in uniform. That was a bit of a bummer, to put it mildly, and it meant I could only wear my new shades casually. Doing so, however, proved quite difficult because the glass lenses made the Olympian II a bit heavy. They actually gave me a headache after half an hour or so. Style over comfort, yes, but this was ridiculous. So I begrudgingly put the Olympian II shades away.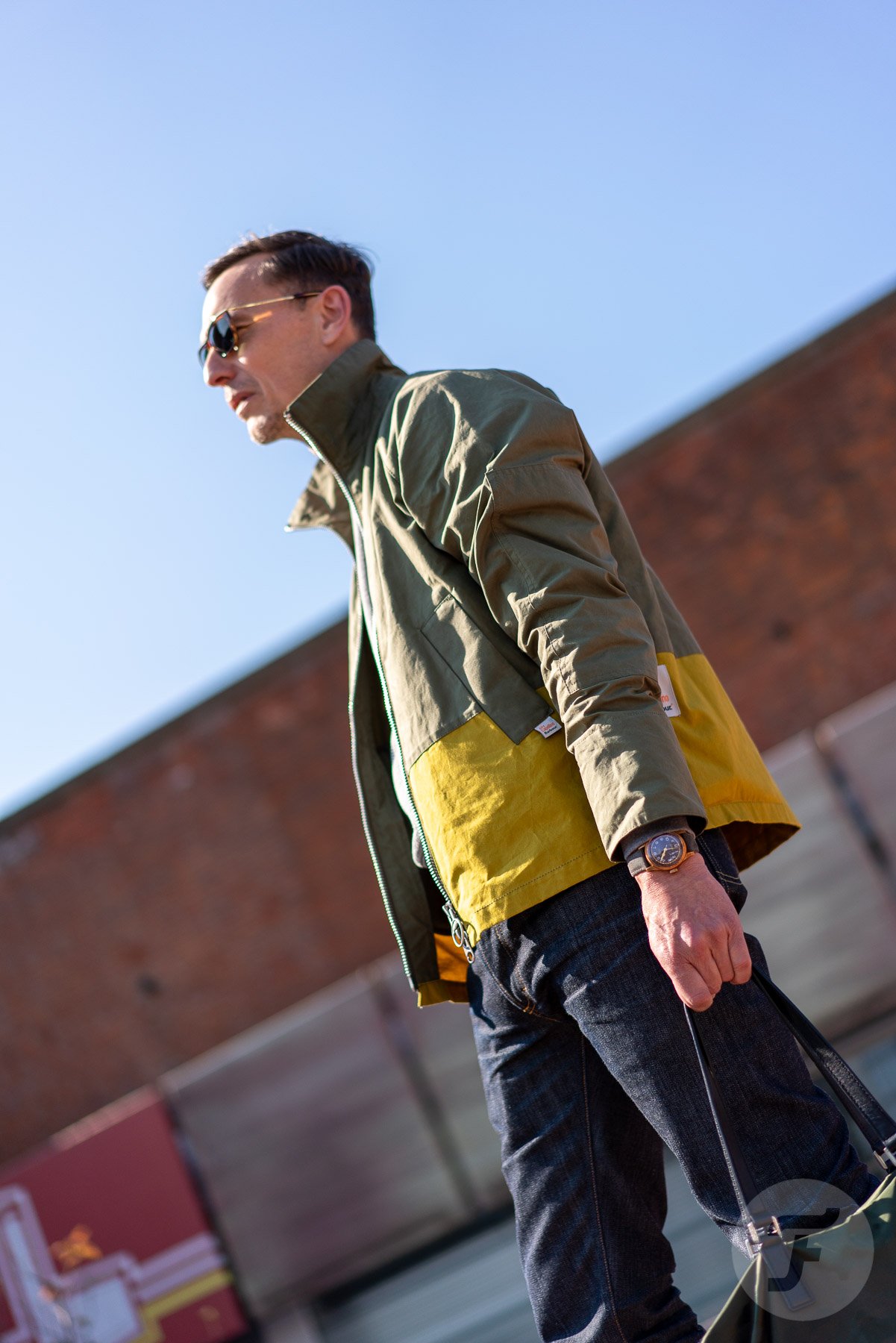 Ray-Ban Olympian II — Part II
My mom tried to wear the Olympians for a while but encountered the same problems, and that's why the sunglasses ended up in a drawer. Many moons later, I gave them another try, but the experiment was only just underway when I left them on the train. End of story. Well, no, not really because two years ago, I saw an elderly lady on a bike in the village I live in. She was wearing the Olympian IIs and got off her bike right in front of me. I complimented her on them, and she told me they were her late mother's sunglasses, which led me to go online to find a pair of Olympian IIs for myself. I found them, ordered them, put them on, and got a big surprise. The glass had been replaced by much lighter lenses, making the Ray-Ban Olympian II 2.0 my absolute favorite shades of all time.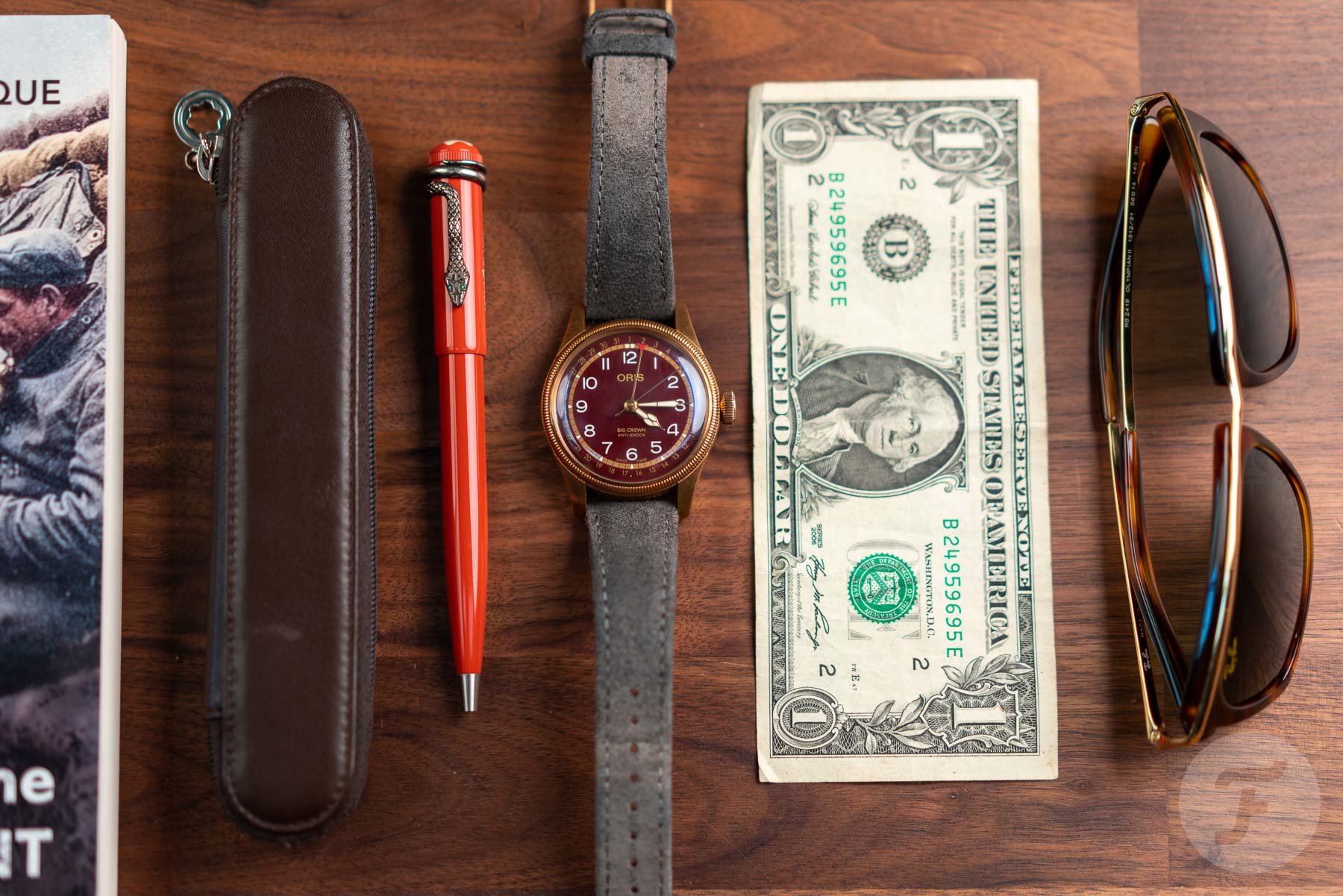 A personalized Montblanc cardholder and a lucky dollar are daily essentials indeed
Do you believe in luck? Do you believe in the "lucky dollar"? Maybe I do, maybe I don't. But having a "lucky dollar" with you also doesn't hurt. And that's why I have a dollar bill folded in eight — that's the way to magically change an ordinary dollar bill into a good luck charm — in my wallet. Well, technically it's not a wallet, but rather, a cardholder. Oh, and I ironed the creases out of the dollar bill for aesthetic purposes, in case you're wondering why it looks so crisp. Anyway, back to the cardholder. I haven't had a wallet in years, as a cardholder does the job now. The one I use is from the Montblanc Sartorial Collection and holds five cards (and one lucky dollar). It's made from full-grain calfskin with a saffiano print. And as you can see, it also has my initials on it, done in a coral red color that matches my pen.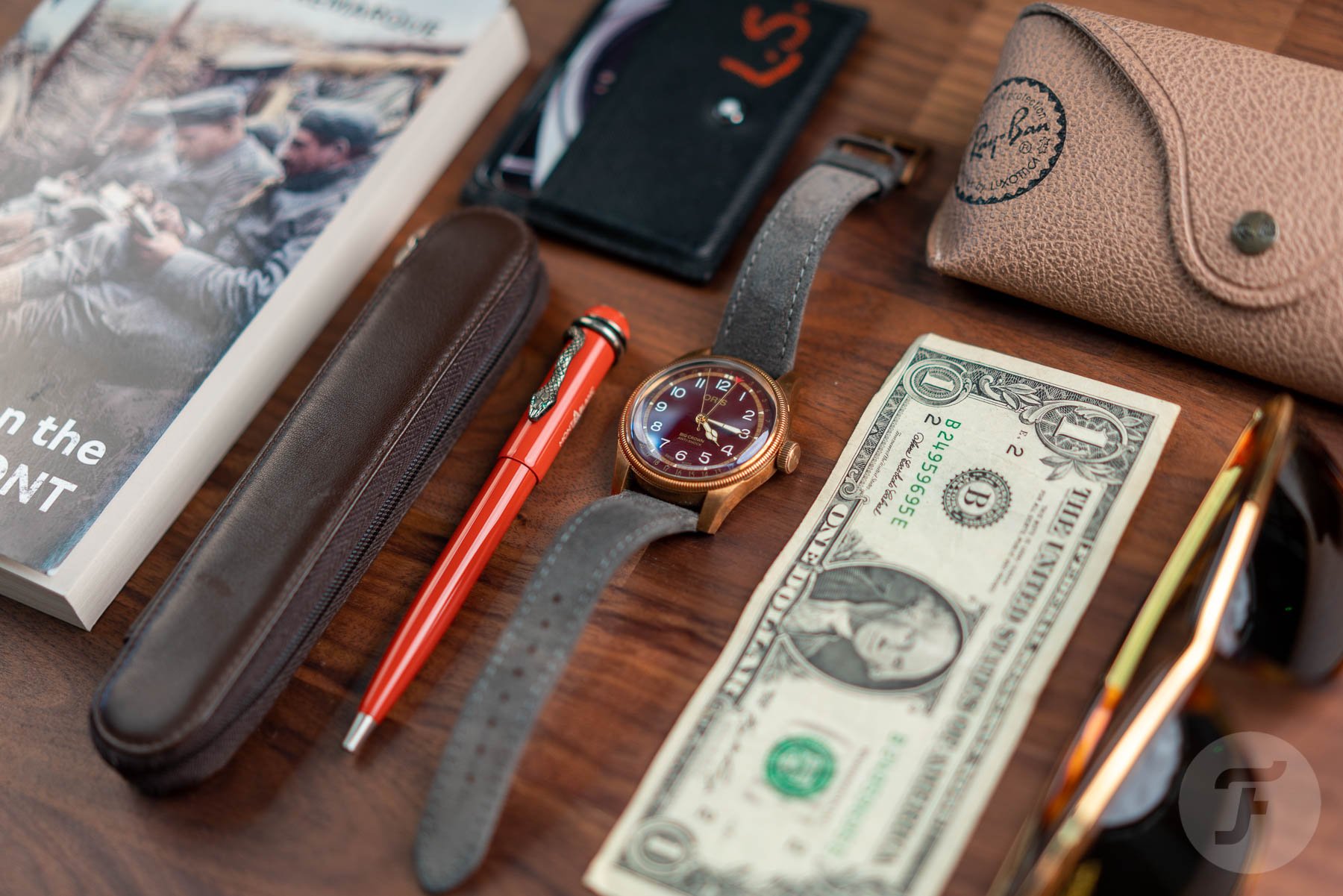 Montblanc Heritage Rouge & Noir ballpoint
RJ is a fountain pen guy, as he demonstrated once again last week in the first edition of Fratello EDC. I am not. I wish I were, but I just lack the fine motor skills to write properly and legibly with a fountain pen. But I do appreciate a nice writing instrument, and that's why I use quality ballpoints, though they're often frowned upon by pen purists. My 2016 Heritage Rouge & Noir ballpoint in coral red is my favorite. The pen's looks are inspired by the 1906 Rouge et Noir fountain pen, and it celebrates the 110th anniversary of that technically advanced writing instrument. I like the fact that it's a slim pen, and I like the unusual, deep, and warm coral-red color. Most of all, though, I like the serpent-shaped clip. Just look how carefully but firmly it entwines the pen. And also look into the snake's green spinel eyes; they are simply hypnotizing.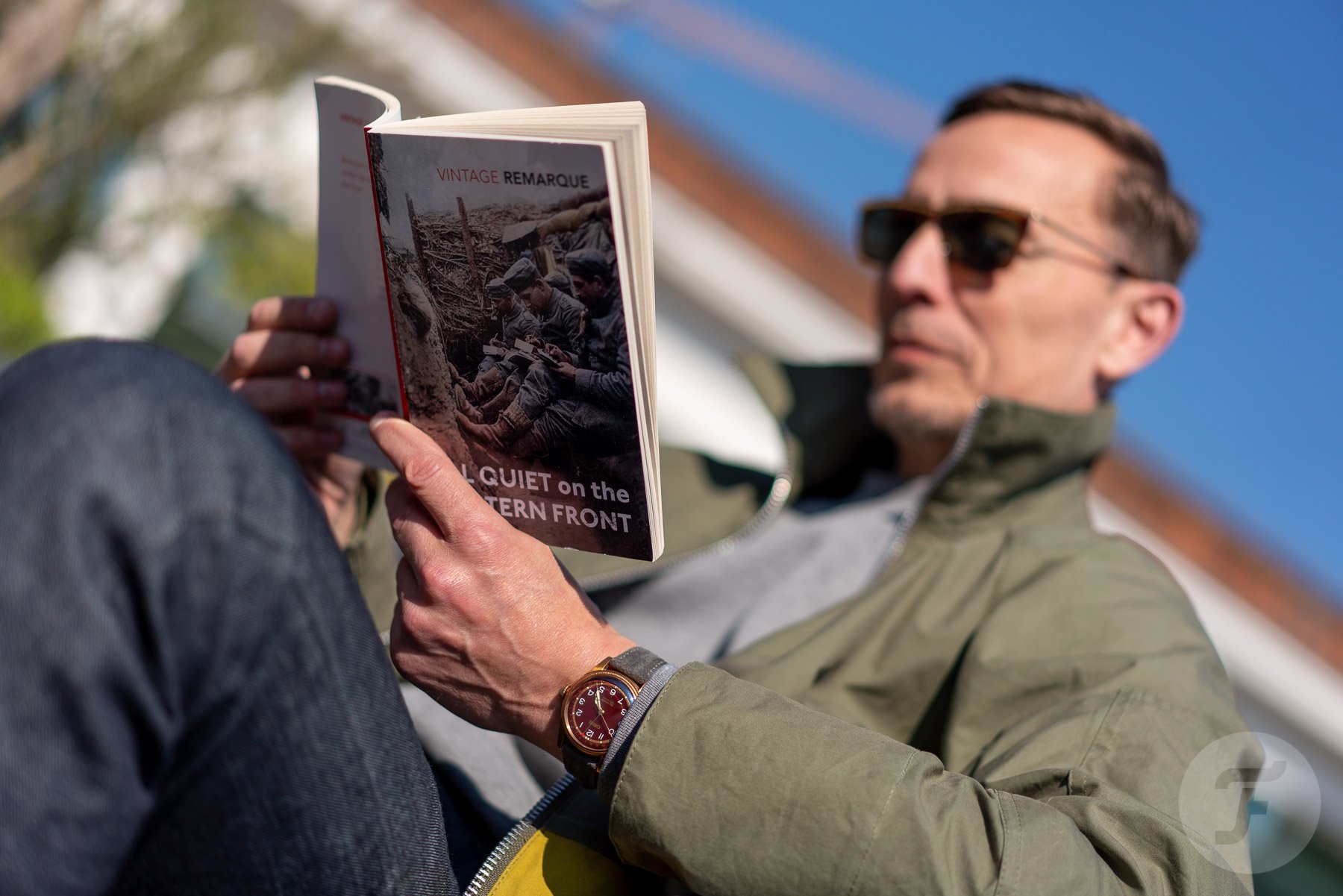 All Quiet on the Western Front by Erich Maria Remarque
You can't leave home without a book. Well, I can't anyway. And although I prefer non-fiction, I just had to read Erich Maria Remarque's All Quiet on the Western Front (German: Im Westen nichts Neues) after reading about it in so many books about the WWI period. Remarque was a German World War I veteran who, in his novel, describes the daily horrors of war a soldier experienced on the Western Front. It's a tremendously powerful book that very clearly and concisely conveys the physical and mental stress a soldier experiences during a war and how he becomes detached from civilian life. In the light of current events, the 1929 anti-war novel packs a powerful punch.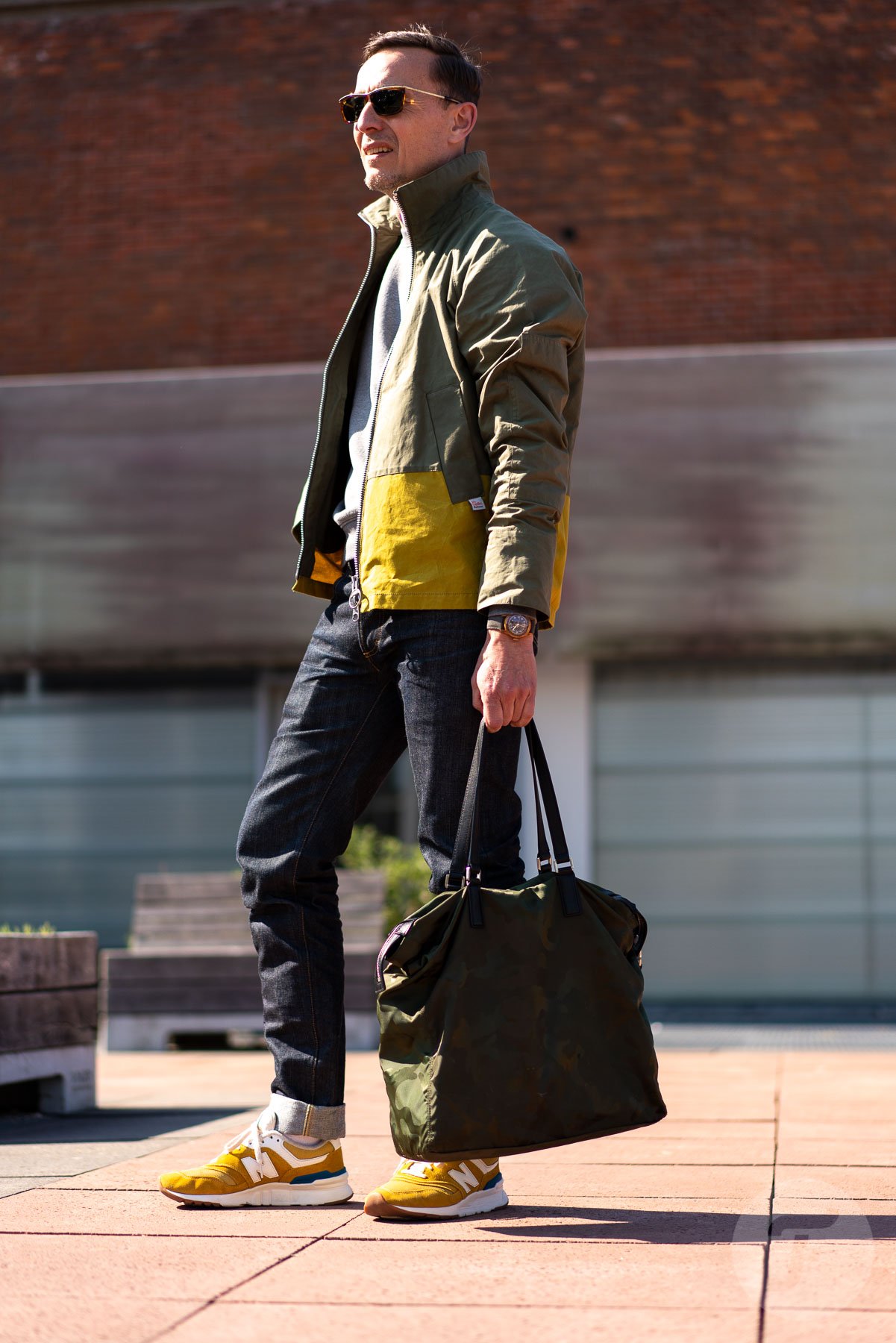 "Fratelloris", what else?
I really like the way that this Fratelloris slowly but steadily becomes my Fratelloris. The patina on the bronze 40mm case of the Fratello × Oris Big Crown Pointer Date is my patina. And the oxblood dial in combination with the gray strap combines a warm shade with a cool one to create a very stylish watch ensemble. It wears very comfortably, and it also comes with some serious chops; it has a great, even charismatic wrist presence. I bought it soon after I joined Fratello last year, and I haven't regretted it since. Both the buying and the joining, I mean.
Also in the pictures are a pair of New Balance 997 Classic sneakers, Japanese selvedge denim Lee 101 Rider jeans, a gray sweater from The Kooples, and a Barbour × Ally Capellino Hand Casual wax jacket. Just so you know.
Please find and follow me at Lex Stolk • Instagram