Ligure Scuba Diver Watch Tartaruga Series
A new turtle on the block
I must admit that at Fratello, we don't cover all well-meant watch start-ups by far. Crowdfunding platforms Kickstarter and Indiegogo seem to provide an almost continuous flow of new watch projects. But if it comes to start-ups from The Netherlands, we prove to be quite chauvinistic, and then we often pick up our pens. No surprise here with the new watch brand Ligure Scuba Diver that introduces their first three models on Indiegogo.
It started with long-time Seiko watch aficionado Rob van Herpt contacting us with an idea to bring his own watch brand. Rob runs a Seiko online shop — Monsterwatches a.k.a. Robokies, and for ages, he supplies the world with Seiko watches, exchange-, and modding parts. The result of a hobby that has gone a bit out of control, as he described it.
As said, when hearing of Dutch start-up projects, we have an ear. We're not always equally enthusiastic but publish about these regularly. To freshen up your mind, I'll mention a few of them; Eza, Revolo, Batavi, Gyre, Lebois & Co, and lately, Airain. Some of them happen to be just a one time show, and others become real brands after the crowdfunding project. The people behind Ligure are aiming for the last option.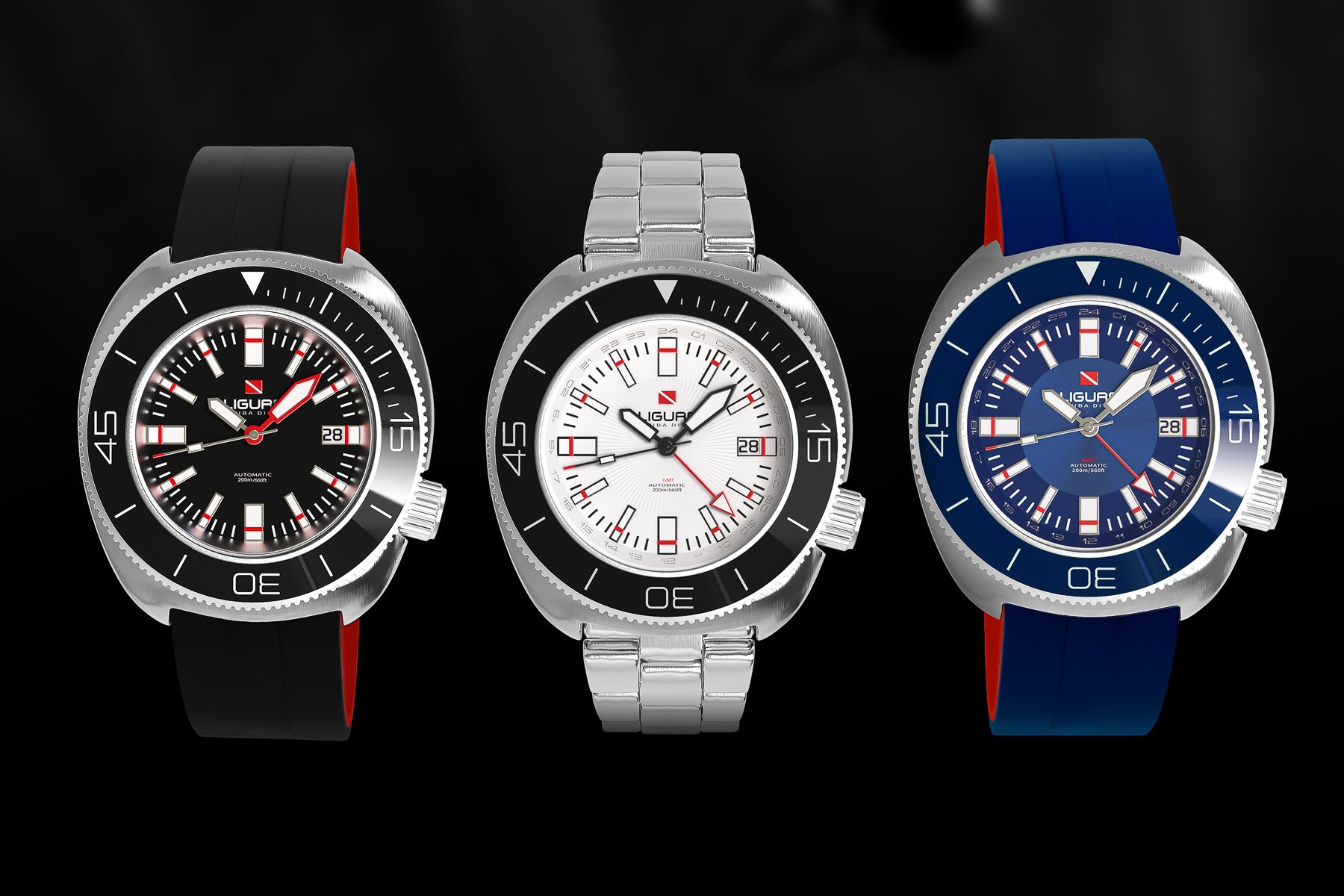 Ligure Scuba Diver
Ligure decided to introduce themselves with a line of three scuba diver's watches. The Tartaruga series. Tartaruga is a word in Italian and means turtle. You know, the sea-going pre-historic reptile with a hard shell and very recognizable shape. We all know that another brand has turtle-nicknamed models in its line-up. Those were exactly the models that Ligure was inspired by.
No wonder, because Rob — one of Ligure's co-founders — has worked a lot with Seiko Turtles and knows precisely at what points they can be improved. And that's exactly what the plan is; take a good design and make it a better watch. The Ligure start-up, by the way, isn't just Rob's private show. It's a project among four friends. The other three being watch industry veteran — and ex Dutch-army diver — Loek, marketing entrepreneur Pieter, and graphic designer Janieke. So let's now have a look at what Ligure's view on a perfect turtle is.
Work in progress
It's good to know that — although already available to buy through Indiegogo until December 30th, 2020 — Ligure is still somewhat a work in progress. That doesn't mean that the final watch will be totally different from the renderings shown in this article. The idea is that Ligure will be able to listen to serious comments and react to them. The main specifications are fixed: Swiss automatic movement, domed sapphire crystal, a slightly sloped sapphire bezel, 43mm case, 200 meters water-resistant, and technically compliant to ISO 6425.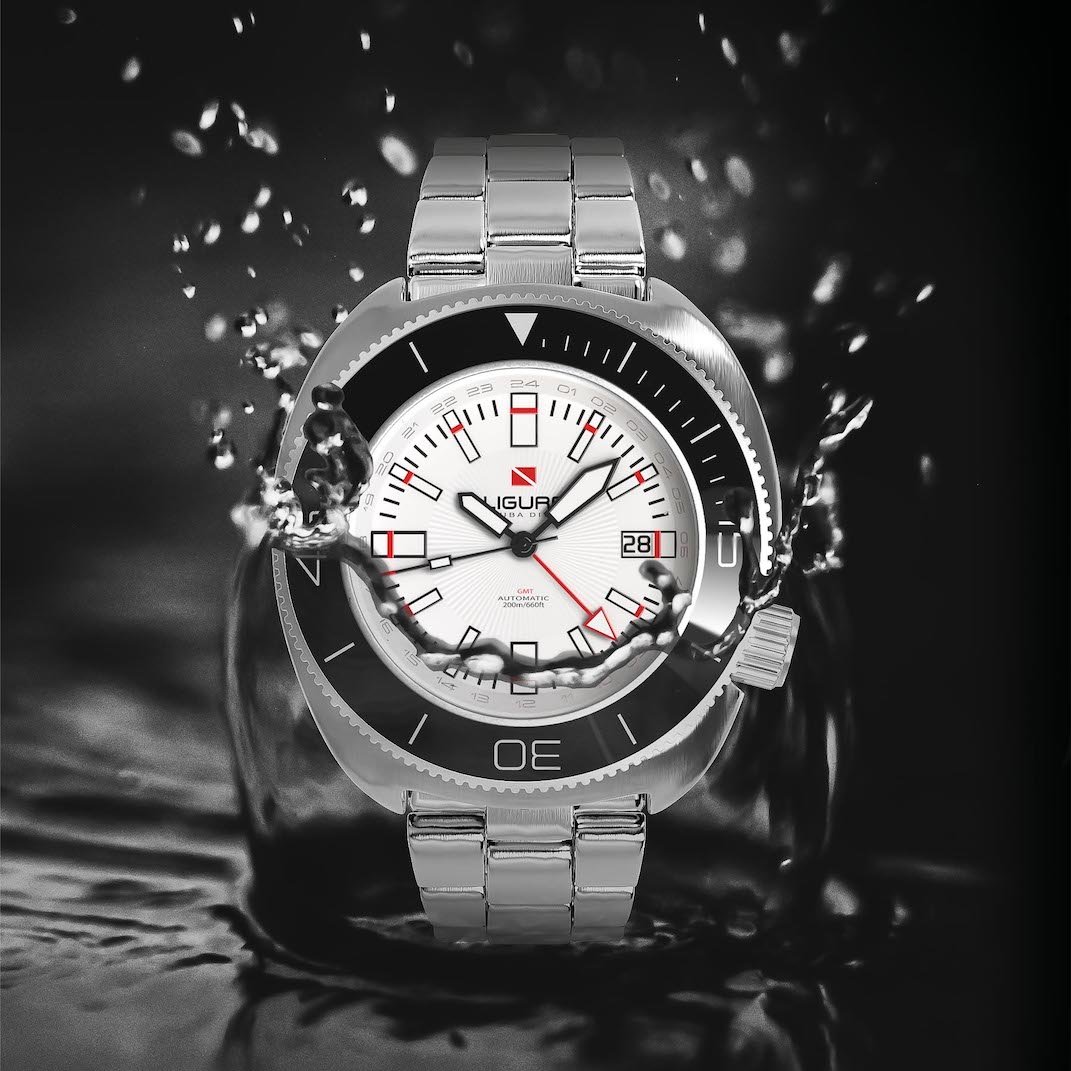 But, for instance, the bracelet shown in the renders has not quite taken its final shape. Improvements are looked for and will enhance the final product. Here, a work in progress means that any small changes that would improve the final product might be implemented before delivering the actual watches.
Technical specifications
Further to the most important specifications that I mentioned in the last paragraph, I'll write down some additional. Among all sorts of requirements, ISO 6425:2018 also requires a secured measuring system to indicate the diving time, visible in the darkness. Ligure tackles this with a 120-click unidirectional 316L stainless steel bezel. The coin-edged bezel has a sapphire inlay that's slightly descending towards the inside. Plus, its numerals and index markers are made in X1 Super Luminova®. The same material as used in the dial and hands, which has 60% more light output than regular luminous material.
The 43mm case is made in well-known and reliable 316L stainless steel. Brushed finished on top and polished on its sides and back. The lug-width will be 22mm, while the lug-to-lug distance is (only) 44mm. A 44m lug-to-lug ensures that the watch will fit most wrist sizes. Currently, the two Swiss calibers chosen to equip the Ligure Tartaruga are the 26 jeweled Sellita SW200 and 25 jewel SW310. Both ticking at 28,800 vph, and with respectively 38 and 42 hours power reserve.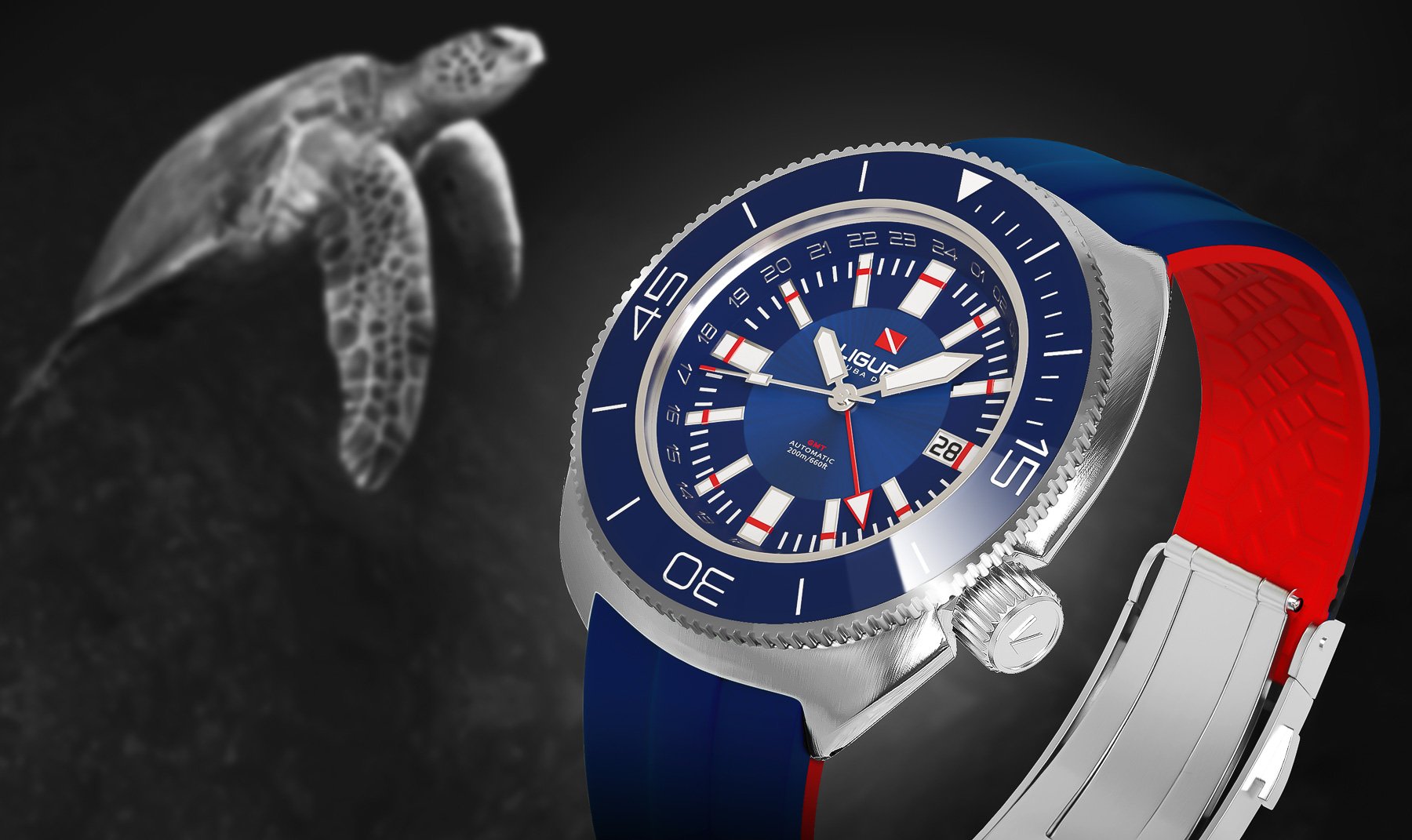 Three dial colors, two models
The first Ligure Scuba Divers will be available with a black, a white, and a blue dial. The black dialed model is a three-hander with date, while the white and blue have a fourth hand with GMT, or second time-zone, function. From the renders – so without having the watch handled in real life – I'd say the black-dialed three-hander will be my favorite. I can, however, imagine that a second time-zone function might come in handy on a divers watch. The most beautiful dive spots normally tend to be on the other side of the world from your residence 😉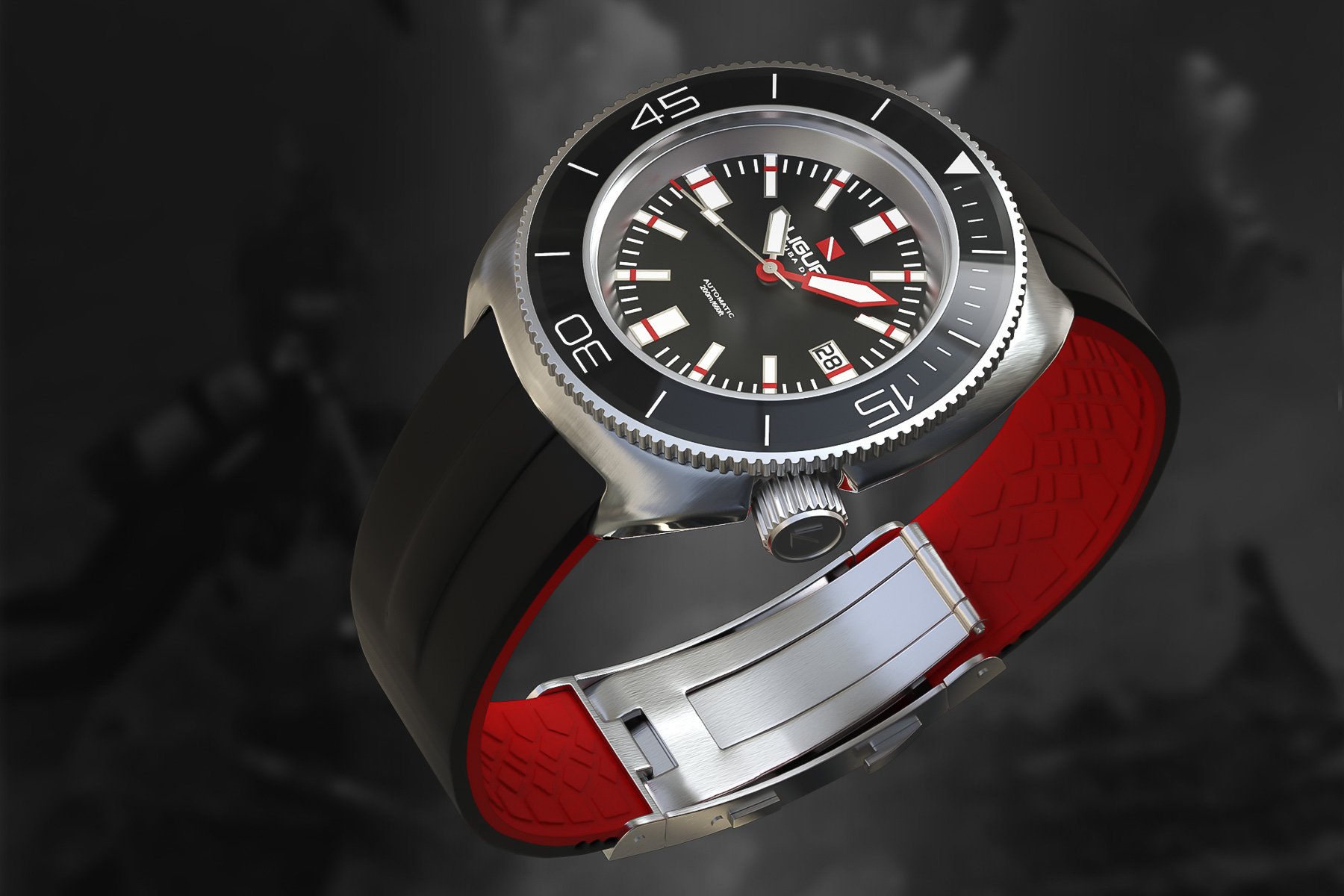 Conclusion
Ligure is determined to present a watch that's as good, or even better, than its many rivals in this league. So far, looking at the rendered images and specifications, they'll manage. Taking everything into consideration, and looking at an Early Bird price from €495 to €695, they seem hard to beat. At the regular sales prices of €795 to €995, you'll have more options to come close to Ligure's offering. But even then I expect them to earn their place.
More information on the Ligure project is at www.ligurewatches.com. Early Bird ordering can be done at Indiegogo (until December 30th, 2020). You'll find me on Instagram @gerardnijenbrinks
Watch specifications
Reference
Tartaruga & Tartaruga GMT
Dial
Black, white and blue
Case Material
316L stainless steel, bezel with sapphire inlay
Case Dimensions
43mm diameter, lug-to-lug 44mm, lugsize 22mm
Crystal
Sapphire, domed, anti-reflective
Case Back
316L stainless steel, screwed-in
Movement
Sellita, SW200 & SW310
Water Resistance
200 meters, 20 bar
Strap
Two-color vulcanized FKM anti-dust rubber, or stainless steel
Functions
Time, date, & GMT
Price
Early Bird from € 495 to €695 - regular sales price from € 795 to €995
Special Note(s)
Early Bird ordering at Indigogo until December 30th, 2020.