The Limited Edition Milus Archimèdes Orange Coral Diver — A True Super Compressor Or A Compressor-Style Watch?
Famous looks put to the rescue of coral reefs
When you see two crowns and an internal diving bezel, your watch enthusiast brain thinks: "Super Compressor". It's a Pavlov effect and, though very understandable, it's not entirely correct. It's not about the number of crows and the bezel, you see, it's actually all about the case construction. We'll dive deeper into the subject while having a look at the limited edition Milus Archimèdes Orange Coral Diver – A True Super Compressor Or A Compressor-style watch?
A Super Compressor (SC) is any watch that has twin crowns and an internal rotating diving bezel, right? If only it were that simple. The SC denomination says something about the case construction of a watch and not really any other element. You may be thinking — if it sounds like a duck and it walks like a duck, it's probably a duck. Typically it's a safe way of thinking, but one which simply doesn't apply when it comes to modern-day compressor-type watches. But before getting into what retro-style SC watches are all about, let's first clarify the reasons behind the name that these specific watches are given.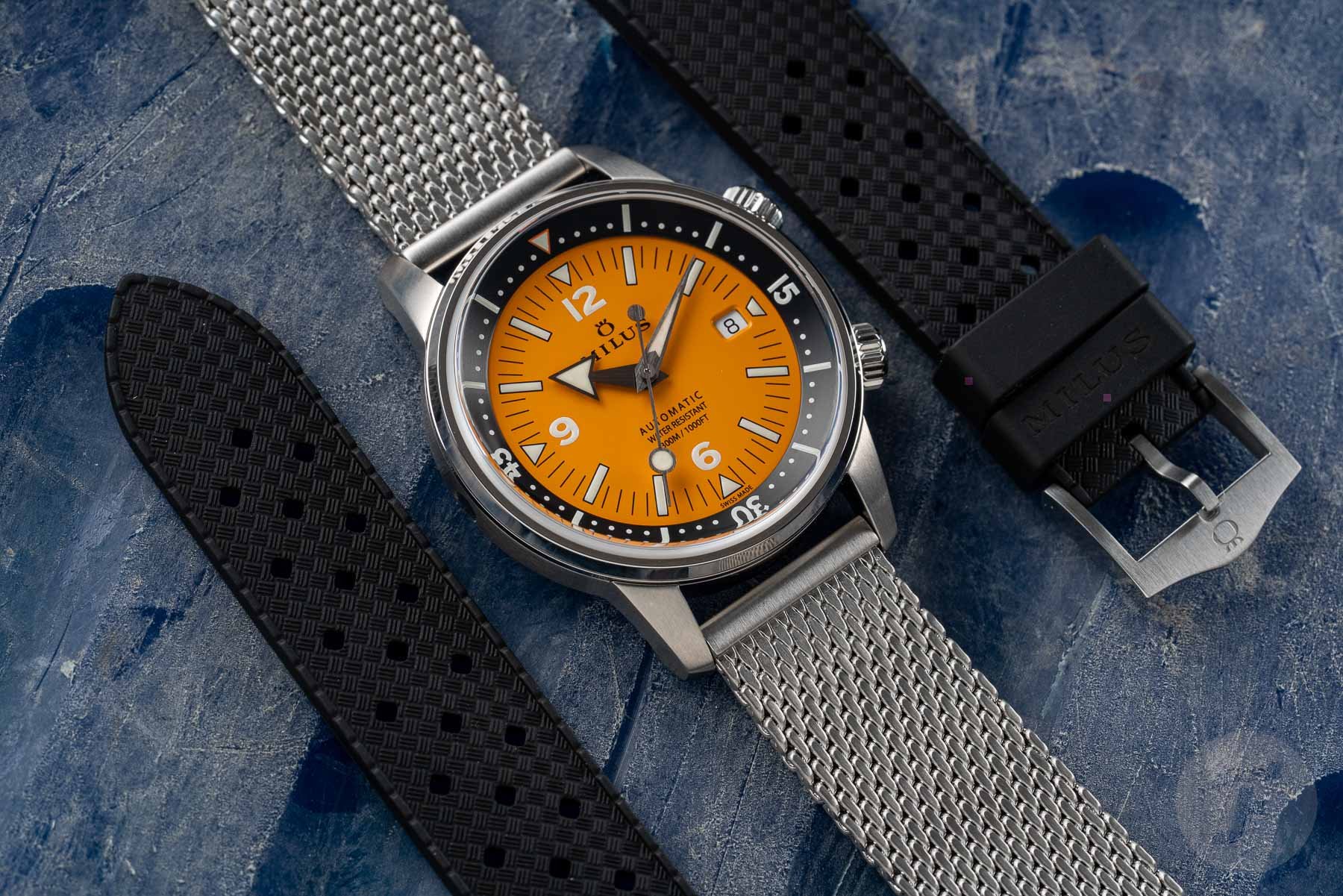 The Limited Edition Milus Archimèdes Orange Coral – A Super Compressor Or A Compressor-Style Diver?
Super Compressor is a trademarked name given to a specific watch case design made by Swiss case manufacturer Ervin Piquerez S.A. (EPSA). The idea behind an SC case is that as the wearer dives deeper, water pressure makes the case water-resistant by compressing the spring-loaded case back into an O-ring/gasket. The deeper you go, the more water-resistant the watch becomes. Simple and brilliant. EPSA made SC cases from the late 1950s until the early 1970s. And yes, most of the famous watches with an SC case do happen to have twin crowns at 2 and 4 o'clock. The upper crown moves the internal diving scale, the lower one operates the movement's time-setting functions. This doesn't mean there were no single-crown SC watches. They just didn't become famous because of their more run-of-the-mill appearance.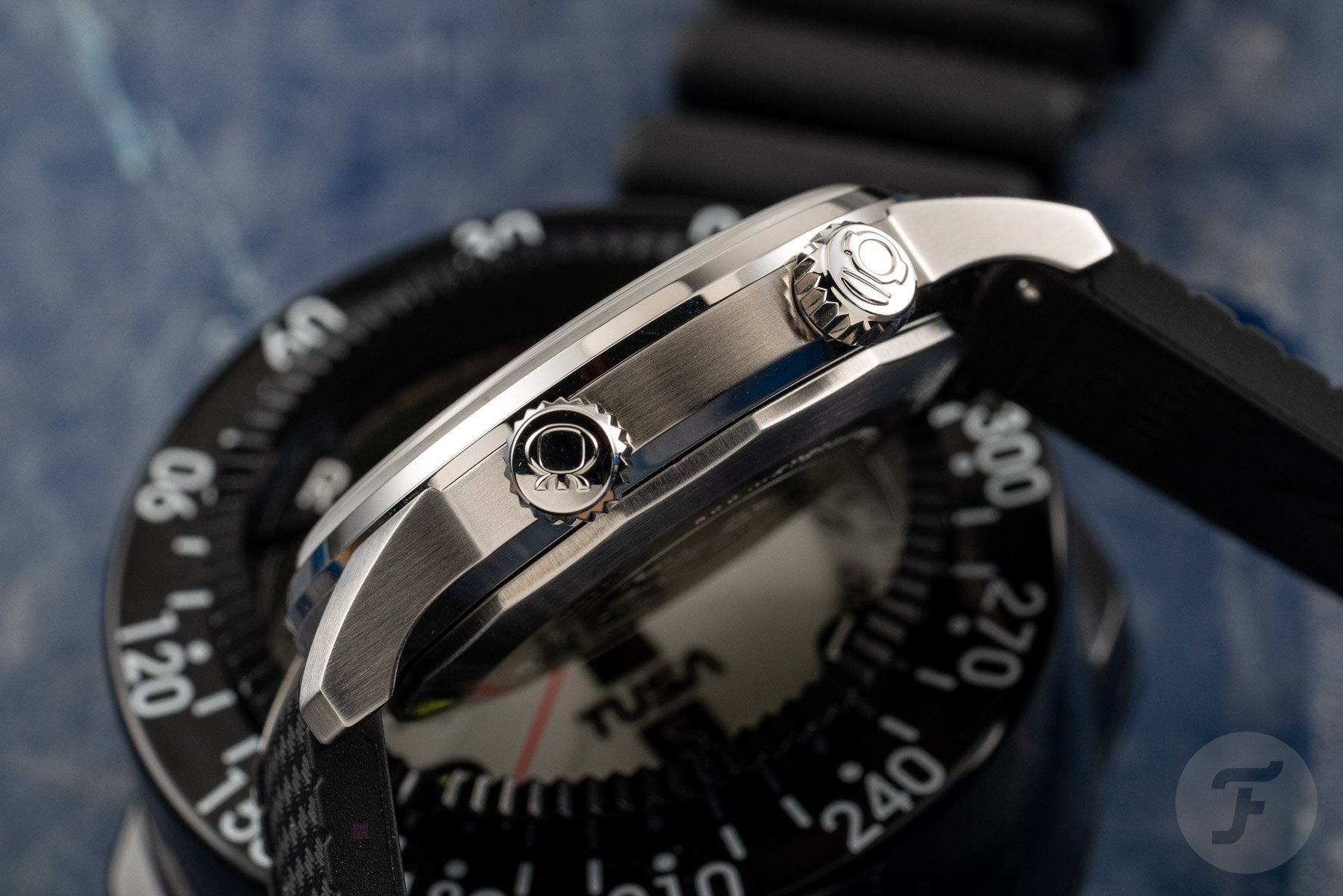 Vintage Super Compressor-cased dive watches have another hallmark that helps identify them. Most have distinctive cross-hatching marks on their oversized crowns — some brands even put their own logo over the cross-hatching. So, now we can finally ask: is the limited edition Milus Archimèdes Orange Coral a Super Compressor or a compressor-style watch? The answer being that it is actually a compressor-style diving watch. This means that it will make your brain believe it's an archetypical SC, despite the fact that it actually isn't one. But is that necessarily a bad thing? Let's have a closer look at this brightly colored Milus and find out.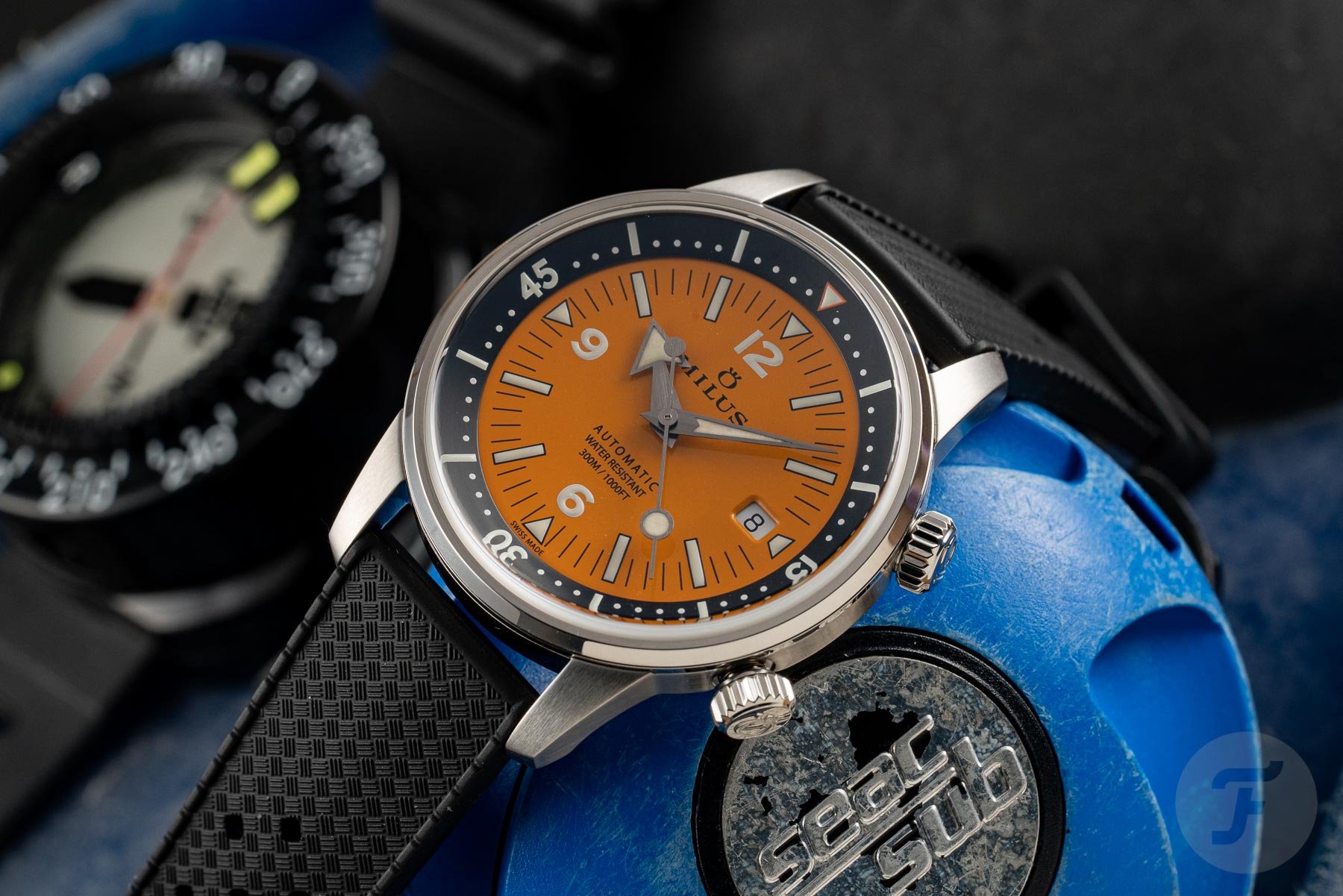 A yellow dial and lots of "confetti"
In the collection of Milus dive watches, the Archimèdes model certainly stands out. The original Archimèdes was a dive watch introduced by Milus in the 1960s. The most famous of the lot was the Archimèdes 666. No, it wasn't a watch destined for devil-worshippers, but rather a diver's watch with a water resistance of up to 666 feet. In the 1970s, newer iterations of the Archimèdes model came in a water-resistant Super Compressor case manufactured by EPSA.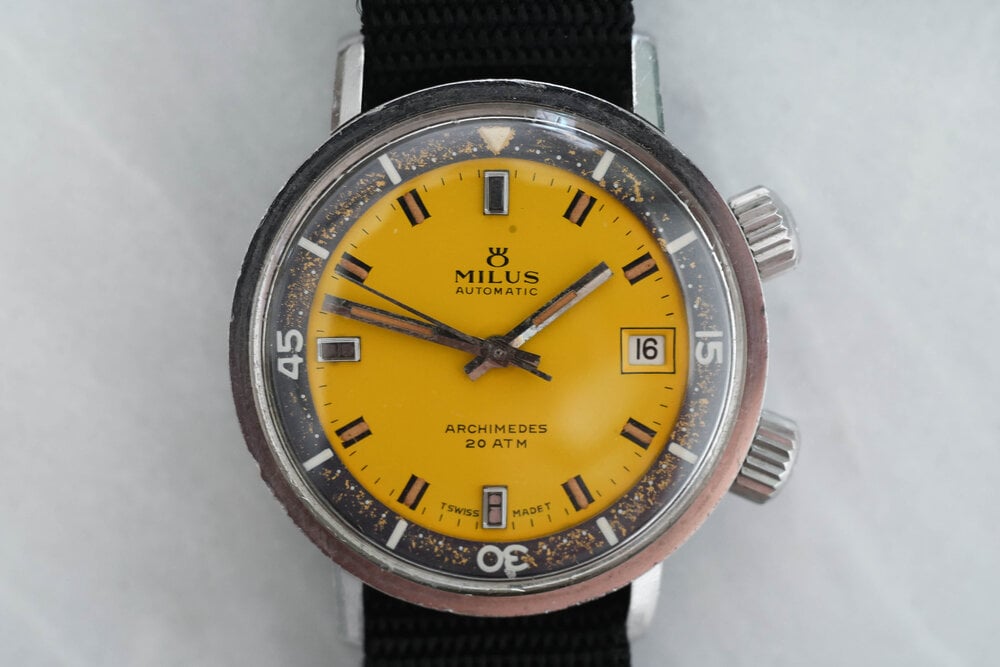 The 36mm yellow Milus Archimèdes you see here also makes use of the EPSA Super Compressor case. The internal rotating bezel has developed a "tropical" patina and looks as though it got caught up in a children's birthday party — I say this because of the yellow flecks of "confetti" on the original black finish. The yellow is still very bright and clean, but the tritium markers have turned a rather appealing orange color. And speaking of a rather appealing orange color, this is where the Limited Edition Milus Archimèdes Orange Coral comes in.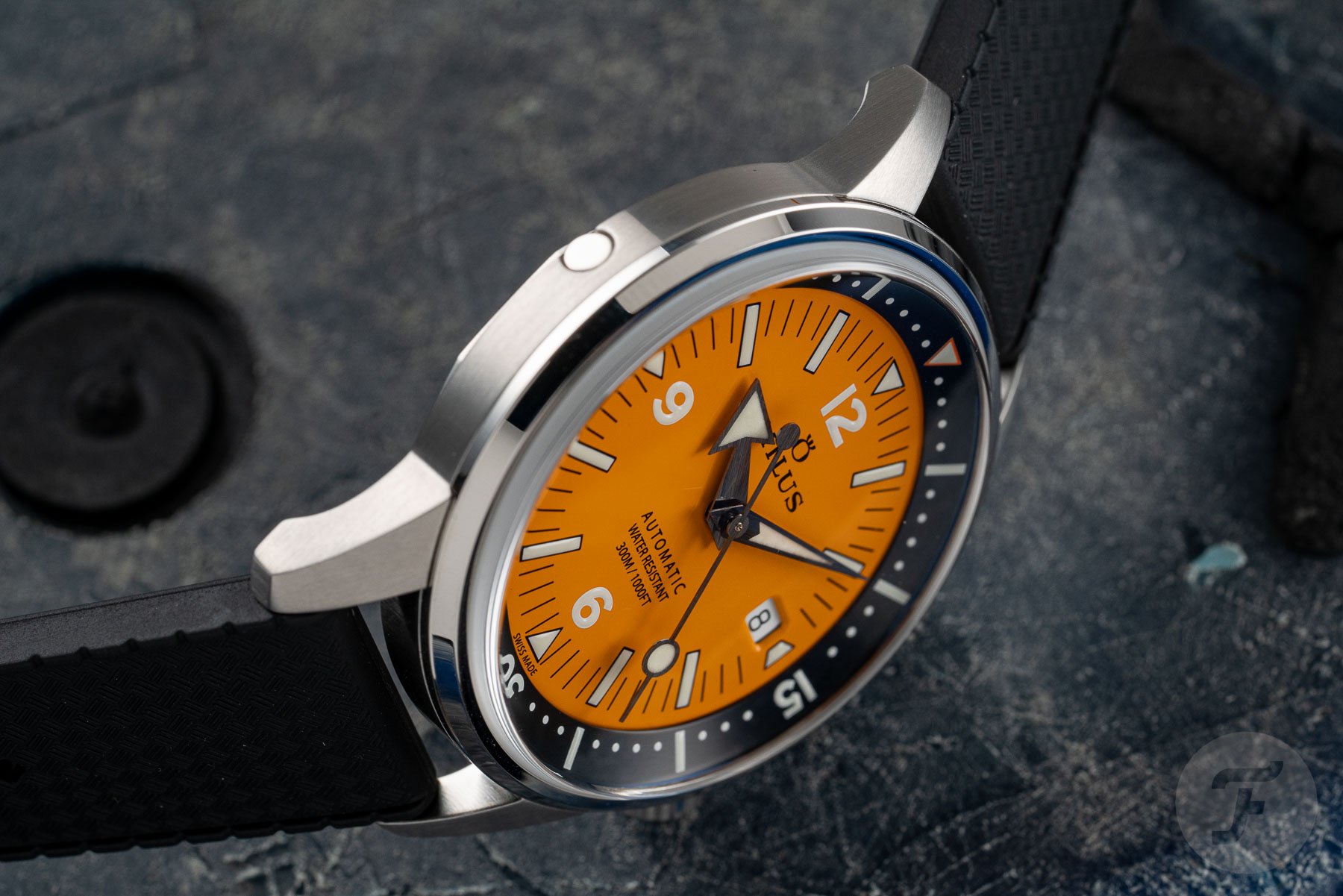 The screwed case back and other anomalies
Orange takes center stage in this modern interpretation of the Archimèdes. It comes in a 41 × 13mm, 316L stainless steel case, and is water-resistant up to 300m or 30 ATM. But the Limited Edition Milus Archimèdes Orange Coral (only 50 numbered pieces have been made) is not a true SC since it has a screwed case back and equally screw-down crowns — not something you would find on a vintage, true SC watch.
… the case shows brushed surfaces and polished accents and is topped by a highly domed sapphire crystal.
To add to these differences, there's even a helium escape valve at 9 o'clock. This helps in dealing with the minuscule gas atoms that can wreak havoc in a diver's watch if not allowed to escape when returning to the surface from saturation diving. Will this watch ever face those circumstances? It's not very likely, but it does make the watch a carefree companion you can confidently take on a light aquatic holiday adventure. The case features brushed surfaces and polished accents and is topped by a highly domed sapphire crystal. Yet another element reinforcing the vintage appeal of this watch.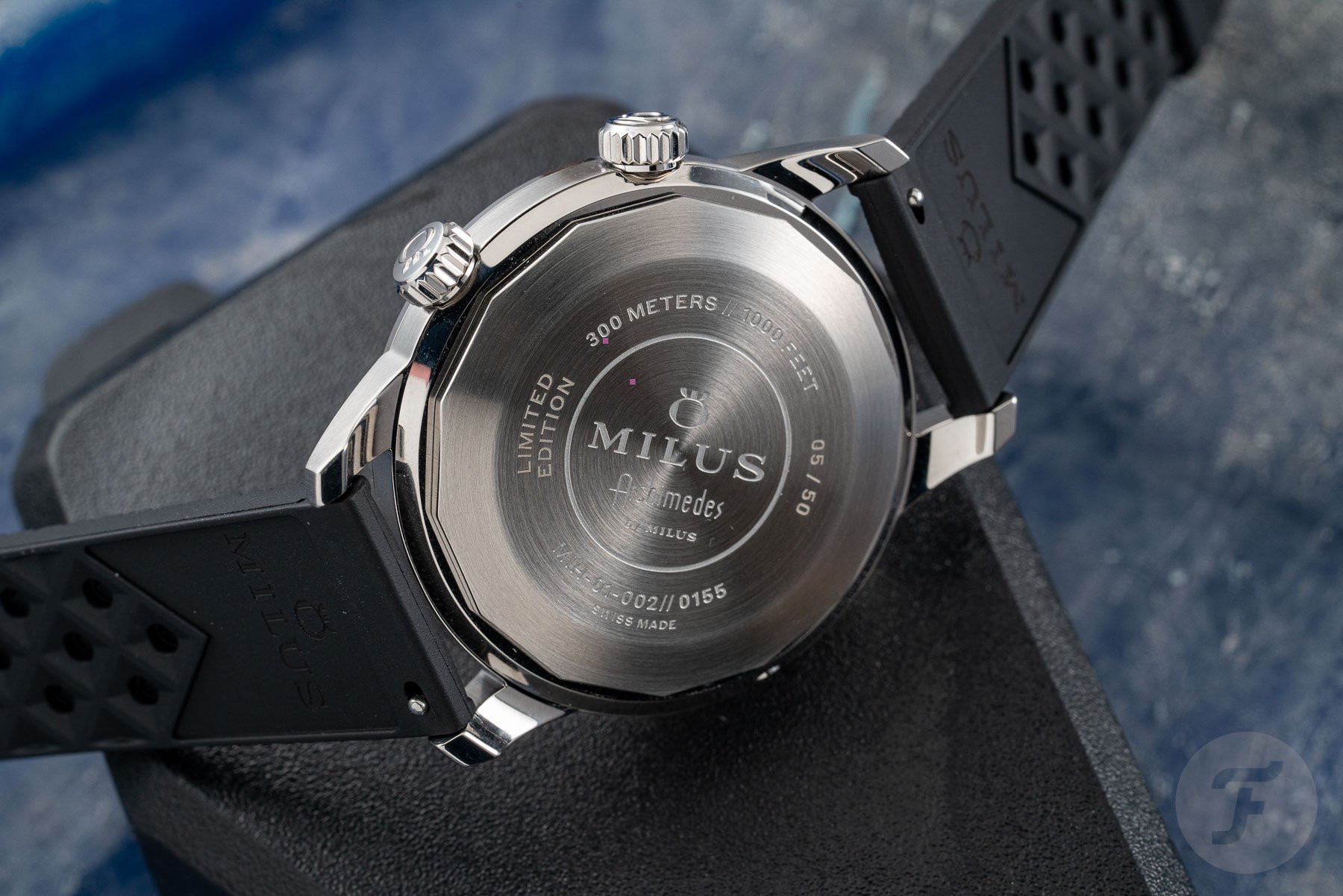 A quick-release system and a good "heart"
Another famous SC feature the Limited Edition Milus Archimèdes Orange Coral lacks is the historical cross-hatched pattern on the crowns. Instead, we see the Milus logo on a clean, polished background. But it does come with two retro-styled straps. A tropical rubber strap plus a steel Milanese bracelet. Changing between them is simple thanks to the spring-bars, which have a quick-release system, easily operated with a fingernail.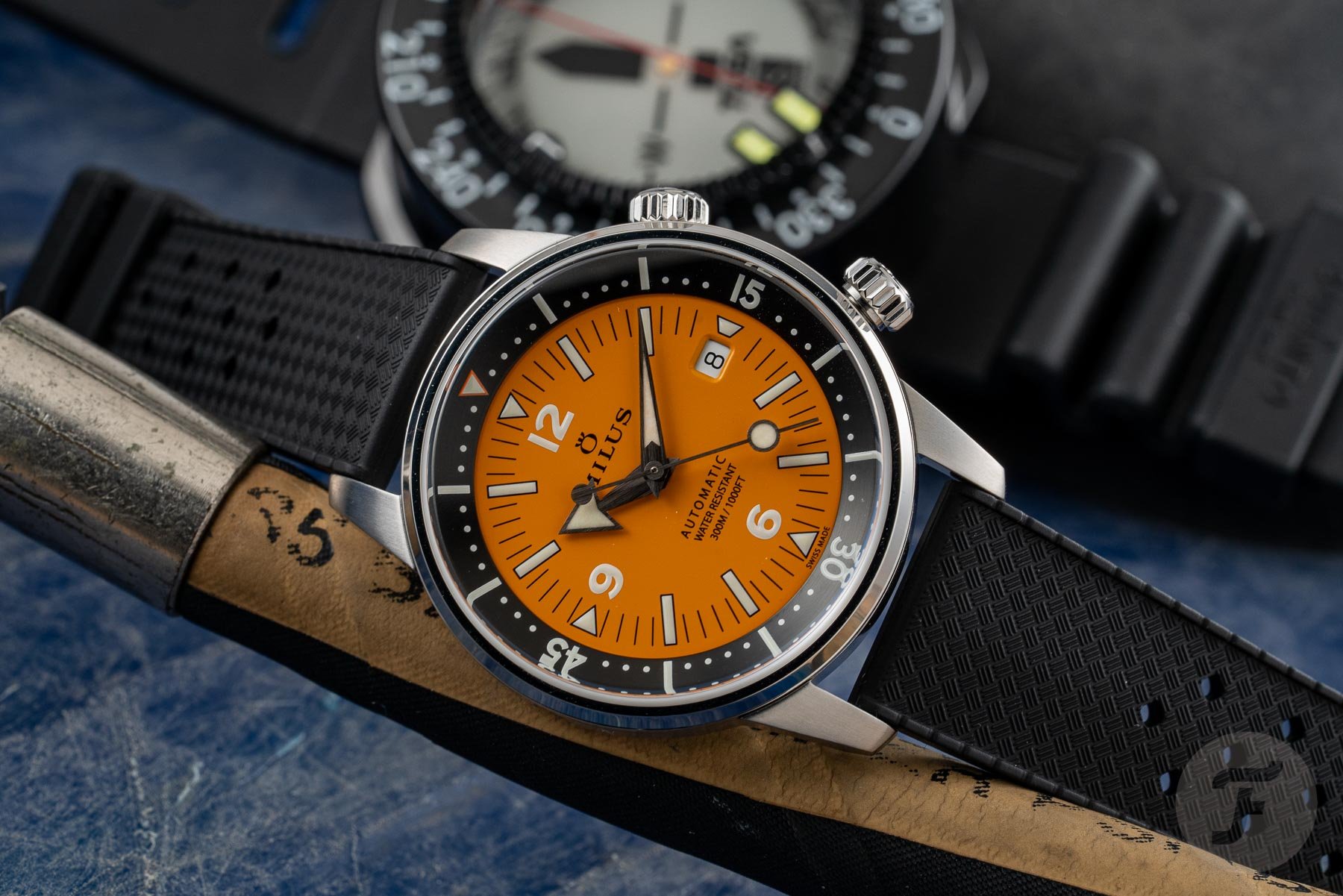 Putting aside all material characteristics, we can focus on the fact that this Archimèdes Orange Coral is committed to the protection of coral reefs. Milus donates part of the profit from the sale of this model to an organization that will in turn save a single coral organism, which will then receive the name of the customer that purchased the orange Archimèdes. Each Archimèdes wearer receives a personal certificate, issued by the Coral Guardian association. That's a non-profit organization bringing together scientists and defenders of marine organisms to help with the conservation of these endangered marine ecosystems. The organization developed a coral re-transplantation program to fight against their extinction.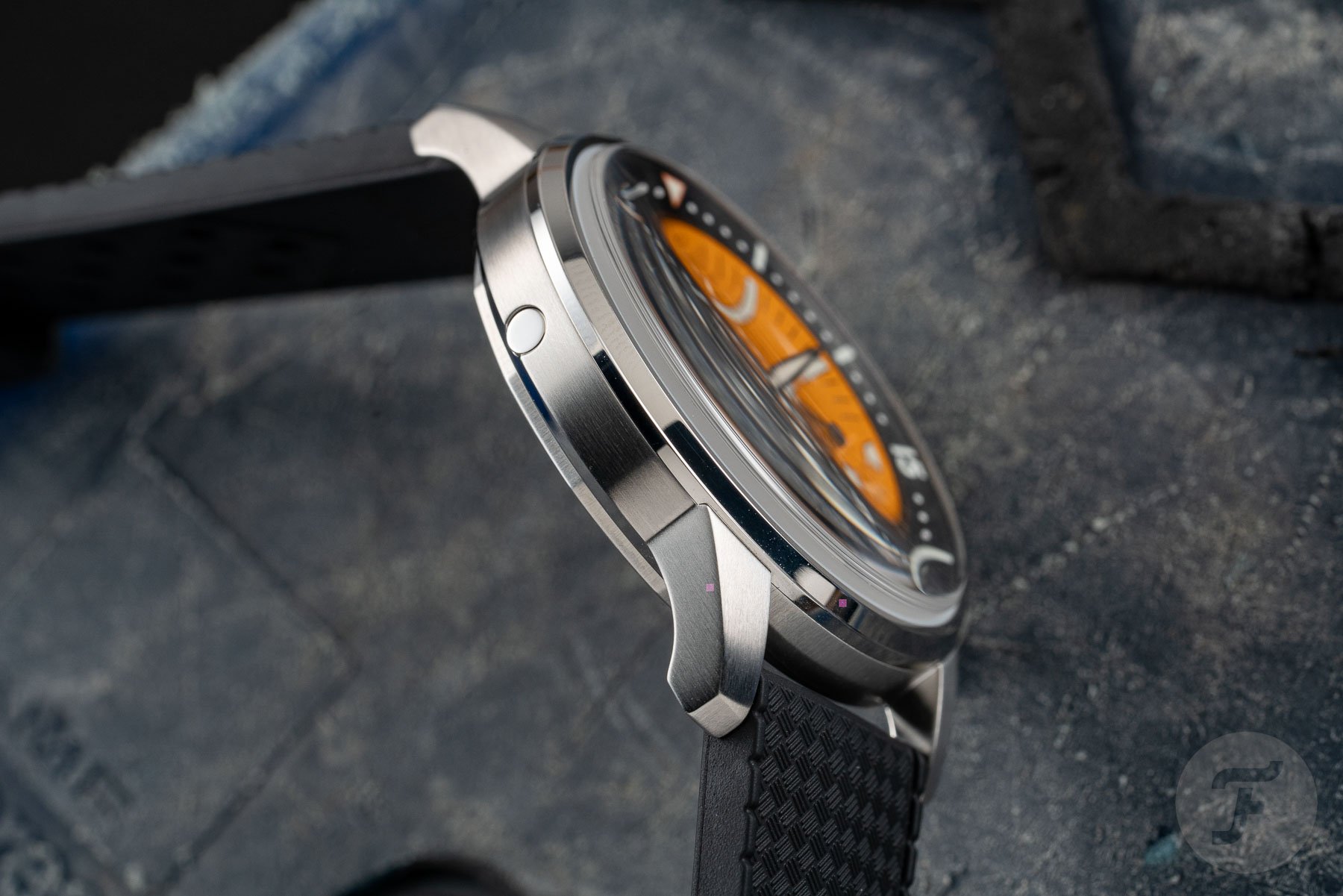 Final thoughts on the Limited Edition Milus Archimèdes Orange Coral
The Limited Edition Milus Archimèdes Orange Coral might be a bit confusing — it's a lookalike and not an actual SC. Despite this, it's a more than capable sport watch with a soft spot for coral preservation. The orange dial is something that most dive watch enthusiasts are bound to be quite fond of. Not to mention the automatic, top-grade ETA 2892-A2, 4Hz movement with 42 hours of power reserve. It's a solid choice, but not something I feel the need to elaborate too much on.
So what about the Super Compressor versus compressor-like elephant in the room? Well, most modern SC watches are actually compressor-like models, so in some way, this proves that it doesn't really matter all that much. The Baltic Aquascaphe Dual Crown we showed you here some time ago is an example of this, as is the most famous of them all, the Longines Legend Diver. The watches Christopher Ward and Farer make — real modern SC diver's watches — are just the exception that proves my point.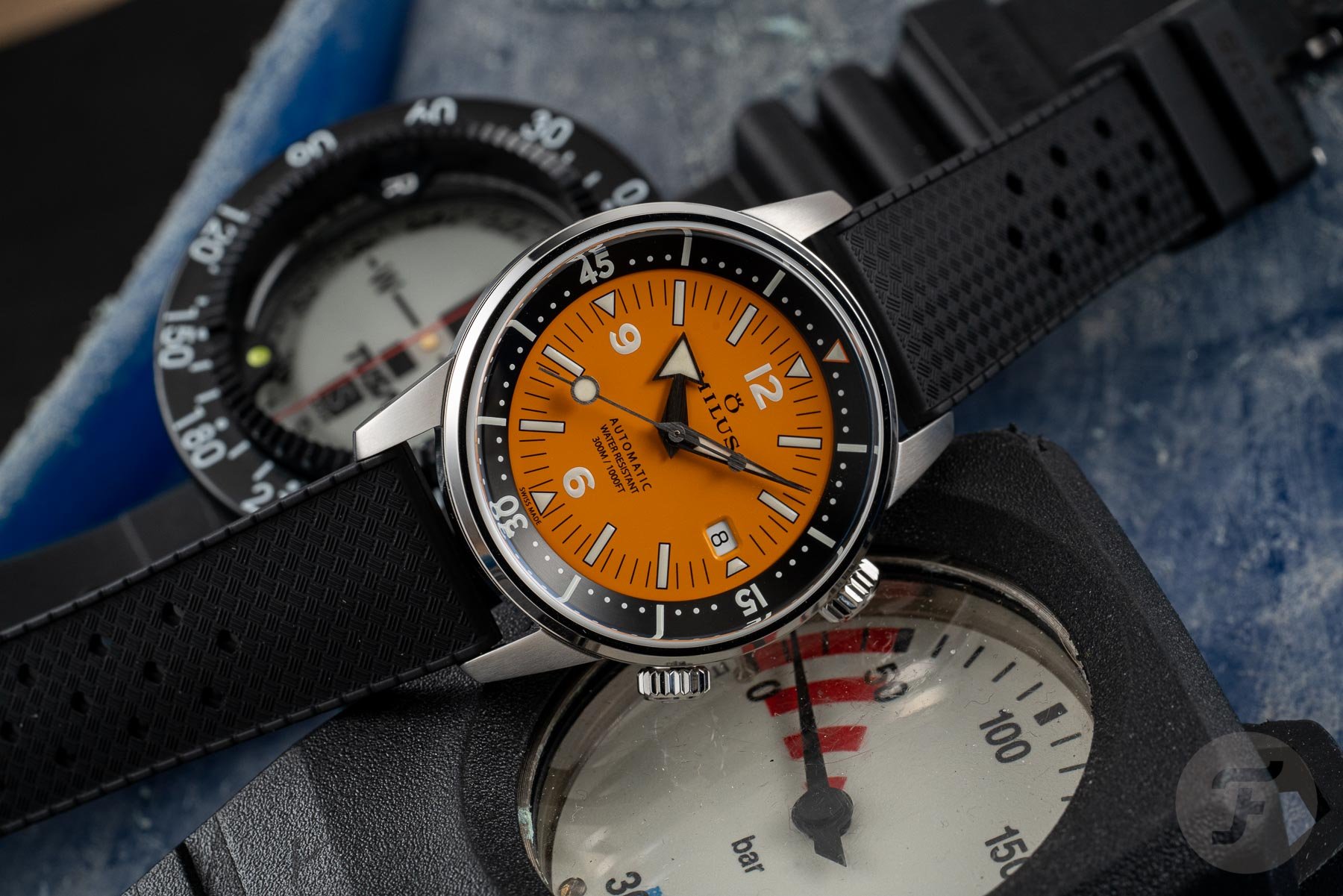 If you buy the Milus Limited Edition Milus Archimèdes Orange Coral, you do so because you love the color, the style, the fact you can easily swap between straps. The price of €1,941 puts it well above the Baltic and just below the Longines I previously mentioned. However, it is a limited edition, as Milus will only be making 50 pieces. Though limited in number, the watch still does its part to help save the wonderfully pretty and ecologically significant coral reef thanks to the commitment of 50 lucky people who will get to wear it.
For more information about the Limited Edition Milus Archimèdes Orange Coral, please visit their official website.
Please find and follow me at Lex Stolk • Instagram