Minase Teams Up With Famous Japanese Lacquer Master For The Divido Shibo Urushi Collection
The popular Divido model has a face lift
Some of us would say that Japan is like another planet. The country leaves us in awe because the experience we come away with is so foreign to us. Having been a "gaijin" (literally, an "outsider", or a foreigner) living there for several years, I can tell you, the glee from being awe-struck never gets old. And the latest from Minase, the Divido Shibo Urushi collection, gives me plenty to get awe-struck about.
What hit me the most about living in Japan was the level of sophistication around me, even in daily life. In Japanese culture, the word monozukuri refers to the art of making things, particularly by hand. And believe me, the Japanese can refine anything into an art form. Still, it blew me away many years later when I walked into a collectors' event in London and discovered Minase. It was the first time I'd ever come across an independent artisan watch brand from Japan.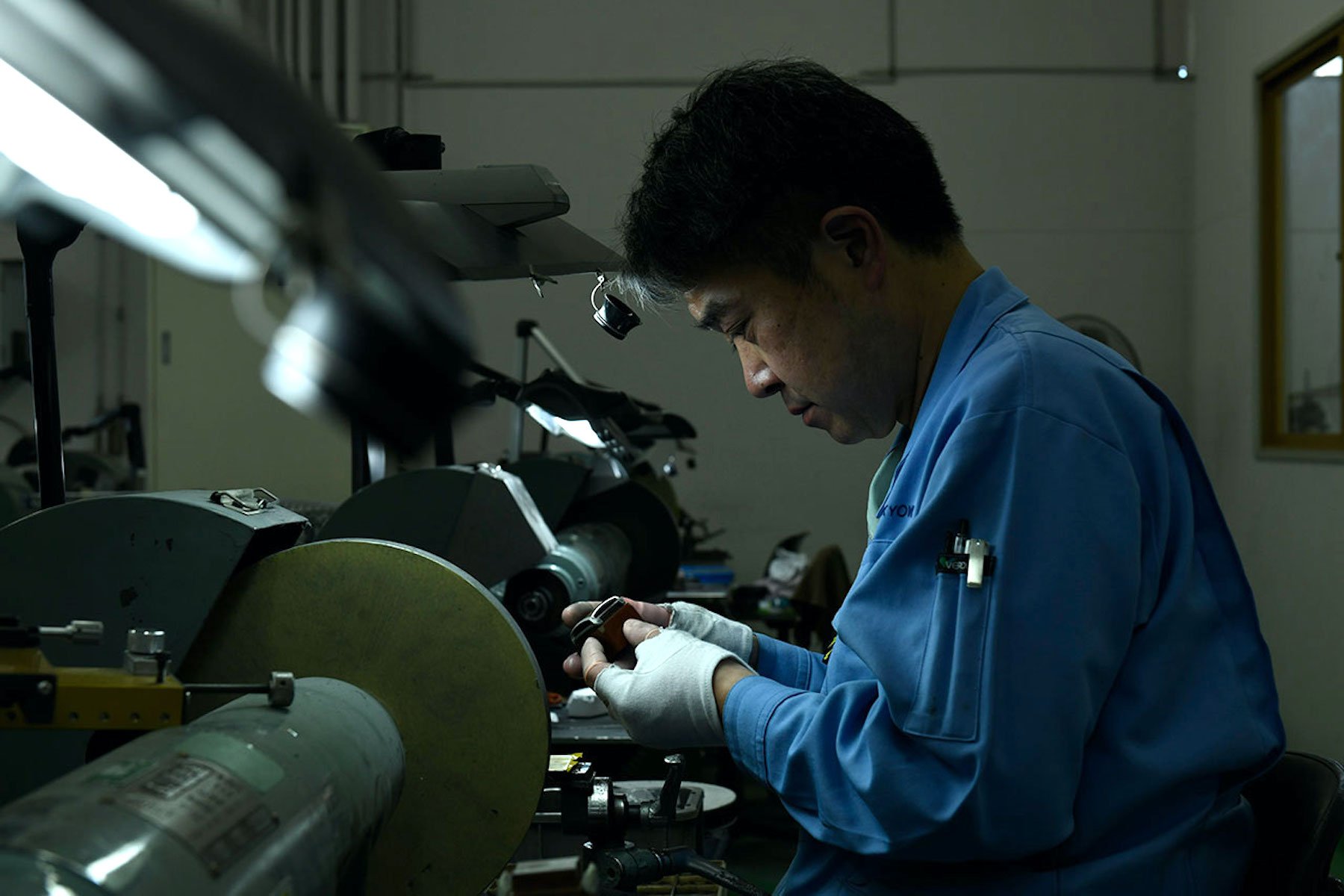 If you know, you know
Minase started life in 2005, taking its name from the atelier's home village in Akita Prefecture. Since then, within its native land of Japan, Minase has become quite an esteemed maker. So much so, in fact, that one of the brand's watches was seen on the wrist of Japan's former (and longest-serving) Prime Minister.
Unbeknownst to me, a few of our editors also made their own discoveries separately (see here and here) about the same time as I did. Clearly, the word was spreading around the inner circle. In my case, I found the origin of Minase and its numerous in-house crafting skills fascinating. Above all, I was captivated by the striking aesthetic of its watches. The Minase cases were like nothing I had seen on the market. Their designs, however, make a lot of sense once you know the backstory. So, if Minase is new to you, do not miss this writeup.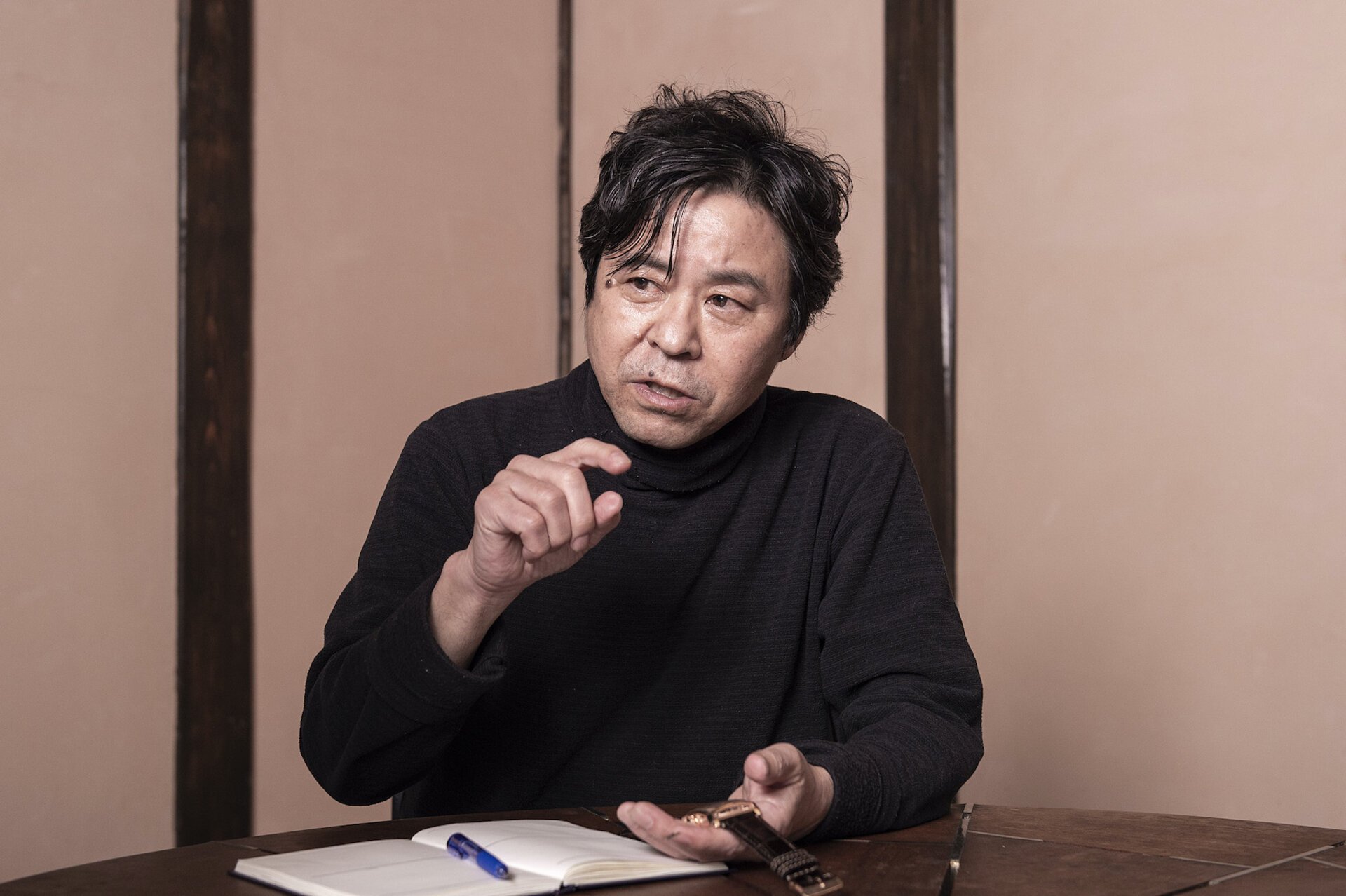 Collab with a maki-e master
Last year, Minase teamed up with Japanese lacquer master, Junichi Hakose, one of the most internationally acclaimed maki-e artists, to create a new collection. Maki-e is an ancient Japanese art of lacquer decoration. The result was the stunning Masterpiece series of watches with hand-painted dials using the urushi-lacquer technique. You can read about Master Hakose and his process of creating these exquisite dials in our review.
Just to decode the term, urushi is traditional Japanese lacquer. It is a highly prized material that has been used in many facets of Japanese culture for over 7,000 years. The lacquer comes from the sap of the urushi tree that grows in East Asia. In its raw form, the liquid is highly poisonous to the touch. Those who handle it must do so with extreme care and subject it to several detoxification treatments. As such, the harvesting of the resin can only be done in very small quantities.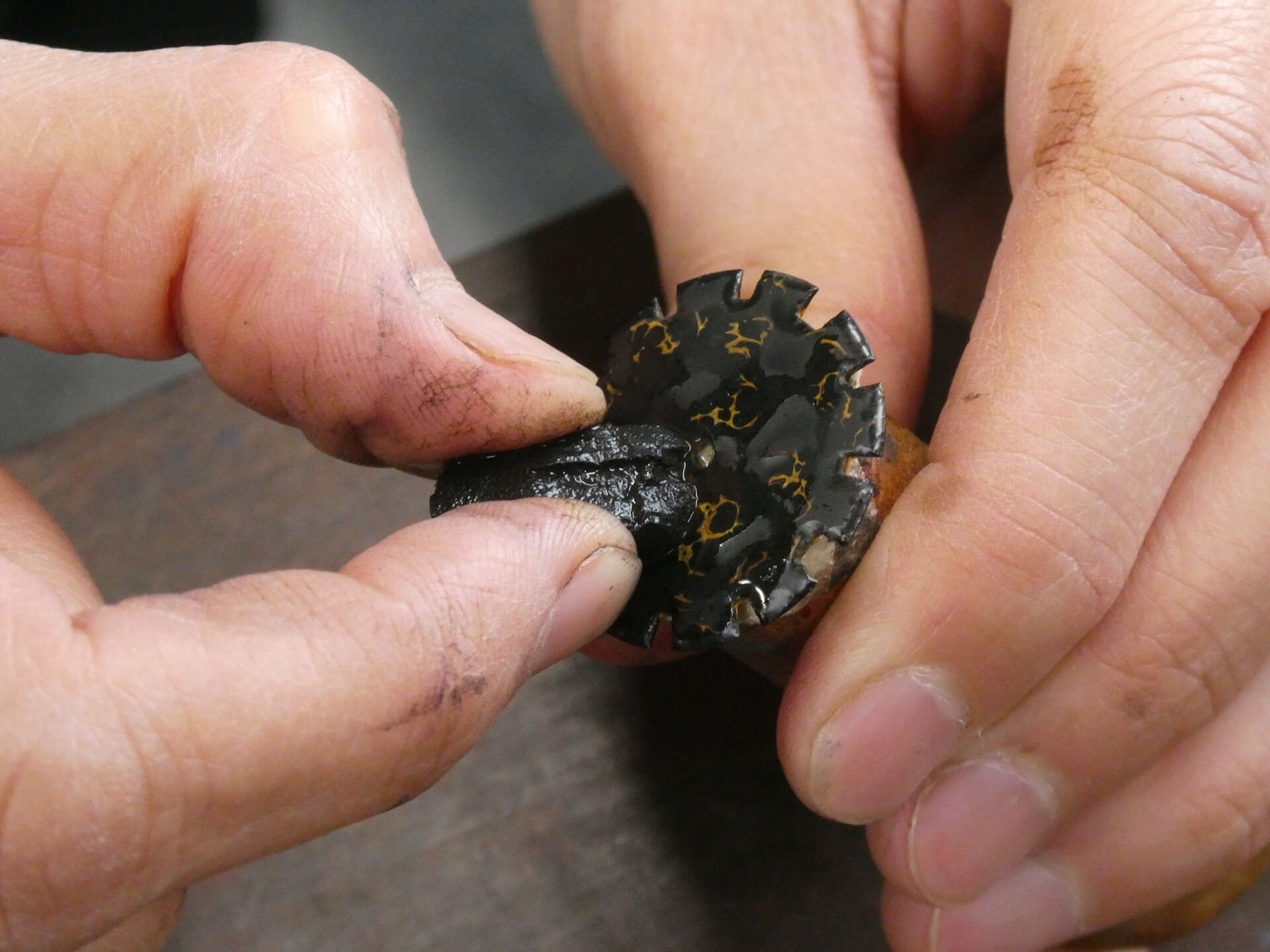 Divido Shibo Urushi Collection
After the success of the first collaboration, Minase knew it was on to something special. Therefore, the brand invited Hakose to create another edition, this time for the popular Divido case. For this collection, Hakose has crafted the dials in shibo-urushi, based on the same beautiful and traditional urushi-lacquer technique. But instead of painting "standard" urushi on the dial, Hakose mixes a certain color with urushi and egg white. This shibo-urushi mix has a viscous consistency which allows the artist to play with the patterns of the color. Hakose then applies the shibo-urushi to the copper dial with a traditional brush.
Traditional urushi brushes were made out of human hair because the artisans found the texture to be just right. It is hard to find this kind of brush today, even among traditional artisans, who mostly use brushes with bristles of mouse or cat hair. After Hakose's application, as the shibo-urushi lacquer hardens, it absorbs moisture from the air. This makes the dial perpetually shiny and slick.
Unique dials in four themes
Hakose has created four different themes for the dials of the Divido Shibo Urushi collection. Individually handcrafted by the master himself, no two shibo-urushi dials are the same.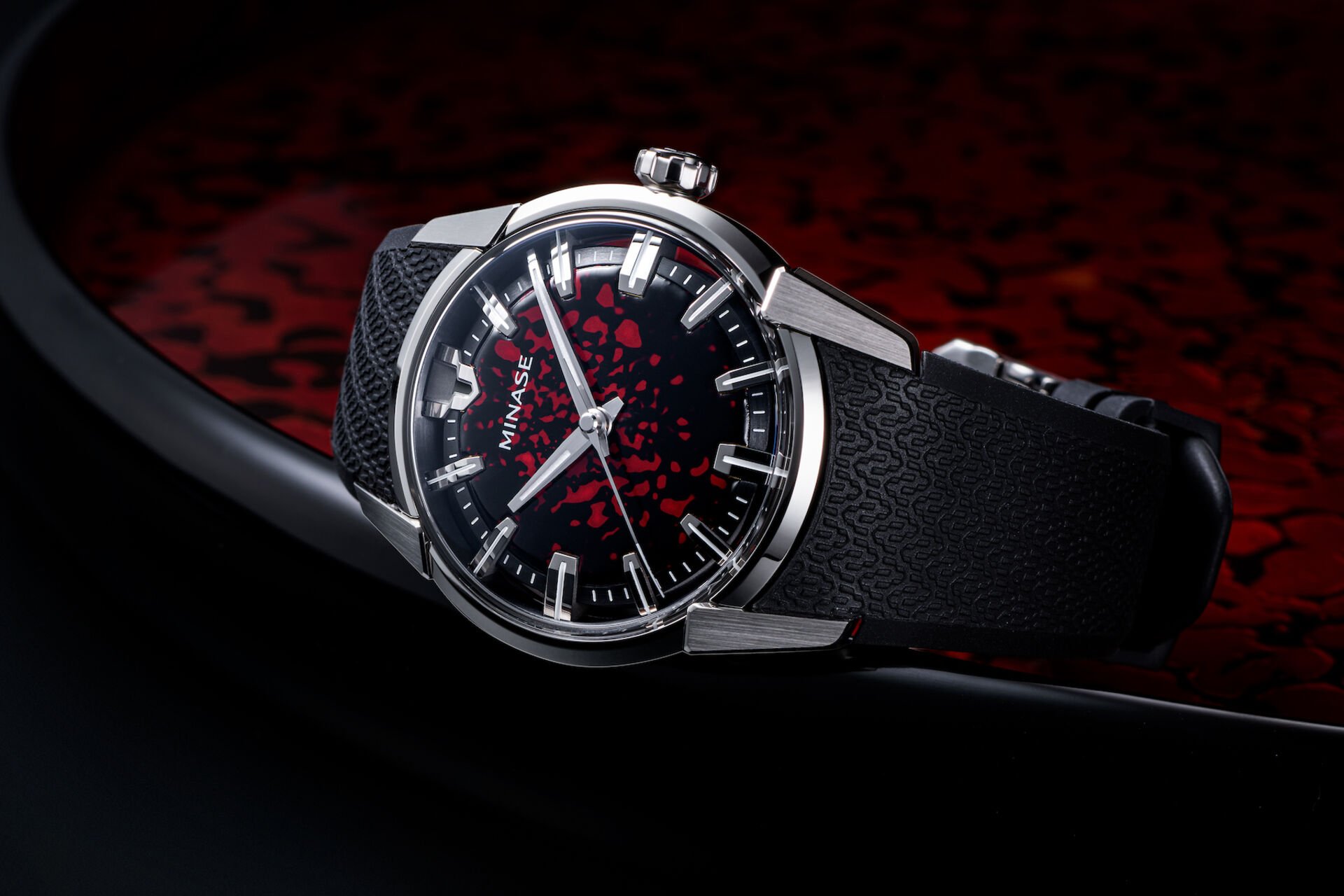 Scarlet Illusion
First up is the Scarlet Illusion motif. According to Minase, "This work is done by applying layers of Shibo-Urushi and grinding out only a part of the red part. This technique gives a flow and interest to the Urushi ware which tends to be monotonous. The equilibrium of shiny black and flickering scarlet has a depth that you will never get tired of."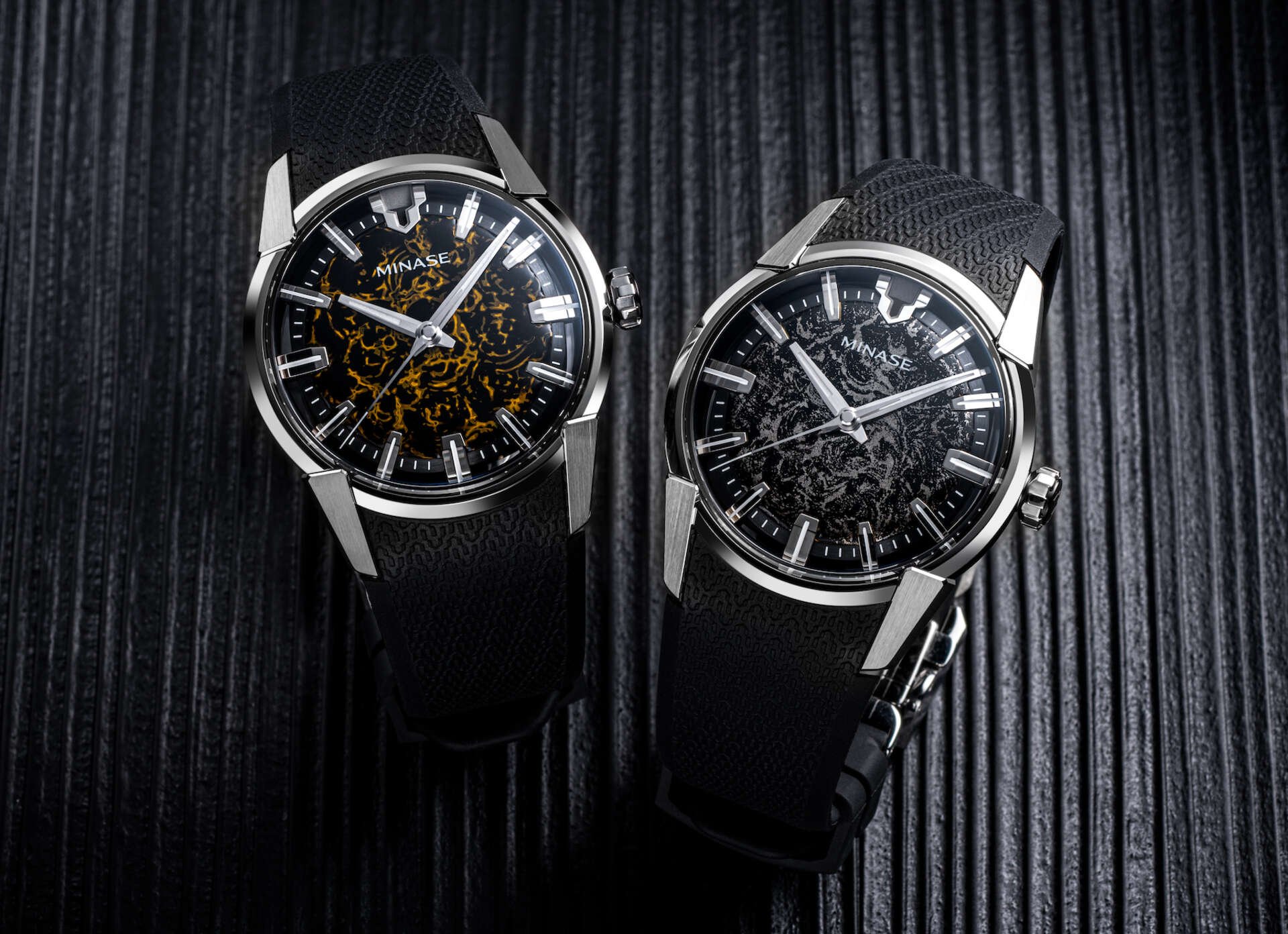 Golden Flux and Metallic Haze
Above, you can see the Golden Flux and Metallic Haze dials. Of the Golden Flux, Minase states, "Gold and Urushi have long been a part of traditional beauty. This artwork expresses gold (kogane) swaying and spreading with strained Shibo-Urushi. Its presence is like a polished gem."
The Metallic Haze motif also offers a striking aesthetic. According to the brand, "The haze of metallic is created by sprinkling tin on the Shibo-Urushi. Since it does not have a definite shape, it is interesting that the view beyond the haze changes depending on the viewer. It can look like a winter mountain or a spring haze being blown by the wind."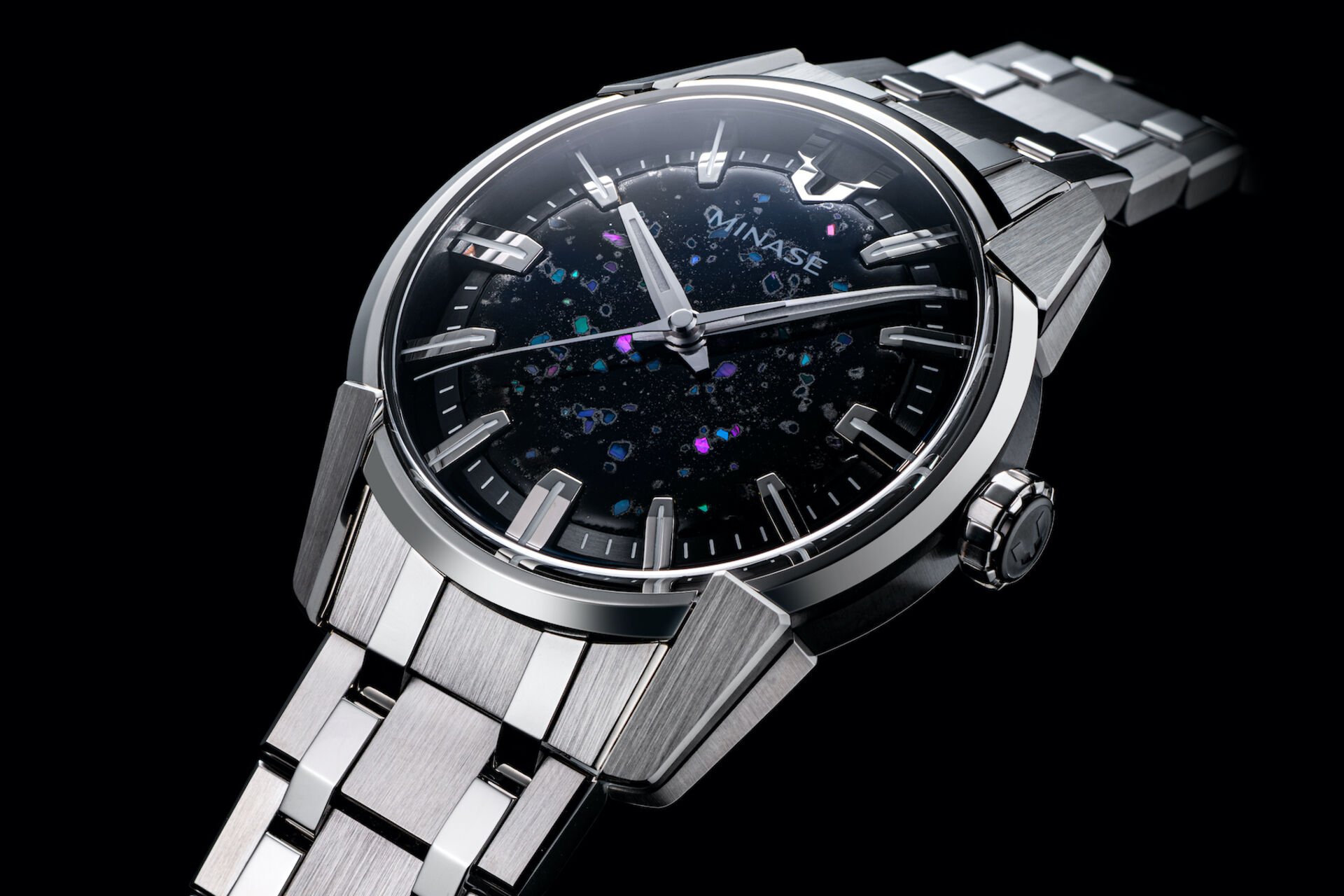 A Sky Full of Shells
The final addition to the new Divido Shibo Urushi collection is a motif called A Sky Full of Shells. Minase states, "The blue part of the luminous shell is selected and encrusted on the black board. After that, Shibo-Urushi is applied on top and the shells are polished to complete the work. The expression changes depending on how it is polished. The shining blue shell and the depth of the jet-black color remind [one] of the sky beyond the night sky."
Minase Divido Shibo Urushi — Pricing and availability
The four stunning dial themes of the Divido Shibo Urushi collection come in a 40.6mm circular case with either a metal bracelet or a synthetic rubber strap. On the bracelet, which is a work of art in itself, each version will retail for CHF 7,900. If the fantastically well-integrated strap is more to your liking, it is available on each model for CHF 6,700. These prices do not include VAT.
There is no prize for guessing which theme my favorite is. Tell me which one you like best in the comments below. Learn more about Minase and the brand's collections here.
Watch specifications
Model
Divido 2.0 - SHIBO URUSHI
Dial
Shibo-urushi by Junichi Hakose
Case Material
Stainless steel 316L
Case Dimensions
40.6mm × 11mm (including crystal); 48.7mm from lug to lug.
Crystal
Domed box-type sapphire glass (non-reflective coating)
Case Back
See-through sapphire case back
Movement
KT7002 based on ETA 2892. Power reserve 38 hours, customized by MINASE with hand-polishing and perlage on plates and bridges.
Water Resistance
50 meters (5 bar)
Strap
316L stainless steel bracelet with deployant clasp / Synthetic rubber strap with steel deployment buckle.
Functions
Hours, minutes, and central seconds. Date at 3 o'clock.
Price
CHF 7,900 (on bracelet) / CHF 6,700 (on strap)