The Allure of Japanese Independent Watchmaking: Part 6 — Minase Watches
A brand close to our hearts that puts the Akita region on the map
The folks at Minase Watches have done a superb job in spreading the word, not only about their brand but also about Japanese independent watchmaking in general. I wouldn't be lying if I claimed that through its Divido model, Minase has awakened us to a world beyond Seiko, Citizen, and Casio G-Shock.
In showing us the Divido, Minase has made it clear that the use of the German-made Sallaz polishing machine is not just reserved for Grand Seiko. Yes, Minase too has brought us the very Japanese and obsessive level finishing called Zaratsu, which is itself a phonetic adaptation of the Sallaz name. And Zaratsu, my friends, simply never gets boring.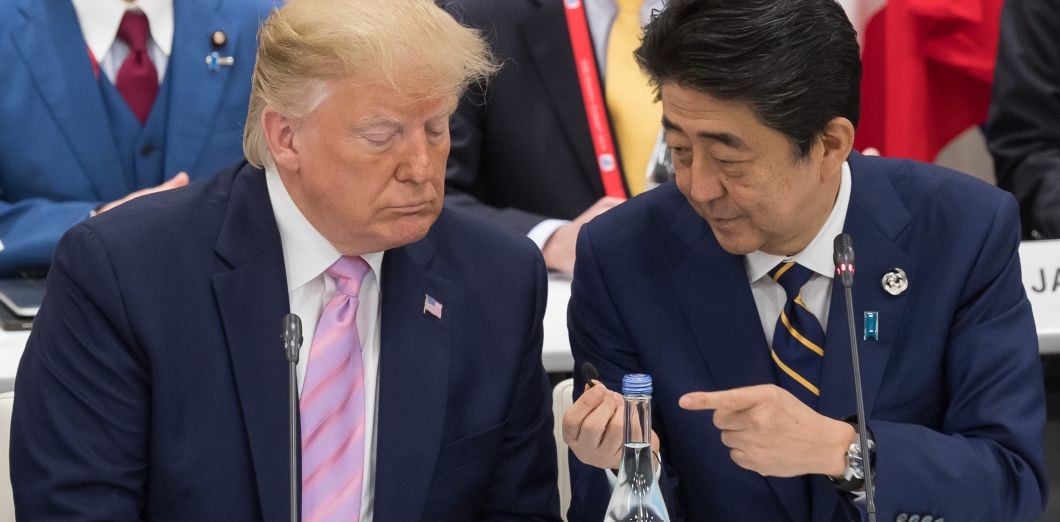 The Prime Minister's choice    
The effects of celebrity endorsements are always debatable. A few years ago, however, at the G20 Summit, eyebrows were visibly raised. Instead of the usual Swiss suspects, there was something different. The long-serving Japanese Prime Minister Shinzo Abe wore a bright blue piece of wristwear while attending the summit. It was noticeable both in its flash of color, deliciously matching Abe's sharp blue suit, and on its sporty rubber strap. This was a few years back, and it was perhaps the first example of a world leader proving himself as a watch aficionado with a taste for craftsmanship. Yes, Abe-san was wearing a Minase Divido, and that sparked many an online discussion.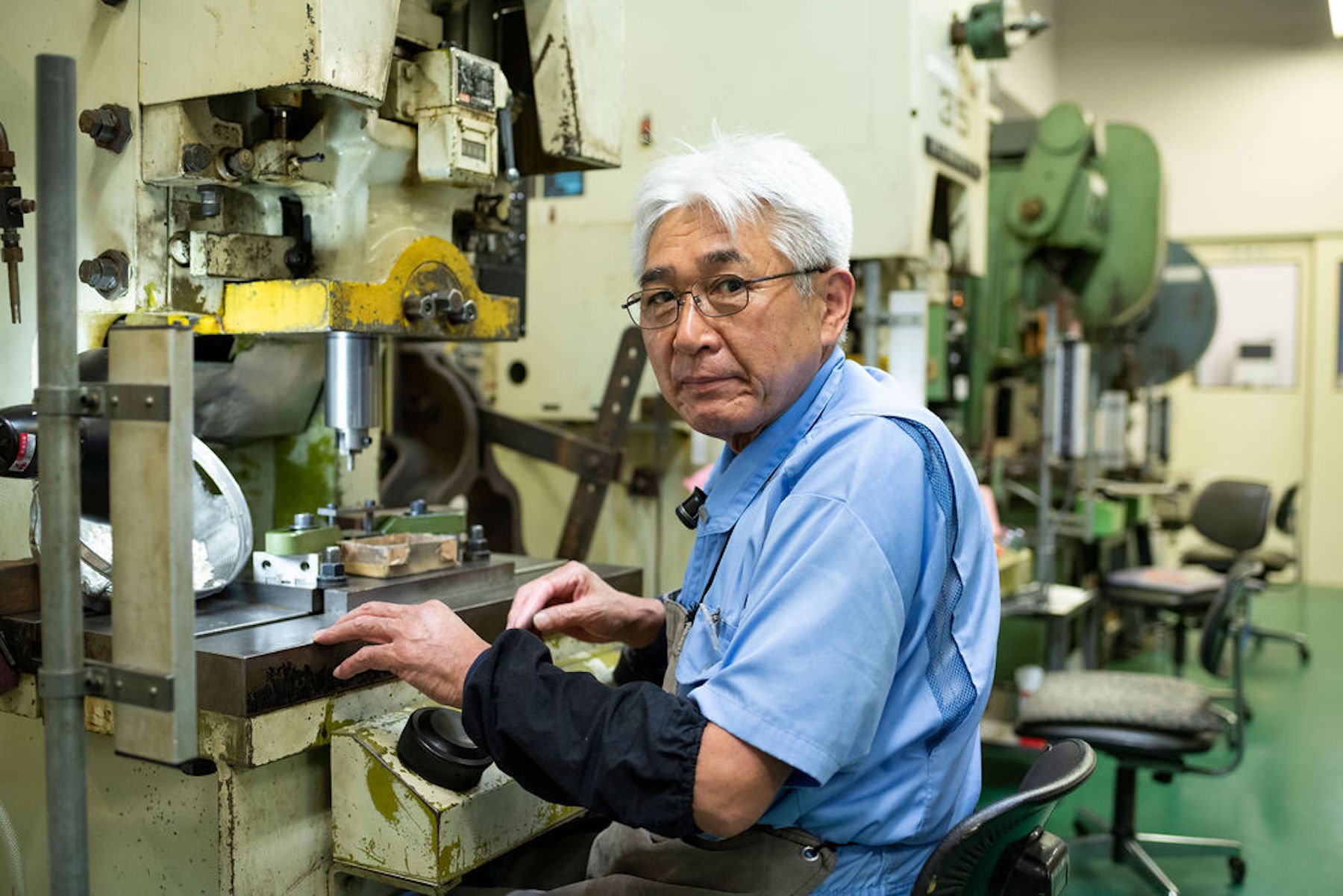 The backstory to a niche brand on the rise
I would say that except for Kurono Tokyo, Minase is the most well-known Japanese brand in independent horology. Personally, I've been aware of this niche brand of hand-finished craftsmanship from Japan for some years now. In my previous editorial position, I had the pleasure of wearing a dazzling blue-dialed Divido (yes, the Prime Minister's choice) for a few weeks, and it made a solid impression.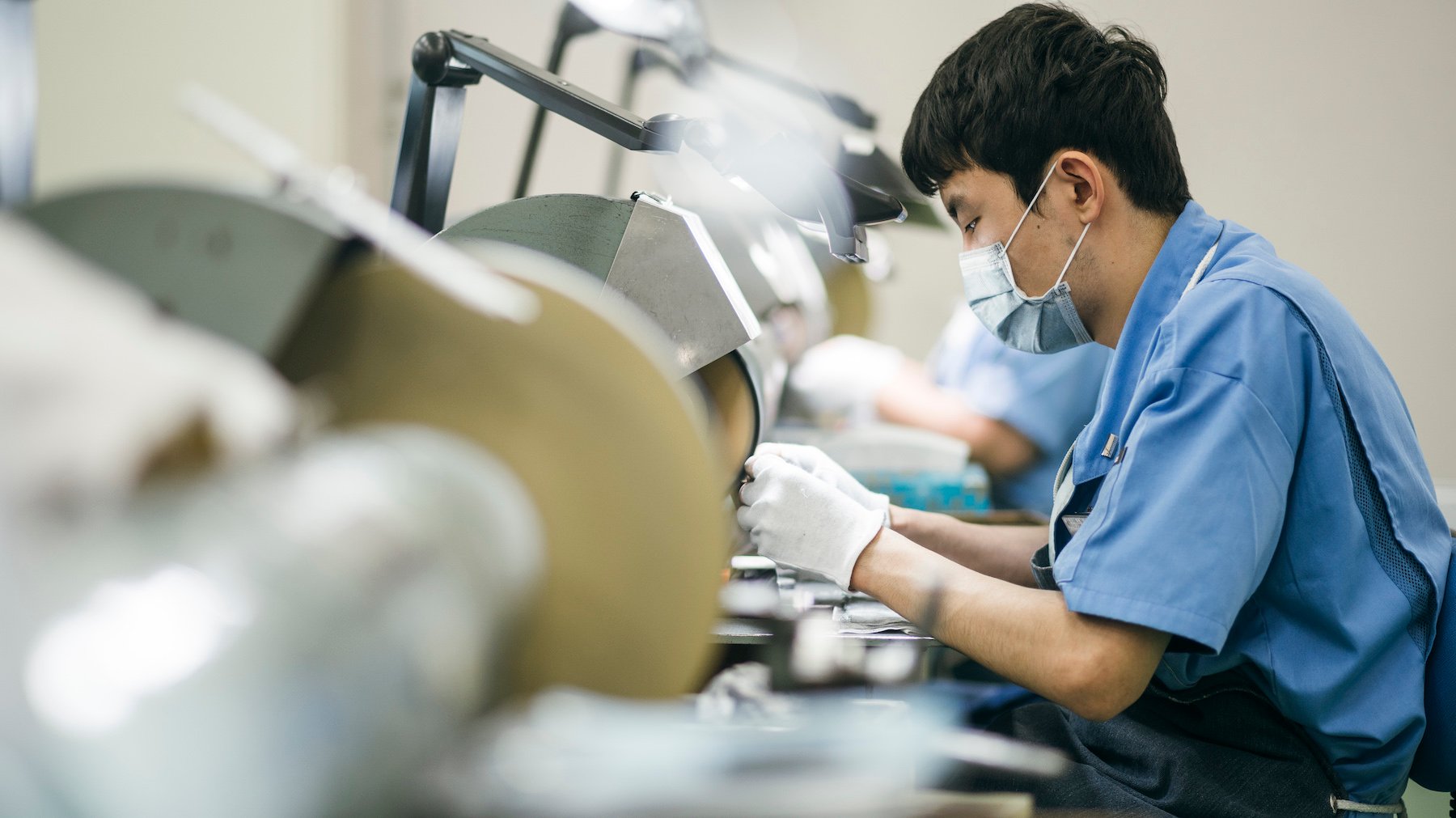 From tooling producer to watch atelier
Minase is a sub-brand of Kyowa Co. Ltd, a cutting-tool manufacturer founded in 1963. Kyowa Co. Ltd is a company specializing in high-precision drills for metal machining, and its expertise in manufacturing caught the attention of watch brands worldwide. Consequently, Kyowa came to manufacture both precision watch parts and cases, including those of world-famous (but undisclosed) watch manufacturers. High-quality watches require both high-precision machining and fine finishing. Thankfully, the experts at Kyowa have mastered both.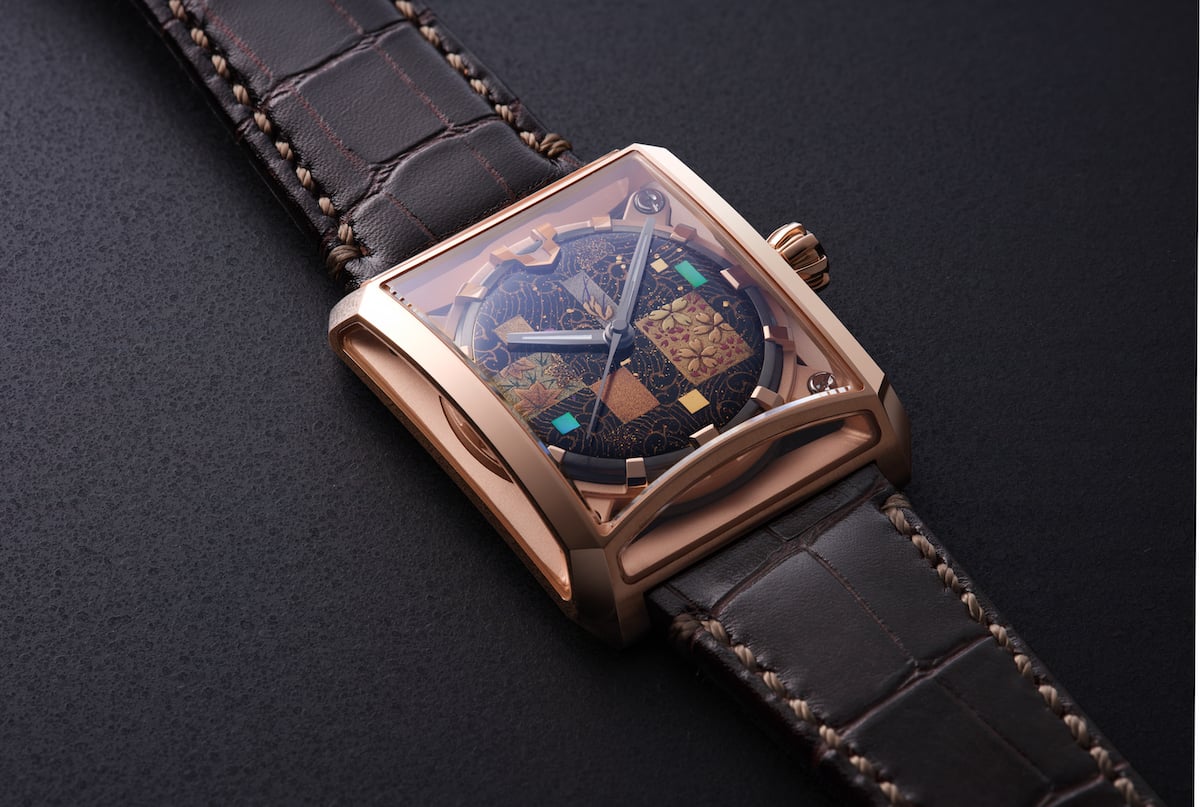 As a result, the tool manufacturer Kyowa Co. Ltd. transformed its production to include a watchmaking atelier. Its skills included everything from drilling to case forging, bracelet manufacturing, and polishing. The next step was, frankly, both tempting and perhaps inevitable. In 2005, Kyowa created its own watch brand, Minase. It takes its name from the location of the atelier, in the snowy Akita region of Japan. After 10 years of exclusive Japanese sales, Minase expanded to worldwide distribution in 2017. Today, Minase has a Swiss-based website for PR and sales in the Western Hemisphere.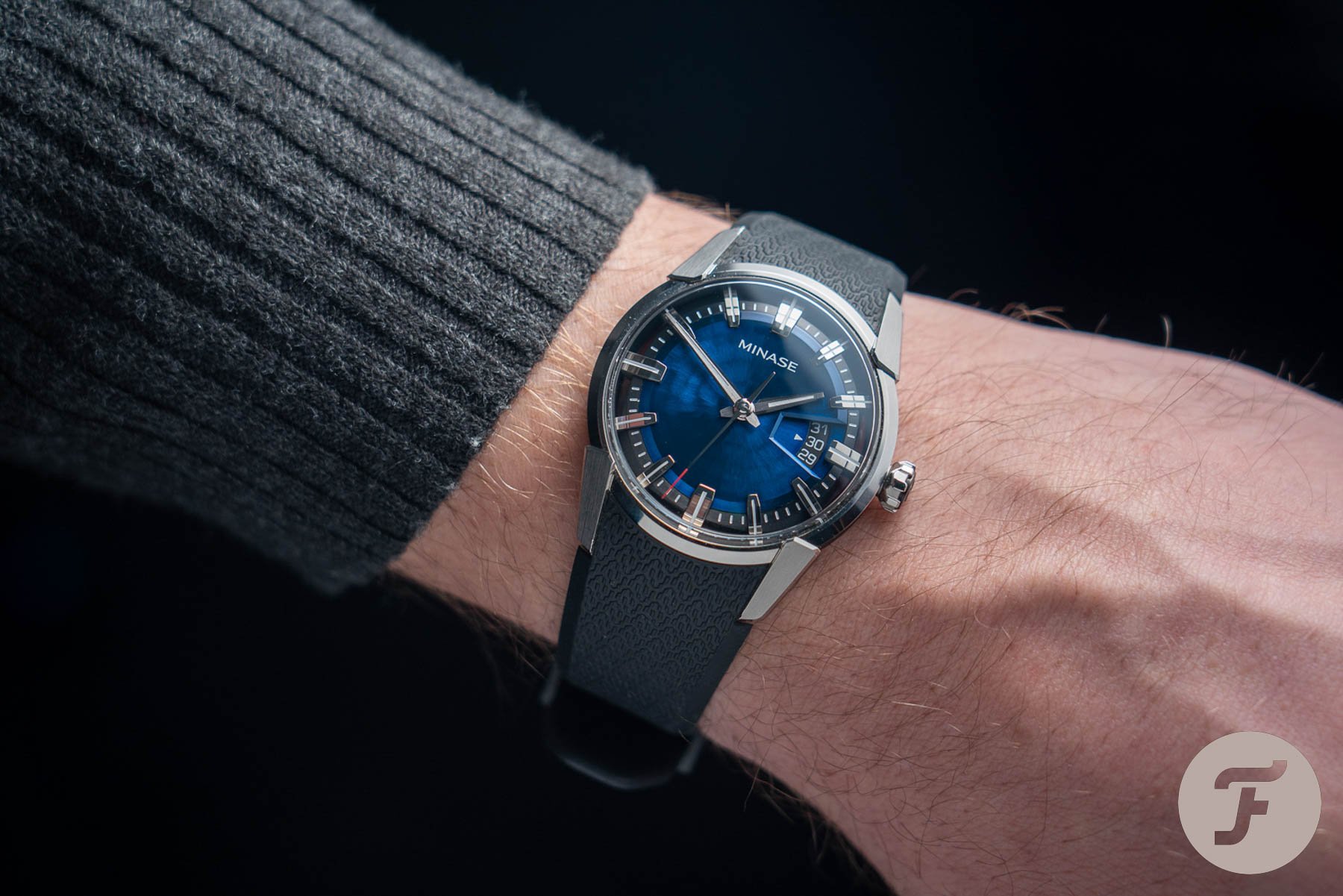 The Divido is the Essence of Minase Watches
For me, the Divido is the essence of Minase's airy designs, and I must say I found it rather difficult to send it back. When unwrapping the intricate wooden box from its Japanese fabric wrapping, the prevailing feeling was one of craftsmanship. While accessible in price, I could look down at my wrist, knowing this watch was the only one of its kind for miles around. And no, that's not because I live in Norway — we do have cities (sort of). This year saw the release of our own version, the Fratello × Minase Divido Limited Edition, which sold rather quickly. With its extra fresh blue dial and pop of red on the seconds hand, it was one of my favorites. I bet even Shinzo Abe might have tried his luck on our website in the quest to obtain one. Alas, we'll never know.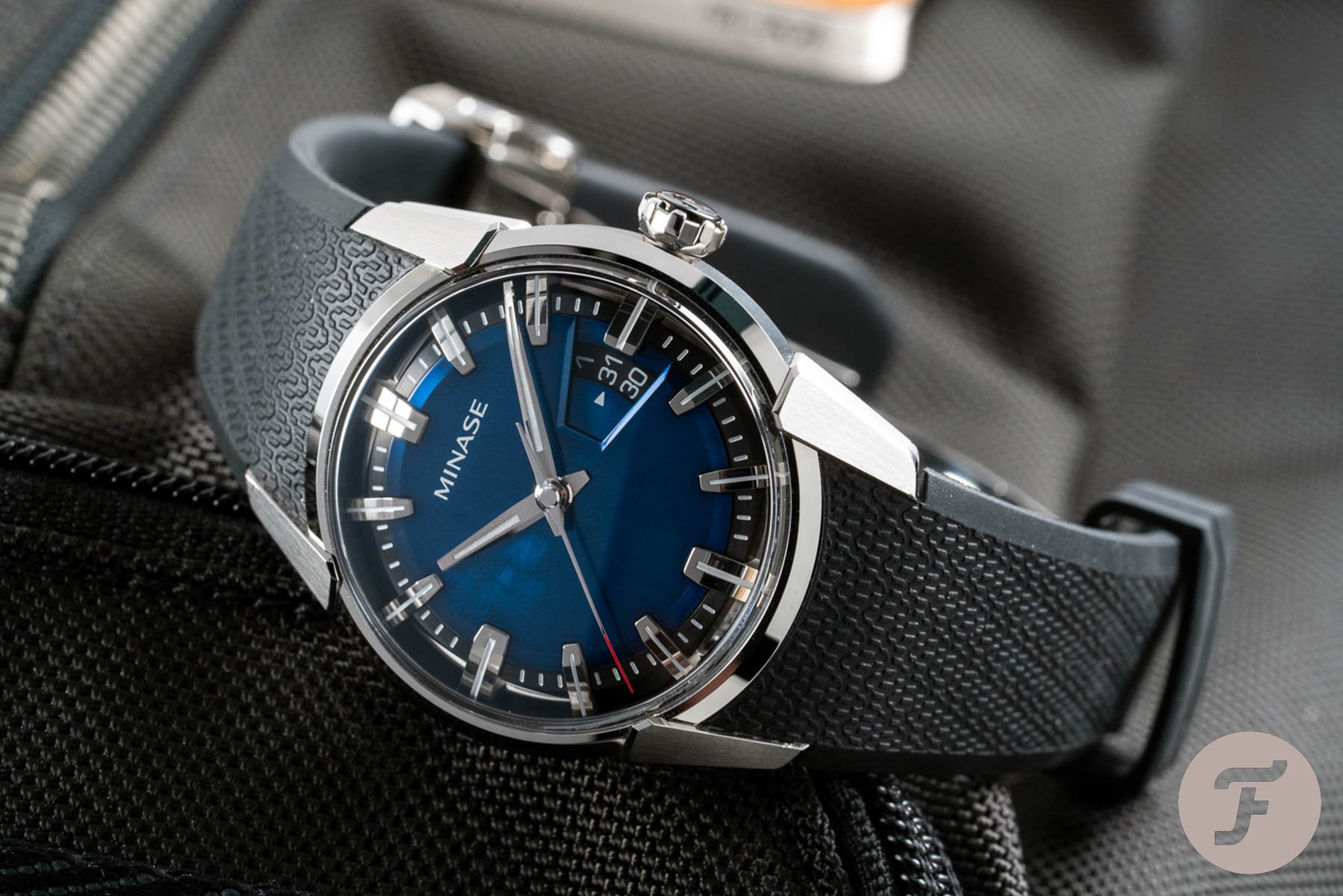 Angular beauty
Without a single trace of vintage vibes, the emphasis is on micro-engineering with a single-minded focus on finishing.  If you enjoy the smooth, pebble-like finish of anything from a Laurent Ferrier to an Apple Watch, then watch out! With Minase watches, I welcome you to the exciting world of angles and edges, with obsessive touches of flair.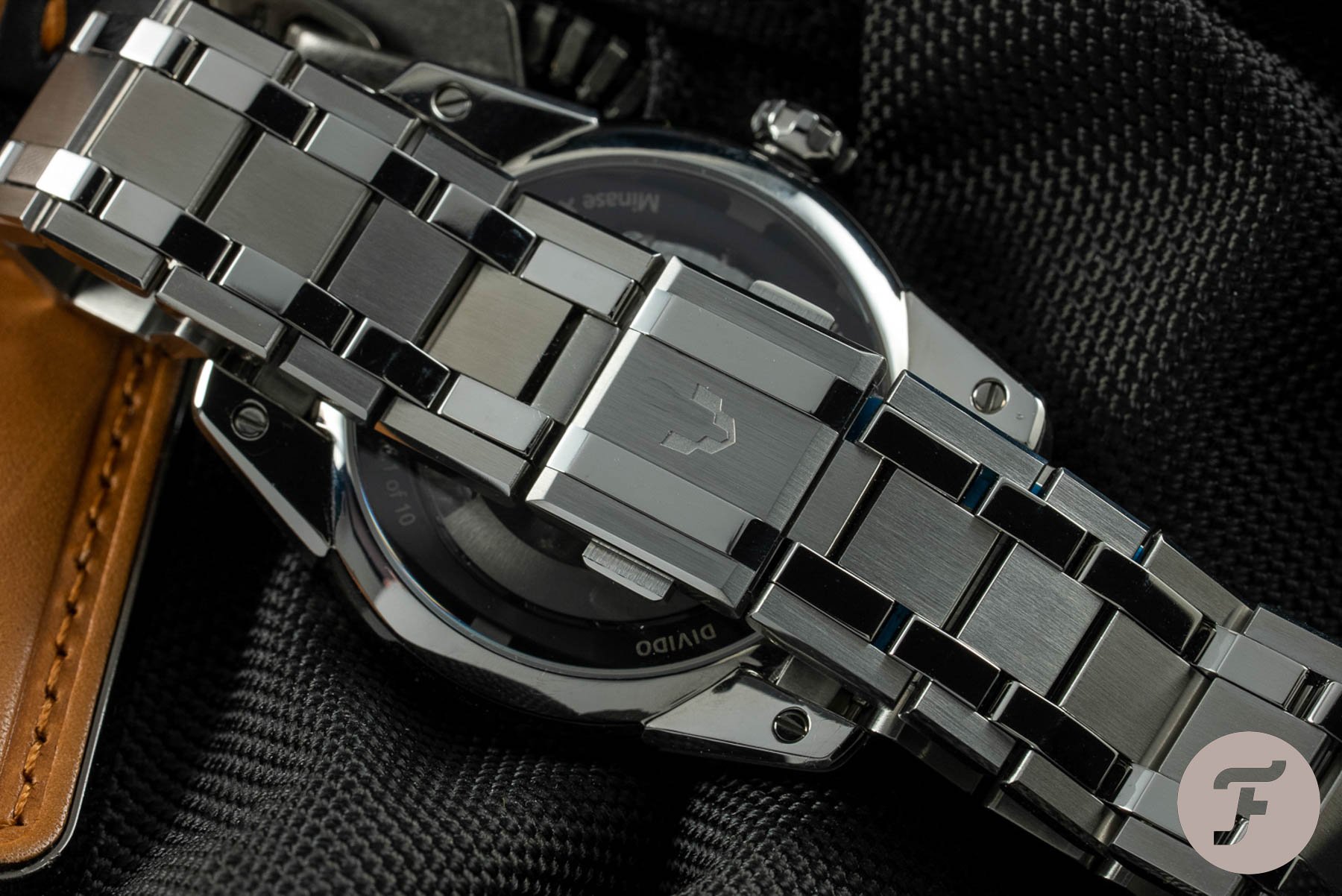 The name Divido is from the lost language of Esperanto, meaning "divided." You can understand this name simply by looking at a case side like none other. "Round," you said? You would expect it to be round, flat, or flat in profile with bevelling. But this case is different, joined sharply in the middle with inward, razor-sharp brushed bevels like some alien craft captured in Area 51.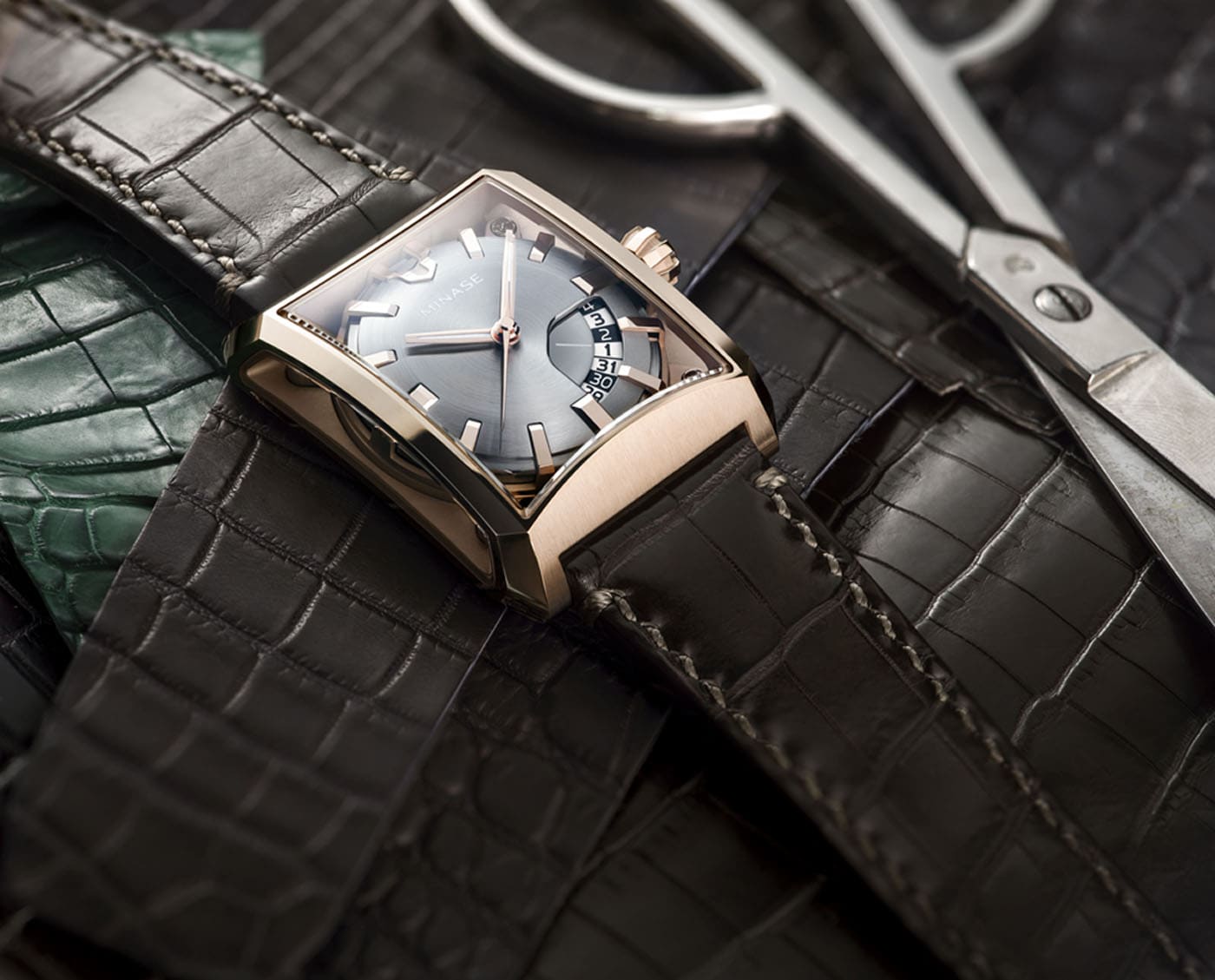 A rectangle of choice
The 5 and 7 Windows series offer a delightful take on soft rectangular shapes. We still have a singular design vision, with the recognizable Minase touch of a near-levitating dial in an exquisite case. There is a likeness to the Divido, and just like this angular round design, the series seems to have developed in complete isolation from the world. I dare you to find Swiss or German design clues or even similes to microbrand design. No luck? That is exactly why Minase is on the rise as a strong name within a niche of pure, independent watchmakers with a different twist. And that twist is one of discernible micro-engineering with a particular allure of integrity.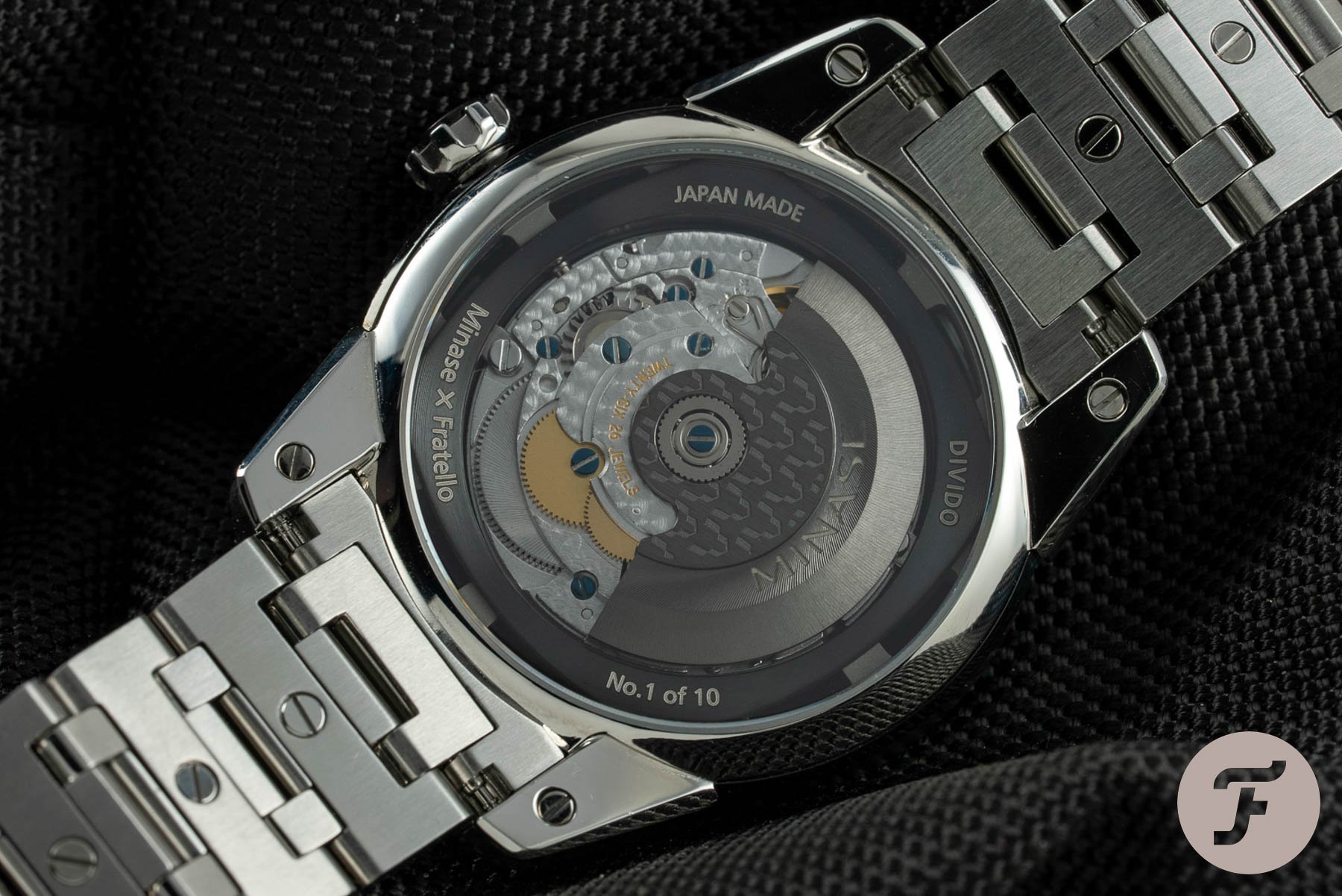 But what about the heart of the matter — the movements? I have a feeling we will see in-house calibers hailing from Akita soon. For now, those within the intricate Minase cases today are proven Swiss ETA and Sellita calibers, with the KT7002 being their latest version, present in the firey orange Divido here. The KT7002 is upgraded, based on an ETA 2892 ébauche specially customized for Minase.
Swiss sense in a Japanese suit
The new KT7002 features technical improvements and improved finishing. Its surfaces now show off perlage, heat-blued screws, and polished bevels. With 50 hours of power reserve, the KT7002 offers an extra half-day of running time over its predecessor. It is a sensible choice that, for one thing, keeps these exceptionally finished watches very accessible. At the same time, you will have a fine piece of Japanese horology that can be easily serviced by your local watchmaker. In the Fratello × Minase Divido Limited Edition, Rob Nudds, our resident watch designer and chief of collabs (I'm so jealous) made a few small but decisive changes. Instead of the floating movement, Minase added a blackened ring around the caliber. This was complemented by a decorated, dark rotor that underlines and frames the Swiss movement, adding a suave touch.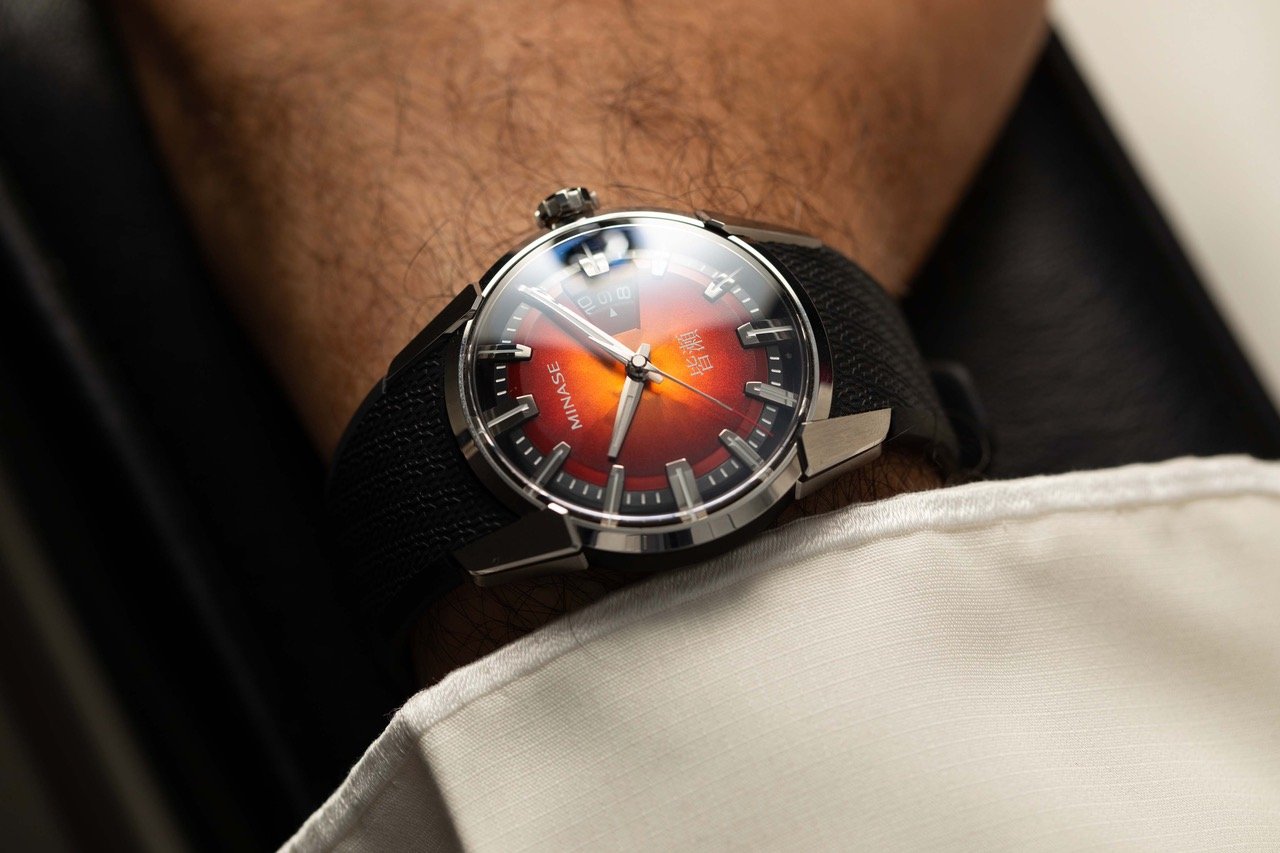 Accessible wrist-art for more than mere timekeeping
So, this brand that we now know very well seems a fitting end to this six-part series on Japanese independent watchmaking. To be honest with you, I'd better stop while I'm ahead. This is not helping my own desire for ever more pieces of wrist-art. Because let's be honest, that's what they are. We can tell the time on everything from our coffee machines to our car dashboards, and even those stupid phones that never cease to buzz. Perhaps a wristwatch from one of these six independent Japanese watchmakers is more akin to watching a movie. That feeling of being enveloped in a feeling of zen, transported to another place and time. To the snowy Akita region of Japan, perhaps? The strong sense of craftsmanship starts at CHF 3,240 for models in the Windows series, and at CHF 3,400 for the Divido on a rubber strap. For more information, visit Minase's website.