Mods On! Artisans De Genève Introduces the Rolex Submariner Moonphase With A Gorgeous Aventurine Glass Dial
A mad, modified Rolex with a stunning result!
I have written about the Swiss custom shop that is Artisans de Genève on more than one occasion before. Best known for customizing and modifying existing watches upon request for private customers, the brand has a pretty exciting back catalog of projects. Perhaps best known for its fantastic skeletonization, we've seen open-worked Daytonas, Submariners, and even a 5711. Even if you are not a fan of the finished product, it's very difficult to deny the incredible craftsmanship chops on display.
The latest project from the masters of Savoir-Faire eschews skeletonization in favor of adding a new complication to a Rolex Submariner. If you've glanced at the lead image above, I'm sure you'll have noticed something was up with the Submariner. This isn't your run of the mill 116610. If your spidey senses were indeed tingling (and I'd be worried if they weren't), you'd have been correct. Lo and behold, there is a great big moonphase indicator on the lower portion of the dial that isn't usually there. Intrigued? Yeah, so was I…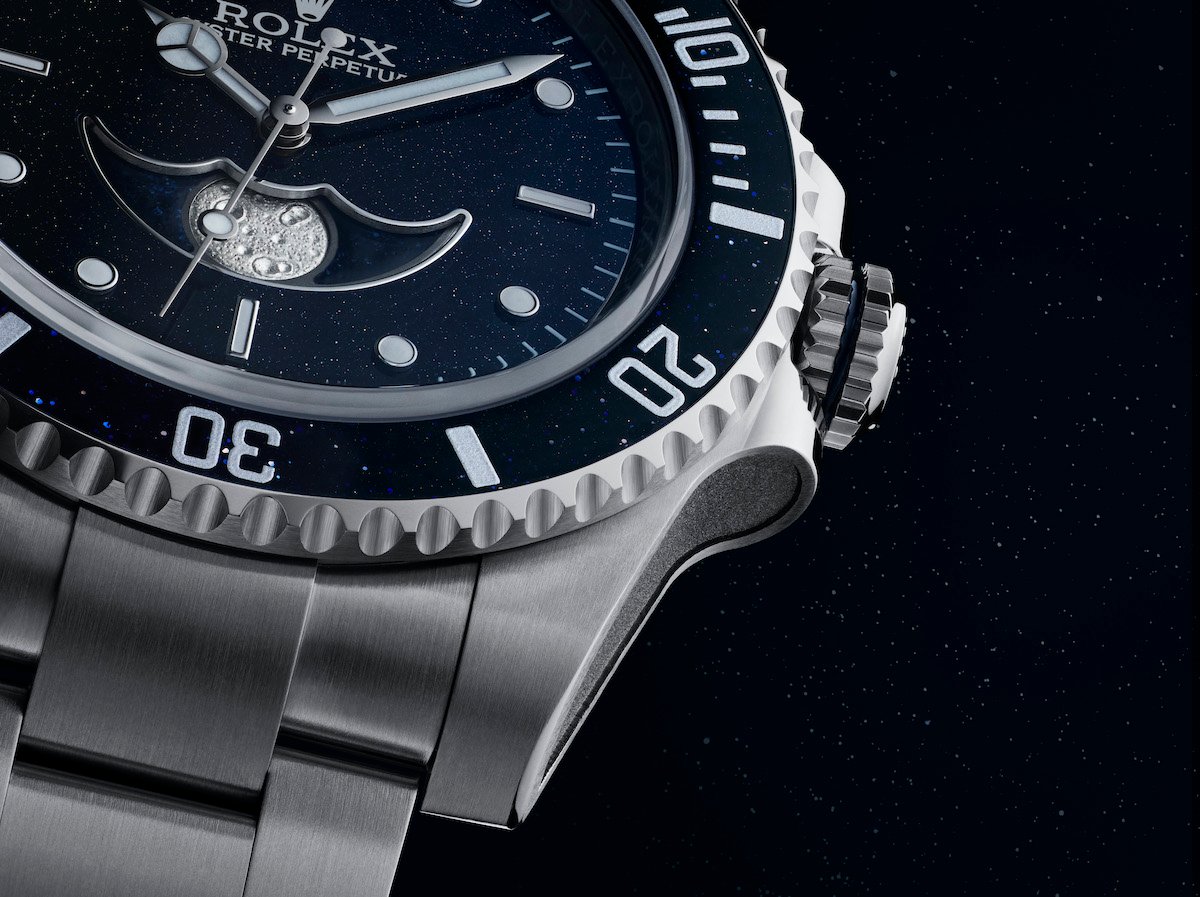 The Sea Shepherd Challenge
The Submariner Moonphase project is customization for Artisans de Genève's client, Captain Paul Watson. Watson was one of the founders of Greenpeace and also the founder of The Sea Shepherds. Both organizations are not without their fair share of controversy, but if you want to read about that, I'll let you Google them and make up your own mind. I'm not here to discuss that, but instead, I want to talk about a watch that deserves attention in its own right.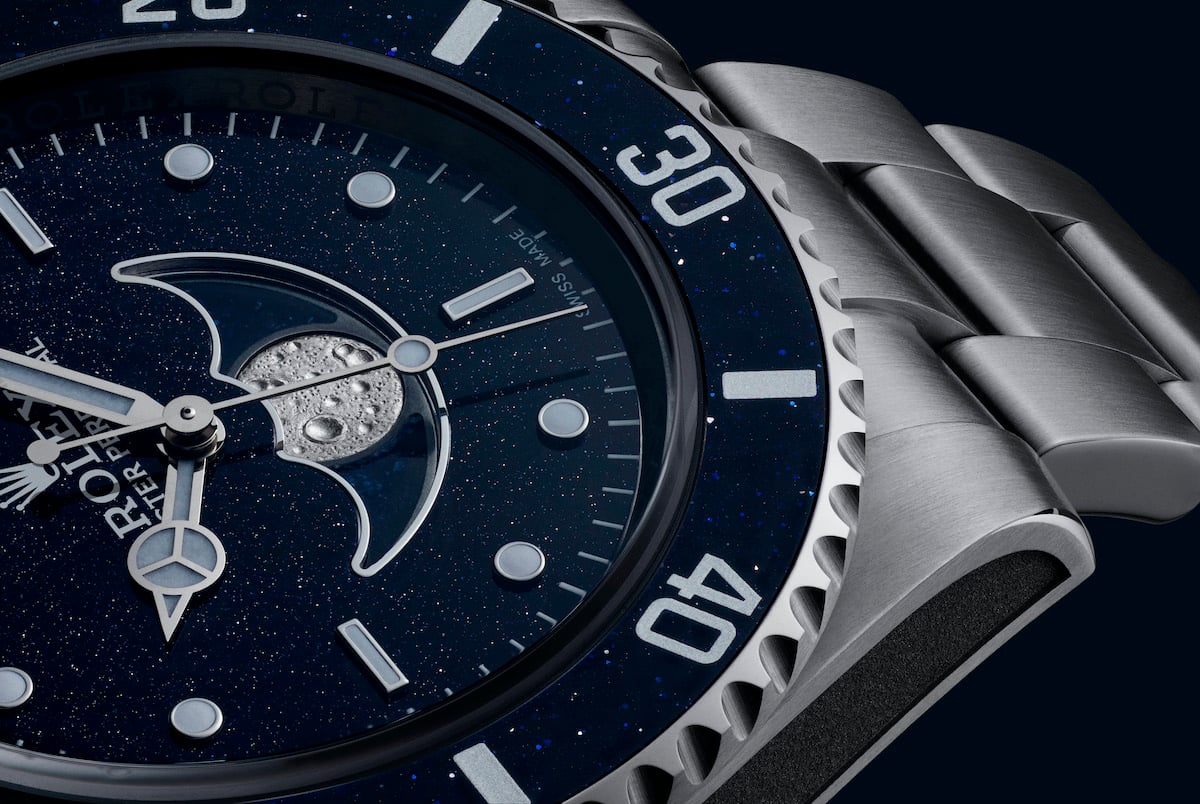 The starry effect of aventurine glass
If we ignore that stunning moonphase for the time being (don't worry, we'll get to it), the standout elements are the starry dial and bezel. The fantastic material, used to significant effect, is called aventurine glass. You may have come across this material before, as it has been used before in the watchmaking industry, but it's not exactly commonplace. An important point to bear in mind: aventurine glass is a different material from aventurine. Aventurine is a natural mineral, a form of quartz with varying inclusions of mica. Aventurine glass is a synthetic material made by adding various metal oxides to liquid glass, causing tiny particles of the metals to crystallize as the glass mixture cools. The resulting effect is reminiscent of a starry night sky.
I think you'll agree that given the starring complication, it'd be difficult to imagine a better choice of dial and bezel material. Seeing the moonphase sitting on the gorgeous starry night sky of aventurine glass makes so much sense. I don't know a huge amount about how easy the material is to work with, but I can't imagine it's not particularly easy. The tolerances required to make a thin dial and bezel insert will be incredibly slim. In addition, glass is not famed for its shatterproof qualities. The effort is definitely worth it, though, as the final product looks superb.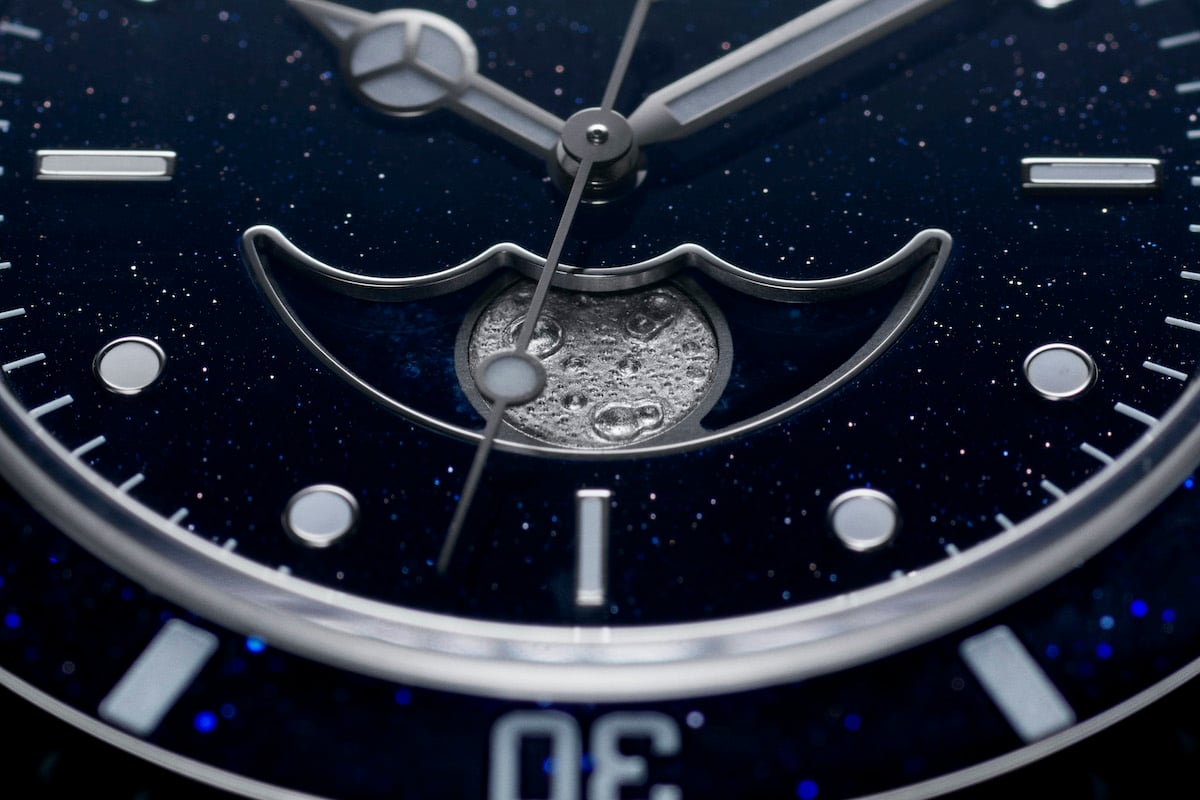 A moonphase on a Submariner?
Okay, okay, let's talk about the real star of the show…or should that be the moon of the show? That moonphase. It's captivating. The crazy thing is that it's utterly alien to the natural Rolex Submariner, yet Artisans de Genève's execution makes it look right at home just nestled in at 6 o'clock. It doesn't look out of place whatsoever. I have to remind myself that this is a modification!
Now the Rolex Submariner 116610 holds grail status for many collectors and will forever have a place in the horological hall of fame and quite rightly so. It's a legendary watch and, for many, the perfect blueprint of what a dive watch should be. After all, look at the plethora of Submariner homages out there. It could be considered blasphemy to mess with that blueprint, but you know what? I think Artisans de Genève has done a fantastic job. I'm not someone who believes a classic watch is untouchable. It's a touchy subject for sure, and I'm sure there will be many who disagree with this viewpoint, as well as my love for this watch, but that is part of the beauty of this craft!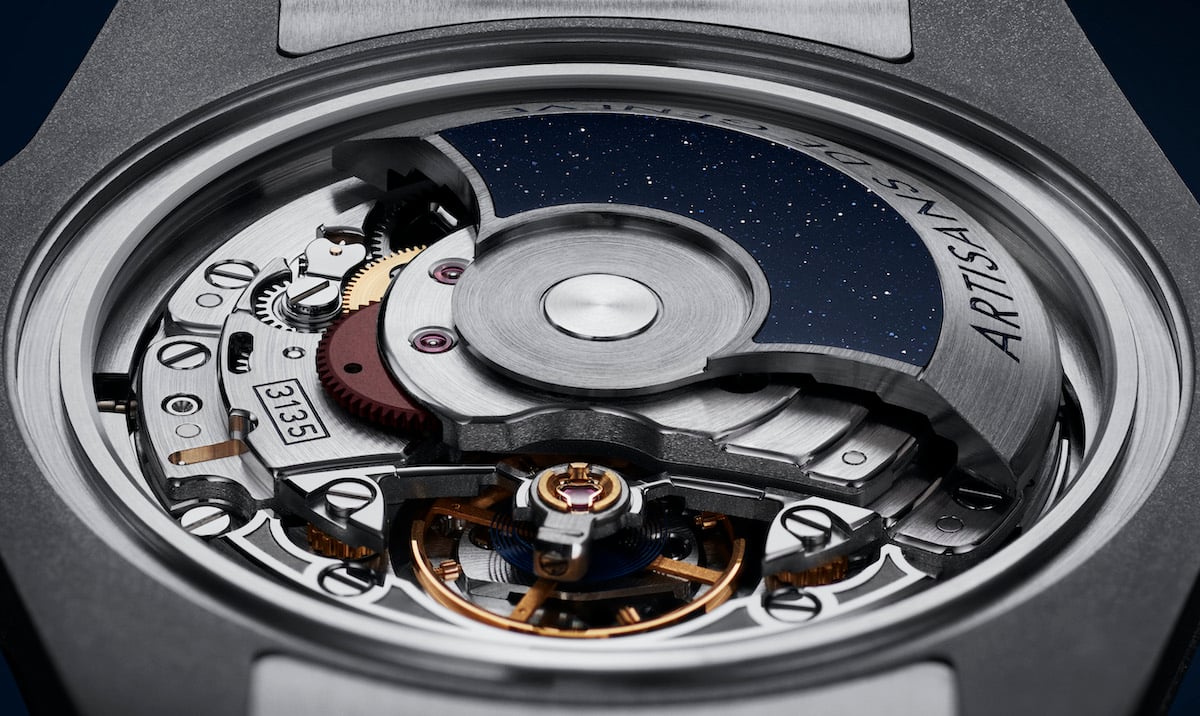 A mad module modification
A clever moonphase module adds new functionality to caliber 3135. Artisans de Genève's watchmakers have upgraded the standard finishing of the entire Rolex movement with hand bevelling, circular graining, and hand polishing throughout. You can see all of these decorations through the display case back, along with the new white gold rotor with an aventurine glass insert. Looking back at the moonphase disc, this is a work of art in itself. Hand-carved sterling silver moons sit on a grand-feu enamel disc, indeed it's not a topologically correct moon, but it is beautiful. Looking at the complication and dial as a whole, I genuinely think the integration is superb.
It's not just the inside of the watch that has received the touch of Artisans de Genève's watchmakers. They milled the sides of the 40mm case to create a recess. They then micro-blasted the insides of the recesses for a contrasting texture. Finally, they satin-brushed the main case surfaces and hand-polished the bevels. The combination of surface textures improves on the classic Submariner case, in my opinion. I'd love to see Rolex update the case in this way too! The bracelet links receive the same satin brushing for a seamless finish and integration with the case.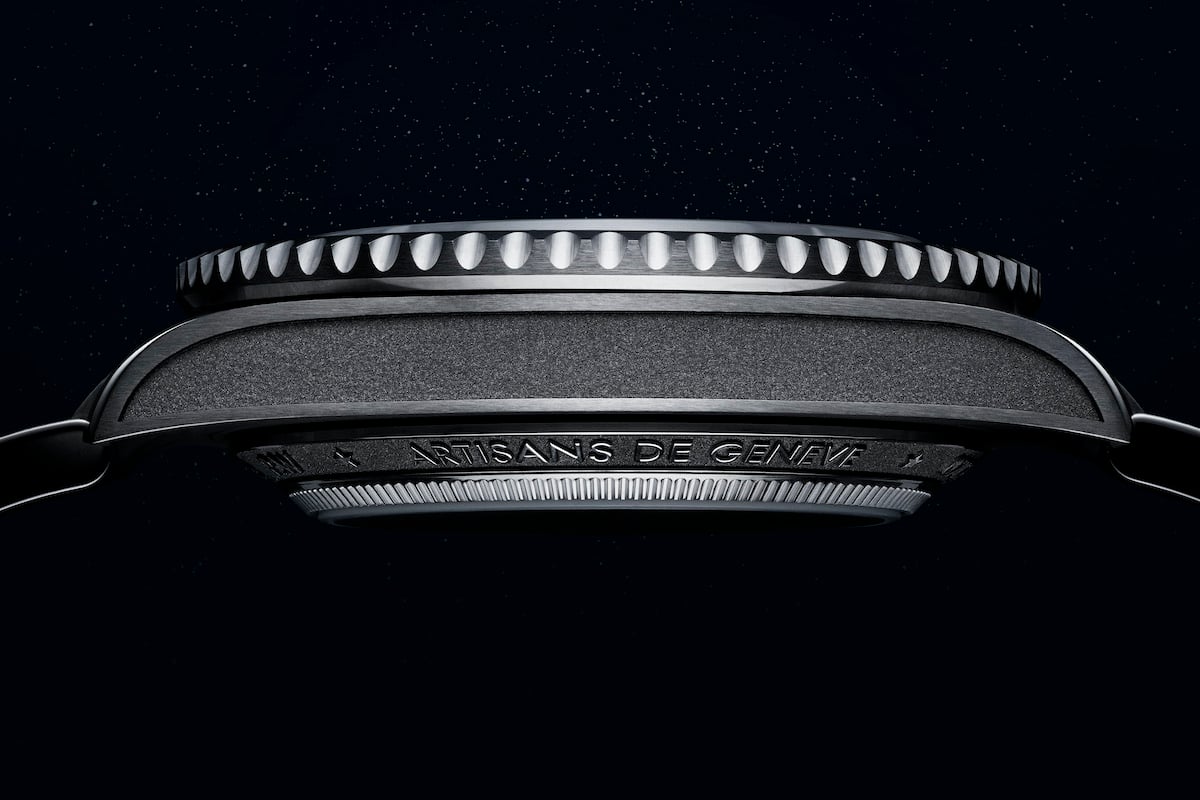 Final thoughts on the Artisans De Genève Submariner Moonphase
I guess that leaves the final important question: what do I think of the finished product? Well, I think I've made my opinions very clear throughout the article: I dig it. I love seeing Artisans de Genève's reimaginations of timeless classics, and the Submariner Moonphase certainly does not disappoint. Watch customizations and modifications are quite subjective topics. As such, here's a question I'd love you to answer in the comments below:
If you were to customize or modify a Submariner, what would you do to it? For example, would you want new materials used in its construction? How about additional complications?
Be as wild and wacky as you want as I'm keen to hear your thoughts! You can read more about the project on Artisans de Genève's website.
Follow me on Instagram! @davesergeant
➤ Artisans de Genève Disclaimer: Artisans de Genève is an independent company specialized in the personalization of timepieces. It is not affiliated with Rolex SA and not authorized to intervene on its products for any reason whatsoever. This personalization was ordered for private use by a customer who already owned a Rolex timepiece.