My Vintage Tissot Navigator Chronograph: The €100 Watch Restoration Project That You Couldn't Buy Today
Because good things do come to those who wait!
Put yourself in my shoes. You're a young guy, who until not long ago didn't even have a salary. One foot is still firmly planted in the student life, and the other is about to touch down into responsible adulthood. At some point or another, we have all found ourselves in this limbo stage in life. One thing is clear though, you can love watches as much as you want, but those three to four-figure prices are definitely not easily reached. As I make my way through the watches in my collection, you will quickly find that more often than not, they are vintage watches that were bought for a fraction of what their price should be — such as this Tissot Seastar Navigator. Never in the best condition, but always the right price. And besides, what can't a bit of TLC from your friendly neighborhood watchmaker solve?
This is the way in which I was lucky enough to find the wonderful piece of nautically themed 1970s horology that is this Tissot Seastar Navigator chronograph. Those of you who have spent any time in Germany will be familiar with eBay Kleinanzeigen, it's basically the German version of Craigslist. All sales are final, no responsibility is taken by the seller — enter at your own risk. But sometimes taking a risk can be quite rewarding.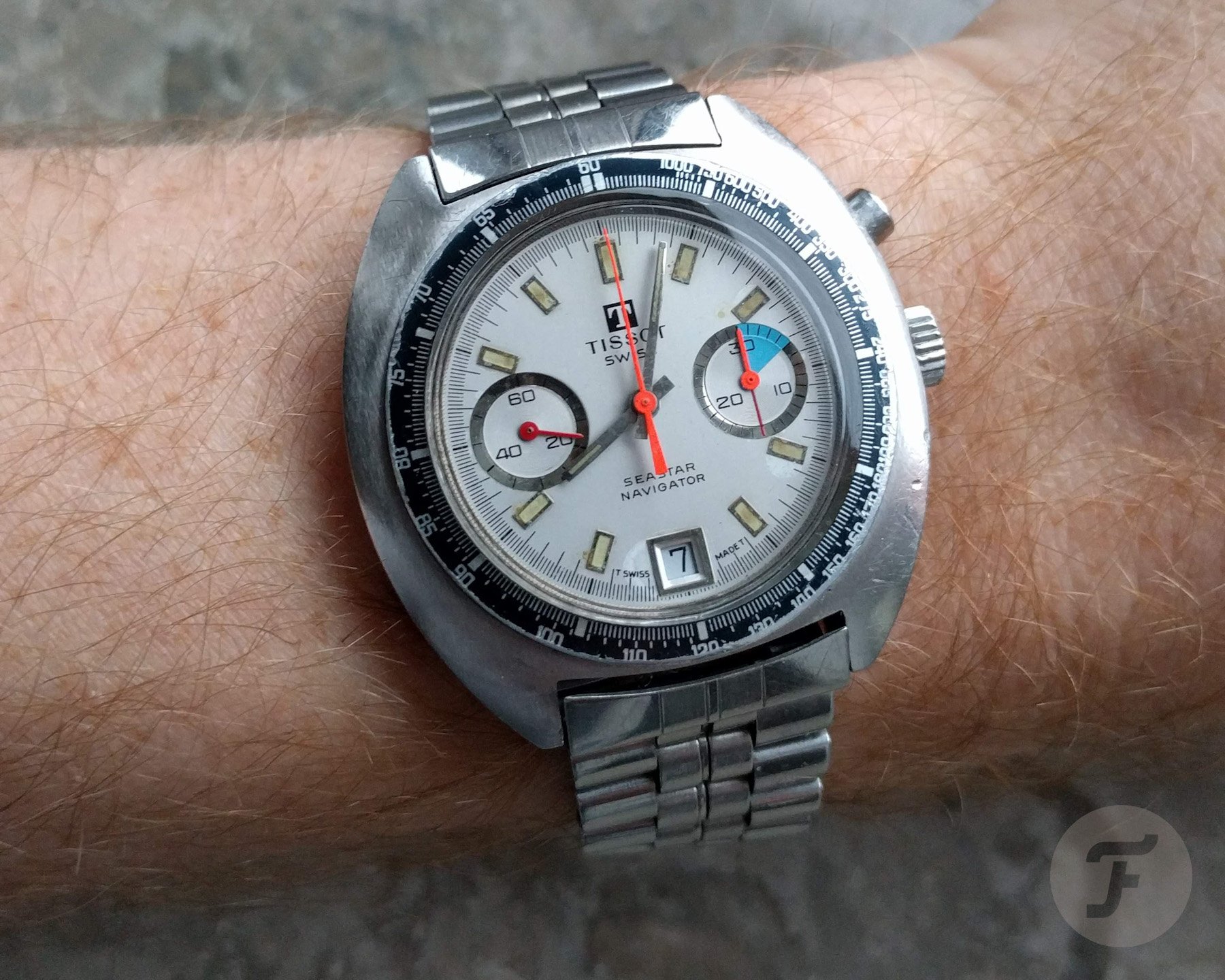 The thrill of the chase
Checking my search alerts one morning I saw that there were a number of new results for "vintage Tissot". I looked through the listings and saw the usual suspects. Gold plated 34mm, Tissot Camping or Seastar models in questionable condition. However, scrolling down further revealed something rather funky and colorful, not something you see every day, especially with an asking price of €120! I immediately reached out to the seller (I give a lot of credit to my interactions on this platform for my half-decent level of German) who was willing to settle for €100 including shipping. Sold!
Worse for wear
After about a week, a thin and rather flimsy cardboard box showed up with my name on it. It was filled with a bundle of old supermarket catalogs, and inside a next of bunched-up blue napkins, there it was, in all of its orange, red, and blue glory. Looking like a boxer or a football player, beaten, bruised, missing a tooth, but still smiling. I instantly knew that with the proper care, this watch would be absolutely killer. While we're on the rather amusing topic of creative packaging of watches (to put it mildly) you can check out Tomas' article here.
By the way, when I said "missing a tooth", I wasn't kidding, the watch was actually missing its bottom pusher. This came as no surprise, however, as the original pictures of the listing had revealed just as much. They also revealed the incredibly clean condition of the colorful hands. In this particular model, they tend to fade and lose their color if they haven't been replaced altogether by an overzealous watchmaker without access to the correct parts. The cherry on top was the fact that the watch still had the original signed crown, as well as the OEM bracelet, with links to spare.
Off to the SPA
Now, I have been known to (rather unwisely) wear the vintage watches that I purchase without first sending them in for a service. As I previously mentioned, a student-friendly budget might allow you to buy a few vintage watches, but the service costs are a different story. An old Tissot, Doxa, or Alpina (amongst countless other lesser-known brands) can be had for €30–€50, even today. Typically, these 34mm gold-plated watches are not all that appealing to modern collectors. Sometimes, if you're lucky, you give them a wind, and they'll still happily tick on time for a full day or two. Unwise as it may be, having collected 10-15 of these fun vintage pieces, and the average cost of servicing them being about €100, it was simply not an option to do this with more than a couple of special pieces.
When it came to this particular watch, I was a couple of salaries into my first job after university, so I decided to do the sensible thing. Shipping the watch off to my watchmaker the day after it arrived. If there was a vintage watch in my collection worth servicing, this was it. Well, this or my Omega Genève ST 166.0190, but that's a story for another day.

Good things come 
Admittedly, shipping a watch off for a service over the Christmas period is probably not the best idea. In this case, it resulted in a three-month wait for my Tissot to come back. But boy was it worth it. David was able to work his magic, sorting out the rust and replacing the crystal, seals, mainspring, and both pushers. A full tear-down, clean, lubrication, and reassembly of the movement also took place. This Tissot was ready to roll for another decade. Finally having it back on my wrist in the early months of 2019, was such a joyful occasion, which only compared to the wonderful feeling of activating the chronograph mechanism.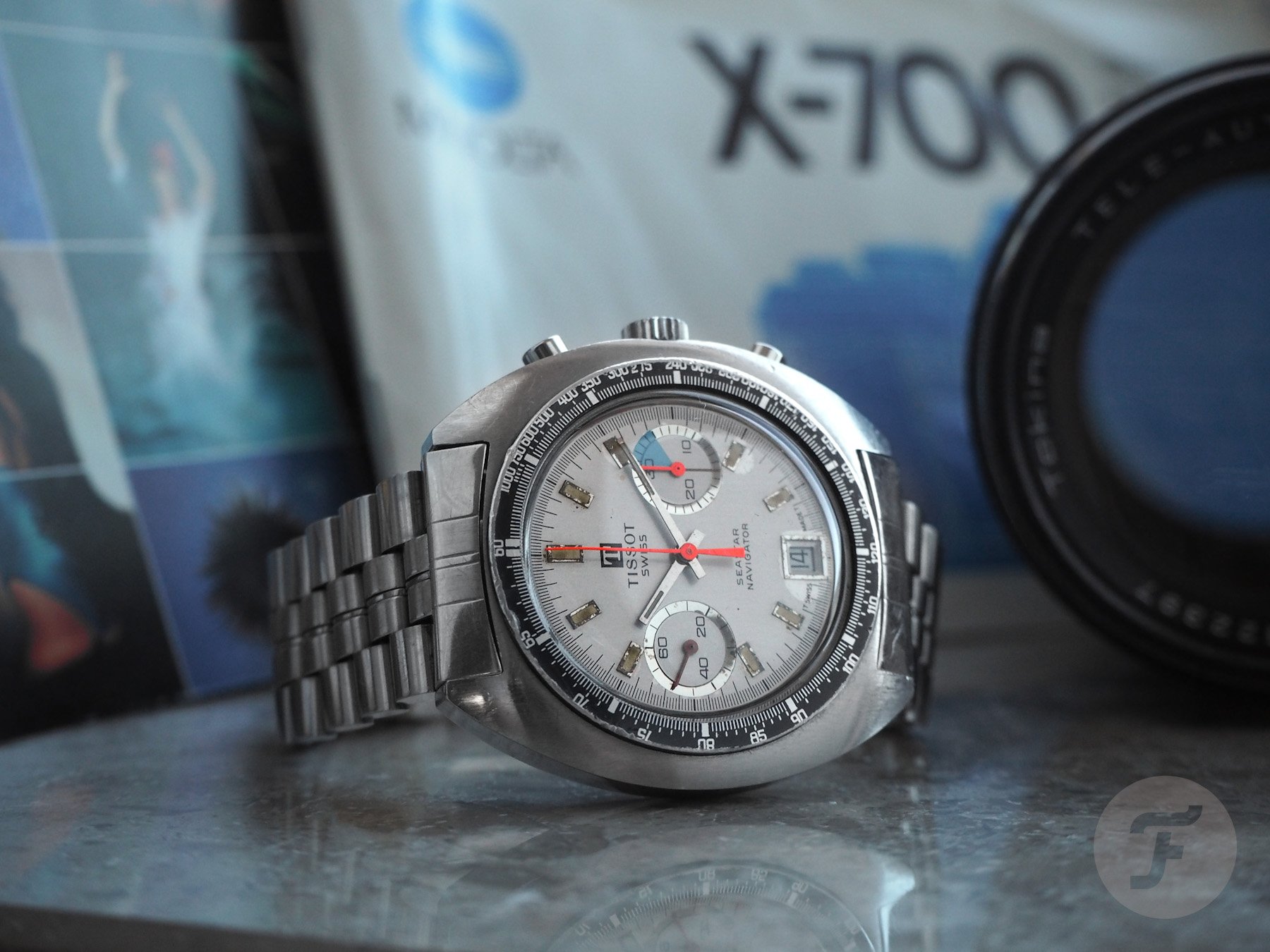 Tissot Seastar Navigator Chronograph
The Tissot Seastar Navigator reference 40522 is a wonderfully 70s yachting chronograph. It features the manual-winding Valjoux caliber 7734, which sits inside its 41mm brushed stainless steel case. The case is 13mm thick and measured 42.5mm lug-to-lug and a 20mm lug width. This specific watch is from 1974, as far as I was able to determine using an online Tissot serial number decoder. As I mentioned, this specific version of the watch has a Yachting chronograph configuration on the dial. Jorg explained the functionality behind this kind of chronograph using another variant of the Tissot Seastar Navigator line in the article you can find here. My example of the watch features a vertically brushed silver dial with tritium lume in both the silver baton hands and square hour markers. 
The sub-dials are separated by a shiny silver outer ring where the hash marks can be found. Inside the running seconds sub-dial at 9 o'clock, a small bright-red hand can be found, as well as the "20", "40", and "60" second marks. On the opposite side of the dial at the 3 o'clock position, the elapsed minutes counter features both a light blue section which indicated the first 5 minutes, as well as a red line which indicated the first 15 minutes. A bring orange hand advances once per minute for a count of up to 30 minutes. The running chronograph seconds hand matches this bright orange tone. A nicely framed date window sits at the 6 o'clock position. As you can see, it's quite a classy number.

Everything but box and papers
Having had a look at other listings of this watch for the purpose of writing this article, I can see that finding it on the original 5-link bracelet is quite rare. The bracelet itself is signed "Tissot 2025-40522.32 All stainless steel", and is as rattly and flexible as you might expect. However, having tried the watch on leather as well as on the bracelet, I have to say that it actually wears extremely comfortably. The flex and rattle off the wrist translate to flexibility and comfort on the wrist. Plus, the fitting end-links, when well adjusted, fit the case perfectly and elevate the overall look of the watch, as well as the wearing experience. There's just something special about having the complete watch.
One last thing to note is the tachymeter scale. It sits proud of the case and surrounds the high-domed acrylic crystal. It shows some honest signs of wear but remains completely legible. The steel screw-down case back is completely unmarked, other than for some deep scratches indicative of a brutish attempt to open it without the correct tool. Other than that it's in decent shape for a sports watch of its age.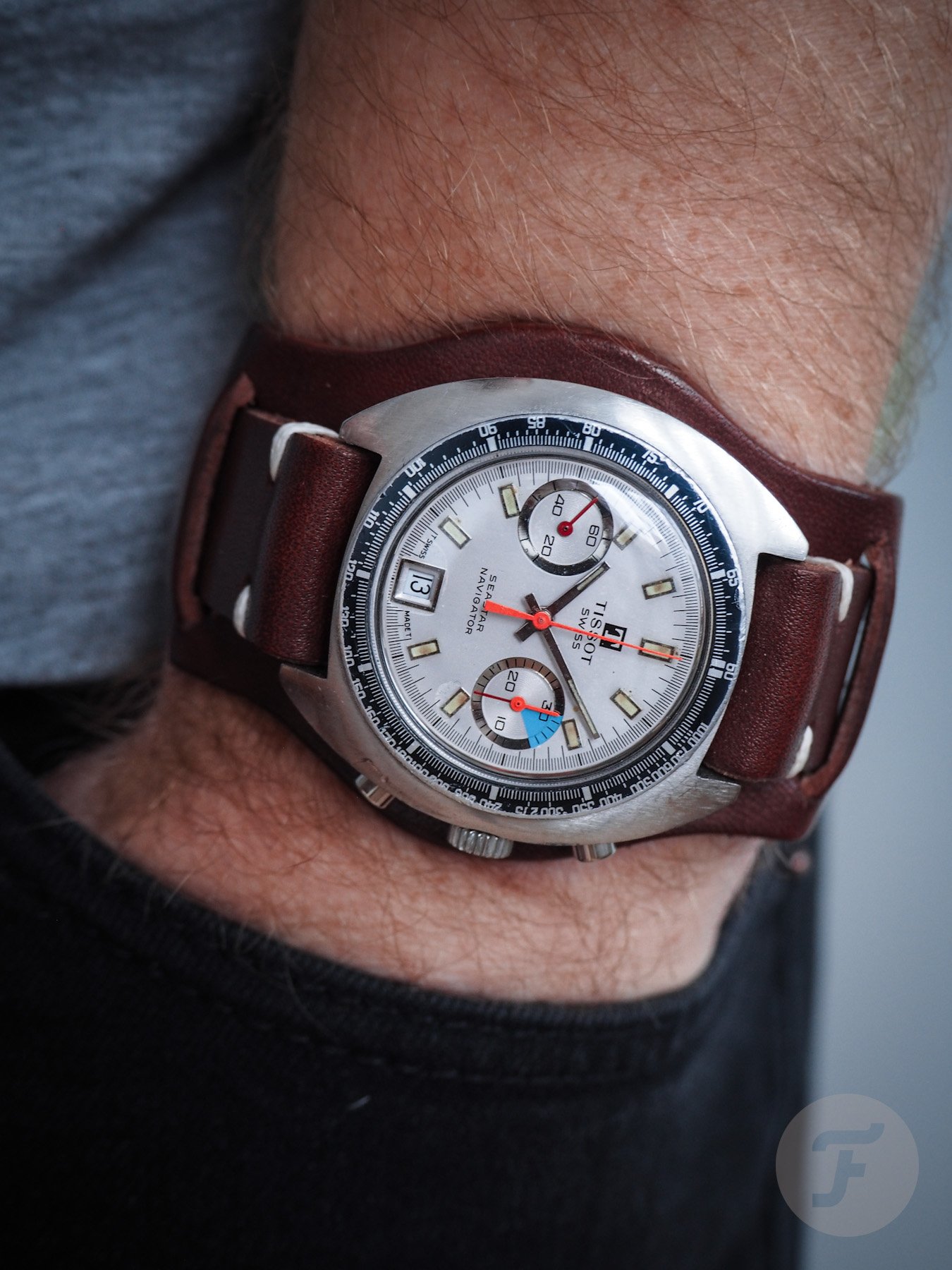 Closing thoughts
Though nowadays, platforms like Chrono 24 make it easy to find just about any watch you might be looking for, vintage or otherwise, I still feel that there's something to be said about the thrill of checking the dark corners of the online market for fantastic deals. You never know when someone will be clearing out their grandparent's closet and come across some watches that aren't ticking and put them up for sale with little to no research. Due to the easy access to information on vintage watches available online this is become rarer and rarer, but it's always worth a shot.
In my case, it is not just this Tissot Seastar Navigator that I was lucky enough to get for a fraction of its usual price. This model and its black, blue, and panda brothers tend to go for €750–€1200 depending on condition and whether the original bracelet is included. In the coming weeks, I'll be going through my collection and doing some show-and-tell with some of these lovely vintage bargains that I've been fortunate enough to pick up over the years.
In the meantime, what do you think about this Tissot? Do you dig its funky '70s looks? Also, have you ever picked up any great deals when it comes to vintage watches? Let me know in the comments below.
Follow me on Instagram @ncgwatches