NEW RELEASE: The Atelier DE GRIFF × NOMOS Glashütte Club 36 Limited Edition
The sweetly sized Club 36 goes to boot camp and comes out swinging
After our Fratello × NOMOS Glashütte Weltzeit "The Hague Edition", and plenty of earlier stories on NOMOS, we can't hide the fact that we are passionate about the Glashütte brand. And despite wearing a huge diver's watch this weekend, a 36-38mm piece, for me, is pure perfection. Add an independent brand's logo and I'm hooked, even before clicking on the tantalizing shots you'll see in this story.
Today, we're taking a look at a new limited edition from one of the horological strong-arms of Saxony. This version of the ever-popular NOMOS Glashütte Club 36 is produced in conjunction with the Belgian workshop Atelier DE GRIFF. Run "by and for watch enthusiasts," Atelier DE GRIFF specializes in not only handcrafted watch straps and accessories but also superb horological content on its website and YouTube channel. Working with NOMOS, the creative studio has taken the opportunity to bring its own sense of personality to the lineup, resulting in a custom Club 36 unlike any other. Let's see what it's all about.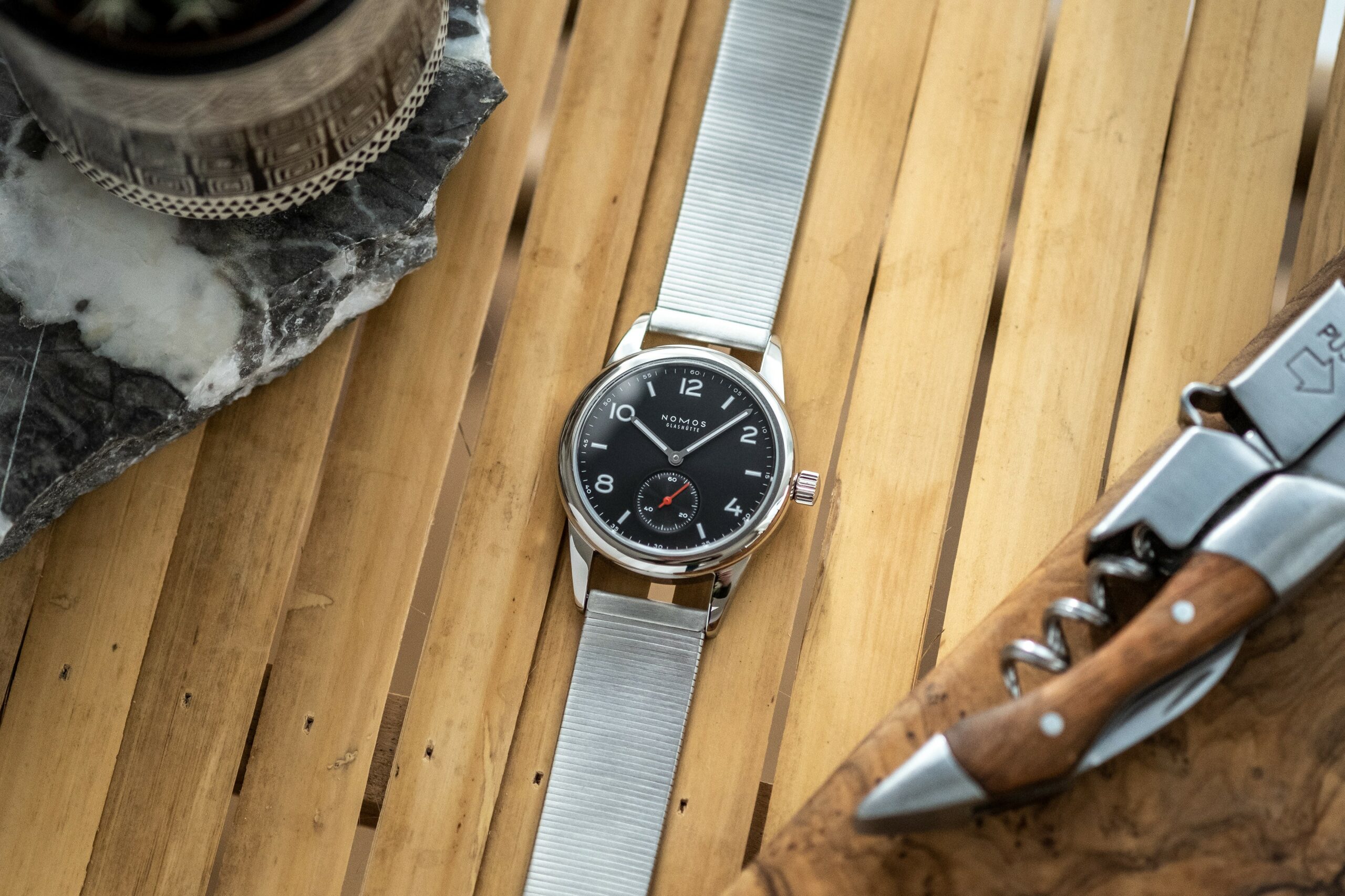 Small, but large
Is this a contradiction in terms to calm down those afflicted with small-diameter paranoia? Yes, it is. The NOMOS Club 36 might seem small, but its elegant lug design totally changes your perceptions of diameter. The science of lug-to-lug length will be new to you if you've had a gap year or two from the easily obsessive nature of watch collecting (obsessive, moi?). Only a couple of years ago, diameter and thickness were the only specs we got. But today, we know that lug-to-lug is, well, imperative to how a watch feels. My 40mm Longines Heritage 1945 with long lugs and a slim bezel wears larger than my stubby-lugged 42mm Doxa. A lot larger. The Club 36 has a lug-to-lug of 47mm, falling in the Goldilocks range of 45-48. This makes it sit comfortably, and perhaps more like a 39mm watch would. But this version doesn't need long lugs to impress. Far from it.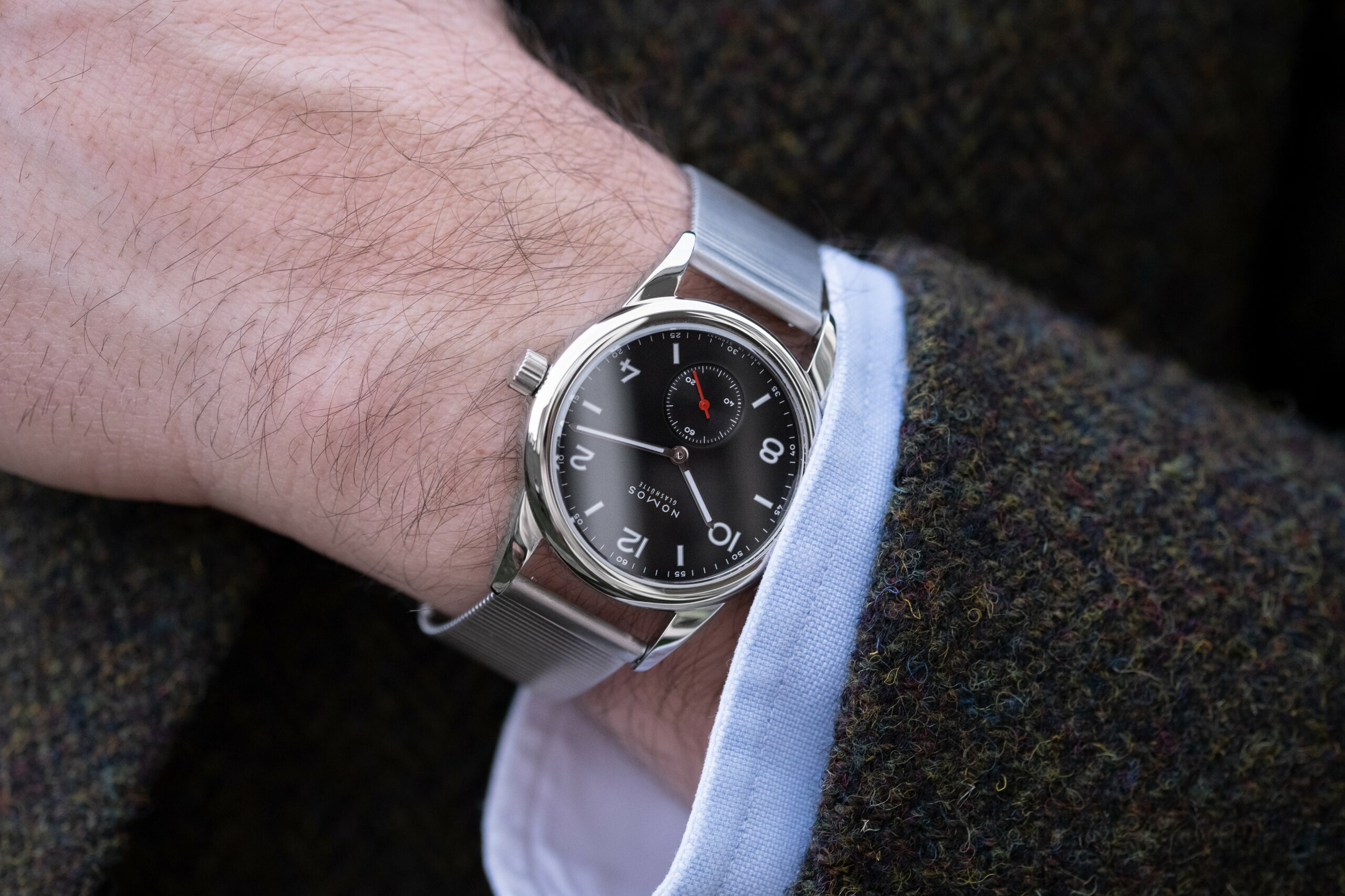 Slim as a dress watch but tough as a diver's tool
What, another contradiction in terms? Yes, indeed. This NOMOS Club 36 has the usual 8.2mm-thick case, which is pebble-smooth and extremely comfortable. So where's the upgrade? Well, as a first for this limited edition, there is a new crown design featuring a double gasket. The benefit is that, when combined with the screw-down case back of the Club 36, the water resistance is doubled. That's right — this is one of the neatest watches available with a 200m depth rating. At 36mm in diameter and a tad over 8mm in thickness, I challenge you to find anything similar. For many newcomers to the world of horological deep dives (pun intended), this is tough as a tool but as dressy as desired. I am a staunch advocate of wrist-worn bulletproofness (yes, I just made that a term) combined with a dressy look. Here, it's done with stealth and style.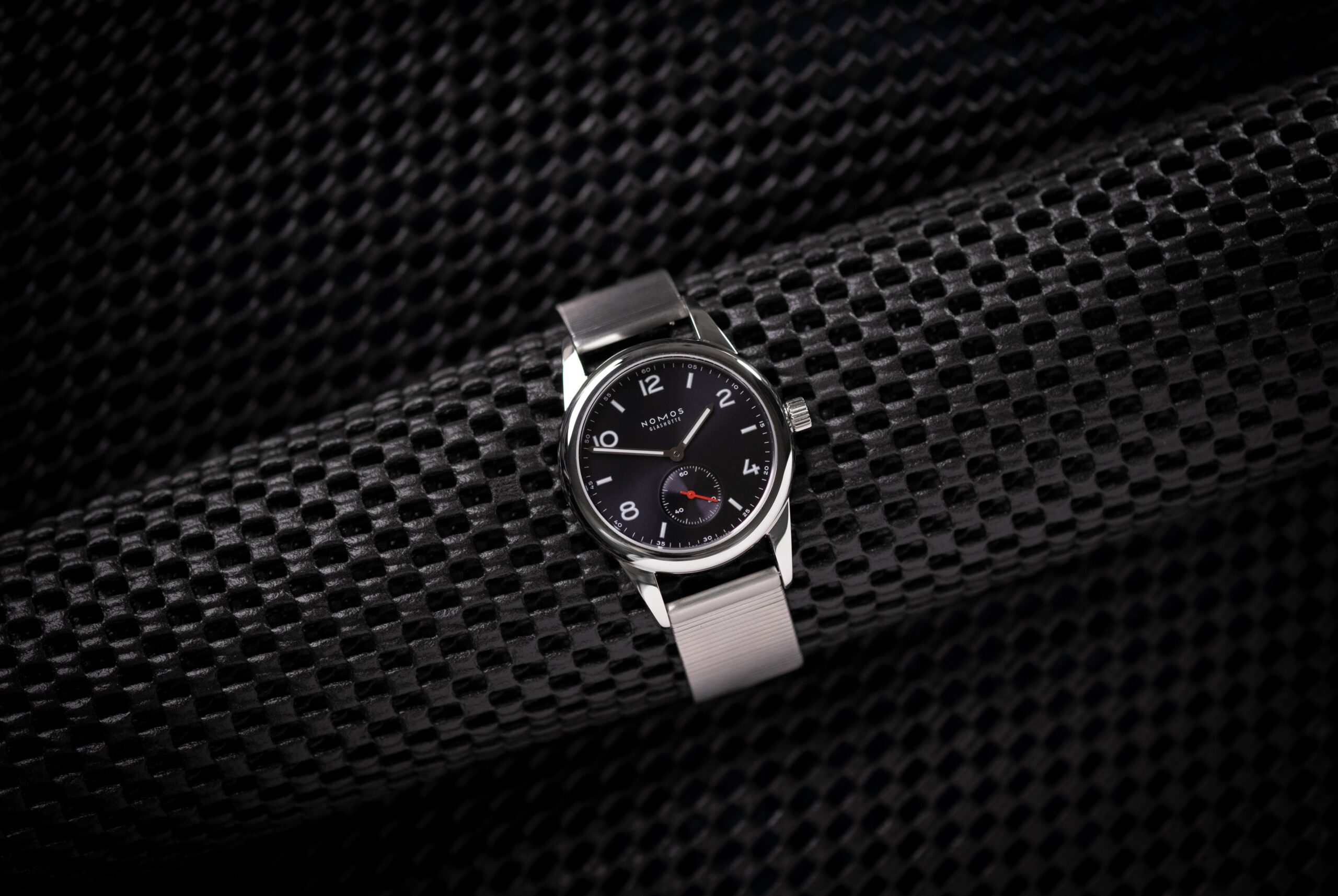 A smooth bracelet and a bright pop of red
The brushed bracelet might look similar to those stretchy ones your granddad wore, but it is a silky smooth piece of German engineering. With a slide clasp for easy adjustment and a brushed finish, it complements the round case with panache. It comes with quick-release spring bars, surely to the joy of fellow strap-a-holics. That said, it seems almost too comfortable to swap out.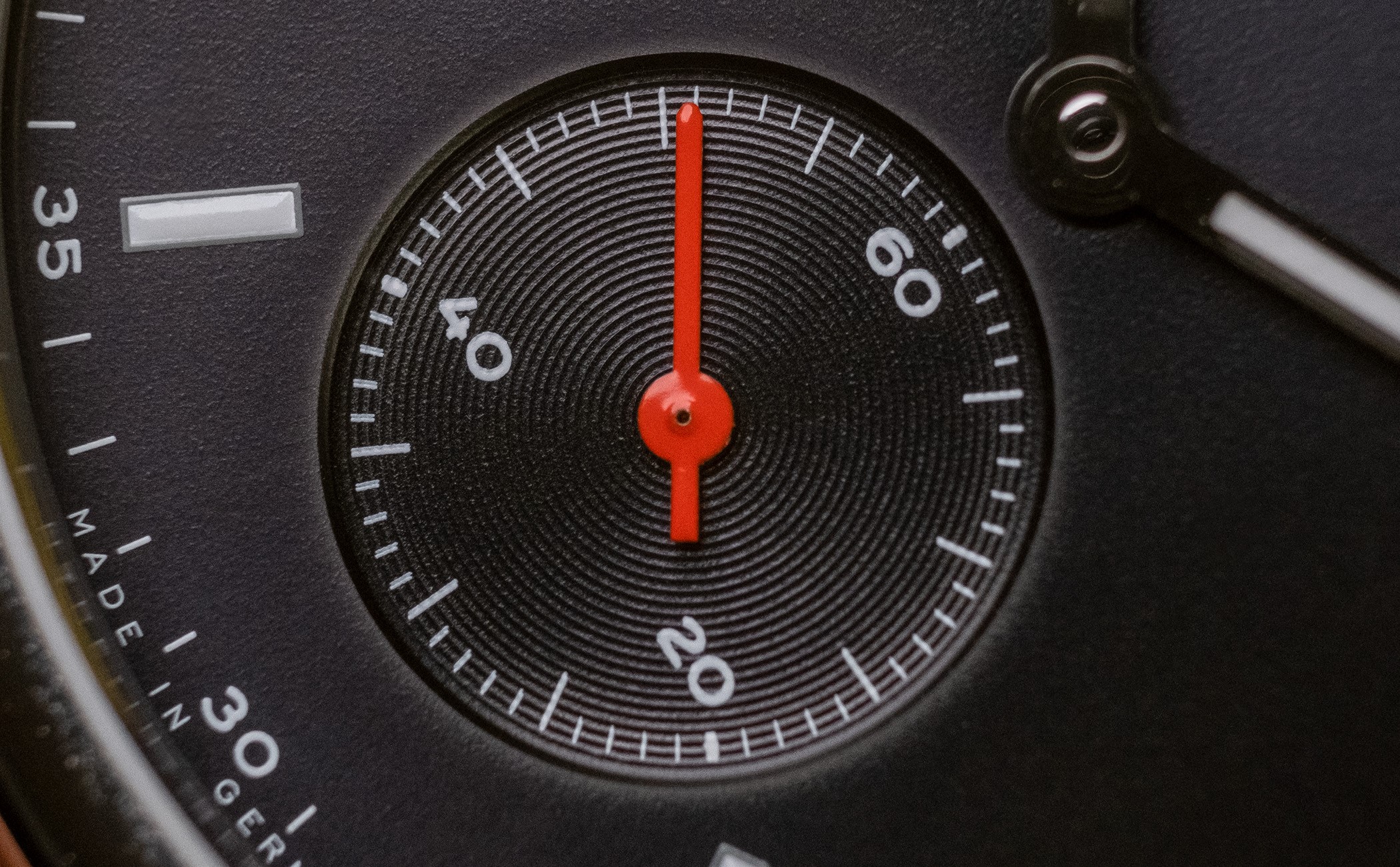 If you doubted the existence of a "warm black," the sunburst black dial of the NOMOS x Atelier DE GRIFF Club 36 will surprise you. It is dark, yet with a warmer depth than you would imagine, and with fatly printed lume numerals, it reads like an encyclopedia of dial legibility. The recessed small seconds register that we know from the Club 36 is present and correct, with a POP of bright red in the pointer.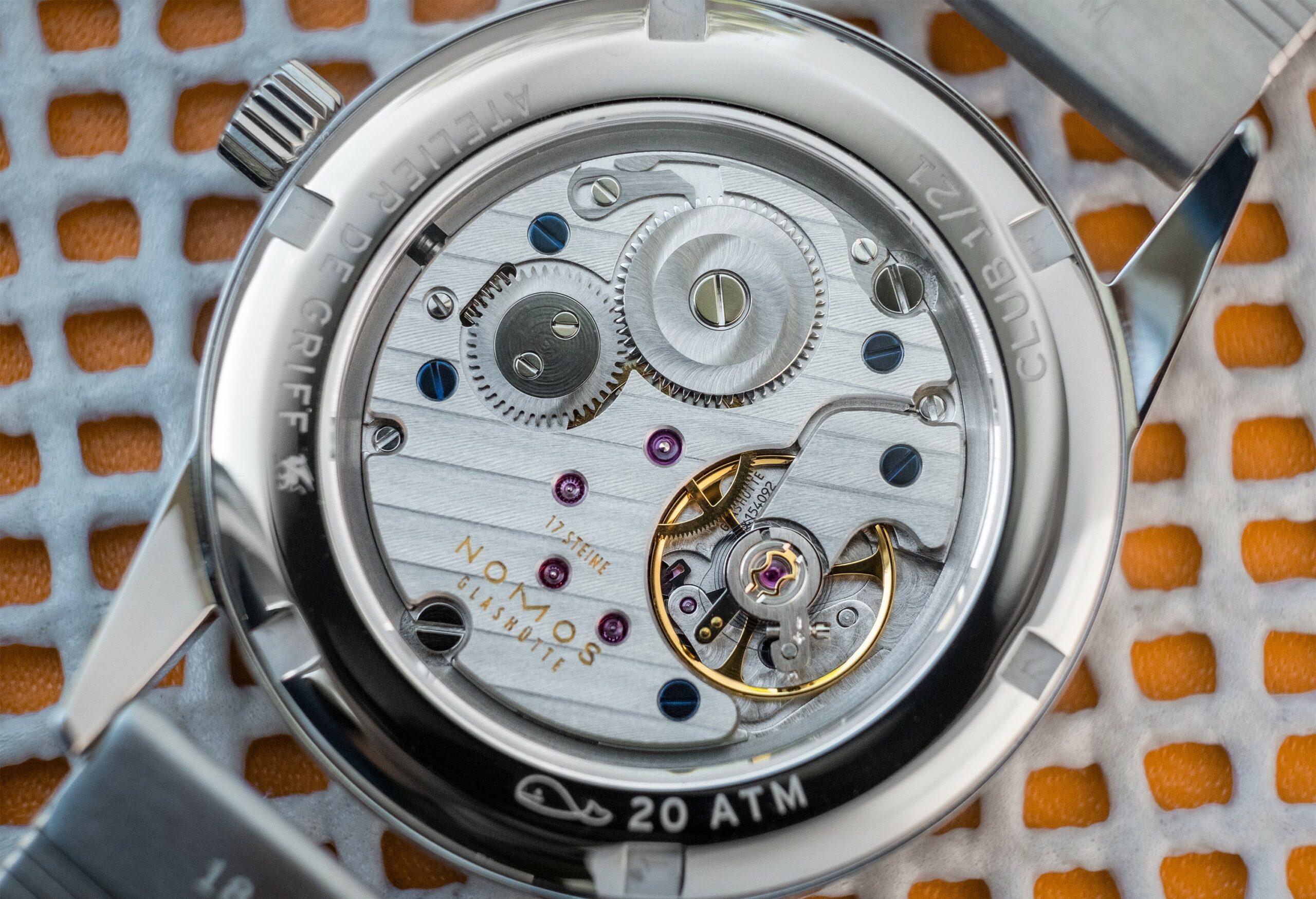 The strength of an in-house heart
The case back shows off the superb value of the in-house Alpha caliber, which is hand-wound with a 43-hour power reserve. But as a twist for DE GRIFF, this Alpha caliber features a change of escapement. NOMOS refers to this escapement as the "Nomos swing system," and it is something that they are rightly very proud of. A standard Alpha caliber does not feature the swing system just yet, but for this limited edition, the swing system is integrated. You can recognize this thanks to the blue hairspring, visible through the display case back.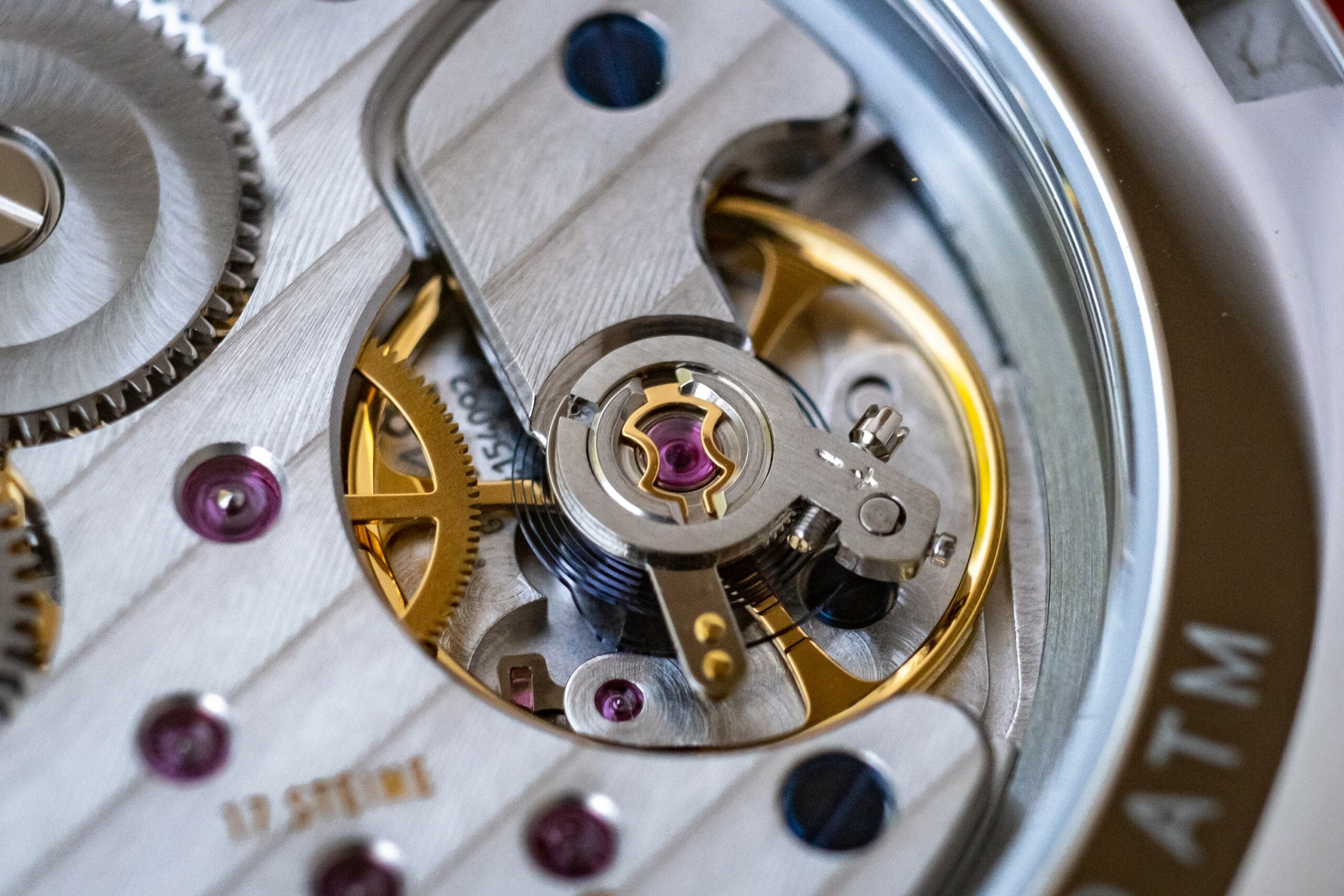 Pricing and availability
The Atelier DE GRIFF × NOMOS Glashütte Club 36 Limited Edition is available now, exclusively through the Atelier DE GRIFF website. If you want one, however, you'd better run, not walk, to checkout. With only 21 examples of these Club 36 pieces produced for DE GRIFF, they're sure to disappear rather quickly. At €1,546, the NOMOS × Atelier DE GRIFF Club 36 Limited Edition represents proper value, with a beguiling mix of tough, yet svelte construction. And with a Nomos Sundial Ring included with the watch, temptations sure come in small, tough packages.
Follow me at: @thorsvaboe